The electric bass, also known as E-Bass, is perhaps one of the most important instruments in a band or piece of music, but also one of the least appreciated.
When I'm at a concert with friends or family, I often get asked - because I'm a bass player myself - what the bass player is doing right now, since you "can´t hear him".
I would love to sit at the mixing desk in such situations and mix the concert - then I would mute the electric bass completely to show what a difference the bass makes in the song.
The electric bass is the lowest instrument in a song and is responsible for filling up the low frequency range. An electric bass is therefore difficult to play alone - this is also one of the reasons why this instrument is not particularly popular.
But: For every 5 guitarists there is one bass player - that means good bass players are always sought by bands and by producers, since there are relatively few.
Bass amplifiers have very large speakers, so they can accurately reproduce the low frequencies of the instrument - you often see entire towers on stages consisting of bass cabinets.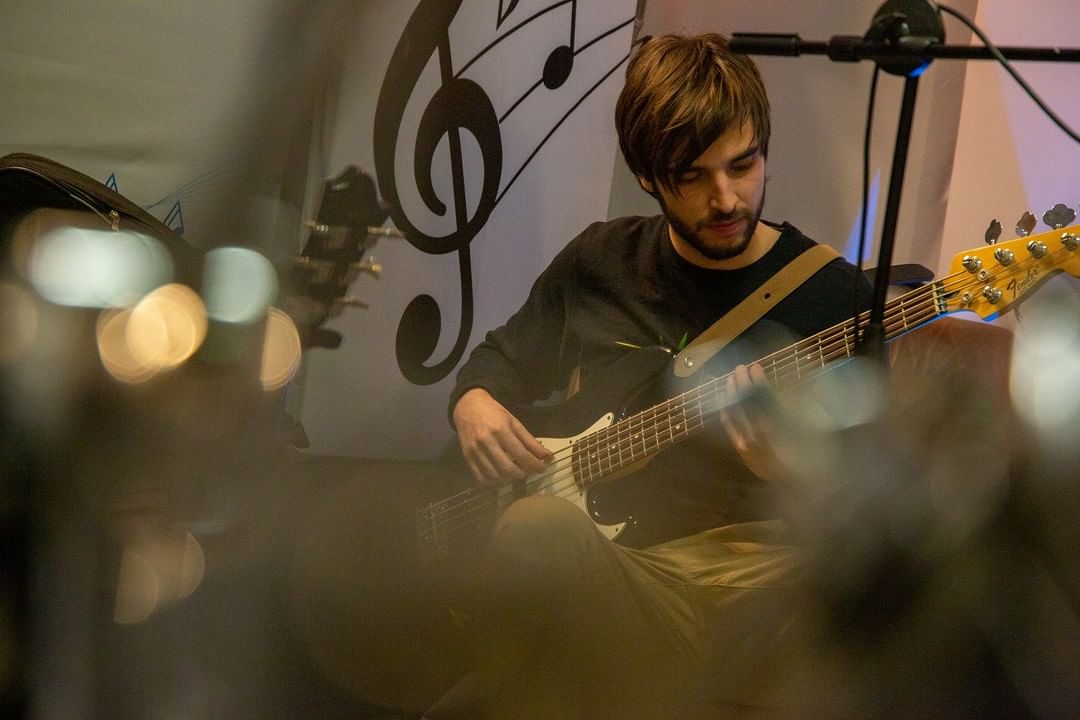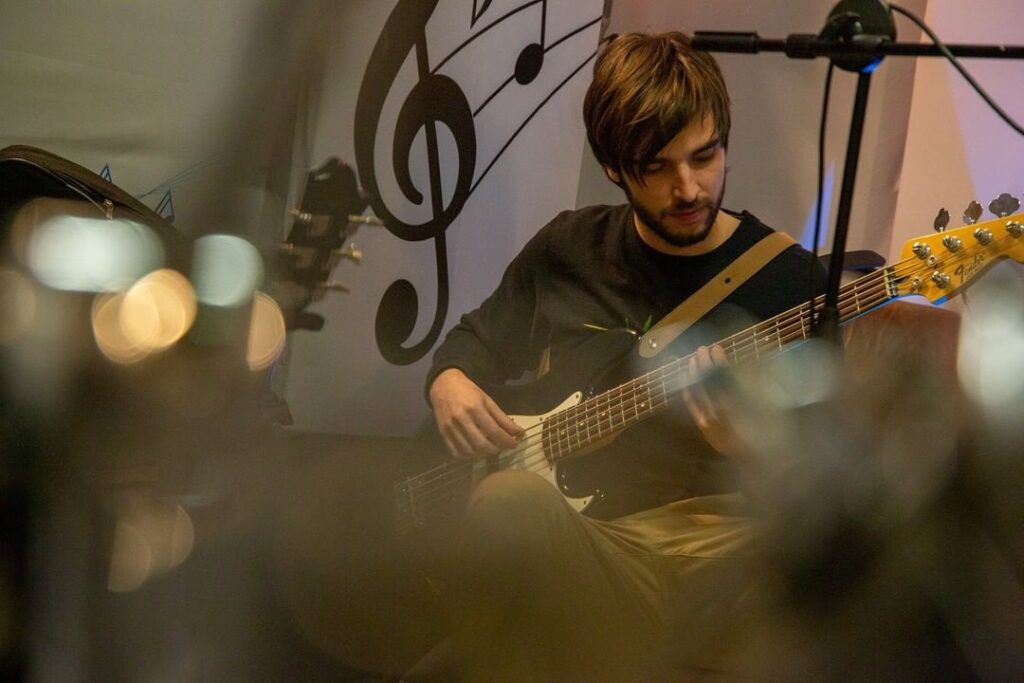 In this article, I will compare my favorite models that I have tried and loved in my 13+ years of experience as a bass player, and will recommend models for beginners and advanced players.
P-Basses (Fender Precision Bass)
The Fender Precision Bass was Fender's first commercially successful electric bass. It was also the very first electric bass ever to be mass produced.
In 1951 it came onto the market, and the name Precision was chosen because this electric bass had frets - in contrast to the double bass, which was still the norm until then. These frets enabled musicians to finger more precisely than with conventional double basses.
The Fender Precision Bass is nowadays equipped with a split-coil humbucker pickup, which gives this electric bass its characteristic "boomy" sound. The sound is oldschool and relatively dark - but always cuts well through the mix.
The sound is brilliant for rock and many other genres of music - however, this electric bass is not as versatile in sound as the Jazz Bass (more on that later). This is simply because the Precision Bass - at least in the original - has only one pickup.
However, there are now also P-basses with two pickups and from other manufacturers - but in my opinion, the Fender basses still sound the best.
I would recommend the Precision Bass to anyone who plays rock, metal, punk or generally music styles from the 60s to the 80s. This electric bass is proven to be the best for these purposes - prominent players include Roger Waters (Pink Floyd), Steve Harris (Iron Maiden), Paul Simonon (The Clash) or Duff McKagan (Guns N' Roses).
However, if you want to play more modern styles of music, such as jazz or pop, I would recommend a jazz bass (J-bass).
The weight always depends on the body material, but is around 4 kg. This electric bass is relatively heavy, like all basses. But you quickly get used to it - for me, electric guitars are way too light 😉
So if you want to buy an electric bass with which you can stand out in the mix and which is particularly well suited for rock & co, then the Fender Precision Bass is right for you.
Fender Player Series P-Bass PF Capri - Best P-Bass under 1000€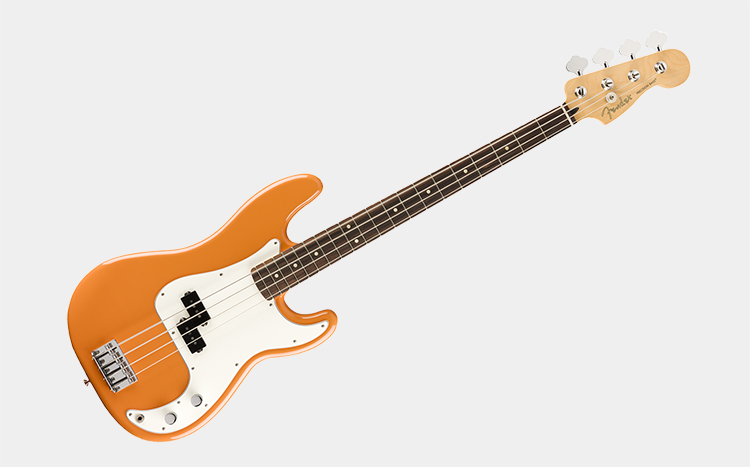 The Fender Player Series P-Bass PF Capri (859€) is a very good and affordable Precision Bass from Fender, which I can recommend to anyone who is looking for the classic P-Bass sound.
With a classic split-coil humbucker pickup, a volume and a tone control, you have everything you need to play rock. The sound is simply a joy for the ears.
The body is made of alder and the neck of maple, with a 20 fret fingerboard made of Pau Ferro. Pau Ferro is a South American wood often used by Fender for fingerboards. The sound is slightly shinier than maple fingerboards.
The quality is - as usual from Fender - incredibly good. This electric bass is excellently crafted and everything just feels solid.
If the Fender model is too expensive for you, then I definitely recommend the Squier electric basses. Squier is a subsidiary of Fender that makes cheaper alternatives to any Fender model.
Squier CV 60s P-Bass LRL OWT - Best P-Bass under 400€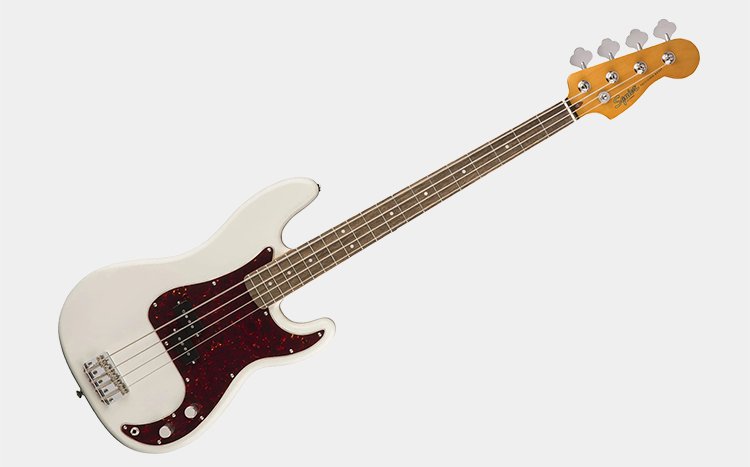 If you are looking for an electric bass around 400€, I can recommend the Squier CV 60s P-Bass LRL OWT. This one was actually my first electric bass when I started playing (in other colors - it's been a few years).
The build quality is amazingly good for the price - not the same as Fender, of course. But it's the best you'll find for this price range.
Sound-wise, this bass is pretty close to the Fender models - after all, it has similar pickups, which makes the biggest sonic difference in electric basses.
Harley Benton PB-20 SBK - Best P-Bass for Beginners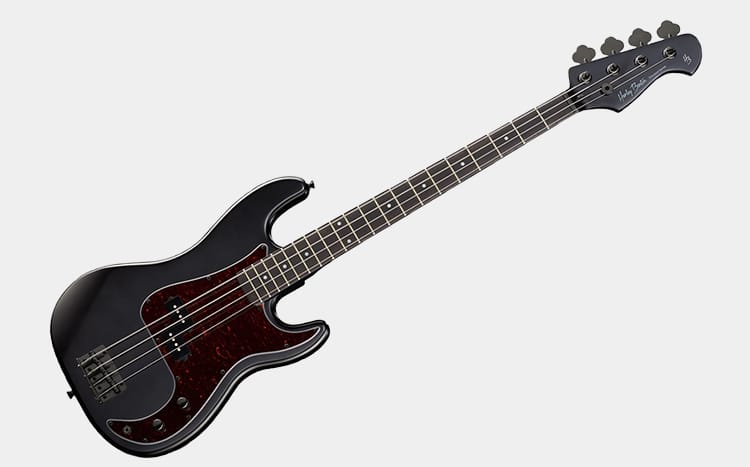 And if you really want to spend the minimum, you should check out the Harley Benton PB-20 SBK, which costs only 129€. I didn't expect much for the price, and was still quite surprised when I tried this bass.
It is a very good electric bass for beginners and you will be completely satisfied with it for the first few years. I have had a few bass players from bands in my studio who have used this electric bass for recording - and the bass has never struck me as negative.
Fender AM Pro II P Bass V - Best 5-string P-Bass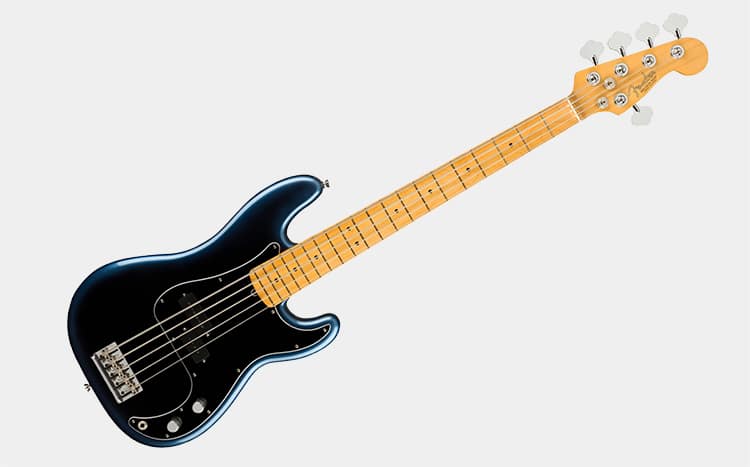 This electric bass is a bit more expensive, but is partly because 5-string basses are always more expensive. This is because the 5th string is very thick - accordingly, the whole construction has to be much more robust to withstand more tension.
The Fender AM Pro II P Bass V (2.149€) is the crème de la crème. You get the usual Fender quality: alder body, maple neck, but this time with a maple fingerboard. I could only try this electric bass once, but found it the best of all (I love 5-string basses).
The low B-string just sounds so strong and powerful that you can almost cause an earthquake if you're not careful 😉
J-Bass (Fender Jazz Bass) - The best electric bass of all time
This is my absolute favorite and my first choice for most of my bass recordings and concerts. The round, powerful and yet very versatile sound of this electric bass has fascinated me from day one.
The Jazz Bass was launched by Fender in 1960 and can be seen as a further development of the Precision Bass.
More tonal versatility was the big goal in the development of this bass - and Fender succeeded very well. The combination of 2 neck and bridge pickups offers enormous possibilities to shape the sound.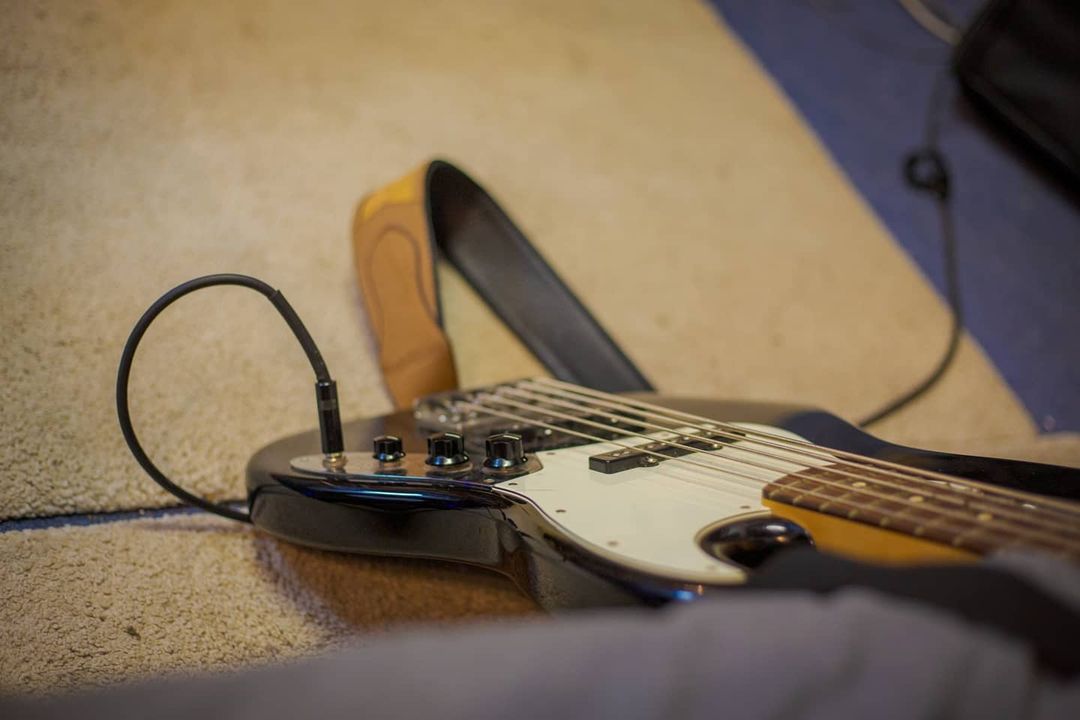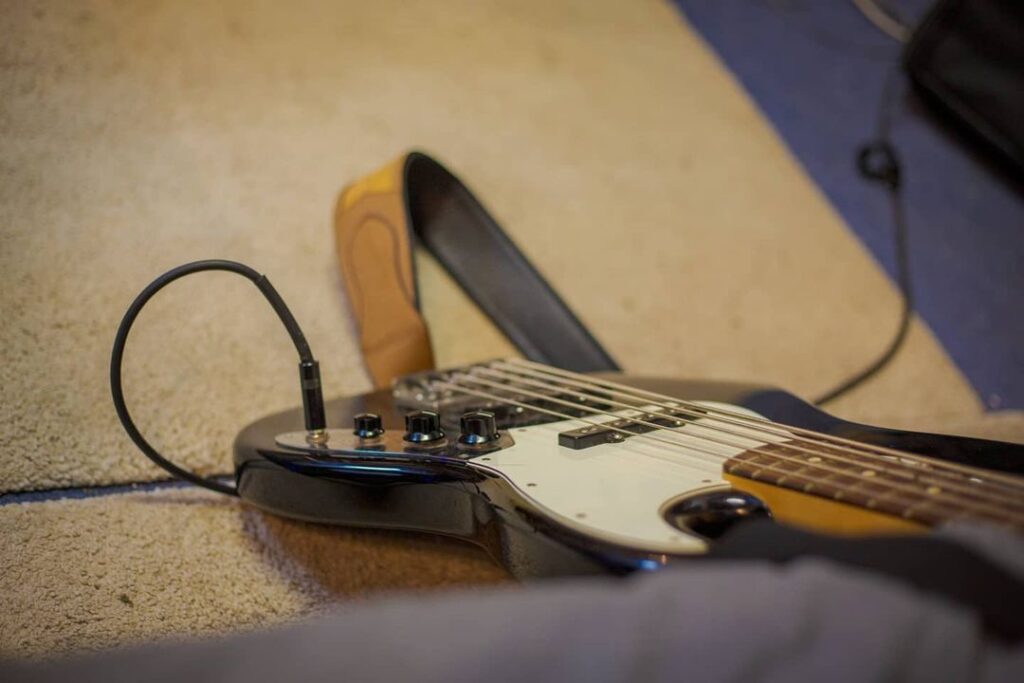 Especially the new bridge pickup gives the J-Bass a sound that cannot be achieved with the P-Bass. It is round and full - just right for jazz (hence the name).
The combination of the 2 pickups produces a rich sound that can be flexibly shaped by adjusting the volume of the two pickups. Depending on which pickup is louder, you get a clearer or darker sound.
I myself have a 5-string model because I play a lot of reggae and you have to go particularly deep - and that's where this bass can really shine.
Famous J-bass players include Flea (Red Hot Chili Peppers), Adam Clayton (U2), Aston Barrett (Bob Marley & The Wailers) and Sting (Police). As you can see, this electric bass is really versatile and has found its place in all musical genres of the world.
The J-bass is more tonally flexible than the P-bass. You could make a J-bass sound like a P-bass (by only switching on the neck pickup), but not the other way around.
This electric bass is relatively heavy and the build quality of the components is incredibly good. The pickups sit tight, the controls turn extra smoothly and the jack plug feels really good.
Fender Player Series Jazz Bass MN TPL - Best Electric Bass under 1000€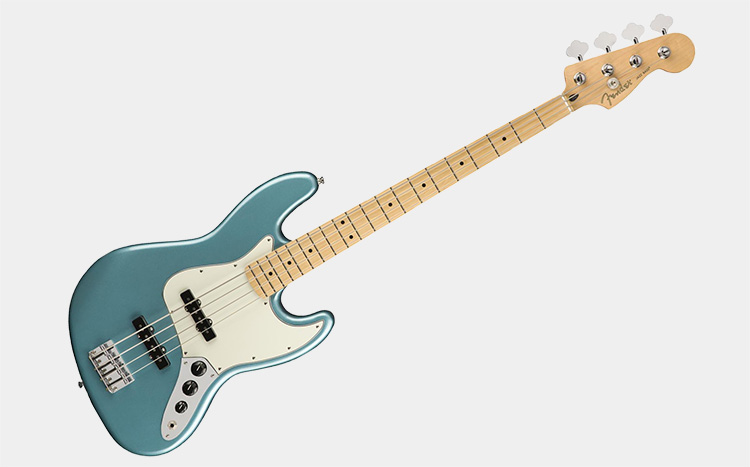 This electric bass from Fender is often seen on stages and in studios - and for good reason. The Fender Player Series Jazz Bass MN TPL is a really good electric bass and costs (only) 859€ - but that's not much if you value the good sound.
If you turn up the 3 knobs, this electric bass has a sound with relatively good mids and trebles that cuts through well in any mix.
But if you leave only the neck pickup on and turn the tone control all the way down, you get a really dark, muffled sound - that's how I like it best.
Squier CV 70s Jazz Bass MN BK - Best Electric Bass under 400€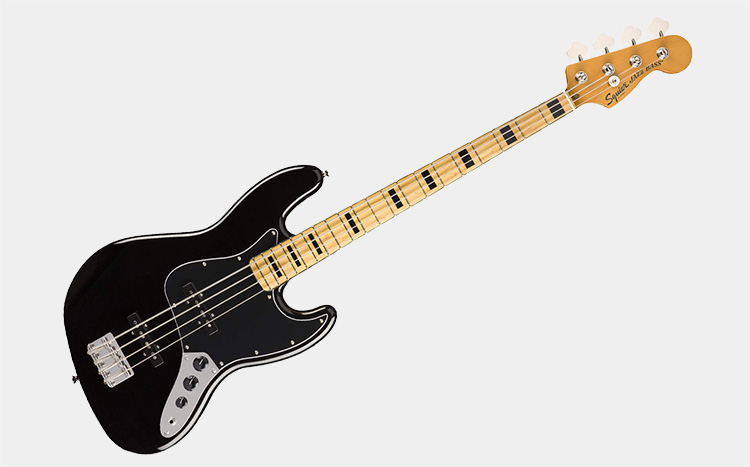 Once again, we have a Squier electric bass, a little Fender brother. The Squier CV 70s Jazz Bass (409€) is basically built the same way as the model before, but with a poplar body and blocks instead of dots as fingerboard inlays.
With the 3 knobs, you can adjust the volume of the two pickups and the tone (EQ). The build quality is a little lower than Fender, but still excellent for the price.
And visually the design is really appealing!
Harley Benton JB-75 NA Vintage Series - Best J-Bass for Beginners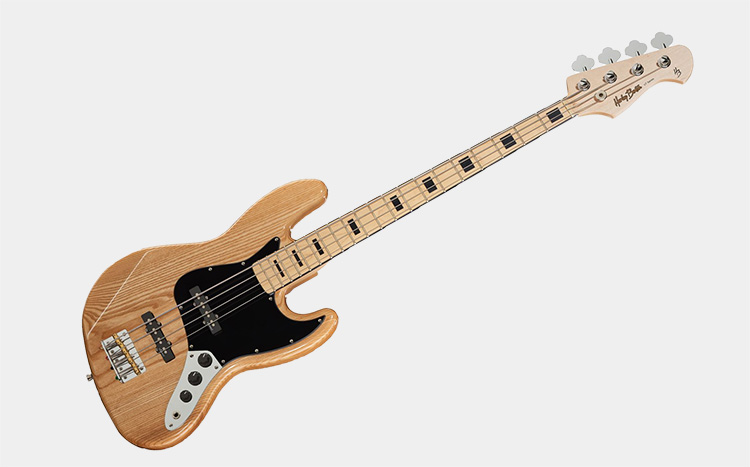 Harley Benton, Thomann's own house brand, makes this great electric bass that costs only 169€ - making it an excellent choice for beginners.
The Harley Benton JB-75 NA Vintage Series also has the same construction as the models before, with 2 single-coil pickups and 3 rotary controls. The body is made of American ash and the neck is screwed in maple.
The build quality is not really comparable to the Fender models, but for 1/6 of the price we really can't complain.
So if you want to buy an electric bass for beginners, this is a very good choice.
Fender Player Series J-Bass V PF PWT - Best 5-string electric bass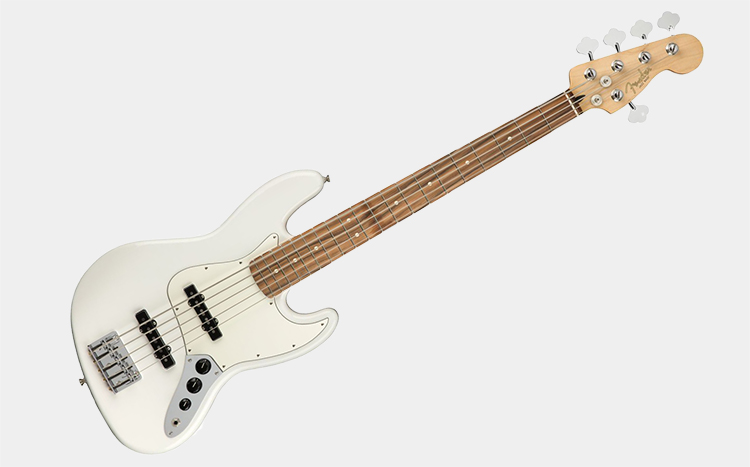 Of course, I could not complete this comparison without my own bass. The Fender Player Series J-Bass V PF PWT is my personal favorite and also the model I play the most at the moment.
I bought this electric bass as an addition to my Squier P-Bass and have never regretted the decision. This electric bass sounds incredibly good and is so flexible that you can use it in any genre.
The 5 strings bring you down another 5 semitones, so you can play all the way to the low B. I especially find it very handy that you can play the low E in the 5th fret of the 5th string instead of playing freely on the fourth, so you have much more control over the note.
Keep reading: DI boxes for a better bass sound
Other electric basses
Steinberger Guitars Spirit XT-2 Standard Bass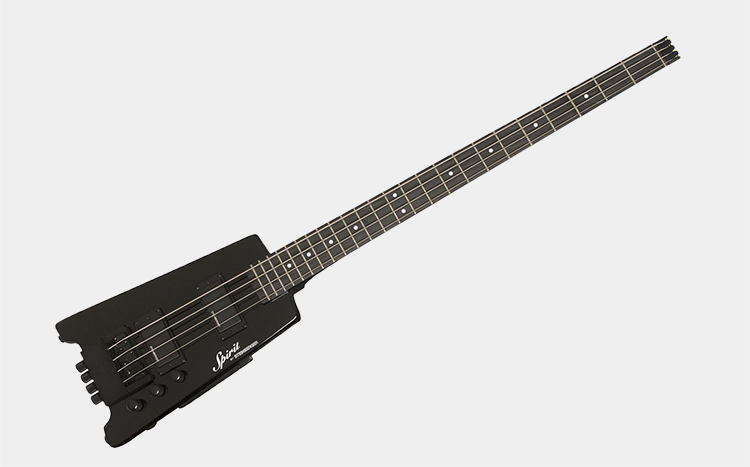 Such eye-catching electric basses are called "headless" (because they have no head). They are lighter than conventional basses due to their construction, and are tuned at the bridge instead of the head.
Steinberger is the most famous manufacturer of such basses, and the Guitars Spirit XT-2 Standard Bass Bk is one of the most popular models. The sound is powerful, punchy and cuts well through every mix, which is due to the two humbucker pickups.
With 24 frets, a lime body and a satinwood fingerboard, this electric bass is a really great instrument and the price is totally OK. And it also looks damn good on stage!
If you play hard genres like rock or heavy, this bass is definitely highly recommended. For other genres, this electric bass can also be a good addition to a P-Bass or J-Bass to provide some tonal variety.
Höfner Violin Basses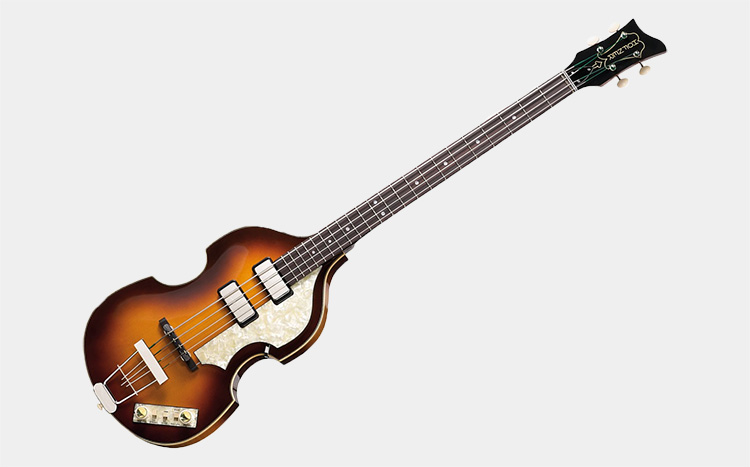 The manufacturer Höfner produces electric basses in a completely different form, reminiscent of a violin. The most famous of them is the Höfner H500/1-61-0 Beatles CavernBass (2,499€), because Paul McCartney used it often in his career.
These basses have a neck with a short scale (short scale neck) because they are shorter (30") than, for example, a P-Bass or a J-Bass (both 34"). Therefore, these basses are more similar to guitars and are often preferred by guitarists who switch to bass.
They have a hollow body, which of course is noticeable in the sound and the weight. They have more resonance and are lighter than solid-body basses - therefore, they are more susceptible to feedback. This is why such electric basses are not suitable for genres where a lot of distortion is needed.
However, there are also cheaper models of this shape from Höfner, such as the Höfner Ignition SE (329€), which has similar features to its bigger brother.
In Conclusion
In the end, it doesn't matter which electric bass you start with - you just have to choose one to get started. Gradually you will develop your skills and find out which model suits you better.
Frequently asked questions about the electric bass
Keep reading: