To me, it's a no-brainer: with e-drums, you can practice anytime and anywhere, you can customize your sound, and record in high quality without a dozen microphones surrounding you. And you don't even have to tune it!
Yet, most people are fascinated by the idea of playing a real drumkit, so much so that they don't realize that what matters the most is that you practice a lot, at all times, without disturbing the people around you.
I bought my first electronic drum kit in 2008. I already had an acoustic kit, but I realized I needed a set to practice certain fills and rhythms without having my neighborhood listen to the same drum pattern for hours. I still have my Yamaha DTXpress IV Special Set, and while modern e-drums offer way more than my old drumkit does, I still consider it one of the best investments I've ever made as a musician.
Recently, I went with a drummer friend to one of the most popular music shops here in Northern Italy and took the opportunity to test out the new generation of e-drums. Let me tell you, they sound astounding!
Today, we'll take a look at what I believe are the best electronic drum sets available. Below you'll find 12 models, starting from the most expensive ones and going down to the entry-level options. By the end of this article, you should be able to identify a drum set that'll satisfy your needs, regardless of your level or the genre you play.
Let's dive in!
The Alesis Strike Pro Special Edition is an excellent option for modern drummers, with a perfect balance between acoustic feel and electronic versatility, impressive custom kits, and seamless compatibility with external devices through MIDI and USB ports.
If you're on a budget, the Alesis Nitro Mesh Kit is a great value-for-money e-kit with a comfortable playing experience, responsive mesh heads, and an intuitive module.
The best electronic drums in 2023
Alesis Strike Pro Special Edition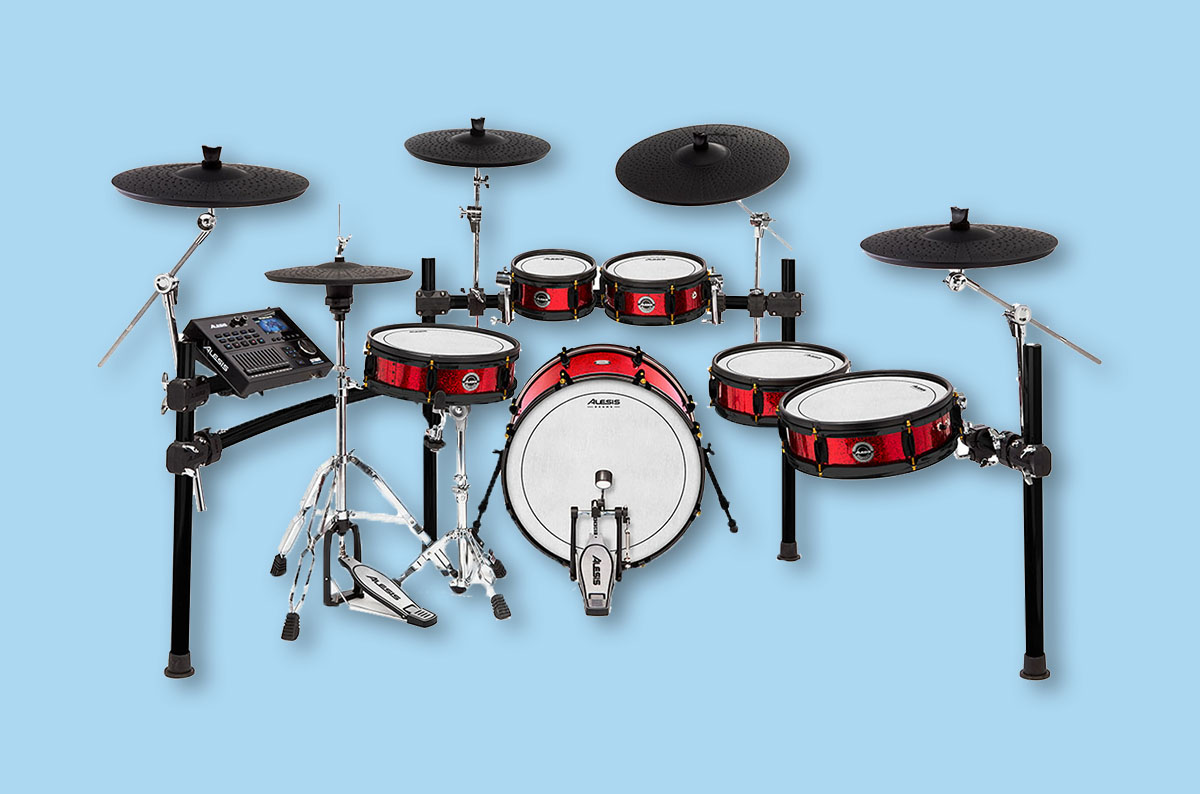 SPECIFICATIONS
Configuration: 6 drum pads, 5 cymbal pads
Number of kits: 136
Connections: MIDI, USB
ARGUMENTS IN FAVOR
My favorite combination of reasonable price and performing e-kit
The Alesis Strike Pro Special Edition comes to mind when I think of electronic drum kits that offer a realistic sound, impressive versatility, and a price that doesn't sound ludicrous. The hybrid wood shells and tunable mesh heads provide an experience that often feels indistinguishable from playing an acoustic set. Furthermore, the cymbal set includes a 3-zone ride and three crashes with choke functionality, offering a highly dynamic and realistic playing experience.
The Strike Pro comes with an impressive 136 custom kits and over 1,800 multi-sampled instruments. You can play this thing forever without using the same kit twice! However, if that's not enough to satisfy your creative needs, the Strike Software editor allows you to import new drum sounds and fine-tune your kits. What I love the most about the Strike Pro SE is that it's ideal for silent practice, as the carefully crafted mesh heads ensure you can do so without disturbing the peace.
The kit is seamlessly compatible with external devices through MIDI and USB ports, making it suitable for drummers who need to integrate their kit into a larger setup, in the studio, or on stage. If you're looking for a versatile, responsive, and aesthetically pleasing electronic drum kit that doesn't cost a fortune, the Alesis Strike Pro Special Edition is a phenomenal option.
Keep reading: How to record drums - the ultimate guide
Yamaha DTX10K-X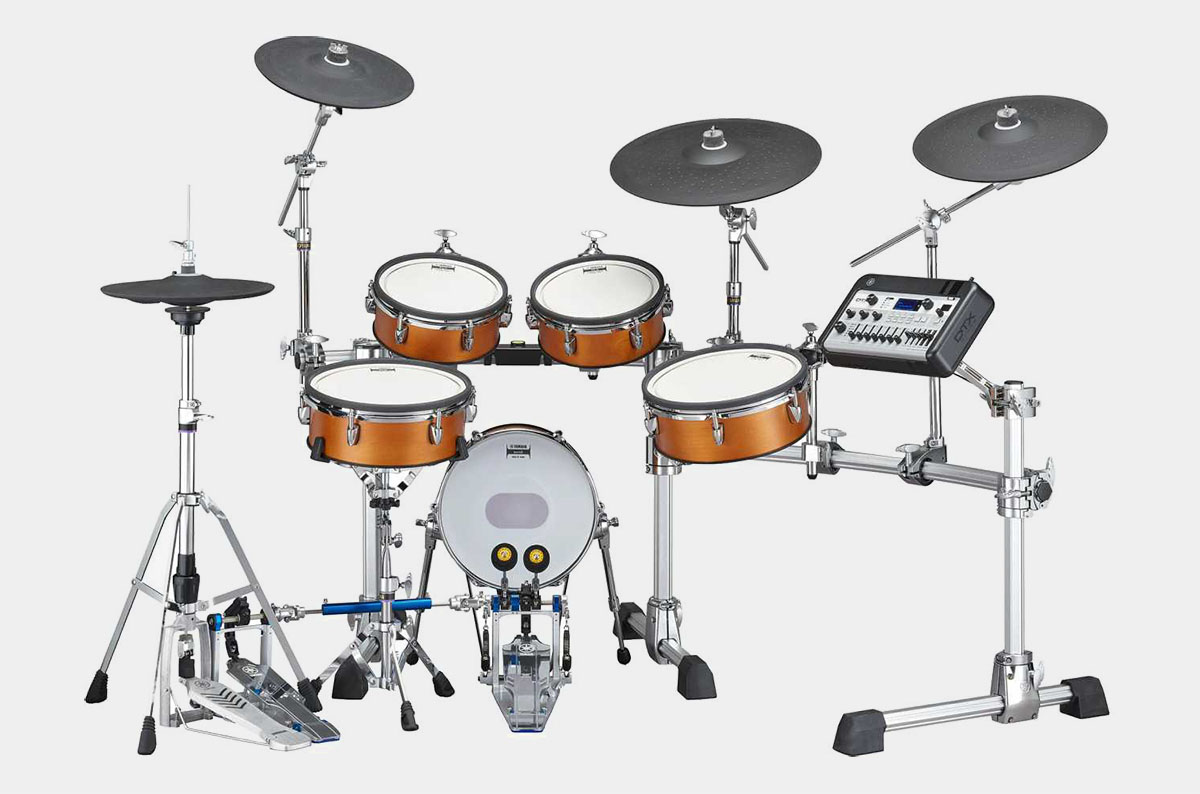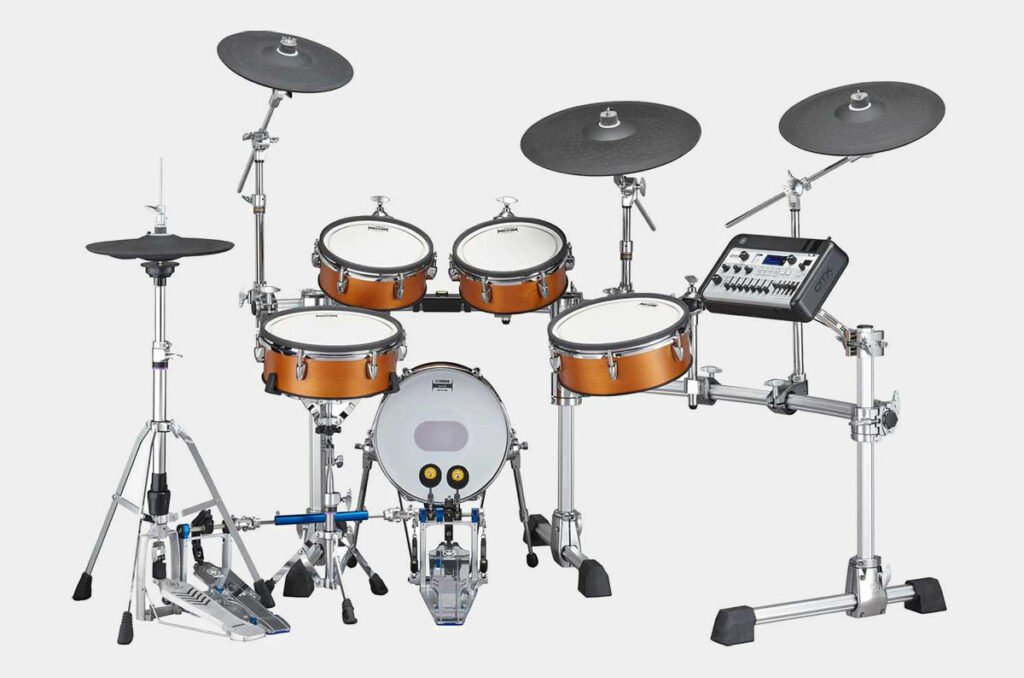 SPECIFICATIONS
Configuration: 5 drum pads, 4 cymbal pads
Number of kits: 70 presets, 200 user
Connections: MIDI, USB, Bluetooth, AUX
ARGUMENTS IN FAVOR
Professional, versatile, and fully customizable
A fantastic blend of realism, customization, and technological advancements in electronic drums, the Yamaha DTX10K-X will cost you a small fortune, but it's also a set you can practice, record, and even tour with. Offering a high level of kit customization, from adjusting the intensity of each drum component to manipulating an impressive array of sound-shaping effects, the DTX10K-X gives everything a drummer needs to bring their vision to life.
The rotary faders offer individual control over kick, snare, toms, hi-hat, and cymbals, allowing you to sculpt an incredibly personalized sound. The multi-zoned cymbals and drums streamline dynamic playing, making your rolls and fills sound more authentic. The three sizes for both toms and cymbals offer a fantastic range with a level of realism that'll leave you speechless.
The DTX10K makes DAW integration a walk in the park, with seamless compatibility with all the most popular workstations. You can also record and playback audio from your computer or another USB device with the additional USB audio options, while the two AUX inputs and a stage monitor input provide versatility in both practice and live situations.
All in all, the Yamaha DTX10K-X is a fantastic e-drum set for serious musicians, with a level of flexibility and realism that'll satisfy even the most demanding drummer. Though it's one of the most expensive sets on this list, it's totally worth it.
Roland VAD706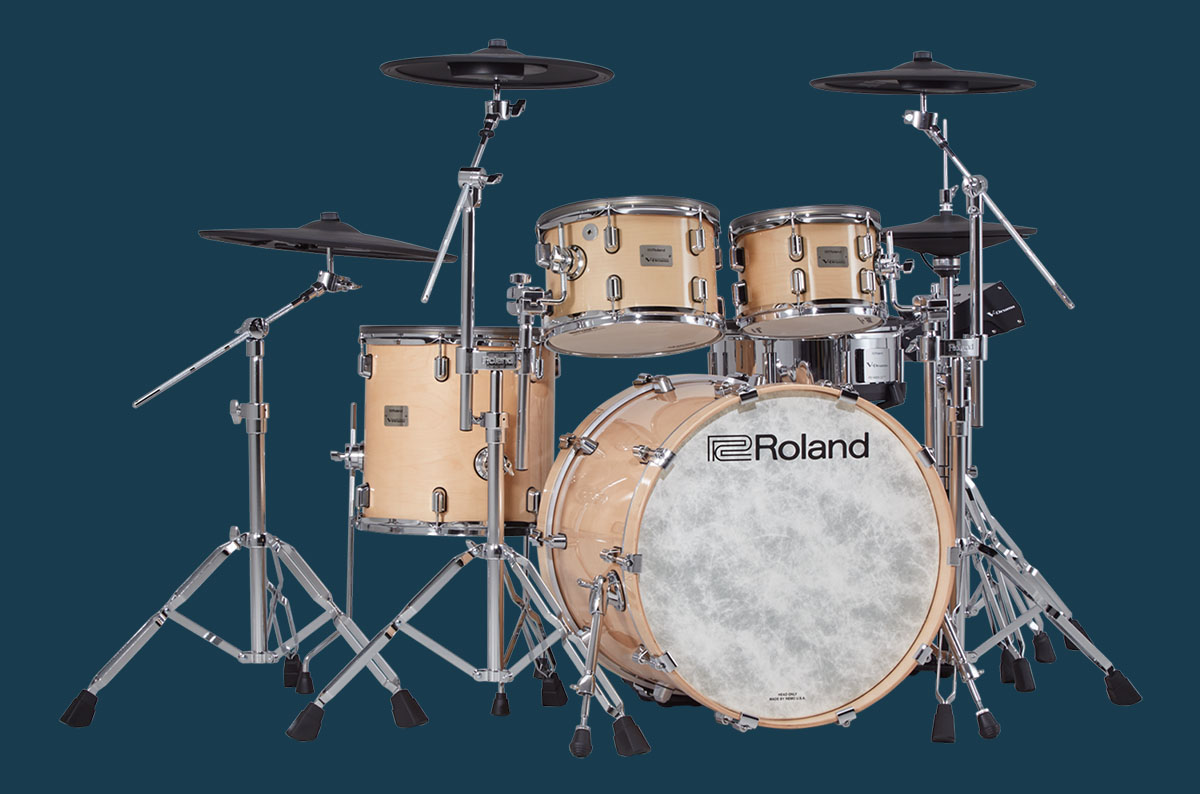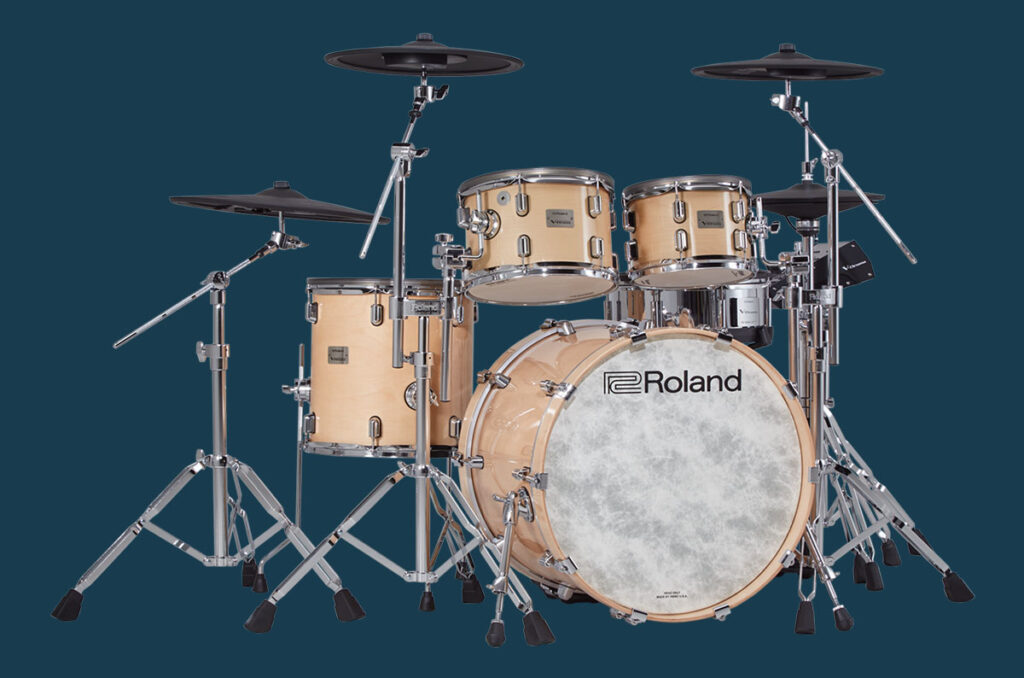 SPECIFICATIONS
Configuration: 5 drum pads, 4 cymbal pads
Number of kits: 70 presets, 900 user
Connections: MIDI, USB
ARGUMENTS IN FAVOR
Impressive sound library
A beauty to look at
Barely distinguishable from an acoustic set, the Roland VAD706 uses cutting-edge electronic technology to take e-drumming to the next level, with real wood shells finished in a deluxe maple lacquer and multi-ply mesh heads that deliver a professional playing experience.
Not only does this kit look like an acoustic set, but its construction and attention to detail make it feel like a tailor-made model. The multi-zone V-Cymbals are rubberized and slim, with a stunning range of expressive capabilities that can be customized to music styles. The 22-inch bass drum and 10/12/14-inch toms add depth to the overall sound, with a sonic articulation that's just like the real thing.
The TD-50X Drum Module offers an extensive sound library, with 70 preset drum kits and 900 instrument sounds, ranging from rock and jazz to EDM and more experimental stuff. Its Prismatic Sound Modeling technology gives you the flexibility to tweak and personalize your sound down to the smallest details, including the tone, tuning, and even the virtual microphone placement, which is particularly useful when you're recording.
Finally, the PureAcoustic Ambience is a great technology that helps you bring to life a realistic soundstage experience wherever you are, adding the benefits of digital control and customization to a drum set that looks, sounds, and feels amazing.
Efnote 5 E-Drum Set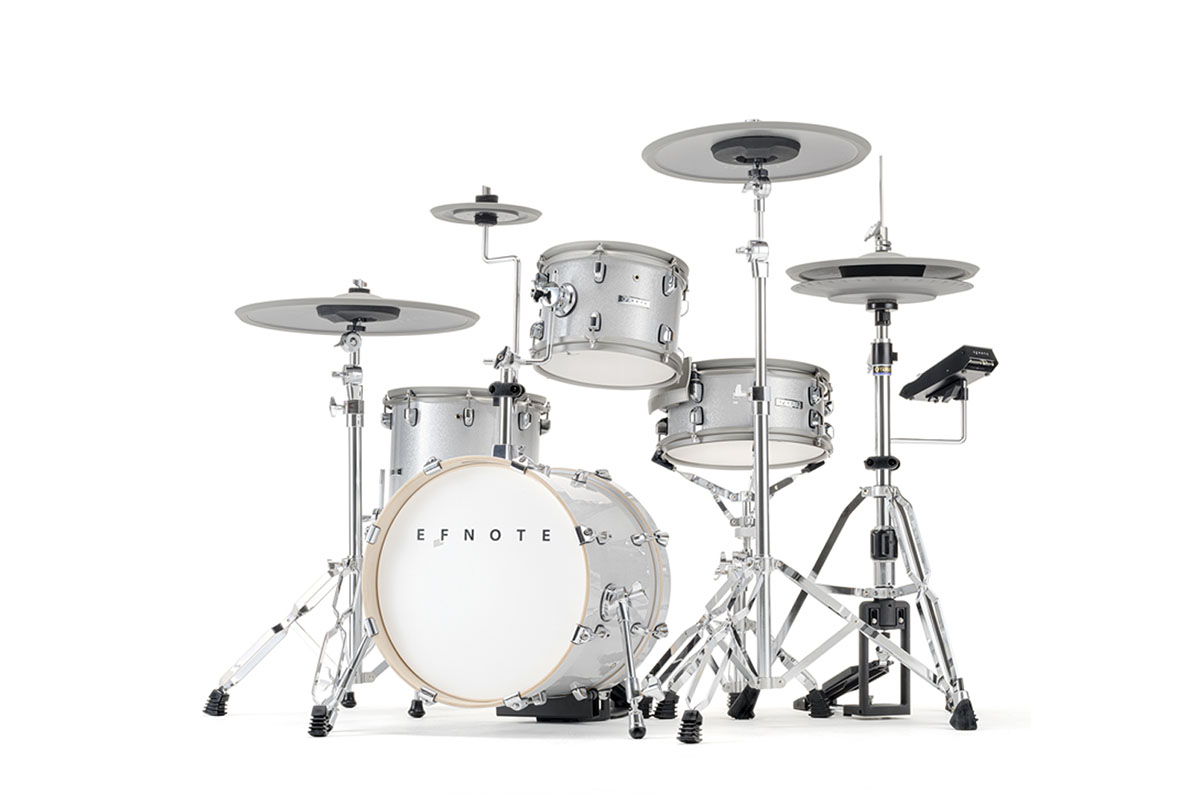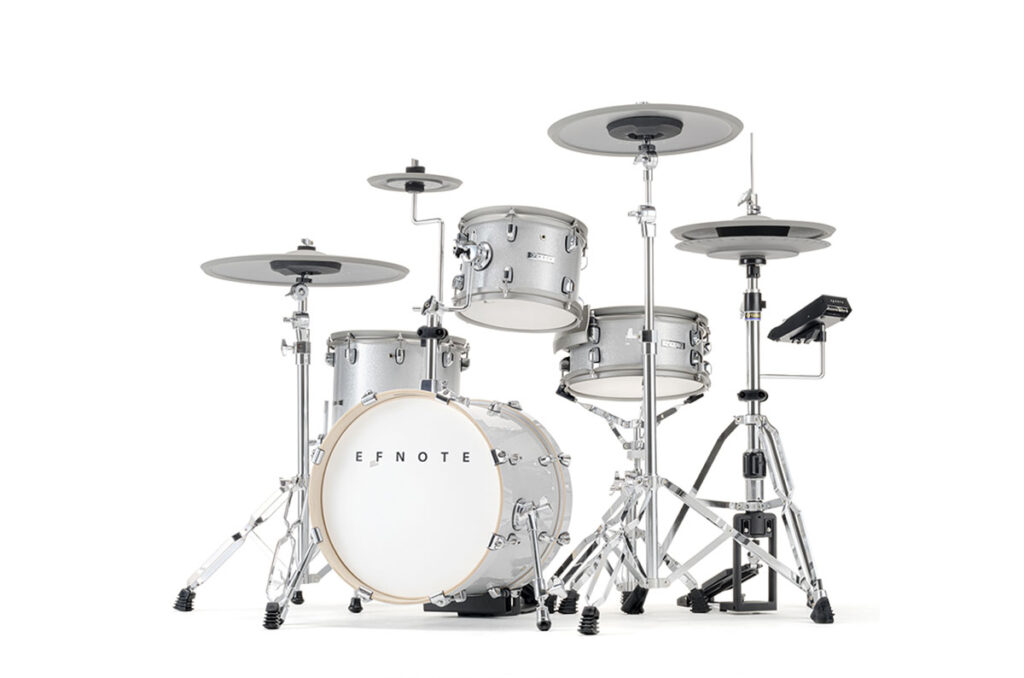 SPECIFICATIONS
Configuration: 4 drum pads, 4 cymbal pads
Number of kits: 17 Presets + 83 User
Connections: MIDI, USB, Bluetooth
ARGUMENTS IN FAVOR
Beautiful
Intuitive interface
NEGATIVE POINTS
Not many "unconventional" sounds in the library
The Efnote 5 E-Drum Set is a relative newcomer to the electronic drumming race, but I gave it a try, and I was impressed by its customization options and expressiveness. With a clean, minimalist, and unquestionably modern design, it might just look like a cool-looking e-drum set, but that couldn't be farther from the truth.
The drum module offers a level of realism that can easily make you forget you're playing an electronic kit: subtle nuances in snare wire response and toms' resonant overtones are all clearly audible and adjustable to one's requirements. The mesh heads are tension-adjustable and translate playing dynamics magnificently, allowing for soft ghost notes and assertive strikes to be articulated with precision and finesse.
With multiple outputs and a USB port, seamless DAW integration, and onboard recording capabilities, options with the Efnote 5 are literally endless. Aside from looking beautiful, the hardware feels sturdy and durable, giving the impression of an instrument that could last a lifetime.
To me, the Efnote 5 E-Drum Set is a no-nonsense, sophisticated, and finely crafted instrument that shows how e-drums should be these days: simple, minimal, and a joy to look at.
Roland TD-27KV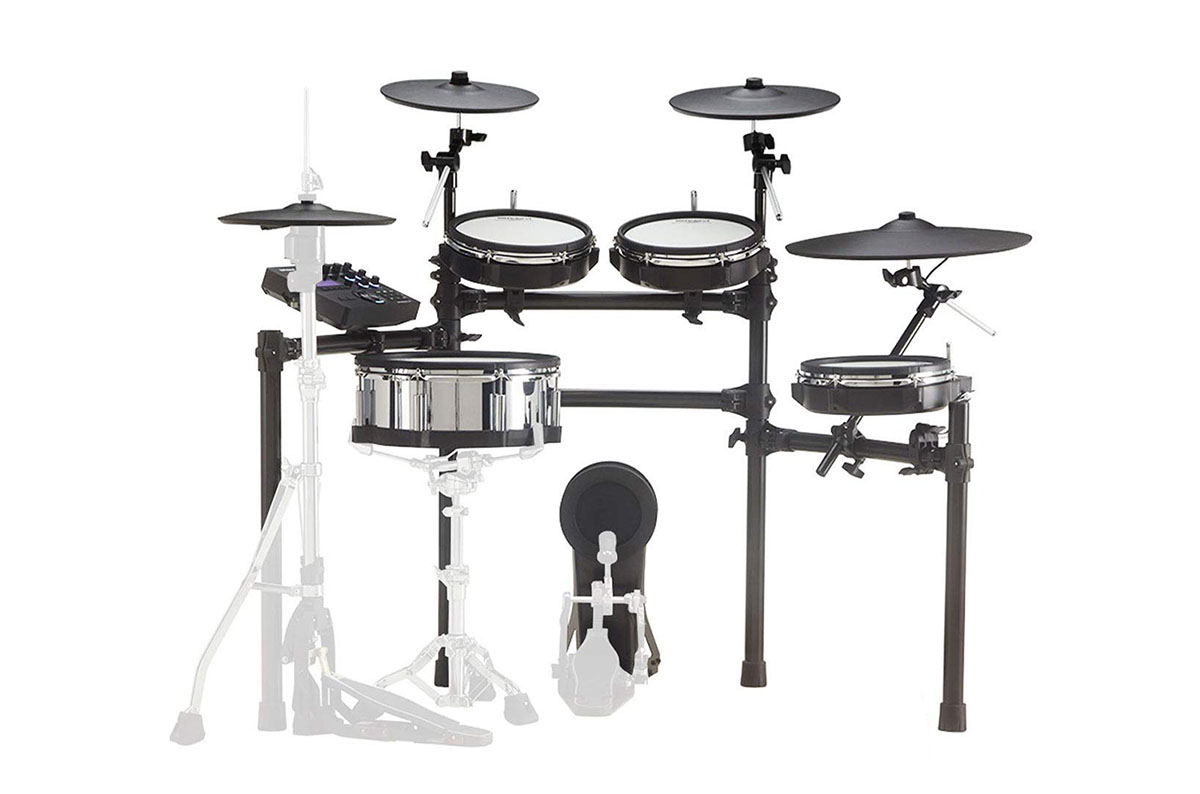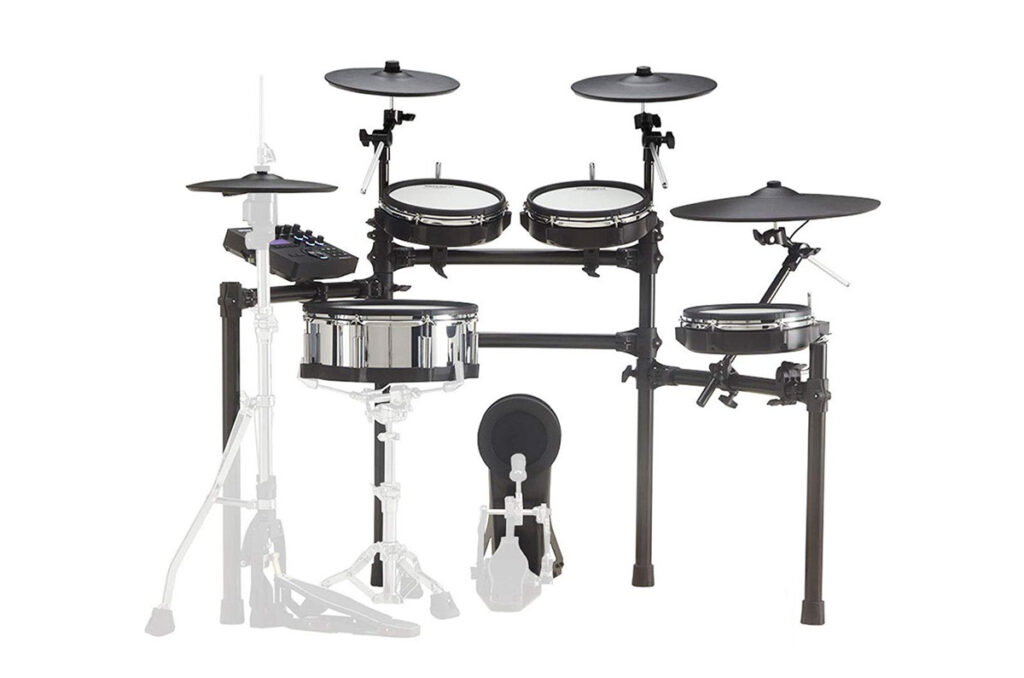 SPECIFICATIONS
Configuration: 5 drum pads, 4 cymbal pads
Number of kits: 75 presets, 45 user
Connections: MIDI, USB, Bluetooth
ARGUMENTS IN FAVOR
A versatile model that combines performance and affordability
A follow-up of the excellent TD-27KV, the TD-27KV2 features a more powerful TD-27 sound module, enhanced by Roland's cutting-edge Prismatic Sound Modeling. This advanced technology offers endless customization options and subtle adjustments of everything from shell tone and tuning to cymbal size and articulation. The pads are superb, in particular the crash and hi-hat cymbals with their thinner profiles for more accurate responsiveness.
The PureAcoustic Ambience Technology emphasizes realism when recording, which you can do professionally thanks to 28 channels of multitrack audio to a DAW via a single USB cable. Furthermore, the set comes with seamless built-in Bluetooth capabilities for music streaming, ideal for practice sessions, video tutorials, and more.
Reasonably priced and fully customizable, the Roland TD-27KV is one of those few e-drums that I'd equally recommend to beginners and seasoned players.
Yamaha DTX6K3-X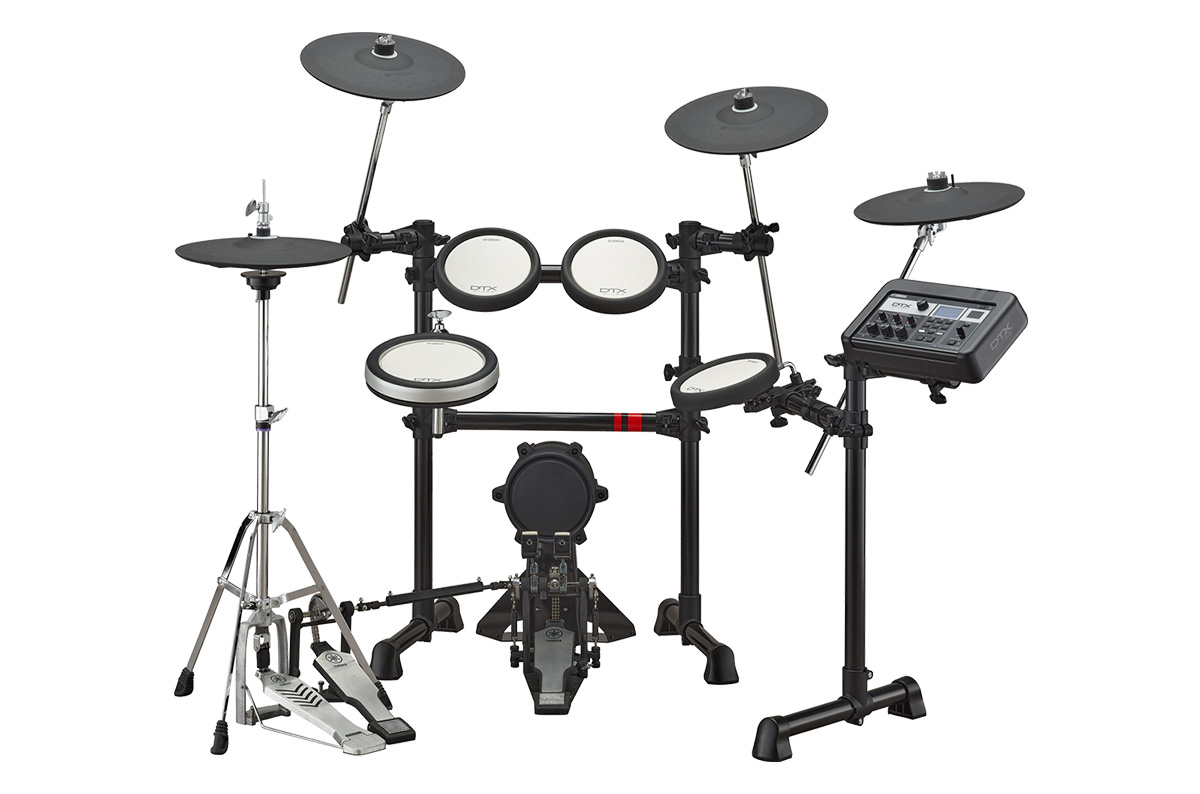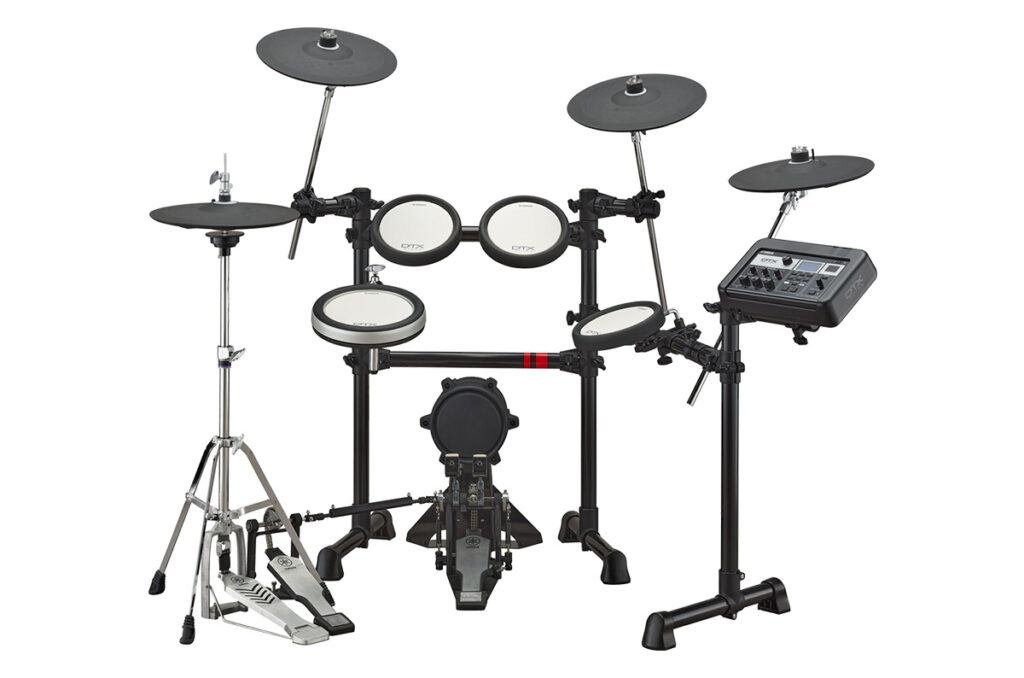 SPECIFICATIONS
Configuration: 5 drum pads, 4 cymbal pads
Number of kits: 40 presets, 200 user
Connections: MIDI, USB
ARGUMENTS IN FAVOR
Yamaha's signature playing experience
NEGATIVE POINTS
Hi-hat not as responsive as high-end models
The Yamaha DTX6K3-X offers great responsiveness and expressiveness in a compact design. Thanks mostly to the textured silicone snare pad and 3-zone cymbals, the drum set offers a remarkably authentic playing experience. The silicone snare pad, in particular, does an excellent job of replicating the feel of an acoustic snare, complete with realistic rim shots (which are always tricky) and cross-stick capabilities.
The Kit Modifier feature lets you tweak the tone, ambiance, and compression of the drum sound, while the onboard effects are just what you'd expect from Yamaha: balanced, realistic, and unique.
More affordable drum sets often sacrifice realism and playability. However, the Yamaha DTX6K3-X offers great value for money, so if you want to spend less than $2000, definitely take it into consideration.
Gewa G3 Pro 5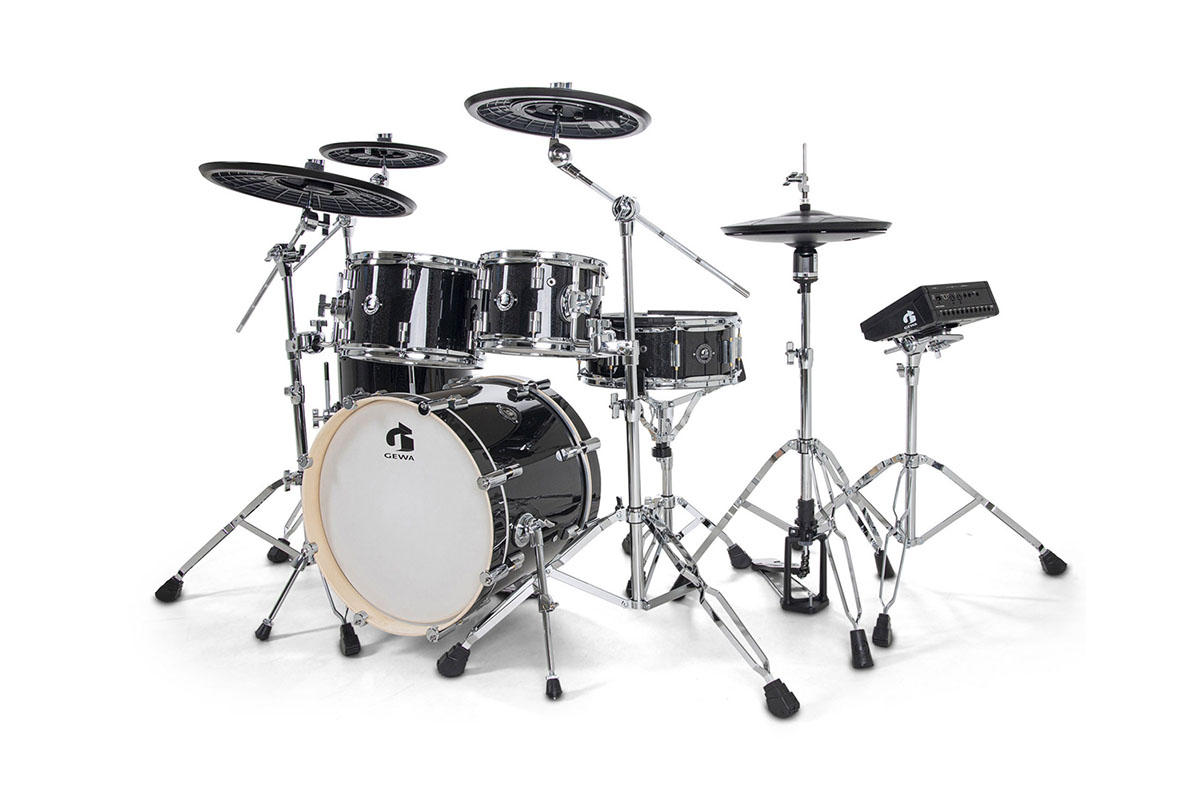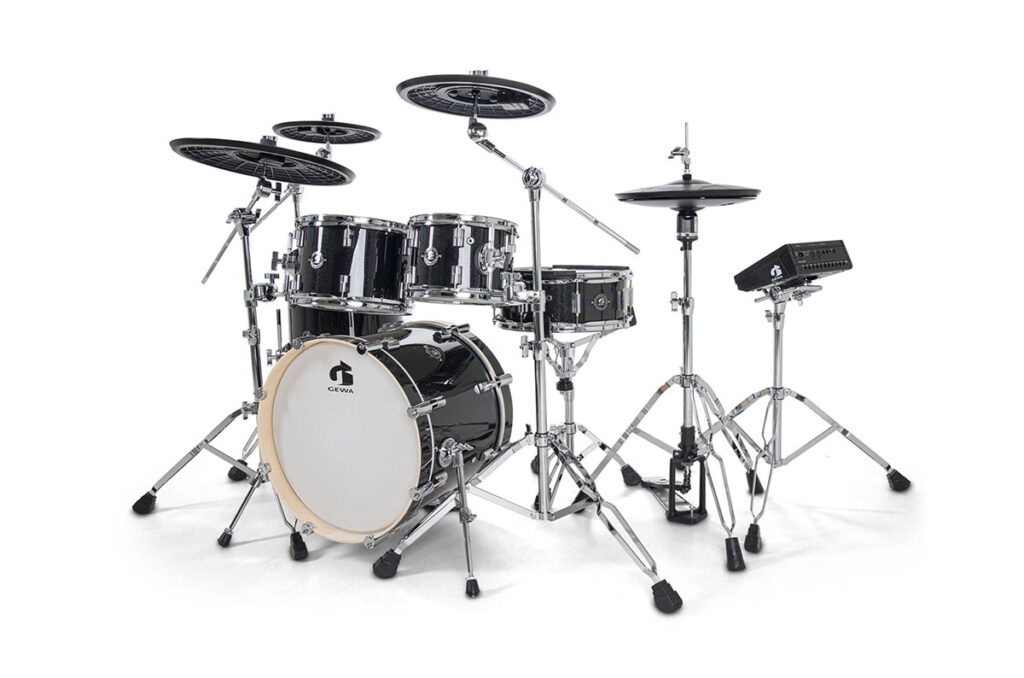 SPECIFICATIONS
Configuration: 5 drum pads, 4 cymbal pads
Number of kits: 40 presets, 128 user
Connections: MIDI, USB, USB Audio, Bluetooth
ARGUMENTS IN FAVOR
Authentic sound
Easy to use for recordings and live performances
NEGATIVE POINTS
There are many other good models in this price range
With the engine from GEWA's top-of-the-line G9 module, the Gewa G3 Pro 5 offers 40 preset drum kits and a staggering 901 individual instrument sounds, all recorded at the iconic Funkhaus Studios in Berlin. Add to that the capacity for 128 editable user kits, and you have a sound palette that can adapt to virtually any situation.
What's remarkable is also the module's intuitive user interface, which makes it easier to find or sculpt the perfect sound on the fly. In addition to the high-quality presets, the G3 Pro 5 offers extensive customization options and supports USB, MIDI, and Bluetooth connectivity, letting you wirelessly connect your smartphone or tablet to play along with your favorite tracks.
Not as renowned as other more blazoned brands, Gewa still managed to bring to life a performing, robust, and financially accessible drum kit. Although at this price range, I'd look for other models (the Efnote, for instance), the G3 Pro 5 is still an excellent model that's easy to play and customize.
KAT Percussion KT-300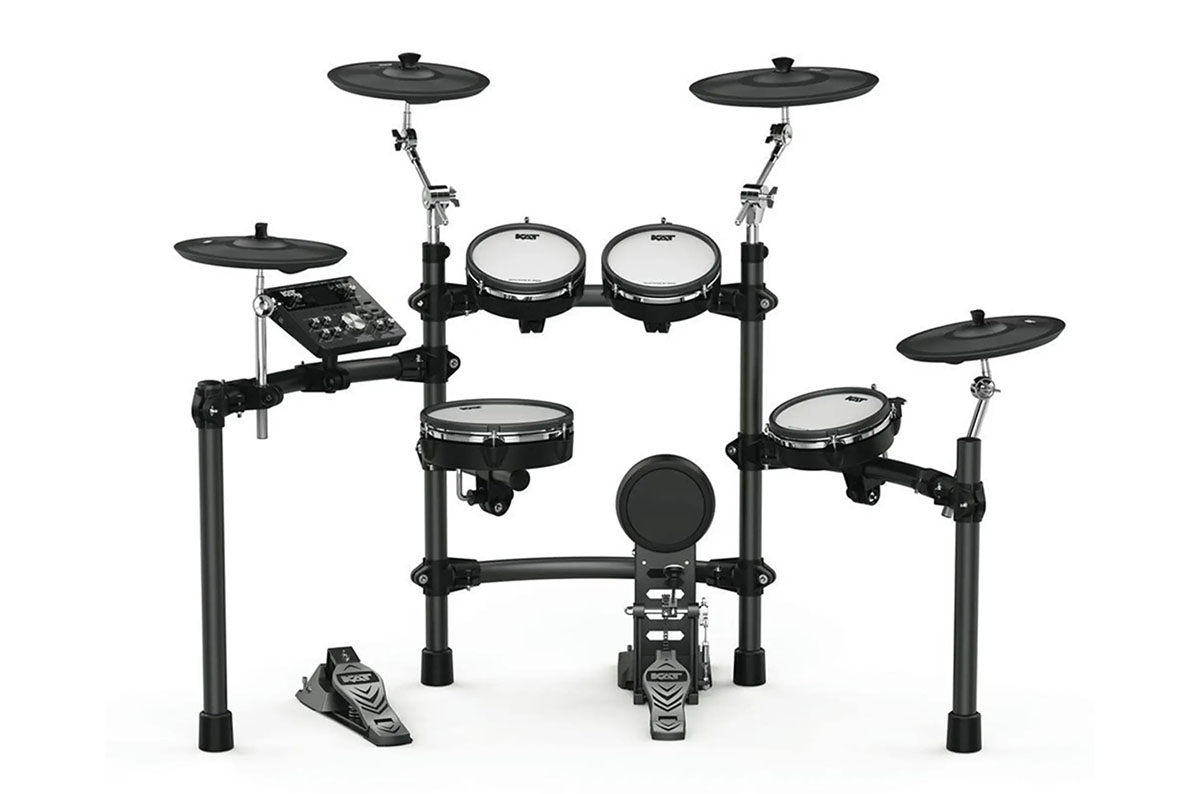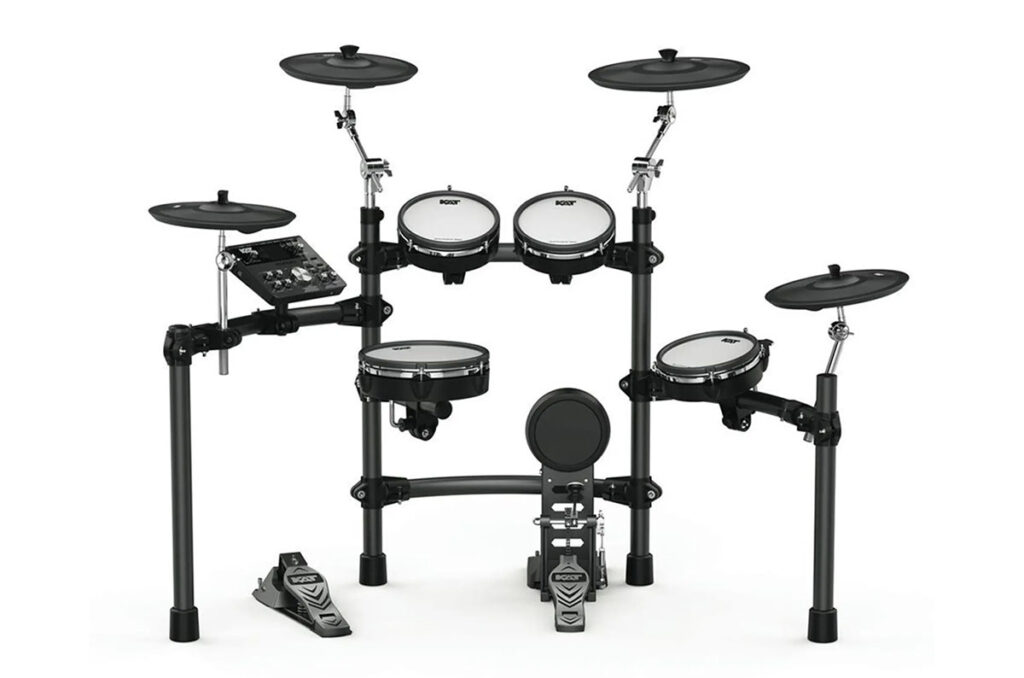 SPECIFICATIONS
Configuration: 5 drum pads, 4 cymbal pads
Number of kits: 30 presets, 18 user
Connections: MIDI, USB
ARGUMENTS IN FAVOR
Great for practice
High quality effects
NEGATIVE POINTS
Limited number of kits available
Are you looking for a compact practice kit under $1000 that still sounds great? Look no further than the KAT Percussion KT-300.
The REMO mesh heads are the real treat here. These heads are not only sensitive to the touch but also incredibly durable, regardless of whether you're an aggressive or gentle player. Plus, the kit's Dual-Triggering technology, with separate zones at the head and rim, offers a wide strike area and ensures that the tone varies according to the intensity and location of your strike.
The KT-300 has a few interesting features. While it comes with 20 demo songs that you can jam along with, you can also use the AUX IN interface to plug in your own audio devices. The kit also has a recording feature, letting you evaluate and improve your drumming skills over time. I also love the ONE KNOB function, a handy feature for quickly adding effects like overdrive, compressor, reverb, and tune.
You might never take it with you on stage, but for $1000, the KAT Percussion KT-300 could well become the secret weapon to enhance your practice sessions.
Roland V-Drums TD-07DMK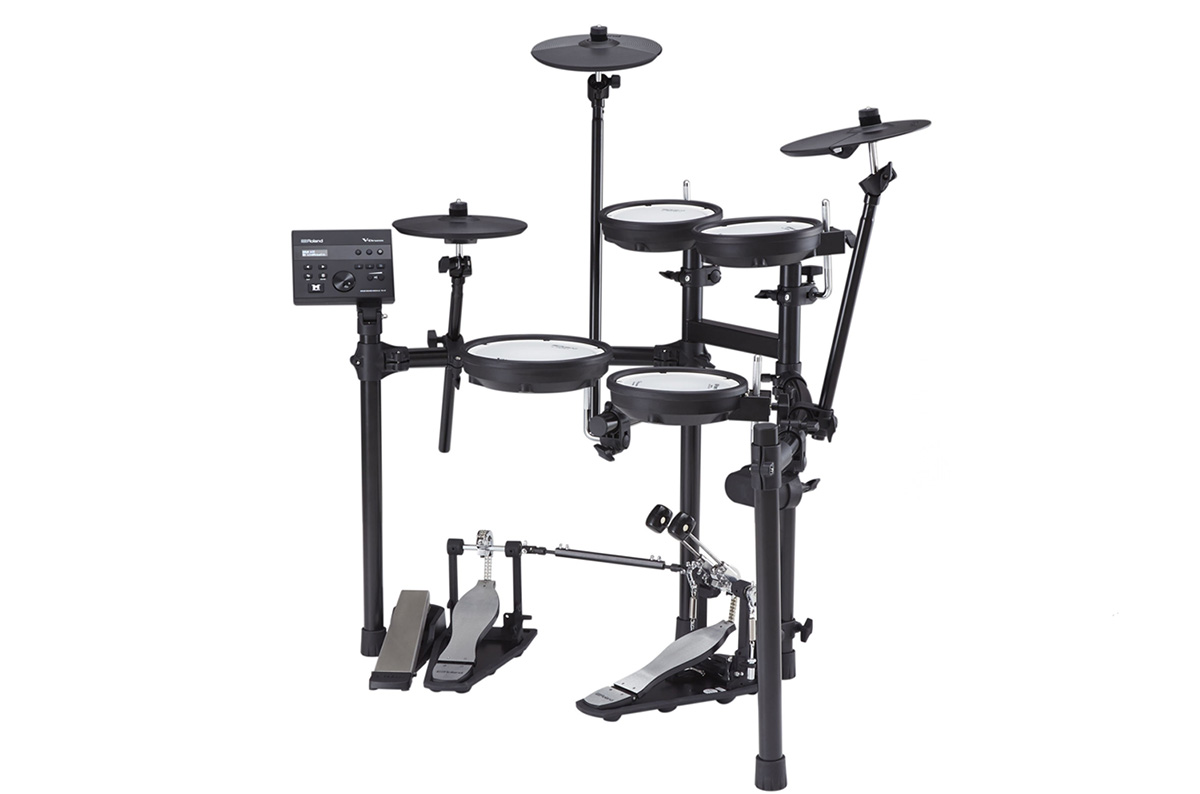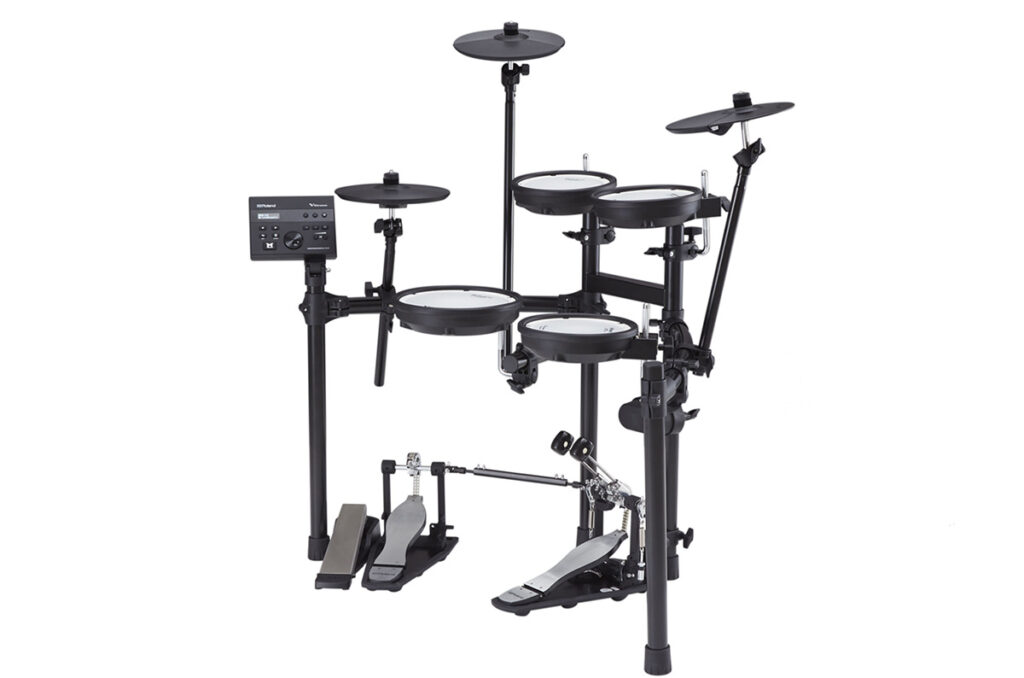 SPECIFICATIONS
Configuration: 5 drum pads, 3 cymbal pads
Number of kits: 25 presets, 25 user
Connections: MIDI, USB, Bluetooth
ARGUMENTS IN FAVOR
Compact
Affordable
Very good learning functions
NEGATIVE POINTS
No separate hit zones on rims
Somewhere in between beginner kits and pro setups, the Roland V-Drums TD-07DMK features all-mesh heads that give a highly accurate playing experience. The TD-07 module provides a wide sonic palette with over 50 preset kits and numerous custom options.
Interestingly, it also comes with coaching functions, making it ideal for practice sessions on timing, speed, or various drumming techniques. This emphasizes that the TD-07DMK is an e-drumkit for drummers aiming to improve their style.
Despite its many features, the TD-07DMK manages to maintain a compact footprint thanks to a design that prioritizes stability and portability over hardware realism. The USB, MIDI, and Bluetooth connectivity options are the icing on the cake for a model that can help you scale up as a drummer without breaking the bank.
Alesis Nitro Mesh Kit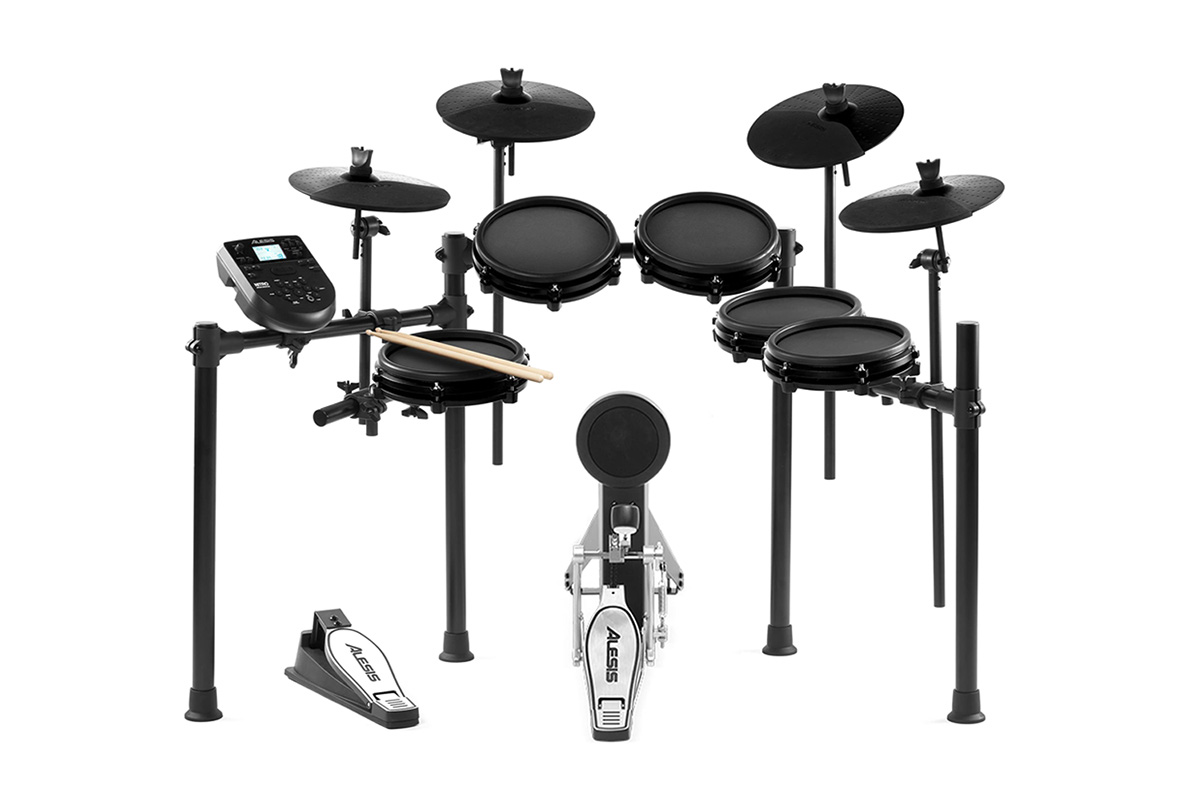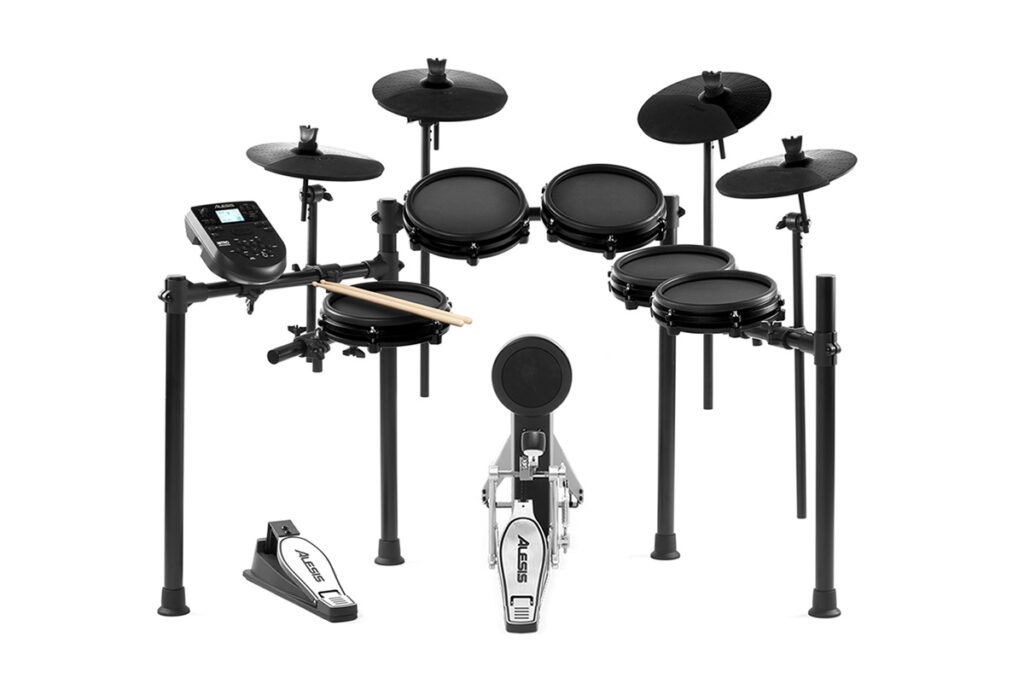 SPECIFICATIONS
Configuration: 5 drum pads, 3 cymbal pads
Number of kits: 32 presets, 16 user
Connections: MIDI, USB, Bluetooth
ARGUMENTS IN FAVOR
Everything you need to get started at an unbeatable price
Ridiculously cheap, the Alesis Nitro Mesh Kit is a compact, feature-rich set that every broke beginner drummer should get.
The Nitro Max Drum Module acts as the brain of the setup and offers a massive library of 440 sounds derived from BFD and Strata sample libraries. With 32 factory kits and the freedom to design 16 more, you'll have enough customization options to start your drumming experience. With this e-kit, you'll also get a Melodics drum lesson subscription and 90 free days of Drumeo courses, which is a bargain when you think about it.
The hardware feels sturdy and customizable, with a pad design that's been greatly improved compared to the kit's predecessors. A big plus is that it comes with kick and hi-hat controller foot pedals, along with a power supply and all necessary cabling. You basically get a complete package that's ready to play right out of the box. Bluetooth connectivity at this price is also something quite remarkable.
The robust design, educational extras, and connectivity options make the Alesis Nitro Mesh Kit a great solution for beginners who want an affordable but performing e-drum set.
Roland TD-02KV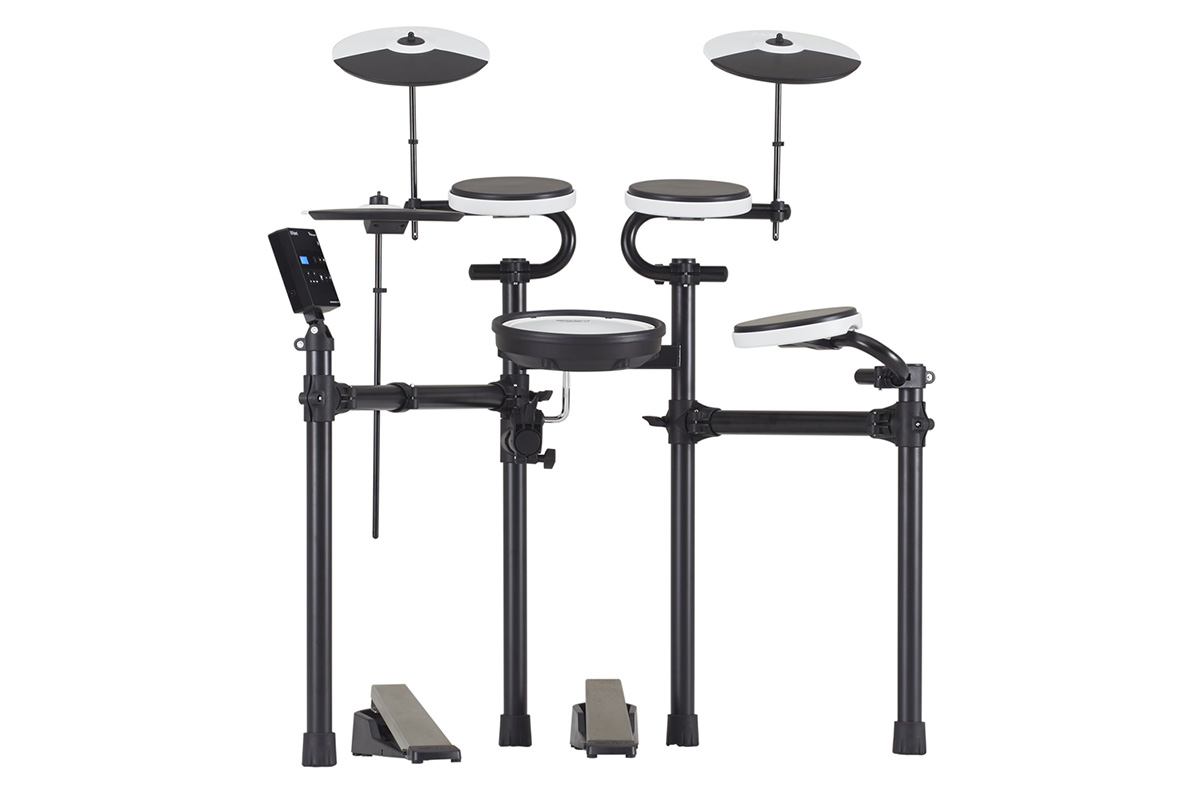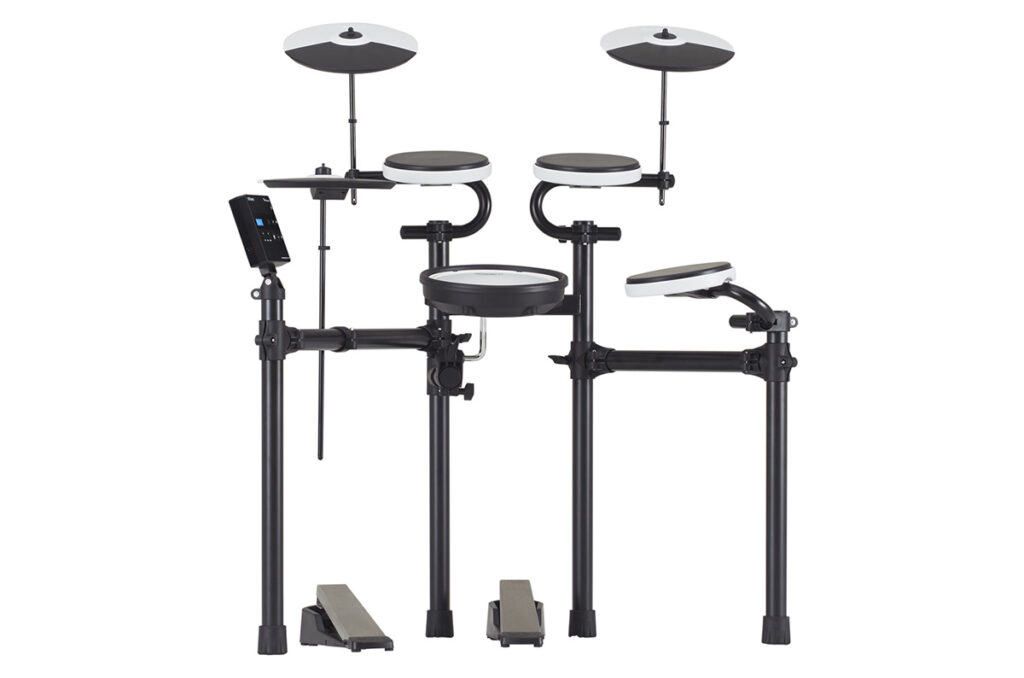 SPECIFICATIONS
Configuration: 5 drum pads, 3 cymbal pads
Number of kits: 16 presets
Connections: MIDI, USB, Bluetooth
ARGUMENTS IN FAVOR
Small
Unique design and versatile enough for beginners
The Roland TD-02KV is a valid option for anyone who needs a no-nonsense e-drum kit with a small footprint that's silent enough to practice but also customizable enough to use on stage.
The TD-02K Module at the heart of this set is beginner-friendly and not particularly performing, but with 16 factory drum kits, you can still explore quite a few rhythmic moods. The e-kit comes with valuable coaching features such as Time Check and Quiet Count modes to help sharpen a beginner's technique.
While playing, the pads offer a realistic bounce that you'll be able to apply to an acoustic set without issues. Although the design stands out when compared to other, more traditional models, playing the TD-02KV feels quite effortless and pleasant, and its small size gives you the impression of being in complete control of the instrument.
For the price, the Roland TD-02KV has a wide array of effects and coaching functions, ideal for beginner drummers who want to experiment with different sounds and styles and need an e-kit that doesn't occupy the whole room.
Frequently asked questions
Do you need an electronic drum set?
An electronic drum set can be an ideal solution for various reasons. It's easier to record and customize your drums, you can practice at all times and don't need to tune your instrument. Whether you need it or not will depend mostly on where you're going to play it and how you're planning to use it. If you live in a flat in a big city, chances are an e-kit is your best option. If you live in the countryside, with plenty of space and an understanding neighborhood, you might just as well opt for an acoustic set.
How to choose the right kit for you
Depending on your level, there are different aspects you should focus on.
Beginners: If you're a beginner, you'll likely want a kit that is easy to set up and with a user-friendly interface. Look for kits that come with pre-programmed beats and training functions and a responsive kit that will allow you to develop your skills.
Intermediate: As an intermediate player, you've probably outgrown the basics and are looking for a kit to match your evolving skills. Look for a kit with a broader range of sounds and the ability to adjust individual settings. Check the connectivity and recording options so you can start refining your skills by playing along to your favorite tracks or recording your practice sessions.
Advanced: For advanced drummers, the sky's the limit in terms of features. Look for a kit with a high level of customization, from the type of drum sounds to the response of the pads. Look for a kit that has a sophisticated drum module, high-quality pads, and the versatility to integrate with external hardware.
How does an e-drumkit work?
An electronic drum kit uses rubber or mesh pads with sensors to translate strikes into digital signals. These signals are then sent to a drum module, which produces the corresponding drum sound.
The versatility that defines e-kits is the result of sophisticated modules that can translate strikes accurately and turn them in real-time into sounds.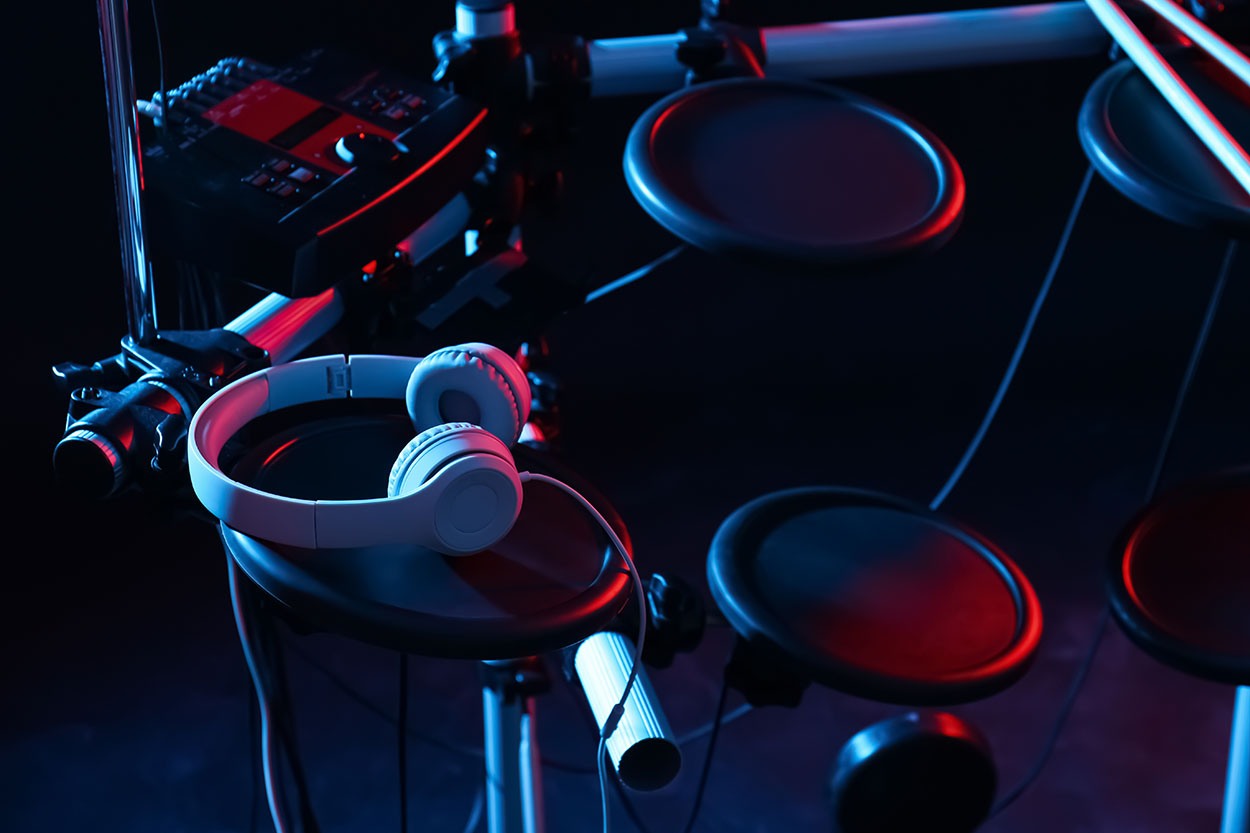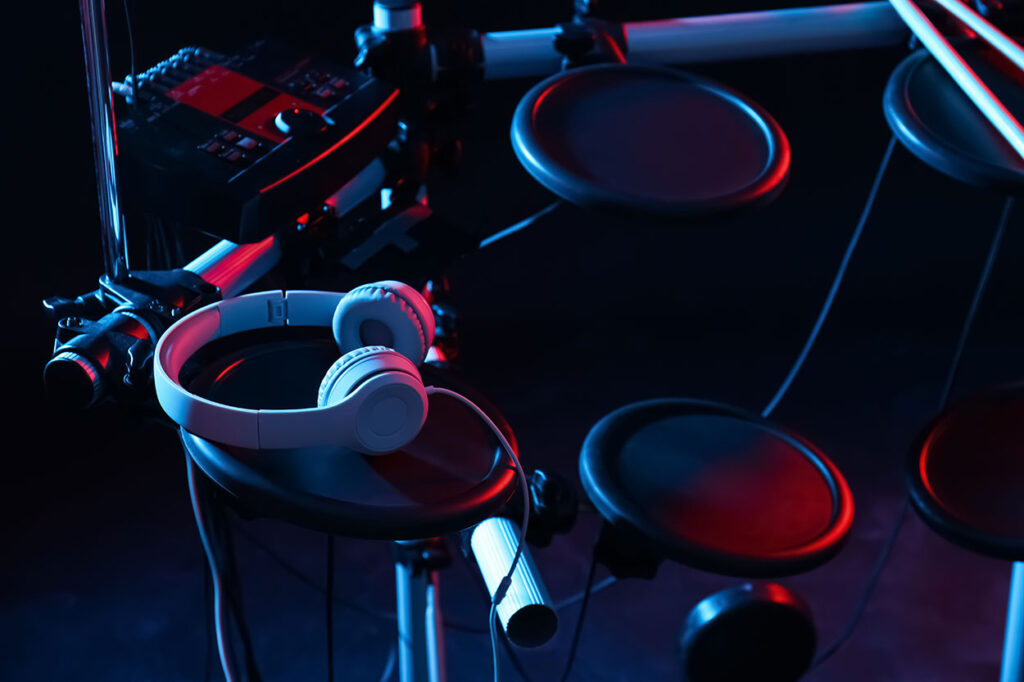 What is the drum module?
The drum module is essentially the "brain" of an electronic drum set, housing the sounds and functions that allow you to customize your playing experience. Modules vary in their complexity, ranging from simple setups with a few pre-recorded sounds to advanced systems that allow for extensive customization and even integration with digital audio workstations (DAWs).
Are E-Drums quiet? Can I practice in my bedroom?
E-drums are quiet but not inaudible. Depending on how the pads are made, they can be heard clearly from people near you when you hit them with the drumstick. Obviously, those around you won't hear the sound of the drum preset, but only the strike of the drumstick hitting the pad. That said, high-quality mesh pads can be extremely quiet, so you can definitely practice in your bedroom.
Do E-Drums sound realistic?
The realism of an electronic drum set's sound has improved immensely over the years. High-end models now offer extremely authentic sound profiles, essentially replicating the sound of acoustic drum sets. The degree of realism often translates into a hefty price, so if you're planning to tour or record an album with your next e-drum, be prepared to invest.
What is better, an e-drumkit or a regular drumkit?
There's no real answer to this question. Beginners might benefit from an e-drumkit as it would allow them to practice more. But would they learn to "love" the instrument as if it was an acoustic set? It's hard to say, as the answer depends on how a musician perceives their relationship with their instrument.
I'd say every drummer should have both. The electronic drum set can be used for practice and casual recordings, while the acoustic one can be used for gigs, professional recordings, and to get a feel of how the real instrument truly sounds.
In Conclusion
I hope you enjoyed this guide and that it'll help you decide which electronic drum kit best suits your needs.
Choosing between traditional and electronic setups can be a tough decision. With technology constantly advancing and the line between the two becoming more and more blurred, it's important to know your budget, identify your needs, and choose accordingly. Are you a beginner looking for a basic practice set or an experienced performer looking for a gig-ready setup? Luckily, the market today has options for all budgets and skill levels, so there's something for everyone.
Regardless of your choice, remember that the essence of drumming, or any form of music, is the joy it brings you. The instruments you choose should fulfill your artistic expression, making your musical journey unforgettable.
Good luck, and stay creative!
Keep reading: