The year is 2023, and 90% of the music that plays on the radio is produced exclusively in a DAW. These days, there's no need to record a real drum kit or real bass.
There are now such good VST plugins that can recreate any sound in the world (through samples or synthesis). Listeners have become accustomed to these sounds and expect them in modern productions.
VST plugins often offer much more flexibility than real instruments and save an incredible amount of time. You don't need microphones or an acoustically optimized room, and you can easily correct mistakes via MIDI without having to re-record everything.
And by now there are so many good free plugins (there are even free autotune plugins) that you don't have to spend money to start producing good music. You'll find the best options in this list.
Splice: Best VST Plugin Library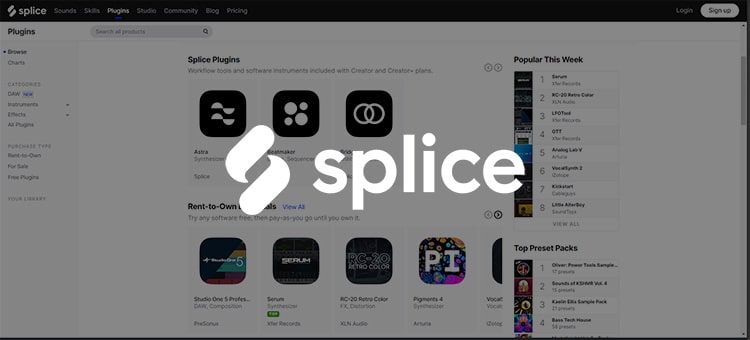 Splice is actually not a VST plugin, but a service where many well-known plugins are offered on a rental basis. This means that you pay a monthly subscription until you actually own the plugin after a certain time.
But the best thing about it is that you can try out all the plugins there for free for a while. That's great for testing in detail whether you really need the plugin before you buy it.
I myself have been using Splice for over 2 years - mainly because of the samples, as they offer the largest sample library on the market. For samples, Splice is a kind of marketplace where producers can offer their sample packs.
I have discovered really cool plugins like the synthesizer Serum or Arturia Analog Lab - but I also saved myself the purchase of many plugins that I might have bought outright if I hadn't tried them out.
Native Instruments Komplete Start: Best free VST plugin
Native Instruments is one of the most popular VST plugin manufacturers. The "start version" is a free VST plugin that is really great.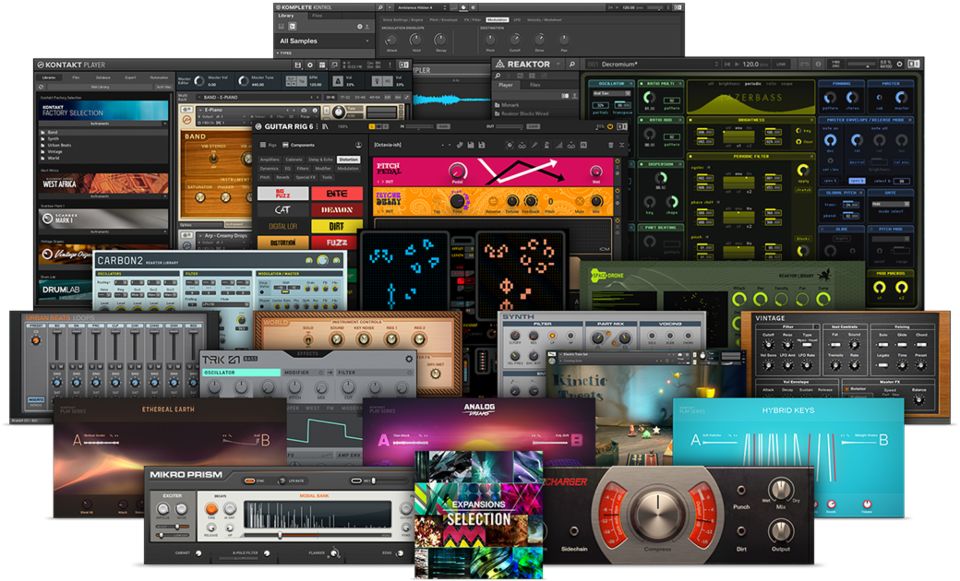 It's a 6GB package of effects, instruments, loops and samples (more than 2,000 sounds in total). It comes with Kontakt 6 Player, so you can also install other libraries from other companies.
Native Instruments offers some of the best VST plugins and sample libraries around, so you can be sure you're getting nothing but good quality.
If you need something more comprehensive and are willing to spend money, check out the full version, Komplete 14. For just under 300€ you get all the instruments you could ever need.
Kilohearts Essentials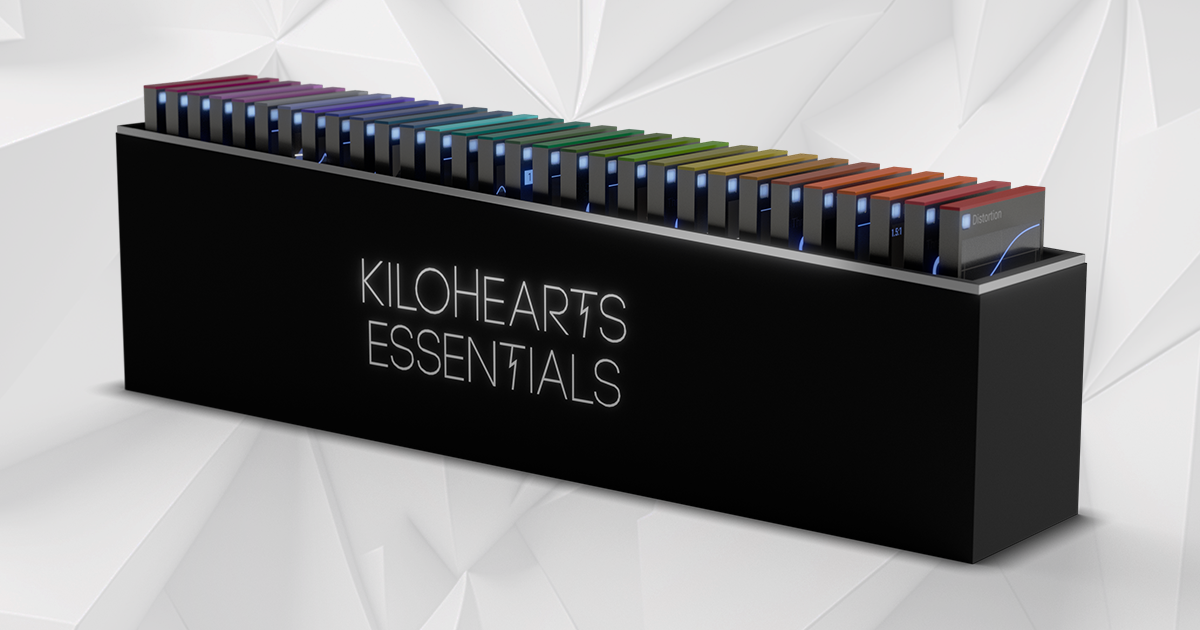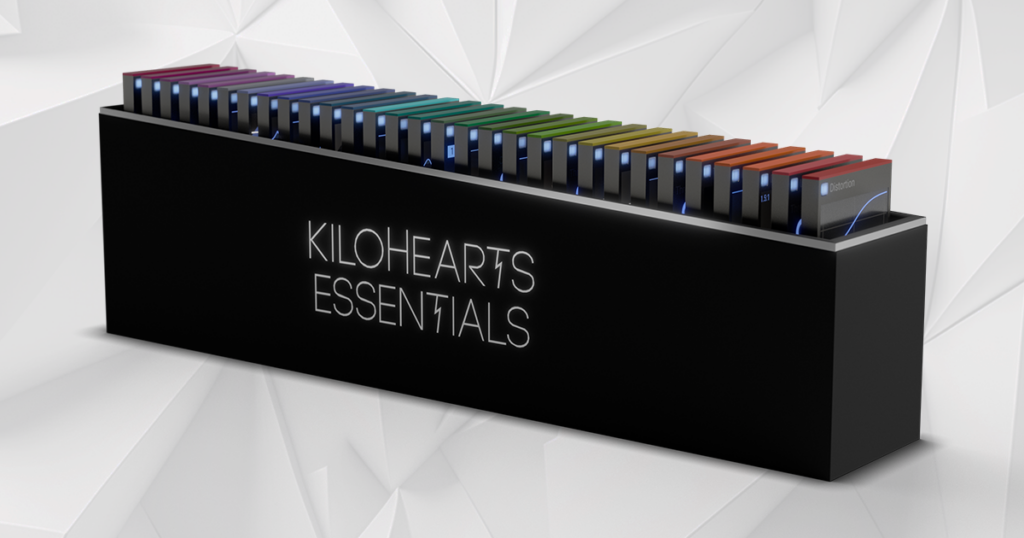 Kilohearts Essential is a collection of simple and free VST plug-ins that cover all possible application areas. EQ, Bit Crusher, Delay, Reverb... all kinds of effects are included. The use is very easy - but the effects are not as extensive as in the premium plugins.
I find the Transient Shaper to be particularly helpful, allowing you to edit the transients of audio tracks very easily and effectively. This makes it very easy to add more snap to the snare drum or more punch to the bass drum.
The Reverser is also very useful, allowing you to quickly play an audio track backwards and mix the reversed track with the original track.
All in all, it is hard to find a better free plugin package that covers so many areas without costing a single Euro. I recommend every producer to download this bundle immediately.
Link: Kilohearts Essential
Softube Saturation Knob
This simple, single knob saturation plugin is a distortion tool that adds extra dirt and harmonics to the input signal. Softube says it's great for "fattening up bass lines, adding overtones and shine to vocals, or smashing drum loops".
You can also choose between different settings for distortion and saturation, e.g. "Keep high", "Neutral" or "Keep low".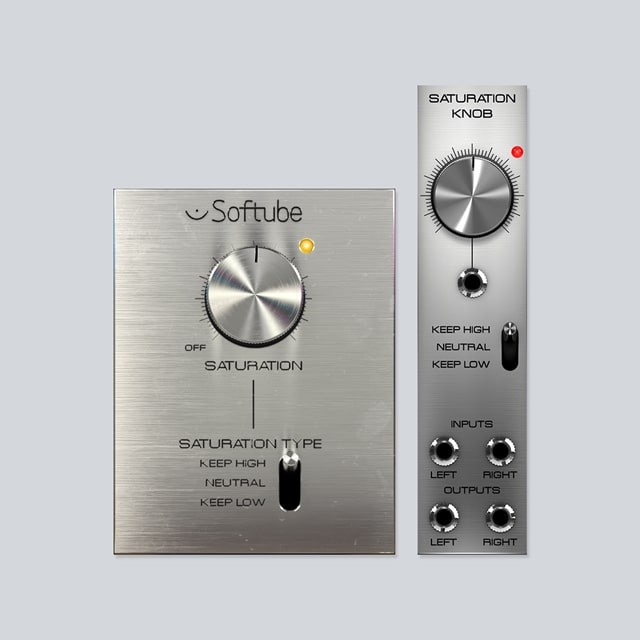 Although Softube offered it years ago for AVID Pro Tools and Presonus Studio One users, the Saturation Knob processor has been a free plugin for everyone since late 2014, regardless of the DAW they use. It supports VST, VST3, Audio Units (including M1) and AAX formats, and also works as a device in the Softube Modular Synthesizer.
Sound-wise, this free plugin is immediately convincing. From subtle saturation to drastic distortion, everything is possible. And the user-friendliness is of course another positive feature.
Xfer Ott: Multiband Compressor
The Xfer OTT is a free plugin from the same company that developed Serum, Nerve and Cthulhu. These are all excellent plugins that have found their way into countless productions in all genres of music. The OTT has also found its way into many productions, and for good reason: it's fantastic.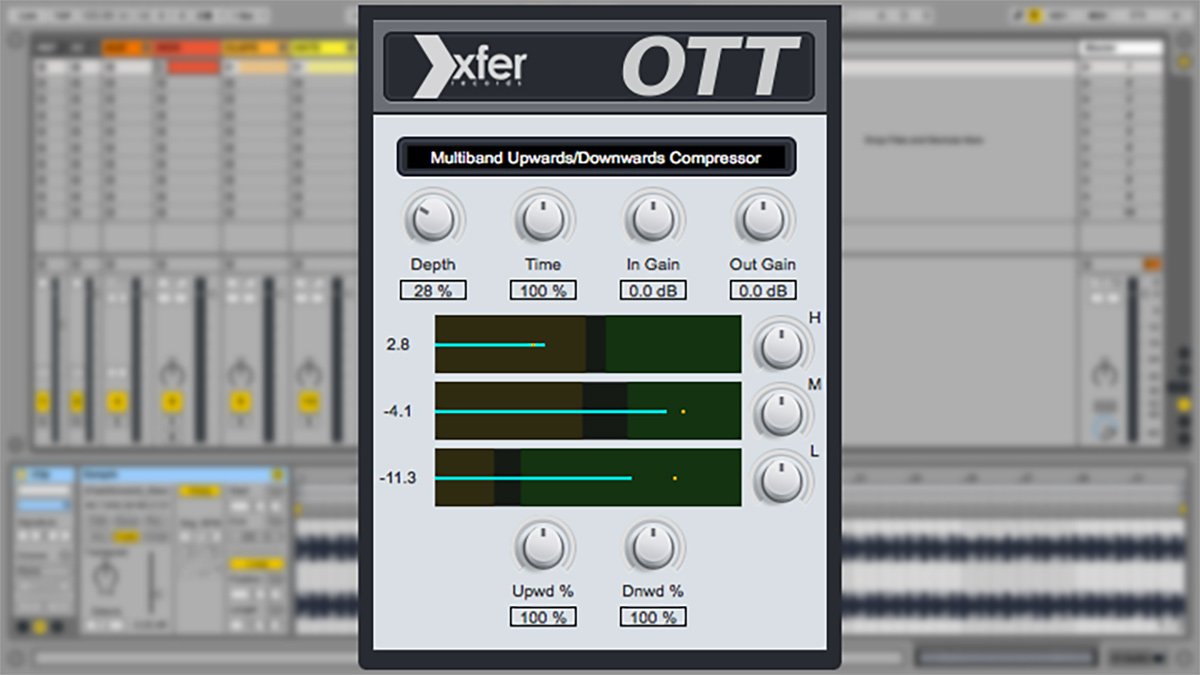 Ableton users will probably already know this effect. OTT is a technique that stands for "Over The Top" compression. As the name suggests, this is a compression technique that you can use if you really want your sound to stand out.
The main idea behind the audio effect is extreme upward and downward compression. OTT pushes the loudest parts of your sound down, while the quietest parts get louder. The result: no dynamics and an extremely squeezed sound.
Considering the high quality of Ableton's standard version, one may ask why one should rather use Xfer's OTT instead. In my opinion, there is little difference in the sound of the two plugins. The difference is more in the GUI.
In my opinion, everyone should own this plugin. And since it's free, there's no reason not to try it out!
By the way, Slate Digital has developed an even better plugin, namely the Slate Digital MO-TT, which has the same function but has been enhanced with very many additional features.
Also interesting: The Best Audio Interfaces in 2023
Surge XT: Best free VST plugin for sound designers
The Surge XT plugin is a very versatile free synthesizer that can create a multitude of sounds. With its advanced wavetable synthesis engine, you can create complex and dynamic sounds that are perfect for modern electronic music genres such as EDM, dubstep, and future bass.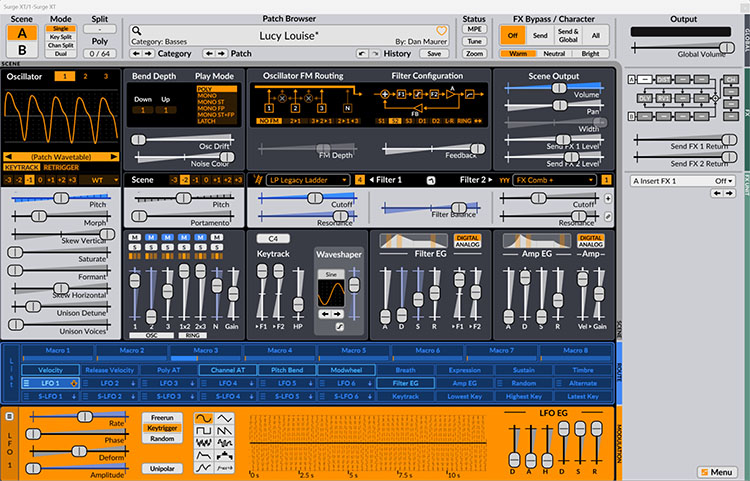 The user interface of this free VST plugin is clear and intuitive, making it easy to create your own patches or modify existing presets. The main window displays the waveform of the currently selected oscillator, as well as the filter and modulation settings. You can also adjust the envelope parameters and add effects such as delay, reverb and distortion to further shape your sound.
One of the best features of the Surge XT plugin is the extensive modulation options that can be assigned to each parameter. You can assign any parameter to any of 16 modulation sources, including LFOs, envelopes, and step sequencers. This allows you to create complex and dynamic sounds that change over time.
With a total of 2285 presets, there should be something for everyone who doesn't feel like creating their own sounds. All in all, one of the best free VSTs for production and composition.
Valhalla Super Massive
The developers at Valhalla have a habit of creating great VST plugins and selling them at affordable prices. They also specialise in reverbs and delays. But this plugin is really the bomb! Especially because it's 100% free.
This free VST plugin is a combination of reverb, delay and modulation. These can be combined with each other to create "massive" reverberation rooms.
With the firm promise to "to lead our minds and music to new horizons of consciousness and experience", Valhalla Supermassive exudes "Clouds of reverb, otherworldly dealys and breathtaking feedback loops like you've never heard before.".
This plugin is very often used by Travis Scott for his adlibs: It provides the characteristic, gigantic, modern reverb you hear in his songs, like on "Highest in the Room" (you can hear it for example on adlibs like "It's lit!" or "Yeah!").
I have to admit that this free VST plugin is one of my absolute favourites.
Spitfire Audio LABS: Uncomplicated All-Rounder
Spitfire Audio Labs is a really great VST plugin. I have to say, this company really produces many, very good free plugins! 2 of them are in this comparison.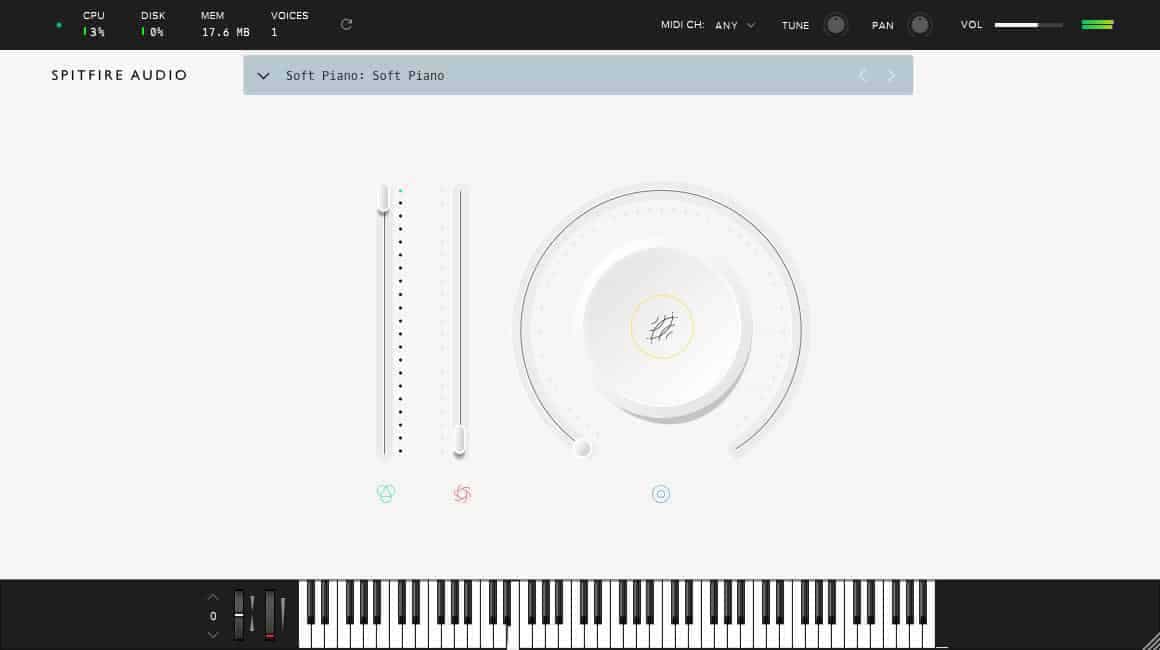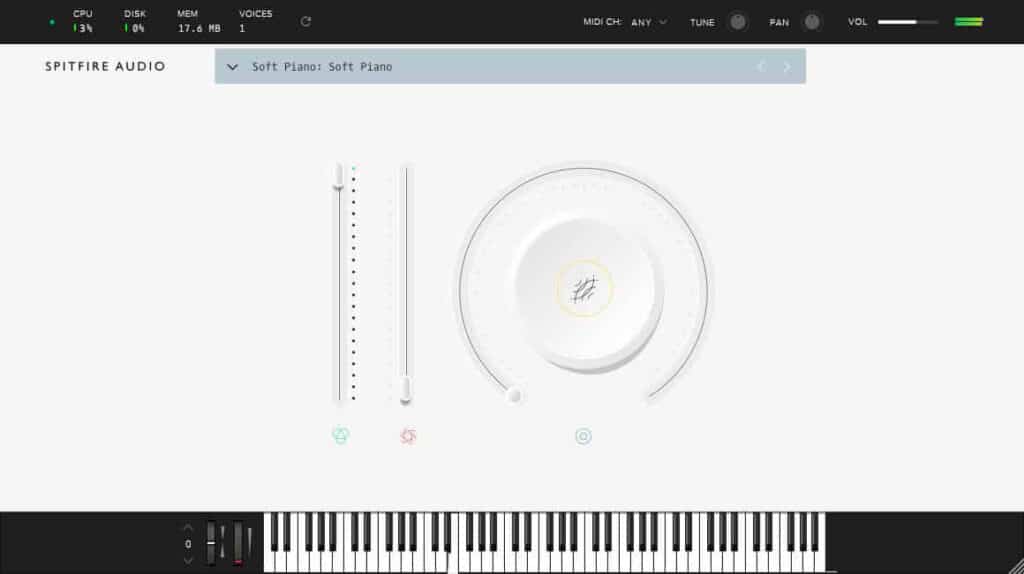 This plugin contains many instruments, e.g. strings, guitars, drums or piano. But you have to download each instrument separately, so it's similar to Kontakt.
Most of these sounds have a gritty, grainy, old texture reminiscent of sampling old vinyl records. This may or may not be intentional, but it's a plus if you like vintage sounds.
This free VST plugin also consumes relatively few CPU resources, something very important when working digitally. You will be thrilled!
Also interesting: The 10 best free DAWs
Vital Audio: Best free VST synth
Vital Audio is a very complete wavetable synthesizer that allows you to create sounds by combining 3 oscillators, 2 filters, 8 LFOs and 6 envelopes.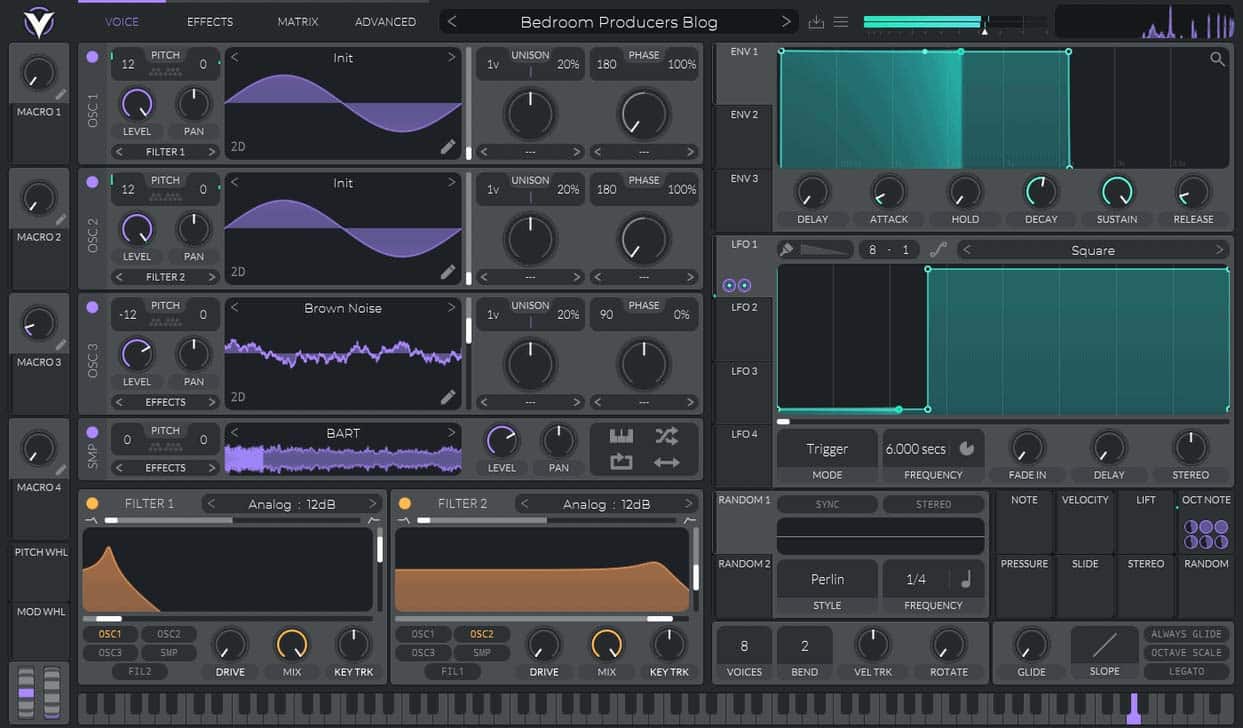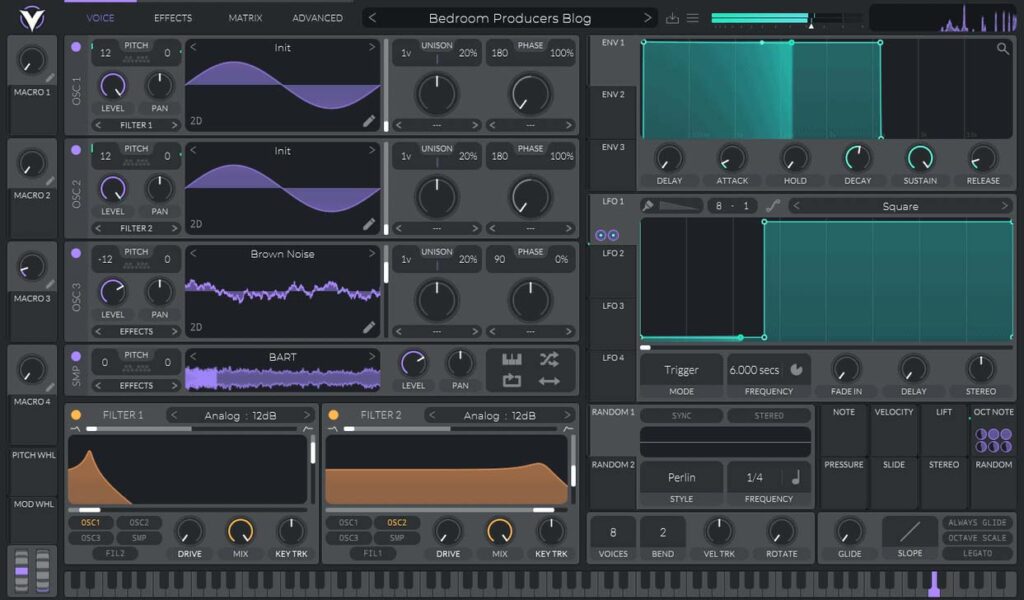 The free version comes with 75 presets and 25 wavetables, and I must say, it sounds incredibly good! It can easily compete with other paid VST plugins.
It is fully equipped with advanced features like filters, effects and endless modulation possibilities. Even if you have other synthesizers like Serum, you should still try this free VST plugin.
There are also some premium add-ons that you can buy later - but even without these, this is a really great synth.
TDR Nova
The TDR Nova plugin is a dynamic equalizer that combines advanced features with an intuitive, easy-to-use interface. With its flexible EQ curve and dynamic editing capabilities, the TDR Nova plugin allows you to shape your sound with precision and control.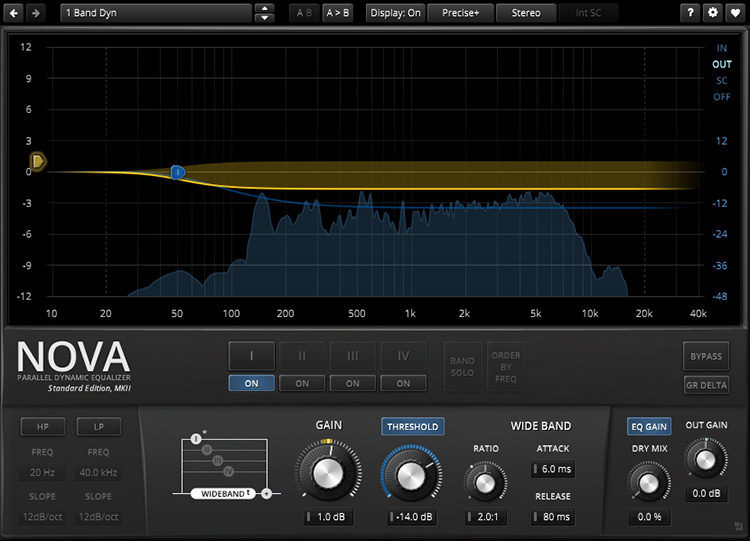 The Dynamic Equalizer mode, which allows you to boost or cut certain frequency ranges depending on the level of the input signal, helps you control the dynamic range of certain frequencies in your song. This allows you to balance your mix without losing the dynamics or natural character of the sound. Very useful for multiband compression in mastering.
The TDR Nova plugin also offers many advanced functions such as a spectrum analyzer, an auto gain function and a sidechain input that allows you to further adjust the EQ settings - not bad for a free VST plugin!
The TDR Nova plugin's user interface is simple and intuitive, with a graphical display of the EQ curve and input/output levels. You can easily adjust the frequency bands, Q values, and gain settings using the mouse or keyboard shortcuts.
Orchestral Tools Layers: Best Orchestra VST Plugin
This plugin contains 4 instruments (Full Orchesta, Brass, Strings and Woodwinds). They are all perfectly suited to recreate a complete orchestra.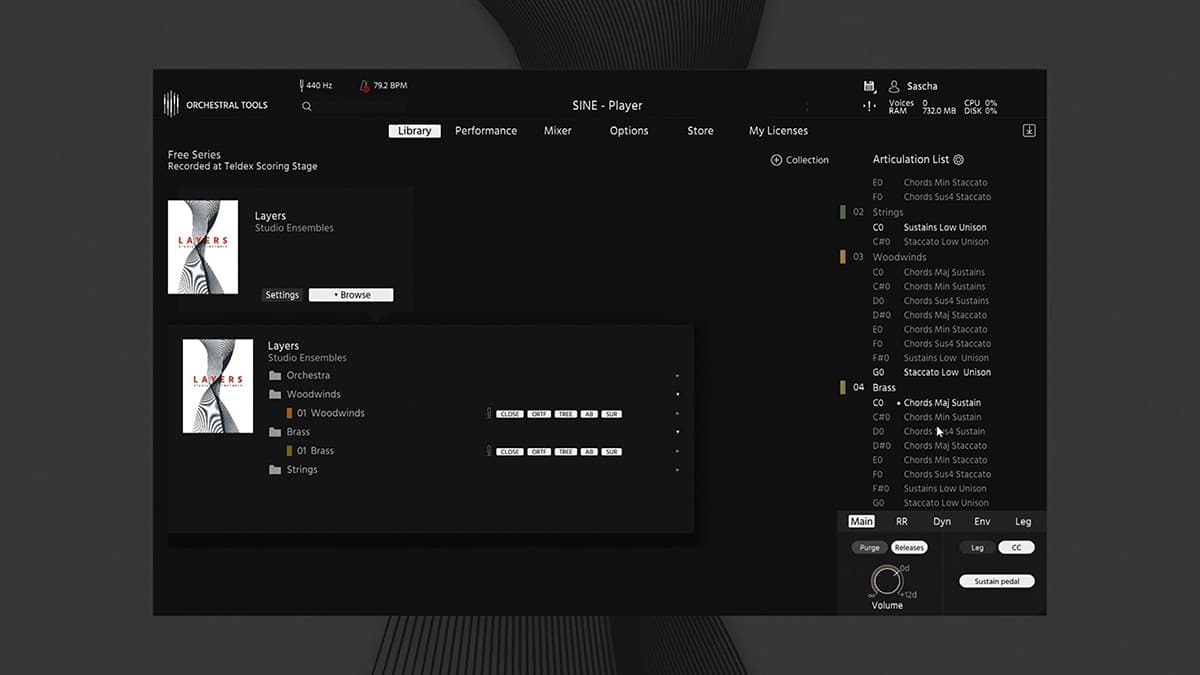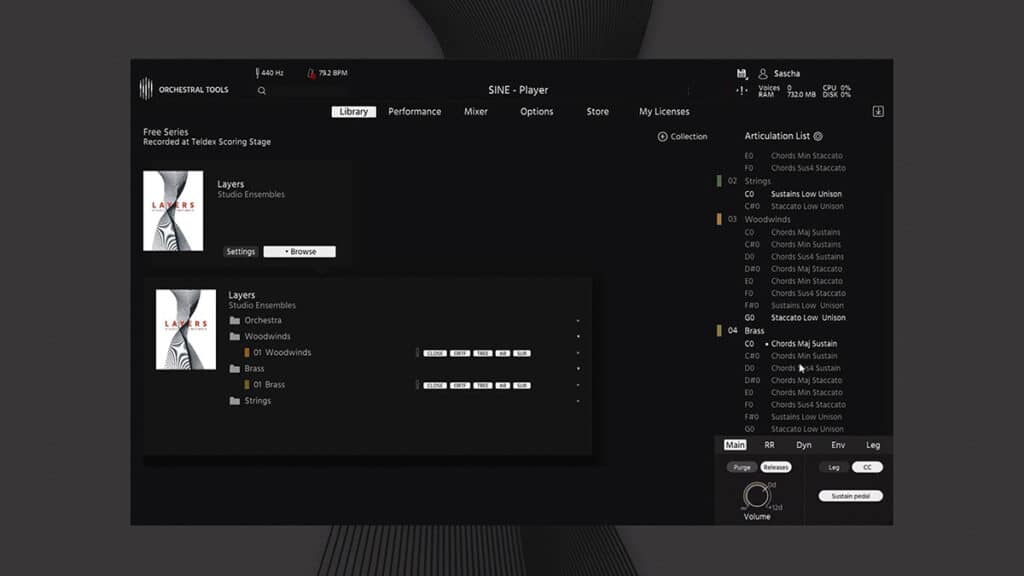 You have a lot of pretty real samples to choose from, which you can then adjust later in the performance to suit your ideas. You can choose different articulations to make everything sound more real.
With the mixer, you can then adjust the ratio between the voices very precisely - for example, distribute the different wind instruments across the stereo image to get a broader sound.
Just try this plugin, you have nothing to lose!
BBC Symphony Orchestra Discover
Again we have a plugin from Spitfire Audio, this time the BBC Symphony Orchestra.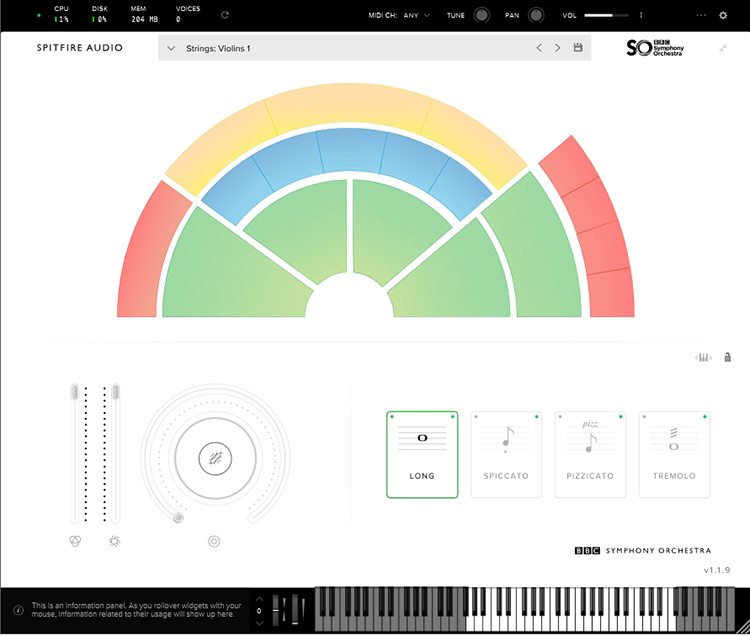 This free VST plugin is based on the famous orchestra of the British BBC. With 33 realistic instruments, you can create really cinematic and epic sounds. So I would recommend it to anyone who produces film music.
This is the first (and only free) part of Spitfire Audio's series for film music producers. It also includes Core and Professional, both extensions of the free version.
You can download the plugin directly - all you need to do is create an account with Spitfire.
Infinite Space Piano: Best free piano VST
Infinite Space Piano is a very cool plugin: a mixture of a piano with atmospheric/psychedelic textures. These different voices can be mixed in any way to get really unusual and cool sounds.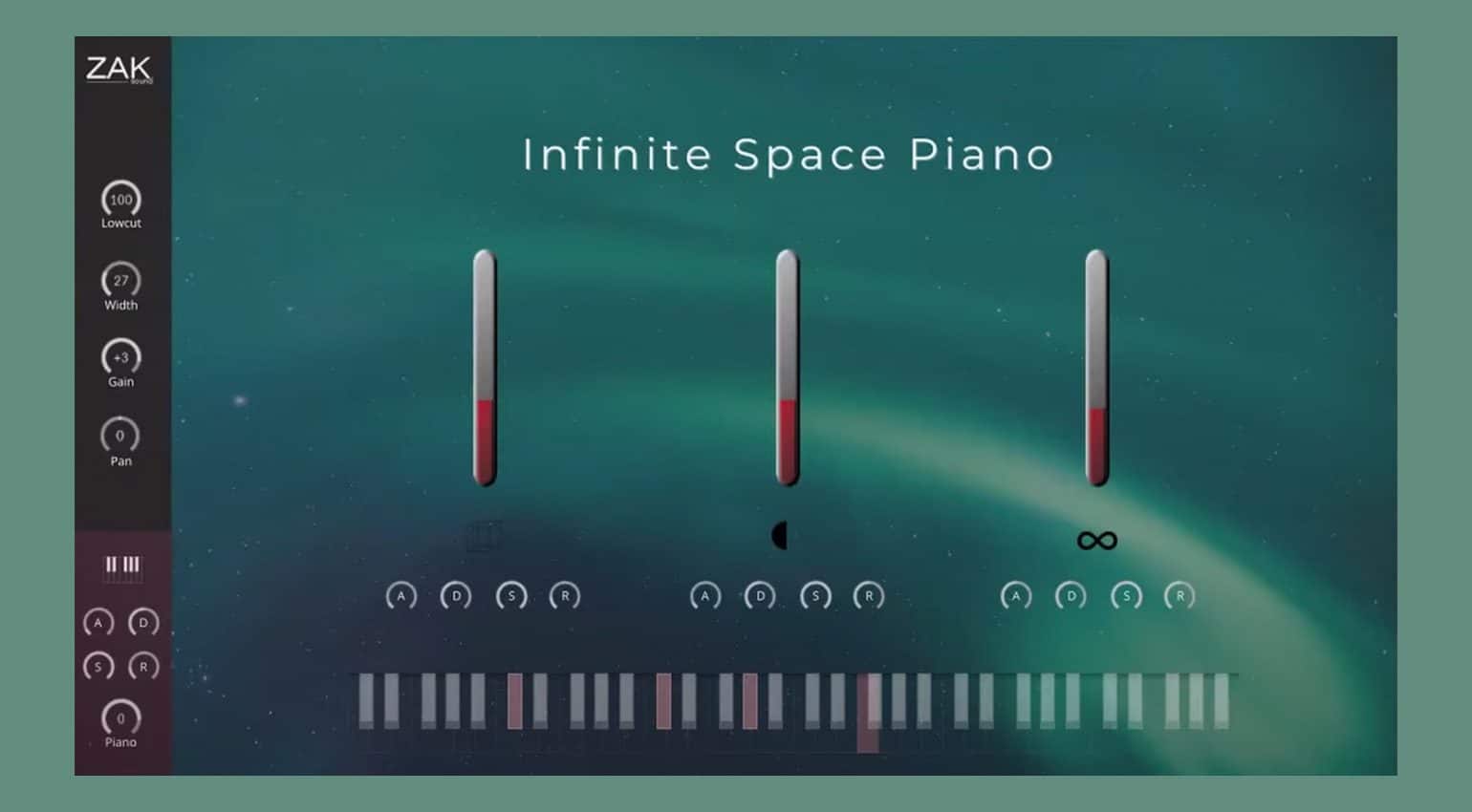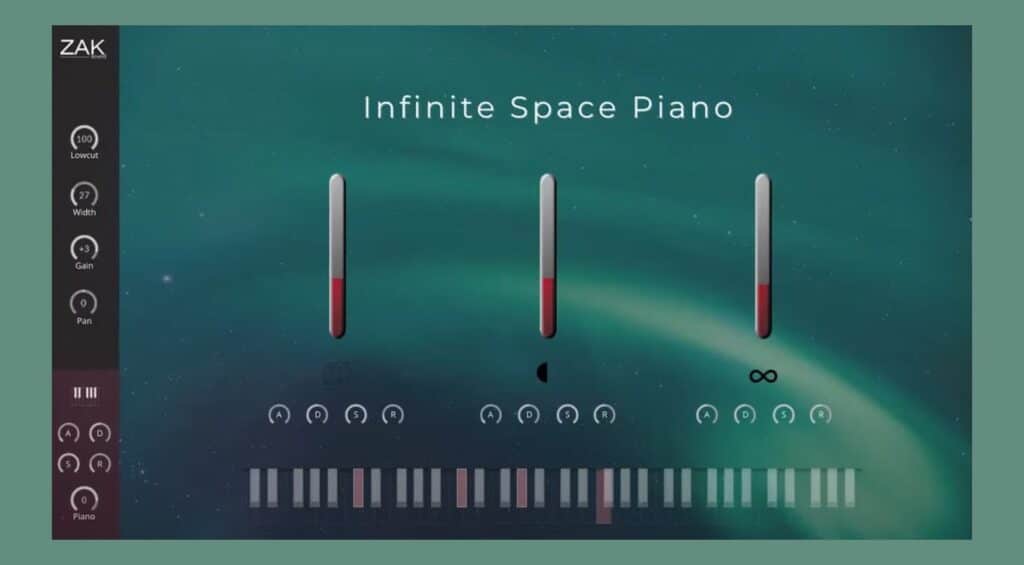 It has a simple EQ built in and an ADSR filter to shape the sound as desired. These functions are quite simple, but hey, it doesn't cost anything. And the sound is still quite good.
It is available everywhere as VST and AU.
Dexed
Dexed is an emulation of the legendary Yamaha DX7 synthesizer and is really comprehensive. It's super light - only takes 3 MB - and is 100% free.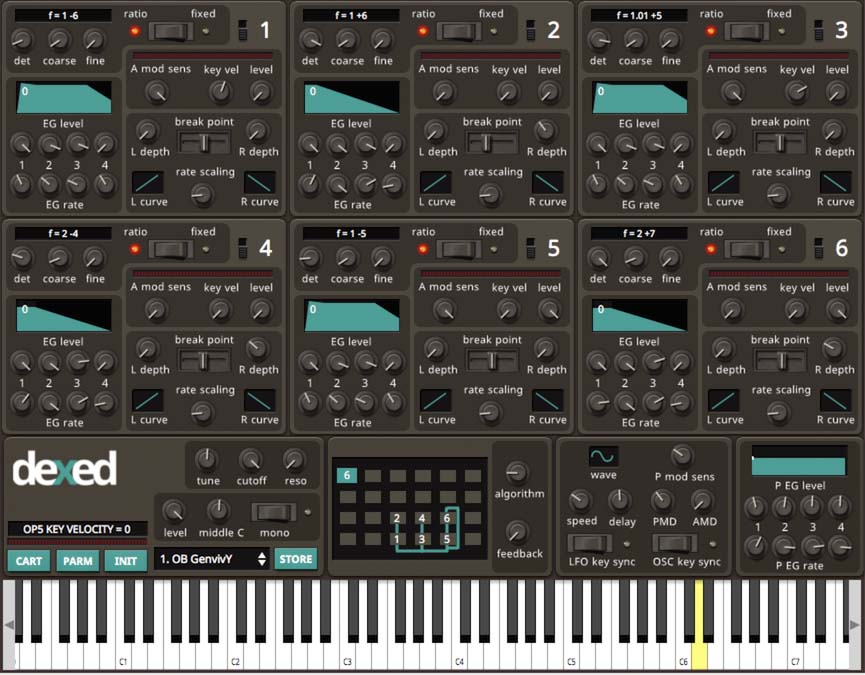 With 6 oscillators and a total of 144 parameters, you have endless sound design possibilities. Each LFO has a real-time VU indicator to know which one is active.
It comes with 32 presets, and almost all of them sound pretty good.
Ample Bass P LITE II: Best free bass VST
A good bass is really worth a lot and not easy to find - that's why plugins like the Ample Bass P Lite II are worth their weight in gold.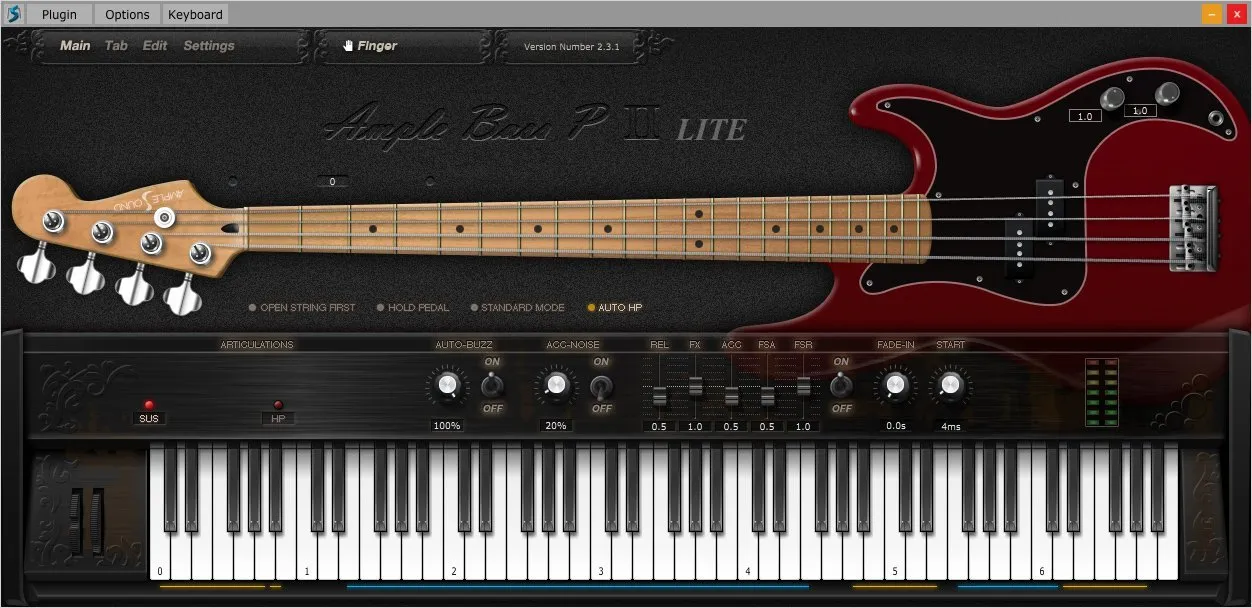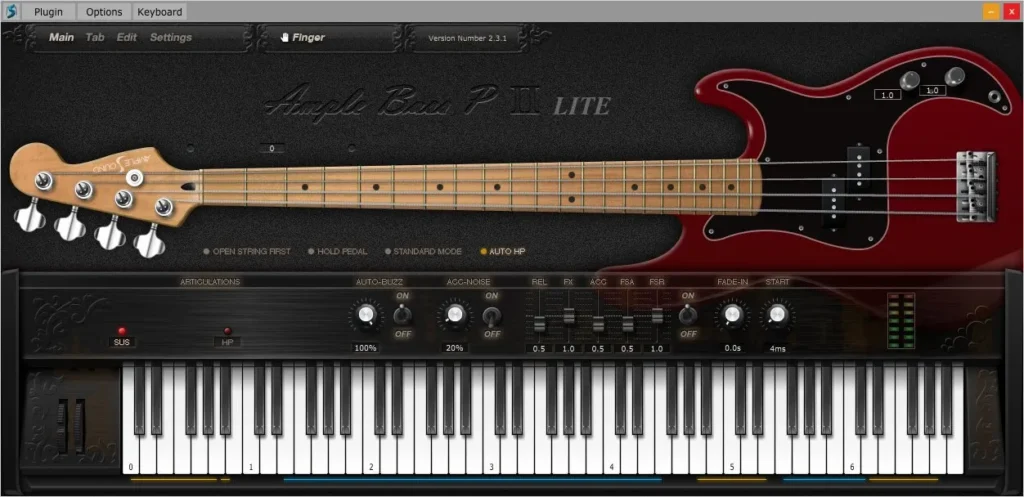 Of course, it's always better to record a real bass over a real, good amp in an acoustically treated room with a microphone... But not everyone has those capabilities. That's why it's important to have either good bass samples, or good VST plugins.
But the Ample Sound Bass P Lite II is a great bass plugin that sounds pretty real. It is suitable for many music styles and very flexible. It is based on a Fender Precision Bass - the classic model par excellence from Fender.
It has a lot of possibilities to adjust the dynamics of the playing and the authenticity of the sound.
DDMF ColourEQ
DDMF ColourEQ is a free equalizer that offers a unique and creative approach to shaping your sound. With its dynamic and interactive interface, this equalizer allows you to visualize and adjust your settings with precision and creativity.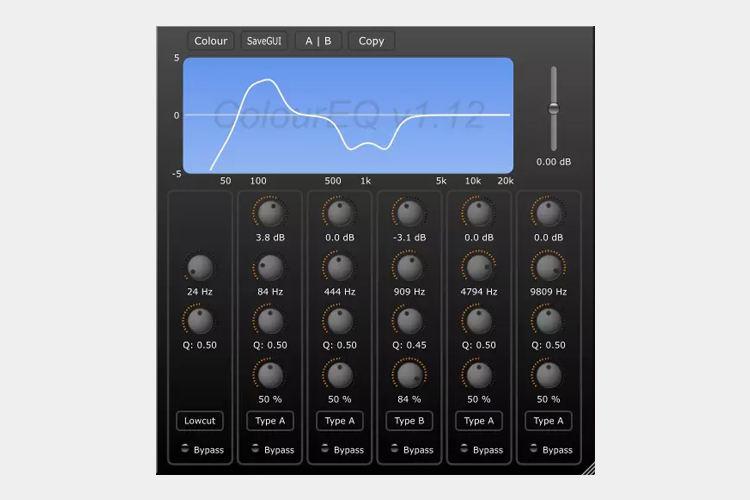 It offers six different EQ bands, each with adjustable frequency, gain and Q. In addition to standard EQ functions, ColourEQ includes unique saturation algorithms that add harmonic distortion and warmth. You can adjust the intensity of the saturation and choose between different saturation modes to add character to your sound.
ColourEQ also includes many extras such as a stereo mode, a mid/side edit option, and a high-pass and low-pass filter section. This free VST plugin is also very CPU efficient, so you can use it on multiple tracks in your mix with no latency issues.
DSK Saxophone: Best VST Saxophone
DSK Saxophones is one of the best free saxophone plugins. The sound is quite realistic, dynamic and bright - it cuts well through the mix.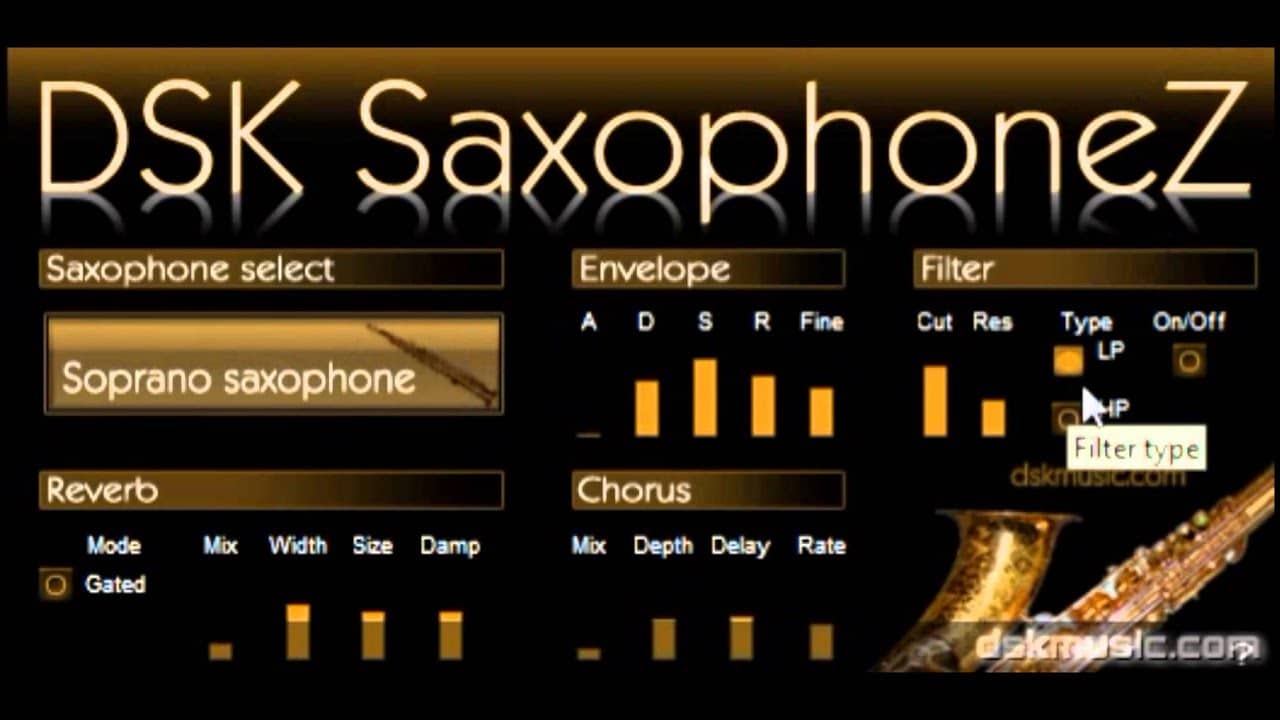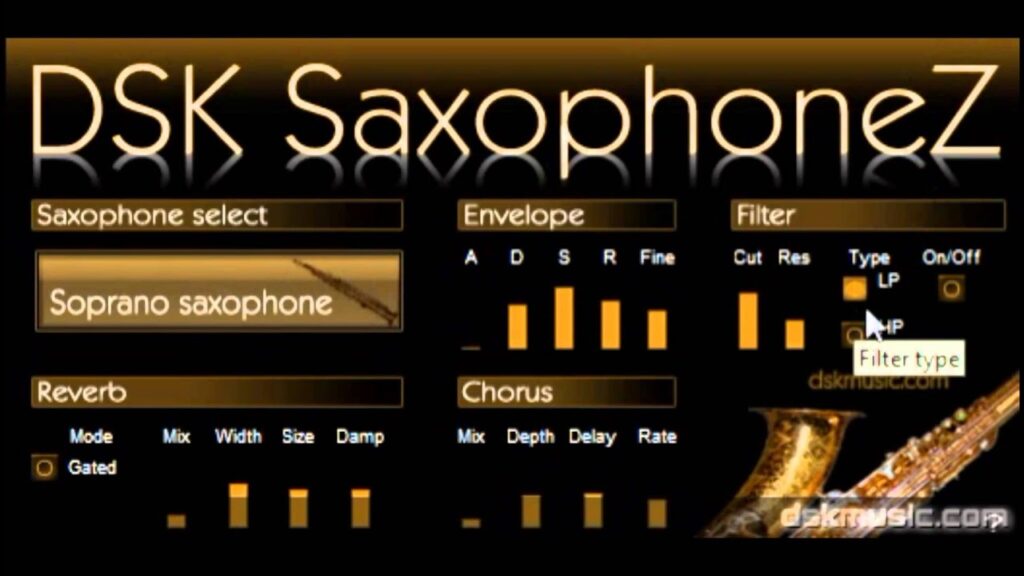 It's only 10 MB in size, so it takes up almost no space on your hard drive.
You can choose between a soprano saxophone or a tenor saxophone. It has simple ADSR filters, a filter, chorus and reverb.
A few settings for the playing style/dynamics would have been nice, but for a free VST plugin you can't complain.
Project Sam Free Orchesta
Project Sam's Free Orchestra is a free Kontakt library that you definitely need if you like orchestral and epic sounds. And especially for film music producers, this free VST plugin is definitely worth trying.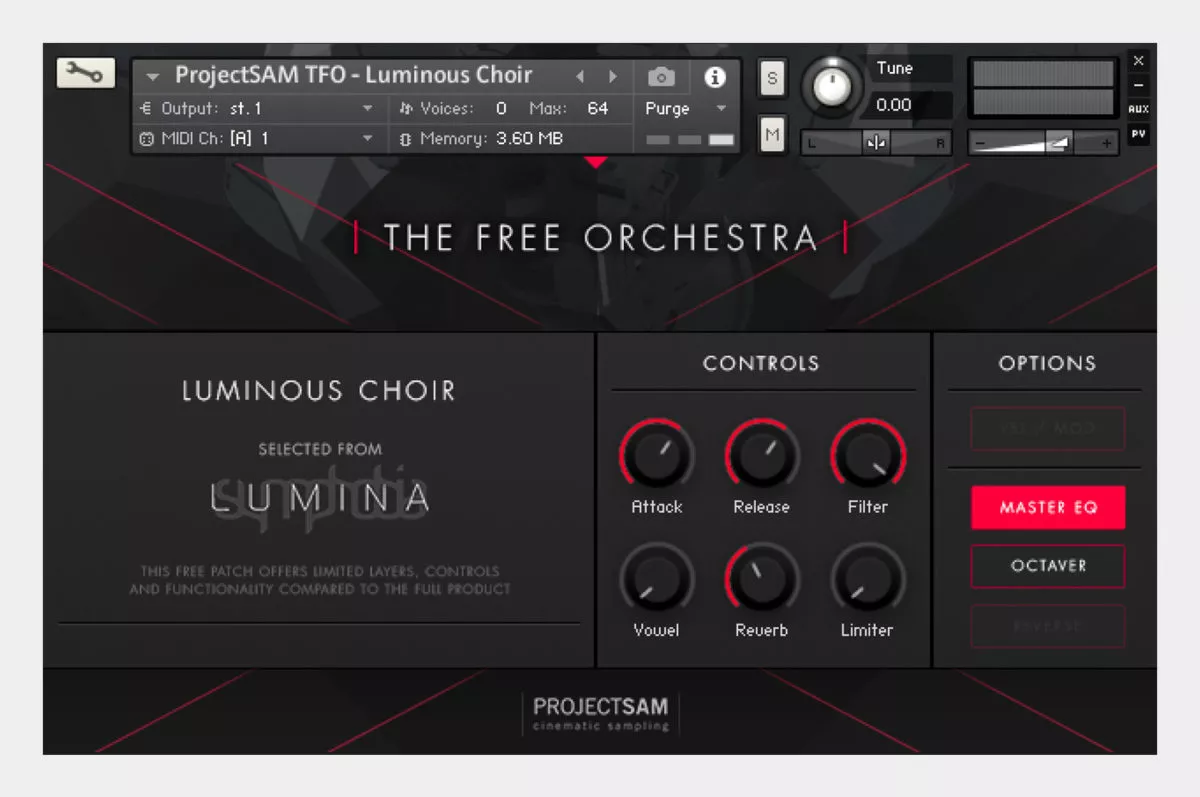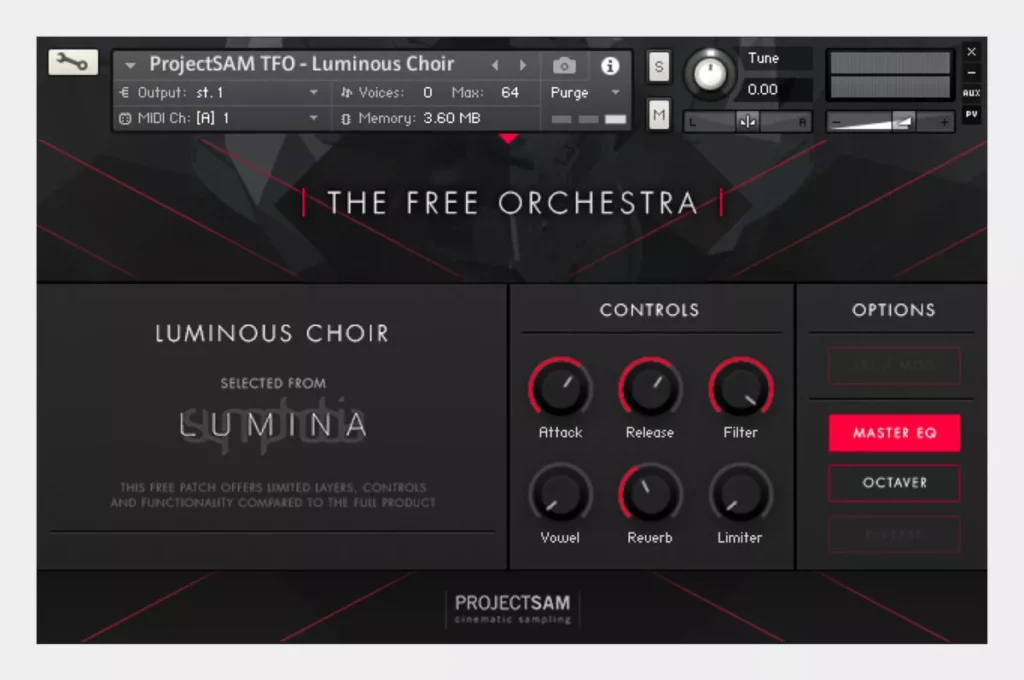 This free library contains a lot of strings, voices, choirs, winds and percussion. And the best thing is that this library works with the free version of Kontakt.
The setting options are simple but effective. All in all, this is a great product.
Pianotone 600: Emulation from the 70s
The Pianotone 600 plugin is modelled on the Jen Pianotone 600, an electronic keyboard from the 1970s that has a classic analogue sound. This plugin is versatile and can be incorporated into various styles of music, such as lofi.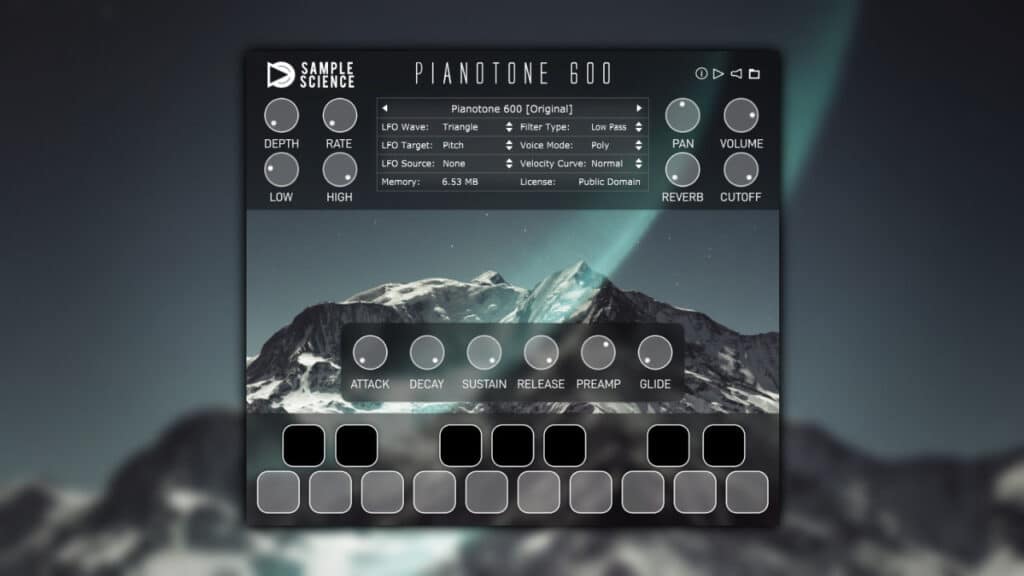 There are two versions of the Pianotone 600 plugin: the original and the velocity version, which has a higher sensitivity. Both versions have a classic, analogue sound. I really like it for lo-fi productions.
Vinyl Guitar: VST Guitar for Trap or Lofi
Vinyl Guitar is a great VST guitar plugin that is quite innovative. It is based on a guitar sampled through a vinyl player.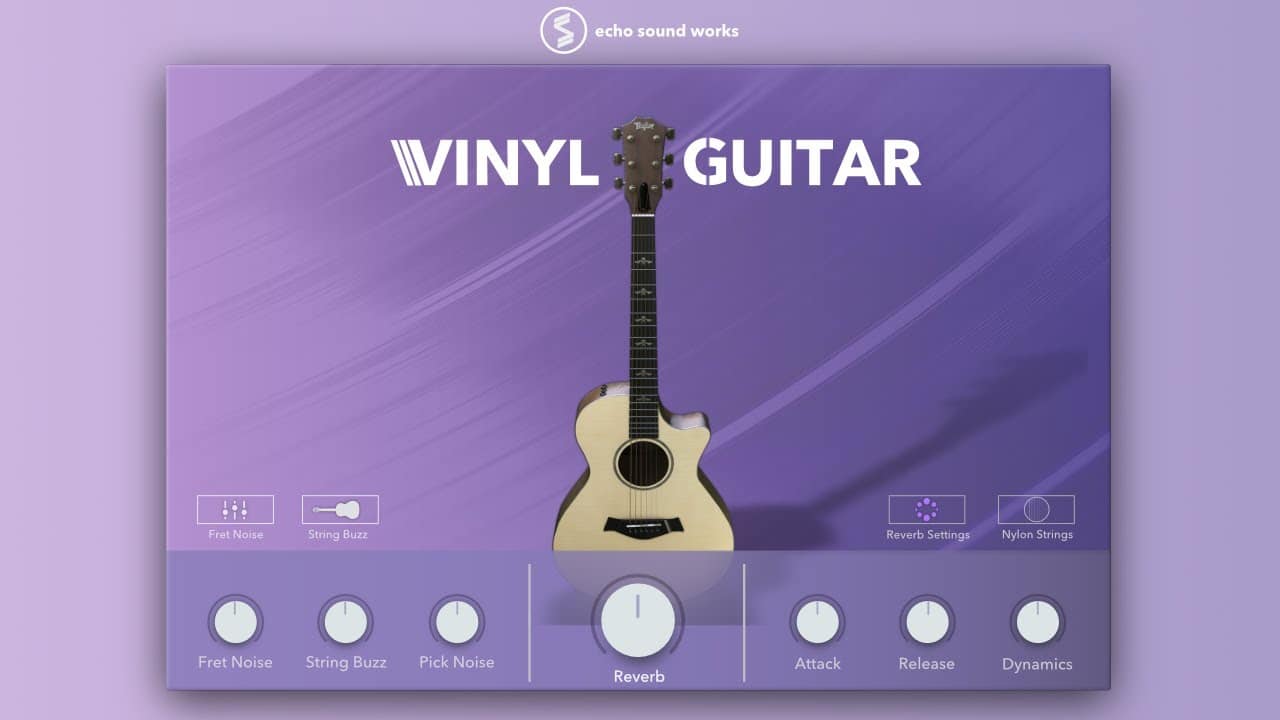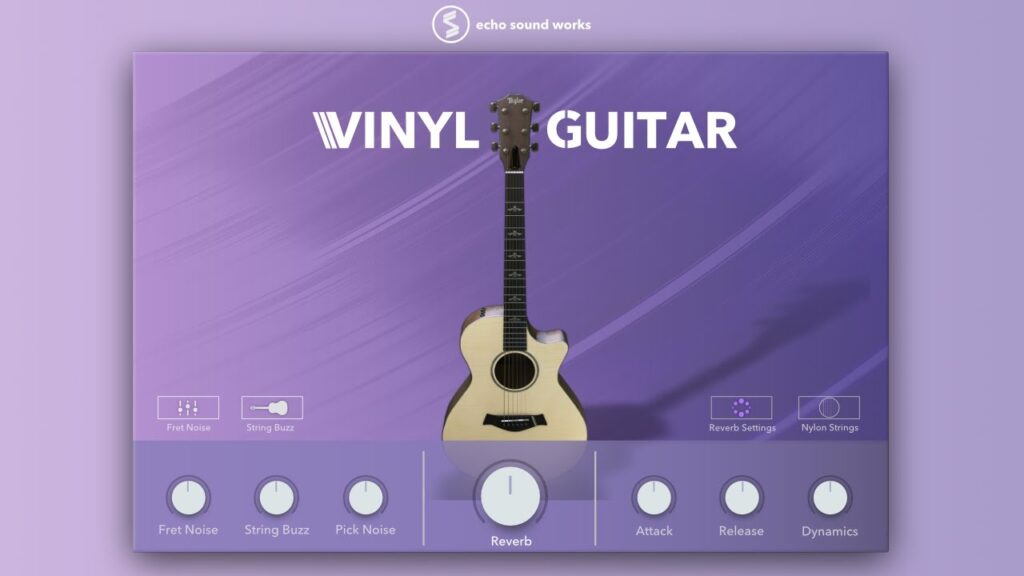 It has quite a cool sound that is great for lo-fi productions. It also has a lot of adjustment possibilities:
Reverb: Reverb level, damping, width and room size.
Fret noise: Builds in a noise that naturally occurs when you change the fret on the fingerboard.
Pick Noise: Simulates the sound of a pick.
Attack/Release/Dynamics: To adjust the dynamics of the sound.
Room Piano
Room Piano is a simple and lightweight VST plugin known for its lo-fi piano sound. It is often used in the lo-fi scene and has this distinctive sound.
Besides the standard ADSR and mixer controls, there is a built-in LFO to modulate the sound - very handy for lo-fi. And there is also a preamp control to saturate the sound nicely.
Downtown Colors
This is a creative free VST plugin from ZAK Sound. Supposedly they were inspired by 16 different parts of the city to create the sounds.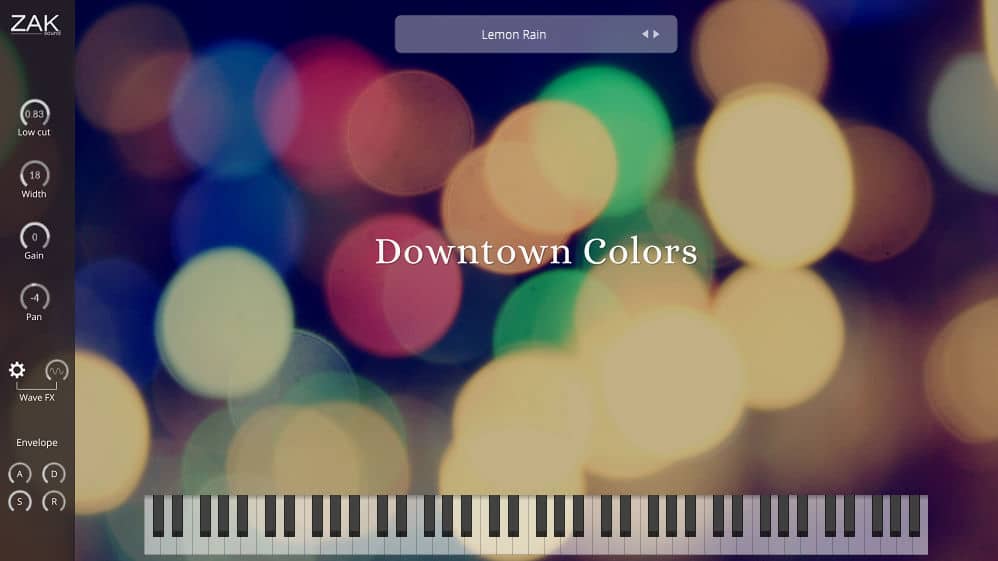 You have a total of 10 controllers: Low Cut Filter, Width, Gain, Pan, Wave FX (three types) and ADSR.
It is well suited for atmospheric and quiet music genres or background music.
Piano One
Piano One is based on the Yamaha C7 piano, one of the most famous of all. It also offers many sound setting options and is 100% free.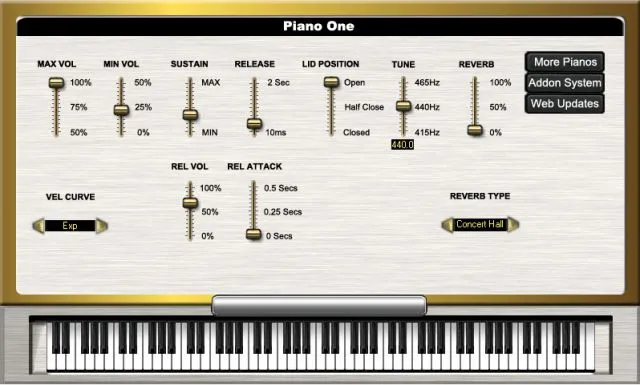 It sounds good and is usable, especially for hip-hop productions or similar. The sound is not necessarily the most realistic, but it is suitable for some situations. It can't hurt to have this plugin in your arsenal.
FerricTDS

Variety Of Sound is making a splash in the world of audio plugins with FerricTDS mkII. The highly intuitive tape emulation plugin brings back the nostalgic warmth of analog tape recordings from days gone by, adding a touch of vintage elegance to your digital productions. The plugin combines form and function in a visually appealing and easy-to-use interface.
FerricTDS MKII has three main components: Tape Dynamics Simulation (TDS), Saturation, and Limiting. Each of these components works perfectly together to produce a final result with depth and warmth. From the versatile TDS, which provides subtle to intense dynamic control, to the Saturation function, which controls the creation of harmonics, to the Limiting function, which prevents unwanted peaks, all elements work together to simulate an authentic tape sound.
PowerDrumKit
This free VST plugin emulates a real drum kit, and does it pretty well. You have the normal drum samples to play with, but also pre-made beats that you can use directly.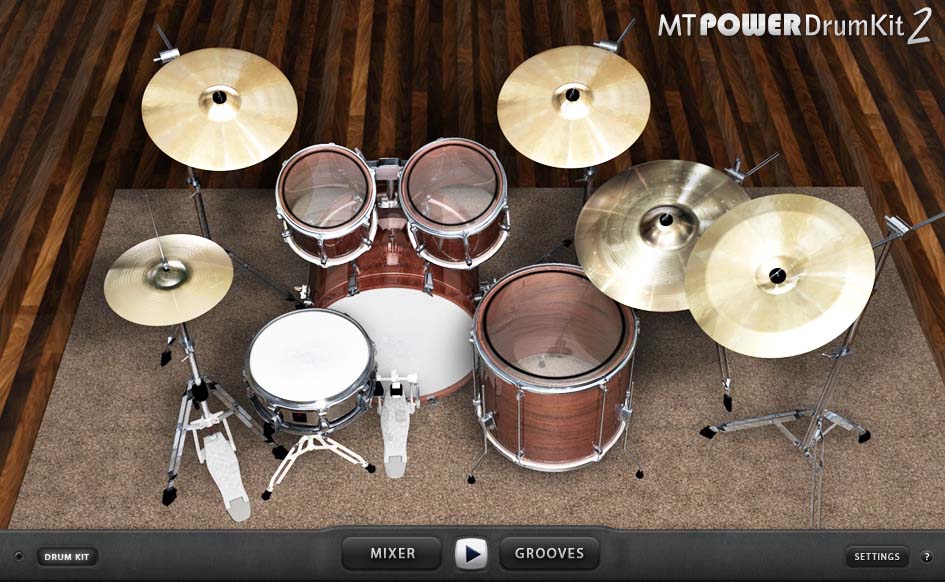 This function can be especially useful when you are lacking inspiration and need some input. You can then be inspired by the beats and write similar beats yourself.
With the mixer you can then adjust the ratios between the different instruments to have a perfect stereo output signal.
The sound is quite OK - not comparable to premium Kontakt libraries, for example - but this plugin is 100% free.
Eventide Pendulate
Pendulate is an innovative mono synthesizer that uses a new double pendulum oscillator to create sounds never heard before.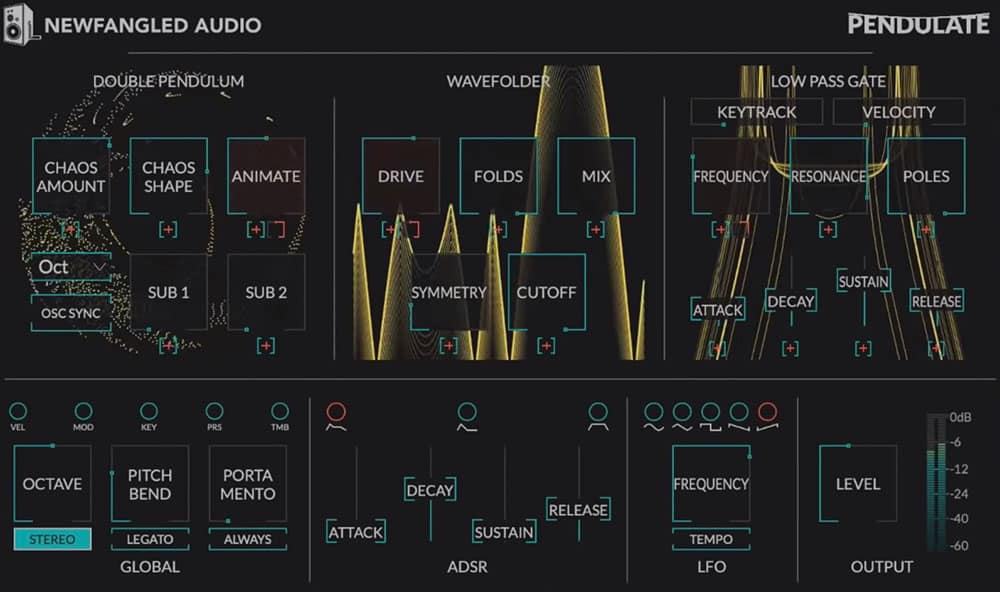 It can produce aggressive basses, leads and textures that really knock you off your chair.
However, this free VST plugin is not universally applicable - it is quite special and should accordingly be used with caution.
But if you produce electronic music and are particularly keen to experiment, you should definitely try the Pendulate.
Quiet Piano
Quiet Piano is a quiet piano plugin that suits emotional and intimate songs very well. It also works well for lo-fi and ambient and meditative music.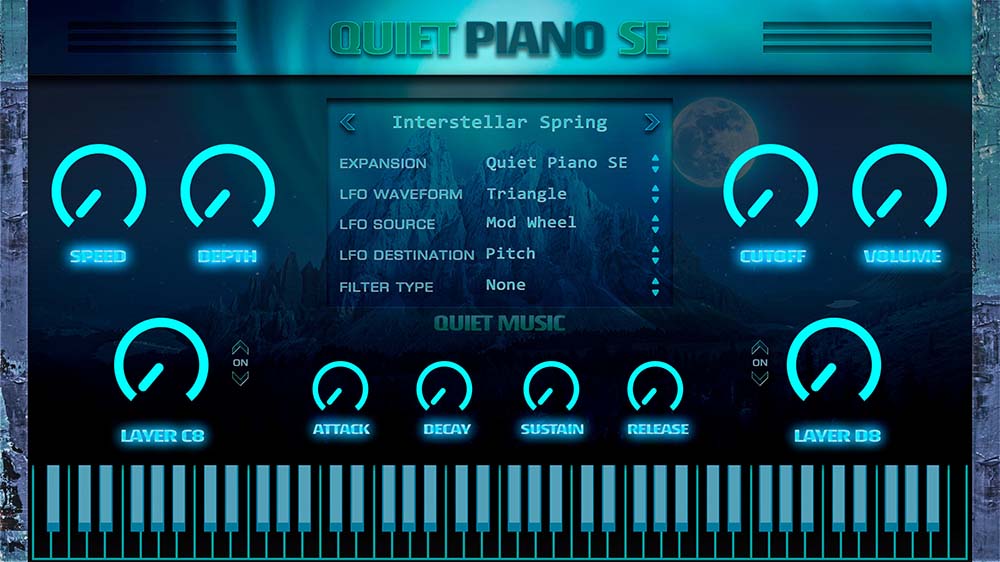 It has 8 multi-sampled presets, an LP filter and ADSR controls. You can also mix the volume of the 2 sample layers.
The plugin requires 1 GB of the hard disk and runs very stable.
Ample Sound Guitar M LITE II
It's never easy to recreate an acoustic guitar in a VST plugin - and even less to then offer the plugin for free - but Ample Sound has done it really well.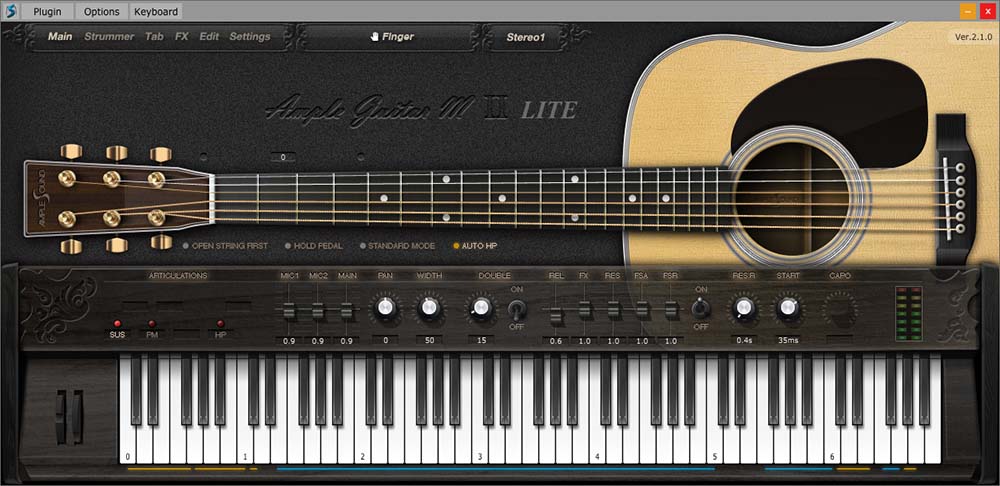 It has many built-in functions to make the guitar sound realistic, such as articulations, resonance and fret-noises. There are even finger instrument libraries to select different finger velocities.
With a total of 866 samples, and the ability to double the guitar (for cool stereo effects), this is a really comprehensive VST plugin. And it's incredible that it's free!
Synthetic Vortices
Synthetic Vortices is a collection of 90 ambient loops recorded from the Ensoniq Fizmo synthesizer. The sound is atmospheric and somewhat otherworldly, perfect for genres like psytrance. It can also be good for those who produce film music.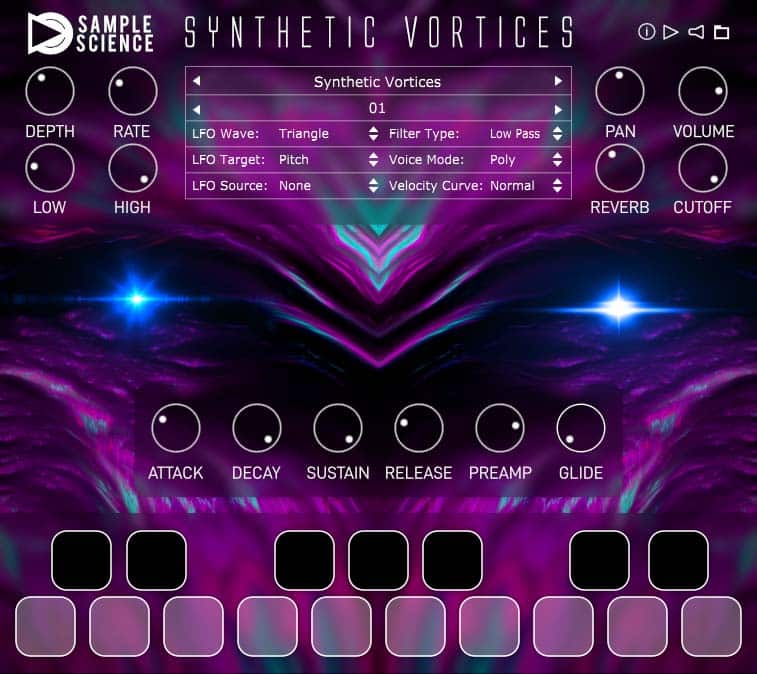 The sound is good and - considering that they are loops - can be adjusted well. With the help of a multi-LFO, reverb, high/low pass filter and different voice modes (polyphonic, monophonic, legato) you can shape the loops.