Today, a digital audio workstation (DAW) is essential for producing music - it allows you to record real instruments, program virtual instruments, mix or master, and produce a song from start to finish.
If you have some experience, it makes perfect sense to invest money in a professional DAW like Pro Tools or Ableton Live. But if you're just starting out, try a free DAW - it'll cover all your needs for the beginning and give you a good foundation to learn from.
It was no different for me personally: I got my first taste of music production with GarageBand when I was 16. Two years later, I bought Logic Pro and found it extremely easy to use based on my initial experience with the free DAW.
What is the best free DAW?
The answer depends on many factors. Overall, in my opinion, Waveform Free is the best free DAW for music producers. It has no limitations, a simple interface, and support for third-party VST plugins.
Bandlab is also a very good free DAW for Windows and GarageBand is a very good option for Mac. Both will give you very good results and get you started in music production. And if you're a DJ, you can't beat Serato Studio.
GarageBand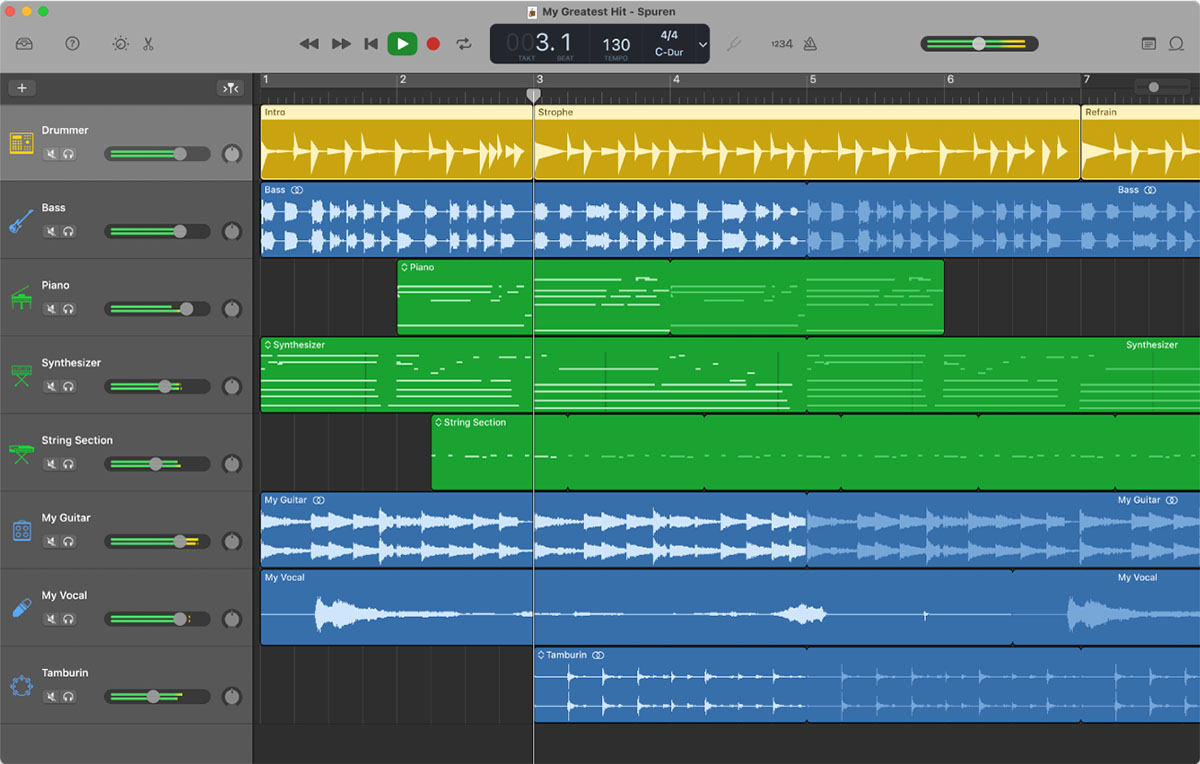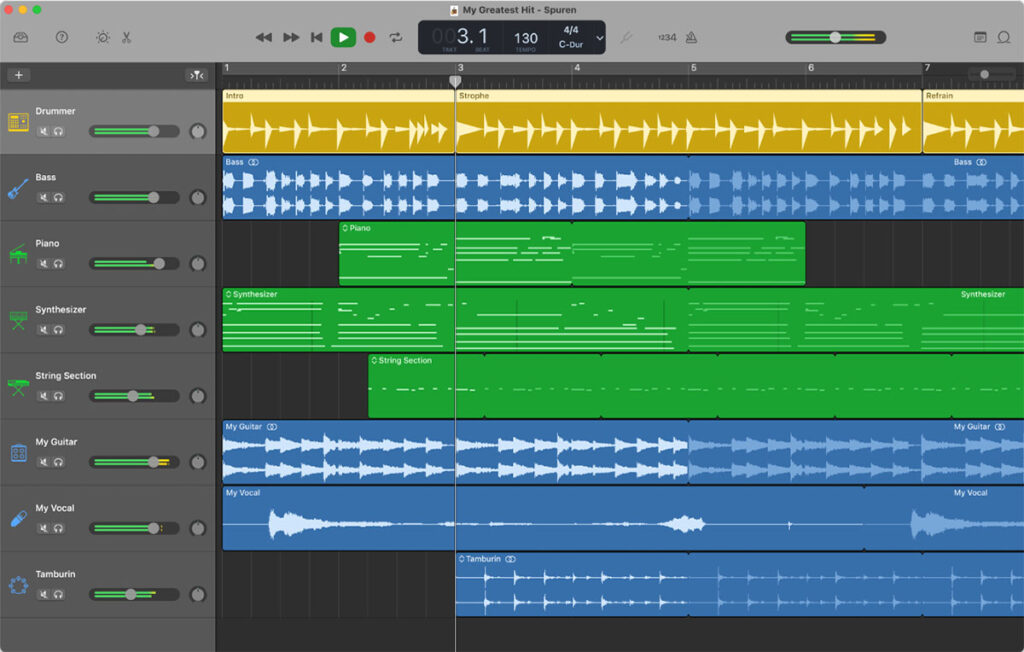 SPECIFICATIONS
Compatibility: Mac
Optimal for: Getting into music production, recording bands
Plugins/Samples: 2800 loops, 50 kits, 120 patches
ARGUMENTS IN FAVOR
Intuitive interface that is very easy to use
Perfect for beginners with a Mac
High-quality samples, effects and instruments included
GarageBand is the first free DAW that many people ever try because it comes pre-installed on every Mac. I was no different! And that's great, because Garageband has everything you need to get started making music.
Because like all Apple products, GarageBand is easy to use and intuitive. It is very easy to learn, yet very powerful. You can use up to 255 tracks and record 32 instruments simultaneously, which is more than enough even for professional applications. And this free DAW comes with lots of virtual instruments, samples and loops that sound great and have been created by professional music producers.
The built-in effects, such as EQ, reverb or compressor, sound amazingly good - and when you mix or master, you can achieve professional results that are every bit as good as a song produced in an expensive DAW. No wonder, because Garageband is the little brother of Logic Pro, one of the best DAWs around, and the effects are very similar.
GarageBand has everything you need to record, mix, and master a complete band at a semi-professional level. Unfortunately, GarageBand is only available for Mac, not Windows - so if you have a Mac, you have nothing to loose.
Cakewalk by BandLab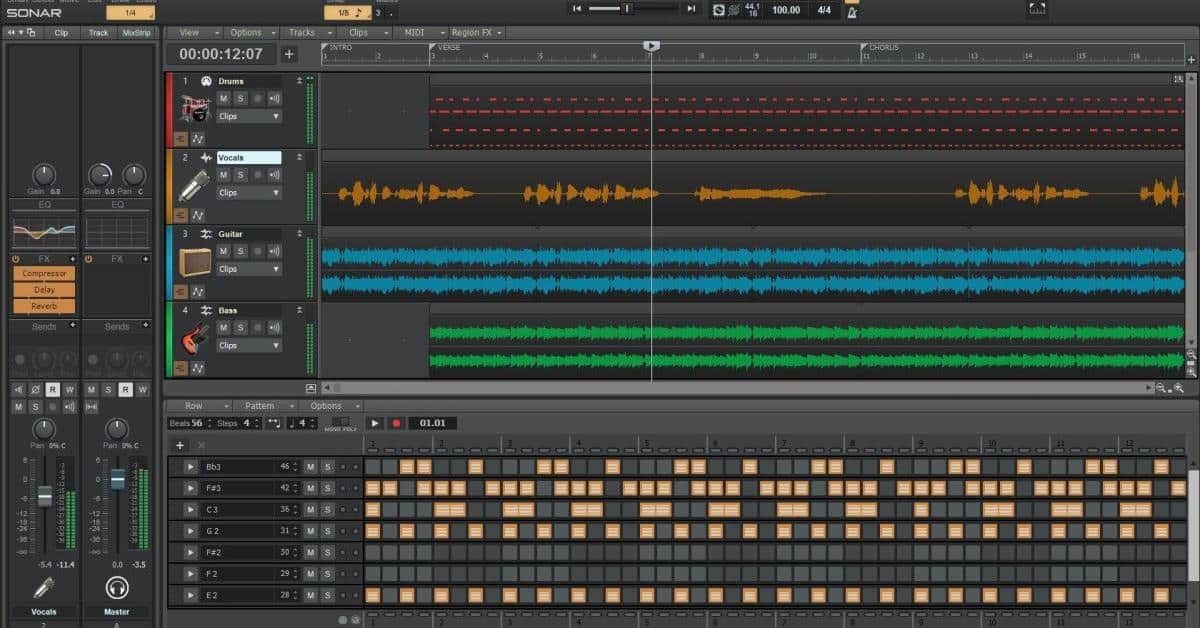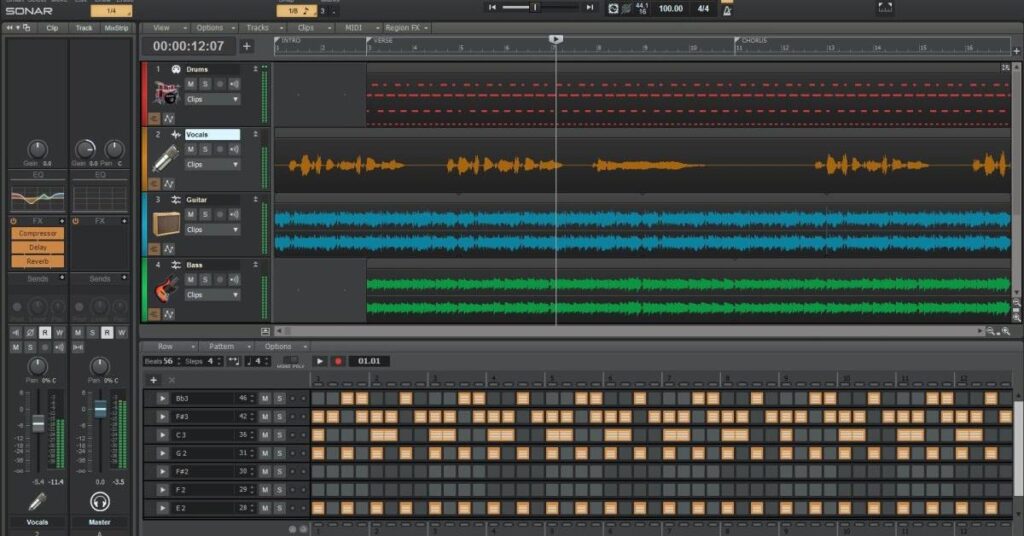 SPECIFICATIONS
Compatibility: Windows
Optimal for: Full productions, band recordings
Plugins/Samples: 19 effects, lots of samples, grooves and one-shots
ARGUMENTS IN FAVOR
Full-featured DAW without limitations
Perfect for beginners with a Windows PC
Lots of samples and loops included
Cakewalk has been around for over 30 years, albeit under a different name, as this DAW used to be called Sonar before it was taken over and renamed by Cakewalk. It offers everything a beginner needs to produce music. And the best thing is that you can install external VST plugins and use them without restrictions! (This is not a given with free DAWs).
Cakewalk has no other restrictions: You can work with as many tracks as you need and record as many instruments simultaneously as your audio interface allows. This free DAW also comes with lots of loops, one-shots and grooves, as well as 19 native effects that are quite useful. So you get a full-featured DAW 100% free - it doesn't get any better than that!
Unfortunately, Cakewalk is only available for Windows - although it has been said for some time that a MAC version would be coming soon, this is not the case. But for Mac users, there is GarageBand. So if you have a PC or laptop running Windows, give this free DAW a try, you've got nothing to lose! And it will take you a while to discover the limits of this software.
Audacity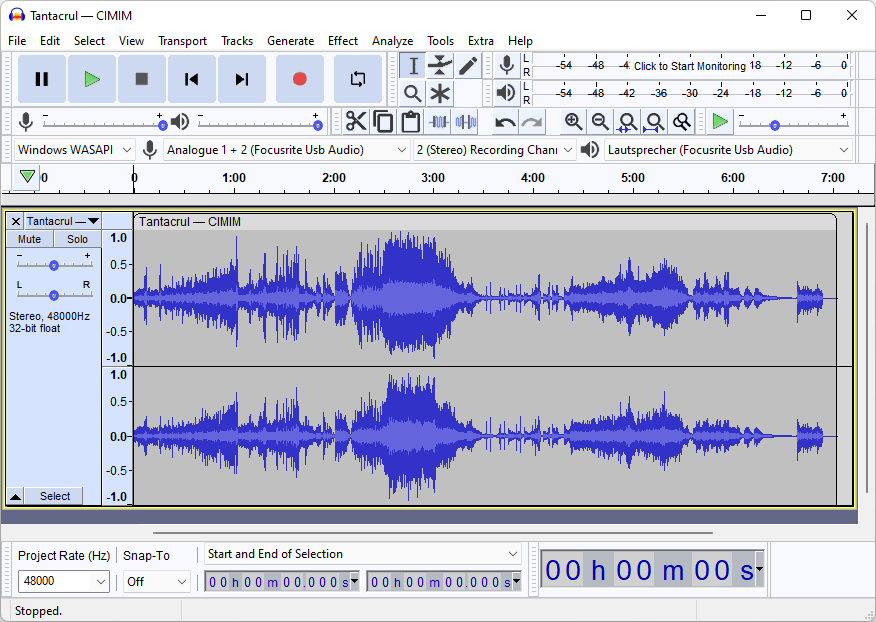 SPECIFICATIONS
Compatibility: Windows
Optimal for: Podcast recordings
Plugins/Samples: Basic effects
ARGUMENTS IN FAVOR
Simple DAW for recording podcasts or conversations
NEGATIVE POINTS
Not suitable for music production
Dealing with plugins is quite complicated
Audacity is an open-source DAW that is perfect for people who only work with audio tracks - recording instruments or voices. What Audacity can't do is MIDI sequencing - so you can't play virtual instruments or program MIDI patterns with it. This makes Audacity rather unsuitable for music producers.
However, if you want to record a podcast or simply record your band, Audacity is a good option. The handling of plugins and effects is a bit complicated and cumbersome, though, so mixing a complete song is a bit of a chore.
So if you want to produce music, I wouldn't recommend Audacity - you're much better off with Cakewalk or GarageBand. But if you want to record a podcast, I would recommend Audacity because it doesn't have any unnecessary features that you don't need as a podcaster and it just focuses on recording.
Ableton Live Lite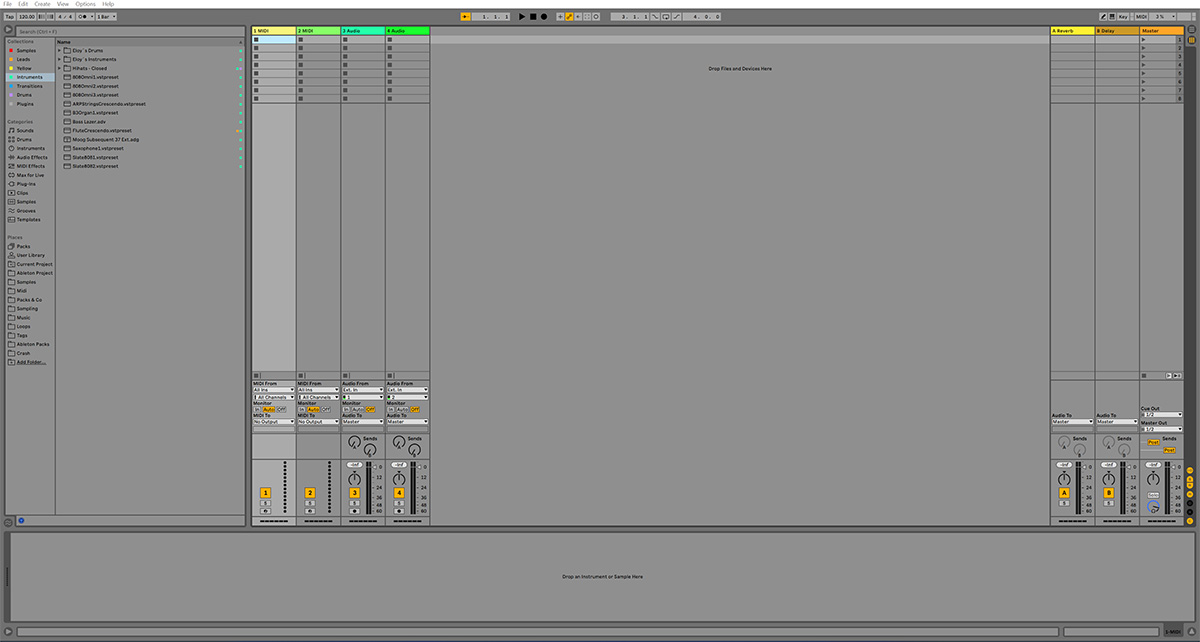 SPECIFICATIONS
Compatibility: Windows and Mac
Optimal for: Music producers who plan to buy Ableton Live at some point
Plugins/Samples: 5 instruments, 16 audio effects, 11 MIDI effects, 205 loops, 1626 drum hits, 667 multi-samples, FX and other one-shots
ARGUMENTS IN FAVOR
Very good for small productions
Perfect for learning Ableton Live and buying it later
NEGATIVE POINTS
Strict limitation of the number of tracks, inputs and outputs
The live recording of a complete band is not possible
Ableton Live is, in my opinion, the best DAW out there, and the Lite version is a free version with some limitations. You can only use 16 audio and MIDI tracks per project, 4 mono inputs and 4 mono outputs. This means that it is not possible to record a whole band.
You get 4 software instruments (Drum Rack, Impulse, Simpler and Instrument Rack) - 21 audio effects and 8 MIDI effects. You can produce very good electronic music with this DAW.
The Lite version lets you try out Ableton Live and create simple tracks to see if the paid version is worth it. Ableton Live's workflow is a little different from other DAWs, so it's worth trying before you spend any money. But I can tell you right now, you're going to love it.
Especially recommended for EDM producers and anyone considering the purchase of Ableton Live.
Tracktion Waveform Free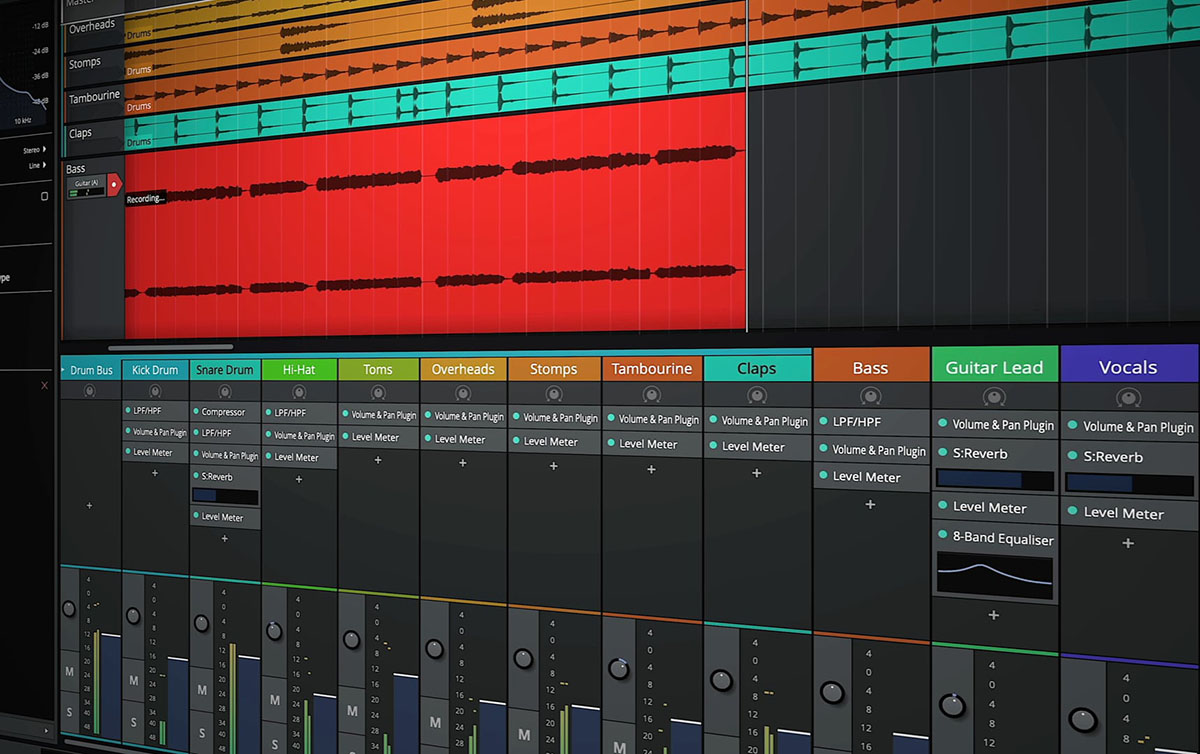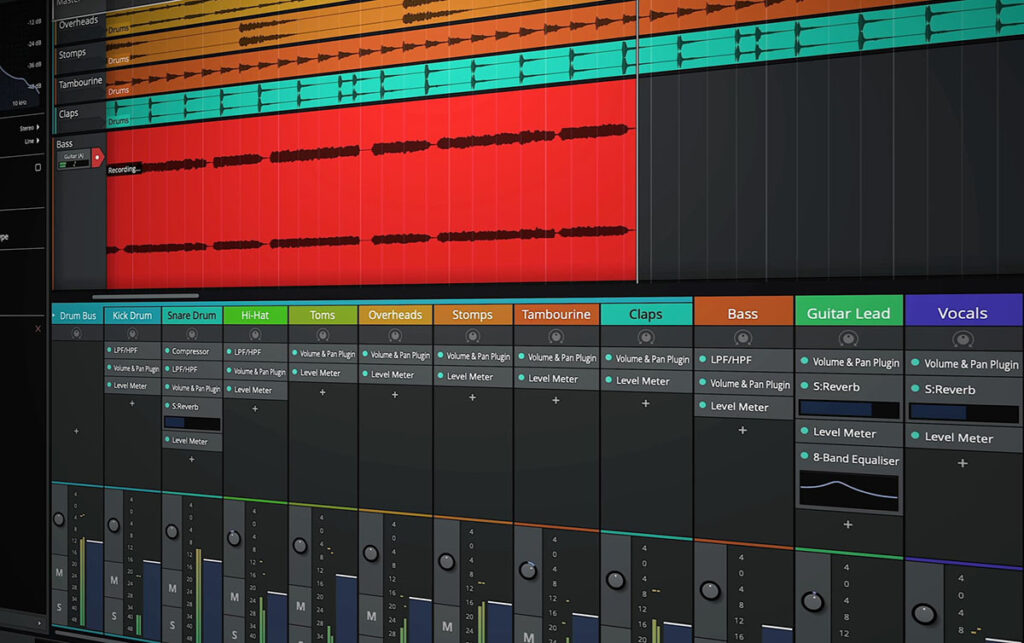 SPECIFICATIONS
Compatibility: Mac, Windows
Optimal for: High-quality productions, professional multi-channel recordings
Plugins/Samples: 15 audio effects, 6 utility plug-ins
ARGUMENTS IN FAVOR
Full-featured and powerful DAW that lets you achieve professional results
Many expansion packs available
Waveform Free is a high-quality, full-featured, free DAW that can do a lot. There are no limits, so you can record as many instruments as you want and use as many tracks for mixing and mastering as you want. It's ideal for producers who want to record an entire band.
You can use the high-quality stock plug-ins, but you can also install any VST plug-ins and VST instruments. This free DAW is extremely flexible and suitable for electronic music producers who work a lot with MIDI and sequencers.
Want to record a podcast? No problem. Powerful recording and editing features let you capture dialog and edit it to perfection. The workflow is simple, intuitive, and very beginner-friendly.
I can't think of a situation where Tracktion Waveform Free wouldn't do a good job. In my opinion, this DAW is one of the best free options out there and is on the same quality level as Apple's GarageBand.
Pro Tools Intro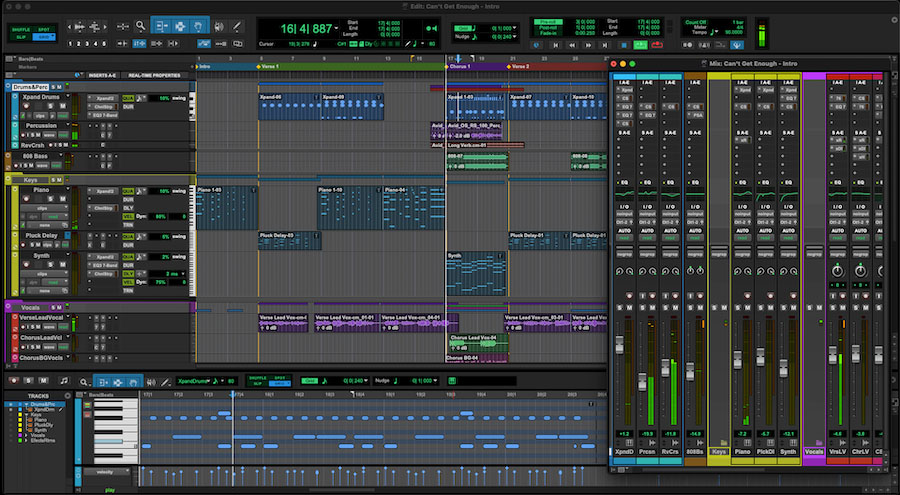 SPECIFICATIONS
Compatibility: Mac, Windows
Optimal for: Smaller productions, introduction to the Pro Tools workflow
Plugins/Samples: 36 audio plugins and instruments
ARGUMENTS IN FAVOR
High-quality audio effects
Xpand!2 comes with many high-quality presets
NEGATIVE POINTS
Only projects with 8 tracks possible
Pro Tools Intro is the free version of Pro Tools, the world's most widely used DAW in professional studios. It is ideal for anyone who wants to work with Pro Tools but cannot yet afford the paid version.
But it is very limited: You can only work with up to eight audio tracks, instrument tracks, or MIDI tracks. You can't record an entire band, but you can record rap vocals over a beat, for example.
Included with Pro Tools Intro is Xpand!2, a virtual synthesizer that works with wavetables and FM synthesis, making it extremely versatile. It comes with 1200 presets that are perfect for beginners. It also comes with 34 plug-ins in the usual Pro Tools quality. It's not a lot, but what is included is very high quality.
I would recommend Pro Tools Intro to newbies who want to work for larger recording studios because they usually work with Pro Tools. You can use it to learn the workflow and the main features. However, if you're just going to produce music for yourself, I wouldn't recommend this free DAW, but rather Ableton Live Lite or Waveform Free, because they have a lot more features.
Cubase LE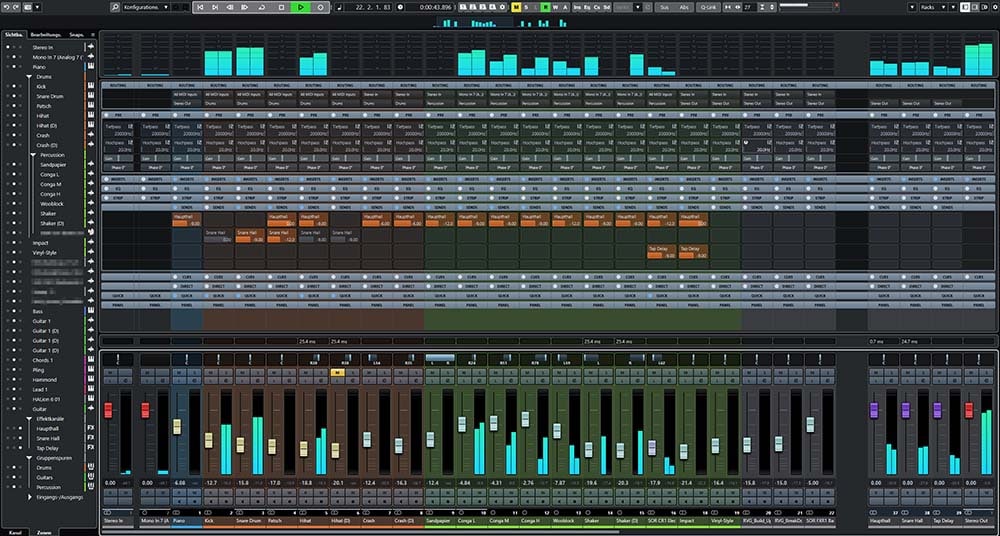 SPECIFICATIONS
Compatibility: Mac, Windows
Optimal for: Medium-sized productions, composition
Plugins/Samples: 23 audio plug-ins, 5 GB sounds and loops, HALion SE3, Groove Agent SE 5
ARGUMENTS IN FAVOR
High-quality audio effects
Lots of sounds and loops
HALion and Groove Agent are really good tools for composing
Cubase LE is the free version of the world-famous DAW Cubase, which is also used in many professional studios. It offers the same features, but is limited to 16 audio tracks, 24 MIDI tracks and 8 instrument tracks. It is also ideal for smaller productions from start to finish.
This free version comes with Cubase's powerful composition tools to help you compose cool grooves or chord progressions and find inspiration. The 23 VST effects and numerous virtual instruments are of the highest quality and allow you to realize your ideas effortlessly.
Third-party VST plugins can also be installed, so you can use your favorite plugins and not be limited to those that come with Cubase. Up to 4 inserts and 4 sends can be used per channel - if you use them selectively, you can do a lot with them.
Cubase LE also includes 5 GB of sounds and loops, HALion Sonic SE 3 (a very powerful multifunctional synthesizer) and Groove Agent SE 5 (a virtual drum machine), two excellent VST instruments.
This free DAW is available for both Windows and Mac and can be recommended to any producer who composes a lot.
Ardour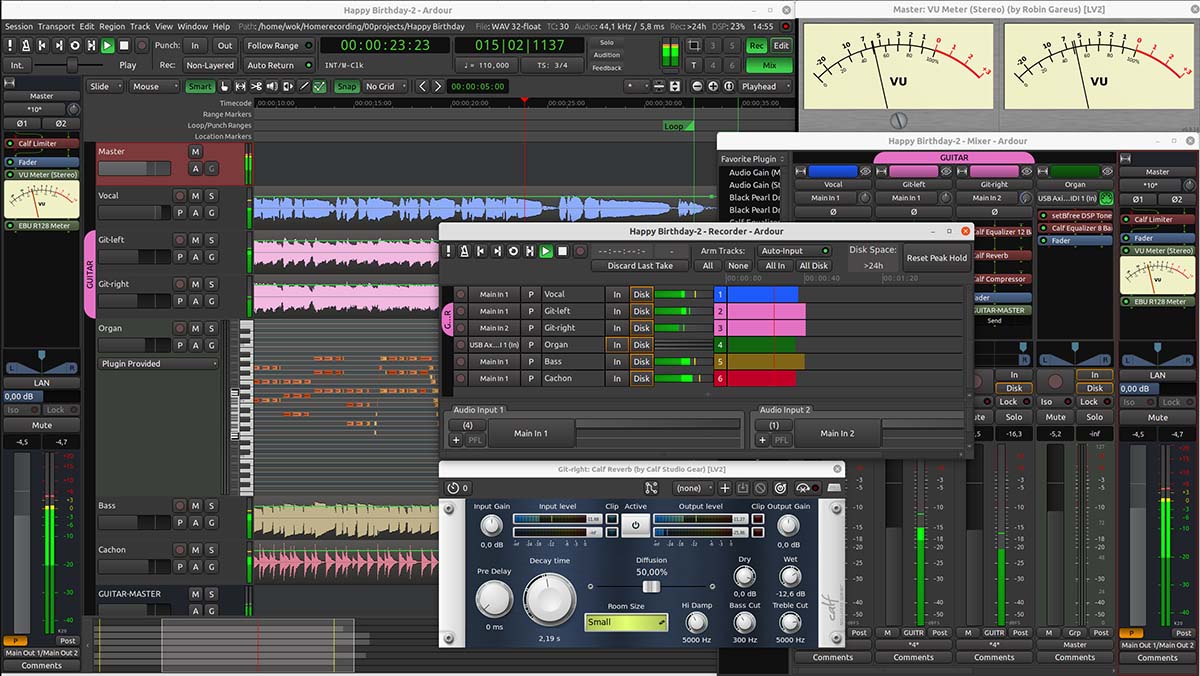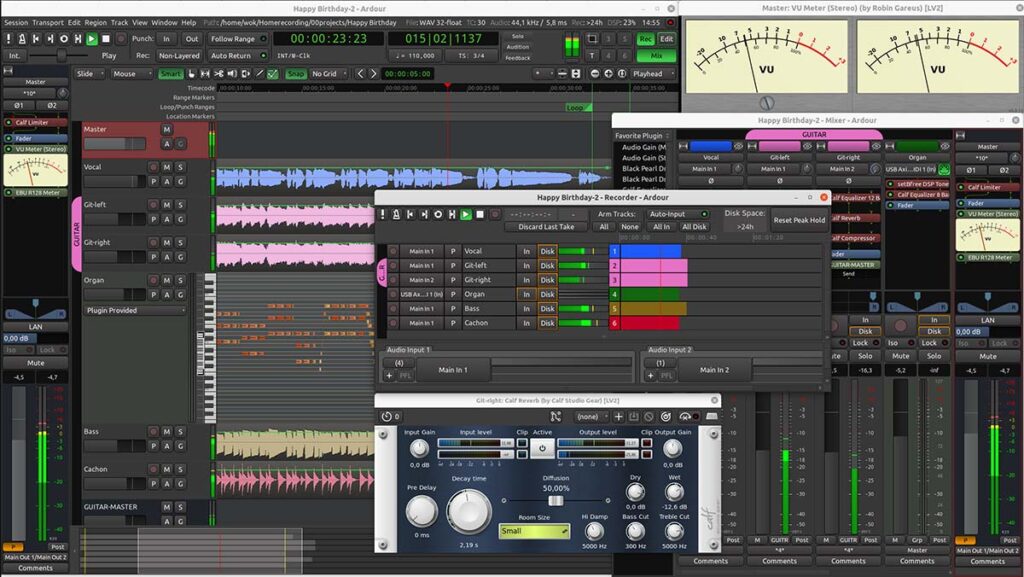 SPECIFICATIONS
Compatibility: Linux, Mac (must be compiled) and Windows (must be compiled)
Optimal for: Producers who are familiar with programming and want to customize the DAW
Plugins/Samples: Basic effects included
ARGUMENTS IN FAVOR
No restrictions
Accepts all common plugin formats (VST, AAX...)
NEGATIVE POINTS
Installation for Windows and Mac is difficult
Ardour is a full-featured, free and open-source DAW available for Linux, MacOS and Windows. Aimed at both professionals and amateurs, it offers comprehensive features for recording, editing, mixing and mastering audio. The open source code allows users to customize and extend the code, which is rare in the world of audio software.
The interface is functional and customizable, but can be a bit intimidating for beginners. The layout of tools and menus follows the standards of professional DAWs and is very Pro Tools oriented, which shortens the learning curve for experienced users. However, the sheer number of features and customization options will take some getting used to, especially for newcomers to music production.
This software offers robust recording and editing capabilities. It supports an unlimited number of tracks, making it ideal for complex projects. The DAW offers advanced editing options such as time-stretching, pitch-shifting and a wide range of effects and plug-ins. Non-destructive editing means changes can be undone without affecting the original recording.
Ardour really shines when it comes to mixing and mastering. With extensive routing options, support for multiple plug-in formats (including VST, LV2 and AU) and a powerful mixer, Ardour offers everything you need for professional mixing and mastering. The automation features are excellent and allow precise control over all aspects of the mix.
It's an impressive DAW, especially considering it's free. While it may not offer the same out-of-the-box ease of use as some commercial counterparts, its depth and flexibility are remarkable for a free tool. For users willing to invest time in learning the software, Ardour offers a powerful platform for all aspects of music production. The open source nature and active community add to the value of Ardour, especially for those interested in a customizable and extensible DAW.
Soundbridge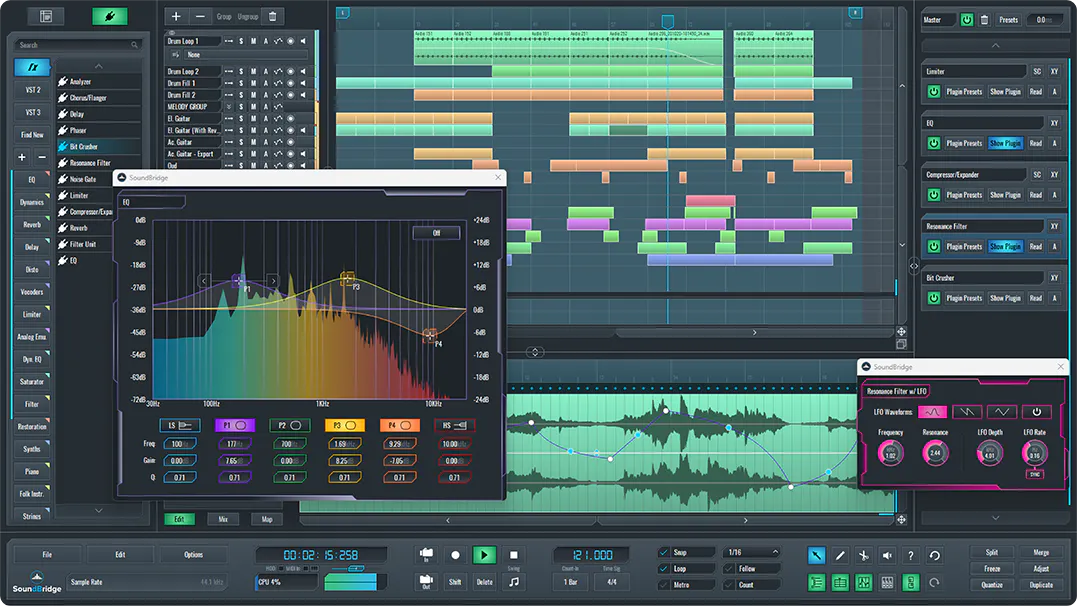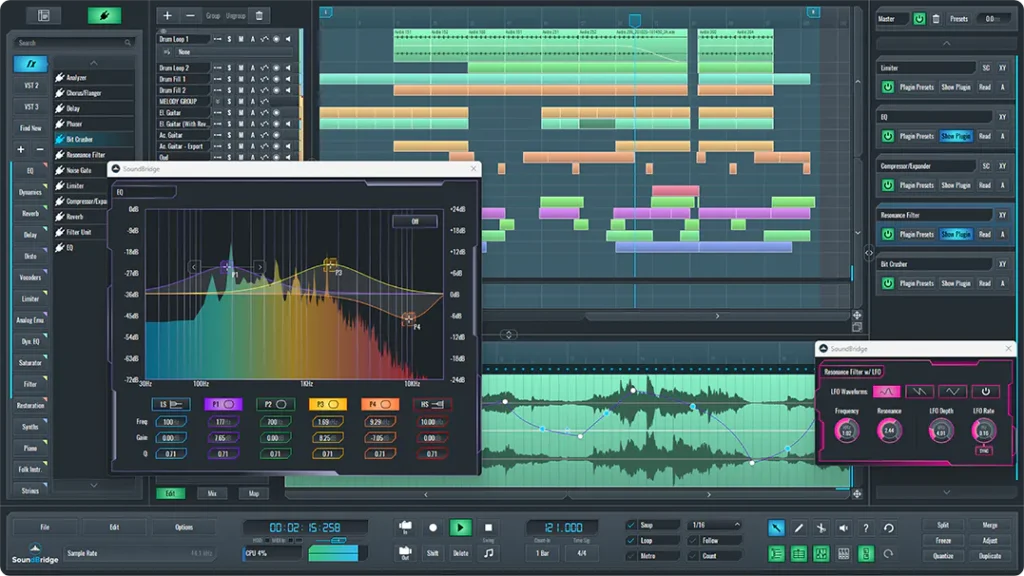 SPECIFICATIONS
Compatibility: Windows, Mac
Optimal for: Beginners who do not want to spend a lot of time learning difficult functions
Plugins/Samples: Basic effects included
ARGUMENTS IN FAVOR
No restrictions
Very intuitive interface
NEGATIVE POINTS
Not as powerful as other free DAWs on this list
Soundbridge is a free, easy-to-use DAW designed for both beginners and advanced users. Available for Windows and MacOS, it is designed to combine a simple and intuitive interface with professional features. The DAW is ideal for those just starting out in the world of music production.
The Soundbridge interface is clear and intuitive - it reminds me of FL Studio. The DAW is stripped of superfluous complexity in favor of a straightforward, easy-to-understand workflow. The layout is logical and key functions are easily accessible, minimizing the learning curve. The intuitive drag-and-drop functionality that simplifies working with samples and effects is particularly remarkable.
Soundbridge offers basic to advanced recording and editing options. The software supports multitrack recording and offers many custom effects that sound surprisingly good. Although it doesn't offer the depth of editing you'd expect from more complex DAWs, the tools available are well implemented and sufficient for many applications.
The free DAW also offers support for external VST plug-ins, which increases expandability and customization. The Soundbridge offers enough tools for basic mixing and mastering tasks, but advanced producers will quickly reach their limits, similar to FL Studio.
However, if your focus is on music production and composition, and you value an intuitive and easy-to-use interface, this free DAW is for you.
Serato Studio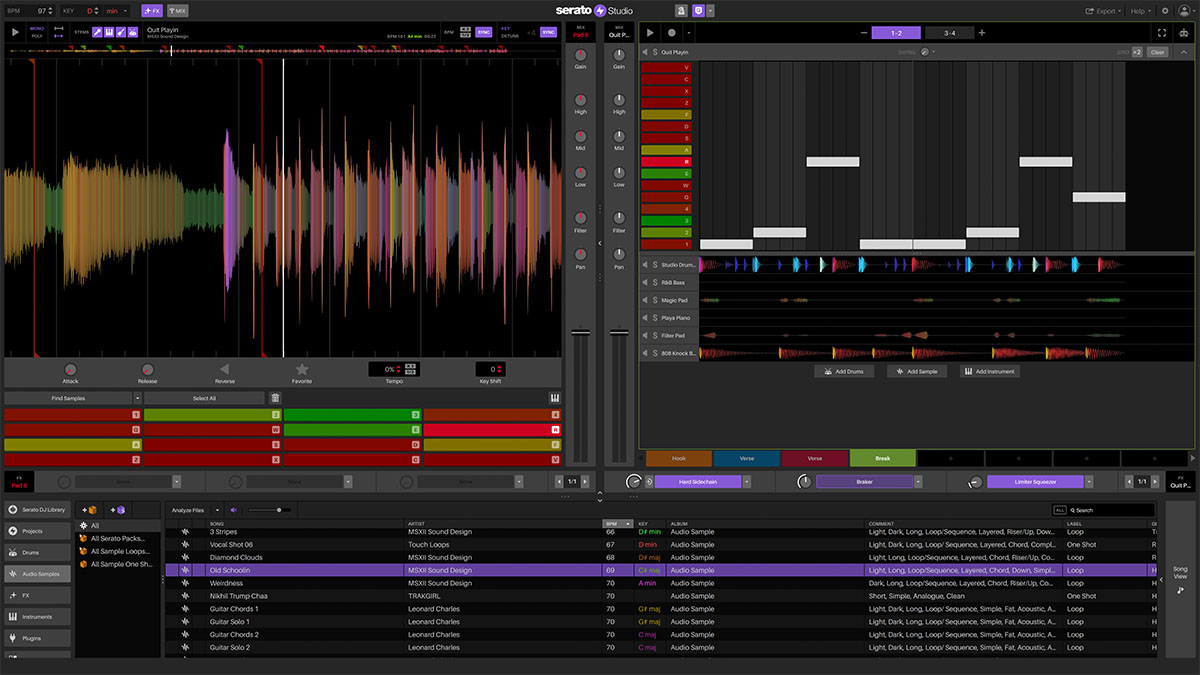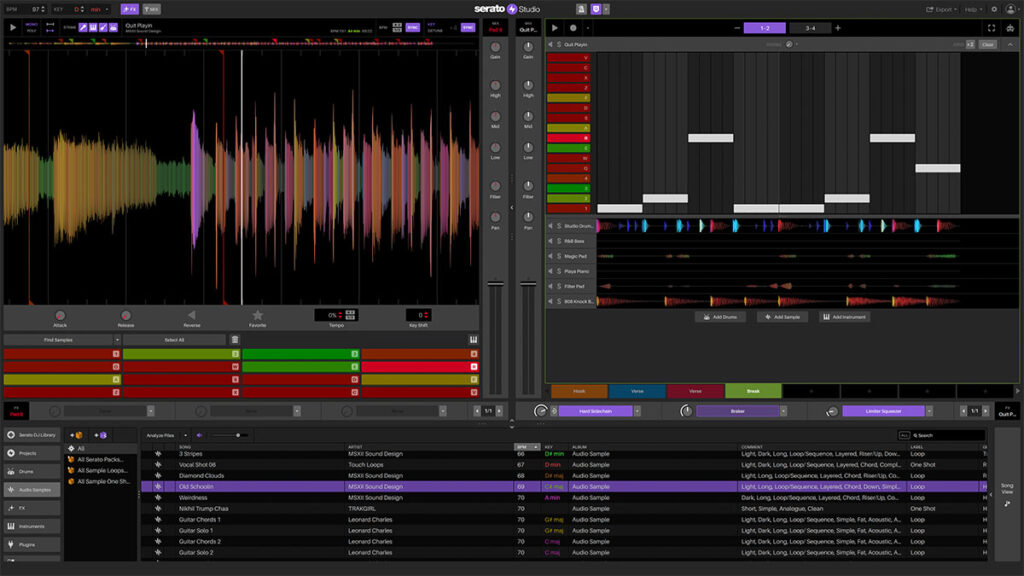 SPECIFICATIONS
Compatibility: Windows, Mac
Optimal for: DJs who want to start producing music
Plugins/Samples: Basic effects + high-quality effects especially for DJs
ARGUMENTS IN FAVOR
Perfect for DJs
If you already have experience with Serato, this DAW is very easy to learn
NEGATIVE POINTS
Not ideal for multitrack recording
Serato Studio is a digital audio workstation designed specifically for DJs and beatmakers. It combines traditional DAW features with DJ-specific elements such as beat matching and sampling. The software is designed for beginners as well as experienced DJs looking for tight integration between DJing and music production.
The Serato Studio interface is intuitive and easy to use. In many ways, it is reminiscent of the classic Serato DJ software, making it easy for existing Serato users to get started.
Serato Studio is characterized by its powerful beat-making and sampling tools. The software offers a large selection of built-in sounds and loops that are ideal for creating beats and electronic music. Drag-and-drop functionality makes it easy to work with samples and loops. And with Serato Studio's support for VST plug-ins, the possibilities are endless.
A unique feature of this free DAW is the integration of DJ-specific features such as beat matching and key shifting. The software makes it easy to synchronize and harmonize tracks, which is especially beneficial for DJs who want to get into music production. A unique feature is the ability to create DJ sets and remixes directly in the DAW.
Serato Studio is an innovative DAW that bridges the gap between DJing and music production. If you're a DJ looking to get into music production, this is the best free DAW you'll find.