At least, that's how it worked with me and my €500 Tama Swingstar. Bought in the early 2000s after long negotiations with my parents, this most basic drumset accompanied me through the early stages every musician must go through: the gigs at the high school parties, the terrible recordings made in the guitarist's garage, the concerts at the local pub where you got paid with beers and free dinner.
It didn't take me long to realize my dear Swingstar sounded cheap. But then I also understood that a good drummer can make the most of whatever instrument they have at hand: you change drumheads, you learn how to properly tune your set, and most of all, you build a relationship with your instrument, learning how it resonates in every environment and adjust your drumming to make it sound better than it should.
Long story short, I still take out my Swingstar for a ride a few times a year. Despite having upgraded my drumset a couple of times already, my dear Tama is still with me, and trust me, we're still having a wonderful time together.
Tip: If you don't have the possibility to play a real drum kit, for example because you have neighbors, an electronic drum kit might be better for you. You can find the best models in our article about the best electronic drum kits for beginners and professionals.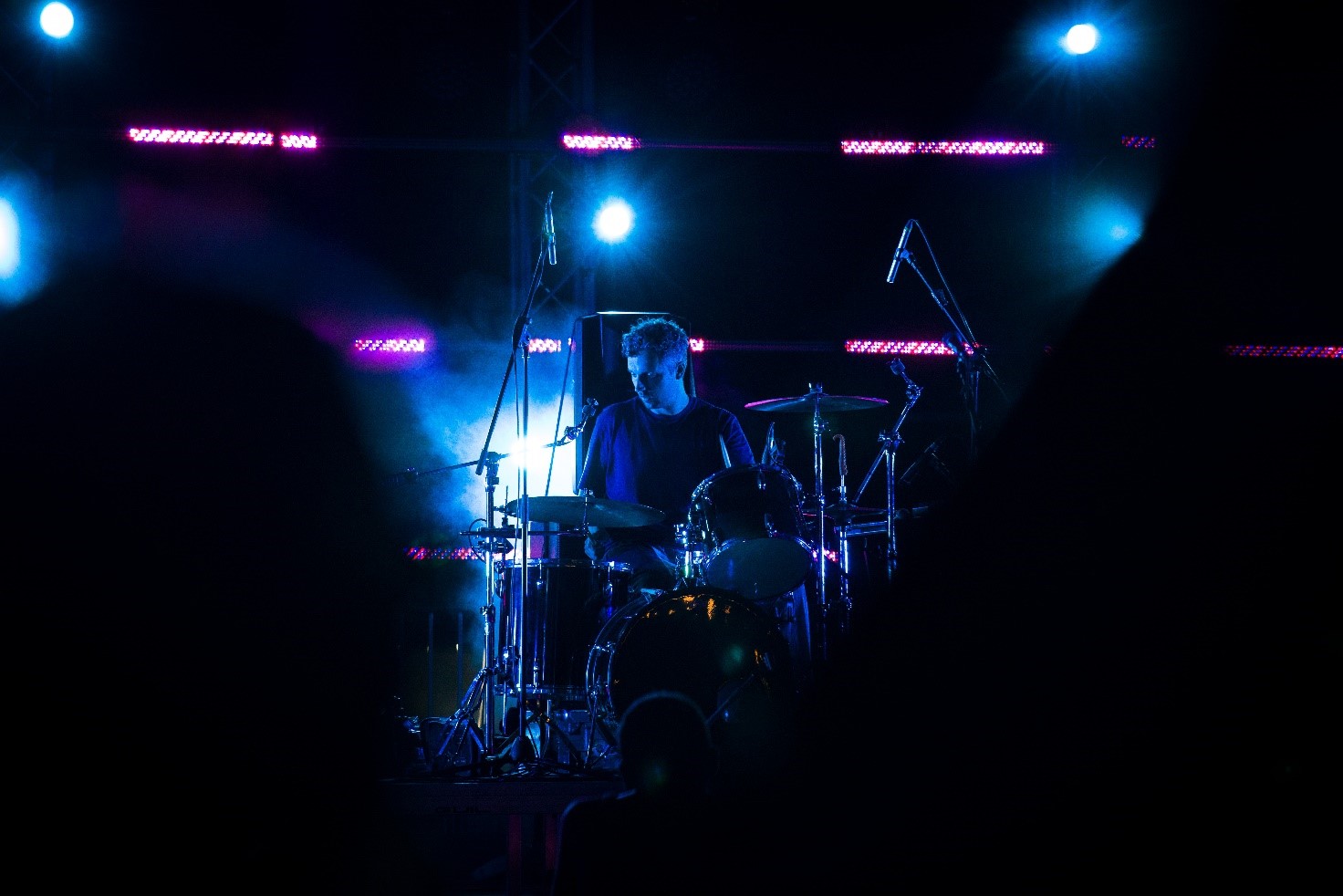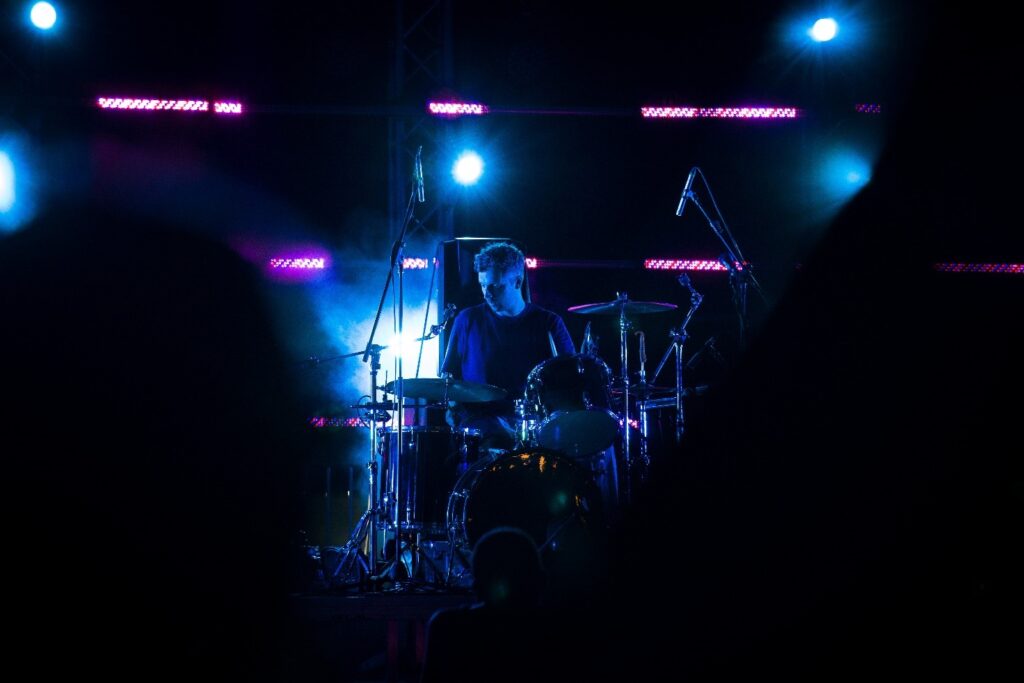 Today, we'll take a look at the best drum sets for beginners, with a focus on kits that are durable and versatile enough to give you everything you need to start your musical journey. Despite being entry-level, all the drum kits for beginners below offer excellent value for money, so whichever you choose, I'm sure it could well become a companion for life.
If you're short on time, here's my advice in a nutshell: get the Millenium MX420 Studio Set if your budget is below €500, as it's an excellent kit that can be upgraded over time to offer a more professional sound. Plus, it comes with everything you need to start playing from day one.
Alternatively, if you're serious about playing the drums and want a drum set that performs magnificently and can last for years, get the iconic Pearl Export, a beloved drumkit that stands out in the world of beginner drum sets.
Let's dive in!
Tip: If you want to know how to set up a drum kit, I recommend my step-by-step guide to setting up a drum kit.
Best drums for beginners
Startone Star Drum Set Standard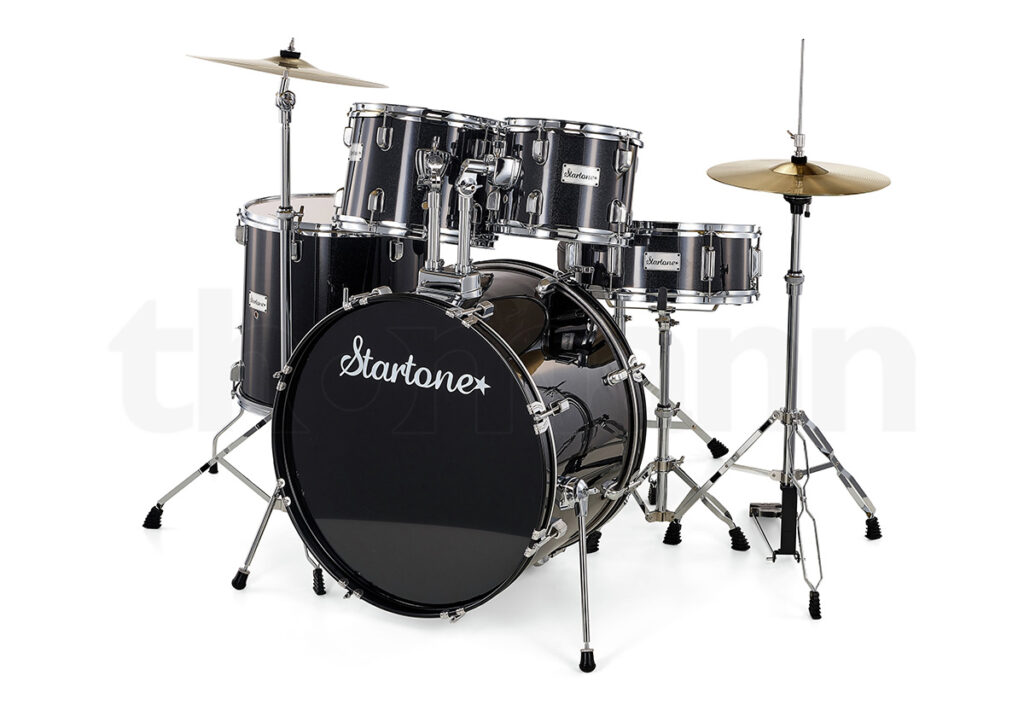 SPECIFICATIONS
Material: Poplar wood
Drum sizes: Snare drum: 14″ x 5.5″; Floor tom: 16″ x 16″; Rack toms: 10″ x 08″ + 12″ x 09″; Bass drum: 22″ x 14″.
Colors: Black
ARGUMENTS IN FAVOR
Affordable
Easy to set up
Balanced sound quality
NEGATIVE POINTS
Hardware may require frequent tuning
The Startone Star Drum Set Standard offers an excellent sound, considering it costs less than €300 and that it comes with all the hardware you need to get started, including the throne. Al drum shells are in polar wood, giving a brilliant sound to the whole set, especially to the snare drums, which feel energetic and solid.
Tightening and tuning require a bit of time, but if you're patient enough, you can bring a distinctive sound signature to life. The floor tom is the only one I wished was more defined, with an annoying resonance you can get rid of by buying a better drumhead. The cymbals, as you would expect, are awful, but you can't possibly expect more at this price.
Suited for beginners of all sizes and ages, the Startone Star Drum Set Standard is an inexpensive kit that can easily accompany you during your early stages of studio practice.
Millenium MX420 Studio Set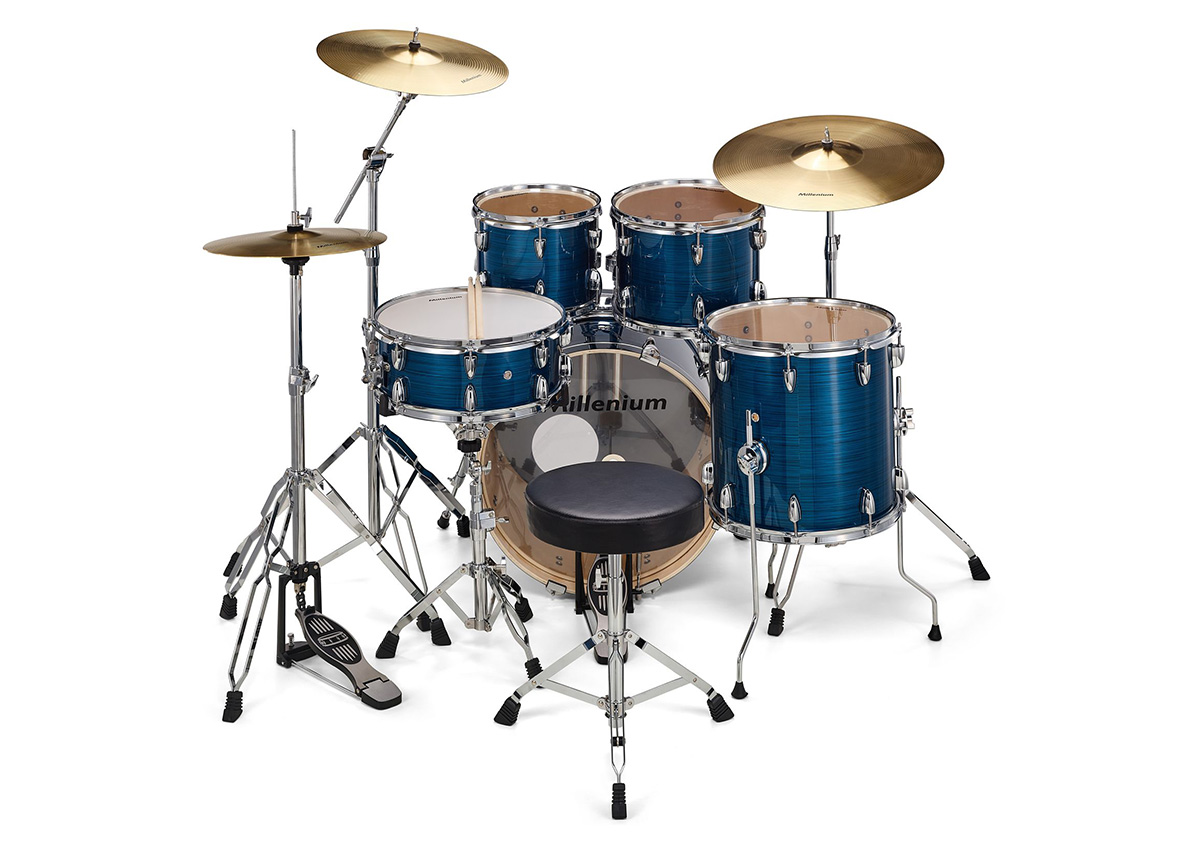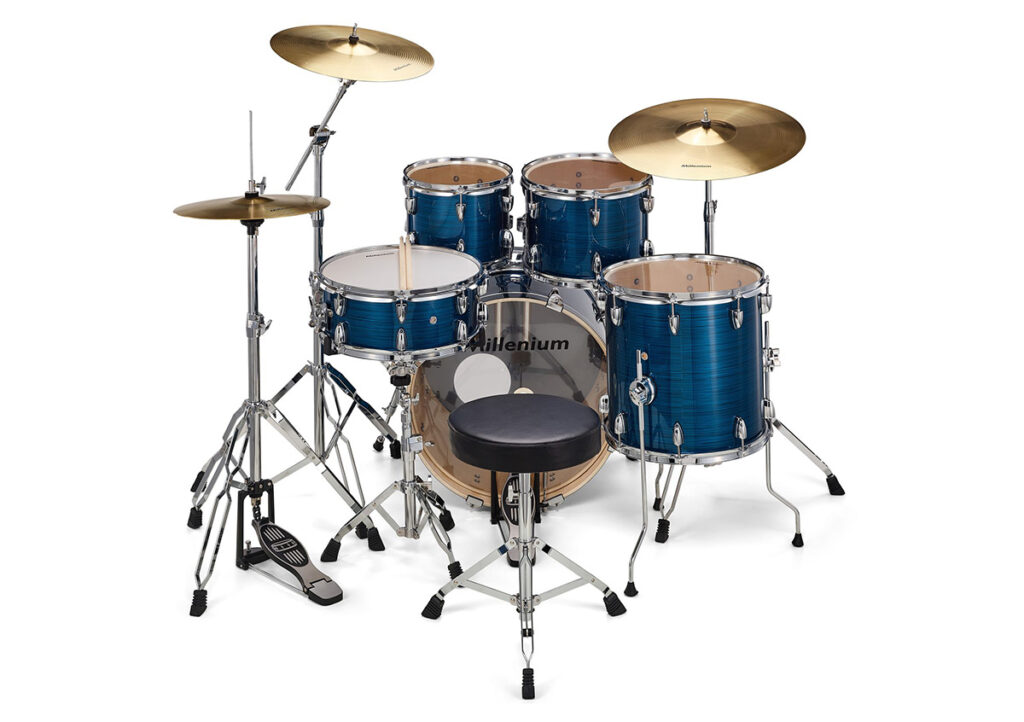 SPECIFICATIONS
Material: Poplar/Birch
Drum sizes: Snare: 14″ x 5.5″; Floor Tom: 14″ x 14″; Rack Toms: 10″ x 8″, 12″ x 9″; Bass Drum: 20″ x 16″.
Colors: Blue, Red
ARGUMENTS IN FAVOR
Versatile in style
Solid hardware
Warm tones
NEGATIVE POINTS
Excessively resonant toms
The Millenium MX420 Studio Set offers incredible value for money: it's an all-in-one solution for beginner drummers or intermediate looking for a backup kit. The MX420 delivers magnificently both on stage and at the rehearsal, with solid hardware quality and a professional look that can make it last a long time.
Versatility is the strongest point of the Millenium MX420: it has a transparent yet distinctive sound signature that can blend well with heavier genres as well as smooth jazz. The wood construction is great for the price, with good resonance and durability, bringing to life a warm sound with mids and highs nicely represented.
The downsides are of the most common type: cymbals sound terrible, especially the crash and ride coming with the drum set. The hi-hat, however, could be used during rehearsals or informal jam sessions. The bass pedal is decent, but if you're obsessed with groove, you'll soon crave for a faster one.
All in all, this is an excellent starter drum kit for the money and my favorite option when it comes to kits under €500.
Ludwig Breakbeats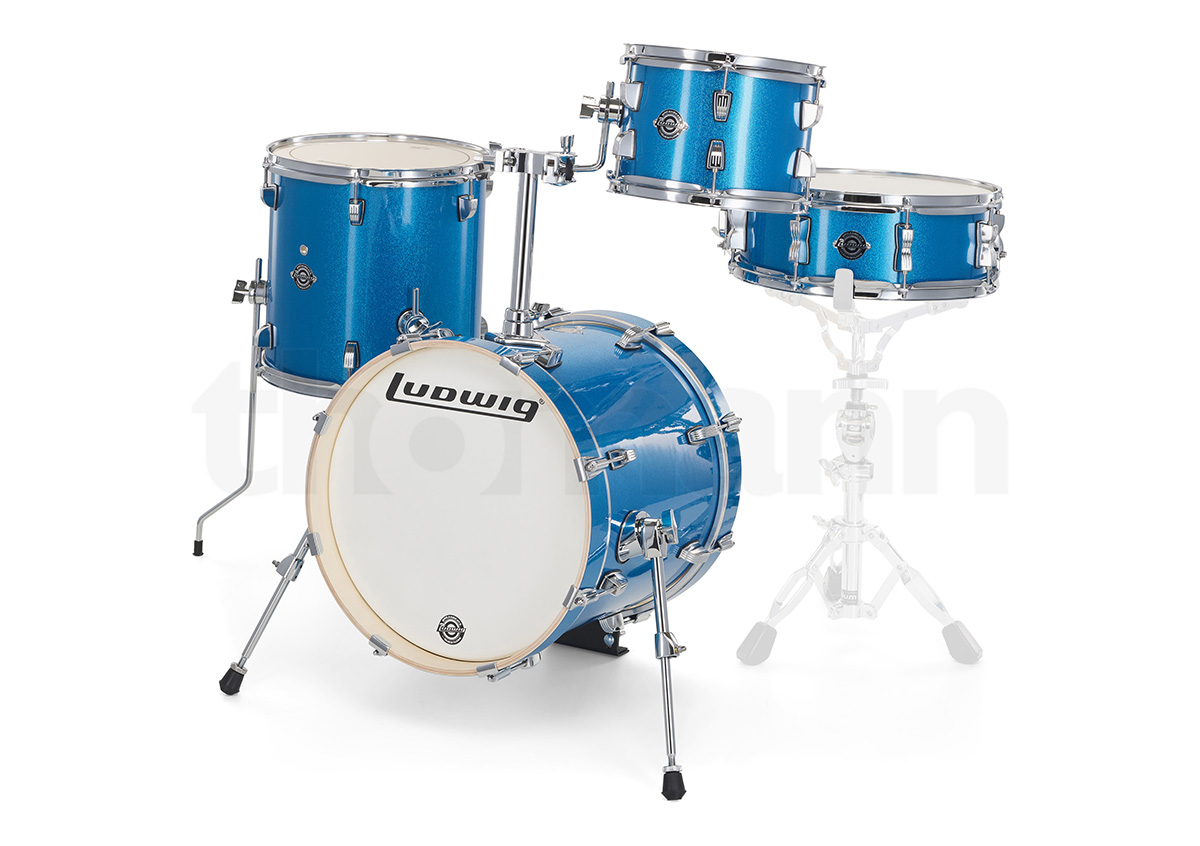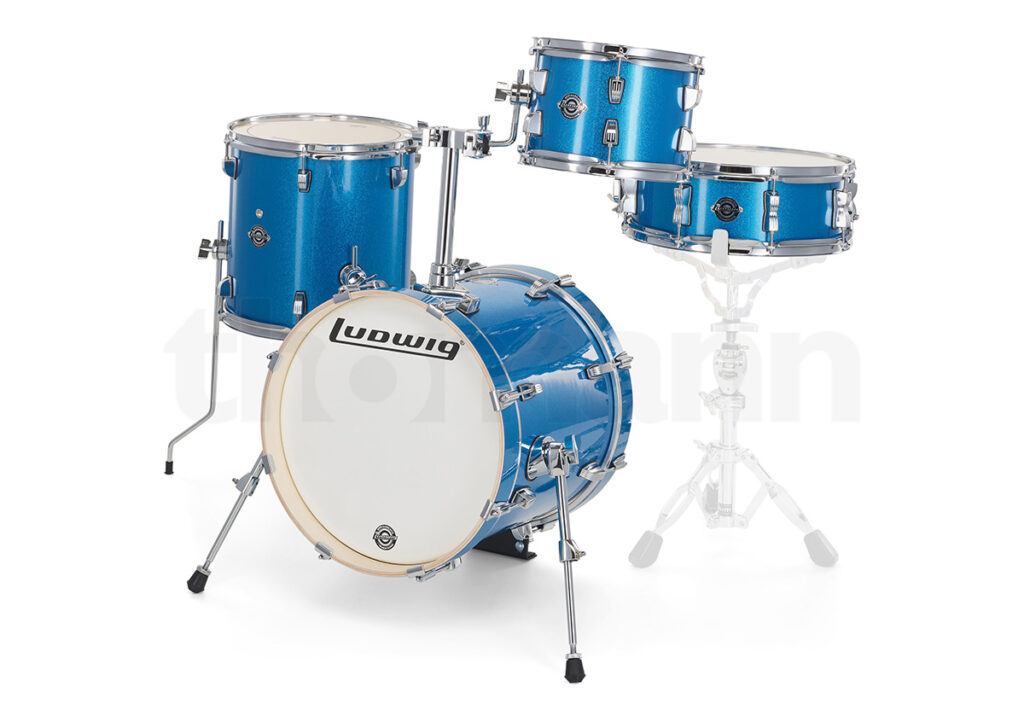 SPECIFICATIONS
Material: Poplar
Drum sizes: Snare: 14″ x 5″; Floor Tom: 16″ x 14″; Rack Toms: 10″ x 7″; Bass Drum: 18″ x 14″.
Colors: Blue, Silver
ARGUMENTS IN FAVOR
Compact size
Rich, full sound
More than just a beginner's drum kit
NEGATIVE POINTS
Limited bass depth due to smaller size
Pricey when compared to other starter sets
You only get the drum shells
Endorsed by the legendary Ahmir "Questlove" Thompson, the Ludwig Breakbeats combines the craftsmanship typical of Ludwig with the requirements of most city drummers: a compact size, versatility, and affordability. The Ludwig Breakbeats excels in all the points above.
The Ludwig Breakbeats is tailor-made for drummers who need a small set that doesn't skimp on quality. The poplar shells provide a rich, full sound that is exceptional for the set's size, while the hardware is sturdy, and the playability is smoother than you'd expect at this price range. All these features make the Breakbeats a fantastic set not just for beginners but also for professionals looking for an "expendable" drum set to carry around easily.
The smaller size might not give you a gigantic sonic range, but it's a great start for drummers with space constraints. In my opinion, the ideal setting for this drumkit is a jazz bar or cosy venue, where amplification is minimal, and you want to create an immersive and engaging vibe. Don't forget that, with a Ludwig set, you're also investing in a brand that stands for quality, so when the time comes, you know you'll be able to sell this fantastic kit easily.
Millenium Focus 22 Drum Set Black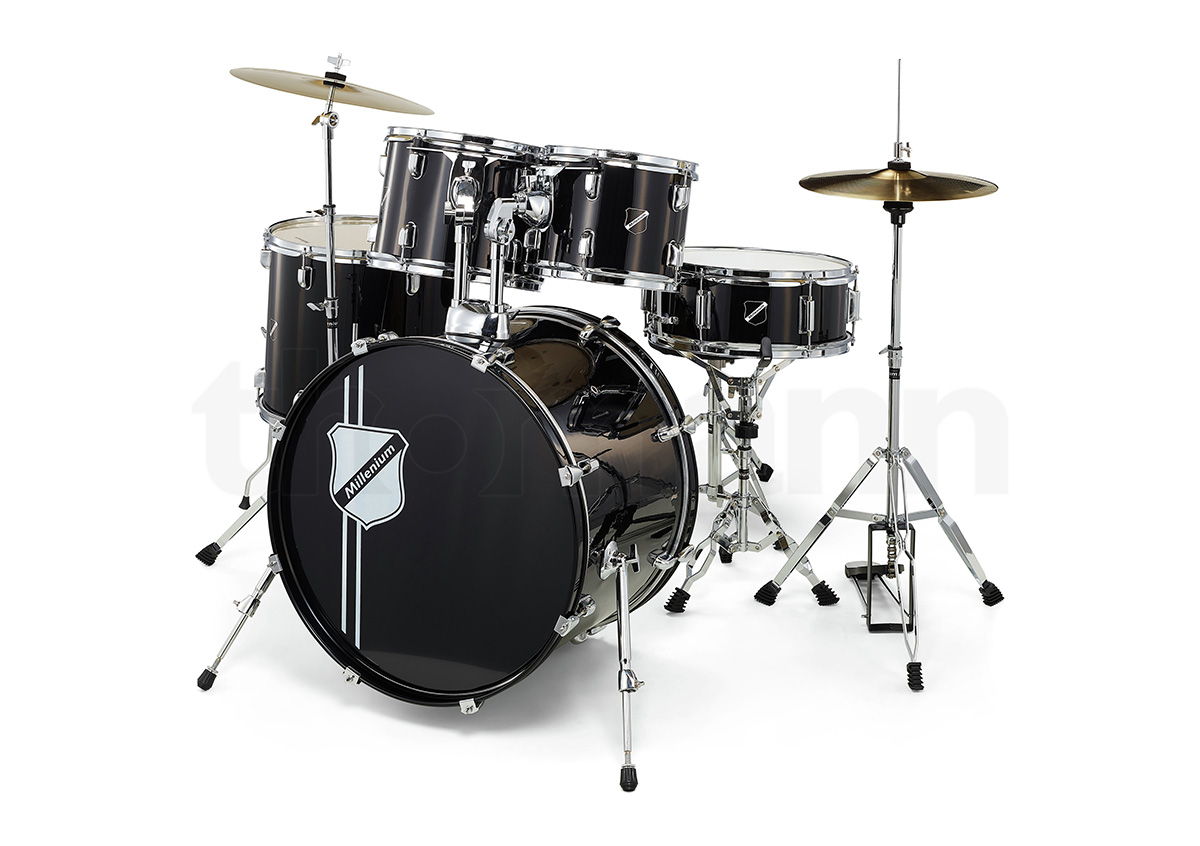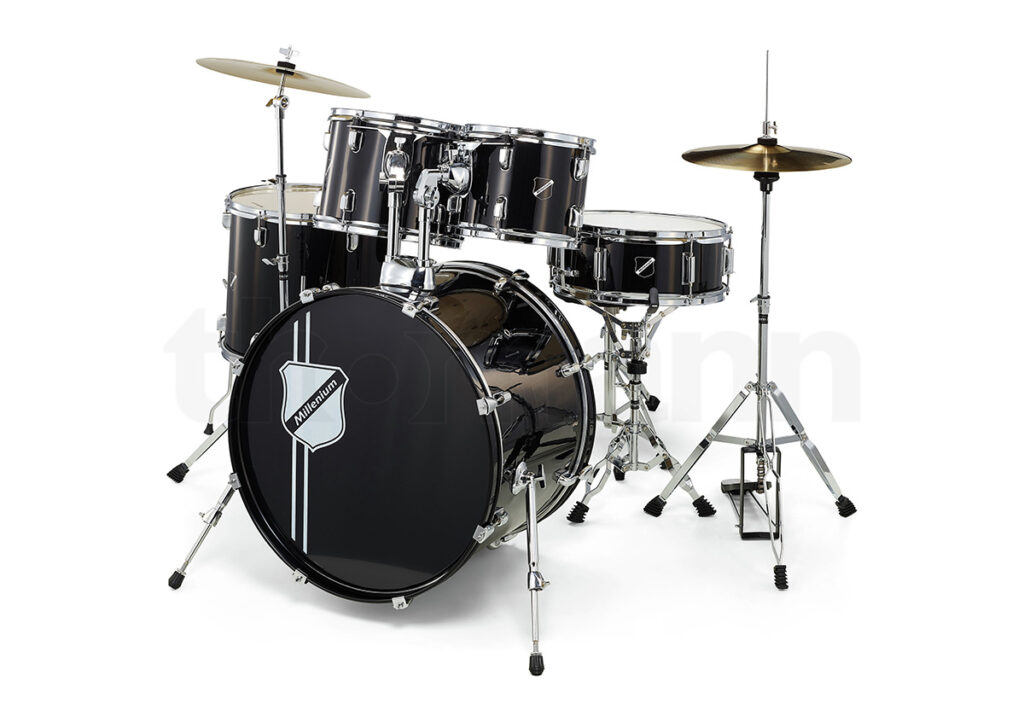 SPECIFICATIONS
Material: Poplar
Drum sizes: Snare: 14″ x 5.5″; Floor Tom: 16″ x 14″; Rack Toms: 10″ x 8″, 12″ x 9″; Bass Drum: 22″ x 16″.
Colors: Black, Silver, Red
ARGUMENTS IN FAVOR
Sturdy hardware
Bright, punchy sound
Versatile
NEGATIVE POINTS
Bulkier size may not suit all spaces
The Millenium Focus 22 is another super affordable option that delivers both sound quality and lasting hardware. This drum kit also comes with sound control rings and even a muffling cushion for the bass drum, which is essential to make the Focus 22 truly shine.
Playability is quite impressive, with hardware that stays in tune for extended periods and a snare drum that has the authority you need to make catchy grooves. Its large bass drum offers a deeper low end, providing a fuller sound landscape that is perhaps more suitable for drummers into heavier genres but still great for blues, jazz, and pop.
What can you say about a good-quality drumkit that costs less than €350 and gives you everything you need to get started? Honestly, the Millenium Focus 22 is a bargain, and if you finetune each component, you can make it sound like a great kit.
Mapex TND5044TC Tornado Studio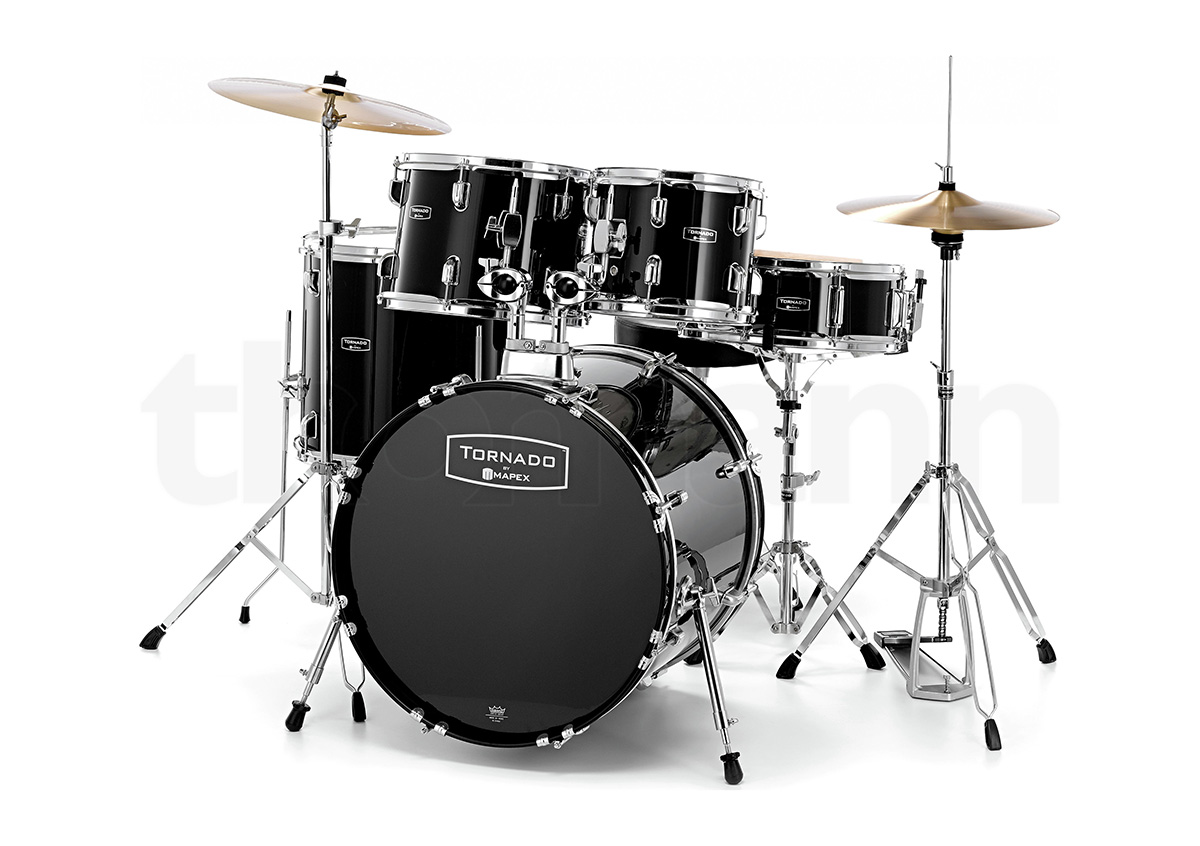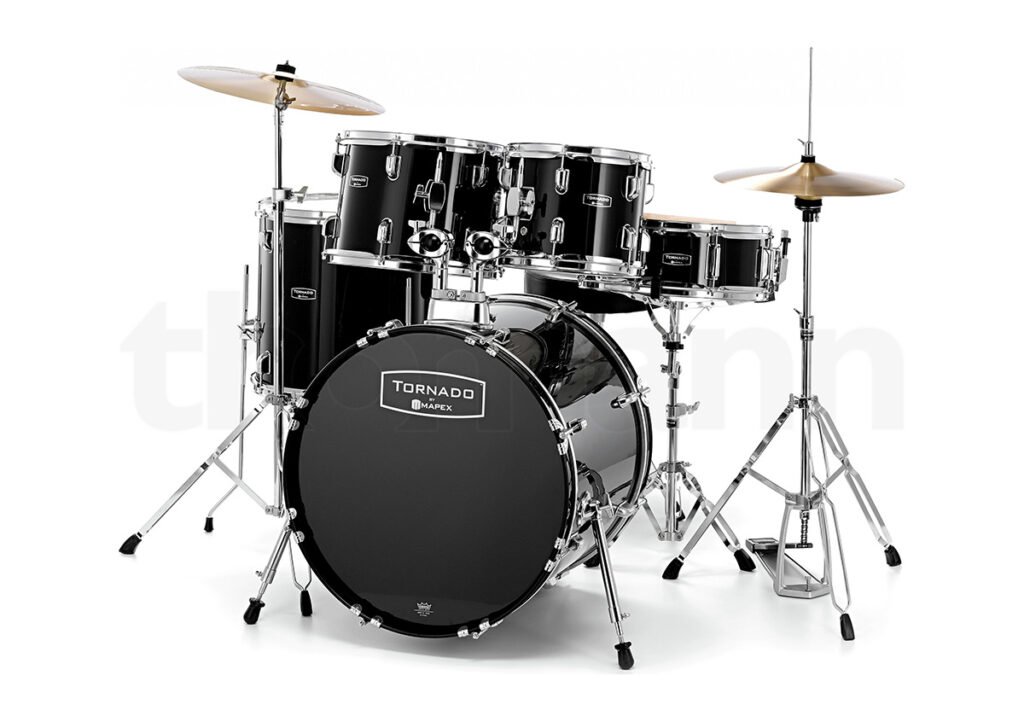 SPECIFICATIONS
Material: Lime wood
Drum sizes: Snare: 14″ x 5.5″; Floor Tom: 14″ x 14″; Rack Toms: 10″ x 8″, 12″ x 9″; Bass Drum: 20″ x 16″.
Colors: Black, Red
ARGUMENTS IN FAVOR
Sturdy construction
Balanced sound
Affordable
NEGATIVE POINTS
Better options at the same price
The TND5044TC Tornado Studio Kit is a sturdy, carefully built beginner kit in limewood that'll help you get started in the world of drumming. The drum shells are built to last and withstand the hardships caused by amateur drummers, with refined finishes that'll make the set stand out in your rehearsal room.
The TND5044TC Tornado Studio comes with a throne, drum pedal, a fundamentally useless 16" crash, and an equally unlistenable hi-hat, but still, this kit delivers more than expected in terms of sound and durability.
Yamaha Rydeen Standard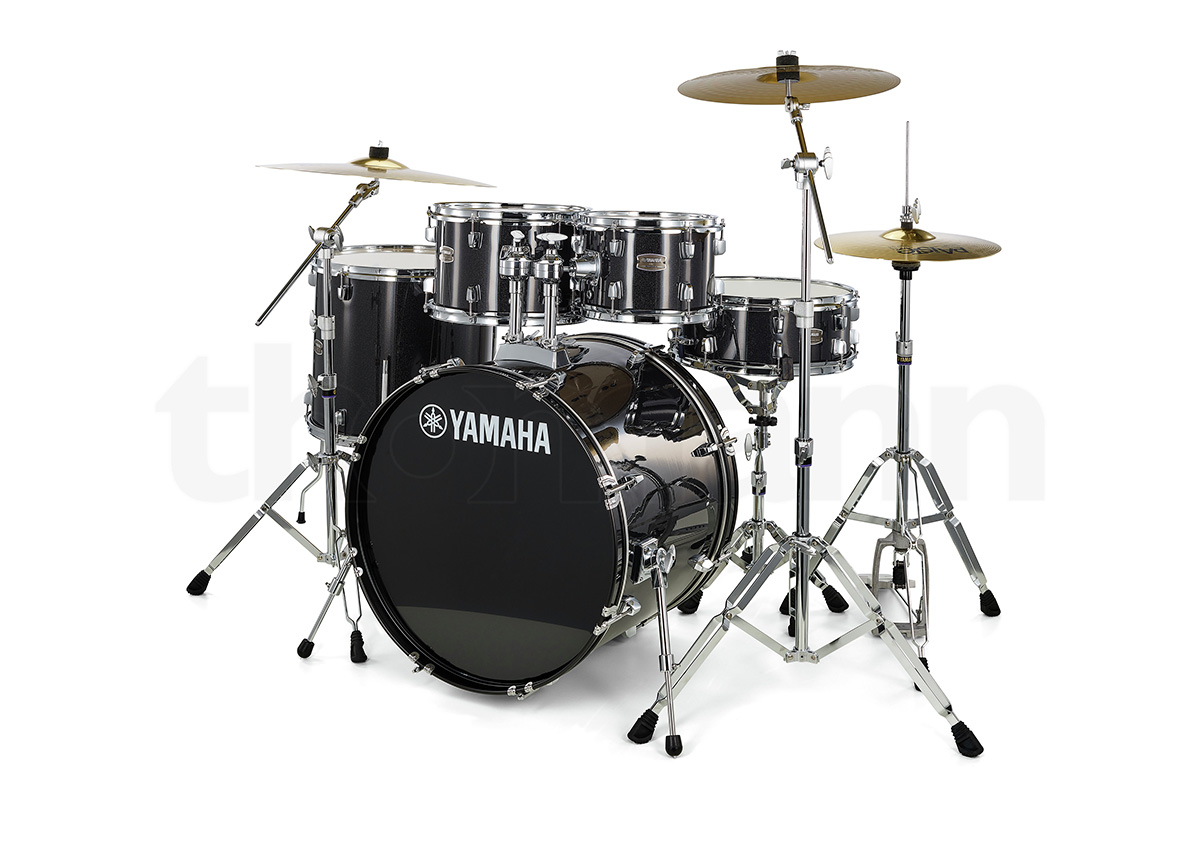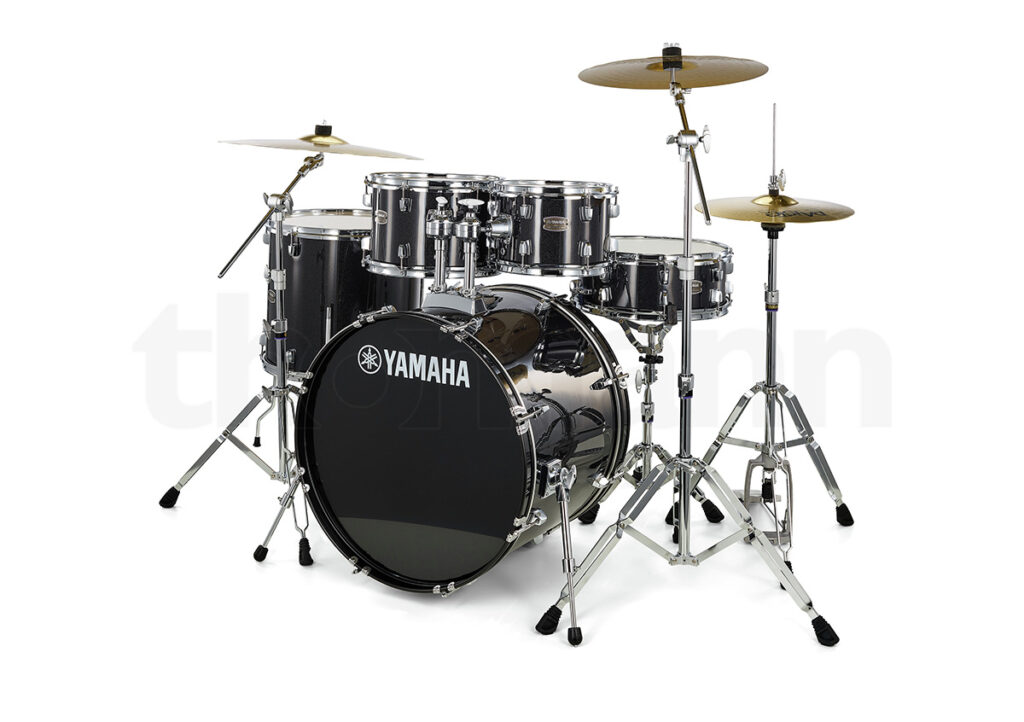 SPECIFICATIONS
Material: Poplar
Drum sizes: Snare: 14″ x 5.5″; Floor Tom: 16″ x 15″; Rack Toms: 12″ x 8″, 10″ x 7″; Bass Drum: 22″ x 16″.
Colors: Black, Dark Red, Light Red, Yellow, Silver
ARGUMENTS IN FAVOR
Versatile tonal range
Excellent hardware quality
Yamaha is just too good at it
NEGATIVE POINTS
Pricier than other beginner kits
Yamaha is a household name when it comes to quality at an affordable price. It seems incredible that regardless of the instrument you play, there's an affordable Yamaha option that sounds excellent and costs little!
The Rydeen Standard is crafted from poplar and offers a broad range of natural tones, from crisp highs to punchy lows. The hardware is solid, built to last, and offers excellent tuning stability. This model comes without a seat, but a hit hat, crash, and ride that sound pretty good, to be honest.
The Rydeen Standard is so good that it's more expensive now than it used to. Not long ago, you could get the whole set for €600, but now it costs over €800. However, that should tell you how good this drumkit actually is.
Pearl Roadshow 22″ Plus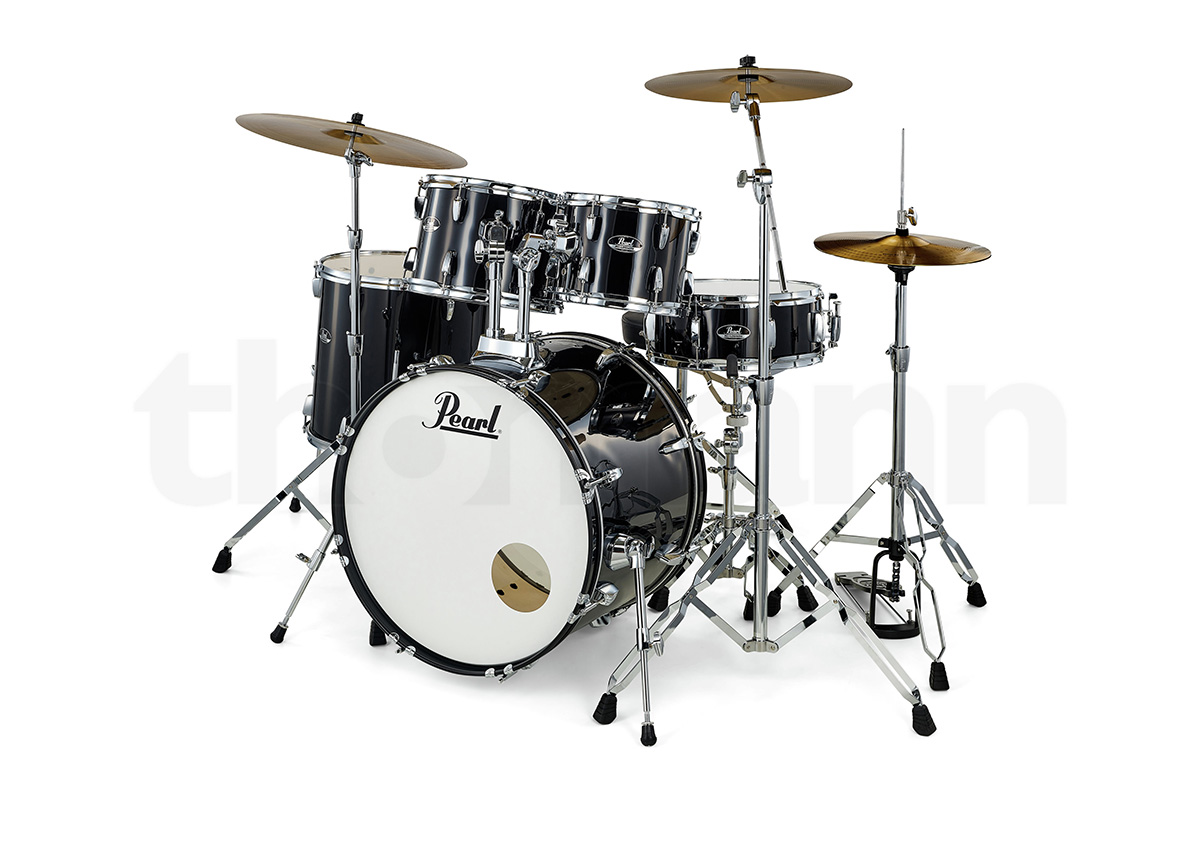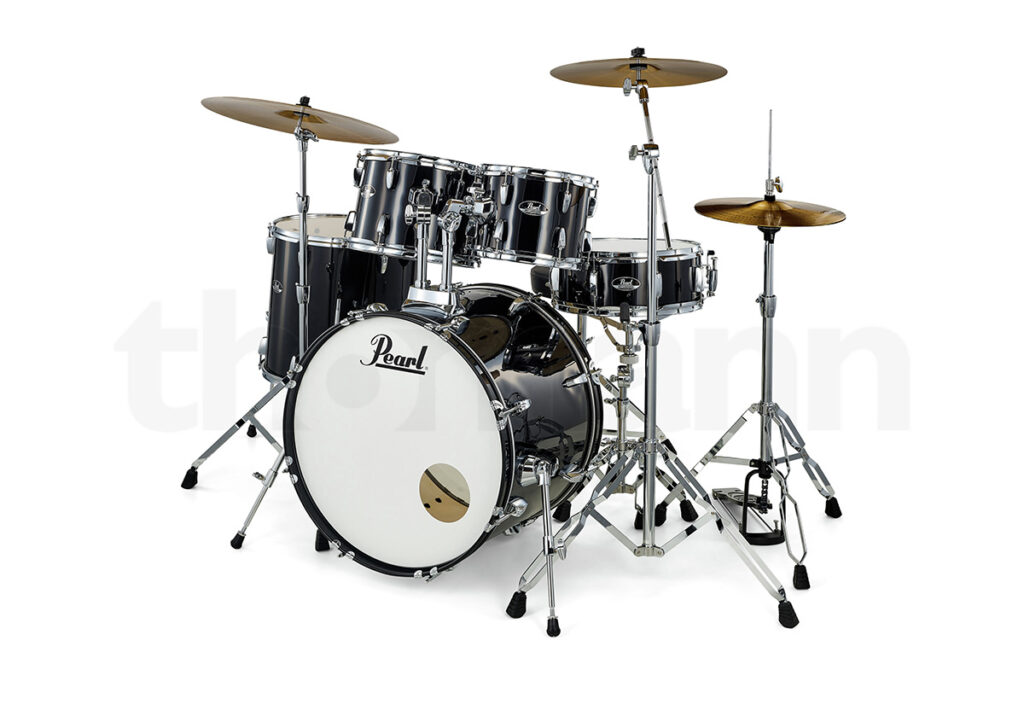 SPECIFICATIONS
Material: Poplar
Drum sizes: Snare: 14″ x 5.5″; Floor Tom: 16″ x 16″; Rack Toms: 10″ x 8″, 12″ x 9″; Bass Drum: 22″ x 16″.
Colors: Black, Dark Red, Blue
ARGUMENTS IN FAVOR
A reliable kit you can carry with you
Produced by a brand renowned for quality
NEGATIVE POINTS
Bulky
Not the cheapest kit
The Pearl Roadshow 22" Plus is a great kit for beginners that delivers a powerful sound and comes with half-decent cymbals you can actually use live without embarrassing your bandmates. That, in itself, is a major plus! The Roadshow comes with a Sabian Solar 14" hi-hat, a 16" crash and a 20" ride that might not sound as good as the Sabian's official series, yet they have a crisp and loud sound, with a controlled resonance that works well across genres.
The toms and snare drums in the Roadshow produce a balanced sound with decent projection; while they may not deliver the same level of resonance and articulation as a standard higher-end kit, they perform well enough for practice and learning purposes. The 22" bass drum has plenty of authority, so I'm sure it'll fully satisfy your needs at the rehearsal or while jamming.
Mapex Venus 5045 Drum Set Bundle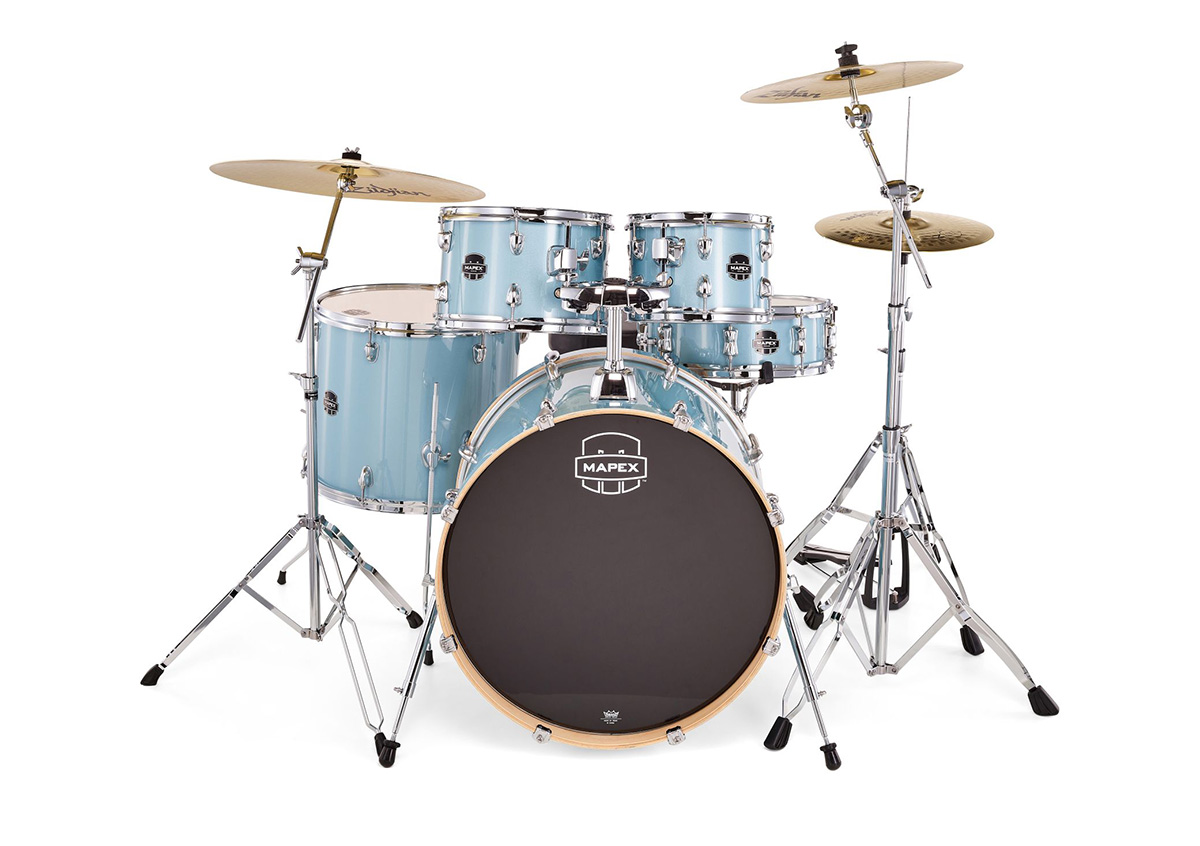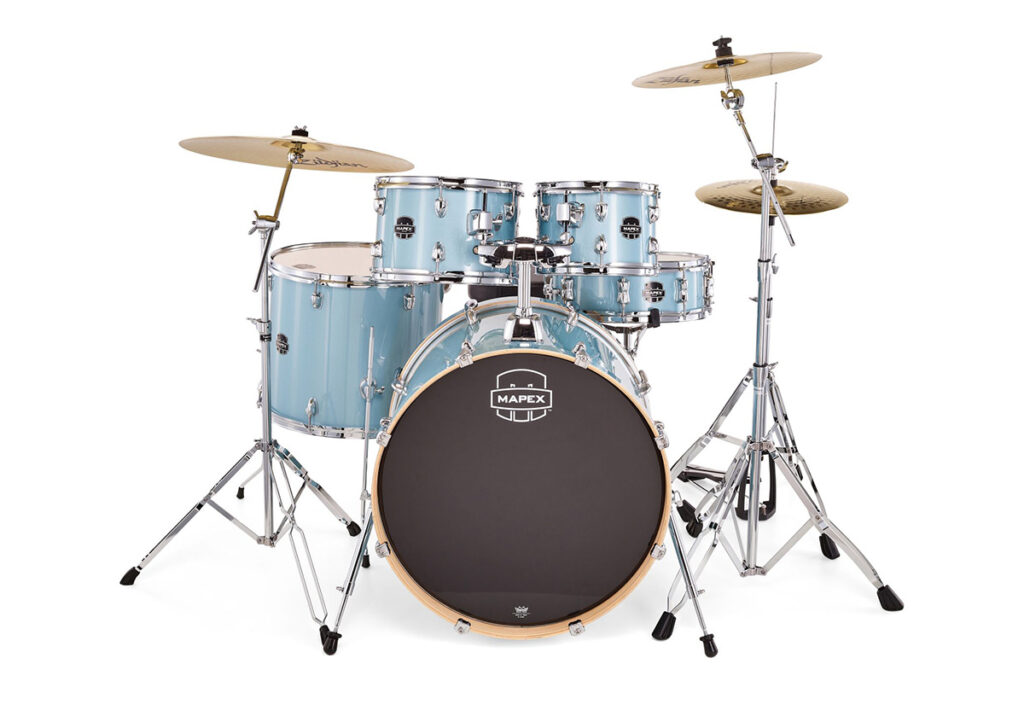 SPECIFICATIONS
Material: Poplar
Drum sizes: Snare: 14″ x 5.5″; Floor Tom: 14″ x 14″; Rack Toms: 10″ x 8″, 12″ x 9″; Bass Drum: 20″ x 16″.
Colors: Black, Dark Blue, Light Blue, Silver, Red, Brown
ARGUMENTS IN FAVOR
Focused, bright sound
Sturdy hardware
Good-quality cymbals
NEGATIVE POINTS
Expensive for beginners, limiting for seasoned players
What stands out as soon as you look at the Mapex Venus 5045 is the refined finishes and high-quality hardware that I find surprising for such a reasonably-priced drum set. The 9-ply poplar shells house the SONIClear Bearing Edge, a carefully crafted system that improves the contact between the drumhead and shell, making the kit sound more powerful and making its components easier to tune.
The kit offers a rich and well-balanced sound as a whole, with a warm and full-bodied tone, making them suitable for a wide range of musical styles, from rock to pop, jazz and blues. The bass drum delivers a deep and punchy low end, while the toms and snare provide excellent projection and articulation.
Speaking of hardware and cymbals, the Venus 5045 comes with a three-piece set of Zildjian Planet Z that'll meet the requirements of all beginners, while two boom cymbal stands feel robust and built to last. We're close to hitting the €1000 mark, yet the Venus 5045 is a valid option for the ambitious beginner looking to upgrade their kit over time.
Sonor AQX Studio Set BMS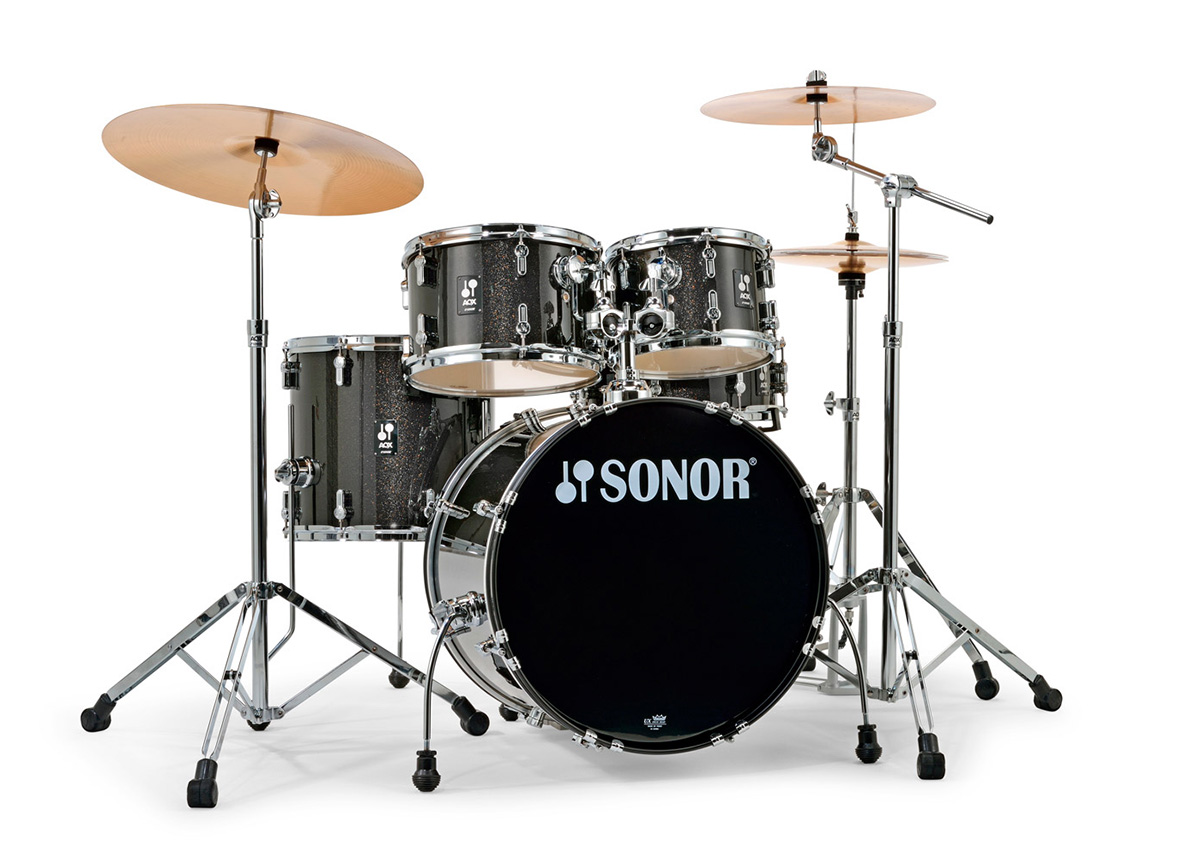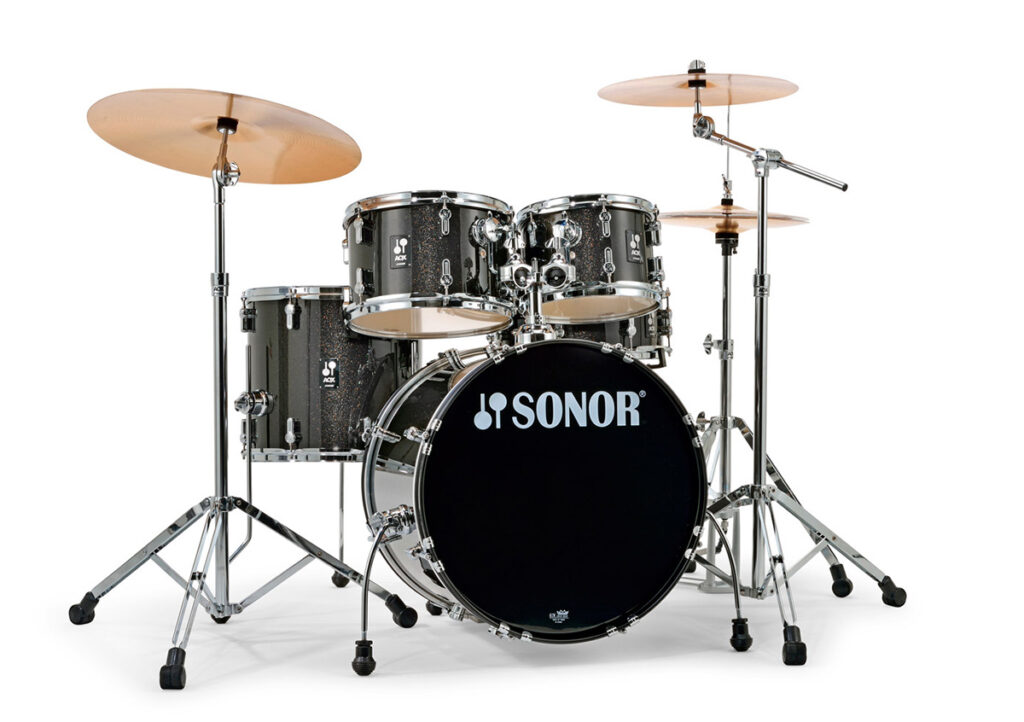 SPECIFICATIONS
Material: Poplar
Drum sizes: Snare: 14″ x 5.5″; Floor Tom: 14″ x 13″; Rack Toms: 10″ x 7″, 12″ x 8″; Bass Drum: 20″ x 16
Colors: Black, Red, Blue
ARGUMENTS IN FAVOR
Balanced tones
Reliable hardware
NEGATIVE POINTS
A high price for a drum kit designed for studio practice exclusively
Sonor kits have probably introduced tens of thousands of teenagers to the world of music, so it shouldn't come as a surprise that the AQX Studio Set BMS is an excellent blend of quality and affordability.
Made from good-quality poplar that delivers a bright resonance, the AQX Studio features well-rounded tones that can be easily tweaked to suit various genres, from groovy blues to heavier genres like hard rock or metal. What makes this kit stand out is the balanced tones and the easy-to-tune components, making it ideal for beginners learning how to make the most of their drum set or lazy drummers (like me) who hate tuning their kit.
Millenium MX422 Standard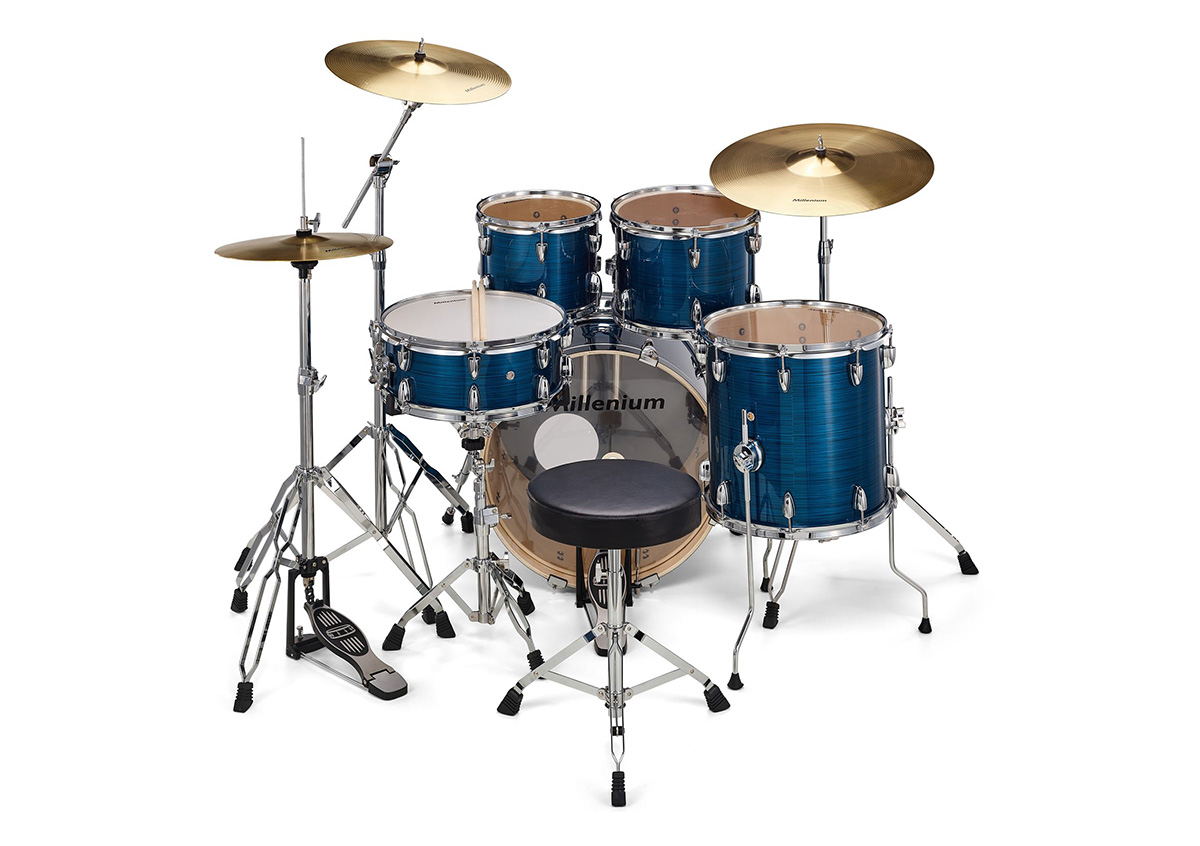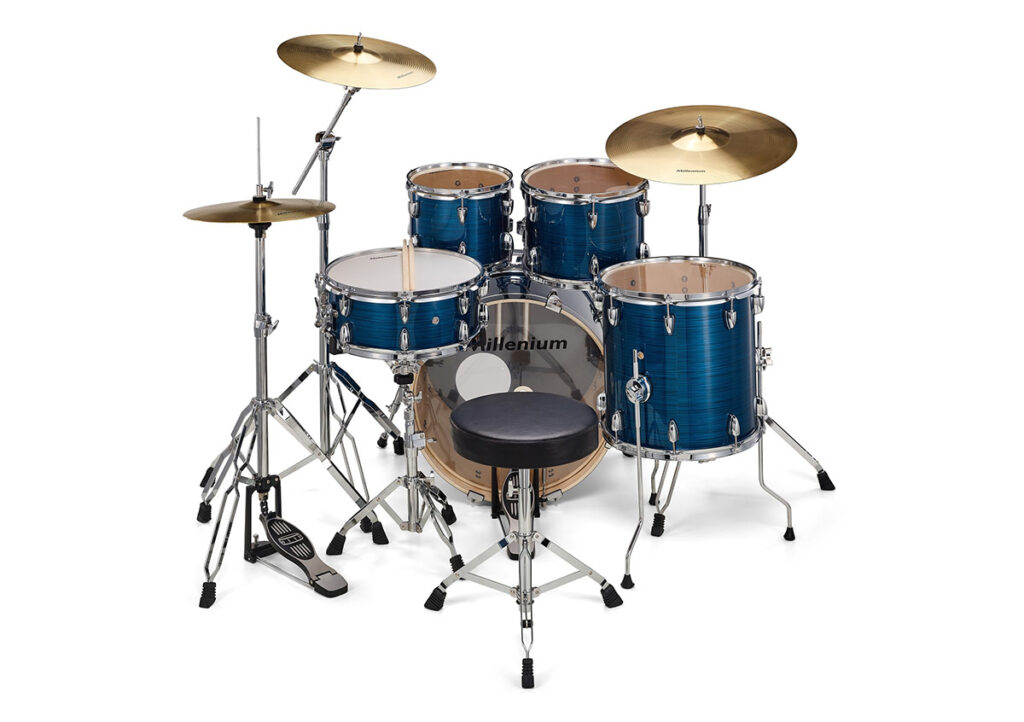 SPECIFICATIONS
Material: Poplar/Birch
Drum sizes: Snare: 14″ x 5.5″; Floor Tom: 16″ x 16″; Rack Toms: 10″ x 8″, 12″ x 9″; Bass Drum: 22″ x 16″.
Colors: Red, Blue
ARGUMENTS IN FAVOR
Full sound
Powerful bass drum
Affordable
The Millenium MX422 is a beginner drum set that you can carry with you for years without feeling the need for an upgrade. Made with a combination of birch and poplar wood, the MX422 looks and feels refined, with the hardware and snare drums' strainer mechanism that stands out for their quality and durability.
In terms of sound, the MX422 offers an impressive low end, thanks to the solid performance of the 22" bass drum and 16" floor tom. The two tom-toms, while not very easy to tune perfectly, offer a brilliant and crisp sound once you find their sweet spot, and the snare drum feels powerful and groovy.
All in all, the Millenium MX422 offers great value for money to beginners, and since you can take it with you to small gigs with confidence, it's a drum set that will meet your expectations for quite some time.
Yamaha Stage Custom Studio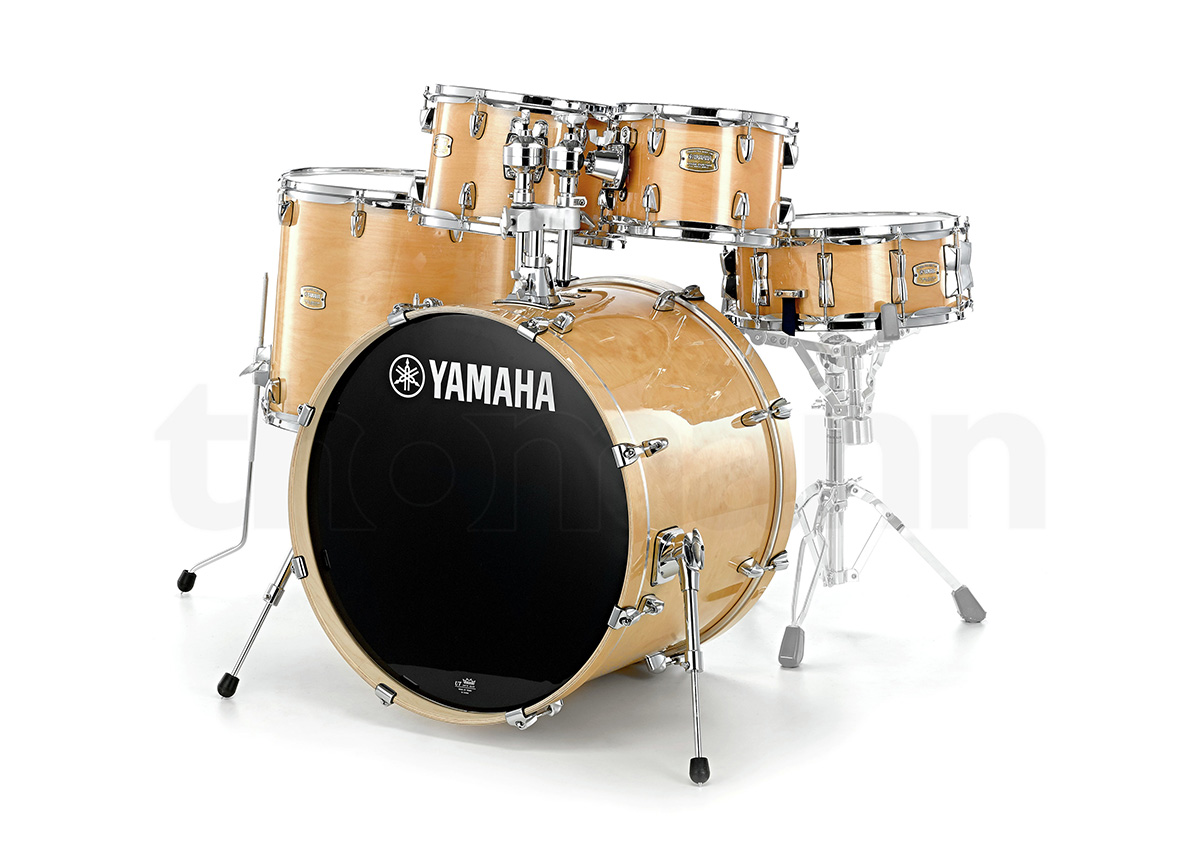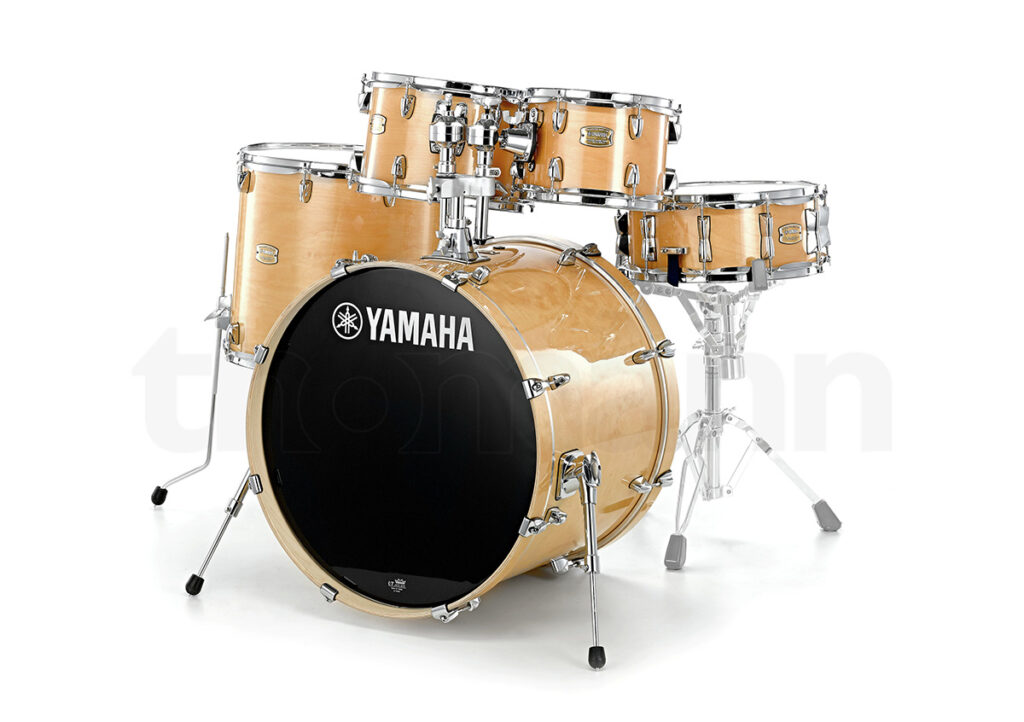 SPECIFICATIONS
Material: Birch wood
Drum sizes: Snare: 14″ x 5.5″; Floor Tom: 14″ x 13″; Rack Toms: 10″ x 7″, 12″ x 8″; Bass Drum: 20″ x 17″.
Colors: Light Brown, Dark Brown, Blue, Red, Silver, Black
ARGUMENTS IN FAVOR
Excellent sound
High-quality hardware
NEGATIVE POINTS
Higher price point
Doesn't come with stands, a throne, or cymbals
Yamaha's Stage Custom Studio is an excellent set for drummers, but I wouldn't call it a beginner kit! The birch shells offer a bright, cutting sound that can shine both in the studio and while performing live, while the hardware quality is top-notch, as you would expect from a Yamaha product, providing a smooth, reliable playing experience.
The Stage Custom Studio doesn't come with cymbal stands, thrones, a bass pedal or cymbals, proving once again this is not a drum set designed for absolute beginners. However, if you're serious about drumming, this drumkit is a great option that'll accompany you for years.
Pearl Export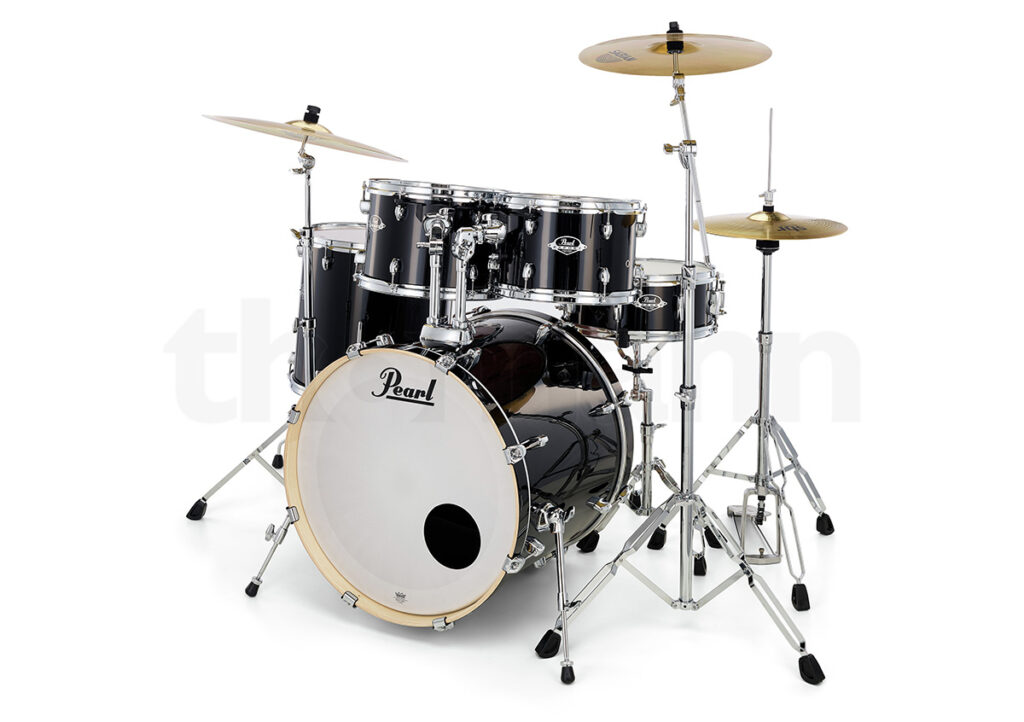 SPECIFICATIONS
Material: Magahoni/Poplar
Drum sizes: Snare: 14″ x 5.5″; Floor Tom: 16″ x 16″; Rack Toms: 12″ x 8″, 10″ x 7″; Bass Drum: 22″ x 18″.
Colors: Black, Red, White, Chrome, Blue
ARGUMENTS IN FAVOR
Full, rich sound
Sturdy hardware
Built to last
NEGATIVE POINTS
The most expensive on this list
No throne included
The Pearl Export series has long been a go-to for beginner drummers and for all the good reasons! The careful mix of mahogany and poplar brings to life a timeless, distinctive sound signature that makes it ideal for all genres. Solid woodwork and the stunning finished chrome make the Export a beauty to look at, and the sound is good enough to allow you to upgrade your kit with better drumheads and cymbals, and keep the set forever.
The Export comes with cymbals, cymbals' stands, and a bass drum pedal, and while they might not be of the highest quality, these components can perfectly suit the needs of beginners, while more seasoned players can easily upgrade this kit to make it a go-to drum set for rehearsals, gigs, and recording sessions.
What should I look for when buying a drum set?
First, focus on the type of music you'll be playing, as this will influence the kind of sound you require. The wood used in drum shells significantly affects tonal quality; for example, maple offers bright tones, while mahogany is warmer.
Pay attention to the hardware, especially the stands and pedals: you'll want sturdy, durable components you can use and move around for years. Finally, while budget is often a concern, especially for beginners, try to balance cost with quality. A cheap kit may seem like a bargain, but it could cost you more in the long run in upgrades and replacements.
How do I know which beginner drum set is best for me?
Your musical preferences, space limitations, and budget play a crucial role here. I'd recommend focusing on sound quality and playability rather than an extensive array of components: play a few sets if possible to get a feel for the drum sizes and sounds that resonate the most with you. Remember, you can always add more components and cymbals as you progress.
What drum sizes should I choose?
You should choose a drum size based on the style of music you want to play and the space you have available. For rock or pop, larger drums (like a 22" bass drum) can provide the booming, powerful sound you might be looking for.
Jazz drummers, on the other hand, often prefer a compact, portable setup. The same goes for drummers who perform frequently. Remember, smaller doesn't always mean quieter or less powerful; it often just results in a different tonal quality.
If you're a beginner, a standard five-piece kit—comprising a snare, bass drum, two toms and a floor tom—is usually enough to start with and offers plenty of versatility. Even better if the kit includes a bass pedal, a throne, and some cymbal stands.
Acoustic drums vs e-drums
Acoustic drums offer a natural, resonant sound and a more traditional playing experience, but they're loud and require a dedicated space. Electronic drums, on the other hand, are compact, offer volume control, and allow you to practice silently with headphones. They also offer a range of pre-programmed sounds and can be connected to computers for easier recording.
However, e-drums often don't capture the full nuance and dynamic range of acoustic drums. Many drummers start with e-drums due to practical constraints but eventually move to an acoustic set as they become more serious about their craft. That's not always the case, though: you can also start with an acoustic drum set, then get an e-drum for home practice and leave the acoustic drums in the rehearsal room or use it for gigs. Options are endless.
Final thoughts
I hope this guide will help you choose your first drum kit with confidence. Remember that your first drum set will define how you play, so investing a little more to get a good-quality instrument is always a good choice if you're serious about it.
Related articles: