Four years ago I decided to buy a decent studio desk for my recording studio and I can still remember how difficult it was to choose. There are many models that look similar but have significant differences, so you really need to think before spending so much money.
What are the requirements for my studio desk?
The first thing you should think about is what kind of requirements your studio desk needs to meet.
Do you have 19" rack units that need to be screwed to the desk?
Do the studio monitors stand on separate stands or on the studio desk?
How many computer screens are you going to put on the desk? And how far away are they from the listening position?
Should the computer keyboard or MIDI keyboard be on the table, or should the table have a slide-out module under the main top for it?
Think twice before you buy a studio desk - I didn't at the time and my purchase was a complete fiasco. I had no room for the keyboard and the computer monitor was way too high, so I always had neck pain after 2 hours of work. If I had thought about it more, I would be much happier now!
The distance between the racks and the monitoring position is also very important - I can say from personal experience that after a certain amount of time it is no longer fun to stretch out for the hundredth time to change the EQ settings.
Unfortunately, it's a bit difficult to test studio desks for logistical reasons, so in this article I've included photos of other studios with equipment set up for each desk to give you a better idea.
How much does a studio desk cost?
There is no general answer to this question, as the price varies greatly from model to model. The quality of the wood is the most important factor, but additional features such as shelves, keyboard trays or space for speakers also have a big impact on the price.
Prices start at €200 for the smallest models and range up to over €3000 for professional studio desks.
If your budget is limited, you should definitely read my article where I show how I build a studio desk from Ikea parts for less than 300 €. The desk is not so beautiful and does not have so many extras, but it is huge and practical.
And I definitely recommend investing in acoustics, if you haven't done so already, before thinking about expensive studio desks, because that's much more important - unless you're not mixing or mastering, just composing and producing. A few bass straps, ceiling absorbers and wall absorbers will go a long way to improving the sound of the room.
Studio desks under 400€
Let's start with the cheapest models, which already offer enough space for devices, keyboards and speakers. There are different configurations, mainly differing in whether the speakers are on the desk or not.
If you choose a model where the monitors are placed on the studio table, make sure they are decoupled from the desk by acoustic foam or stands.
Millenium SD-180 B StudioDesk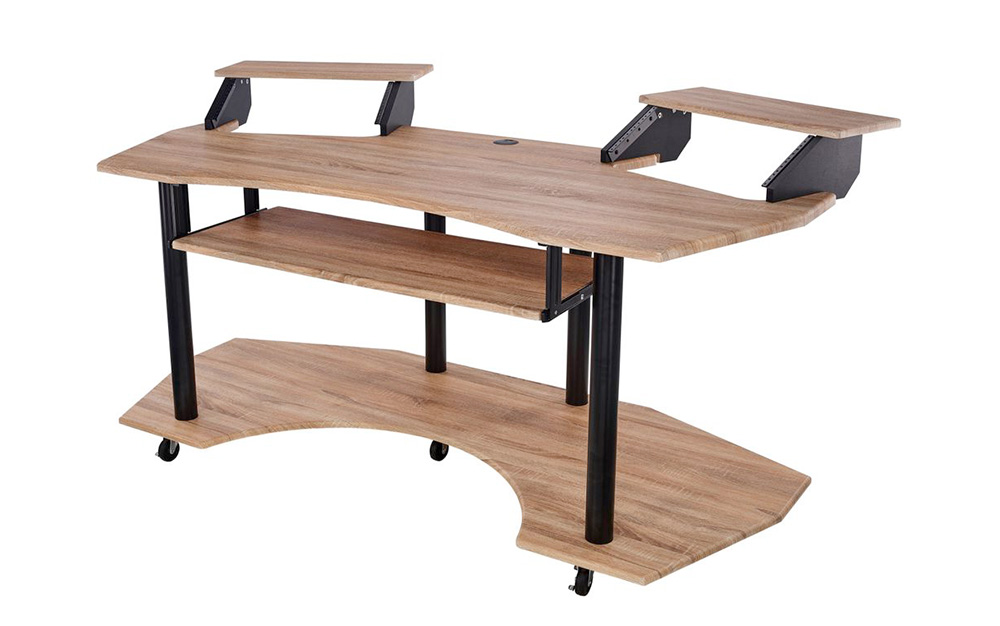 This studio desk offers an incredible value for just under €340 - no wonder it is one of the bestsellers. It offers space for speakers, a total of eight 19" devices and a keyboard drawer for a keyboard or mouse.
A very positive feature of this studio desk is that the screen is actually at eye level, unlike many other studio desks where the entire back panel is raised and the screen is always way too high.
The best solution is to use a monitor arm to support the screen, leaving the table-top free. However, the screen can also be placed directly on the table, as shown below, as this studio desk offers plenty of space.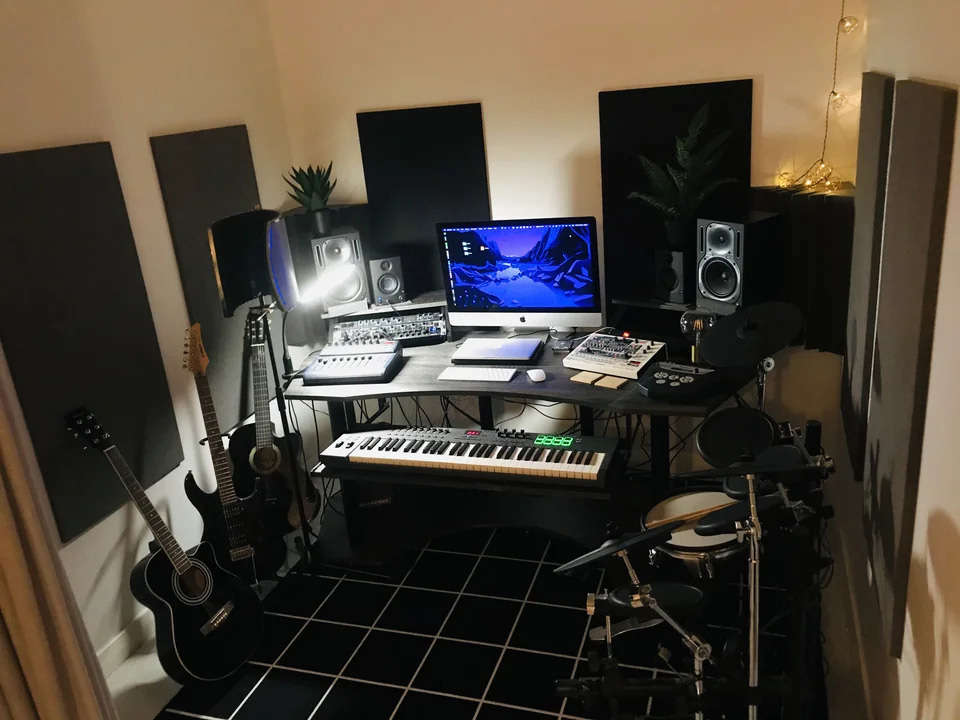 As you can see, a total of 4 speakers fit on the desk - or even 6, which is really handy. You save on stands and always have a perfect stereo listening position right at your fingertips, without having to measure distances.
And I think it looks good too! The worktop is also large enough to accommodate a lot more equipment. And as you can see, the keyboard drawer can fit even larger keyboards.
What are the arguments in favour?
Space for eight rack units
Very good price
Offers a lot of space
Very good ergonomics
What speaks against it?
The wheels used as feet are a little unstable, but they can be replaced with better ones if necessary
Price: 339€, Link: Millenium SD-180 B StudioDesk
Millenium SD-120 C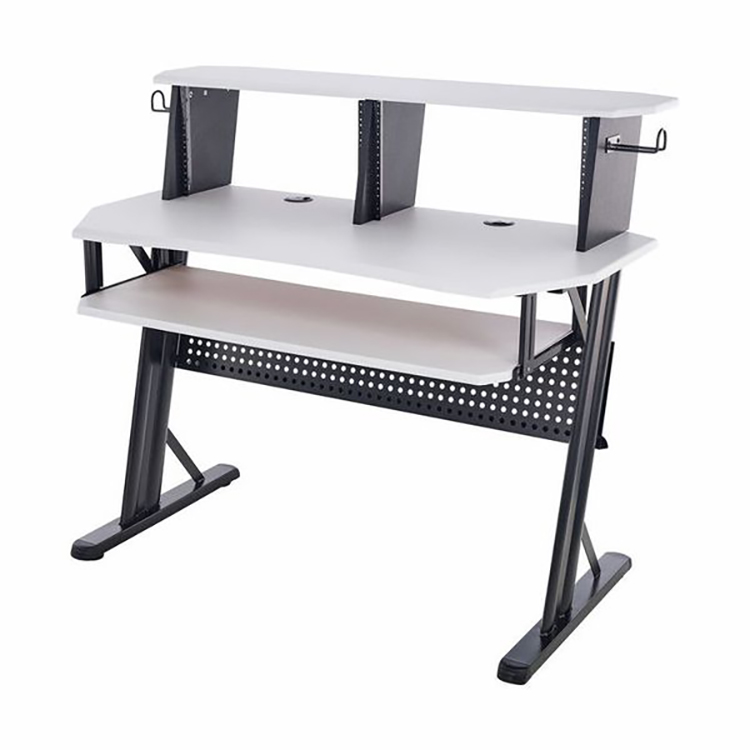 This studio desk from Millenium is slightly smaller than the previous one, but even cheaper. For just under €200 you get a desk with 2x5U for 19″ racks and a keyboard tray. It also has two handy headphone holders that can also be used for cables.
There are two holes in the centre of each rack for cables to keep them tidy. Overall, you don't have as much space as the other Millennium model, but there's plenty of room for a keyboard, mouse and two devices the size of a drum machine.
I find the headphone holders very handy and it's something I'd like to see on every other studio desk. They make life a lot easier and help keep things tidy.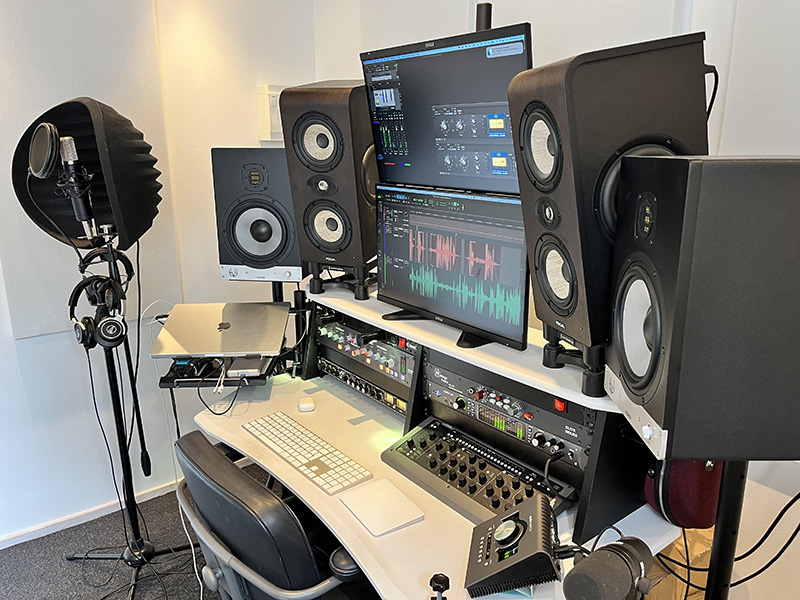 Stability is fine - the more equipment you install, the more stable it becomes. The top shelf can hold 2 speakers and a small screen. The problem with this desk is that either the keyboard tray is too low or the top shelf is too high. You can't sit under the extension and look at the screen for long without breaking your neck.
That's why I'd get rid of the bottom drawer altogether - but that's a matter of taste. Many producers are happy with the configuration. After all, it costs €199, so you can't complain.
What are the arguments in favour?
Cheapest usable model
Space for a total of 10 rack units
Practical headphone holders
What speaks against it?
Top panel too high or pull-out too low
Thomann ComboDesk - designed by Zaor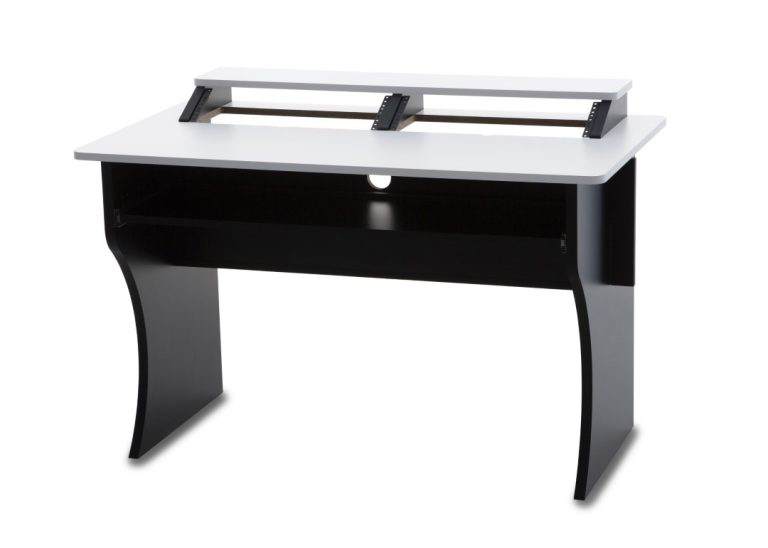 In my opinion, this studio desk has been very well thought out, with particular attention paid to ergonomics. The screen or speakers are at perfect eye level, and the 19″ racks are very close to the seating position. This makes it much easier to reach.
The space on the main worktop is a little smaller than on other models, but there is still plenty of room for a few small items other than a mouse and keyboard. However, if you don't have rack equipment, the holes can be covered with the supplied parts to increase the depth of the main worktop.
As already mentioned, this studio desk is the best available in this price range in terms of ergonomics. The height of the second level is ideal, the keyboard drawer is not too low and the 6 rack units are not too far away. You can do longer mixing sessions here without your body suffering.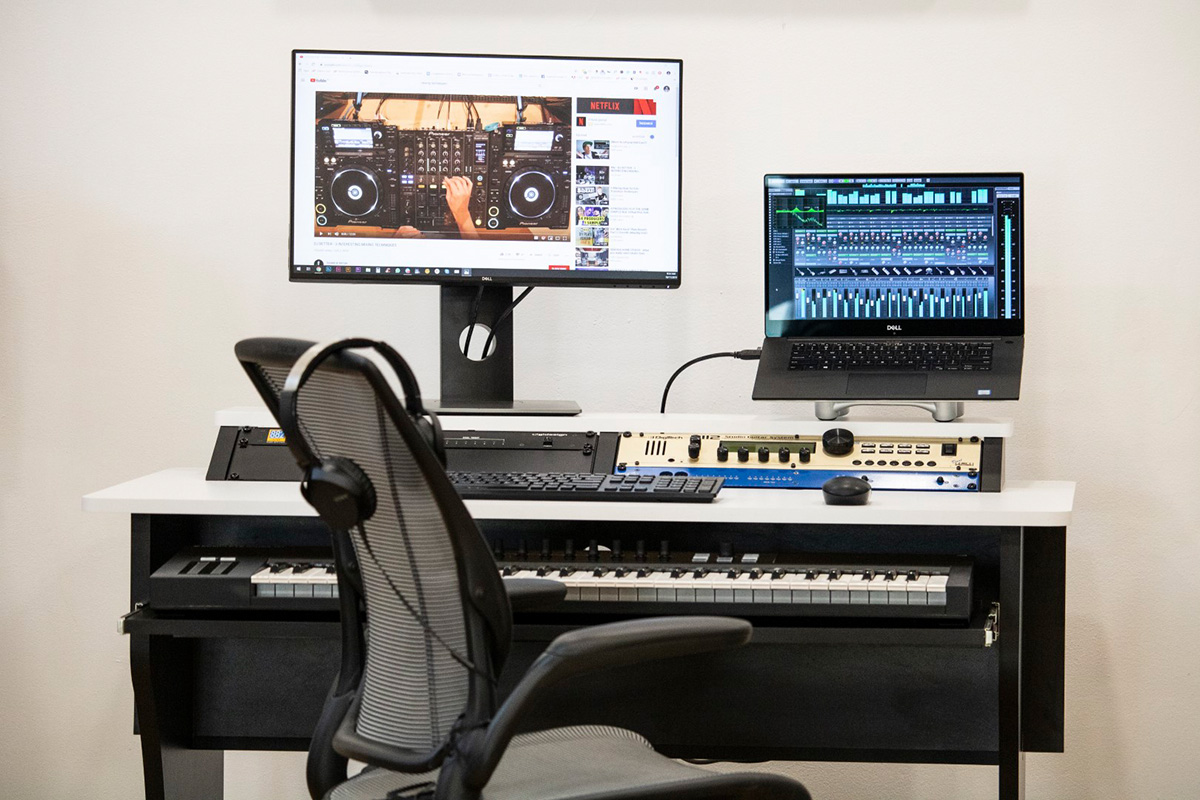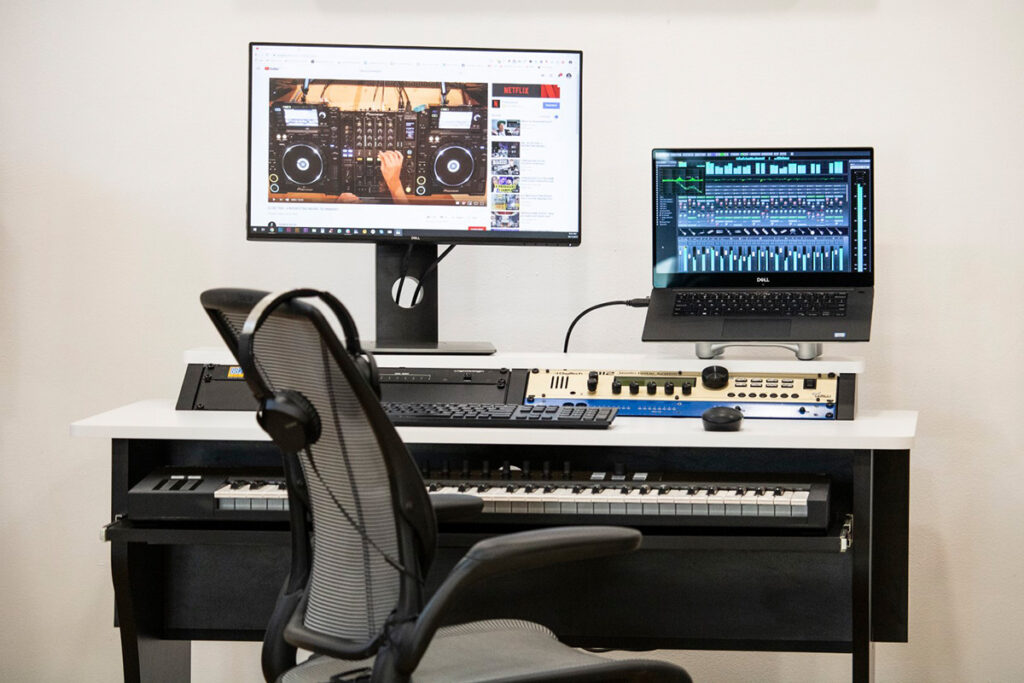 There are plenty of cable management options at the back to keep cables tidy. It is very sturdily built and can be placed anywhere in the room, yet it is very easy to set up.
The only minor drawback is that the edges are a little sharp. They could have been polished a bit more - but you can do that yourself or add a rubber pad afterward. After all, it's only €369 for a truly perfect studio desk if you don't have too many analog devices.
What are the arguments in favour?
Very ergonomic: Perfect working position
Many cable routing options
Looks very classy
What speaks against it?
Slightly sharp edges (but can be easily solved with a rubber pad)
Price: 369€, Link: Thomann ComboDesk - designed by Zaor
StudioRTA Creation Station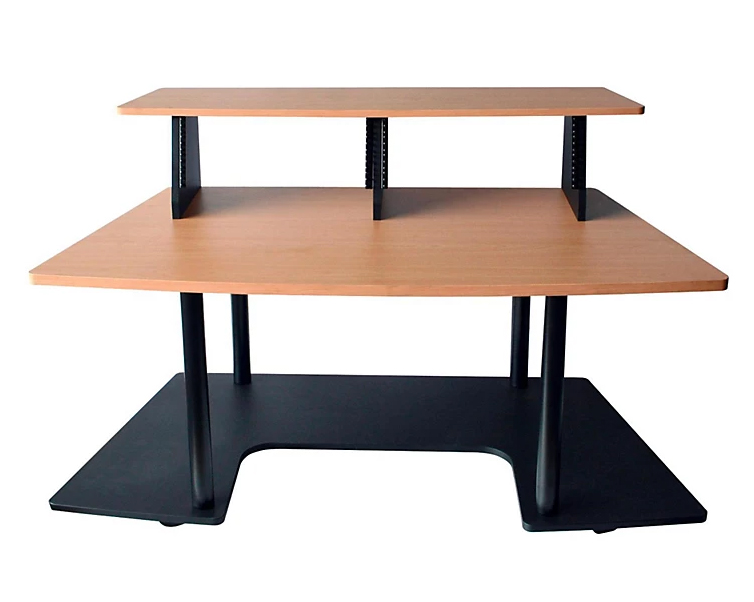 This studio desk for producers is very simple in construction, but offers a lot of space: the work surface is still quite large, despite a total of 8U, and the upper level also offers a lot of storage space.
It's actually meant for recording/composing applications, so the ergonomics aren't as good as the Zaor, but there's a lot more space for keyboard, amp, speakers, etc.
The top level is a little high, but this table doesn't have a keyboard extension, so you can raise your chair higher to get a comfortable viewing position for the screen. Again, though, I'd recommend a desk stand for the screen so that it floats just above the top, rather than being raised by the standard monitor mount. Still, the screen may be too high for people under 1.80 m tall.
The rack units are very easy to reach, as they are placed directly under the screen at chest height. There is an additional shelf under the table for computers or similar. However, this does limit legroom somewhat.
I would recommend this studio desk to anyone who needs a lot of space for little money, as it is unbeatable in that respect - but not as a desk for prolonged screen work, as this can lead to neck pain in the long run (speaking from experience!).
What are the arguments in favour?
Offers a lot of space
Racks easy to grab
What speaks against it?
Not very ergonomic, more suitable for recording and composing, not for mixing or mastering
Price: 333€, Link: StudioRTA Creation Station Recording Workstation
Studio desks under 1000€
Zaor Miza 88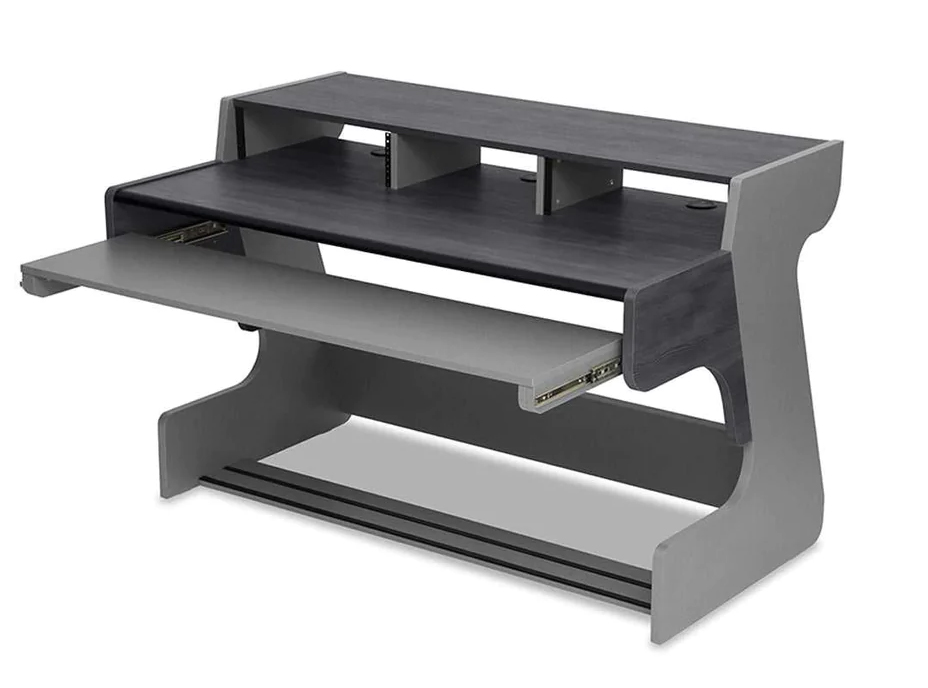 This desk from Zaor, one of the world's best-known manufacturers of studio desks, is wide enough to accommodate all your peripherals. It has a height-adjustable keyboard drawer that also provides plenty of space for keyboards and controllers - even 88-key keyboards can be accommodated.
There is space for 6 rack units on the sides, and under the screen there is room for an audio interface, a headphone amp, a preamps or similar. The rear level is not too high, so the viewing position is much more comfortable than on other models.
The main work surface is not very deep, so the equipment on the shelf is relatively close to the working position - this allows a comfortable reach, which means less back pain in the long run.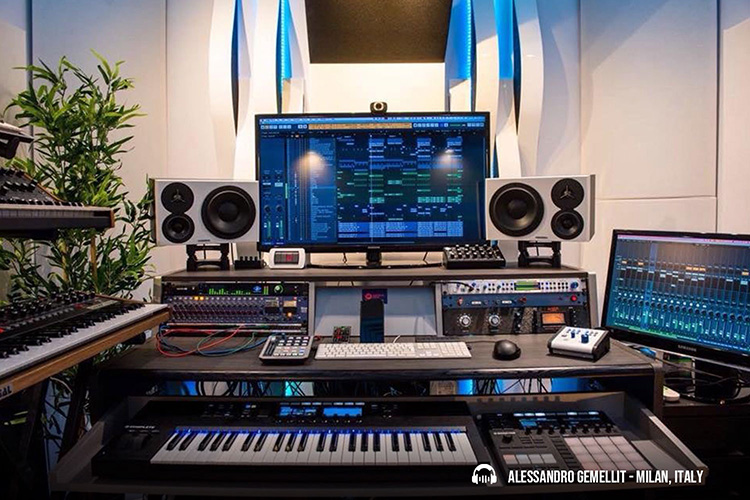 As you can see, there is room for a large screen and two large speakers, with plenty of room for peripherals. The whole thing is very sturdy and finished to a very high standard - but that's to be expected at this price point.
There are cable outlets throughout this studio table, even in the keyboard drawer. This means that all the studio cables can be tucked away neatly. All in all, this is a very high quality studio desk that really does cover all your needs at a very reasonable price.
What are the arguments in favour?
Offers a lot of space
Rack devices are still close
Ergonomic position
Space for large keyboard (up to 88 keys)
Price: 779€, Link: Zaor Miza 88 Flex Wengé Grey
StudioRTA Producer Station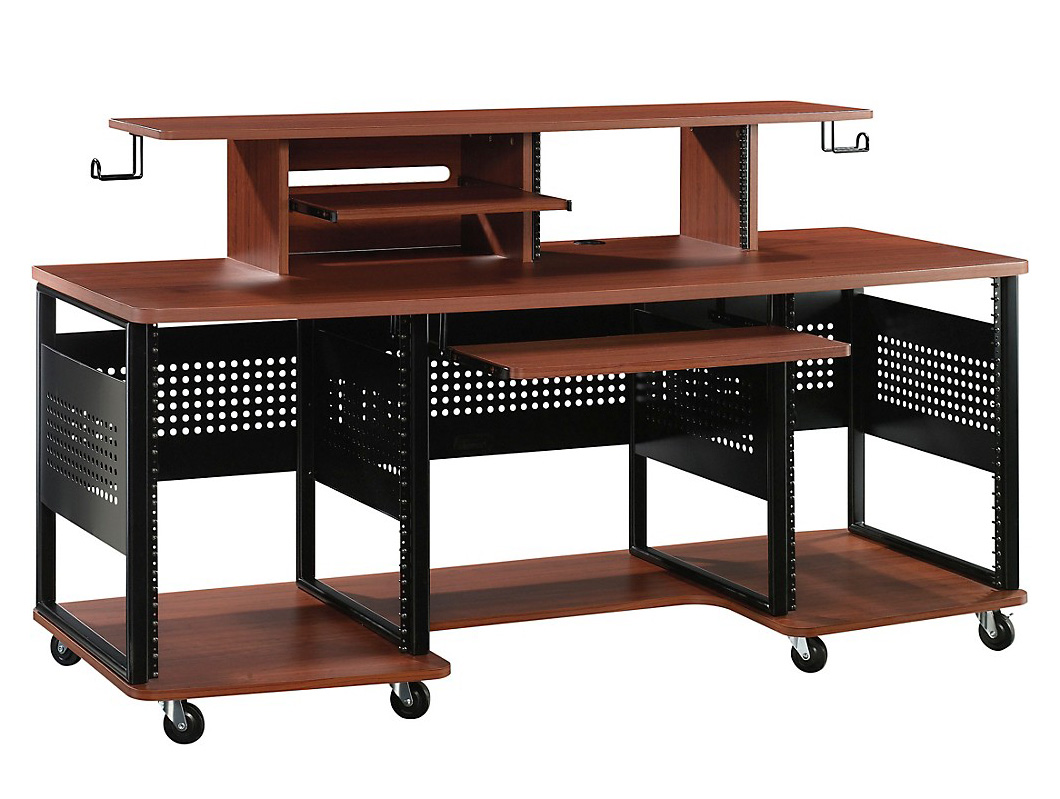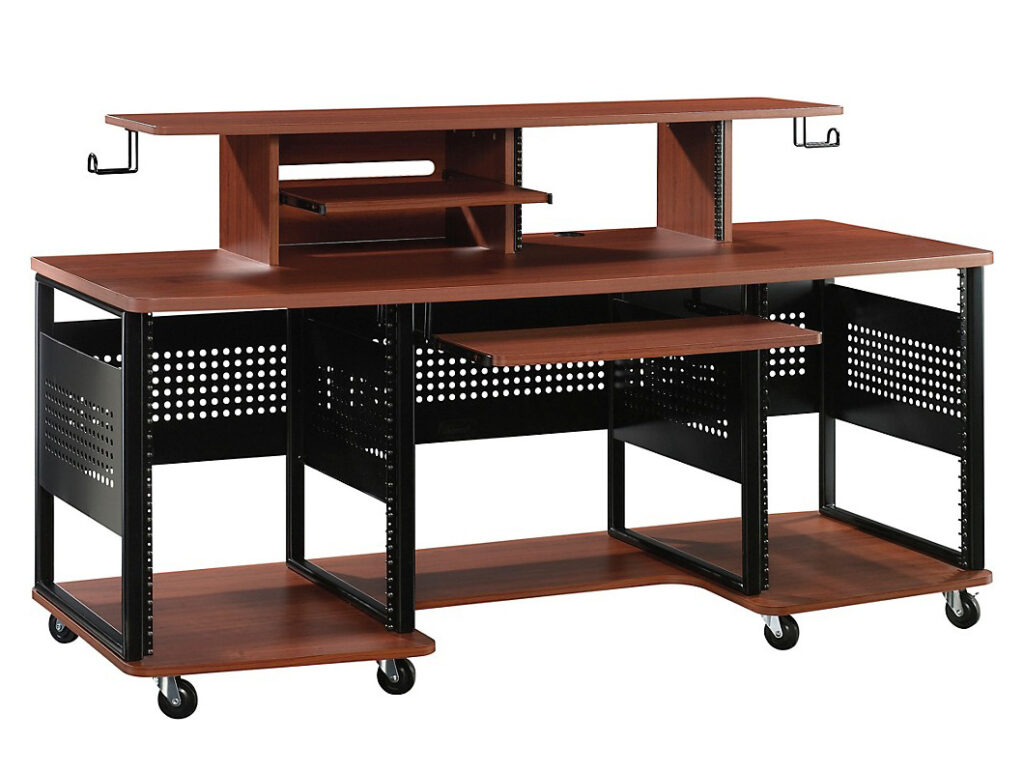 This studio desk is the big brother of the aforementioned Creation Station from StudioRTA. It is wider and therefore offers more space, with a total of 33U available, as racks are also built into each side.
In the centre underneath the screen, there is a shelf on one side and a handy drawer on the other. A small mixer or audio interface can be placed here.
There is plenty of space on the upper level so that two large speakers and a large screen can be set up easily.
However, there is - in my opinion - the problem of the screen being too high, which is also described by some users on Gearspace. So I would only recommend this table for people who want to record, compose or just play, but not mixing and mastering. Or maybe as a second studio desk if you have a large studio.
What are the arguments in favour?
Offers a lot of space for relatively little money
Space for 33 rack units available
What speaks against it?
Not particularly ergonomic
Price: 599€, Link: StudioRTA Producer Station Cherry
Thomann ComboDesk88 - designed by Zaor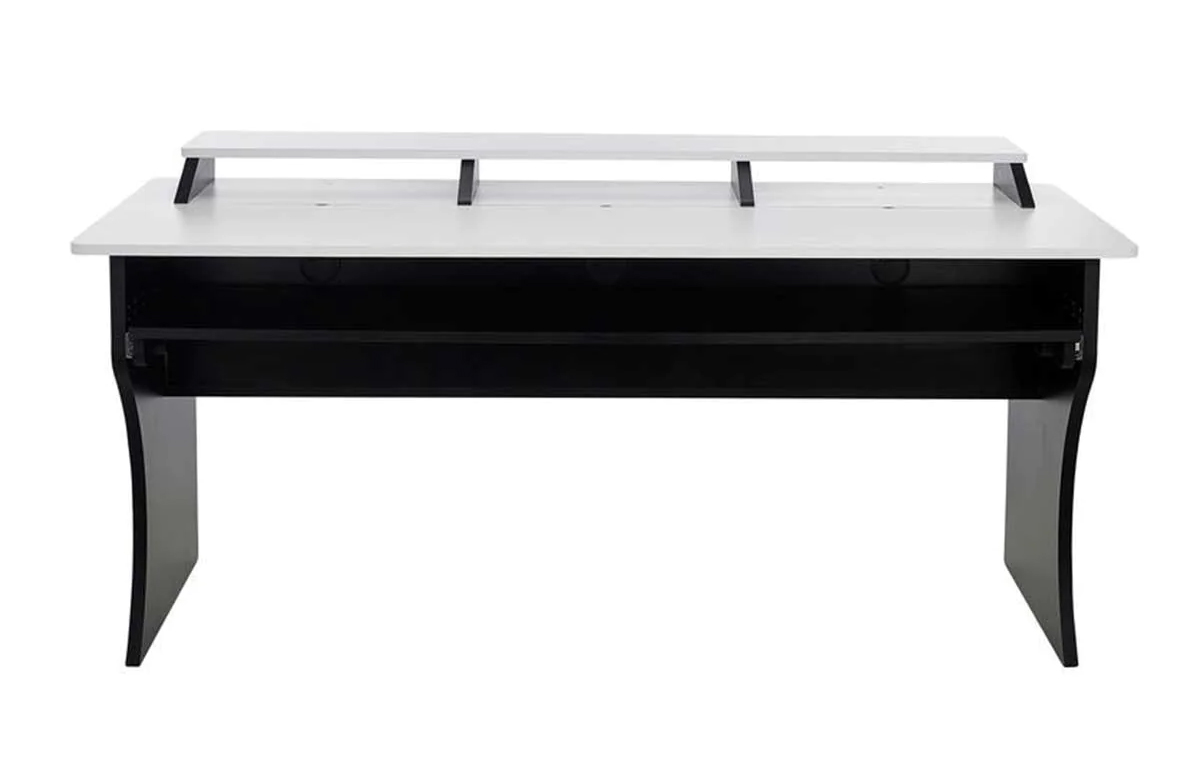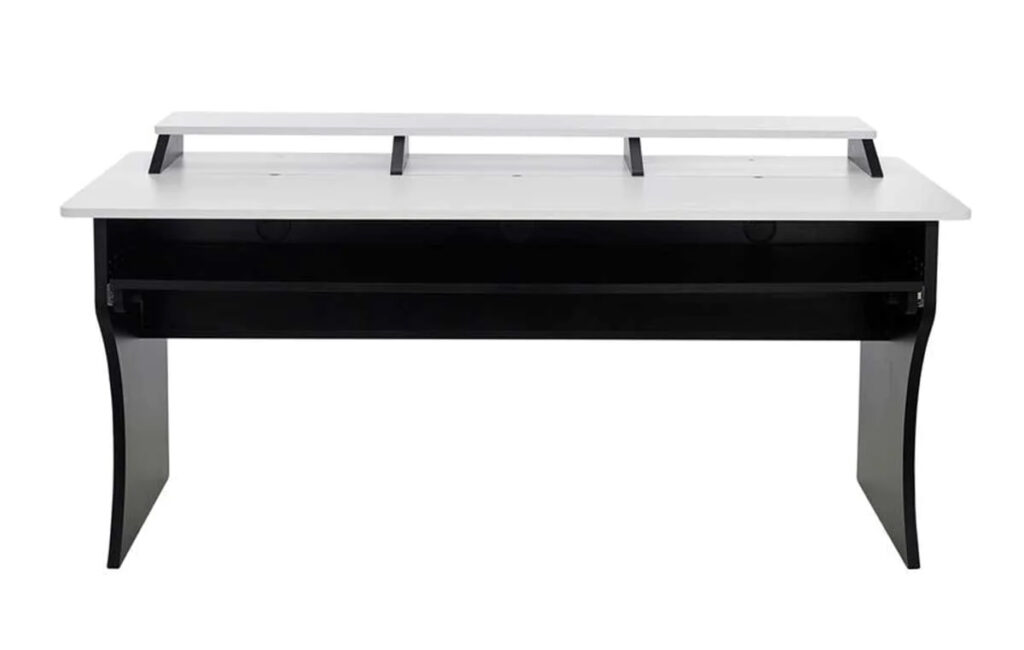 This is the larger model of the ComboDesk, with space for an 88-key keyboard in the keyboard drawer. The whole desk is quite large (1.76m x 0.77m). Here, too, ergonomics have been taken into account - the height of the screen and speakers is optimal, and the shelves are close enough to the listening position.
This studio desk again offers plenty of cable management options at the rear and a total of 9U of space, 3 on each rack. If the racks are not needed, the depth of the tabletop can be extended as shown below.
The high quality materials make it very stable - there's nothing to wobble on and nothing to worry about. However, the keyboard drawer is rated at 12.5kg, which is a bit low for an 88-key keyboard - the Arturia KeyLab 88 weighs 15 kg, the Native Instruments Komplete Kontrol S88 13.2 kg, so some MIDI keyboards will find it tight.
Overall, a very sturdy and elegant studio desk for €629, with plenty of room for lots of equipment and first-class ergonomics - a very good choice for mixing and mastering applications, in my opinion.
What are the arguments in favour?
Excellent ergonomics - allows long, fatigue-free work sessions
Plenty of space for all your equipment
Very robust and stable
What speaks against it?
Keyboard extension not suitable for some heavy MIDI keyboards with 88 keys
Price: 629€, Link: Thomann ComboDesk88 - designed by Zaor
Studio desks over 1000€
When you have a big budget, you have a big choice. Studio desks in this price range are designed for professional use and offer many features. They also tend to be more solidly built and heavier, but much more stable.
Studio Desk Enterprise Electric Set All BK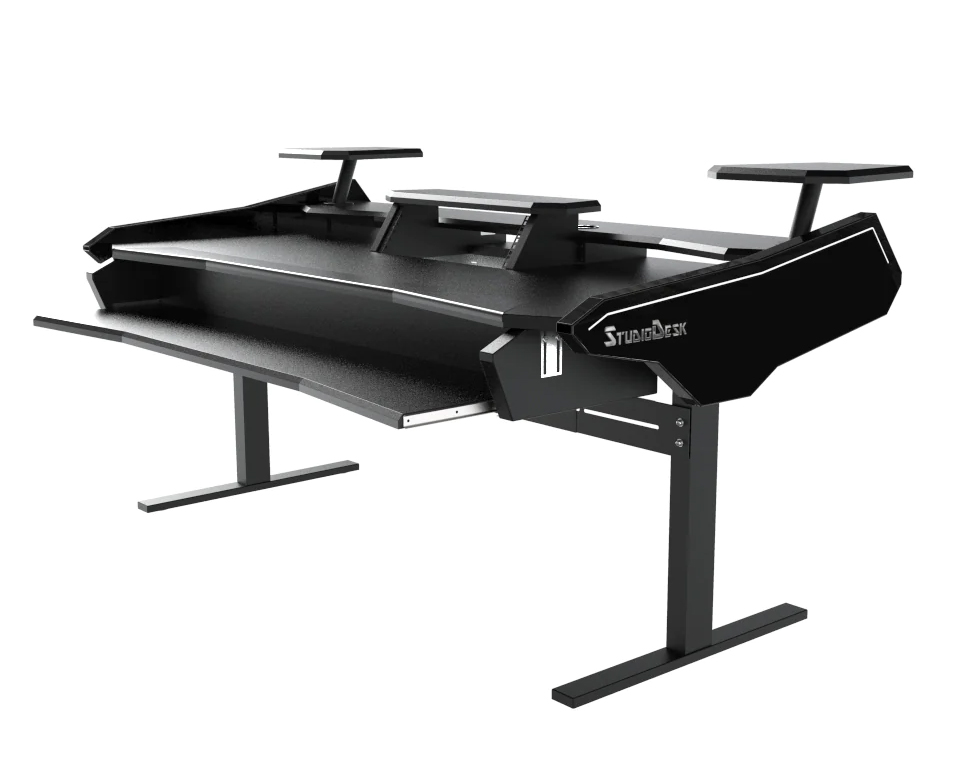 Studio Desk desks are some of the best on the market and the Enterprise Electric set is, in my opinion, the best for producers and engineers.
The desk is large and very ergonomic - everything is where it should be and the sitting and viewing position is perfect. Best of all, you can electrically adjust the height of the whole setup. There is a button on the right with a small display that shows the height in millimeters. This means that this studio desk can be used both sitting and standing.
The worktop is very large and offers space for small mixers, controllers, etc. The rear, higher level is also very spacious, with room for two 27″ computer monitors. There are also two separate brackets for large speakers.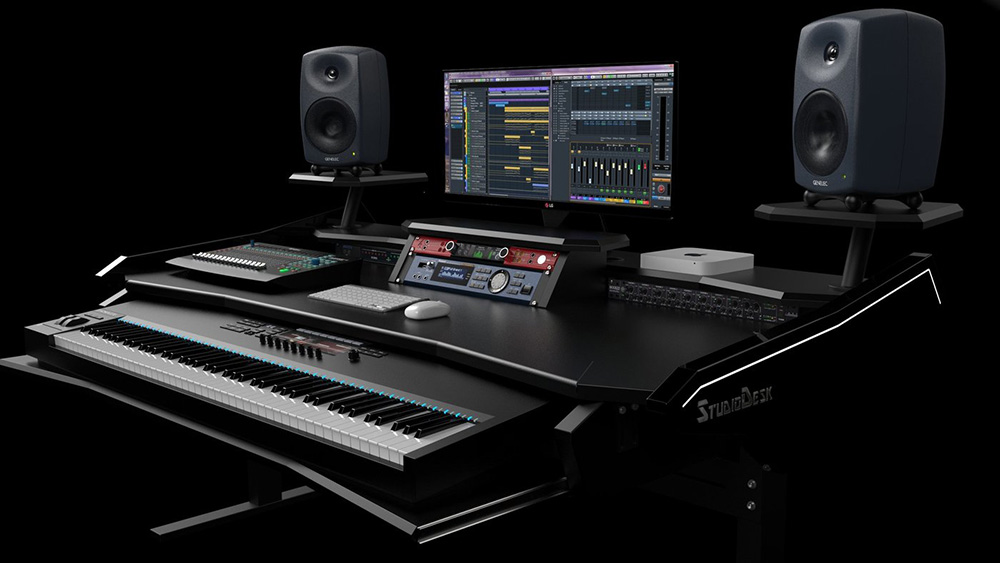 In the centre of the desk, directly in front of the workstation, is a 3xU rack for important outboard hardware. Placed directly under the screen and in front of the keyboard and mouse, it is always within reach. Then there are 2×1U on each side under the second level.
The studio desk is equipped with comfortable and stylish armrests that are interchangeable, making it even more comfortable to work with. The keyboard drawer is also height adjustable and can accommodate large keyboards with up to 88 keys. A couple of LED strips are also included to make it look even better.
In my opinion, this studio desk leaves nothing to be desired and offers everything a producer without a large mixing console could need. The price is around €2500, which is not cheap, but more than reasonable for a desk with all these features.
What are the arguments in favour?
Excellent ergonomics
The entire construction is electrically height-adjustable
Comfortable, interchangeable armrests
Space for 2 screens + 2 large speakers
Keyboard tray for large keyboards
Price: 2.359€, Links:
Studiodesk.net (Manufacturer's site, 5% discount with code WOODANDFIRE)
Sessiondesk Gustav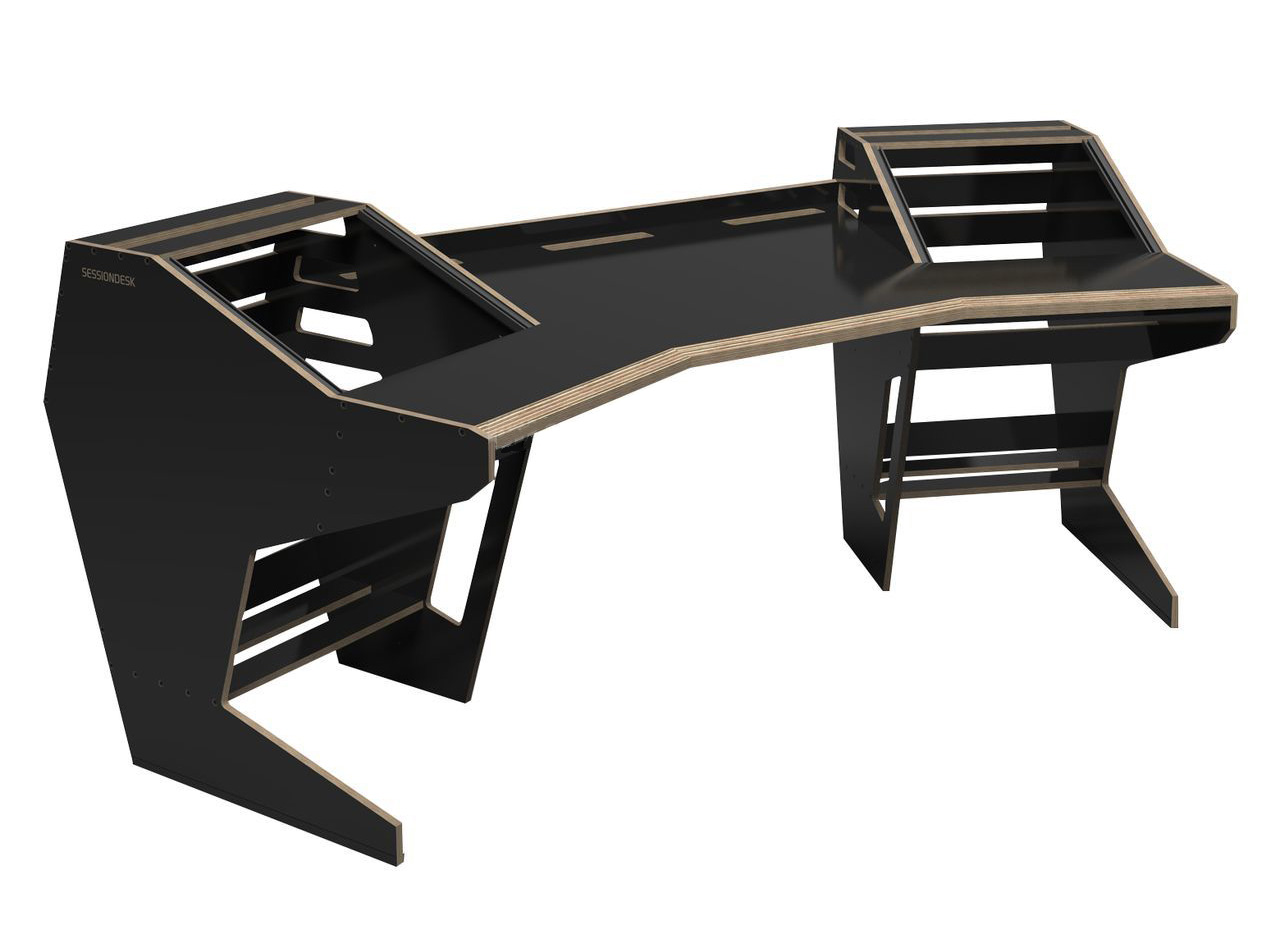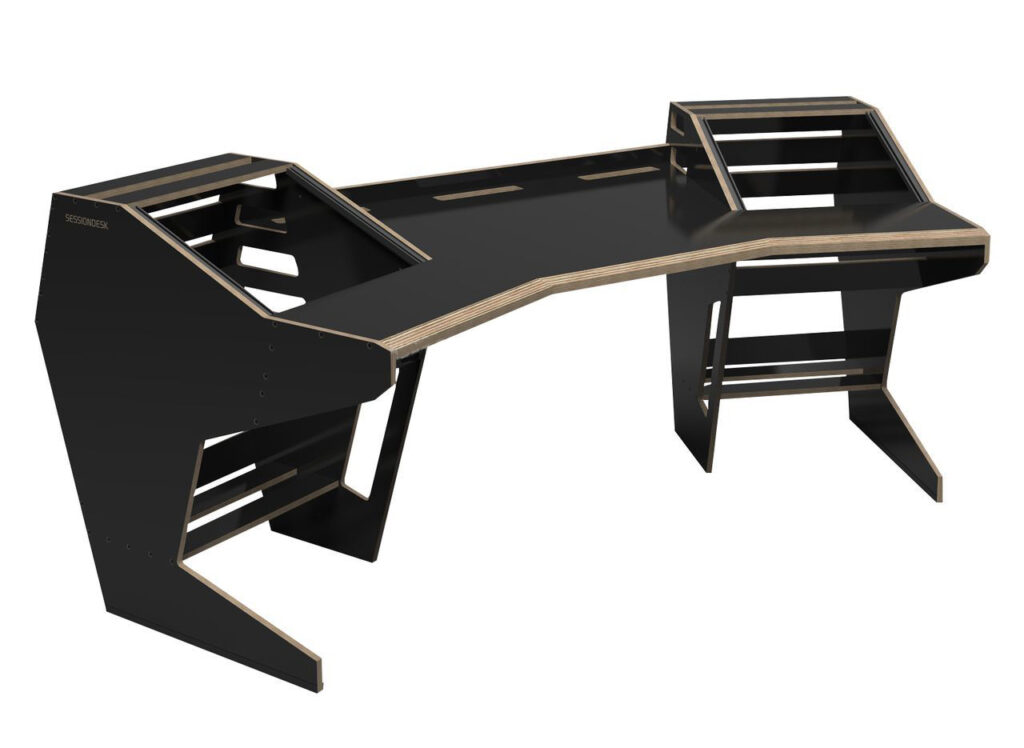 The Sessiondesk Gustav is a studio desk with a very ergonomic and simple design, but still offering enough space for medium-sized mixing desks. There is space for 8 racks on each side, which are very easy to reach.
A wonderful atmosphere with the Sessiondesk Gustav at Andy Becker's private studio in Magdeburg, Germany.⠀
⠀#sessiondesk #mixing #mastering #songwriter #songwriting #recording 1TP5Recording Studio #recordingengineer #studiofurniture #studiodesk #studiot... https://t.co/FQLAmw0u4O pic.twitter.com/driwiwBUUq

- Sessiondesk (@sessiondesk) November 6, 2018
Directly above the racks you can place up to 2 large speakers each, and on the rear level you can add 2 large screens - so there is plenty of room. This rear level can also be adjusted in height to get the best viewing angle.
Under the shelves there is storage space for additional equipment. There is no keyboard drawer, so there is plenty of legroom under the studio desk. The construction is very solid and of high quality and gives a very stable impression. The table also weighs a good 48 kg.
So if you're looking for a simple but very large and sturdy studio desk that also looks damn good, the Sessiondesk Gustav is a very good choice.
What are the arguments in favour?
Provides space for medium-sized mixers
Offers space for 4 large speakers + 2 screens
Rear level adjustable in height
Very good ergonomics
Price: 1.699€, Link: Sessiondesk Gustav
Thomann Exclusive Desk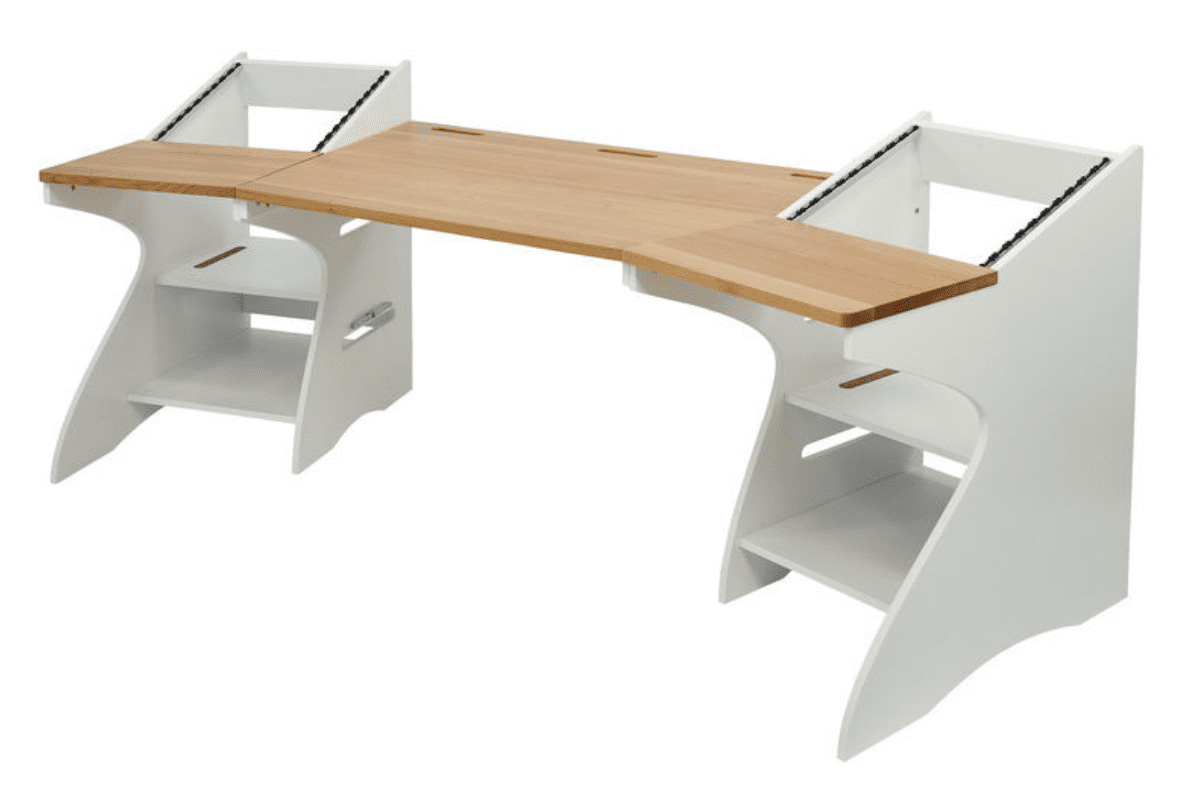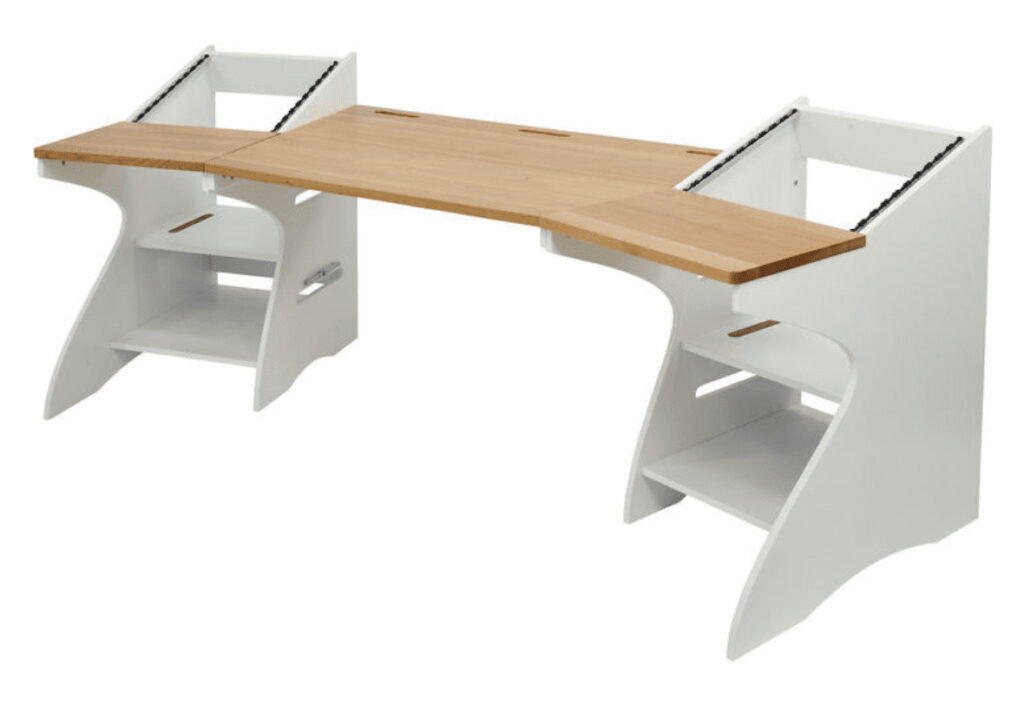 This studio desk from Thomann is very similar to the Gustav from Sessiondesk, but is almost €200 cheaper. It has a large area in the middle for a medium-sized mixer, 10U racks on both sides and storage space for accessories (PC, cables, interface, etc.) directly under the rack.
It doesn't have a higher rear shelf, but I don't think that's a problem, as the screens should be lower anyway. As a result, the ergonomics of this studio desk are very good, as the racks are also very close to the working position and therefore easy to reach.
The studio desk has plenty of cable ducts and cable holders to keep all your studio cables neat and tidy. It is solidly built and therefore very stable, with a total weight of 87 kg - almost twice the weight of the Sessiondesk Gustav.
Unfortunately, this studio table does not have a built-in shelf for speakers - this would have been a great feature in my opinion. So you would have to buy additional monitor stands.
What are the arguments in favour?
Solidly built, therefore very stable
Space for 2×10 U rack units
Very good ergonomics
Price: 1.479€ , Link: Thomann Exclusive Desk
Zaor Onda Angle Black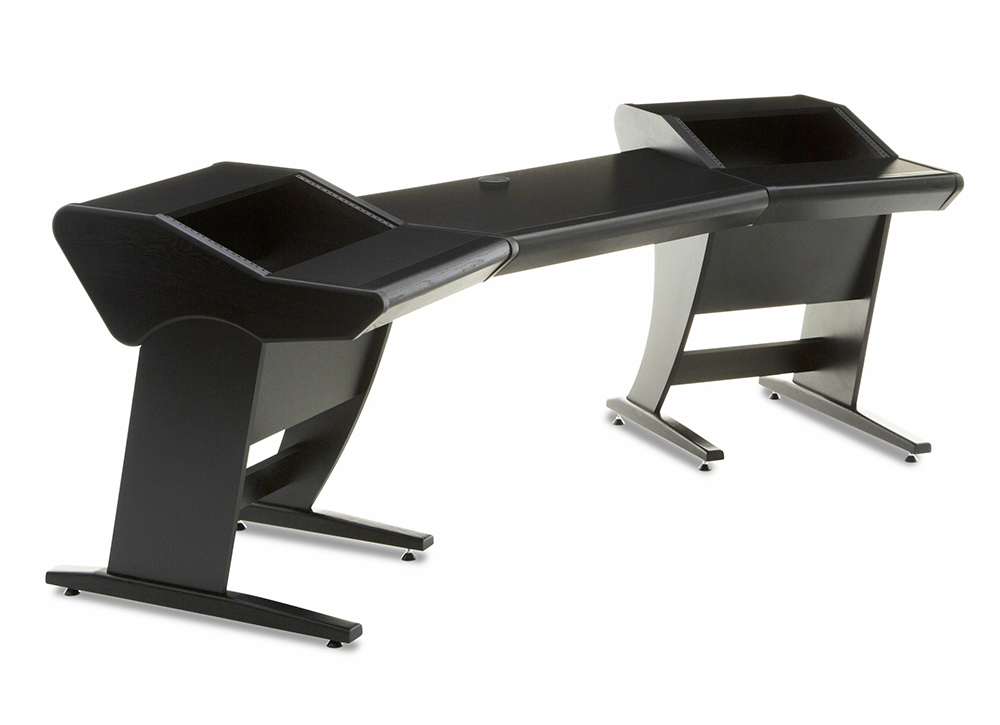 This studio desk has the same shape as the other two, but I think it is the best of the three. It has a very modern design, is very stable at 66kg and has nice rounded armrests.
Behind the main work surface is a second, lower level for screens, and behind each rack is a sturdy speaker mount. These can hold two large speakers each and each side rack has space for 6U.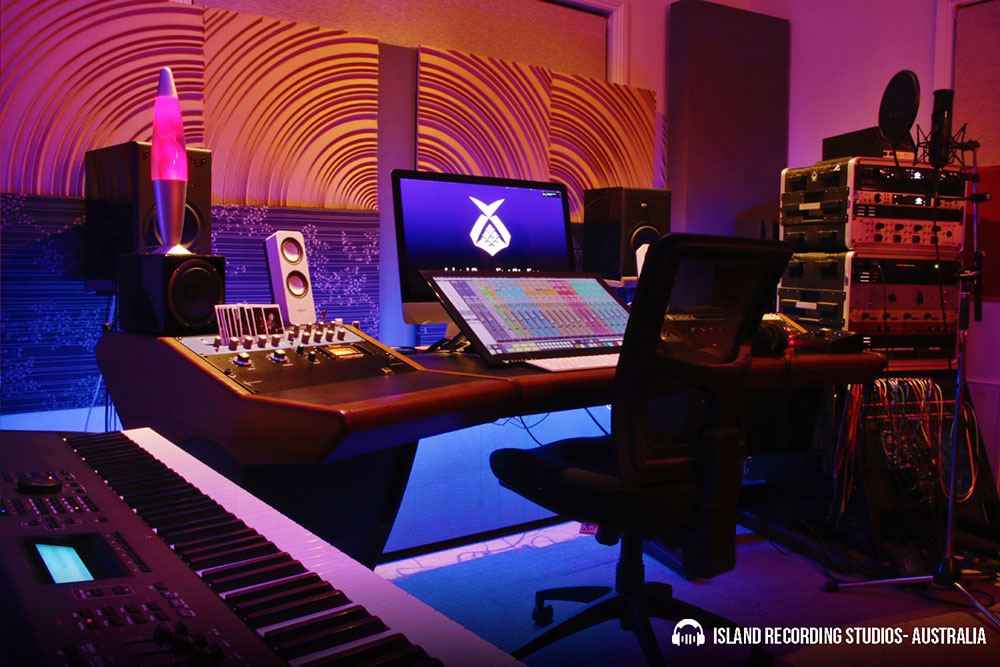 The ergonomics of the desk are excellent - the shelves are close to hand and the screens are perfectly at eye level thanks to the lower shelf. The sides, front and legs are made from solid oak, which gives this studio desk a very high level of stability.
Visually, this desk is definitely an upgrade for any studio - one of the finest in my opinion. And with room for a medium-sized mixing desk, 2 screens and 4 large speakers, it is definitely a very good choice for any producer. This desk leaves nothing to be desired!
What are the arguments in favour?
Excellent ergonomics
Comfortable and beautiful armrests
Modern and beautiful design
Price: 1.399€, Link: Zaor Onda Angle Black
Zaor Miza X2 Flex Wengé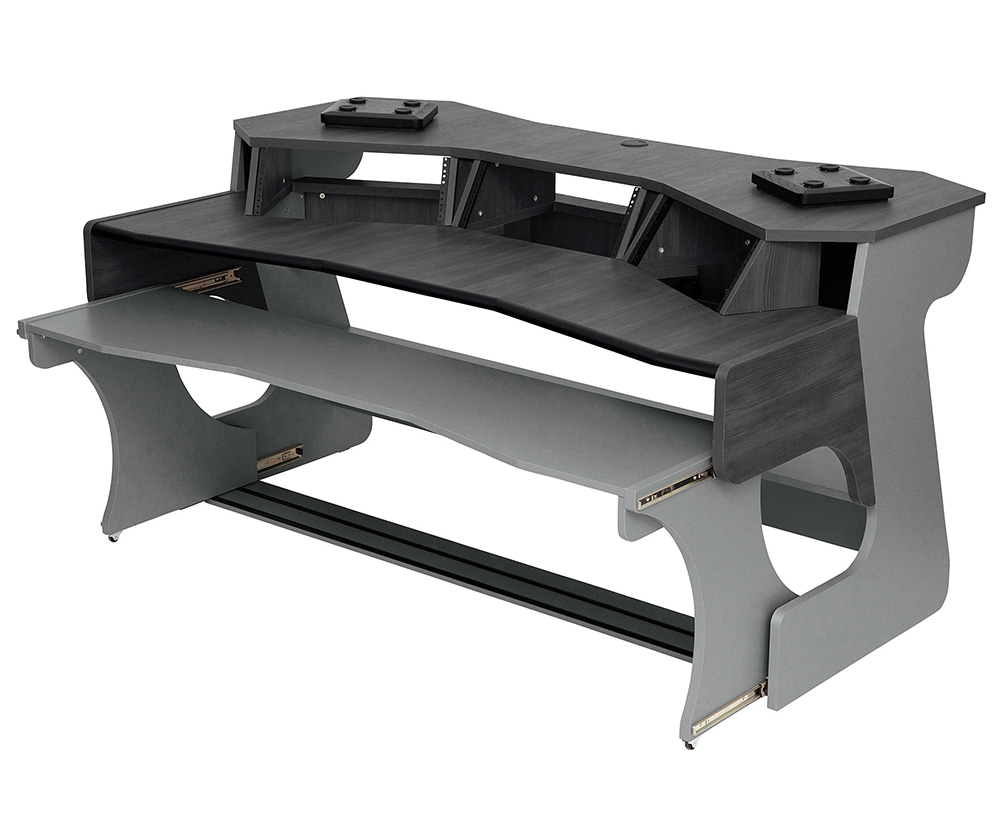 This studio desk has a slightly different design to the other models, but is still very ergonomic and comfortable to use. It has a large raised shelf for a screen and two large monitors.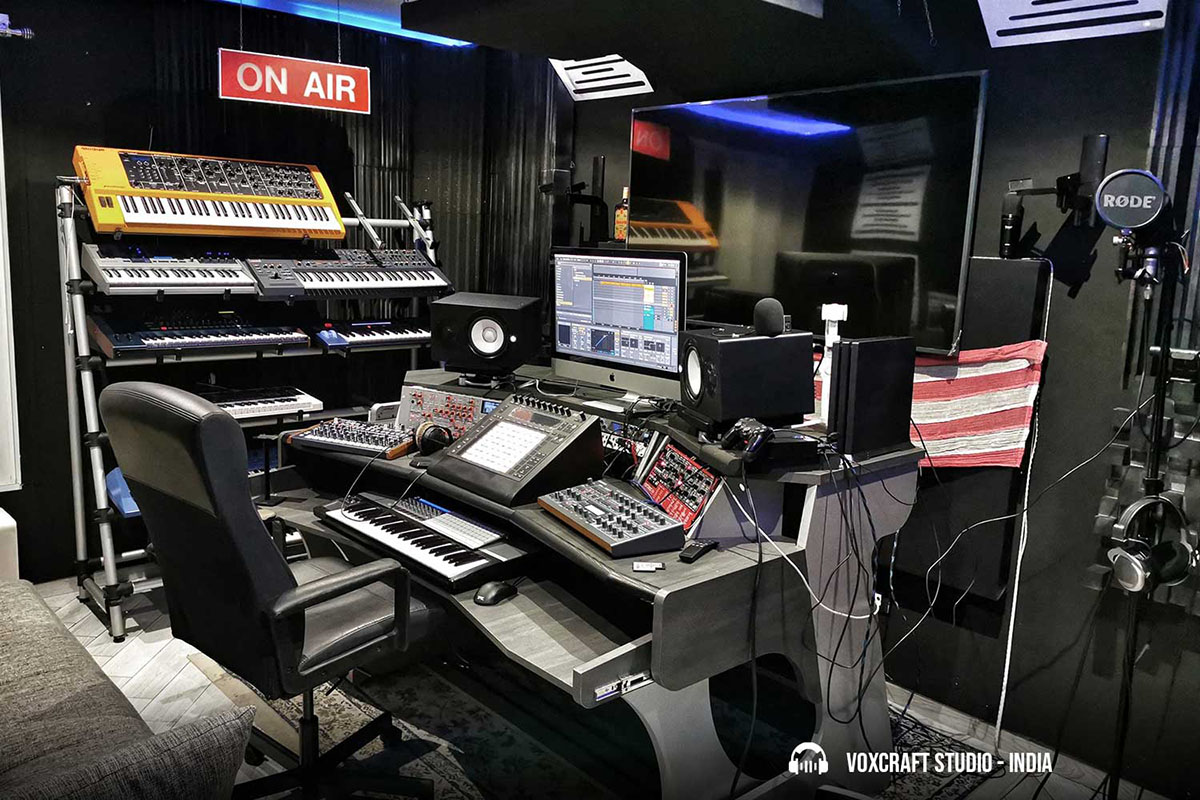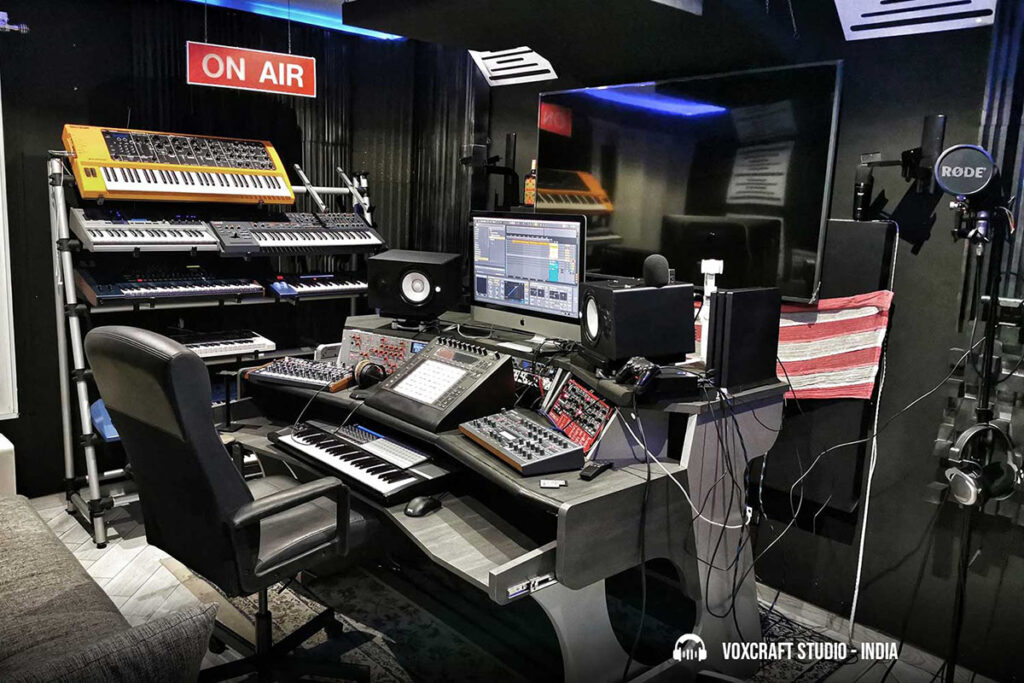 Directly below this second level are a total of 3x4U racks, arranged in a very ergonomic way. On this level there are two integrated IsoAcoustics loudspeaker isolators for placing the studio monitors. Very handy for creating the perfect stereo triangle.
The main work surface offers plenty of space for a small mixing desk, mouse, keyboard and peripherals. Underneath is a pull-out, very sturdy keyboard drawer with floor castors that can hold up to 40 kg - enough for the heaviest keyboards and much more!
The whole construction is very stable, as everything is solidly built - the studio desk weighs in at 119kg, making it one of the heaviest in the whole comparison. But you can be sure that this table will last for years and is virtually unbreakable.
What are the arguments in favour?
Very good ergonomics
Very stable due to high weight
Offers a lot of space
Price: 2.089€, Link: Zaor Miza X2 Flex Wengé Grey
Studio Desk Beat 2.0 Series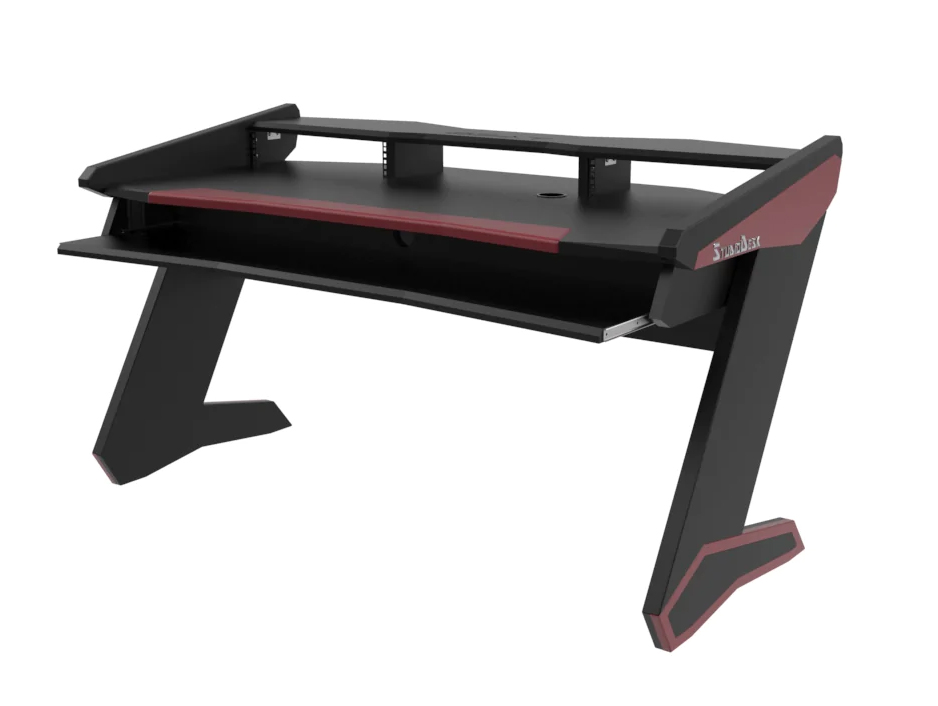 This studio desk from Studio Desk is slightly smaller than the Enterprise model, but also costs almost €750 less. It is equipped with a total of 4 U + 2 optional U in the rack, located directly under the rear level for the screen and speakers.
There is space for a large screen and two large monitors. The main worktop has space for a mouse and keyboard, plus some peripherals such as controllers or drum machines - the whole table is quite wide. The padded armrests make working a lot more comfortable.
The keyboard drawer is height-adjustable, very high quality and can hold keyboards with up to 88 keys (max. 15kg). The upper shelf has an opening through which the monitor can be placed on the main work surface so that it remains at eye level - a great feature!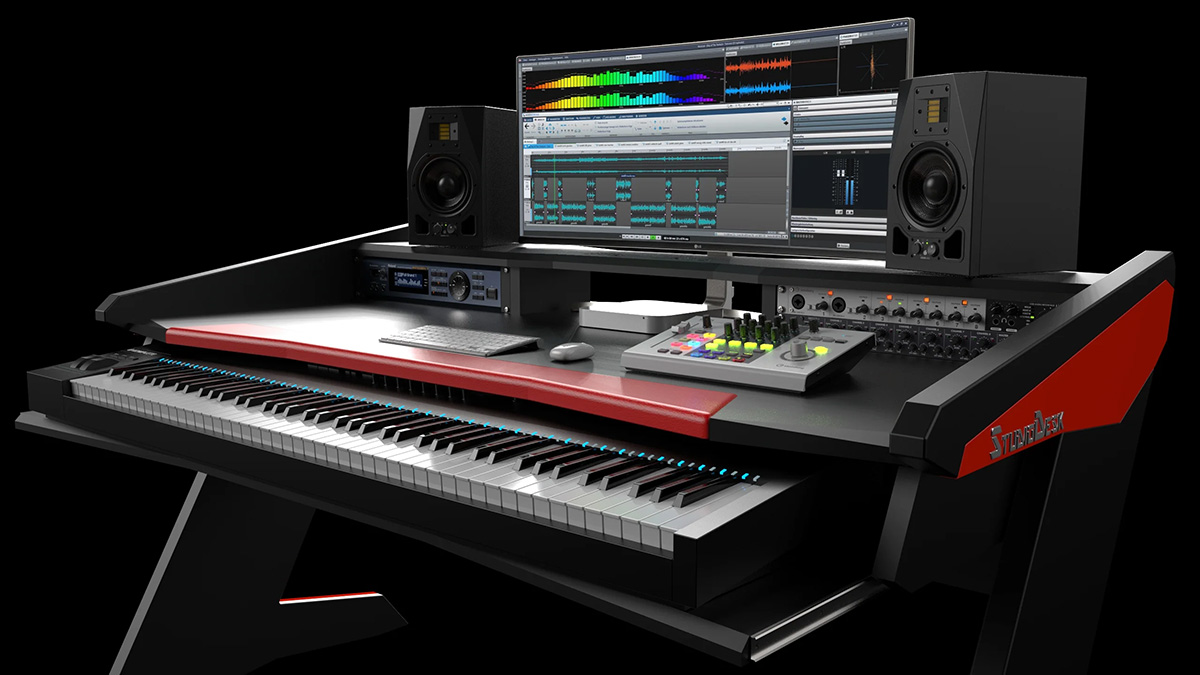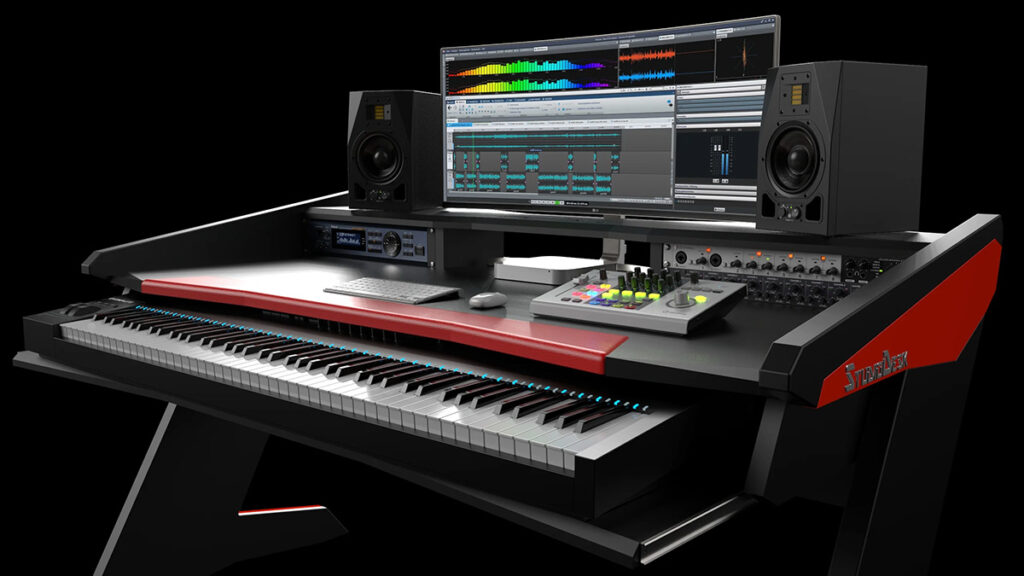 This studio desk is definitely a good choice for producers who don't have too much outboard equipment but need a very sturdy and good-looking desk.
What are the arguments in favour?
Excellent ergonomics
Comfortable, interchangeable armrests
Keyboard tray for large keyboards
Price: 1.690€, Links:
Studiodesk.net (Manufacturer's site, 5% discount with code WOODANDFIRE)