It's hard to call a production setup complete these days without a MIDI keyboard controller. In one accessible package, you get the versatility of controlling your VST instruments, easy synchronization with your DAW , and even portability if you need it.
With so many different options to choose from, though, it can be a little daunting to decide what the best MIDI keyboard is for your needs. We've compiled a list of some of the frontrunners in this instrument category - so that you can confidently decide on the best option for you in 2023.
Keep reading: What is MIDI? A comprehensive overview
Why should I buy a MIDI keyboard?
I've been producing without a keyboard myself for a long time, and I can really say that it's much more exhausting. Whether it's composing melodies, playing drums or just figuring out the key of a song, a keyboard makes life in the studio much easier.
And there are now really very affordable models on the market, so price should no longer be an obstacle for anyone.
Which MIDI keyboard is the best?
Which MIDI keyboard suits you best depends on your needs. Our favourite in 2023 is the AKAI Professional MPK249. If you're looking for an affordable keyboard, you should go for the Nectar SE25 decide. If you are looking for a keyboard for Ableton Live, you should consider the Launchkey 49 from Novation, and as the best mini keyboard we recommend the Akai MPK Mini MK3.
Before we get to the keyboards that made the final cut, here's our in-depth breakdown of how we got to these choices. These are the factors you'll need to consider when deciding on the best MIDI keyboard for you.
What makes a good MIDI keyboard in 2023?
1) Portability or Number of Keys
For any producer on the go, or for someone who plays a lot of live shows, the size of the keyboard matters. This is an aspect that's going to be unique to each individual, of course, but it's our first tip in terms of what to consider for your own keyboard.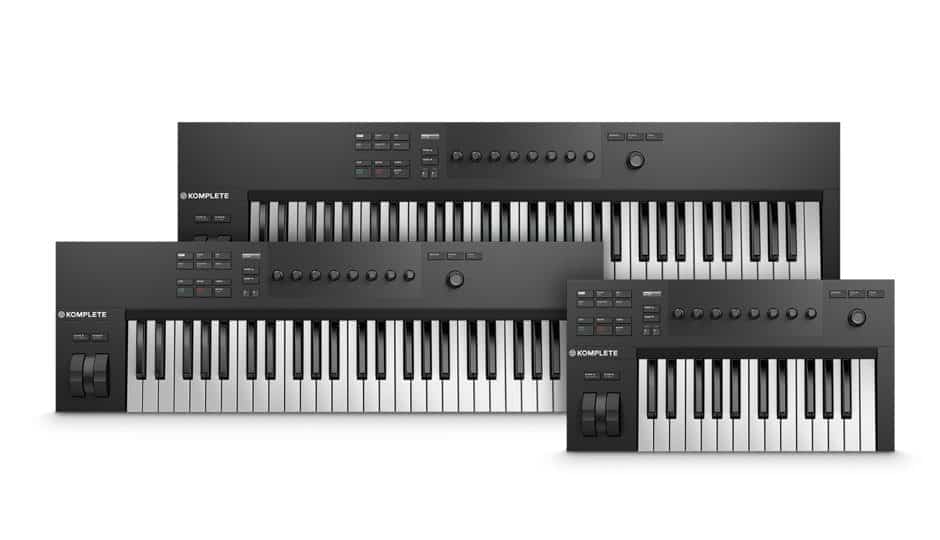 MIDI controllers usually come in standard sizes. 25 keys, 37 keys, 49 keys, 61 keys and 88 keys. If you choose a portable keyboard, you have to give up a larger octave range at the same time. However, this is not always a disadvantage, depending on how you use your instrument.
Most modern MIDI keyboards have built-in octave keys, so you can quickly change the range even if you have bought a smaller instrument.
For music producers primarily playing single-note melodies and perhaps using chord packs, a smaller option with 25 or 37 keys is a perfectly good solution. For pianists who value having access to the full range of keys, 88 keys might be non-negotiable.
Consider your own requirements, whether it be space limitations or portability for travel. Let that be a key factor in your final decision.
2) Knobs, Sliders, and Drum Pads
As MIDI controllers have evolved over the years, there have been certain functions that have seemed ubiquitous in various products. These include buttons, sliders and drum pads.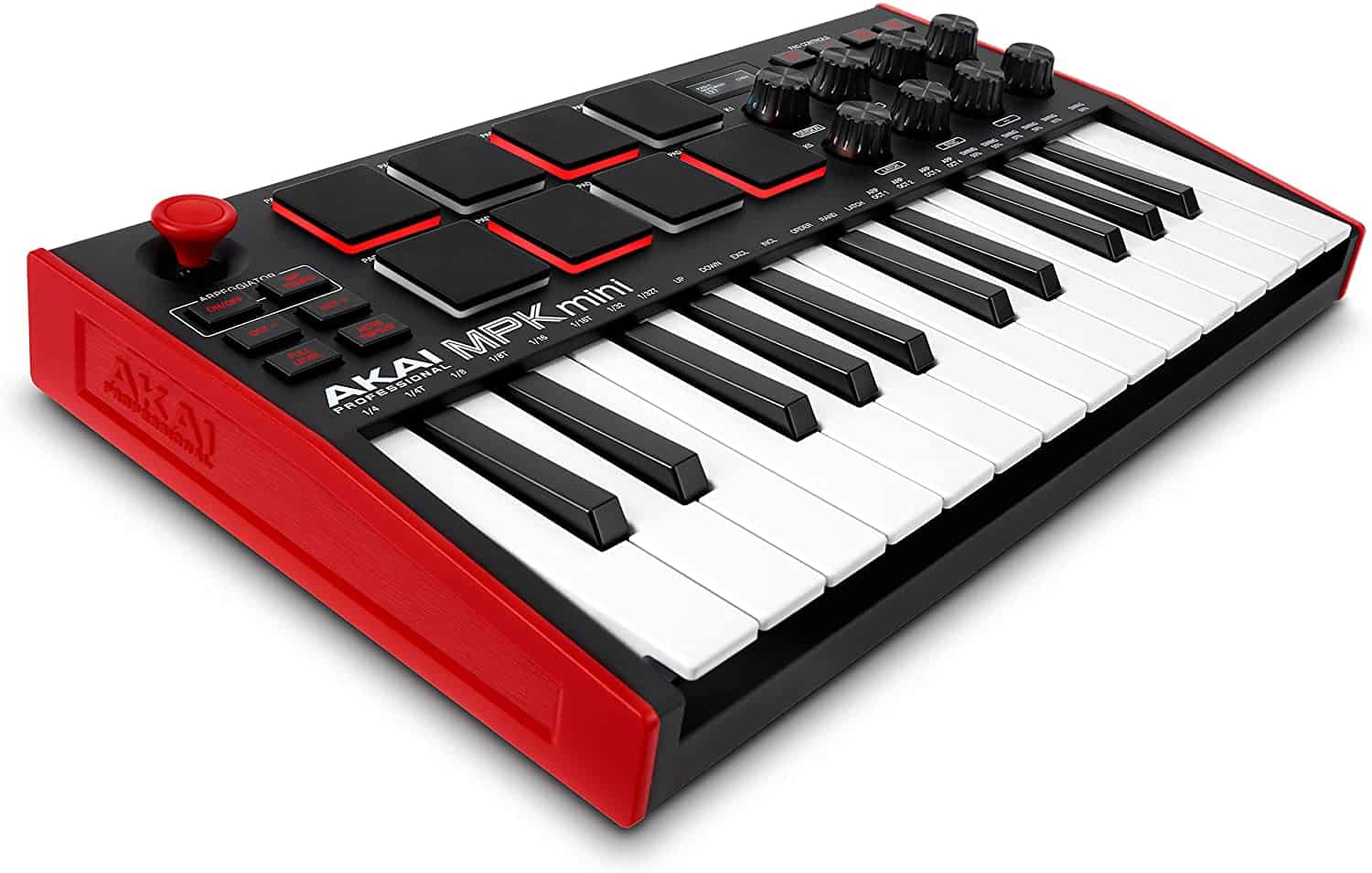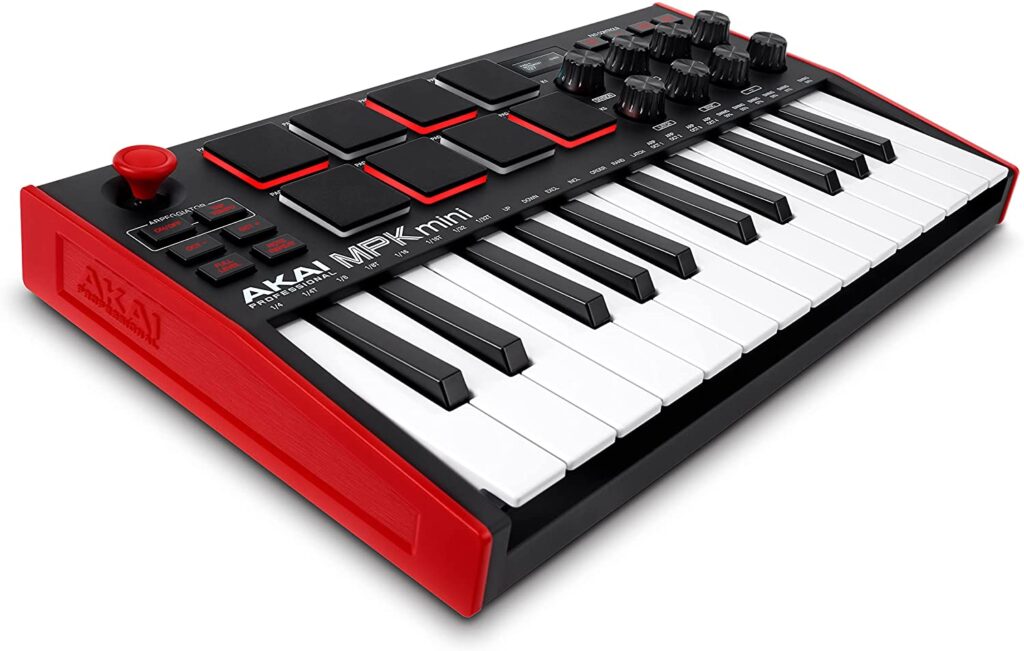 As far as knobs are concerned, we look for endless rotary encoders in a great keyboard. This means that the knobs on your keyboard can turn more than 360 degrees, and you can thus map them to multiple parameters without having to worry about their position.
Drum pads are a handy tool in modern production, especially in home studio setups. Consider the quality of the pads, whether they are velocity weighted, and what kind of additional information they can offer you for your workflow.
Of course, sliders come in handy for controlling parameters like track volume, etc. In your own workflow, consider how many sliders you might need in order to play live or mix effectively.
3) Functionality With Various DAWs
Not all DAW integrations are created equal. While some MIDI keyboards allow for the controls to be customized and mapped according to your needs, others are more rigid in their configurations.
Most notable keyboards out there will pair very well with the most popular DAWs. There are some, though, designed with particular DAWs in mind, making your decision a no-brainer if you use that DAW. An example is Novation's Launchkey series, which was made with Ableton in mind.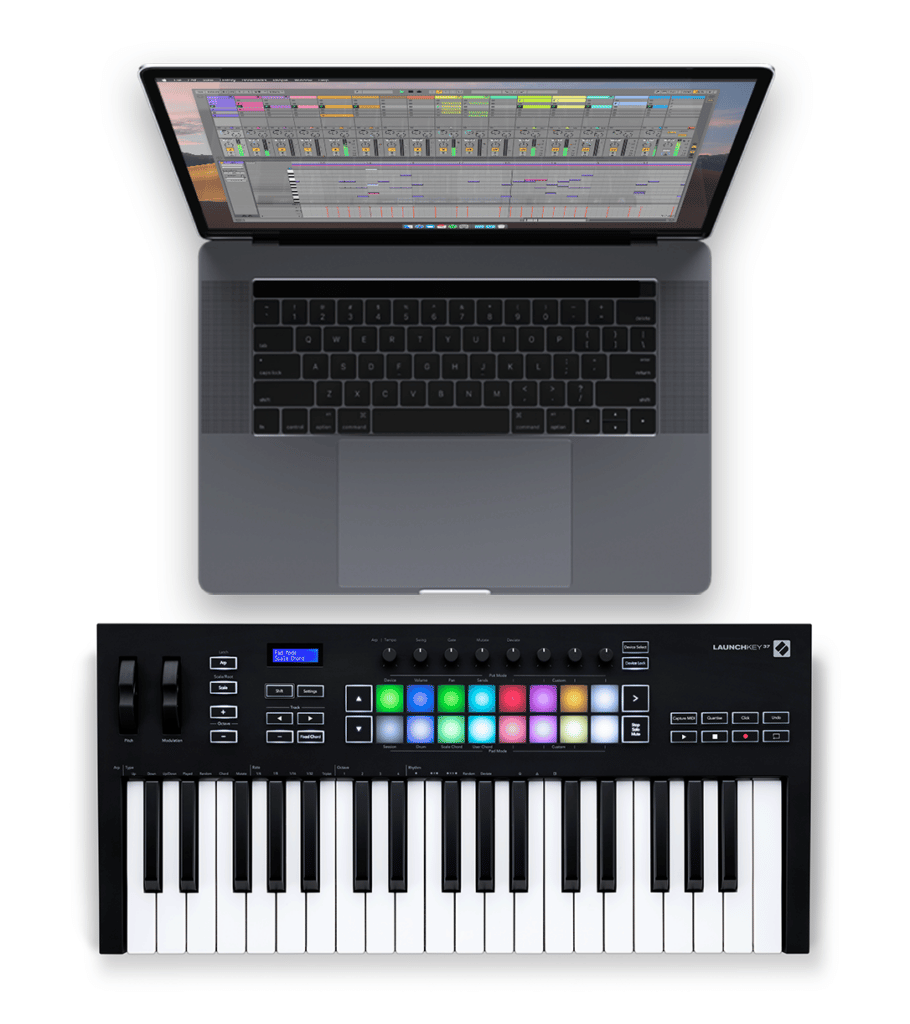 4) Bonus Software and Features
Some hardware makers have the philosophy that you should be as involved with the instrument as possible, and not have to spend so much time with your laptop or in your DAW. That's why you can find features like note repeat and arpeggiator built-in to newer MIDI keyboards.
For added value, manufacturers like AKAI and Novation often bundle in helpful software like VSTs or even entire DAWs like Ableton Live Lite.
This bonus software and these added features can be key factors to consider for someone just starting out who wants as much as possible in one package.
5) Price
Sometimes it's just about getting into an instrument category at a price you can afford. That's why we've included our selection of the best budget keyboard. This is the best value that you can get at an entry-level price.
With all the keyboards we've listed, though, we've considered the best value for money possible. We made sure to find that intersection between a great price and great value.
The Best MIDI Keyboards in 2023
AKAI Professional MPK249 - Best Overall MIDI Keyboard Controller
With just about everything you can think to put on a MIDI keyboard, AKAI's MPK249 is packed with useful features that make it a one-stop-shop for all your production and performance needs.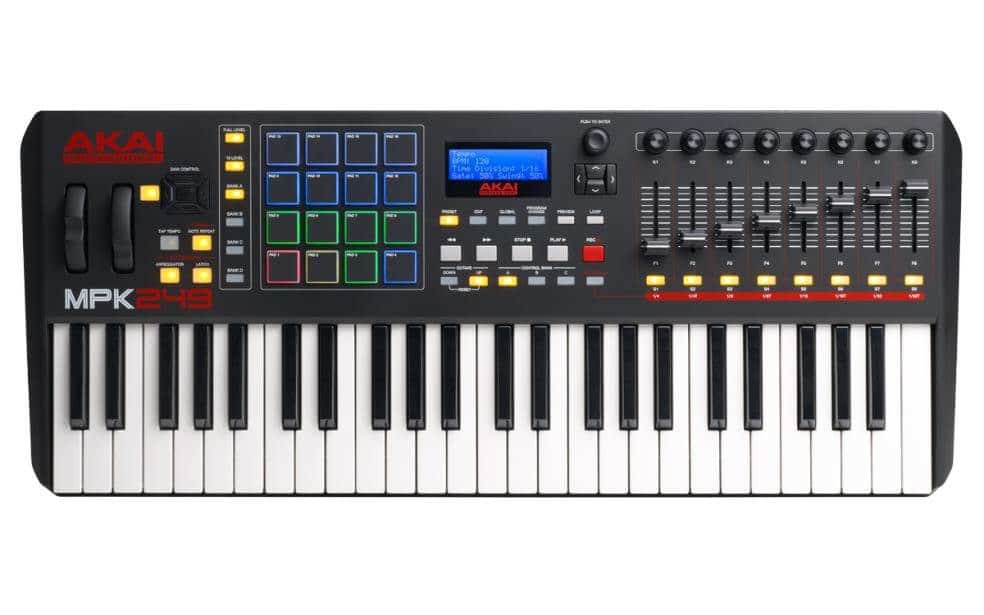 The 16 programmable, velocity-sensitive drum pads are the best I've felt on a MIDI keyboard. So if you're serious about your finger-drumming, this is one feature that you'll really appreciate in this product.
The 49 semi-weighted keys on the MPK249 make for a surprisingly pleasant feel for the traditional keyboard player who wants to approximate the kind of force feedback that a normal piano would provide.
Don't think of the 49 keys as a limitation though, it's easy to move up and down octaves with the MKP249. It's as easy as pushing a button to change ranges.
You can just plug and play this MIDI keyboard, with no installation of drivers or additional software required in order to operate it. This simplicity and ease of use is a great selling point, especially for beginner users.
It comes with traditional 5-pin MIDI In and MIDI Out ports, as well as ports for expression and sustain pedals. The modulation and pitch wheels feel sturdy and firm enough for confident creativity.
Besides Ableton Live Lite, the Akai comes with MPC Beats included - allowing you to get going with your creative process right out of the gate.
Price: 395€ Link: Thomann
Native Instruments Komplete Kontrol S49 MK2 - Runner Up for Best MIDI Keyboard Controller
It's no wonder this keyboard is growing in popularity - the wide array of features onboard had us on the fence about whether to rank it above the AKAI. The Native Instruments Komplete Kontrol S49 should definitely feature in your shortlist as you consider the keyboard for you.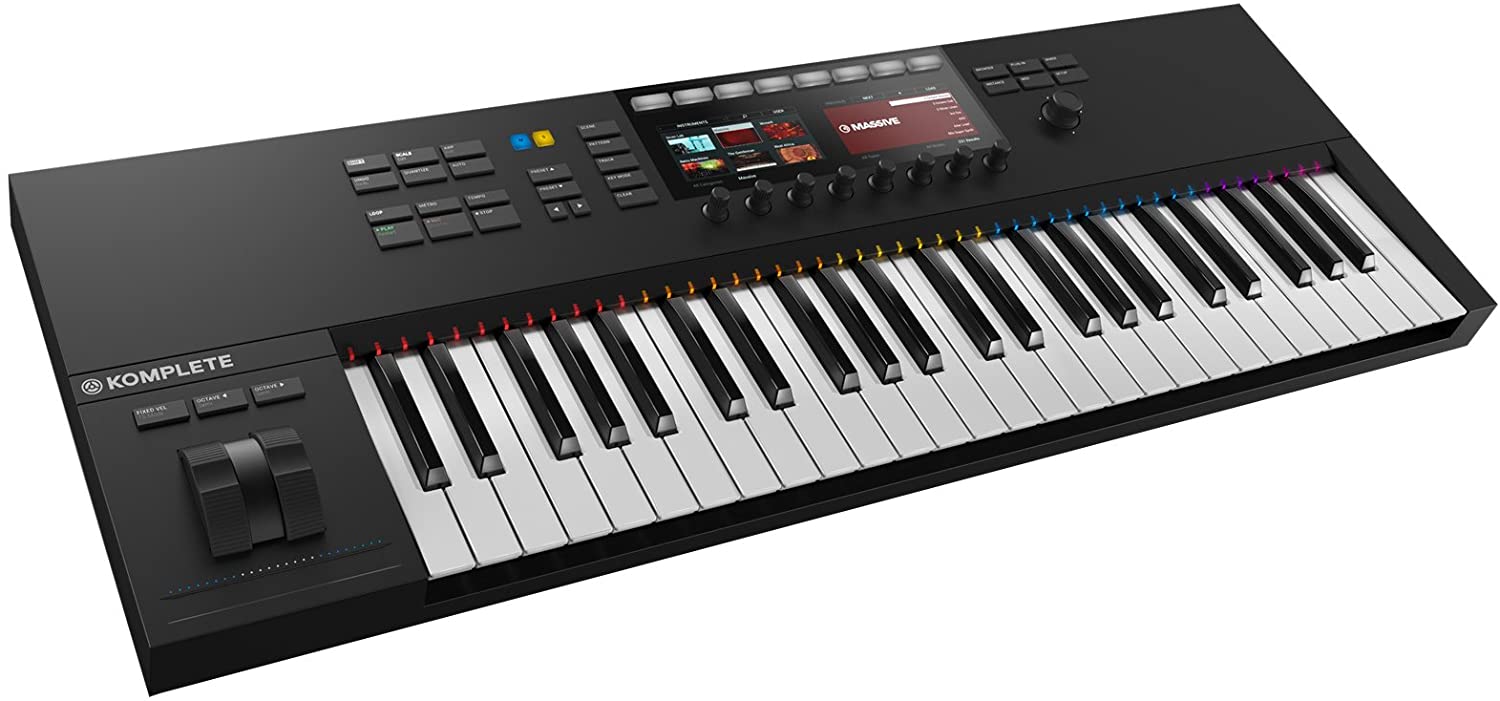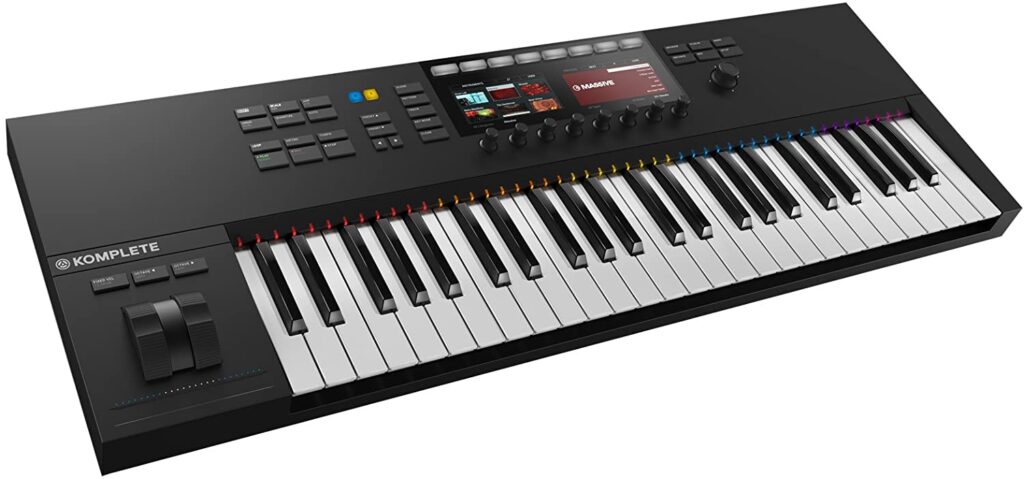 The standout feature in the design of the Komplete Kontrol is really accentuated by the name. With two displays, encoders, and plenty of buttons that can be mapped and customized according to your DAW - you can really optimize your workflow to live largely on the keyboard.
This MIDI keyboard is especially good for people who work a lot with Native Instruments plug-ins, especially Kontakt. With this MIDI keyboard, you can easily switch between instruments, presets and settings without having to access your computer/DAW.
MIDI Out, MIDI In, a semi-weighted keyboard, transport controls that are compatible with all major DAWS, and a four-way rotary knob make this keyboard fit for any home producer. Of course, you also get ports for sustain and expression pedals, and pitch and modulation wheels.
More on the "Komplete Kontrol" part of the name. The bundled NKS software allows you to cycle through and audition all third-party VST instruments that are compatible. Testing out different sounds with this MIDI keyboard is a breeze.
The one drawback that I personally find with this MIDI keyboard is the lack of drum pads. If you're a savvy finger drummer, you might miss that aspect if you opt to go with this instrument.
Still, you'll find that the build quality and DAW synchronization are awesome pulls to at least look into making the Komplete Kontrol S49 your final choice.
Price: 589€; Link: Thomann
Nektar SE25 - The best MIDI keyboard for little money
Sometimes, budget is the most important consideration when choosing a new piece of equipment. Fortunately, there is a range of entry-level MIDI keyboard controllers which make music production accessible for everyone. The Nectar SE25 is the best among the lot.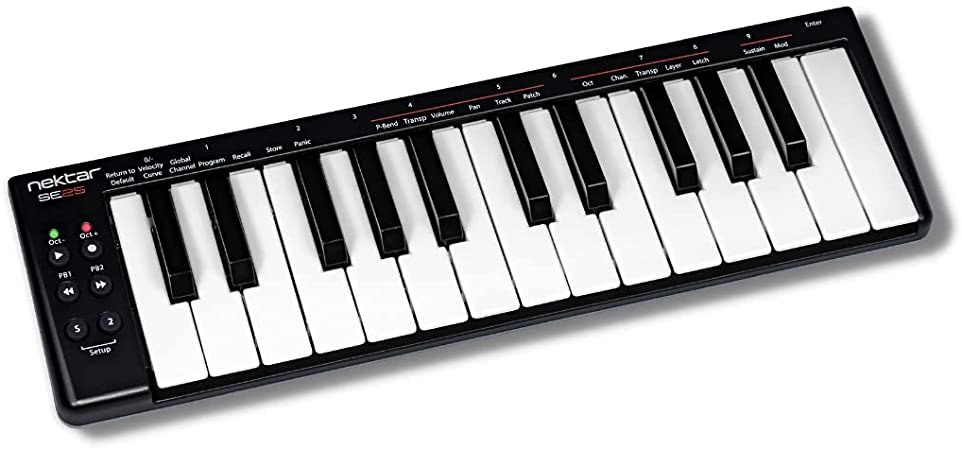 Besides being very affordable, the lightweight build of this Nektar Keyboard makes it handy for the producer on the go. It won't take up much space in your studio, and it's fit for purpose, with everything you need to get started at a beginner level.
Don't be fooled by the low price though - the key feel and sturdy build are among the best value you can get at this price point. Certainly, among MIDI keyboard controllers of this size, the Nektar SE25 holds its own in terms of the quality of the key bed.
One of the few drawbacks to this product is that it doesn't come with drum pads. If you're used to finger-drumming on pads, this can be an issue, but you can also use the keys as replacements, or alternatively draw in your drum patterns on your DAW.
Another flaw, although this is me being nit-picky, is that it's powered by micro-USB. It hasn't been refreshed in a few years, and many modern MIDI keyboard controllers of this size have already moved over to USB-C.
Price: 49€; LInk: Thomann
Novation Launchkey 49MK3 - Best MIDI Keyboard for Ableton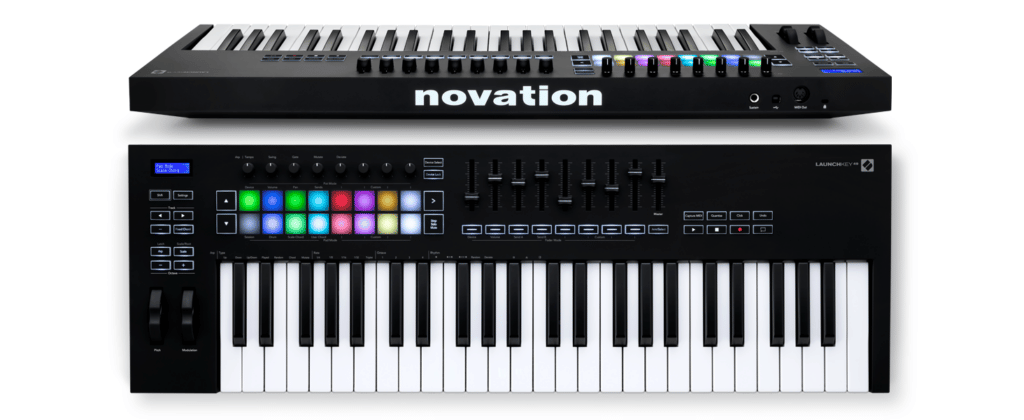 It's no secret that this series is best optimised for Ableton Live users. But that doesn't mean it's not a good choice for users of other DAWs. Users of Logic Pro, FL Studio, Cubase and other DAWs will also find this MIDI keyboard a great integration.
For added value, the Novation Launchkey MK3 comes bundled with Ableton Live Lite - allowing you to get started right away with your Ableton music production.
With transport controls, the ability to undo, solo tracks, and a whole host of other functionality right out of the box with Ableton, the Novation Launchkey 49MK3 really shines in this DAW. Looping, playing individual clips, quantization, and the arpeggiator are other useful functions.
One of my favorite integrated features with this MIDI keyboard and Ableton is the built-in "capture MIDI" function. This is useful for times when you've spontaneously written a line but had forgotten to record it. What you've played gets captured with the press of a button.
The keys and drum pads are both velocity-sensitive, and the drum pads especially feel good for a product at this price range. We really like the responsiveness of the drum pads on the Launchkey 49, and feel it's only second to the pads on the AKAI.
Price: 239€; Link: Thomann
AKAI MPK Mini MK3: Best Mini MIDI Keyboard
Another AKAI product in our lineup! This MIDI Keyboard Controller is perhaps one of the most popular mini keyboards you can find out there.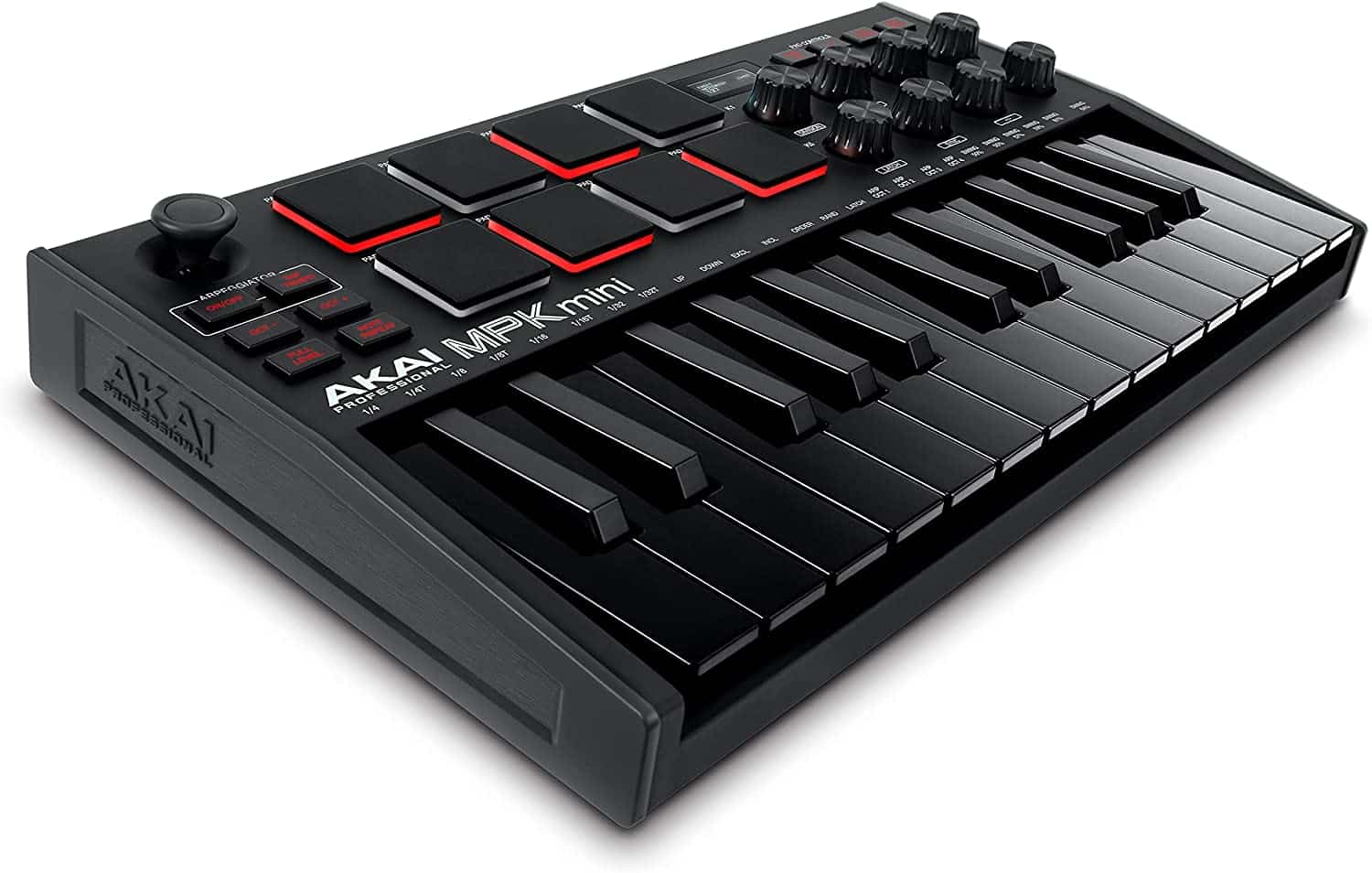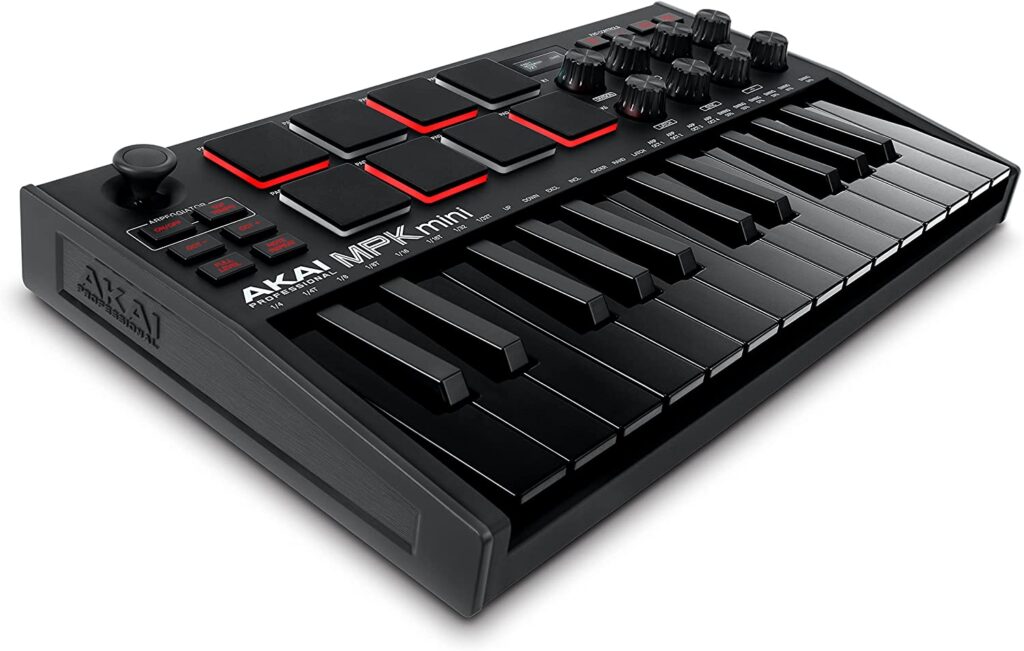 One of the best features you'll find on MPK Mini MK3 is the endless knobs. Again, they match the position of the parameter that you're working on within your DAW.
AKAI just knows what they're doing in terms of making drums pads that feel great. They have a good amount of travel, and sensitivity, and will work well for anyone who enjoys finger-drumming.
It comes equipped with a little screen from which you can read all sorts of different information. In my opinion, this isn't really a necessary feature on an instrument that you're quite exclusively going to be using from a laptop.
In terms of a value add, the AKAI comes with MPC Beats, AKAI's new DAW. Clearly, they're trying to emulate Novation's seamless integration with Ableton.
One more thing to note is that the joystick replaces the touchpads or scroll wheels that you might find on other keyboards of this size. For me, touch pads and scroll wheels feel more natural than this application.
I do find myself missing transport controls, which are probably my most used buttons on a MIDI keyboard when recording(besides the keys themselves).
Overall, though, in terms of a mini keyboard that does a lot of things very well, the AKAI MPK Mini MK3 is a frontrunner.
Price: 89€; Link: Thomann
Roli Seaboard - Best Keyboard For Experimental Musicians
When I first saw the Roli Seaboard, I was blown away. Roli has dubbed the Seaboard the most expressive Midi Keyboard controller, and that's certainly what it felt like when I saw this captivating performance of Purple Rain by Marco Parisi. saw.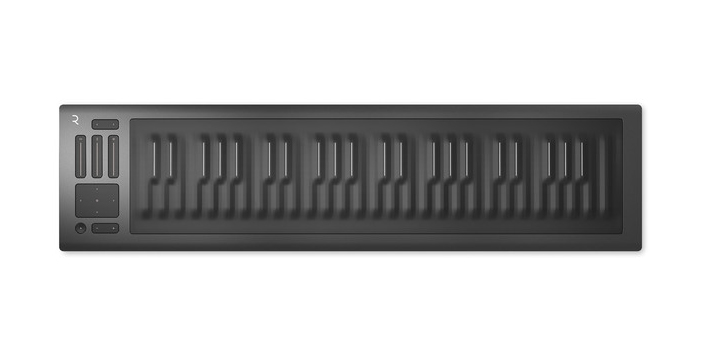 If you haven't heard of the Seaboard before, the concept behind is fairly simple: The keys are squishy, allowing for a different way of approaching elements like vibrato and blending sounds in new ways.
Roli, in my opinion, achieved its goal of unlocking a more natural playing style that connects the instrument and instrumentalist.
My favorite feature is how vibrato is approached - through movement and pressure of the finger rather than a pitch wheel. You can glide across notes seamlessly, and achieve nuances in tone that sound different than on a traditional MIDI keyboard.
For me, this is one of the great music innovations of the last two decades. Thankfully, since announcing a bankruptcy filing in late 2021, Roli returns this year with the Seaboard Rise 2 and I can't wait to get my hands on it.
Price: 1299€; Link: Roli
Final thoughts on the best MIDI keyboard controllers in 2023
Before deciding which one of these keyboards is the one for you, put some careful thought into what exactly fits your needs.
Whatever your requirements are, there's likely something to match what you're looking for - just consider the size, price, DAW compatibility, and other factors first.