The topic of studio monitors is an extremely important one when it comes to studio equipment. I would even say that studio monitors are the most important equipment in a recording studio.
That's why some studios spend over €100,000 on monitors! Because without a perfect, balanced and clean sound, you can't make sensible decisions when producing/mixing/mastering.
The best studio monitors allow you to hear the flaws in the mix to manipulate the various parameters more effectively and get a better result than listening through ordinary consumer speakers or headphones.
For home recording and home studios, active near-field monitor speakers are the best studio monitors you can buy. They are best placed on a dedicated desk, shelf or stand a short distance from the mixing console.
For professional studios, important aspects such as the size of the recording studio, the frequency response of the speakers, the price budget and reliability over time should be considered when choosing studio monitors.
Are you looking for headphones for your studio? Here I compare my 8 favourites.
High-end audio monitors are recommended for those who spend several hours in the recording studio, as they allow long mixing sessions without straining the ear.
For sporadic use and semi-professional or amateur productions, less expensive entry-level monitor speakers are more suitable.
Below you'll find our ranking of the best studio monitors for all levels, from high-end to budget models, with descriptions of the most important features.
What are the best studio monitors?
Which studio monitors suit you best depends on your needs and budget. For me personally, the best studio monitors 2023 are the Neumann KH120 if you have a budget of over 1000€. For smaller budgets, I can recommend the Yamaha HS8, which are really great, neutral monitors for under 600€/pair.
1. Neumann KH120 - Best Studio Monitors in 2023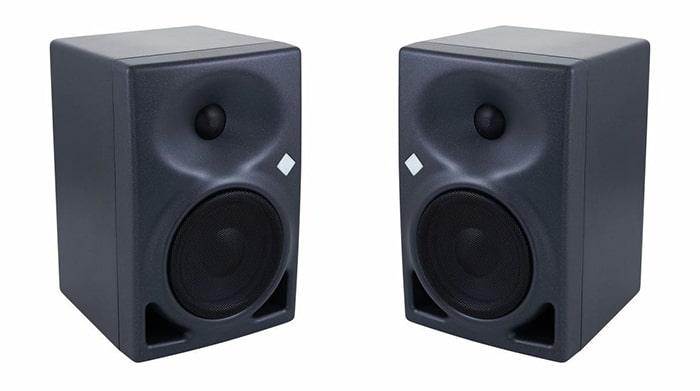 Buying these studio monitors was a turning point in my career as a sound engineer - the sound of these speakers is really fantastic. When you try them for the first time (and if you've only tried cheaper models), you understand why high-end audio is called "high-end" - because you hear high frequencies that you've never heard with other speakers.
The KH 120 is one of the most honest sounding monitors in this price range. You can really hear every little detail, all instruments have their place in the mix and you can distinguish them very well from each other (very good depth).
These studio monitors from Neumann consist of a 5.25" woofer + 1" tweeter. The frequency curve breaks down in the bass range at about 60 Hz, at about 52 Hz the level should be only 3 dB below, which is quite good for such small monitors.
Neumann has equipped the KH 120 with a "Mathematically Modeled Dispersion™ Waveguide". In this way, the speakers provide a more accurate sound distribution, both horizontally and vertically.
The sound is precisely expanded horizontally, so you have more flexibility at the listening position (I don't have to be exactly in the centre of the triangle to have the perfect stereo image). Vertically, however, the radiation is limited so that reflections in the near environment (table, mixing console, ceiling) are reduced. Simply ingenious!
These are my main monitors for mixing and mastering at the moment. To be fair, though, these monitors don't go that deep because they only have a 5.25" woofer. Surprisingly, the bass is still very audible and the mixes transfer very well even on larger systems. So you can really rely on these monitors.
But I also use my Focal Alpha 65 from time to time, especially when I want to edit the bass track individually or while recording bass.
What are the arguments in favour?
High End Monitors
Neutral frequency response, so you can rely on these monitors.
Incredible detail and impulse fidelity
Price: 679€/monitor, More info
2. Yamaha HS8: Best studio monitors for semi-professional use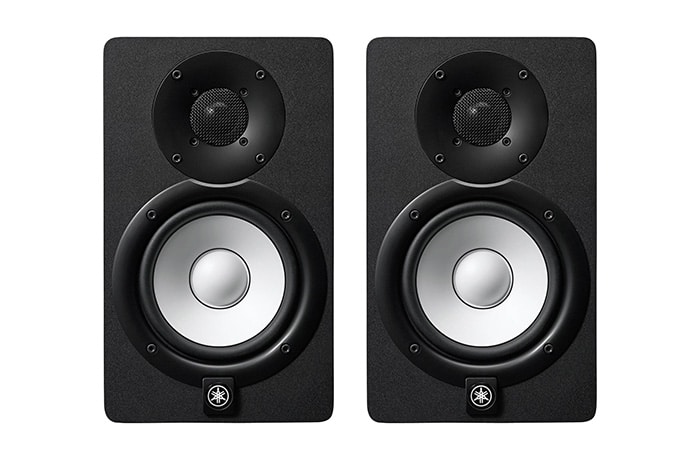 If you're looking for compact studio or home recording monitors that, like the classic NS10s, will pick up all the irregularities and details when mixing music, you should go for the Yamaha HS8.
As with the NS10s, you will love - and sometimes hate - the honesty of these speakers, because they are far too honest! Especially when you compare them to KRK speakers, for example, which are much more bass-heavy. But the sonic result of these monitors is truly exceptional, especially considering how affordable they are.
I would recommend these studio monitors to anyone who wants to mix and master, because you can only make the right decisions with a transparent and pristine sound. For DJs or EDM producers, however, the speakers might not have enough bass, so the KRK Rokit RP8 would be better suited.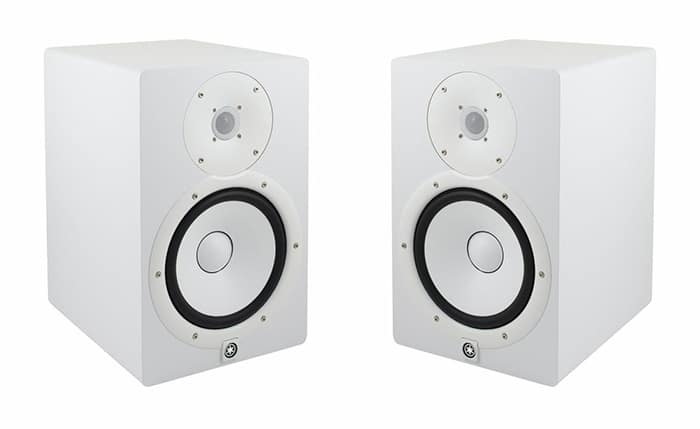 Each active bi-amping speaker consists of an 8″ woofer, a 1″ tweeter and a bass reflex port on the back. These studio monitors are not so well suited for small rooms, but are best in rooms with plenty of space and optimal acoustics, as the 8" woofer can get quite loud.
They have a good frequency response (38Hz - 30kHz) and are pre-amplified for a total output of 120 watts per pair.
If you place them near a wall, you can use the selector switch on the back to activate the "Room Control" function to reduce the power of the low frequencies. You can also use the High Trim option to boost or cut the high frequencies by 2 dB.
If these active nearfield monitors are too big or too expensive, check out their smaller brothers, the Yamaha HS5 (5" woofer) and the Yamaha HS7 (6.5" woofer). They are also very transparent and sound very good. The sonic difference to the HS8 is that the smaller speakers don't go as low (HS7 up to 43 Hz, the HS5 up to 54 Hz).
What are the arguments in favour?
Very honest & confident sound
Good low end
Perfect for mixing and mastering
What speaks against it?
If you prefer bass-heavy studio monitors, there are better alternatives.
Price: 289€/monitor, More info
3. KRK Rokit RP8 G4 - Best Studio Monitors for EDM/Trap Producers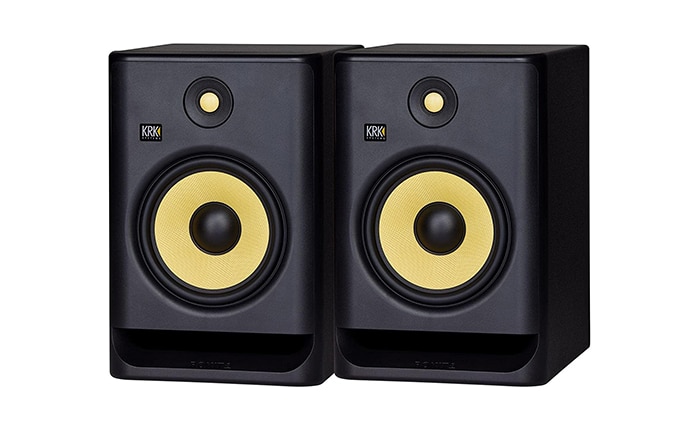 The KRK Rokit GP8 are rather the opposite of the Yamaha monitors: the Yamaha speakers are very neutral, natural and unadulterated - the Rokit are not neutral and have a boost in the low-mid range.
If you compare the two speakers directly, you might initially think that the KRK sound better. This is due to the boost in the low-mid range.
However, this boost can cause your mixes to sound too weak in exactly this area, as you naturally try to compensate for this when mixing. Therefore, mixing and mastering with these speakers is only possible if you know them very well and know how other professionally mixed songs sound through these studio monitors.
But if you're just composing music or are a DJ and don't need to master songs, I would recommend the KRK Rokit RP8 G4 in a heartbeat! It's really fun to listen to music with these speakers.
The new version of the G4 Series includes Kevlar woofers and tweeters, both in yellow to identify the brand, and with a bass reflex port at the front, which is handy when we want to place the monitors close to the wall.
Both speakers have an internal Class D amplifier and weigh 10.25 kg. For better grip on the desk or tabletop, the base is made of non-slip material.
The KRK Rokit GP8 have a frequency response of 36Hz - 40KHz, an output power of 203 watts and accept balanced TRS/XLR inputs.
Installation is the most important part of a studio monitor. To achieve the most neutral sound possible depending on the room, the Rokit RP8s hide a small LCD display on the back that provides useful information about the sound control. With the button on the side, you can select different combinations and adjust the EQ of the monitor to perfection.
What are the arguments in favour?
Listening to music is fun because it is very bass-heavy
Well suited for DJs
Room correction using the built-in EQ
What speaks against it?
Not transparent
Not suitable for mixing & mastering in my opinion
Price: 229€/studio monitor, More info
4. Genelec 8040: Best studio monitors for big budgets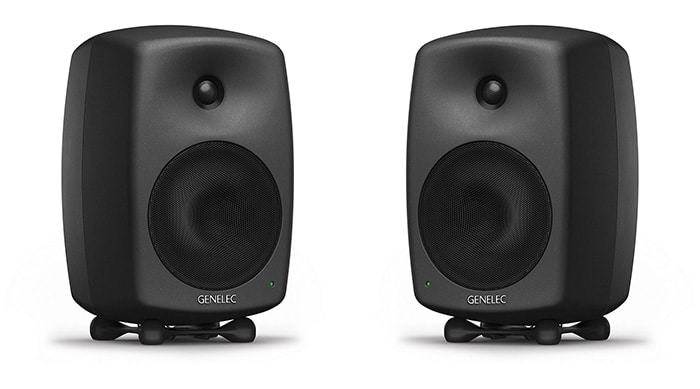 Genelec is known for making really good studio monitors. And the Genelec 8040 are no exception! They are one of the best studio speakers I have tried that cost under 1000€.
These studio monitors have a super-clear high end (just as good as Neumann) plus a strong, powerful low end that is sufficient for mixing and mastering in most genres. The sound is very neutral and balanced, and you hear all the details with high precision.
These speakers have a 6.5" woofer and a 3/4" metal dome tweeter with a total of 180W. The build quality of these speakers is excellent and much better than most other brands.
However, if you work with very bass-heavy music genres (EDM, trap), you could use a subwoofer. I can only recommend the Genelec 7040 - the combination with the 8040 is an absolute blast.
Convenient rubber feet are included - as with all Genelec monitors - for acoustic decoupling to the studio desk/stand.
Overall, I can really recommend these studio monitors to anyone who has a good room and can afford them, because they are not cheap!
What are the arguments in favour?
Near-perfect sound - punchy low-end, clear high-end and incredible reproduction precision
Excellent building quality
Price: 898€, More info
5. Adam T7V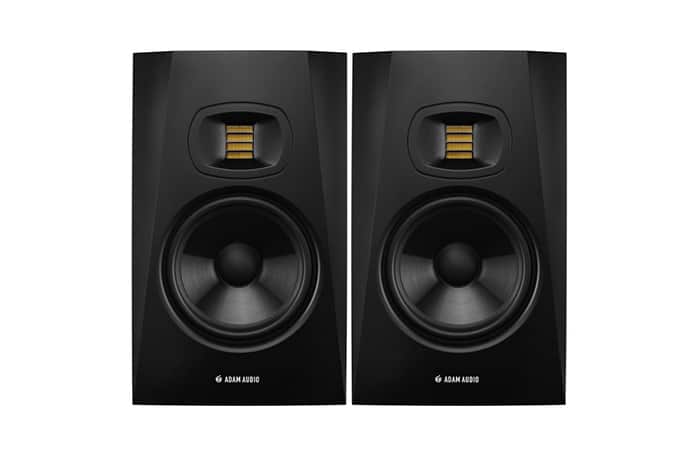 If you're looking for a pair of high-end professional studio monitors that can stand the test of time, have excellent build quality and are great for home recording and high-level music production, we recommend the ADAM T7V.
These active studio monitors consist of a 7″ woofer and a 1.9″ U-ART ribbon tweeter. The woofer, covering low and mid frequencies, operates below 2.5 kHz and is driven by a 1.5" coil and a 50W PWM amplifier.
So when we sit in front of these monitors, you notice even the smallest changes in the mix. These studio monitors are very detailed.
Another (very) positive feature I noticed during testing is that the ADAM T7V studio monitors do not cause ear fatigue during intensive use. This is partly because these speakers use a ribbon tweeter. This is a very important aspect for studio monitors, especially if you have long mixing/mastering sessions in your studio.
Even at very high volumes, the T7V perfectly maintains the clarity of sound we expect from a high-end pair of monitors to properly distinguish the different musical instruments and create a balanced mix.
The frequency response of these monitors is 39 Hz - 25 kHz. They are recommended for any type of music genre.
What are the arguments in favour?
Very good monitors for relatively little money
Ears do not get tired with intensive use
What speaks against it?
Not as transparent as the Yamaha's
Price: 209€/studio monitor, More info
6. Neumann KH-150 - The crème de la crème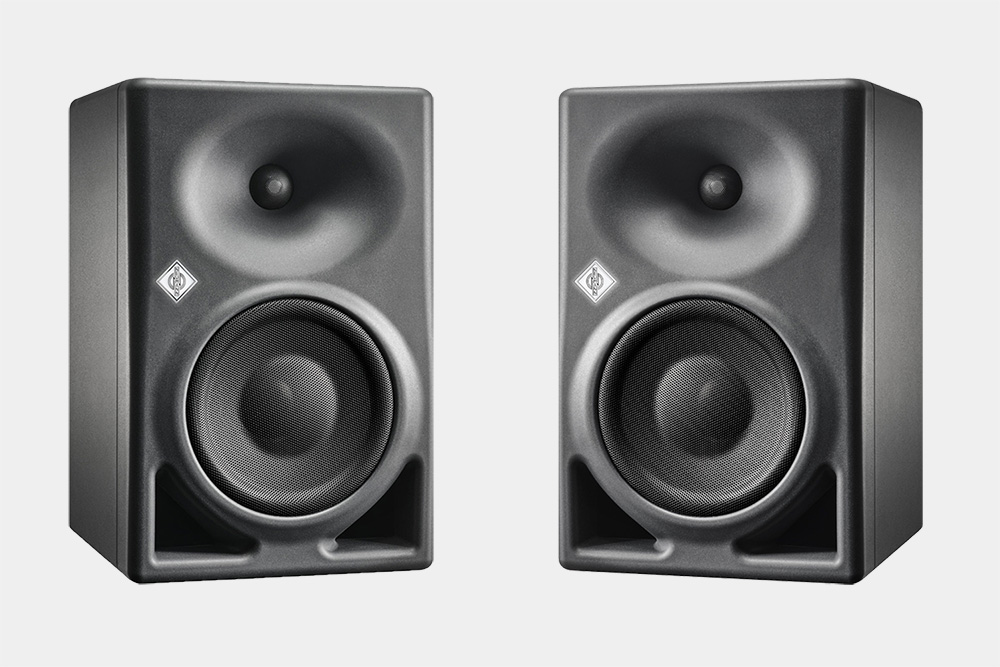 These studio monitors were launched in September 2022 and immediately caused a sensation. They are Neumann's largest 2-way studio monitors to date and feature DSP-controlled electronics. This means that they can be used with the Neumann MA 1 to automatically adapt the sound of the monitors to the room. And it works brilliantly, especially in rooms that are acoustically untreated.
The Neumann KH-150 have a 6.5″ woofer and the same 1″ tweeter as the KH-120, and the total power output is 245 W, so they are very loud. They also have plenty of headroom, which means they sound clear and undistorted even at very high volumes.
The sound of these monitors is a dream - they do everything the KH-120s did, but with a slightly lower frequency response and more precise bass. They are extremely neutral, the bass is punchy but precise and the treble is crystal clear. Surgical processing of audio material is possible with these monitors, and even the finest details are reproduced very accurately.
I particularly like the high-end frequency range of these speakers, it's incredible what you can hear in songs through them that you can't hear at all with cheaper monitors - the voice suddenly sounds much more detailed, the hi-hat really stands out in the mix, the snare can suddenly sound completely different, and so on.
I would recommend using these monitors with the Neumann MA 1 - unless you're absolutely sure your studio sounds perfect, then you don't need something like this. But even in my studio, where I've invested several thousand euros in the acoustics, the very low frequencies don't sound perfect, and that can be solved very easily with the DSP calibration.
The speakers are not cheap, however, costing just under €1500 per monitor. But the great features justify the price.
What are the arguments in favour?
Perfect sound in all aspects
DSP calibration
Price: 1,499€/monitor, Link: Neumann KH 150
7. Focal Alpha 65 EVO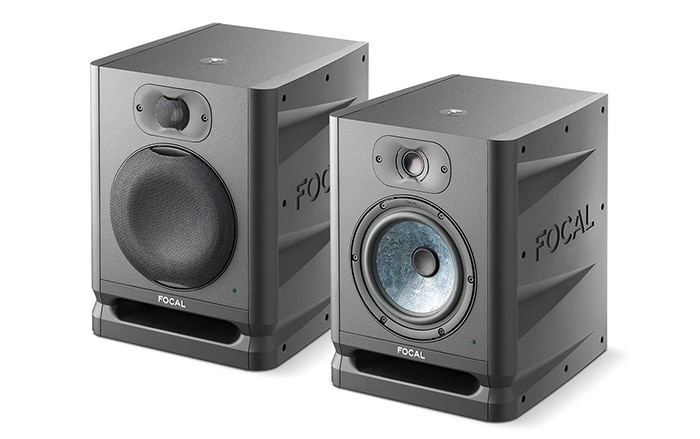 The new Evo series clearly stands out from the previous Alpha series. It owes its futuristic design to two plastic sides with deep horizontal notches designed to reduce baffle diffraction for a clearer and more precise stereo image. The plastic sides give the Alpha 65 Evo a contemporary look, while the rest of the cabinet is covered in black vinyl.
At the heart of the acoustic design is a 6.5" woofer and a 1" aluminium inverted dome tweeter. The use of the inverted dome is a long-standing feature of Focal production, as is the use of metallic materials in the construction.
I have worked with these studio monitors for a long time and have always been very satisfied. The bass is clear and loud, and the mix is very balanced and translates well on other systems. The only thing these studio monitors lack is a bit more treble, because you don't hear the very high frequencies as well as with Neumann monitors, for example. But the price difference is also enormous.
These active studio monitors can definitely get very loud, but that's a lot of fun with good acoustics. So I can recommend them to everyone. I personally use them in addition to my Neumann KH120, which gives me a good balance between high and low end.
What are the arguments in favour?
Very good low end
Well balanced sound
What speaks against it?
High frequencies could be clearer
Price: 348€/studio monitor, More info
8. Genelec 8010: Best portable studio monitors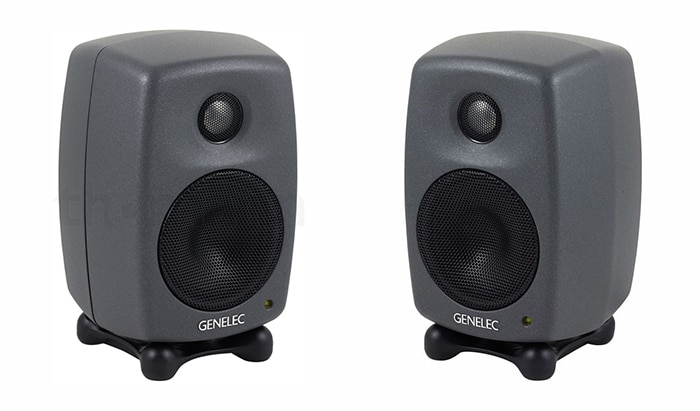 The Genelec 8010 are the best studio monitors for music producers on the move. These monitors can be conveniently transported from place to place and stored in a small, lightweight bag.
We have a 3-inch woofer and a 0.75-inch metal dome tweeter driven by two Class D amplifiers, each rated at 25W. The crossover is set to 3kHz.
As with other Genelec speakers, we find a base that allows us to angle the speakers, while protective grilles serve to protect both the woofer and tweeter from accidents.
Although these are small speakers, you'll find the Genelec quality for which the company is famous, with excellent build quality and very precise sound. Because this is a small and compact model with a woofer that is smaller than other professional studio monitors, you will need to add a dedicated subwoofer for more bass.
In a small hotel room or for travelling, we still find them very useful because we can mix everywhere in a professional way.
Of course, the portability factor and the Genelec brand means you have to pay a higher price than for a more powerful monitor from another brand, but for artists who are constantly on the move, this is one of the few solutions available.
What are the arguments in favour?
Exceptional wearability
Building quality
What speaks against it?
High price for 3-inch monitors
Price: 319€/studio monitor, More info
9. PreSonus Eris E5: The best studio monitors for beginners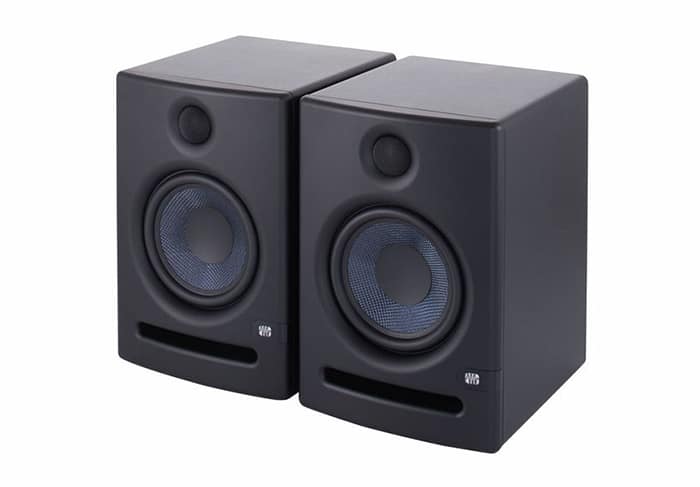 The PreSonus Eris E5 Studio Monitors are a very small investment compared to professional monitors and yet are able to play music honestly and accurately. We recommend them to those who cannot spend a lot of money on setting up a small recording studio or for home recording.
They consist of 5.25-inch woofers and 1-inch dome tweeters, the frequency response is 53 Hz - 22 kHz and each speaker has two separate amplifiers for low (45 W) and high frequencies (35 W).
The bass reflex port on the front of the speaker represents clarity and detail in the presentation of low frequencies, and also means that they can be placed close to the wall without having much reflections.
The Acoustic Space function on the back of the monitor helps to adapt the sound to the room and attenuates frequencies below 800 Hz. Useful if you place it close to a wall, for example, to avoid bass feedback.
On the other hand, the Cut Off function cuts the bass frequencies below 100 or 80 Hz, which can be used, for example, if we also want to install a subwoofer for these frequencies. The potentiometers for mid and high frequencies are useful to set the right volume around 1 kHz and above 10 kHz respectively.
For the price at which they are sold, we cannot find an alternative to these studio monitors. They really are the best model available in the under 150 euro price range.
What are the arguments in favour?
An enviable price-performance ratio
Relatively well balanced sound
What speaks against it?
Less faithful to the original than more expensive speakers
Price: 215€/pair, More info
Still too expensive? Then check out our test report on the Swissonic A204BT, studio monitors for 100€/pair.
10. IK Multimedia iLoud Precision MTM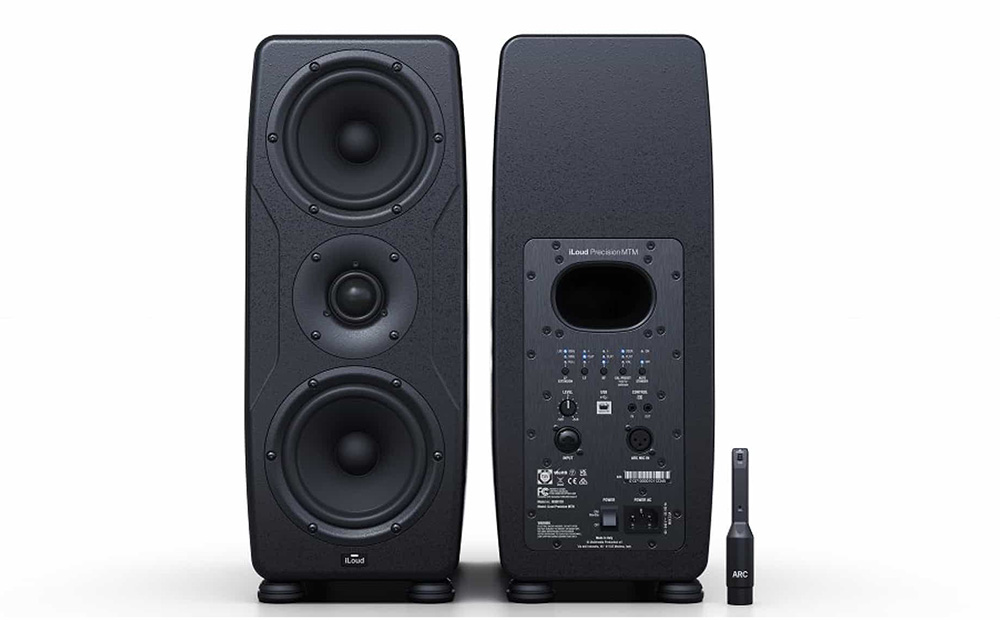 These studio monitors from IK Multimedia are a little different because they have 2×5" midrange drivers and 1×1.5" tweeters. They go down to 45Hz and have a very neutral and detailed sound across the spectrum.
They are fully DSP-controlled, with automatic room correction via the supplied microphones. They come with X-Monitor, a software for Mac and Windows that allows you to do this from your computer. It works very well - it shows you where the faults are in the acoustics of the room, and it corrects them automatically.
In addition, the software can emulate the sound of more than 20 well-known loudspeakers on the market - a very useful feature for checking the transferability of your own production to other monitoring systems.
The transients in music are very audible across the entire spectrum. This is due to the perfectly tuned midrange drivers. These speakers bring out details that other studio monitors miss, especially in dynamics. They can easily compete with much more expensive speakers.
Producers working with a lot of bass-heavy genres may need a subwoofer, as these studio monitors don't go very deep. However, the low end is very precise and controlled, and the productions translate well to larger systems.
What are the arguments in favour?
Neutral and very detailed sound
DSP calibration
Price: 1.399€/monitor, Link: IK Multimedia iLoud Precision MTM