With modern audio interfaces, recording high-quality audio is more accessible nowadays than ever before. A few decades ago, there was no choice but to get into a professional studio to produce a record. That has all changed, and that's largely thanks to the budget audio interface.
Computers have enhanced processing power, and technology is increasingly affordable, making the audio interface a common(and necessary) part of the home studio setup. Before buying one, though, it's best to know what makes a good audio interface and what makes one the right fit for you. We've compiled this list of the 8 best audio interfaces to help you do just that.
The Audient iD4 Mk2 and Focusrite Scarlett 2i2 are the best audio interfaces you can get on a budget. For a premium option, Universal Audio's Apollo Twin Duo MKII is the frontrunner. The Rode Rodecaster Pro II is the best interface/mixing desk for running a podcast.
Before you make your buying decision, though, it's important to consider exactly what your home studio requirements are. Fortunately, we've put together this comprehensive review to help you make your choice. Here's what you need to know before you buy an audio interface.
What To Consider Before Buying An Audio Interface
1) How many inputs and outputs do you need?
Depending on whether you're recording with a band, you're a singer-songwriter, or you're just mainly recording vocals, your needs for an audio interface will differ. You might want to get more than you need so that your interface can accommodate your growth - or you might just want something that's good for right now.
For all interfaces, one input is used at a time per instrument or microphone. If you would like to record your guitar and vocal at the same time, then you will need two XLR inputs or one XLR and one TSR input. The same logic can be used to determine how many inputs and outputs you need to record a band.
2) Do You Require Portability?
A bus-powered interface gives you the ability to power your audio interface with just your laptop. Not needing an external power source means that you can work on the go. Many producers favour this kind of portable and mobile setup.
Not all audio interfaces offer this level of portability, so it's worth considering whether a significant part of your workflow will require that.
3) Price and bonus software
Bundled value is the name of the game when it comes to purchasing production software nowadays, and depending on the manufacturer - you can really get a lot for the price that you pay!
Consider whether you'd like to benefit from additional plugins, sample packs, and VSTs. Some of the leading audio interfaces come packed with extra downloads that you would find useful in your production.
4) Is it expandable?
One of the best ways to think about purchasing audio equipment in the early phase of your home studio career is how long the device will last. Not just from the perspective of durability and reliability, but as your skills and needs grow, will that device still serve you?
This is where expandable audio interfaces come in handy. An expandable audio interface comes with an ADAT port that allows it to take eight additional channels from another interface using an optical cable. This means you can turn your 8-channel interface into an 18-channel interface without having to buy a 16-channel interface.
It's an effective way to get what you need now, and not break the bank on expanding your setup in the future. You also avoid making rendering your current audio interface obsolete.
Now let's get into it:
The 8 Best Audio Interfaces in 2022 - USB Interfaces
Focusrite Scarlett Series - Best USB Audio Interface in a Price-Performance Package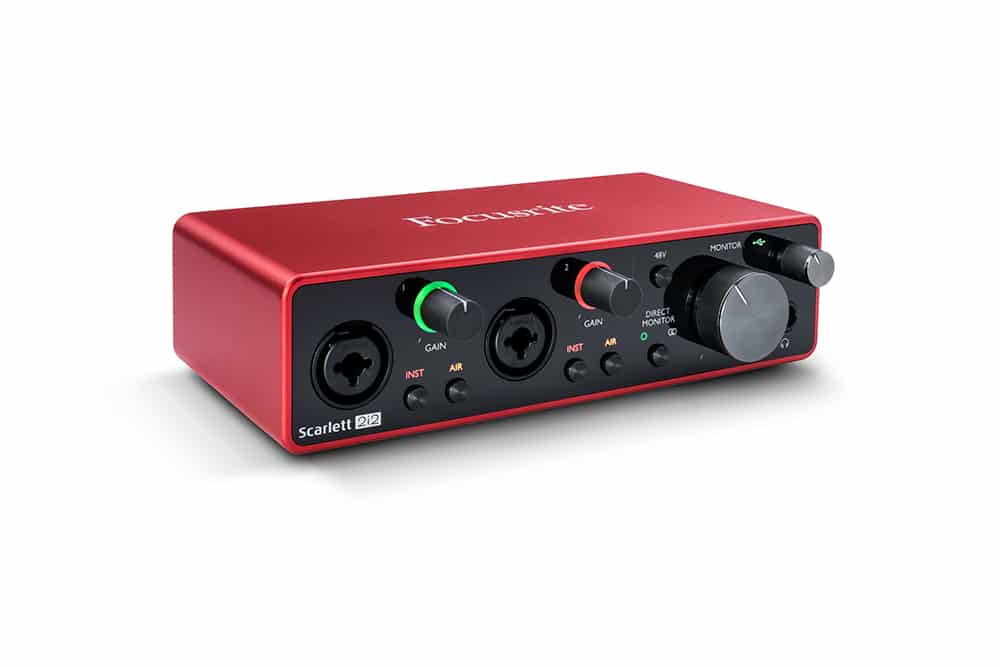 The Focusrite Scarlett has consistently been one of the frontrunners amongst home producers for the last decade, and there are great reasons why. Depending on your needs, you might get the 2i2 with 2 analogue inputs and 2 outputs or the 4i4 with four 4 analogue inputs and outputs and so forth.
Let's start with the build. The 3rd generation of the Scarlett series sports a great build quality with a metal enclosure, that iconic red finish, and knobs that feel really high-quality with textured indented finishes.
Adjusting the monitor and headphone volume knobs feels satisfying and premium, especially for an interface at this price point. The sturdy metal enclosure just makes it feel solid and dependable as well - you can toss it in your backpack while on the go and not worry about it.
Focusrite's most popular audio interphase is bus-powered via USB or thunderbolt, meaning that there's no need for an external power source. Now, if you know you're going to be on the go, having a bus-powered interface will prove to be worthwhile. Even if you just prefer having a sleek setup(I'm a stickler for good cable management), then a bus-powered audio interface is good to consider.
As a home producer, you might wonder if there are any drawbacks to having your audio interface only powered by USB or thunderbolt. The good news is that the 5V power supplied by your cable to your laptop is more than enough to supply your interface.
The only real reason why certain interfaces are wall-powered is that they might have more inputs and outputs, and therefore need to draw more power. Rest assured, though, that relying on bus power will still give you the ability to produce great music .
By purchasing the Focusrite Scarlett, you're going to get all the features that you need to have for world-class productions. The 48V phantom power is perfectly suitable for all condenser microphones, and the combo XLR-TRS input makes it perfect for singer-songwriters.
What's unique about the Scarlett series is the aptly-named Air mode. Focusrite describes it as adding an extra "shine" to vocals, and as a home producer, you can think of it as adding a little bit of extra accentuation on the high-end of whatever audio you're recording.
The Air mode is an emulation of Focusrite's ISA110 mic preamp, found on the classic studio console. It's a cool feature to test out, and the team at Focusrite guarantees no latency when using it for recording.
The Focusrite Scarlett beats almost every interface on this list, is with bundled software. You get Ableton Live Lite and three plug-in packages that include Focusrite's Plug-in Collective, Softube's Time and Tone Bundle and the Focusrite Red Plug-In Suite.
Price: 159€, More info
Behringer U-Phoria UMC Series - Best Budget USB Audio Interface
If you're looking for a reliable workhorse at a reasonable price point, Behringer's UMC202HD or UMC404HD are great to consider as a home producer. It's impressive how many useful features Behringer has packed into this inexpensive audio interface. Radio-ready music and premium-sounding podcasts and voiceovers are guaranteed.
Let's start with the build quality. The metal chassis makes for a durable and trusty feel, but there are some aspects that are reminders that this is definitely a budget audio interface. For starters, the plastic gain and master volume knobs aren't quite as satisfying to the touch as on the Focusrite.
From a design perspective, I find that the separation of the gain knobs from their individual inputs can take some getting used to. This is, of course, a personal preference - but I find that I have a much better experience with the adjacent or perpendicular pairing of gain knobs and inputs, so perhaps that's something to be aware of in making your decision too.
The Behringer UMC series certainly doesn't lack a host of great features, though. Supporting a sampling rate of up to 192kHz and a 110db dynamic range, you get the full wheelhouse that you need to cover all aspects of home recording.
You can easily toggle between instrument-level inputs and line-level inputs with the buttons on the front of the audio interface. The pad button lowers the recording level by 20 decibels so that you can harness even more decibels.
The 48V phantom power switch is on the back of the interface, so don't feel shy to put the Behringer UMC through its paces with any condenser microphone. This audio interface can handle pretty much whatever you throw at it.
There are two main LED indicators on the UMC202HD and UMC404HD. The first one is a basic signal indicator for each input, and the second indicator is so that you have an idea when the audio is clipping.
One helpful indicator that we'd love to see on the next refresh of this series, is some kind of meter indicator so that you can check the levels of your audio. Nonetheless, you can do that in your DAW so it's not a total dealbreaker for us.
We'd also love to see Behringer work in some bonus value with the purchase of this interface. A free sample pack or VST definitely wouldn't hurt when it comes to sweetening the deal - especially when you consider that most budget audio interfaces come with something extra.
Overall, we think that if you're going for this low price point - the Behringer UMC series is the best option for you to consider.
Price: 165€, More info
SSL 2+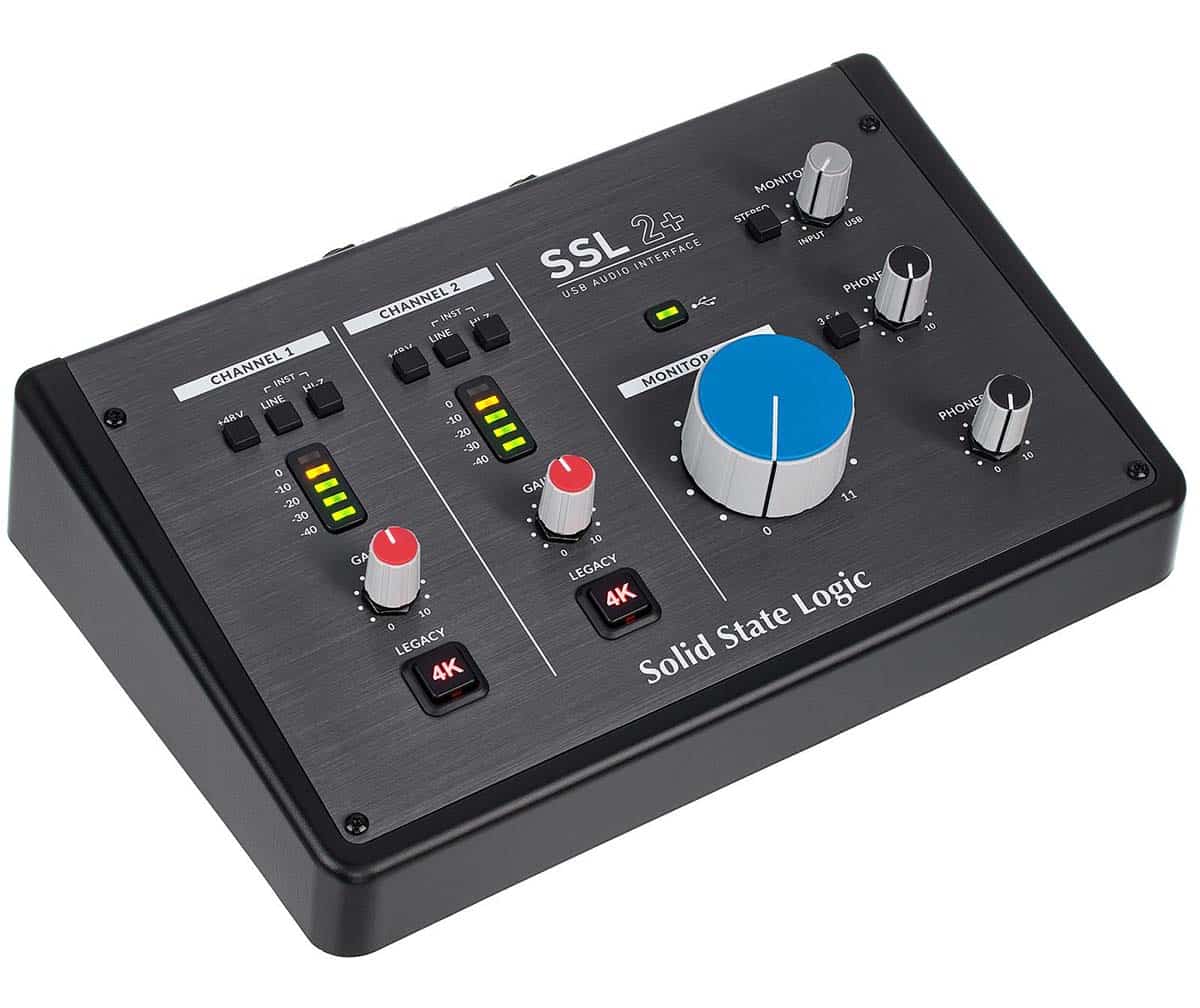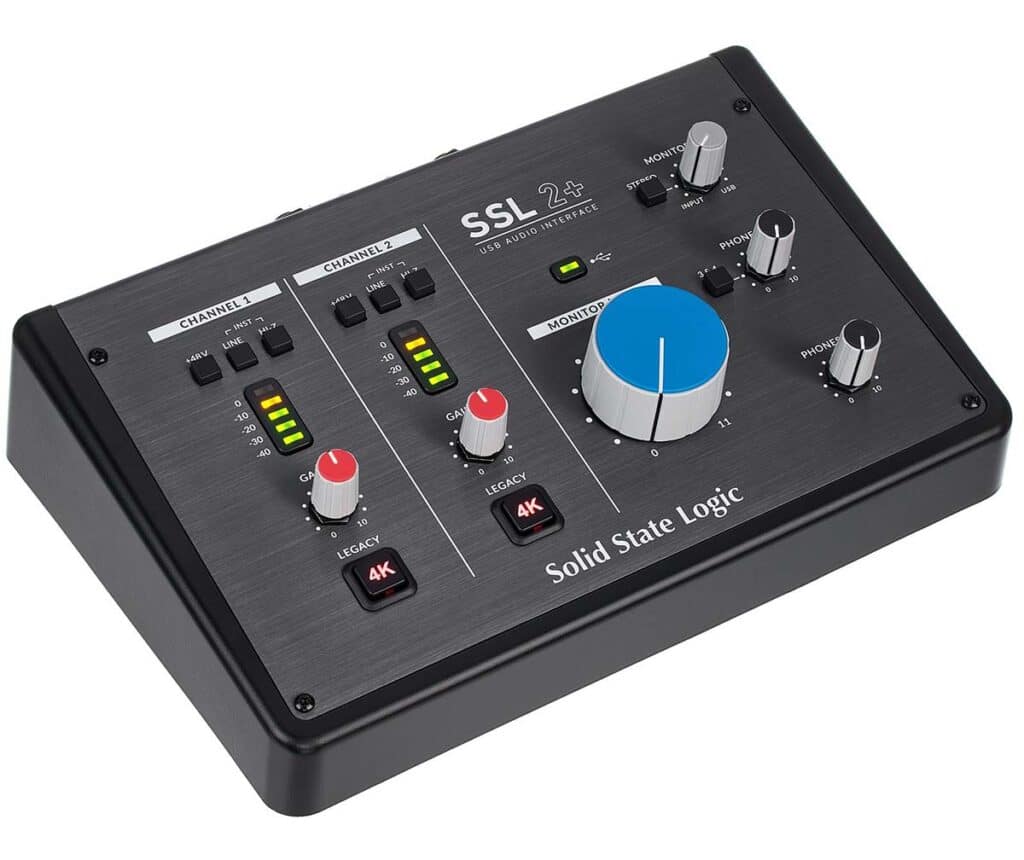 Has the iconic Solid State Logic finally made a genuine attempt at creating an accessible consumer product with the SSL 2+ USB-Audio Interface? We think so! This 2-in, 4-out interface is bursting at the seams with high-quality features that will help your home studio production sound professional.
Build quality on the SSL2+ is decent, although it's not a frontrunner among affordable audio interfaces, and it could certainly be better at this price point. The unit is housed in a plastic shell, with a metal face, and still gives a durable feel.
The knobs are steady, although there is a tiny bit of wobble in them if you're really trying to be picky. Overall, at this price, the build quality on the SSL2+ is still great! Not to mention, the aesthetics of this interface are appealing too, with SSL's classic blue and red accents. It just looks professional.
As a home studio producer, you won't be left missing anything as far as connectivity here either. The SSL2+ features 2 inputs, 4 outputs, a MIDI I/O, and even dual RCA inputs. They've really left nothing to chance.
Some people might be fans of how all the inputs and outputs are on the back of the device, giving you the opportunity to have a clean and sleek cable setup. Many interfaces leave some ports on the front, and some on the back - which can get messy.
The recording quality on the SSL2+ audio interface is as premium as you'd expect from a company that is a well-established frontrunner in world-class audio equipment. You can sample at up to 192KHz and 24-bits. There's nothing you're missing out on here at all.
What's really interesting is the "4k" button which Solid State Logic claims will add openness at higher frequencies and that signature SSL touch at a much more affordable price. A simple toggle of the button on and off and you can tell that it definitely adds an extra shimmer that many will enjoy.
Price: 259€, More info
Universal Audio Volt Series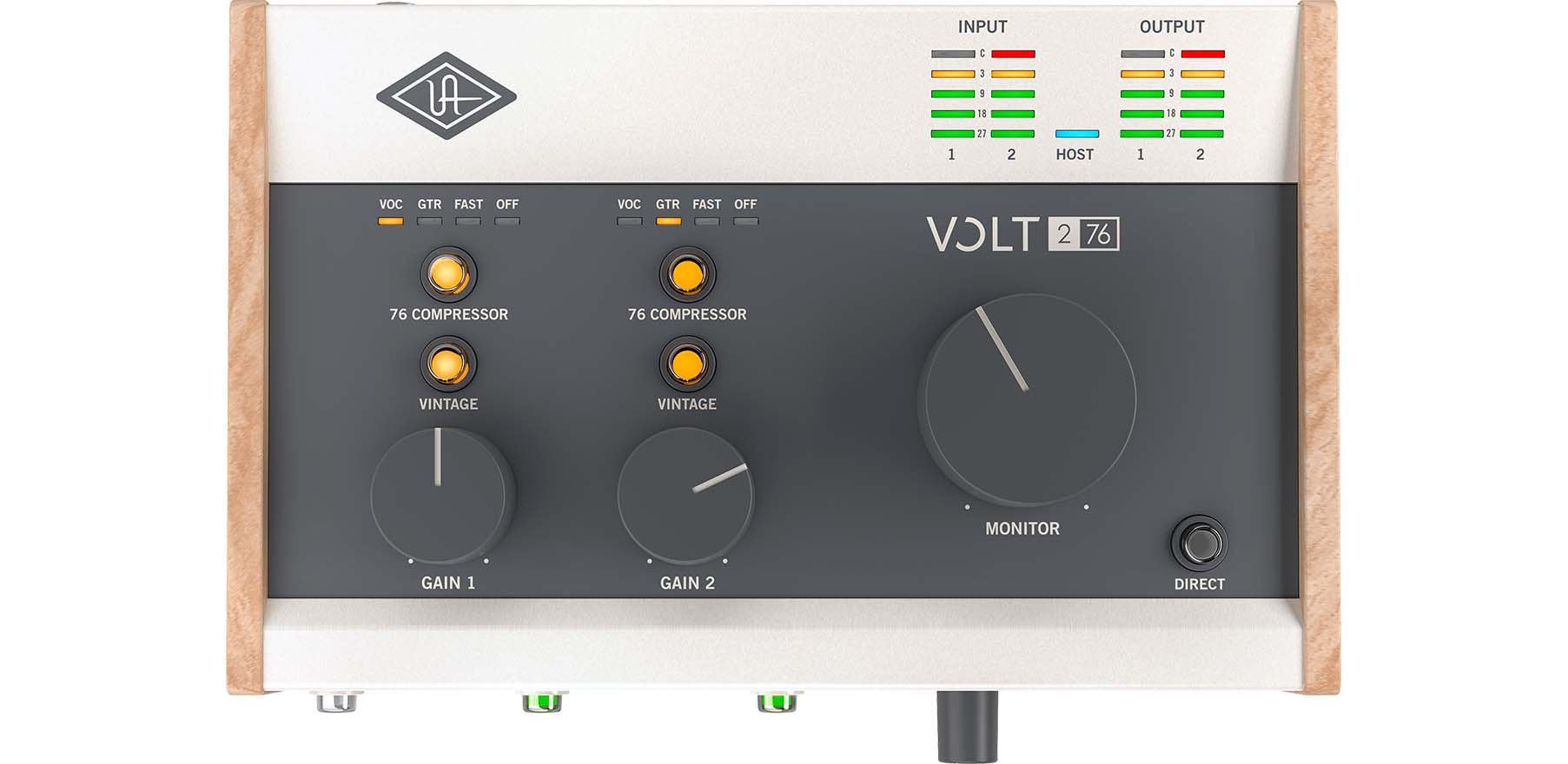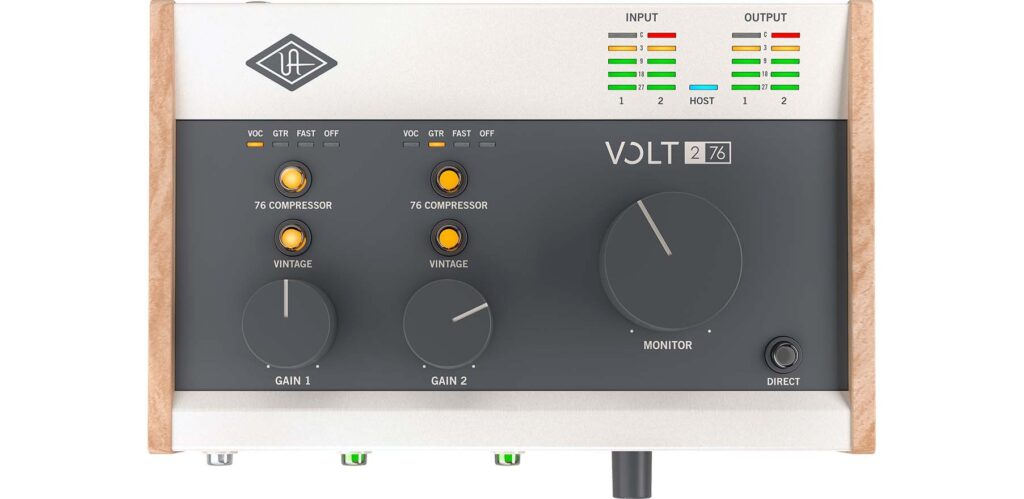 Universal Audio, another well-known player in the audio game has also recently ventured into the home studio production market, and their V176 and V276 audio interfaces have helped them hit the ground running.
Although a far cry from their heavy-duty, DSP-driven gear, the Volt series still comes with considerable features that make a hit record possible from your bedroom.
The wooden panels on the side are an aesthetic dream, and the audio interface feels sturdy and premium overall - despite plastic knobs for gain and volume. Everything feels sturdy and pleasant to the touch.
Two features that are the most exciting about the Volt series audio interfaces are the Vintage Pre-amp and 76 compressor which add a very noticeable distinct feel to your audio due to the real analogue circuits used for their implementation.
There's a surprising level of variability with each of these analogue circuits. The 76 compressor gives you the feel of Universal Audio's 1176 compressor, and you can cycle between presets for Vocals, Guitar, Fast, or Off compression by clicking the button.
The Vintage pre-amp option opens up the high-end, adding warmth and giving you the feel of Universal Audio's iconic 610 pre-amp. Just toggle this setting on and off and it'll immediately highlight the obvious change in feel that you can get by running your vocal through this pre-amp.
Price: 286€, More info
Rode Rodecaster Pro II - Best Audio Interface for Podcasters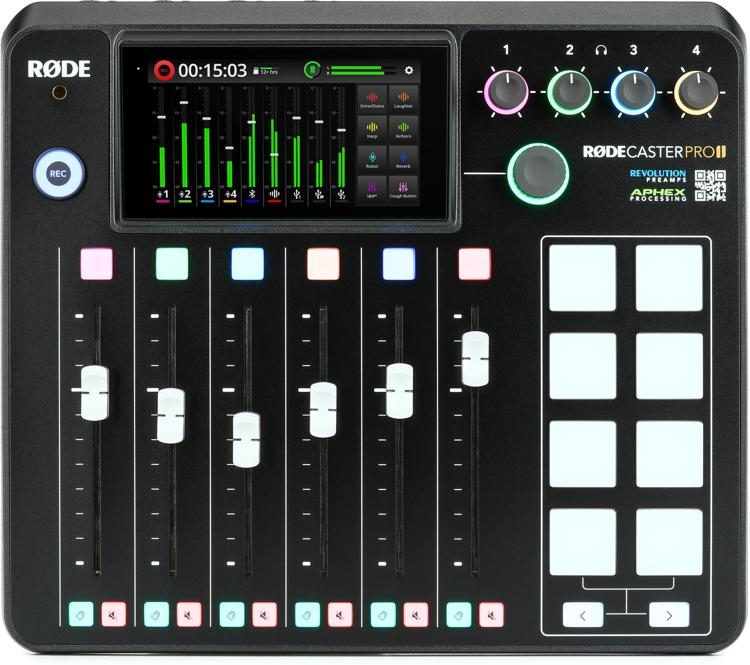 "Integrated Audio Production Studio," that's how Rode refers to this seemingly all-in-one solution for podcasters, musicians, content creators, and producers alike. Although on the more premium end of offerings on this list, it might be the consolidated solution that could meet all your needs as a home producer.
The Rodecaster Pro II is definitely designed with podcasters and digital radio hosts as the main target audience. It's essentially a broadcast console, neatly packed into a surprisingly compact form factor.
As far as hardware features, the Rode interface comes chalked full of them! You get 6 customizable and mappable sliders, 4 combination XLR-TRS inputs, each supporting 48V phantom power, and 4 headphone outputs which each have their own volume controls. You also get two line-level outputs for your studio monitors.
Of course, we can't glance over this phenomenal 5.5-inch touchscreen display, which packs in a pretty high resolution and allows for interaction with an onboard computer with which you can program an array of features.
With the Rodecaster Pro II, you also get onboard software features that can process vocals and emulate high-end Rodes hardware. Processing your signal directly through this desk can save you precious CPU power on your computer.
The most exciting feature for us, on this Rode audio interface, is what they call the "smart pads". These are 8 programmable, mappable pads that can be used to control various sounds, voice effects, and even automation in your workflow.
Our critique is that there's only 512MB of onboard storage on the Rodecaster Pro II, so all our ideas of meaningfully testing this device out as a standalone live performance loop station are realistically out the window. Although you can connect external storage, it would be even better to have a self-contained solution for a more efficient workflow.
There's a lot that Rode has packed into this device. It's really the perfect mixing desk for podcasters and radio show hosts, but it's easily a lot more than a bedroom producer needs in order to put out a great track. If you're just producing music? You can save your money!
Price: 739€, More info
Audient ID4 MK2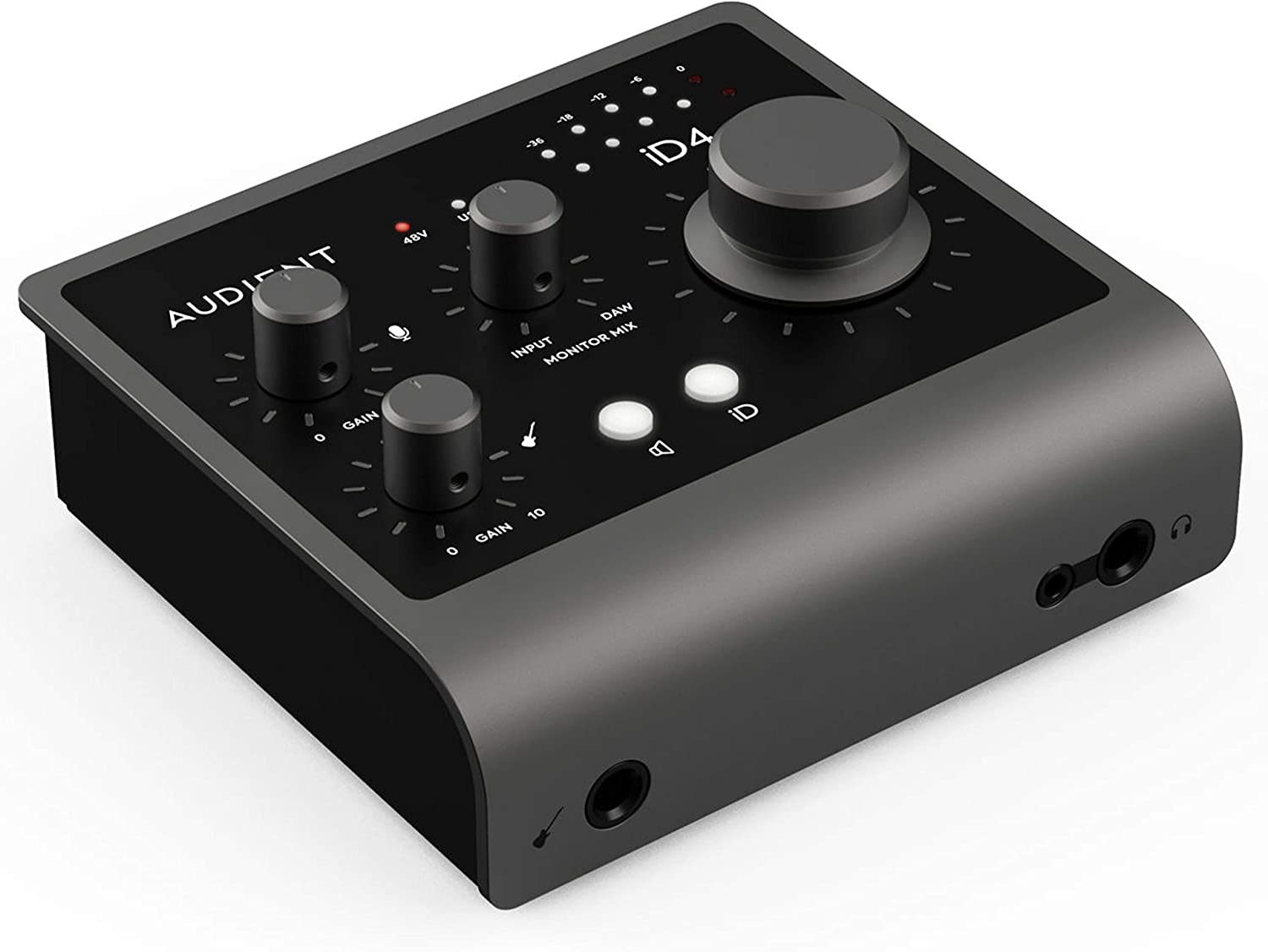 Is the Audient ID4 MK2 one of the best budget audio interfaces on the market? We think there's good reason to believe that's the case. The compact design means it'll make for a seamless addition to your desktop setup, and it's packed with every feature you need in a quality budget audio interface.
The build quality on this device is sturdy and feels premium with its metal enclosure. One combo XLR-TRS input with 48 V phantom power is good for recording your vocals but sadly only at a 96 kHz sample rate. You also get a line-level input upfront to plug in your guitar.
Where the iD4 MK2 is really a cut above every other interface at this price point is the preamps. These are the best preamps that you can get on a budget audio interface, and this alone is enough to believe you're getting value for money.
The preamps offer crisp and neutral recording capabilities, and Audient didn't skimp on hardware by any means here - as they're the same preamps found on their astonishingly good ASP8024 recording console. This alone is a very good reason to buy this audio interface.
Two aspects left us feeling a little let down with this interface. We wished the added software bundle was a little more weighty, and we also didn't like the fact that the master volume knob isn't a rotary knob. It clicks to predetermined levels - this can affect your production experience.
Price: 139€, More info
The 8 Best Audio Interfaces in 2022 - Thunderbolt Interfaces
Universal Audio Apollo Twin X Duo - Best Thunderbolt Audio Interface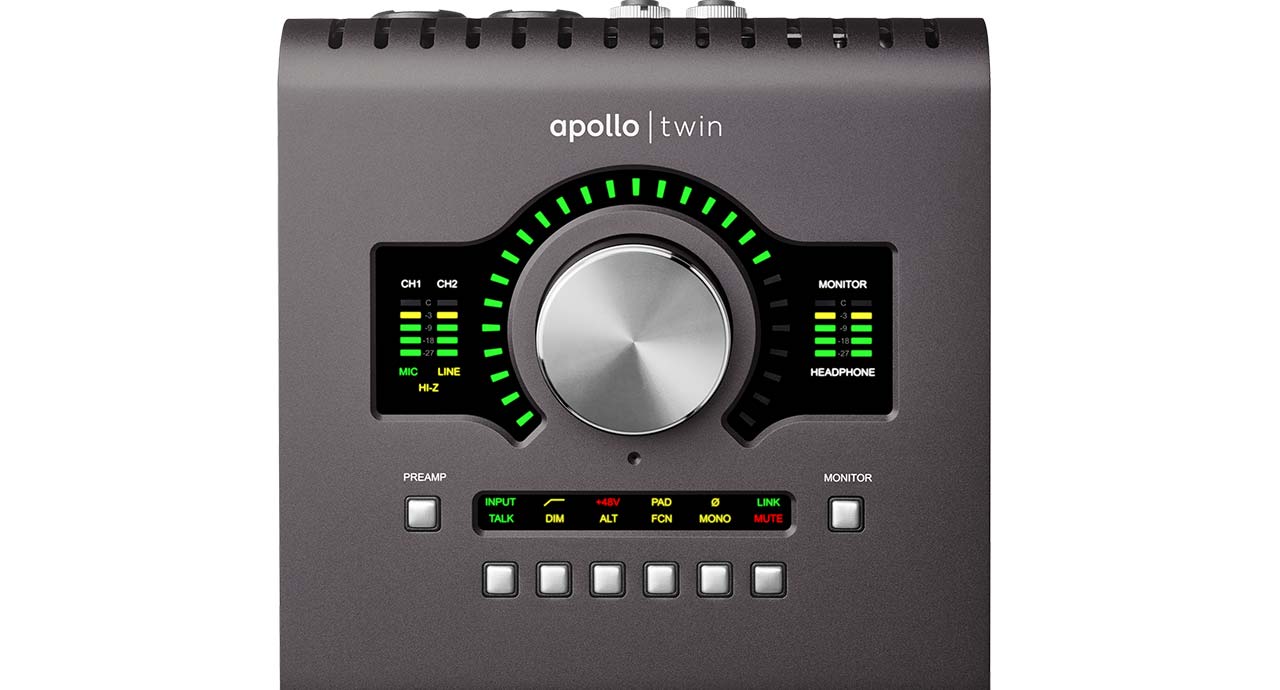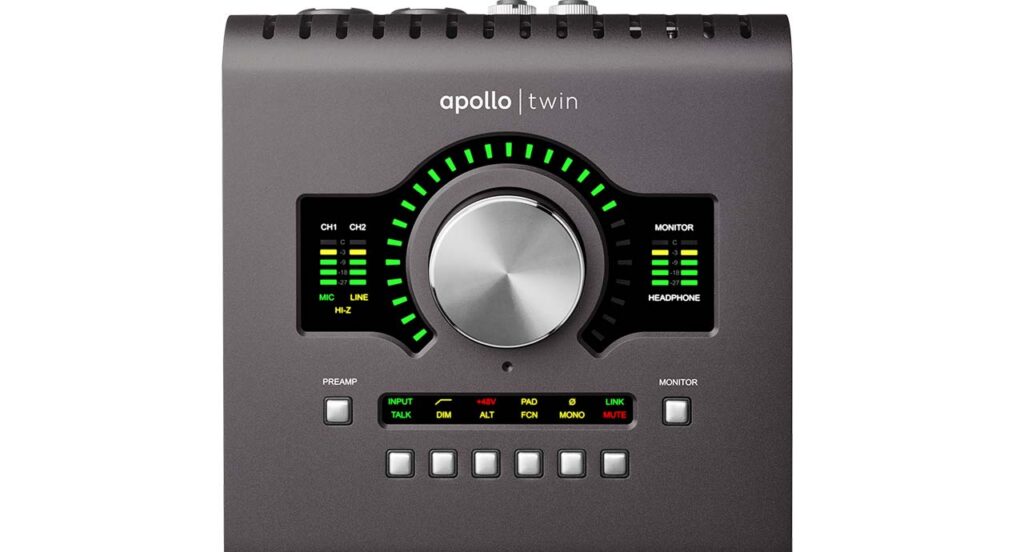 Although it comes in at a pretty penny, Universal Audio's Apollo series could surely be worthwhile for the right home studio producer. Onboard Digital Signal Processing, masterful preamps, and mouthwatering plugin bundles make this audio interface worth considering if you've got the budget.
The build feels weighty, durable, and premium. You can throw this unit in your backpack without care. Of course, it wouldn't be an Apollo review if we didn't mention the big shiny knob - it really is the cherry on top of a slick design.
This can optionally control the volume of the preamplifier or the audio output.
An issue you might encounter with budget interfaces is a level of latency when it comes to recording vocals or instruments. The Apollo Twin series is immune to this issue due to the onboard Digital Signal Processing(DSP).
The DSP essentially processes the audio signal right inside the device before sending it into your DAW - reducing latency to virtually zero. That's another perk on top of already remarkable audio quality - which is thanks to the Unison preamps built into this interface.
On top of reducing latency, the DSP box allows you to use the free UAD-2 plugins that you get bundled in when you purchase the Apollo Twin Duo MkII.
Anybody who's a fan of Universal Audio knows that their Unison plugins are world-class and very popular in the industry. So the fact that you get the UA 610-B, the UA 610-A, and the API Vision(to name a few) is more than enough to sweeten the deal.
With regards to the basics, the Apollo Twin MkII comes with two analogue inputs, six analogue outputs, digital connectivity through an Optical Toslink, and is connectable through Thunderbolt to your computer. Unfortunately, it isn't bus-powered, so you'll still need a wall socket to get this beautiful machine going.
Price: 949€, More info
PreSonus Quantum 2626 - Affordable Thunderbolt audio interface with many channels

When this piece of gear was released, it was dubbed "The fastest thunderbolt interface on the planet" by Sound on Sound. That's what PreSonus is betting on - reducing latencies to a point where you don't even need an onboard DSP mixer to match the speeds of the Apollo Twin MkII.
The Quantum 2626 sports eight hybrid XLR-TRS inputs on the front, backed by Class A XMAX mic preamps, and all with 48 V phantom power, of course. Two headphone jacks on the front panel allow for monitoring separate mixes.
You also get MIDI I/O, SPDIF I/O, 16 channels of ADAT optical, and the eight-line outputs are balanced. Everything you need to drive a world-class bedroom setup is included in this Quantum audio interface.
In terms of bundled software, PreSonus throws in StudioOne for Mac and PC and the StudioMagic bundled plugins, VSTs, sample packs, and loops. Considering that the Quantum 2626 already comes in at a very reasonable price, the extra value makes it almost a no-brainer if it aligns with your needs.
Price: 589€, More info