Drum machines are of particular interest to EDM and hip-hop producers because they allow you to create unique drum sounds, unlike sample packs or presets. Especially if you like to experiment, a good drum machine opens up a lot of possibilities.
History of Drum Machines
The history of drum machines dates back to the early 1930s, when the first electronic rhythm machines were invented. These early machines, such as the Rhythmicon and Chamberlin Rhythmate, were designed to create complex rhythms using oscillators and pre-recorded tapes.
Originally, they were designed to give musicians a rhythmic foundation to practise on. But soon musicians realised their potential and started recording entire songs with them, making drum machines increasingly popular.
In the 1970s, Roland Corporation launched the TR-808, one of the most influential drum machines of all time. It revolutionised the music world and over time became a legend among producers, enjoying cult status today. The TR-808 had a built-in sequencer, a wealth of programmable rhythms and a unique analogue sound that was used in countless hits. Here you can read the full article about the famous 808.
As technology has advanced, drum machines have become more powerful and versatile. Today's drum machines can simulate every conceivable drum sound and offer extensive additional functions such as sampling, looping and real-time control.
They have had a huge impact on music over the years and are still an important part of electronic music production today - just think of genres like techno, EDM or hip hop, or artists like Kraftwerk, Kanye West or Michael Jackson. Their sound was heavily influenced by drum machines like Roland's TR-808 and TR-909.
What is a drum machine?
A drum machine, also known as a drum computer, is a series of packaged synthesizers, based on either samples or oscillators, specifically designed to create drum sounds. There are usually 1 to 6 parameters per oscillator, such as pitch, decay, attack or distortion, which can be adjusted to shape the sound.
Usually a step sequencer with chaser programming is built in, allowing complex drum patterns to be created, and is usually synchronized to the DAW via USB. It's like having a piano roll that's always open, but designed specifically for drum patterns.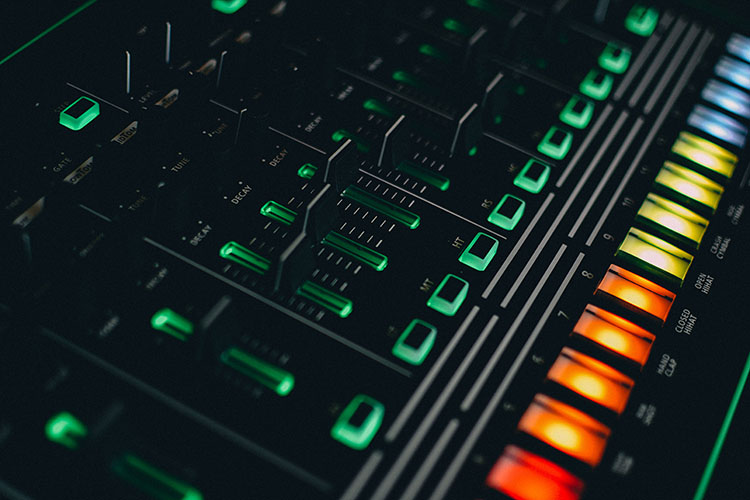 Many drum machines have MIDI inputs, so they can also be controlled by external MIDI controllers, e-drumsets or drum pads - so modern drum machines can be played like a normal drum kit.
Originally, all drum machines used oscillators, but nowadays there are also sample-based drum machines. These are more flexible because you can load any external samples you like. However, the sounds are not as unique as when you create them yourself from scratch.
Why do you need a drum machine if you already have a DAW?
A more than justified question that is quickly answered: You don't need to! Because everything that used to be possible only with drum machines can now also be done with a DAW. Drum machines are more of a luxury to expand your sound palette and/or improve your workflow.
This is because many producers prefer to work with drum machines rather than the piano roll of a DAW when creating drum patterns, simply because you get a better feel for the instrument using your fingers rather than a mouse.
And programming drum patterns is much faster on a drum machine than on a DAW, if you have enough experience. Ultimately, though, it comes down to a matter of taste and budget, because a drum machine, like anything else, costs money.
Drum machines are also very interesting for live performances and are very popular among DJs to have more control over the beat during live performances. For solo musicians, it is a wonderful and reliable alternative to laptop + DAW, especially if the laptop is not very powerful and there is a risk of crashing live.
The Best Drum Machines in 2023
Roland TR-8S: Best drum machine for lovers of Roland classics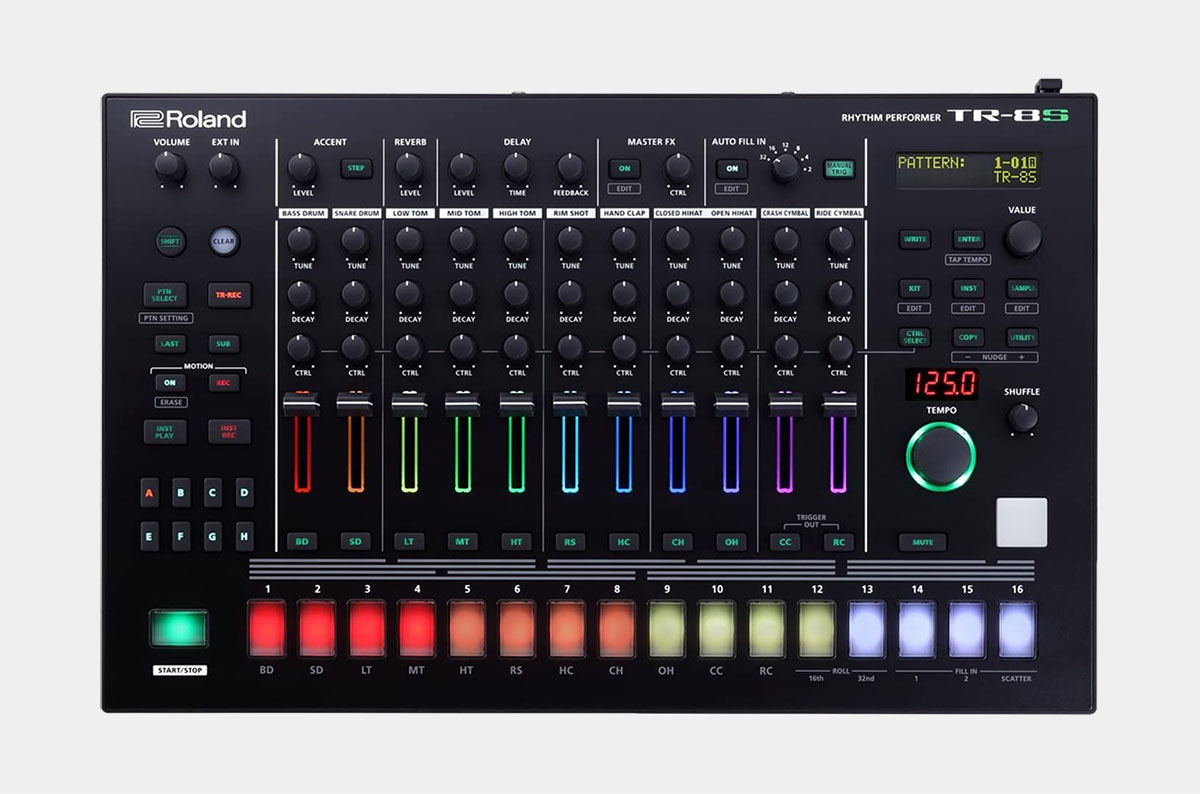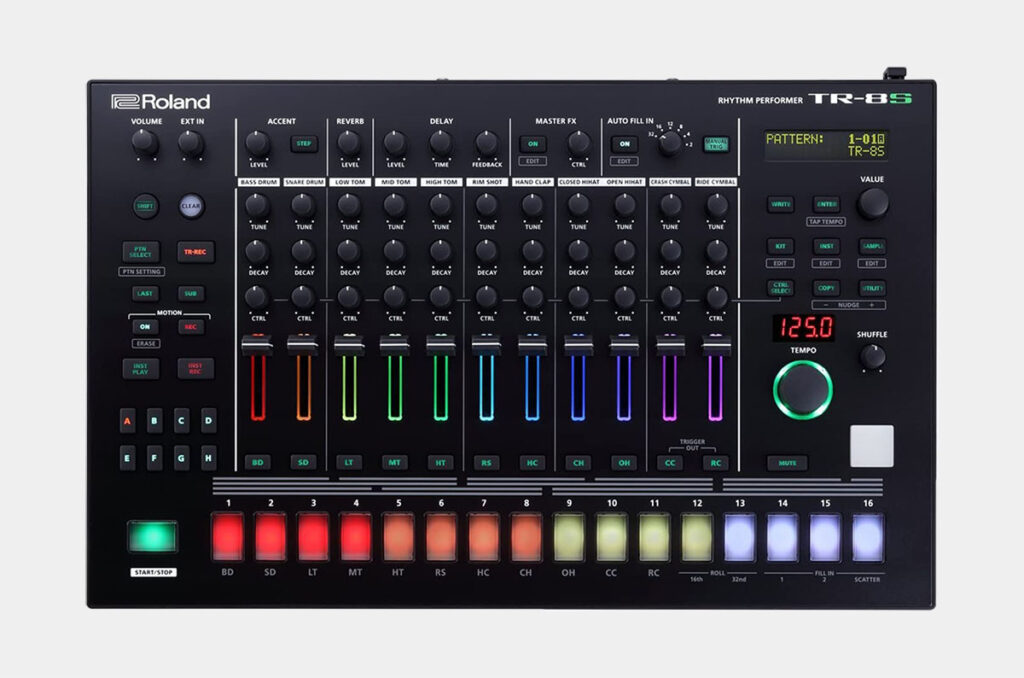 The TR-8S is one of Roland's flagship sample-based models. It is equipped with the original TR-808 and TR-909 samples, recorded in very high quality and sounding exactly like the originals - as you would expect from Roland. It is the best modern replacement for the classic 808 and 909 machines of the 70s and 80s.
A total of 300 samples are pre-loaded and can be combined in any way. This allows you to create different sample layers and adjust the volume of each. There is also an SD card slot for importing your own samples. There are also effects such as delay, reverb and various filters to further refine each sound - a tinkerer's dream.
The TR-8S also has a powerful sequencer that makes it easy to program complex rhythms and patterns. The sequencer can store up to 128 patterns, 8 variations and 3 fills per pattern, and can be controlled in real time via the TR-8S's pads or an external MIDI controller.
It can also be used as an audio interface, with 10 analogue outputs and a stereo input. The various analogue outputs also allow you to record in multichannel, which is essential for a good mix.
This drum machine is really well thought out and in my opinion one of Roland's best products in recent years. I can recommend it to anyone who has the budget, especially if you like the classic Roland TR-808 and TR-909 sounds.
Price: 666€, Link: Thomann
Behringer RD-8 MKII: Best drum machine for hip-hop producers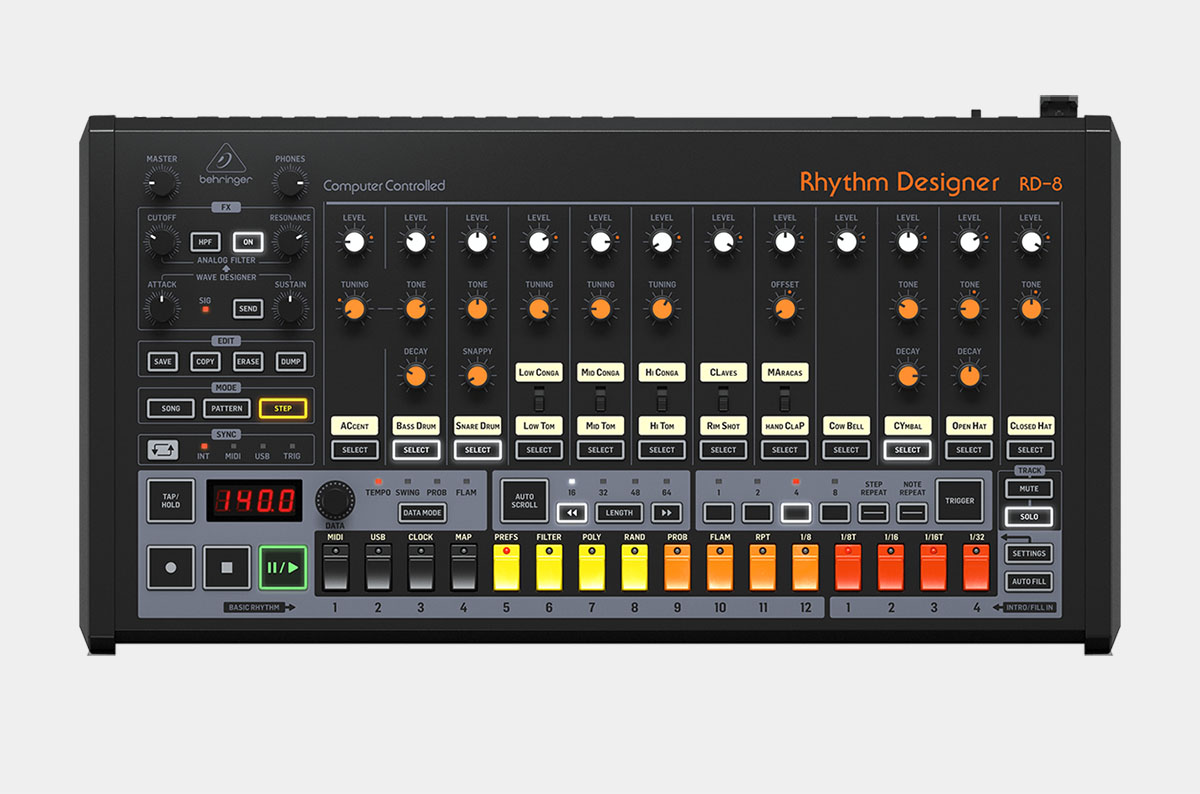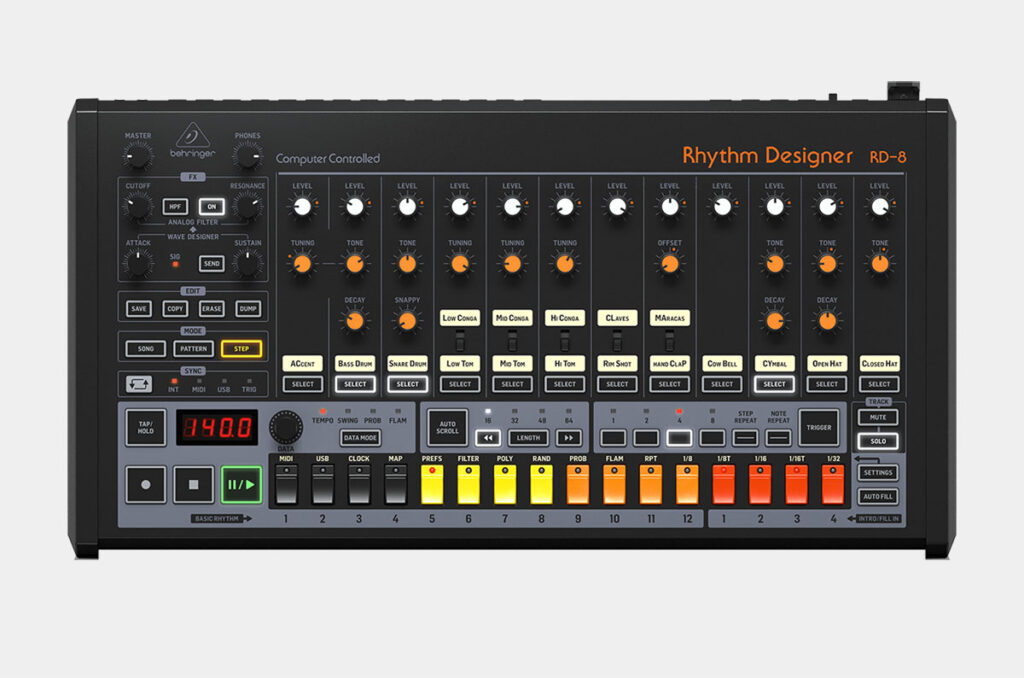 Behringer is now known for offering many replicas of well-known analogue synthesizers at incredible prices, and the RD-8 is no exception. It is almost 1:1 in design with the original Roland TR-808 and sounds almost identical, but costs just under €350 - about 5% of what the original TR-808 costs today.
This fully analog drum machine sounds as fat and punchy as the original. It offers the same functions, but is equipped with modern features such as USB and MIDI. I find this particularly useful for syncing the DAW with the drum machine, which is not possible with the classic TR-808.
There are 16 drum sounds in total, including kick, snare, toms, clap, cowbell, cymbal, hi-hat, maracas, rimshot, claves, tambourine, conga and accent. Each sound can be fine-tuned with various parameters such as tune, decay, attack and accent.
This drum machine also features a 64-step sequencer that can be programmed in real time or step-by-step, as well as editing functions such as shuffle, flam (multi-trigger) and roll. Other features include individual outputs for each drum sound and a built-in distortion effect.
The great thing about analog drum machines is that they're easy to use - there are no complicated menus, every knob has a clear function and is always in the right place. And despite its low price, it is extremely well-made - the knobs are heavy, the sequencer steps and rubber buttons feel high quality.
A great extra is the Tone control for the bass drum, which allows you to pitch the sound - making it easy to create 808 basses with a long decay that can be tuned to the key of the song. It works a bit like a bass synthesizer, especially for hip-hop. Just put the accent on the bass drum and turn up the decay and it sounds like a bass.
You could say that Behringer did us producers the favor that Roland somehow refused us: a fully analog drum machine based on the legendary TR-808, but with modern features. And at a very reasonable price.
Price: 349€, Link: Thomann
Arturia DrumBrute Impact: Best drum machine for finger drummers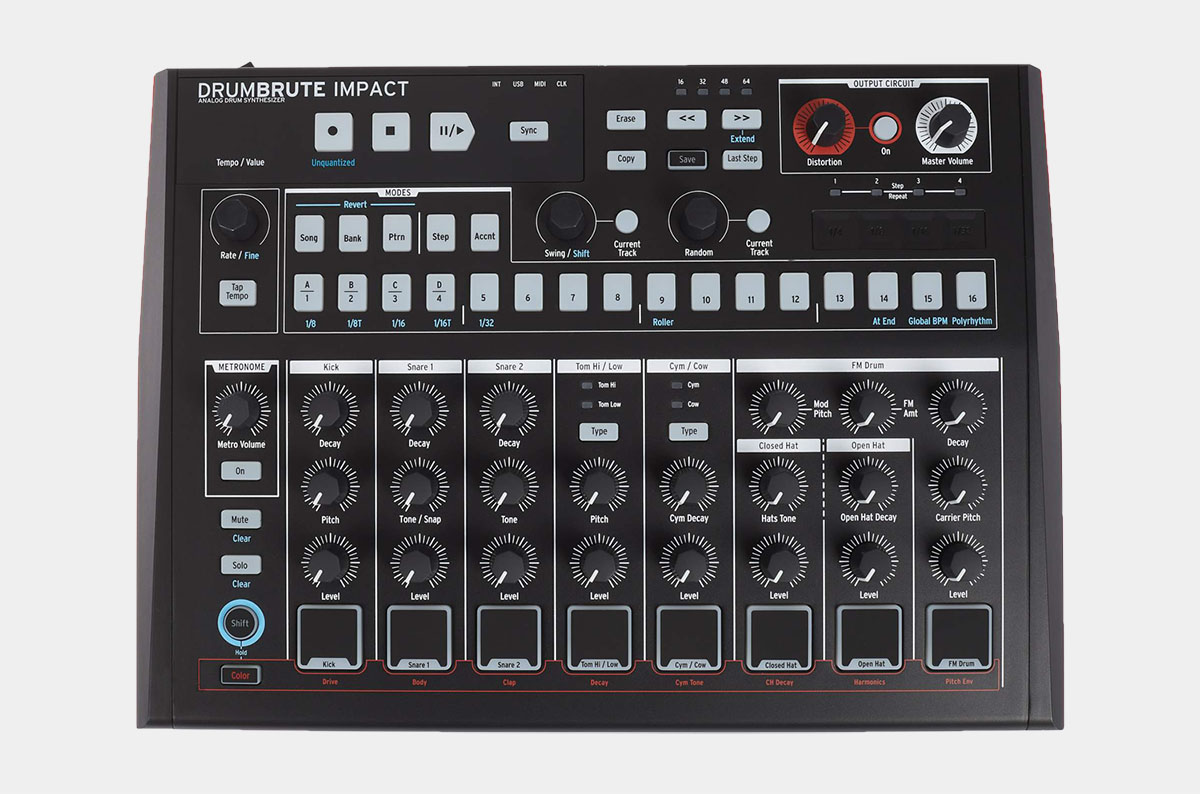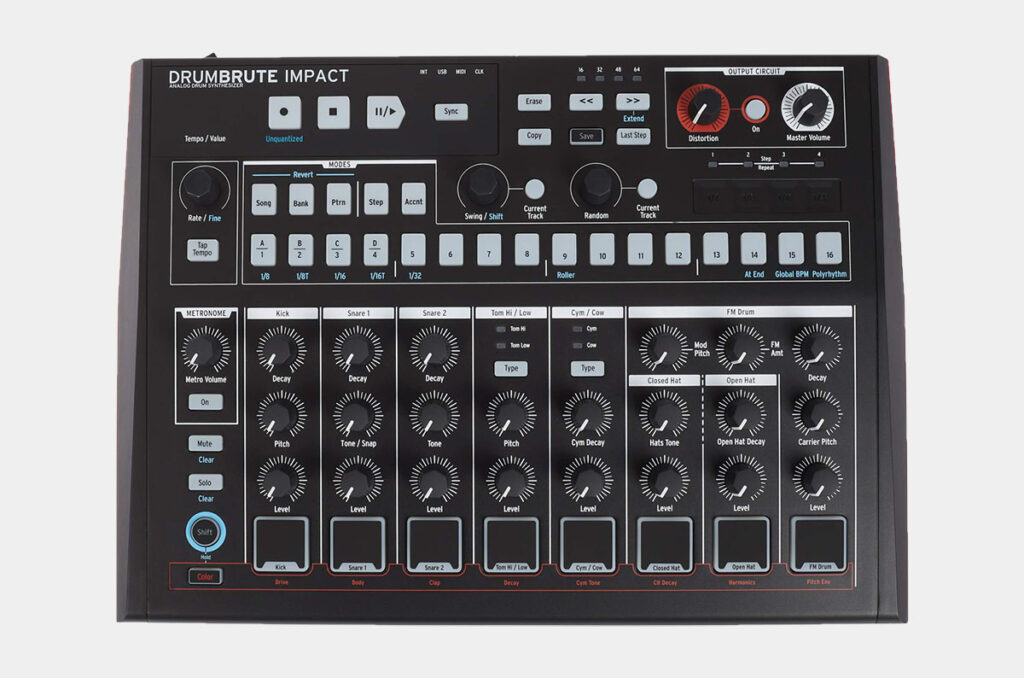 The Arturia DrumBrute Impact is a more affordable and compact version of the original Arturia DrumBrute that focuses on creating punchy and powerful drum sounds. It is 100% analogue, meaning that the sounds are created using synthesizers.
The DrumBrute Impact features 10 analogue drum sounds including kick, snare, clap, hi-hat and various percussion sounds. The drum sounds are aggressive and punchy, with plenty of controls to shape and manipulate the sound. It is not a replica of the Roland machines, but very independent in sound, with plenty of character.
The DrumBrute Impact's step sequencer offers 64 steps and the ability to chain patterns into longer sequences. Fills can be added to the sequence in real time using the handy drum pads, which is great for drummers and finger drummers.
It has some very useful extras, such as a built-in distortion effect and a 'color' control to further shape the sound. There is also a 'roll' function to create fast drum rolls and a 'random' control to vary the pattern. Very useful for adding some life to drum patterns.
A mix of modern and old school, this drum machine is truly unique and offers a lot for just under €280 - highly recommended for producers looking for an original and unique sound.
Price: 279€, Link: Thomann
Electron Syntact: Best melodic drum machine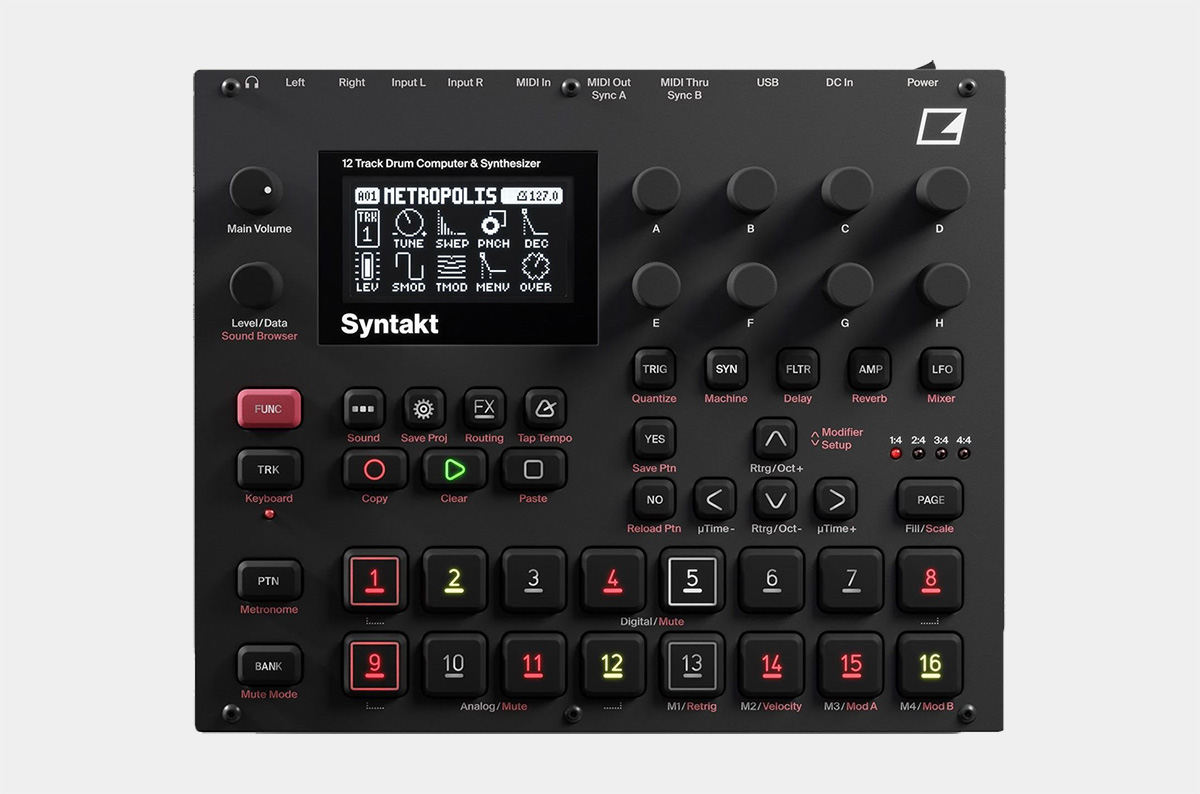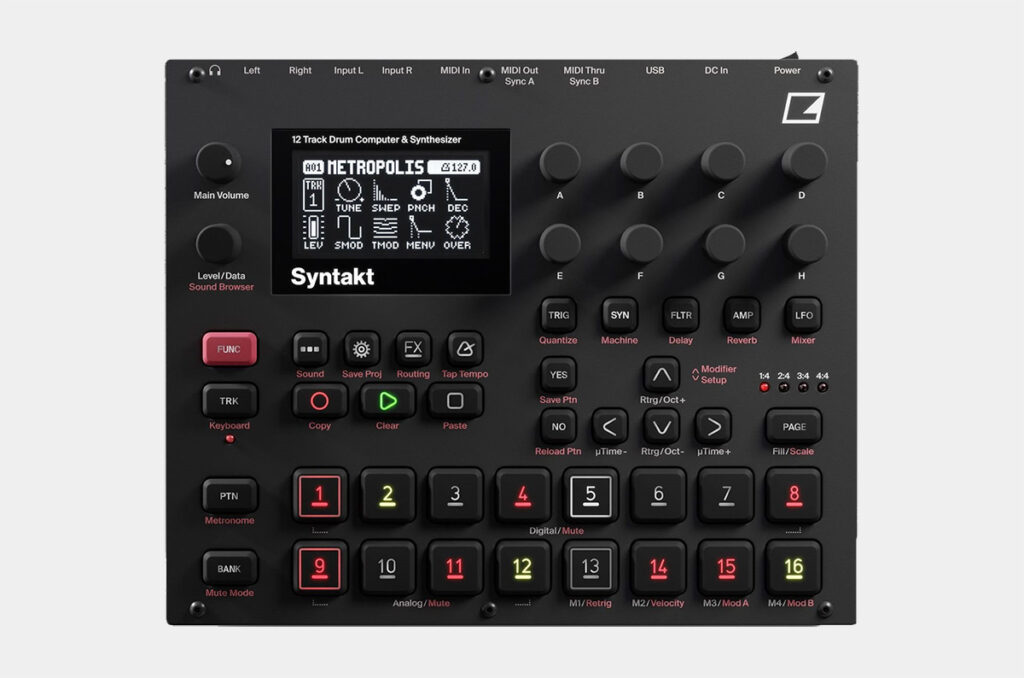 The Elektron Syntakt is a real beast! It is not only a great drum machine, but also a great synthesiser. This digital instrument is very versatile and perfect for producing electronic music.
The drum machine looks sleek and modern and is built to last. The front panel has plenty of buttons and knobs that feel and respond well. The high-resolution OLED display is also crystal clear and easy to read.
Now let's get to the important stuff - the features and the sound quality. The Elektron Syntakt has 12 different tracks for drum sounds:
8 digital tracks with a total of 11 sound engines (1x bass drum, 2x snare drum, 1x cymbal/hihat, 1x percussion, 1x clap, 5x tonal synths)
3 analog tracks with a total of 16 sound engines (6x bass drum, 4x snare drum, 2x rimshot, 2x tonal synths, 1x impulse, 1x noise generator)
1 analog cymbal track with 12 engines (5x hihat, 3x cymbal, 2x cowbell, 1x impulse, 1x noise generator)
There are also a variety of sound shaping options such as multi-mode filters, distortion and modulation. The sound quality is impressive - full, fat and punchy with a modern touch, perfect for producing electronic music in genres such as EDM, techno or house.
The drum machine is very easy to use and has a well thought-out and user-friendly interface. There are plenty of presets and templates to get you started, and the built-in sequencer is really impressive. It makes it easy to create crazy and complex patterns and sequences. There are also plenty of performance features such as swing, probability and parameter locking to bring your drum patterns to life.
The Elektron Syntakt also plays like a dream - it has almost no latency and is super fast, making it perfect for live performance. It also has MIDI and USB connections, so you can easily integrate it into your existing setup. And if you're into modular systems, it's also CV/Gate compatible.
So if you're looking for a high-quality, slightly offbeat drum machine that's easy to use and has a great sound, the Elektron Syntakt is definitely worth considering. At €979, it's not the cheapest, but it's a reasonable price for what it has to offer.
Price: 979€, Link: Thomann
Behringer RD-9: Best 909 clone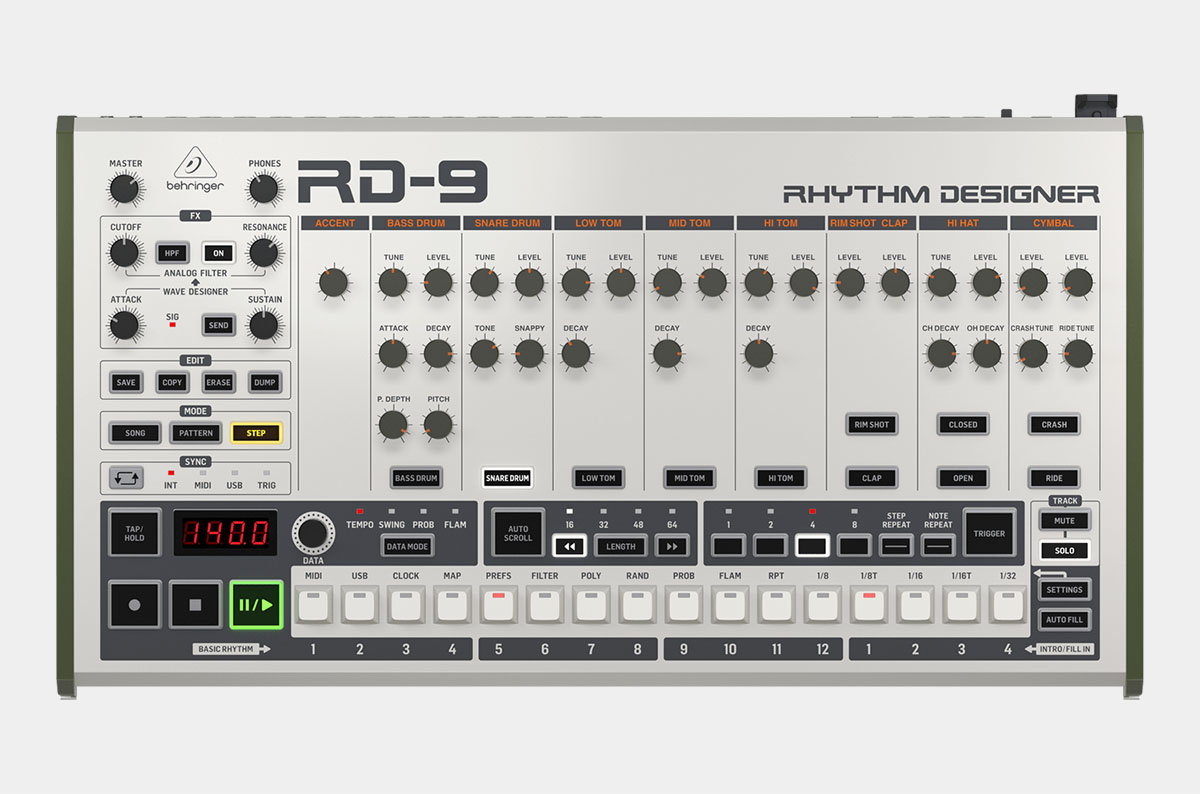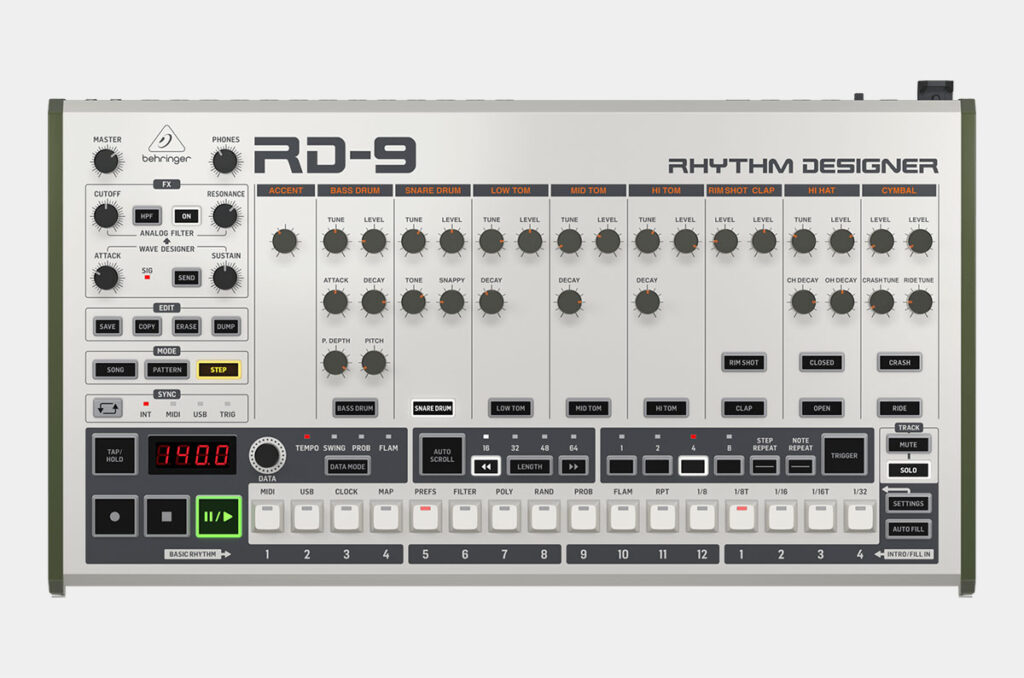 Once again, Behringer has recreated an absolute classic: The Behringer RD-9 is a drum machine that recreates the classic sound and design of the Roland TR-909 at an affordable price. The original TR-909 is a legendary drum machine that was used in countless hits and was the successor to the TR-808.
This drum machine has the same layout as the original Roland TR-909, with 16 drum sounds and a 16-step sequencer. The sounds are incredibly well reproduced and have the same character and punch as the original. The sequencer is easy to use and offers a lot of creative potential. You can program each step with velocity, flam and accent to create dynamic patterns. The RD-9 also has a shuffle function that lets you add groove to your beats.
It has a high quality finish: Despite its low price, the RD-9 has a sturdy metal casing that can withstand heavy use. The buttons and knobs feel solid and respond quickly, and the display is easy to read in low light.
The sound quality of the RD-9 is impressive. It has the punchy and precise character of the TR-909, the bass drum has a deep sub bass that makes the floor shake, while the snare drum sounds crisp and biting. The hi-hats are bright and tight, cutting through the mix with ease. The drum machine also has a special accent button that can be used to emphasize individual notes.
The RD-9 offers several connection options, including MIDI In/Out/Thru, USB and Sync In/Out. Each drum sound has its own analogue output, which is very useful when mixing. The RD-9 can be used as a stand-alone drum machine or synced to other devices such as a DAW, making it a versatile addition to any studio or live setup.
I can really recommend this drum machine to anyone who likes the classic pop drum sounds of the 80s or is generally looking for a vintage sound. For just over €350, it is the best drum machine in the range next to the RD-8.
Price: 355€, Link: Thomann
Korg Volca Drum: Best dynamic drum machine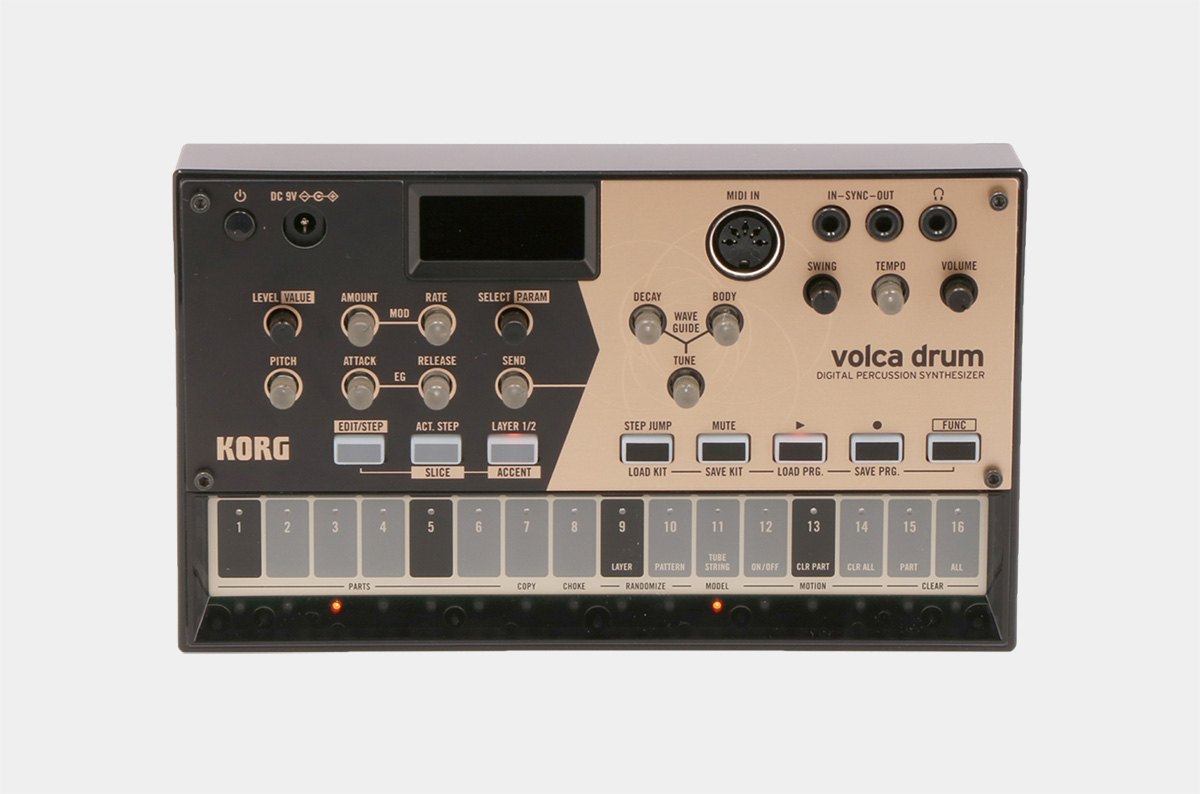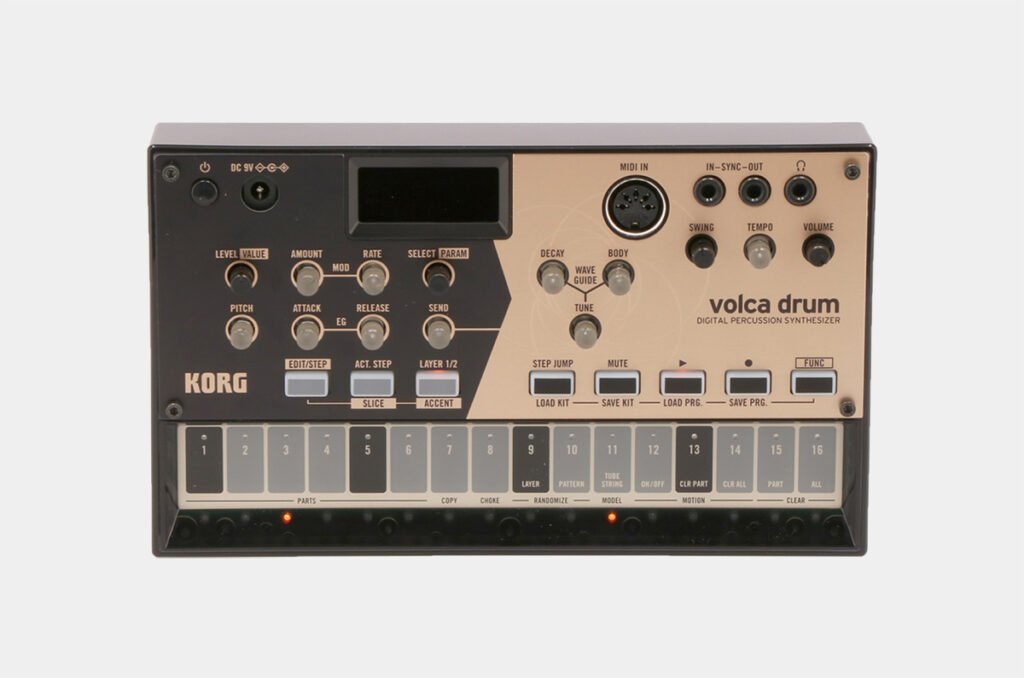 The Korg Volca Drum is a powerful and versatile drum machine, offering many sounds and features in a compact package. It is part of the popular Volca range of portable and affordable synthesizers, which are very popular with producers, and costs just €150.
This drum machine has six parts (i.e. slots for possible sounds), each with two layers that can be combined to create complex and unique sounds. The instrument offers several synthesis methods:
Oscillator synthesis
Waveguide resonators
Analogue modelling
Each layer can be assigned a different sound, and two layers can be combined to create a completely new drum sound.
Korg's compact drum machine also features a built-in 16-step sequencer with motion sequencing for dynamic and evolving patterns. Motion Sequencing is a function that records and integrates sonic changes that occur when parameters are changed during playback - a kind of "automation write" familiar from the DAW.
The Volca Drum has a robust plastic housing that withstands frequent use and transport. The knobs and controls feel good in the hand and respond quickly. The instrument is lightweight, small, portable and can run on batteries, making it the ideal choice for live performances or making music on the go - and it's less than half the size of the Behringer RD-8 or RD-9.
Sonically, the Volca Drum is very original and offers a wide range of percussive sounds, from delicate to really powerful. The ability to layer sounds and process them using different synthesis methods is ingenious and offers endless sonic possibilities. Built-in effects such as reverb and bit crusher add character and depth to the sounds.
This drum machine doesn't offer as many connectivity options as larger machines, but given the price, that's understandable. A MIDI input, 3.5mm headphone output and Sync IN/Sync OUT are all you get - but that's enough to sync it up with your DAW or other Korg gear.
For less than €150, this drum machine is incredibly good, especially if you like to experiment and tinker with sounds - with 3 different and combinable synthesis methods, this drum machine knows no limits when it comes to sound design.
Price: 139€, Link: Thomann
Roland TR-08: Best portable drum machine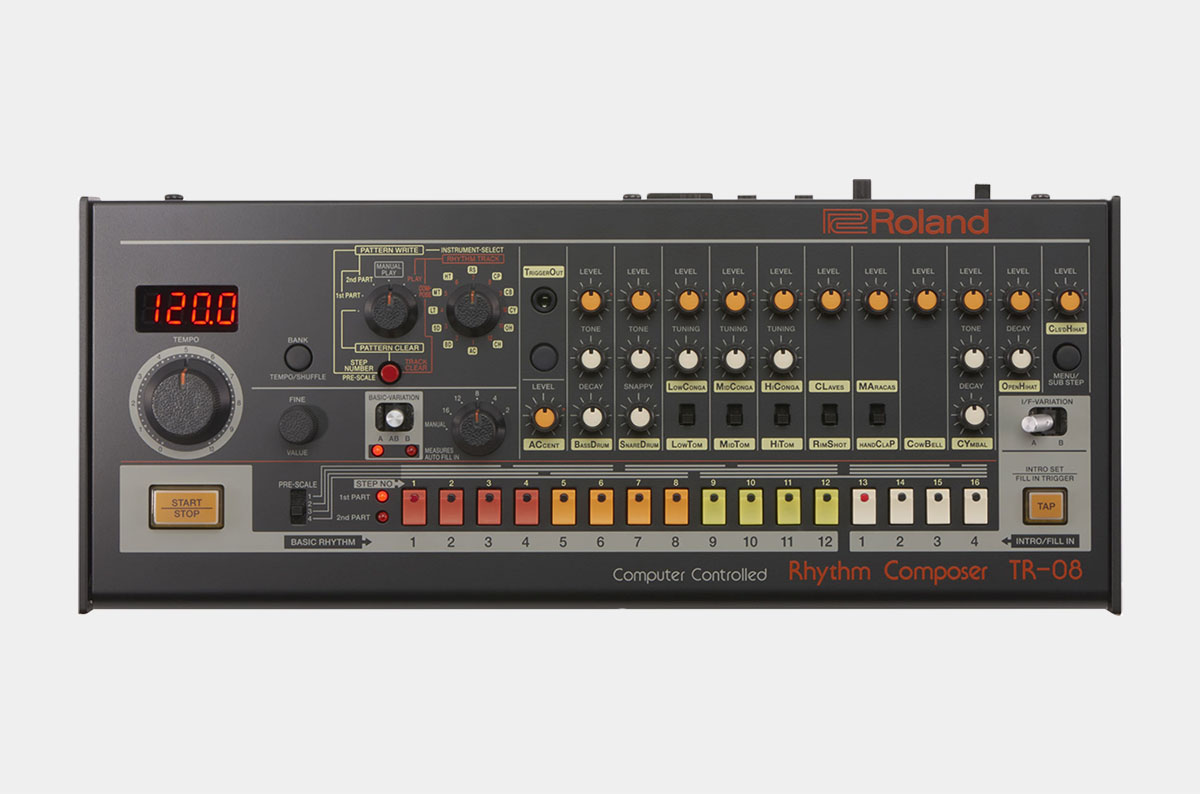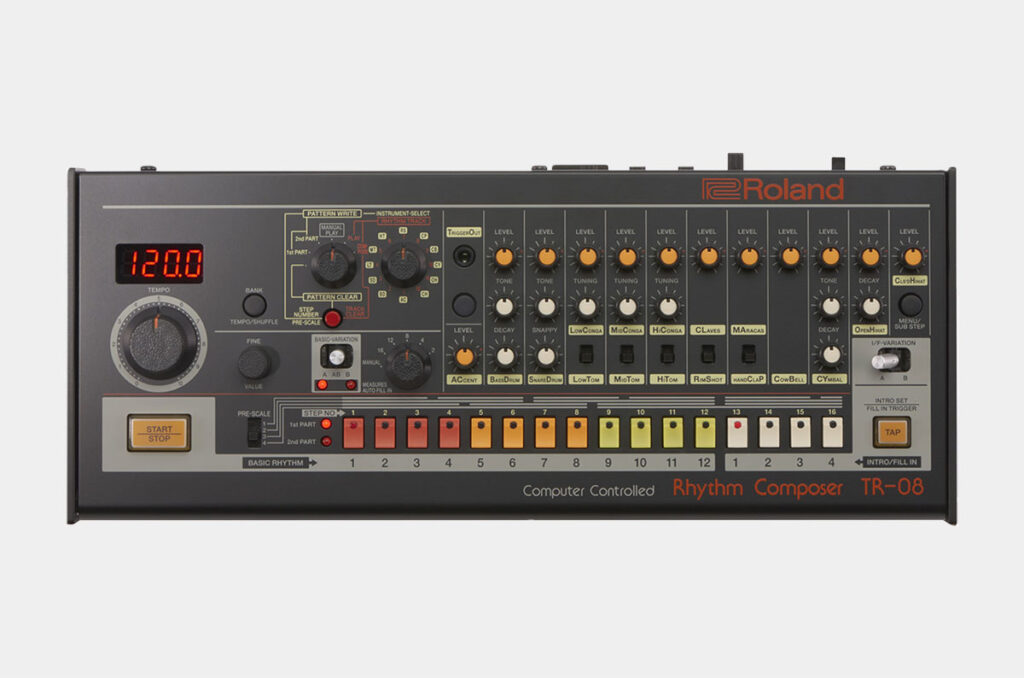 The Roland TR-08 is a compact and affordable drum machine that faithfully reproduces the legendary sound of the classic Roland TR-808. This machine gives musicians the opportunity to enjoy the sound of the TR-808 in a small, modern and affordable product.
This drum machine has the same layout and sound as the original TR-808, with a 16-step sequencer and 16 drum sounds. It also has some modern features that the original did not, such as a built-in compressor (very useful), an external audio input and MIDI connections.
Like its big brother, the TR-8S, the TR-08 uses samples from the original TR-808. You could say that the TR-08 is a scaled-down version of the TR-8S, without the sounds of the 909 or 606. Whether or not you want to pay the extra €200 to get the big machine is up to you.
Despite its small size and affordable price, the TR-08 is solidly built. The drum machine is housed in a sturdy metal case and the knobs and controls feel solid and respond well. In my opinion, they are a little too small and therefore sometimes harder to grip than on larger drum machines, but you can take it anywhere.
The sound quality of the TR-08 is very good and almost exactly reproduces the distinctive sound of the TR-808. The kick drum has a deep and powerful bass, while the snare has a crisp and biting sound. The hi-hats are bright, metallic and cutting, and the drum machine also has a variety of other percussion sounds, including the legendary cowbell, claves and maracas.
A MIDI input, MIDI output, headphone output, stereo output, mix input and USB port allow you to sync with other devices and use it as a controller for software instruments. The TR-08 can also be powered by batteries as well as the optional AC adapter, making it the ideal travel companion.
So if you're looking for a relatively inexpensive drum machine that looks and sounds like the legendary Roland TR-808, then the TR-08 is a very good choice. But if you can spend 200 Euros more, then I recommend the Roland TR-8S, which does everything the TR-08 does and more. It just looks different from the classic 808.
Price: 439€, Link: Thomann
Behringer RD-6: Best drum machine under 150€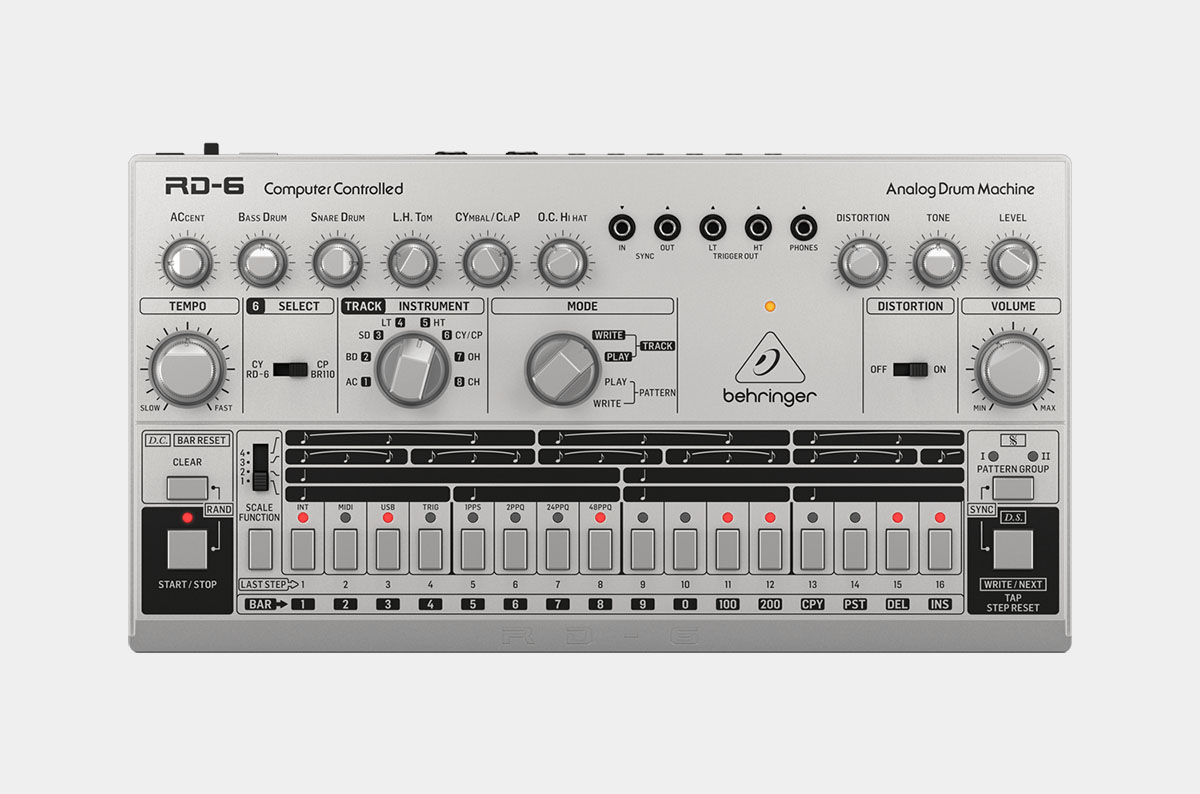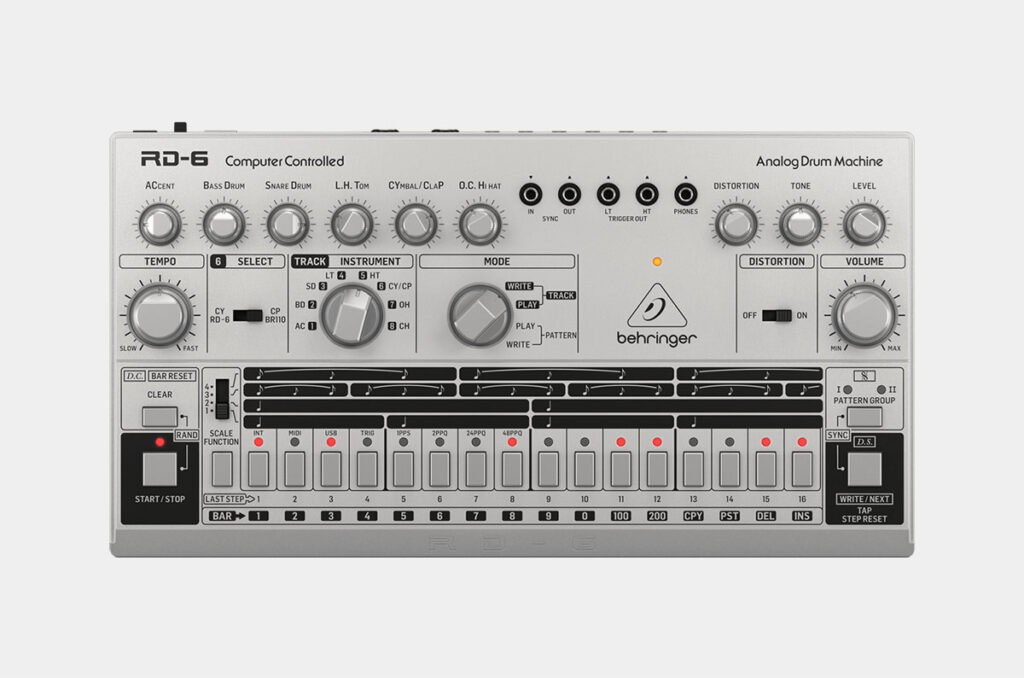 The Behringer RD-6, a clone of the classic Roland TR-606, is a small but powerful drum machine that is very affordable. It offers fewer sounds and settings than the RD8, but costs only €139.
The RD-6 features 8 analogue drum sounds including bass drum, snare drum, low tom, high tom, cymbal, clap, open hi-hat and closed hi-hat. The built-in 16-step sequencer with accent and slide functions allows for dynamic and varying patterns, and a distortion effect is also included to distort the sounds.
It has individual analog outputs for each instrument, which is very nice and makes it possible to use this drum machine professionally in the studio. However, the sounds are not editable - there is no control over pitch, decay, attack or anything else - you have to like the sounds as they are. You can only accentuate or distort them.
That's why I recommend listening to the sounds before you buy, so there are no surprises later. But I think it sounds very good, quite similar to the 808 - the original TR-606 was also meant for people who couldn't afford the TR-808 and was meant to sound very similar.
So this is the drum machine for producers who love the sound of the 808 but can't afford a Behringer RD8 or RD9. And for just €139, you can't go far wrong with this purchase.
Price: 139€, Link: Thomann
Korg Drumlogue: Best hybrid drum machine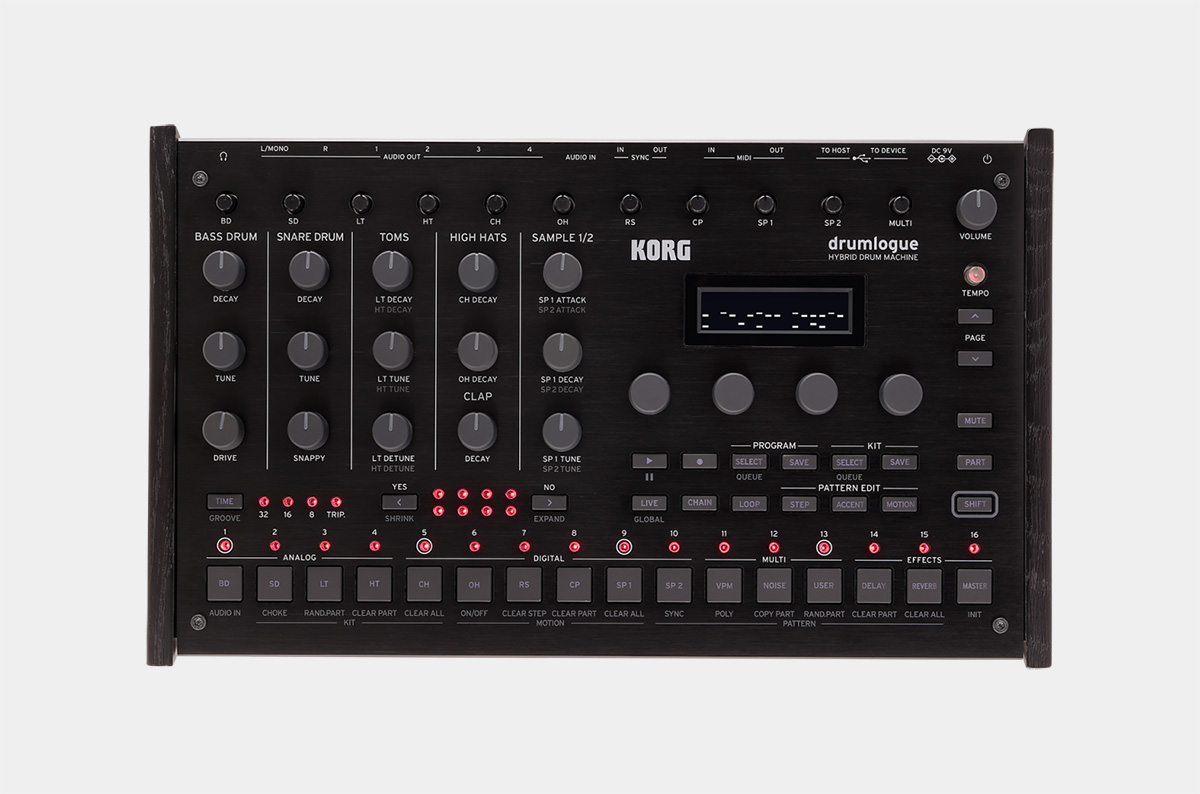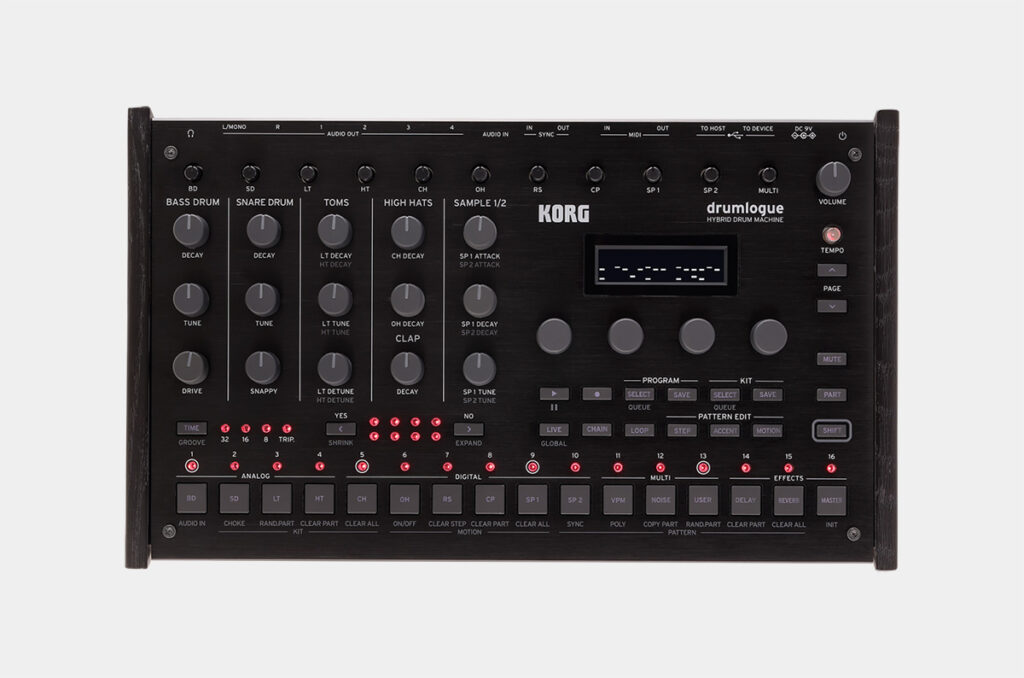 The Korg Drumlogue is a hybrid drum machine that combines the power of analogue and digital sound engines to create a vast array of drum and percussion sounds. It offers a total of 4 analogue parts for kick, snare, hi tom and lo tom, 6 sample-based parts with 128 pre-installed samples and a multi-engine part with VPM synthesis.
This makes it extremely versatile and suitable for almost any genre, as you can also load your own samples. Each sound can be edited down to the smallest detail and combined with different layers, so there are no limits when it comes to sound design.
This Korg drum machine has a sleek, modern design with a brushed aluminium bezel and high-quality controls and buttons. It is compact and lightweight, but still looks very sturdy and high quality. The overall build quality is excellent, so the instrument will not break down with frequent use and transport.
In addition to the 9V socket and power switch, the Drumlogue has two USB sockets - 'to device' and 'to host'. These can be used to connect the drum machine to your DAW and to connect drum pads or MIDI controllers to play live drum patterns into your sequencer.
The Drumlogue also has MIDI IN, MIDI OUT, Sync In and Out, Audio IN, Headphone Out, Master Out and four individual outputs. There are plenty of connection options.
Price: 599€, Link: Thomann
Electron Digitakt: Best Sampling Drum Machine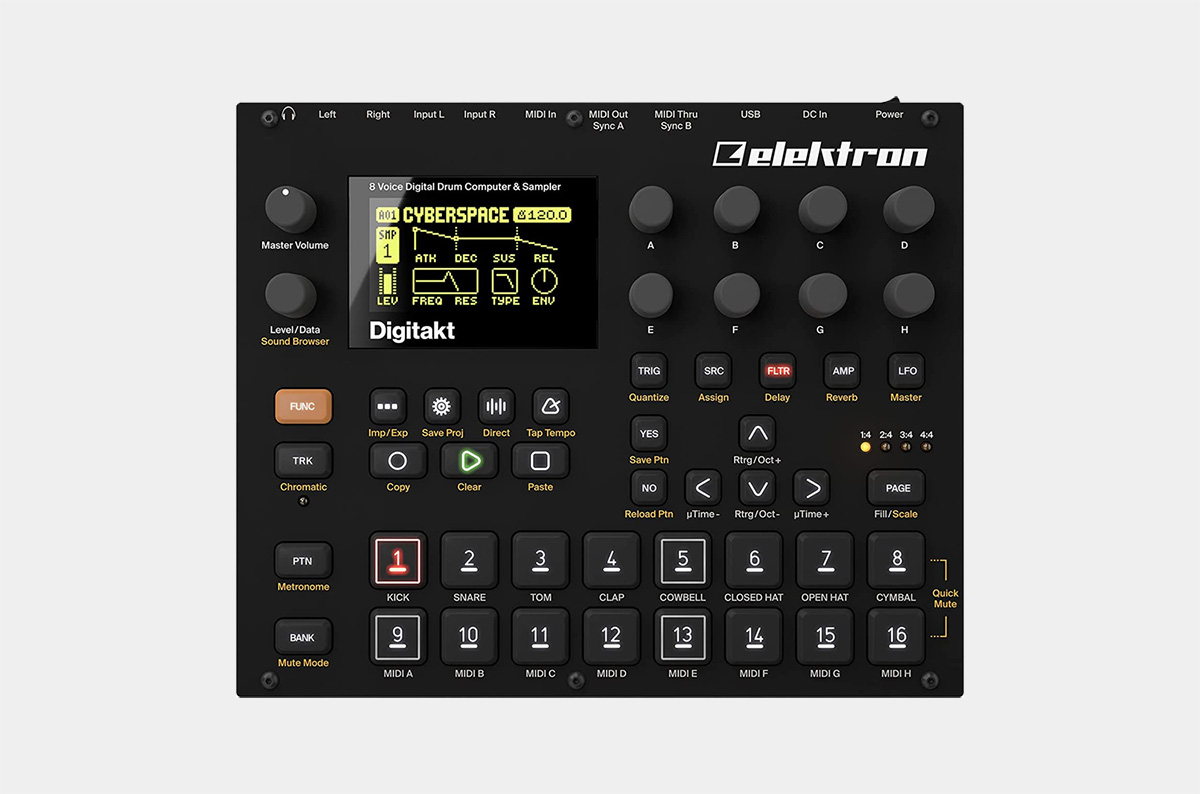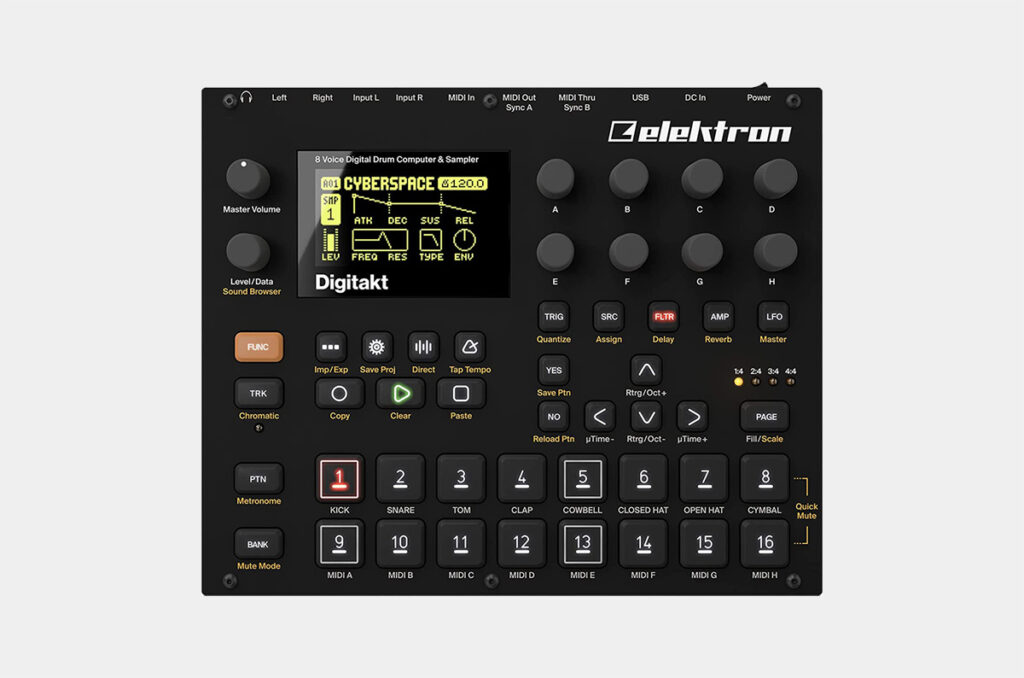 The Elektron Digitakt is a high quality drum machine that offers electronic musicians and producers unparalleled control and creative freedom. Although the Elektron Syntakt shares many similarities with the Digitakt, there are some important differences between the two machines.
The Digitakt is a sample-based drum computer, which means that it uses samples of real sounds to create its drum and percussion sounds. The Syntakt, on the other hand, also uses synthesizers to create sounds from scratch.
However, the Digitakt relies on extensive manipulation of the samples to create the sounds you want. The built-in sequencer offers a huge range of editing options; you can use the μTime setting to move each step to 1/284 of a bar, creating a very individual swing.
There are eight audio tracks and each track has five parameter groups that can be adjusted: Trigger, Source, Filter, Amplifier and LFO. The drum machine also has good sampling capabilities, so you can record your own samples via the stereo input. You can sample for up to 33 seconds. Overdrive and bit reduction effect are available for each individual track, and delay and reverb can be applied to the master track via global sends.
I would recommend this machine for anyone that enjoys working with samples. In this area, this drum machine is unbeatable. But if you prefer to create sounds from scratch, I would recommend the Syntakt from Digitakt.
Price: 899€, Link: Thomann
In Conclusion
Whichever drum machine you choose, make sure you get to grips with it and practice a lot. Once you have enough experience, a drum machine can speed up your workflow enormously and allow you to give your drums a new, individual sound for every production.