Headphones are omnipresent at studios: They are essential for recording, allowing the singer to hear the music without it penetrating the microphone. They are also used during mixing, especially when the room is not acoustically optimized. In this case, headphones are more reliable than studio monitors.
It is also cheaper to buy good headphones for music production than good studio monitors + sound isolation for the studio. This is why studio headphones are the preferred listening medium for home studios in most cases.
What should you look for when buying studio headphones for music production?
When buying, there are basically 3 things to consider:
Sound quality: That is, of course, the most important thing. If you are going to use studio headphones for mixing or mastering, the sound quality is especially important, because only with a transparent and balanced sound can you make the right decisions. For recording purposes, sound quality is not as important as comfort.
Comfort: This is at least as important as sound quality, because what good are great-sounding headphones if I'm tired after 30 minutes using them? Studio headphones should sit comfortably on your head and not press too hard, so you can go on for longer sessions. But there are situations where you need a lot of isolation, where you can tolerate a little more pressure, like when recording drums.
Construction method: Basically, there are 3 different types of studio headphones: open, closed and semi-open, which are suitable for different purposes.
Open vs closed-back headphones
It is crucial to understand the differences between the various types in order to find the right model for your needs, otherwise you can easily waste a few hundred dollars:
Open studio headphones: This type of headphone have a perforated housing that allows air to pass through. This allows more sound to escape and you hear more of the outside world when you put the headphones on. The sound is therefore very transparent and similar to that of speakers. This makes them great for mixing or mastering, but not so great for recording because the sound bleeds into the microphone.
Closed back studio headphones: The housing is not perforated and therefore heavier than open headphones. This makes them less comfortable to wear. On the other hand, there is less sound leakage and you hear very little of the outside world. Since the sound cannot penetrate outside, the same thing happens as in the untreated corners of a room: the low frequencies are overemphasized. This makes them less transparent than open headphones and less suitable for analytical listening. However, they are very good for recording because the sound does not enter the microphone.
Semi open studio headphones: These headphones have a design that is somewhere between closed and open headphones. They provide some isolation, but also allow some sound to escape and outside noise to enter. This design is a compromise between isolation and natural sound.
The Best Studio Headphones for Music Production in 2023
Beyerynamic DT-1990 Pro: Best studio headphones for mixing and mastering under €500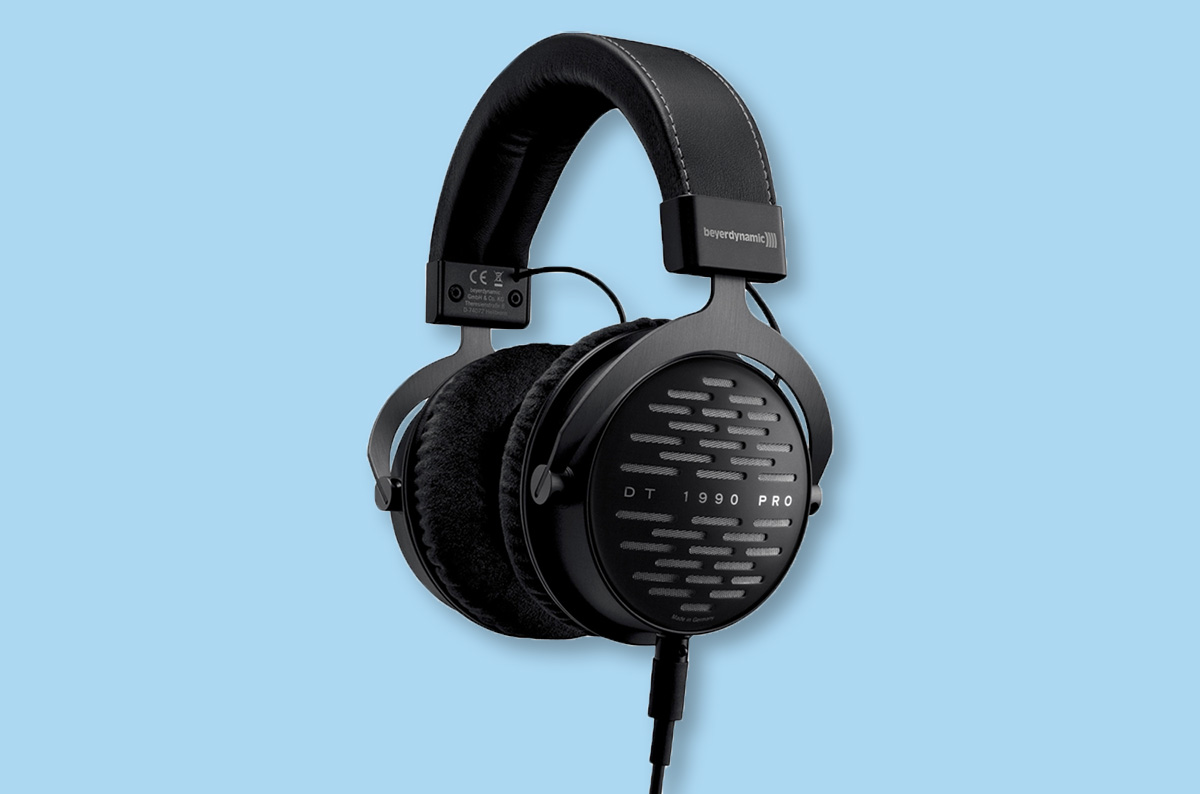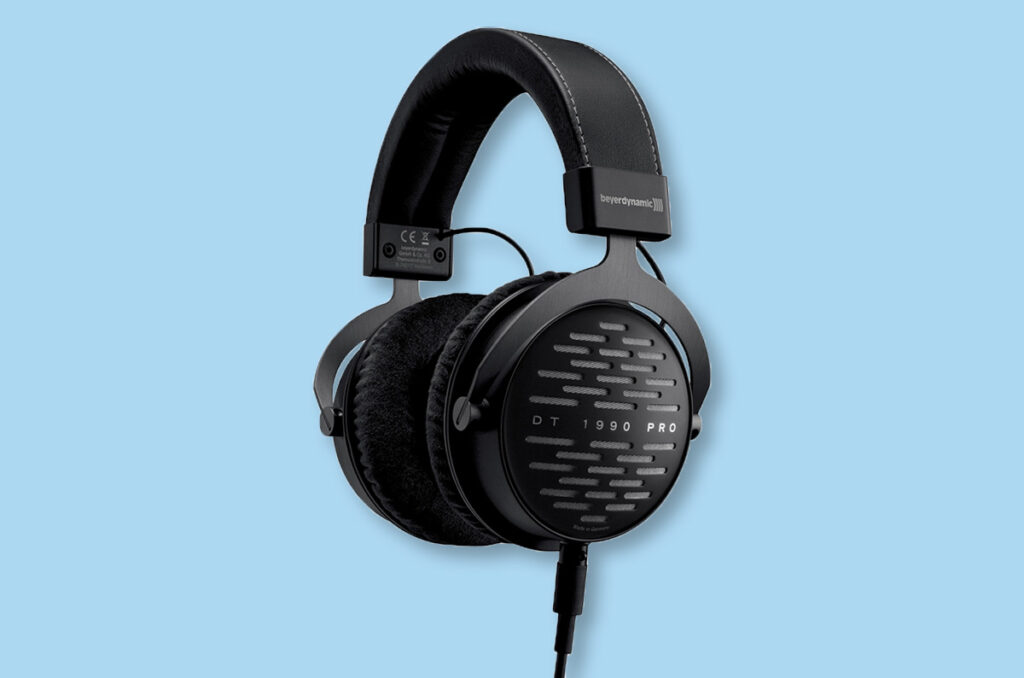 The Beyerdynamic DT-1990 are in my opinion the best studio headphones for music production. They are especially good for mixing and mastering. The sound is incredibly clear and linear, the highs are excellent, and the bass is powerful but not overbearing. You can trust these studio headphones.
I've been using these headphones on my productions for over a year now, and I have to say that I fell in love with them the first time I tried them. You hear frequencies in the high end that you can't hear with other studio headphones - that's when you understand the true meaning of the term "high-end audio".
With the Beyerdynamic DT-1990 you can tell very quickly if a track is well mixed/mastered or not, because these headphones reveal the finest details - you will be surprised how badly some tracks are mixed in the high frequency range.
They are also very comfortable, you can easily wear them for several hours without getting tired. Because they're open and don't really isolate you from the outside world, you quickly forget you're wearing them - that's how comfortable they are.
They come with two cables - a coiled cable and a regular cable - and you can unplug, reconnect and replace the cables. This prolongs their life, as the cable is often the first to break.
But if you're looking for closed studio headphones, I highly recommend the DT-1770 from Beyerdynamic. They are almost as transparent as the DT-1990, but closed, therefore better suited for recordings.
What are the arguments in favour?
Incredibly good sound
Very transparent and linear - you can rely on the sound
Comfortable to wear
Price: 479€, Link: Thomann
Sennheiser HD 800 S: The best headphones for music production on a big budget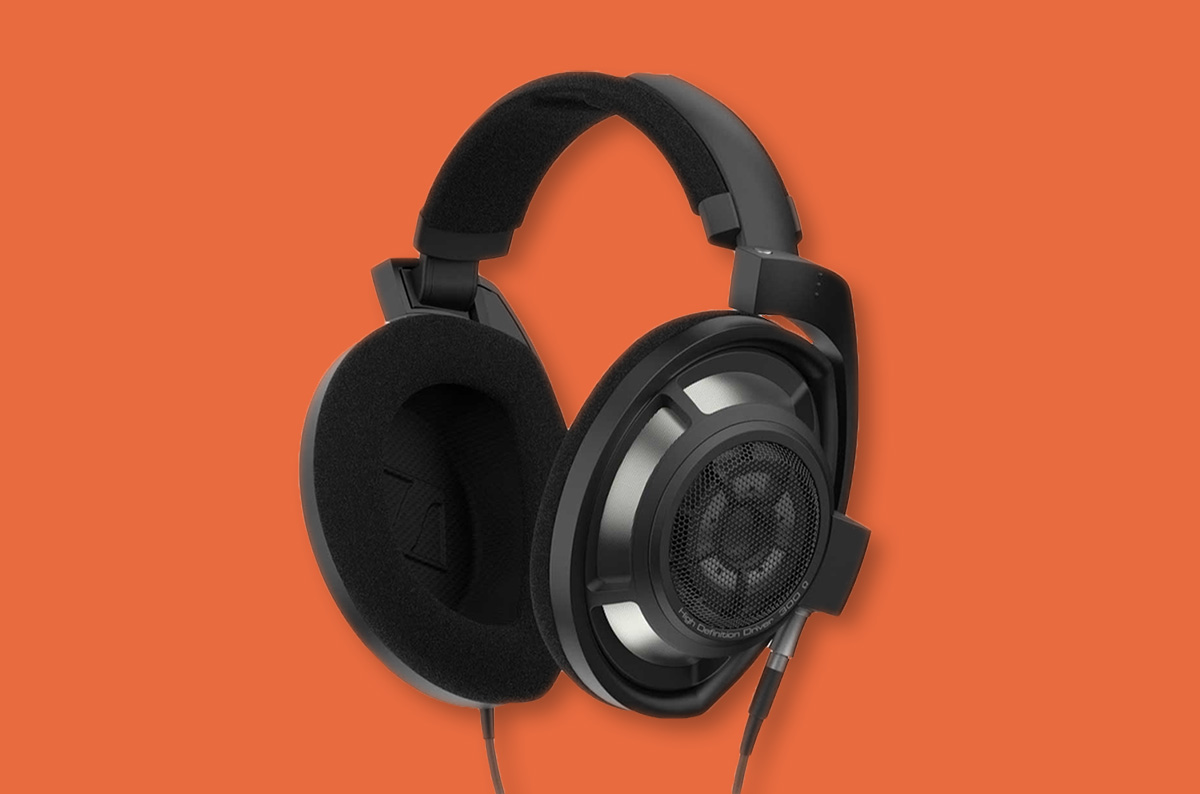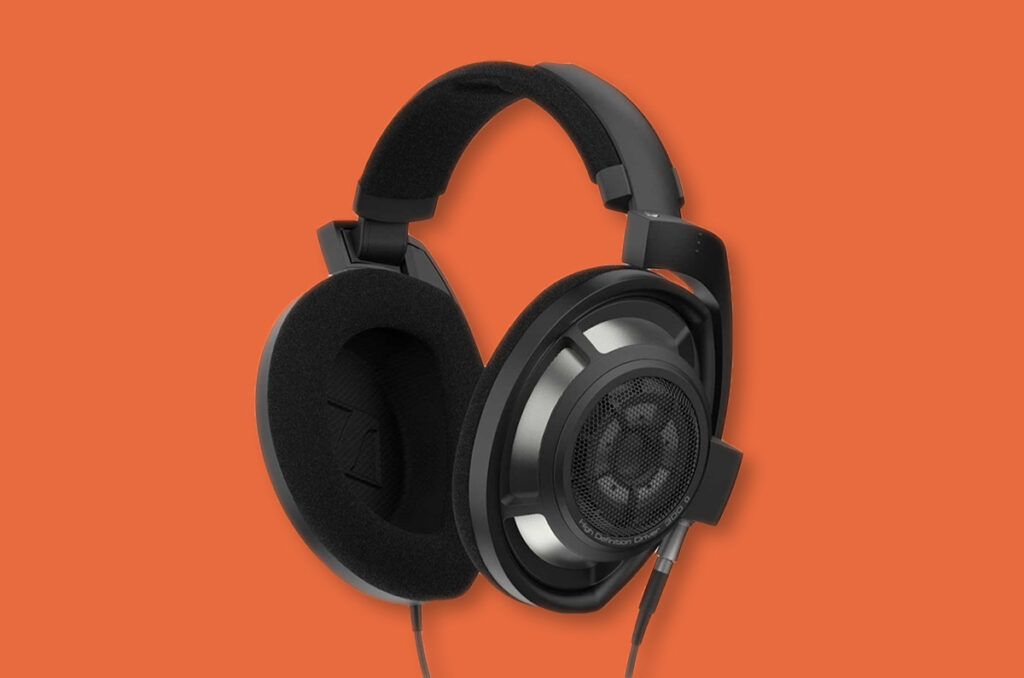 The Sennheiser HD 800 S are one of the best headphones on the market and are perfect for music production. They have a wide and linear frequency response and deliver a detailed, precise sound. They are also comfortable to wear for long periods of time and look great.
The HD 800's open design delivers an impressively spacious sound image - you'll feel like you're at a live concert. The studio headphones are equipped with Sennheiser's patented ring radiators, which produce an incredibly natural and detailed sound across the entire frequency spectrum.
These headphones for music production sound better than many studio monitors - they show the finest details and always deliver a perfect sound. There are no bass boosts, reflections or similar problems, so you can always rely on them.
The only downside to the HD 800s is their price. At just under $1,800, they're the most expensive headphones on our list, but they're worth every penny. If you can afford them, you can't go wrong.
What are the arguments in favour?
High level of comfort
Perfect sound - one of the best on the market
Extremely detailed
Price: 1.799€, Link: Amazon
Sennheiser HD 650 - Best studio headphones for long mixing sessions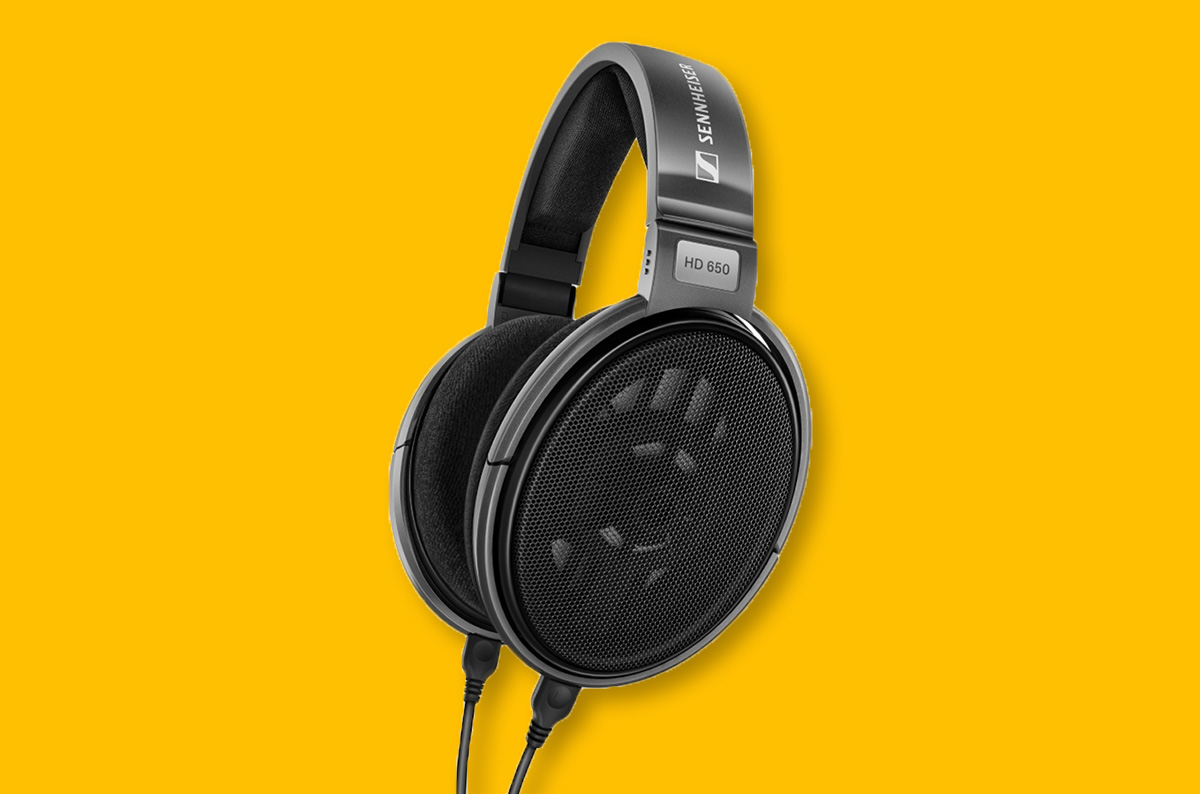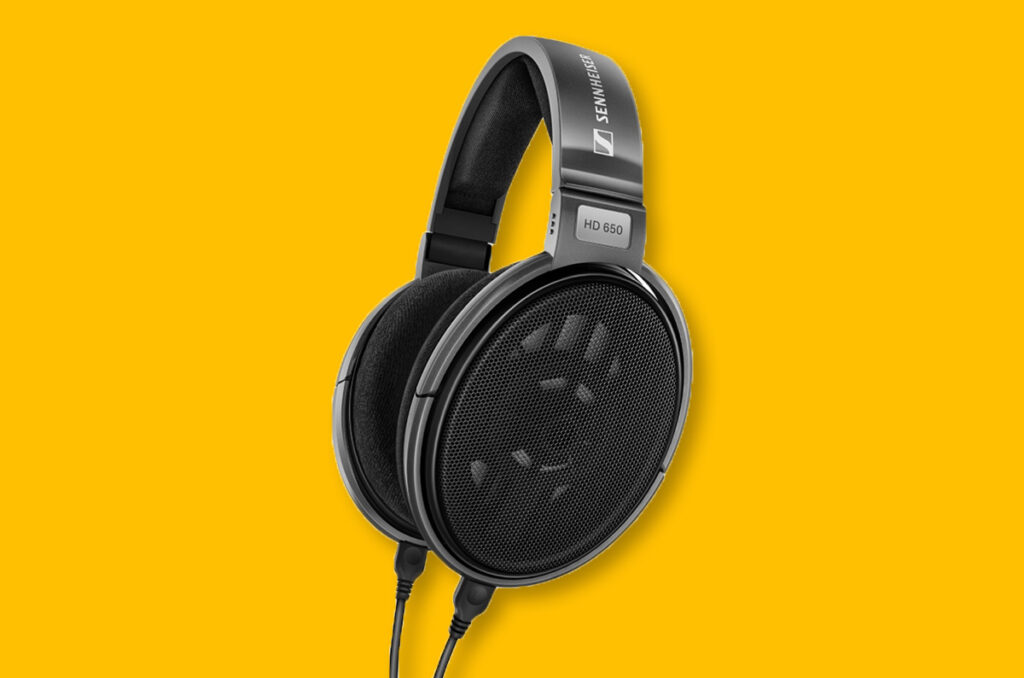 Sennheiser's HD 650s are among the best-selling open-back headphones for music production. And there's a good reason for that: the price-performance ratio is really good, because for 385 Euros these headphones offer a very good entry into the hi-fi world.
They are very transparent, very pleasant and very linear, except in the high frequencies. The high frequencies are a bit muffled, so the headphones sound more pleasant than, for example, the DT-1990s, where the high frequencies can sometimes be a bit sharp and exhausting in the long run. Not ideal in my opinion, but you can live with it.
These studio headphones shine in the mid-range, so your voice is always clear and crisp. The bass is just right, neither too loud nor too soft, and the sound is very dynamic and punchy across the entire frequency spectrum. The stereo image is wide but not exaggerated, allowing for precise panning of instruments.
Sennheiser is known for making its headphones comfortable to wear, and the HD-650 is no exception. The ear pads and padded headband are incredibly comfortable, providing a secure yet soft fit. You can wear the headset for hours without it feeling uncomfortable on your head or ears.
What are the arguments in favour?
High level of comfort
Sound very rich in detail and with high impulse response
What speaks against it?
Somewhat attenuated in the upper frequency range
Price: 385€, Link: Thomann
Beyerdynamic DT 990 Pro: Best open headphones for music production under 150€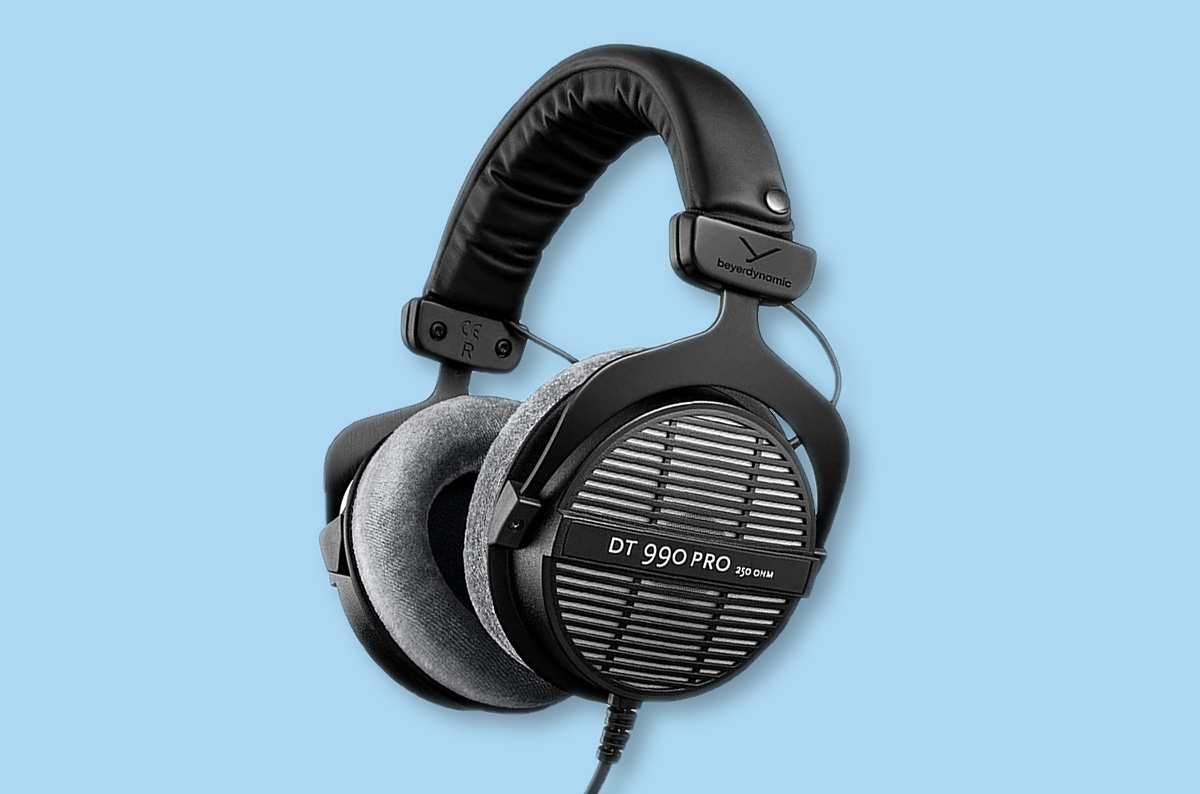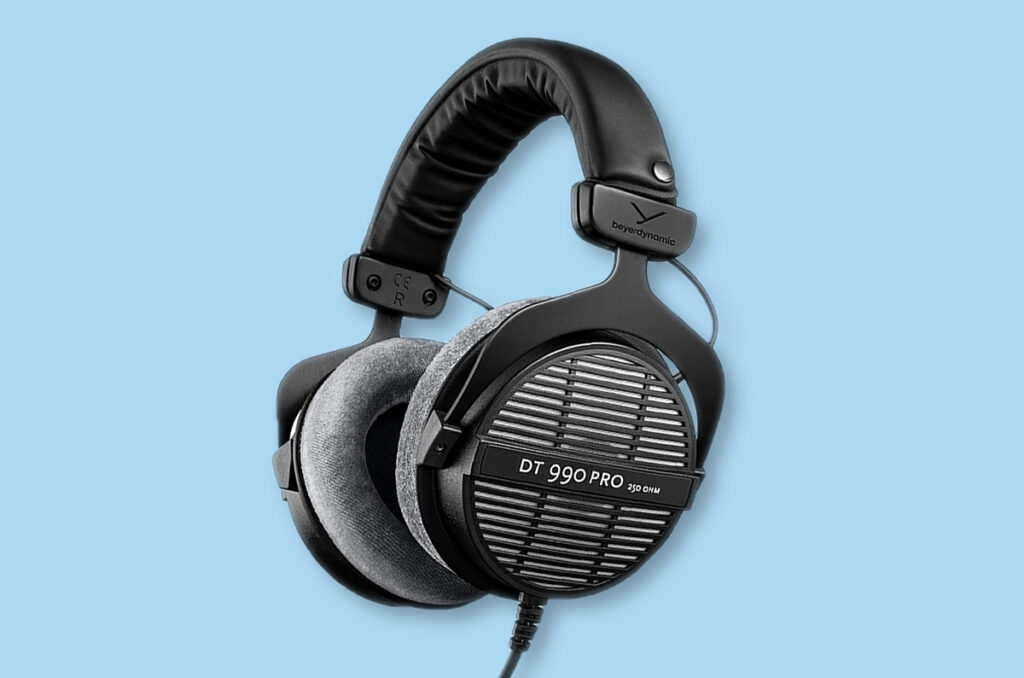 The Beyerdynamic DT-990 Pro is one of the bestsellers among studio headphones and this is mainly due to the very good sound for the price. For just under 140 euros, you get very good open headphones for music production that are quite linear and sound very detailed.
They are comfortable to wear and very sturdily built to last for years - many studios have owned this model for decades, after all it has been in production since 1985. So you can be sure they won't break.
The sound is very pleasant and relatively linear. It's not perfect, especially when compared to the Sennheiser or DT-1990, but they cost only 1/4 of the price. There is a slight lack of detail and clarity in the top end, but that is the case with all headphones in this price range. Otherwise, everything is where it should be - the bass is strong and present, but not overemphasized, and the mids are very pleasant.
The comfort of these headphones is incredible. The velour ear pads are soft and fluffy and will not cause discomfort or sweating, even after long hours of listening. The adjustable and padded headband helps distribute the weight of the headphones evenly on your head. Plus, in my opinion, these studio headphones look damn good!
Highly recommended for producers looking for studio headphones for mixing and mastering under 150€. Or for large studios that need multiple pairs of headphones so multiple people can listen while recording.
What are the arguments in favour?
High level of comfort
Very good price
Relatively linear
What speaks against it?
In the upper frequency range not as clear as the expensive models, but understandable at the price
Price: 139€, Link: Thomann
Beyerdynamic DT-770: Best closed studio headphones under €150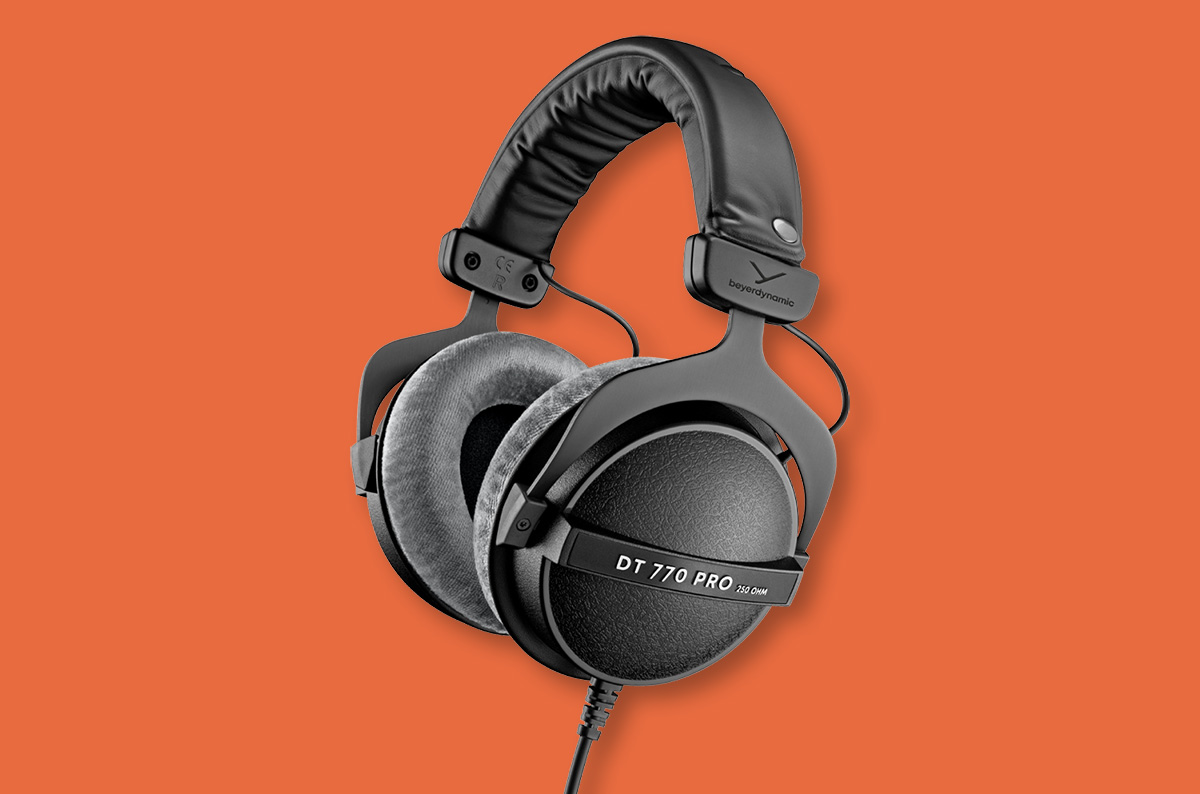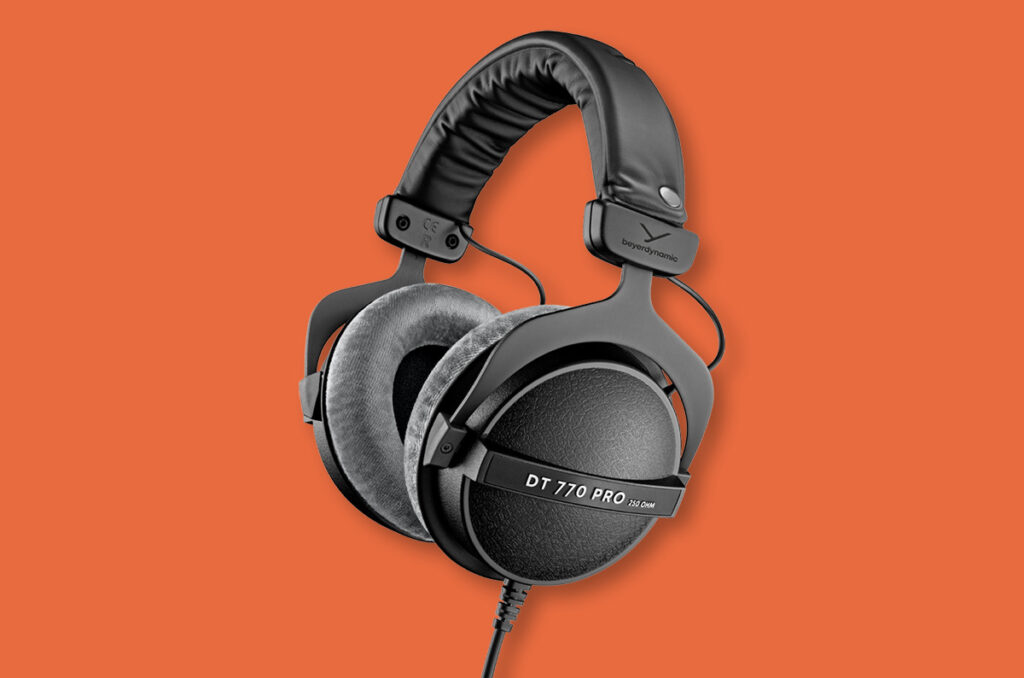 These closed-back headphones can be found in 99% of all studios - no wonder they are Thomann's top-selling studio headphones. They are the common choice for recording situations in the studio, and because of their relatively low price you can buy them in large quantities. I have 3 of them in the studio, plus a variant of them, the DT-770M, which are even more shielded from the outside world and therefore well suited for drum recordings.
The sound is not linear, but it is not supposed to be, as these headphones are meant for recording, not mixing or mastering. The bass is emphasized, which is very good for recording, so the singer can feel the energy in the bass during the performance. This bass boost simply increases the fun factor of listening and thus the motivation to record.
Since the headphones are closed, there is a certain amount of pressure, but it is kept within limits and is not too uncomfortable. Thanks to the good padding, the comfort level is still very high, allowing for longer recording sessions with appropriate breaks.
I've been using them for over 4 years and couldn't be happier - otherwise I wouldn't have 3 in my studio. I would recommend them to anyone, beginner or professional.
And if you need headphones just for recording drums, try the DT-770M. They sound similar, but they fit much tighter and block out the outside world much better. If a drummer wears them while recording, he will hear his drums almost exclusively through the headphones.
What are the arguments in favour?
High level of comfort (for a closed-back headphone)
Very good price
The bass boost makes the music sound better
Price: 139€, Link: Thomann
AKG K702: Hi-Fi studio headphones under €150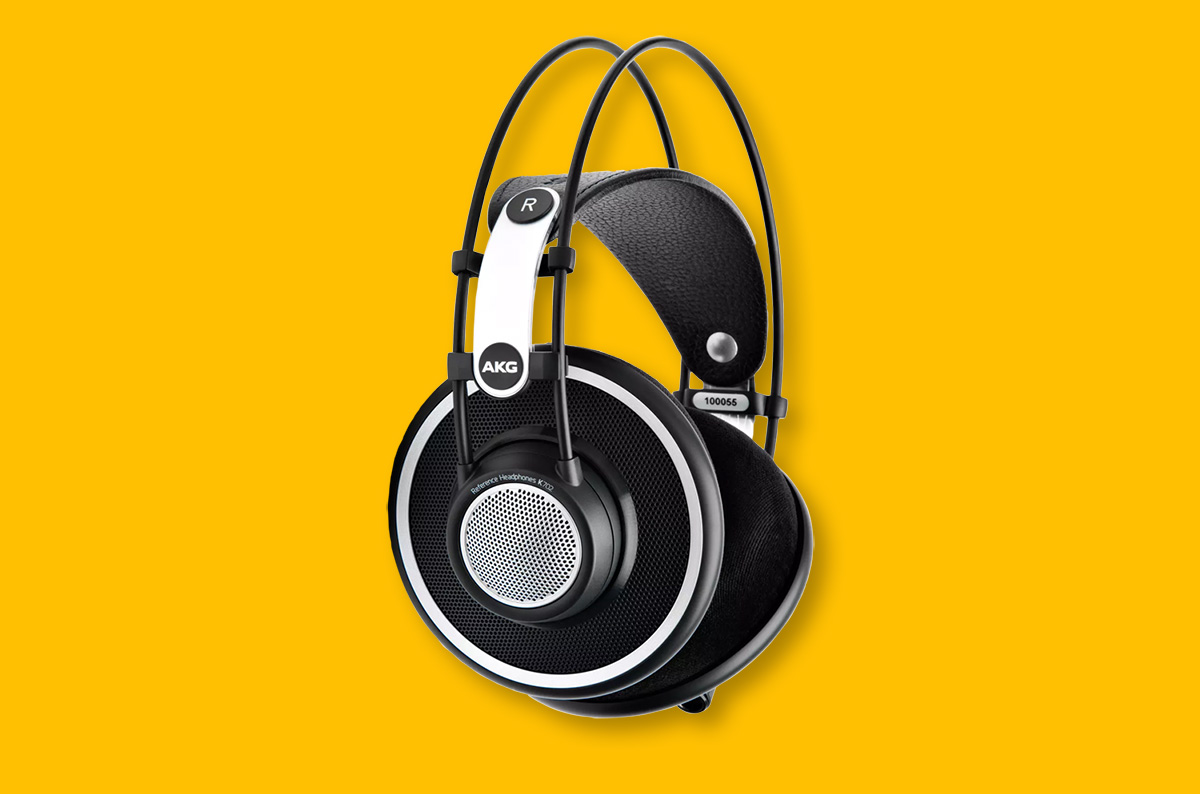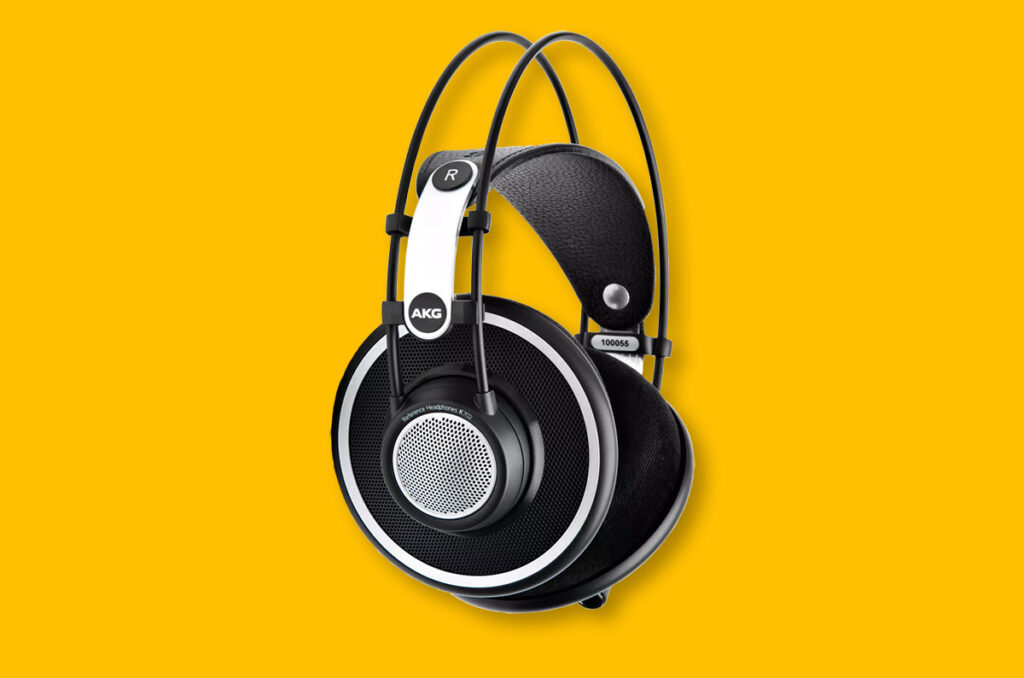 AKG's open headphones for music production also offer great value. For €139, they offer a very transparent and open sound similar to that of hi-fi speakers.
The sound image is very linear, very wide, and very differentiated - it brings out details that you just can't hear with other headphones in this price range. You can precisely locate each instrument in the stereo image and distinguish it from the others, which is truly remarkable for this price range.
However, the bass is a bit weak, especially compared to the Beyerdynamic headphones. Personally, I don't think that's too bad; once you get used to it, you can mix well with them. But you should take it into account, especially if you produce bass-heavy music.
These studio headphones are very comfortable because they fit very loosely, much looser than the Beyerdynamics. They exert little pressure, so you can wear them for a long time without getting tired. But don't move your head too much, or they might fall off.
What are the arguments in favour?
Hi-Fi sound for a very reasonable price
Comfortable to wear
Price: 139€, Link: Thomann
Audio-Technica ATH-M50x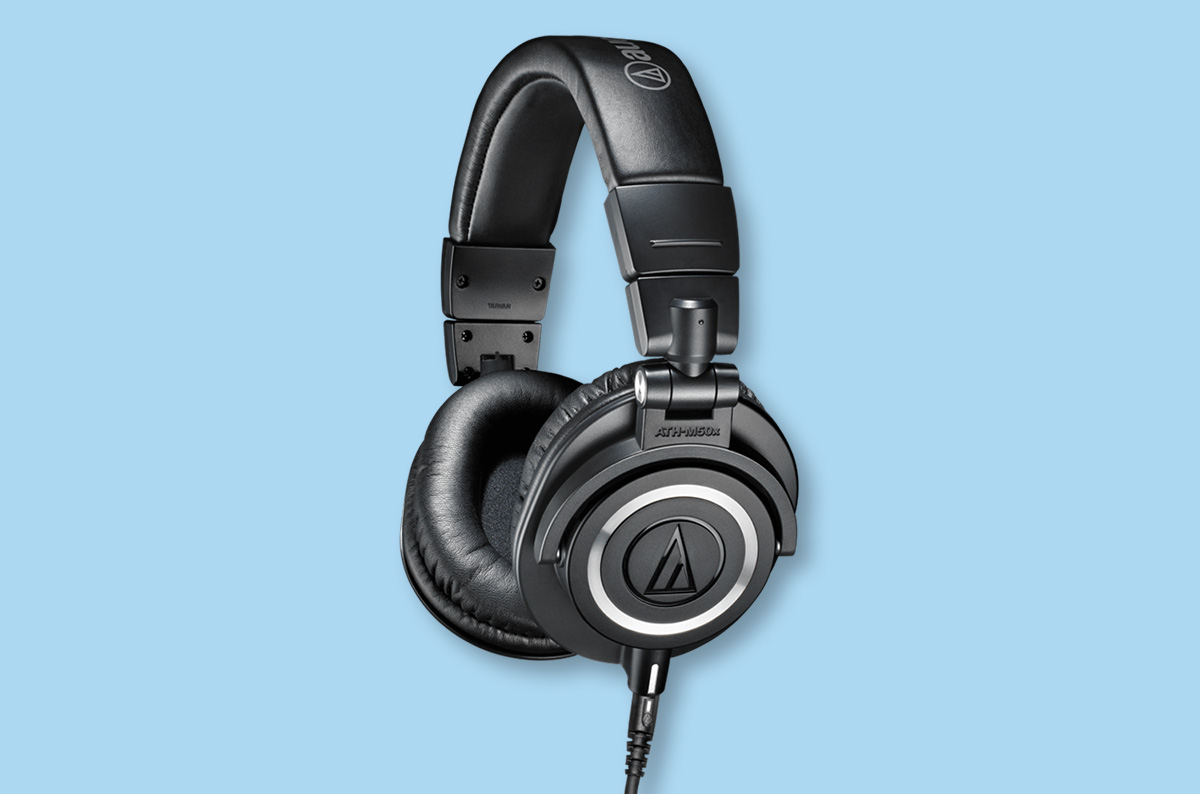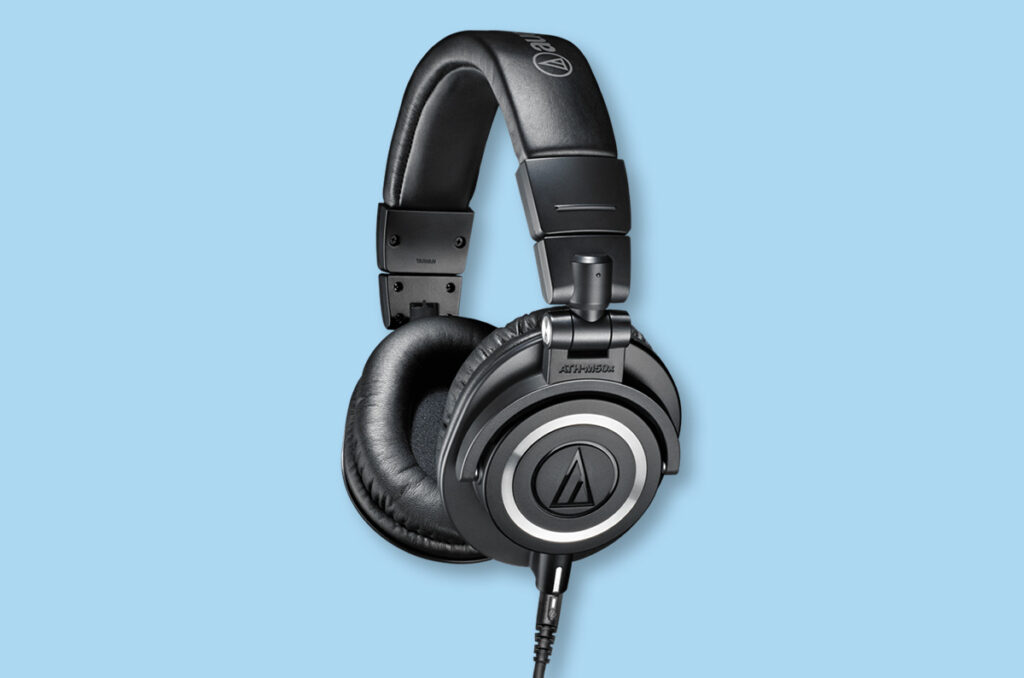 These closed studio headphones from Audio-Technica deliver very good sound with powerful bass for just under $150. They are very detailed and lively, and even allow for analytical listening, even though they are designed for recording.
And they fulfill this purpose very well, because they block the outside world very well. This makes them a little more uncomfortable to wear than, say, the Beyerdynamic DT-770, because there is simply more pressure on your head. But the good sound makes up for it!
One great feature is the interchangeable and retractable cable - not common in this price range! This can extend the lifespan of the unit, as cables tend to break more often. There are 3 different cables included: coiled cable, short standard cable and long standard cable.
These music production headphones are also built to last. The construction is solid, with metal components in the headband and hinges that can withstand frequent use without breaking. The ear cushions are replaceable, so you can keep the headphones looking like new for years by simply replacing the cushions.
Recommended for those looking for a slightly better sound for monitoring while recording.
What are the arguments in favour?
Dynamic, detailed and vibrant sound
Very good shielding
What speaks against it?
Not as comfortable as other models
Price: 149€, Link: Thomann
Superlux HD 681: Best studio headphones under €30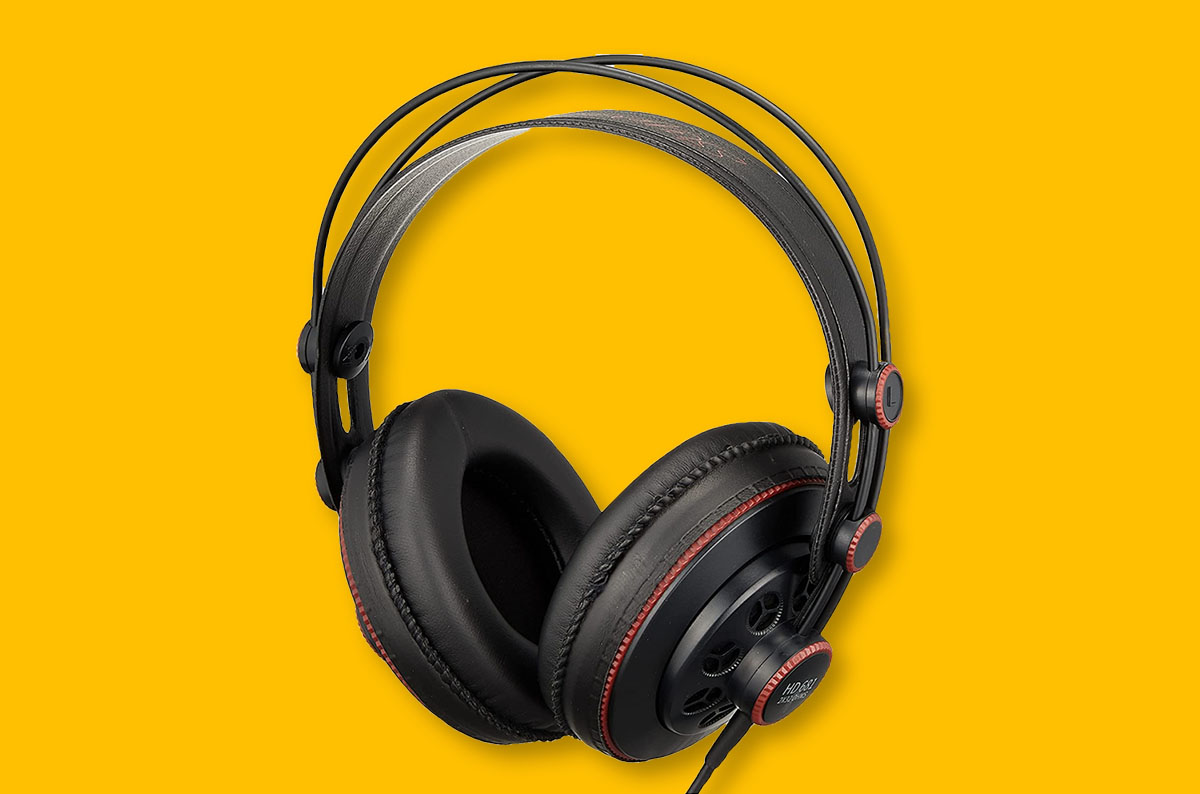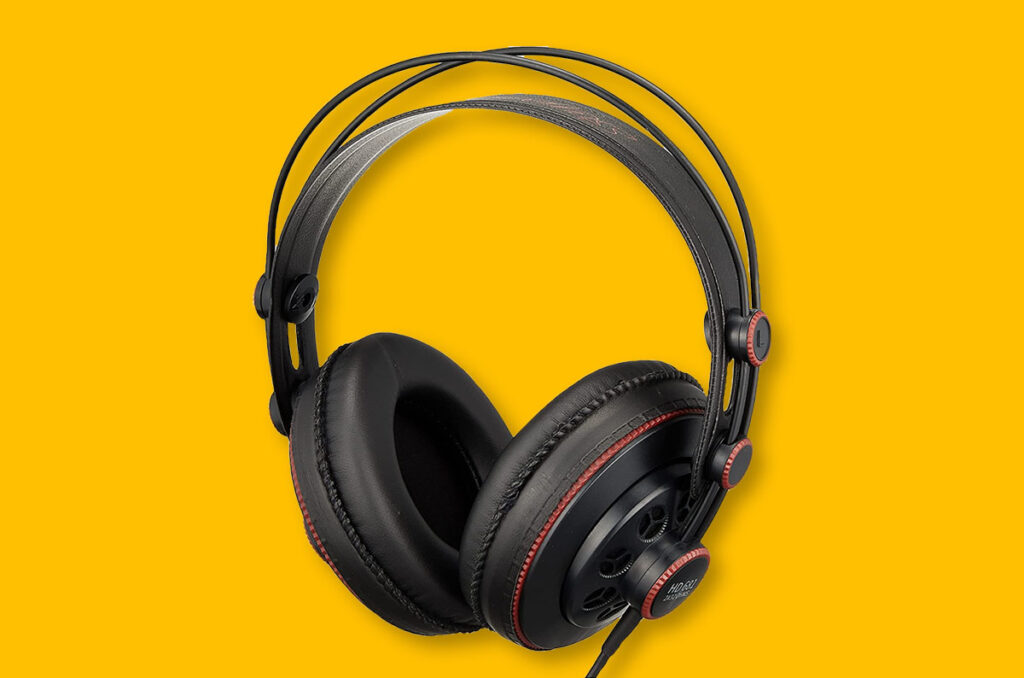 These studio headphones are not the best or highest quality, but they are the cheapest. And they are on this list because they sound incredibly good for the almost ridiculous price! They are not for mixing or mastering, but they are great for monitoring band recordings.
Because for a 6-piece band you need 6 pairs of headphones, and if 3 of them are Superlux HD-681, you save almost 375€ compared to Beyerdynamic. I have 2 pairs for exactly this purpose.
The sound is relatively similar to the Beyerdynamic DT-770, with a slight bass boost that makes everything sound fatter. They don't sound as detailed, especially in the upper frequency range, but that's not so important for recording. Otherwise, the sound is quite balanced and linear.
The semi-open design makes them more comfortable than closed studio headphones, but they are not suitable for vocal recordings because the head is too close to the microphone, and the music enters the microphone. However, they can be used with confidence for bass, piano, guitar, or horns.
So if you already have a good pair of headphones for producing music, but need more for sharing with others, this model is highly recommended.
What are the arguments in favour?
Very cheap
For the price the sound is very good
What speaks against it?
Not suitable for vocal recordings due to the semi-open design
Price: 24,90€, Link: Thomann
AKG K-240 MKII: Best Hi-Fi Headphones under €60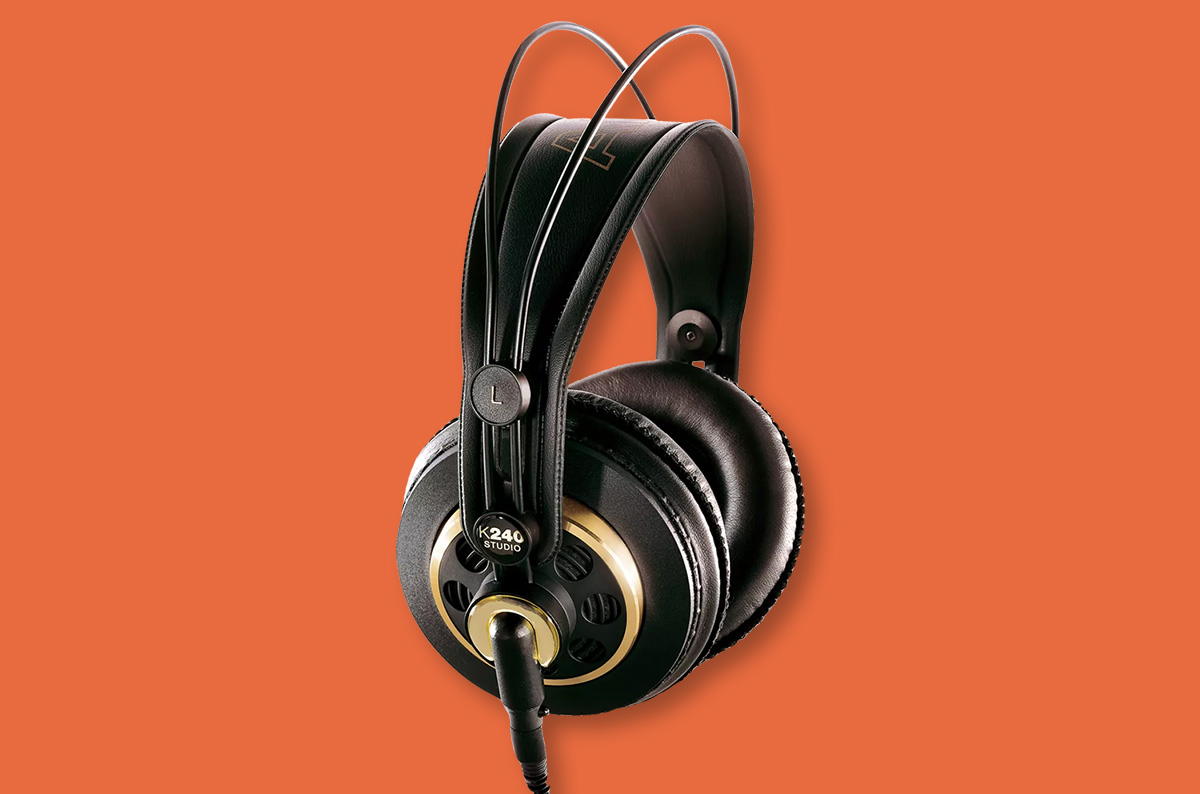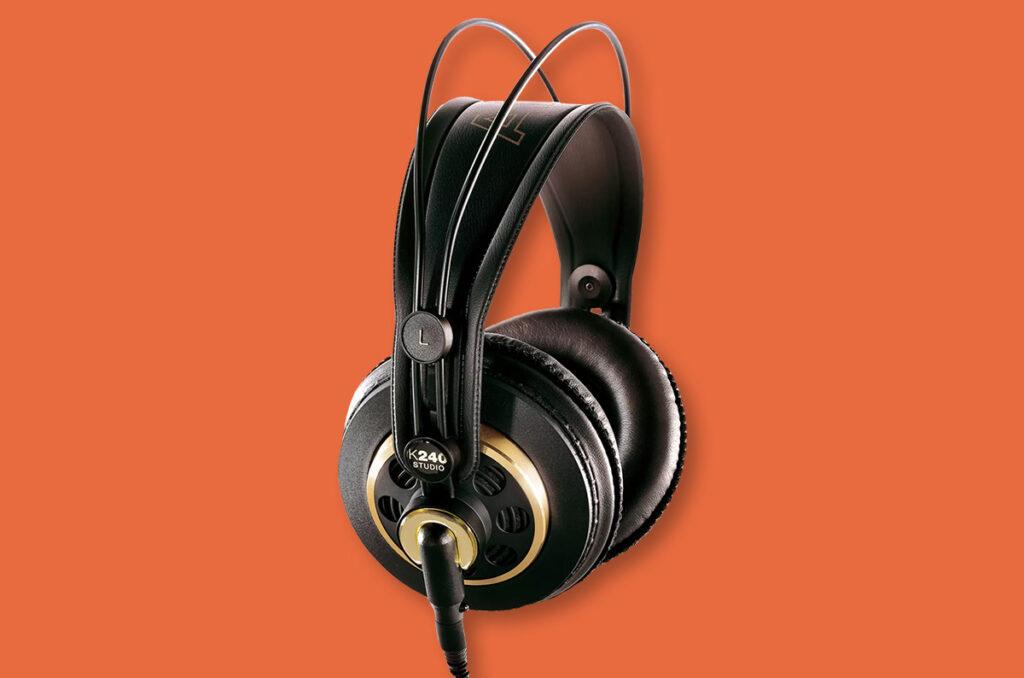 The AKG K-240 is a good choice if you are looking for a relatively inexpensive all-rounder with good shielding and a natural sound. These studio headphones are suitable for both mixing and recording (except for vocals, where the bleeding would be too much).
The semi-open design makes these music production headphones very comfortable to wear; they do not pinch and sit firmly on the head without wobbling. The headband automatically adjusts to your head and is almost imperceptible.
The build quality is - as always with AKG - extremely good, almost unbelievable for the price. Everything is made of metal and feels like it will last a century. The cable is extendable and interchangeable and looks very high quality.
The sound is very good in the low and mid frequencies, the high frequencies could be better. Compared to Beyerdynamic or Audio-Technica, they sound a bit duller. But they cost half as much.
What are the arguments in favour?
High level of comfort
Versatile
Steven Slate Audio VSX Essentials Edition - Best Virtual Room Sound Simulations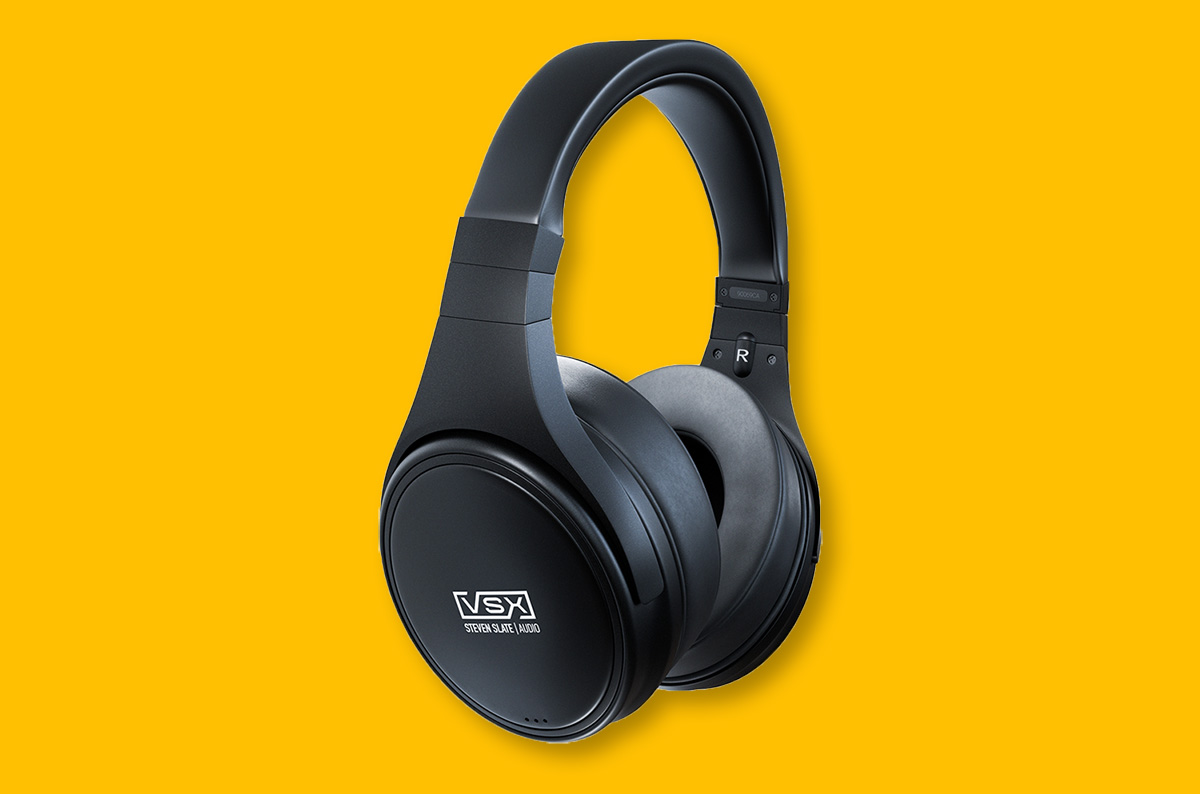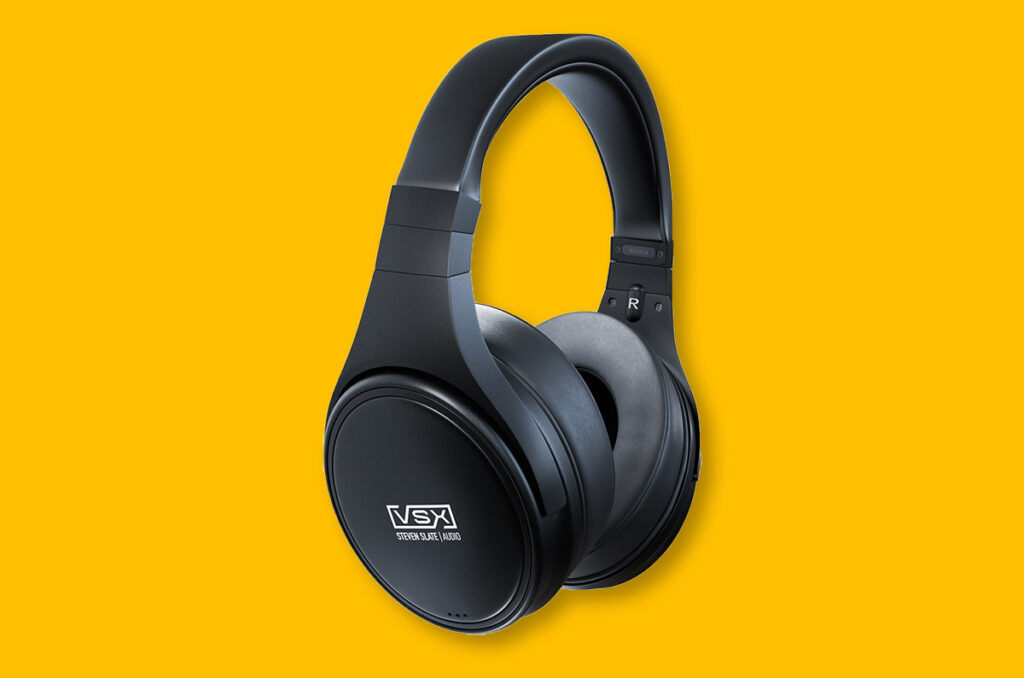 These studio headphones are a little different from the rest - they can simulate rooms together with the Slate Digital software to test your mix on different simulated systems. The software is perfectly matched to the headphones and offers a very detailed sound with many variations.
You can test your productions in various well-known studios, cars or environments by selecting them from the plugin in your DAW. Some of these listening rooms are:
Archon Studio
Luxury SUV
Mike Dean's Studio
Mike Dean's Car
Howie Weinberg's Mastering Room
Electric Car (Tesla)
LA Nightclub
Boombox
I find the car simulations particularly handy because otherwise you always have to export your mix, copy it to your phone and then get in the car to listen to it. So the Slate Digital concept saves a lot of time.
Of course, the simulations do not sound 1:1, but they are very close to the original. But that's not the point, the main purpose of this concept is to be able to test the mix on different systems - in the car, where the bass is usually extremely boosted, in the club with a fat subwoofer, in the mastering studio with its crystal clear high-end, and so on.
I think Slate Digital has put out a great product and the price is comparatively OK for all the features. I would recommend it to any music producer.
Price: 369€, Link: Thomann
AKG K-712: Best studio headphones for music production for €200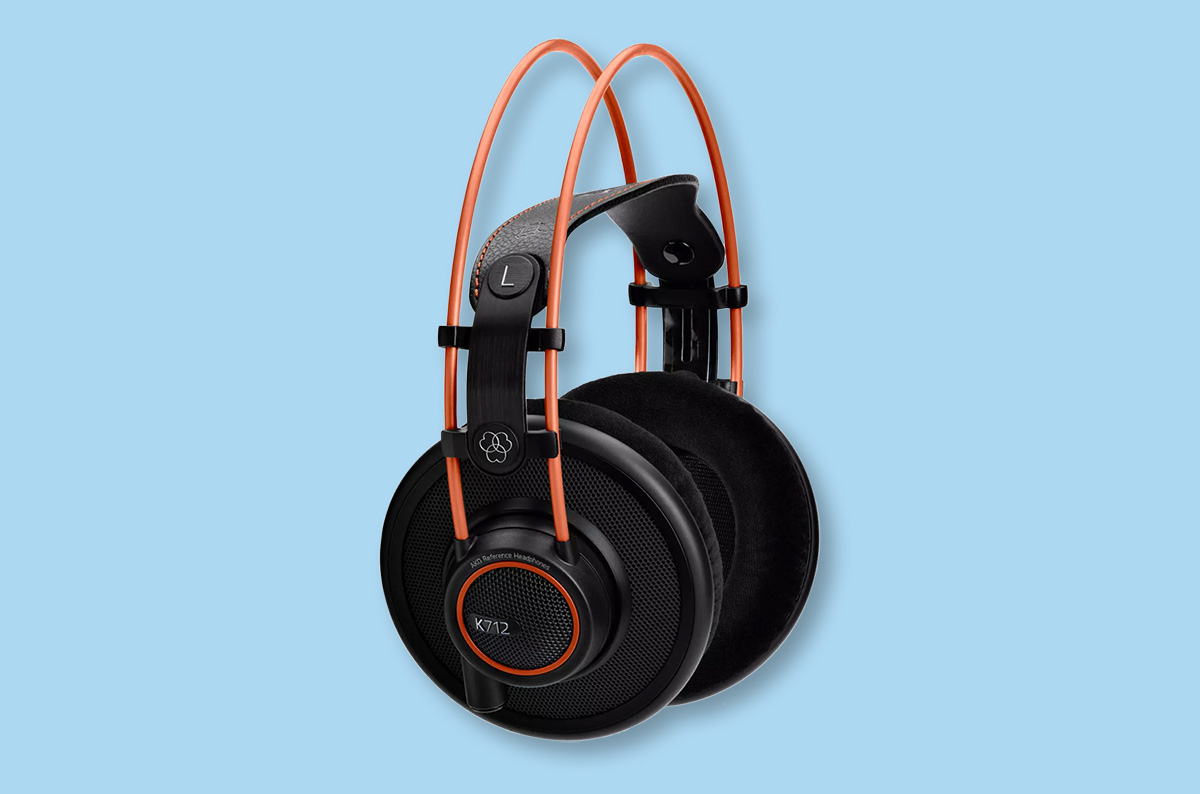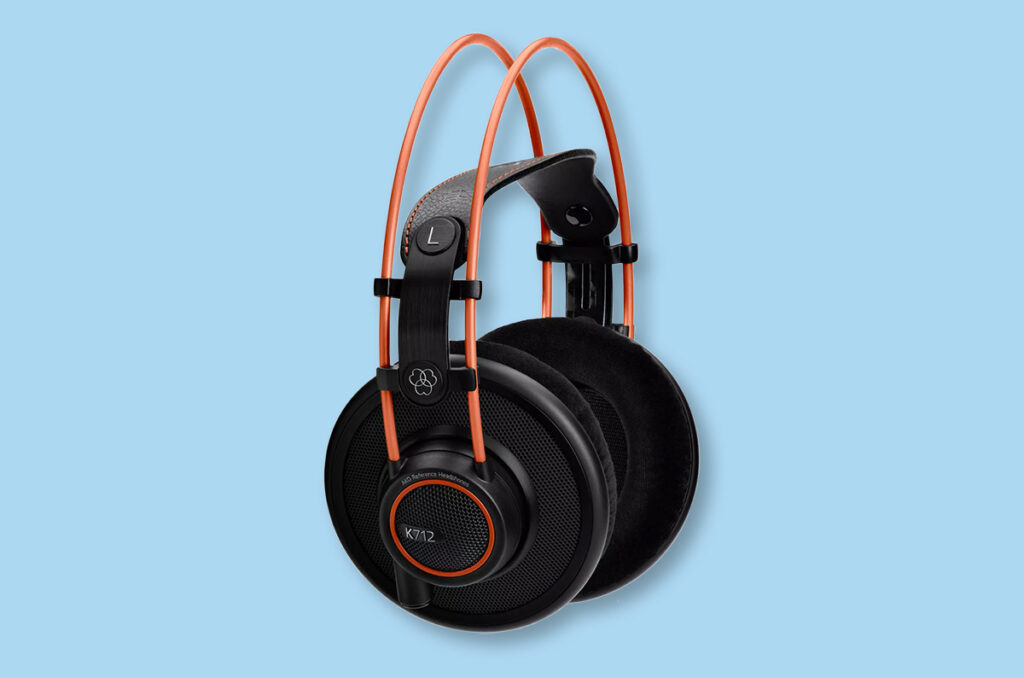 AKG's open headphones for music production in the studio offer top-quality sound at a relatively low price. For just under $200, you get professional-quality headphones that sound transparent and reveal all the details of your music.
The frequency response is very wide, all frequencies are well balanced. The stereo image is beautifully wide and the bass is well differentiated. Detail reproduction is incredibly good, and you get a very good sense of the spatiality of the mix, so the music really feels three-dimensional. In terms of sound, these studio headphones really leave nothing to be desired.
AKG has not compromised on comfort either: The K-712s sit perfectly on the head with virtually no pressure, making them very comfortable to wear. Thanks to the open design, heat build-up is kept to a minimum, even during long sessions, and the ears do not sweat.
The build quality is excellent, everything is metal and looks very durable. The cable is replaceable and two cables are included, one normal and one coiled.
All in all, these headphones are highly recommended for mixing and mastering, and in my opinion the best for just over 200€.
Price: 209,88€, Link: Amazon
What are the best studio headphones for music production?
Unfortunately, there is no general answer to this question - it is ultimately a matter of taste. In my opinion, the Beyerdynamic DT-1990 are the best studio headphones for mixing and mastering and the Beyerdynamic DT-770 are the best for recording. I have been using both models for over 4 years and am very satisfied.
It's best to try a few models and decide which one you like best.
Can you mix and master exclusively with headphones?
You can mix and master with headphones if you know them well enough. No studio headphones are perfect, but if you know them well and how other songs sound over them, you can mix your own productions.
The disadvantage compared to studio monitors is that you tire much faster because the sound is simply more unnatural and the pressure on your ears becomes exhausting. If you work with headphones for a long time, you should take more frequent breaks.
How much should I spend on a good pair of studio headphones?
The answer is simple: as much as you can and as much as you really need. That means: If you already have good studio monitors and good studio acoustics, you don't necessarily need high-end studio headphones, since you'll be working with speakers most of the time anyway.
However, if the room acoustics are not good and the budget is sufficient, it is worth investing 300 to 500 euros in high-quality models such as Beyerdynamic's DT-1990 or Sennheiser's HD-650. For closed studio headphones for monitoring, you can definitely spend less, since sound is not the most important consideration.
In Conclusion
It is also highly recommended that you try and compare all headphones in a music store. This is the only way to find the headphones that work best for you. Many music stores offer the opportunity to try and compare different models. This helped me a lot in making my choice.
No matter which pair you choose from this list, you'll be happy with your purchase.