In the past, recording studios had mixing desks and tape machines - today, all you need is a DAW, a Digital Audio Workstation. With a DAW, you can record, edit, mix and master music - something that used to require lots of other, often expensive, equipment.
This has opened up access to music production to millions of people who would not have had such an opportunity in the past.
Do you want to know which is the best DAW for you? That depends a lot on what exactly you want to archieve. There are now over 15 DAWs on the market, so it can be hard to choose. But don't worry, you've come to the right place.
In this article we take a closer look at the most popular and best DAWs available. We know how important it is to find the right DAW, because it will be your biggest companion when you produce music on the computer.
Once you've chosen one, there's a good chance you'll specialise in it. So read this article thoroughly and decide which one you want to marry 😉 Don't worry, we'll make it easy for you because we'll tell you what each of them specialises in and what their strengths and weaknesses are.
Keep reading: The 6 Best MIDI Keyboards in 2023
Below you'll find an in-depth analysis of the best DAWs available today, whether you're looking for a good program for mixing, producing electronic music, producing hip-hop beats, and more. We explain which is the perfect DAW for your needs.
Ableton Live 11: The best DAW for electronic music production
The special thing about this DAW is that it is specifically designed for electronic music production. Their workflow is timeline-based, however, there is the so-called "Session View", which is meant to perform live with different clips.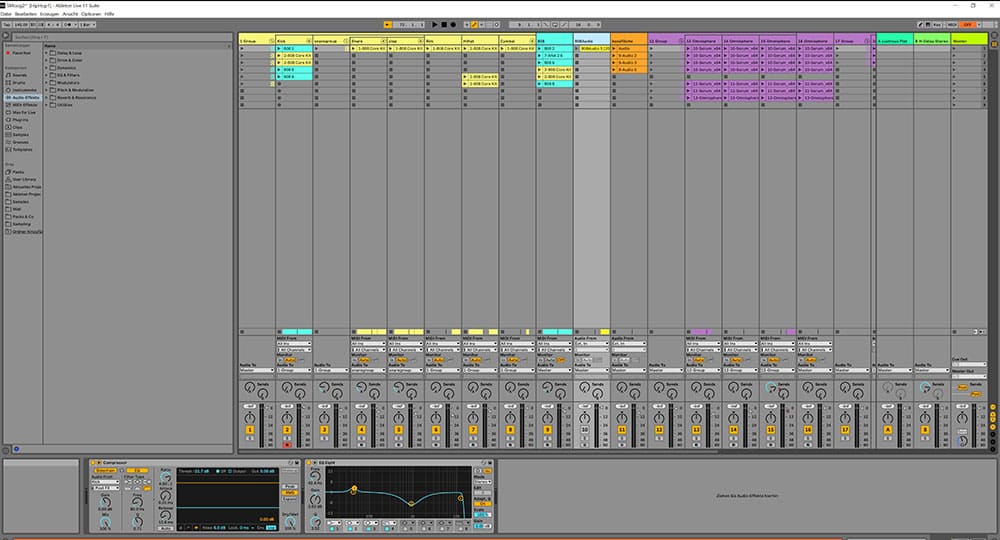 Live or in the studio, it's used by an impressive list of diverse artists, from David Guetta, Skrillex and Daft Punk to DJ Snake or Steve Aoki. I also use Ableton Live for everything from composition to mastering.
Thanks to the user interface, Ableton is suitable for both the production and live performance of music.
Ableton has also developed the Launch series, one of the best Ableton controllers on the market. It allows you to take advantage of Clip Launch, VST control, Ableton effects and MIDI mapping without having to access the DAW.
Audio files are warped very well and automatically. The speed is automatically and mostly perfectly detected and adapted to that of your song for each clip. That's why this DAW is so well suited for music production.
You can do so much with Ableton and a controller! Start clips, control drum racks, mix... And theoretically you shouldn't need to access the DAW at all.
Ableton is also one of the best DAWs if you work with samples a lot. If you have a huge sample library like me (I have over 1300 GB), you need to organise it properly so you don't have to spend hours looking for each sample.
With Ableton Live you can organise the folders with colours and names so that they are then immediately available with a few clicks on the left in the DAW.
I find this DAW just perfect - innovations like the Session View, the many built-in effects or the automatic warping of audio clips make Ableton Live the best DAW for music production ever.
What are the arguments in favour?
Best DAW for music production
Very good if you work a lot with samples
Very good performance
Incredible modulation possibilities
Excellent integration with external hardware
What speaks against it?
In the beginning you have to get used to the workflow a bit
Link: Ableton Live
AVID Pro Tools: The best DAW for professional recording studios
This is the best DAW and has been for quite some time. Pro Tools is the stardom for professional recording studios for a good reason, which is no different for us. Musicians, producers and engineers rely on Pro Tools to get the job done.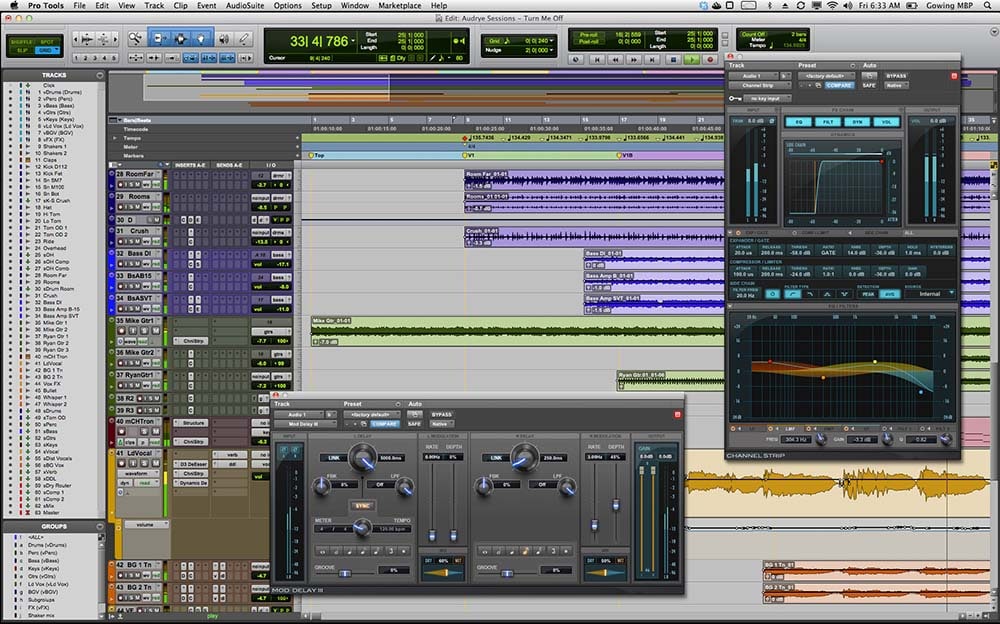 And Pro Tools is so good that it's used by studios from small studios to studios like Abbey Road.
Pro Tools has been the leading DAW for decades, and they know it. That's why Pro Tools has also become the most expensive DAW. But because it is used almost exclusively by professionals who earn their living with it, these people are willing to spend more money than a hobby producer in a home studio.
But it is still the best DAW for multi-channel recording and audio editing for larger studios with a lot of external hardware, the need for extensive support and its workflow is still simply unbeatable. The audio editing possibilities are immense and extremely good.
However, many complain that Pro Tools has not brought any news for years and accordingly the price is completely overpriced.
However Pro Tools not easy to learn, if you compare it to Ableton Live, for example. But once you know how to use it, you can work with it extremely quickly and effectively.
Avid offers three versions of Pro Tools. Pro Tools First, a free, limited version of the programme, Pro Tools and Pro Tools Ultimate.
Their own high-end hardware and support policies are the best in the music industry. Pro Tools is not without reason the absolute market leader in the recording studio industry, but that costs a lot of money.
Available for PC and Mac and new with excellent new factory plug-ins.
Link: Pro Tools
What are the arguments in favour?
Best DAW for professional recording studios
Very well suited for complex, multi-channel recordings
The best workflow for recording and mixing
What speaks against it?
High price
Quite difficult to learn
Cakewalk by BandLab: The best free DAW in 2022
Cakewalk is a DAW that has actually been with us for more than 30 years. And I say that because it used to be known as SONAR, under which it gained its greatest popularity, only to be taken over in 2018 by BandLab, who renamed it Cakewalk by BandLab and made it free to download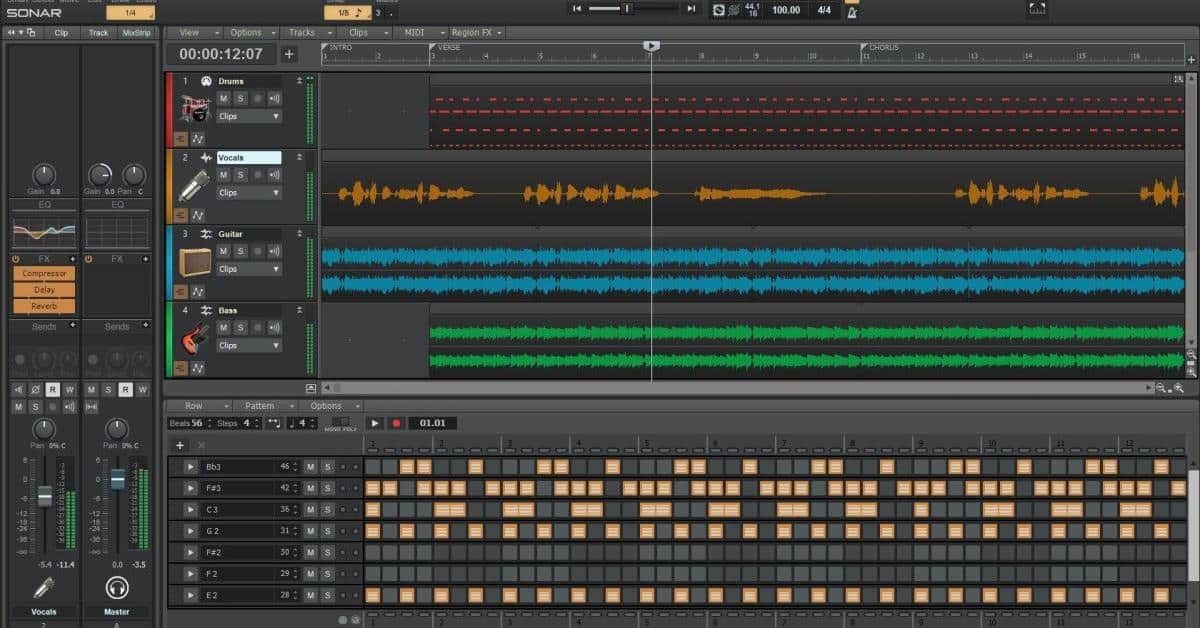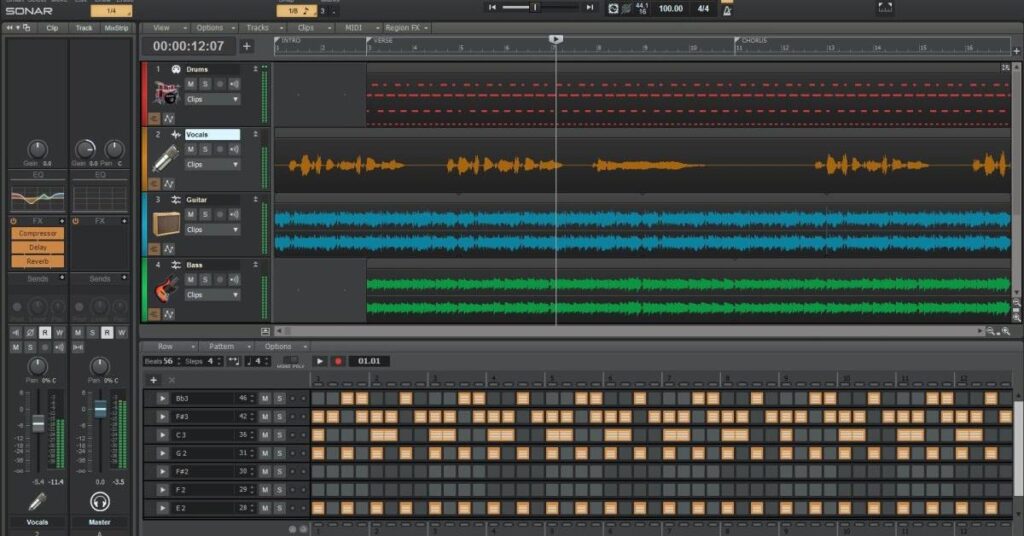 Either way, it's a sensational programme that lets you edit your music productions from start to finish and gives you all the tools you need to improve your compositions and recordings.
This software retains all the functions of SONAR Platinum. It is also possible to install third-party VST plug-ins without restrictions.
If you have already purchased plug-ins in the previous version of the programme (SONAR), you can also use them in this new free DAW.
The cool thing is that there are no track or memory limits - so you have a fully-fledged DAW 100% for free. All current DAW functions are available, 19 native standard effects are on board and a lot of grooves, one-shots and loops come with the package.
And that 100% for free!
If you're just starting out in the world of music production and don't want to spend a lot of money, this is definitely a very good choice. You have nothing to lose.
At the moment, this DAW is unfortunately only available for Windows - but they have announced that there will soon be a Mac version. Whether this is true is a good question - probably the financial incentive is missing here.
What are the arguments in favour?
100% Free of charge
VST compatibility
Many stock plugins
Many sound and loops
What speaks against it?
Not yet available for Mac
Somewhat limited
Link: https://www.bandlab.com
ACID Pro: The best DAW in 2022 for beginners with little budget
I don't usually see ACID Pro in the "best DAWs" lists, which I don't think is fair, because it's a fantastic music production tool and at the price it's sold at, it's an absolute bargain.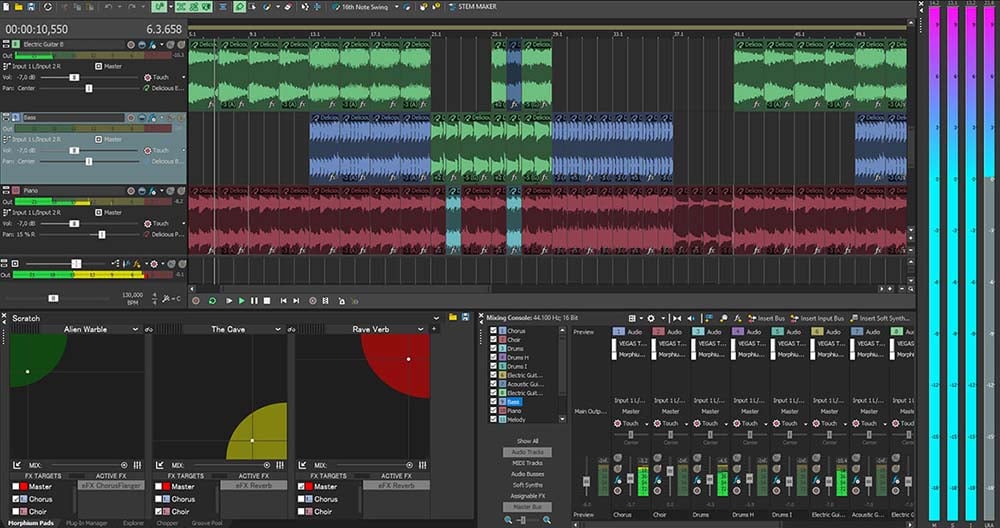 It's very similar to FL Studio in that it's not so much focused on mixing, but more on producing music with samples and loops.
But you can definitely use it for mix and master, and it gives you all the tools you need to do it.
ACID Pro is also great for composing, as it is easier than most other DAWs to change the tempo and pitch of certain parts, move them around, etc.
I really recommend you to try it out!
What are the arguments in favour?
It is a good all-rounder whose focus is on creating/composing samples and loops
Very easy to learn
What speaks against it?
Somewhat limited if you want to mix and master extensively
Link: https://www.magix.com/de/musik-bearbeiten/acid/acid-pro/
Bitwig Studio: Best DAW in 2022 for music production with extreme flexibility
Bitwig Studio was developed by some former Ableton developers in Berlin and is a DAW that has been compared to Live from the start because of its focus on creativity with clips, original and effective custom plugins and endless modulation possibilities.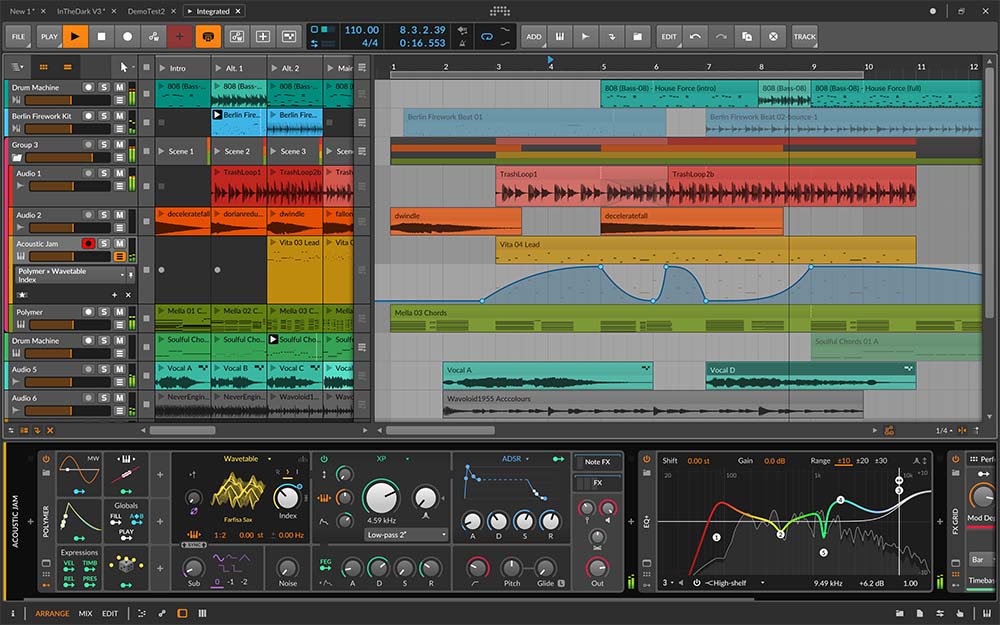 Bitwig Studio is intended both as a live performance instrument and as a tool for composing, recording, arranging, mixing and mastering. It also offers a range of controls for beatmatching, crossfading and other effects used by DJs.
Bitwig Studio supports both traditional linear music arrangement and non-linear (clip-based) production. It offers support for multiple monitors and touch screens.
This DAW comes with over 150 music modules and is packed with features specifically designed for DJs and performers, which is especially useful for those who perform their music live.
It is instantly compatible with most standard audio interfaces and controllers, similar to Ableton.
The special feature of this DAW is its unique and flexible modulation system, which offers you endless production possibilities. Everything can be modulated - a composer's dream!
Bitwig Studio is always evolving and the functions are constantly being improved. There are versions for Windows, Mac and Linux - so no producer is left out.
Bitwig Studio offers two versions: the full version for €399 and a limited introductory version for €99. You can compare them here and purchase the licence that suits you best.
What are the arguments in favour?
Excellent for performing live
Very many modules available
Modular sound design
It comes with more than 10GB of sounds for you to work with in music production.
What speaks against it?
The modular process is not yet fully developed
Link: Bitwig Studio
Steinberg Cubase 12: The classic
The longest-lasting DAW on the market that has implemented the most features, is one of the best DAWs today, and is also very popular with professionals, especially film, TV and video game composers.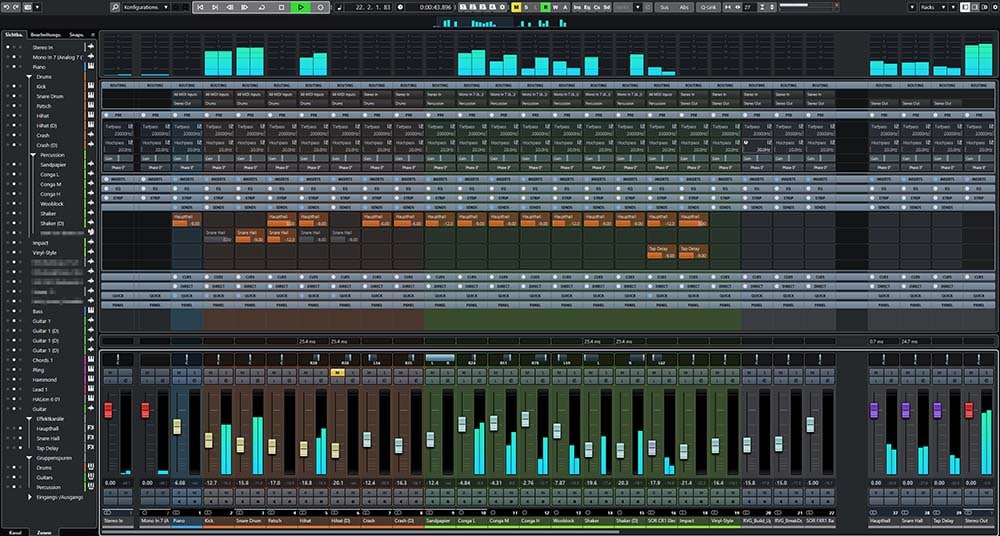 It is one of the most well-known DAWs because it has been on the market for more than 30 years and is used by countless studios. So you can be sure that Cubase has proven its quality.
They have continued to improve and new functions have been added. By default, Cubase comes with over 2600 sounds, 18 MIDI and 59 audio effects. So you can produce a song from start to finish only with this DAW - without any other VST plug-ins.
The comping functions and audio warping are extremely good - similar to Pro Tools. You can correct performance and timing errors in the audio without it being too noticeable.
Cubase has 3 different versions of its product, the simplest version is Cubase Elements. This version is intended for beginners, as only 64 MIDI tracks, 48 audio tracks and 24 VST tracks are available at the same time.
Cubase Artist also has limitations, but is powerful enough for most home studios. Here you are not limited in the number of tracks. However, you cannot create VCA tracks and it comes with fewer samples and plug-ins by default.
The flagship product is Cubase Pro, which is aimed at professionals and offers no limitations and powerful workflow support features. It comes with over 3000 instrument sounds, 81 VST plugins and MIDI plugins.
What are the arguments in favour?
Incredibly powerful
Very stable
What speaks against it?
High price
Not easy to learn
Link: Steinberg Cubase
Cockos Reaper: The best DAW for audio nerds who want to customize everything
Reaper is perhaps the most underrated DAW out there. With it, you can make any application you need to get a totally professional result.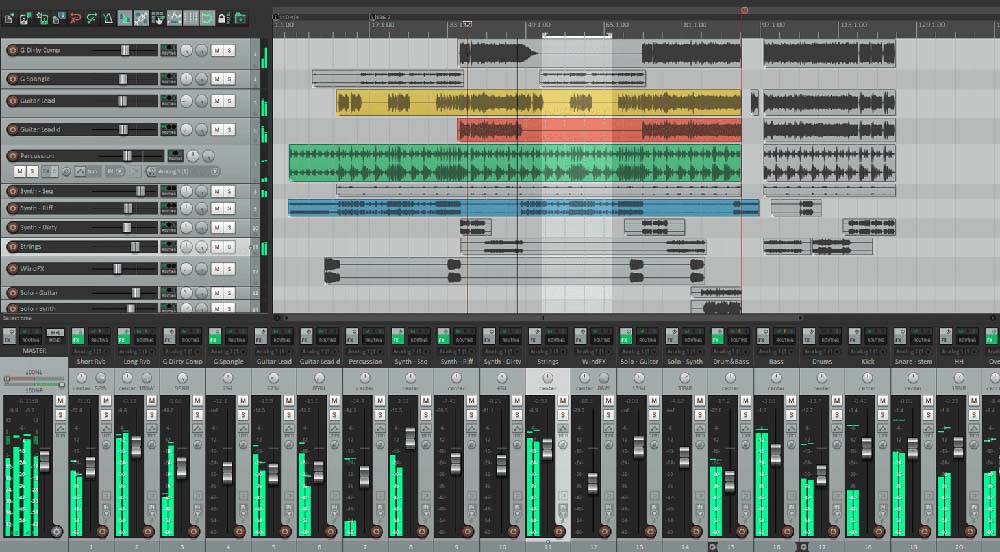 But the problem with this DAW is that the user interface is unattractive and unintuitive. It really takes getting used to, so people immediately decide against it.
It has simple, usable effects, but nothing fancy. Unlike other DAWs, it does not include instruments or sample packs.
It is especially recommended for recording and mixing. For composing, it is perhaps not as inspiring as other DAWs.
It is probably the most efficient and resource-efficient DAW on the planet. By and large it is stable and although it is not 100% bug-free, the developers constantly release updates.
Recording a 30-person orchestra is no problem with Reaper - because one of its best features is that it uses few CPU resources compared to other DAWs.
You can customise and create the GUI the way you want with Reaper - that's something really unique about this DAW.
What are the arguments in favour?
Uses few PC resources
100% customisable
Very favourable
What speaks against it?
No built-in loops or instruments
Unattractive and unintuitive interface, which can be somewhat daunting for beginners
Link: https://www.reaper.fm/
FL Studio: The Best DAW for Hip Hop Producers
FL Studio is one of the easiest DAWs in the world to learn. That's why for most people it's the very first DAW they ever try.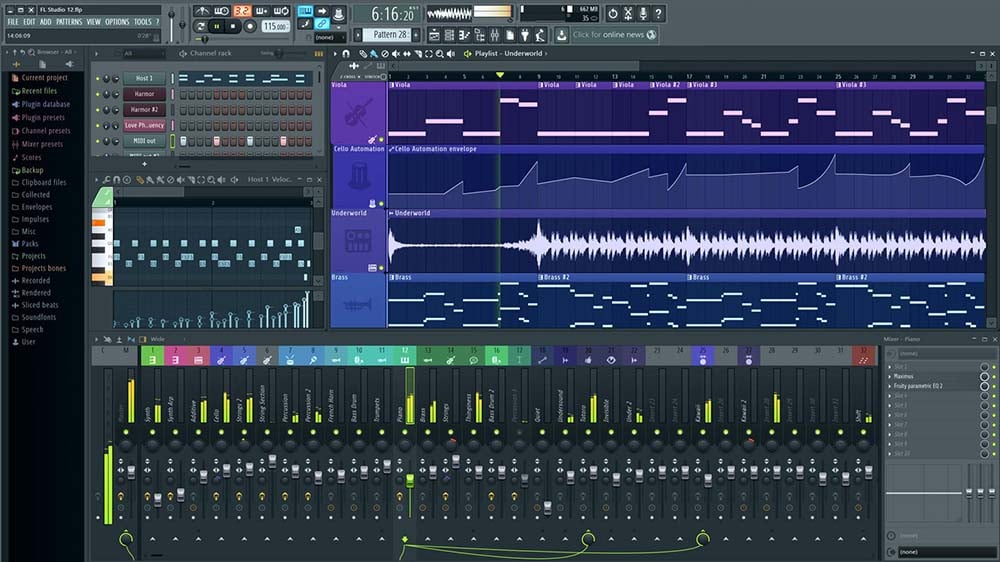 It's one of the classics in hip-hop music production, with tons of sound libraries and free updates. For plugins like Gross Beat or Fruity Slicer, this DAW is very well suited for hip hop production.
There are also always new proprietary plug-ins being developed specifically for hip-hop production, which are also only available for FL Studio. That is why this DAW is so well suited for rap productions.
As I said, the operation is very easy to learn, but what if I am an experienced DAW user? Then this DAW may not fulfil one or the other expectation.
It's not the most powerful DAW on the market and that's why many professional producers don't use it. For example, I would use FL Studio to produce a beat, but not to record a drum kit.
It's a DAW available for PC and Mac and you can use the same project on both platforms as the plugins are compatible on both versions. It has an amateur-friendly interface and everything is very easy to use.
What are the arguments in favour?
Very easy to learn
Perfect for producing hip hop and trap (because of the plugins)
What speaks against it?
Professionals can quickly reach the limits
Link: FL Studio
Reason: The best DAW for sound designers
Reason Studio, formerly known as Propellerhead Reason, has developed its DAW Reason 12.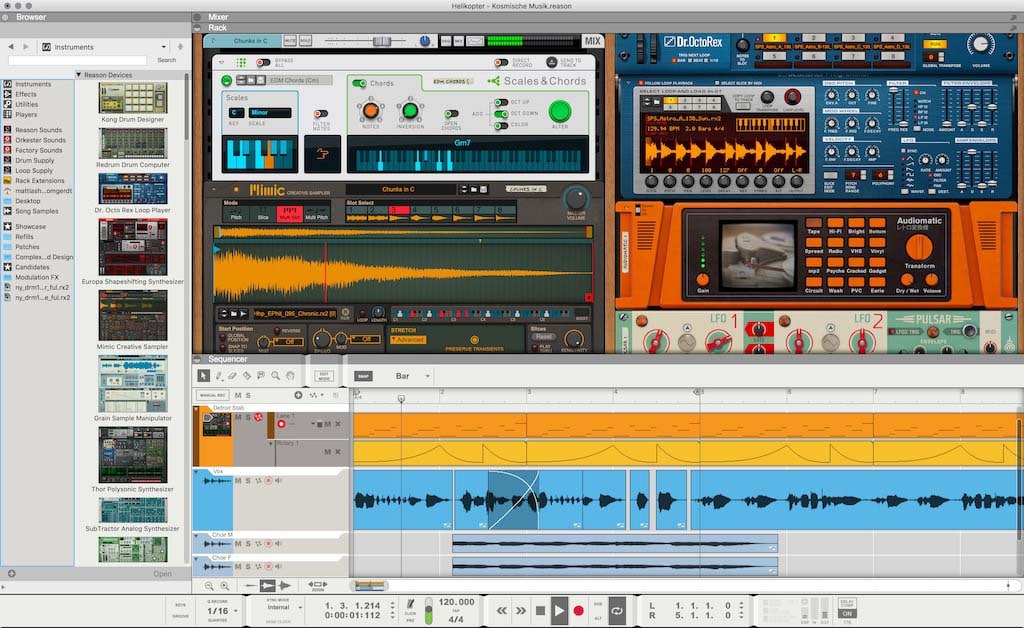 If you're a fan of analogue gear and recording studios full of racks and cables, this DAW is designed for people like you. The user interface and cool native plug-ins are clearly inspired by such setups, and even the internal mixer is an emulation of a classic SSL.
Its strength is the large number of instruments included as standard, as well as the possibilities to create different sounds and effects.
The latest addition to this powerful DAW is the Reason Rack plugin - allowing you to use Reason and its great instruments within another DAW - with the free routing and great sounds you've come to expect from Reason.
This opens up a world of possibilities for producers - especially those who have always worked with Reason and collaborate with producers who work with other DAWs.
The Reason Beat Maker Tools is a sample and loop library that comes with this DAW and offers you a lot of inspiration for its productions: Drum loops, basslines, strings, etc.
Reason is relatively easy to learn, yet very powerful - you can really do everything with it: Beat production, recording, mixing and mastering.
What are the arguments in favour?
Available as DAW and plug-in (VST/AU/AAX)
Extremely powerful
High resolution graphics
Large sample library
What speaks against it?
User interface takes some getting used to
Link: Reason 12
Steinberg Nuendo: The best DAW for video post-production
I did an internship in a recording studio where the producer used Nuendo as his main digital audio workstation and I was able to learn a lot about this software.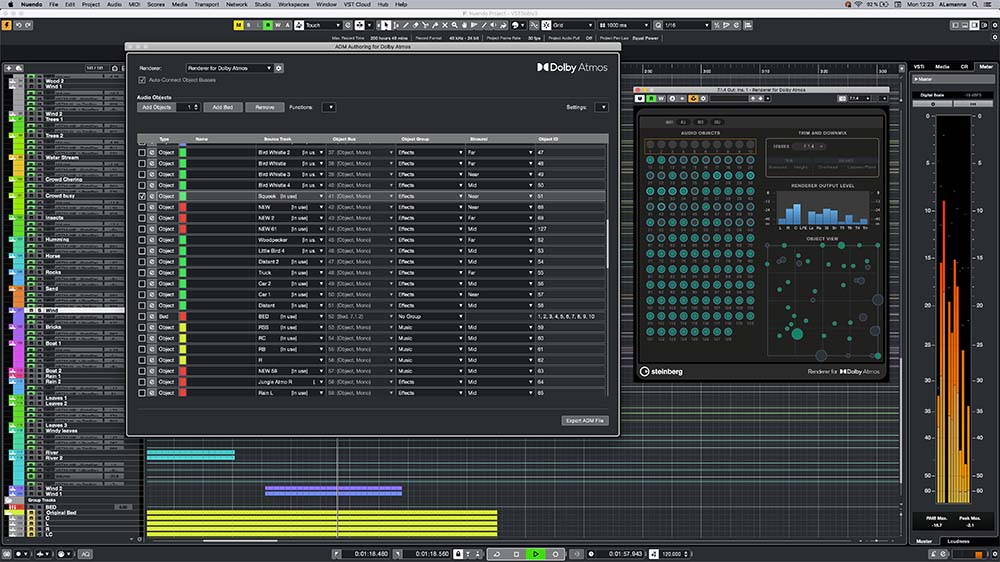 Nuendo is the bigger brother of Cubase, as this DAW is also distributed by Steinberg. However, this DAW is more focused on video post-production in the audio field, as more multi-channel formats are supported.
Now Nuendo can open/import AAF files, which means you can open your Pro Tools sessions in Nuendo itself, which wasn't possible a few years ago and is a significant improvement.
Nuendo is a good DAW for composers as it comes with chord pads, chord wizards, chord tracks and much more.
What are its strengths: It is excellent for producing game and video music and is a good all-rounder.
What are the arguments in favour?
It is the best DAW for producing game and video music
Good all-rounder
What speaks against it?
Offers nothing that Cubase can't for most music producers
Link: Steinberg Nuendo
PreSonus Studio One: The best DAW for little money
Presonus is a hardware manufacturer that launched this DAW in 2009, and since then its popularity has gone from strength to strength.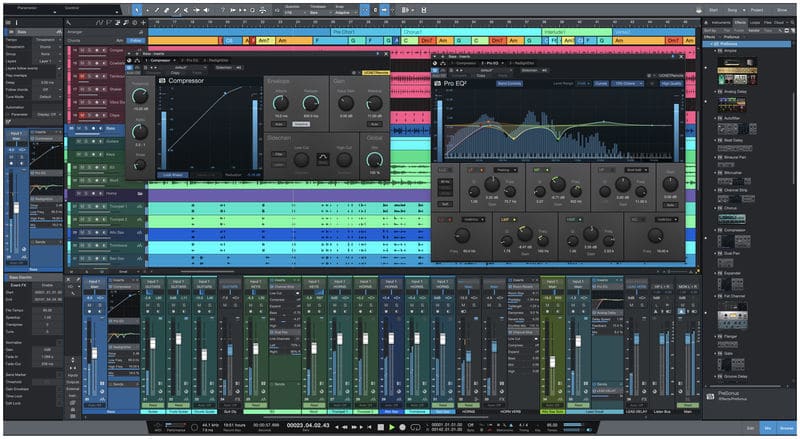 The DAW is offered in three versions: Studio One Artist ($99.95), Studio One Professional ($399.95) and Presonus Sphere ($14.95/month).
This DAW is often compared to Pro Tools - and that's saying a lot. But Studio One simplifies many functions with its incredibly intuitive workflow, which is not the case with Pro Tools.
It's like someone took Pro Tools, removed all the unnecessary buttons and arranged the menus and dialogues so that they made sense.
While it is true that it is not suitable for large studios, it is a very good option for those who are looking for a good and stable DAW but do not want to pay Avid's affordable prices.
Studio One is a perfect DAW for composing, producing, recording, mixing and mastering. You can really do anything you want with this DAW.
What are the arguments in favour?
Super fast workflow for music production
New chord- and sample-based tools
New functions for live performance
Mastering functions include DDP import/export
What speaks against it?
Complex interface and mixed console
Saving track templates can be tedious
Link: Studio One
Apple Logic Pro: The best DAW for Mac users
Logic Pro is one of the best DAWs and the price is incredibly good. But it is unfortunately only available for Mac.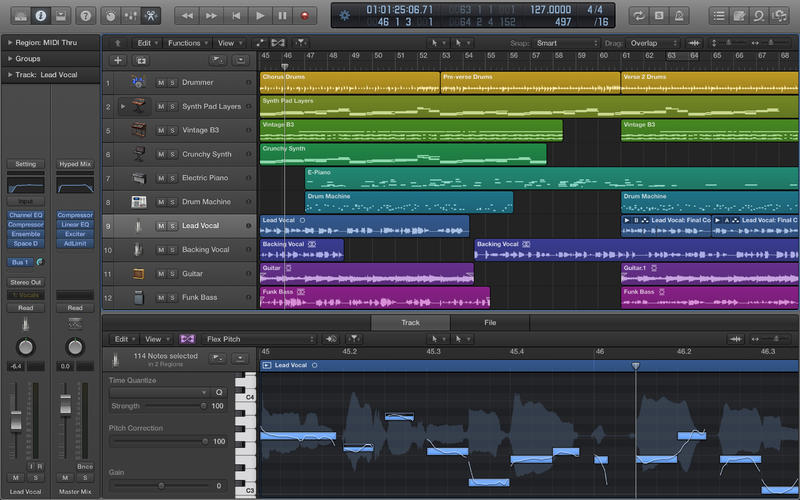 For the price, this DAW offers an incredible amount. It has instruments, effects, an intuitive user interface and even an incredibly good pitch corrector.
Its virtual library is incredibly authentic and contains all the instruments you need to create complex and complete compositions.
In addition, Apple has not lost sight of its competitors in recent years and has added features to enhance the creative workflow, such as Live Loops, which are clearly inspired by the clips in Ableton Live's Session View.
If you have a Mac and you want to produce, mix, and master music, this is the best value DAW you can find.
For me personally, that's really the only reason I regret switching to Windows! It's like Apple has combined the best of Pro Tools and Ableton Live into Logic Pro.
Like everything from Apple, the user interface is super intuitive and the DAW is pretty quick to learn for what it can do.
One of the best DAWs I have ever tried!
What are the arguments in favour?
Best price-performance ratio ever
Many sounds and VST effects
Ultra-stable
What speaks against it?
Mac OS X only
The blender could use bigger counters and more flexibility.
No single audio processing (in the style of Clip Gain)
Link: https://www.apple.com/logic-pro/
What is the best DAW? - My personal opinion
I've been producing music for over 6 years, so I've gained quite a bit of experience with DAWs. I have 2 personal favourites that I use every day: Pro Tools and Ableton Live.
Pro Tools: I use Pro Tools for recording instruments, singers and voince-over artists, most of it professionally. Pro Tools offers incredible possibilities in recording, especially the comping (the possibility to create different playlists on each track) I find particularly useful. When I record a drummer, it's very easy to record different takes, which can then be grouped and edited by selecting the playlist with the different tracks. So you can easily record and edit 12 tracks (one drum kit with 12 microphones). These options are not available in Ableton Live, or only in a roundabout way, so I prefer to use Pro Tools for this.
Ableton Live is much better and more intuitive for music production and composition. Midi editing is a dream in Ableton and a nightmare for me in Pro Tools. And the ability to see the clips one below the other in Live is very handy for quickly recording different ideas and listening to them one after the other.
I now use Ableton Live for everything from beat production to mastering. Thanks to the new features of version 11, multi-track recording is now no problem, which in my opinion has made Ableton the best DAW on the market.
You have to find your own favorite or favorites, just like I did. Take advantage of the free trials of DAWs to find the best one for you and try to become an expert with that DAW. This is a better idea than trying to understand all DAWs.