I've tried numerous options available to many rappers and singers today, and after doing tons of research, I've narrowed it down to a few to help you on your shopping adventure.
The first thing you should know is that there is a difference between microphones for performing and for recording. In this article, we will focus exclusively on microphones for the studio.
If you're looking for a microphone for live performance, be sure to check out our comparison of the best dynamic microphones.
Important factors to find the best microphone
What's your budget? Let's face it: if you want a relatively powerful setup, you're going to have to spend some money, not only on a solid microphone, but also on accessories like a mic stand, a pop filter, or a shock mount. And of course, an audio interface and a computer with the DAW of your choice. Tip: For small budgets, the Rode NT1A (179€) is the best microphone you can take for vocals, whether rap or singing.
What kind of microphone? We've seen some use dynamic microphones, but we're going to be strict here and recommend that you only look for a condenser microphone (except for the Shure SM7B, which is the best dynamic microphone in my opinion). Most of the models presented here are connected to the audio interface via XLR. USB microphones are also available, but the audio quality is worse. We have heard of many USB microphones for home use, but when it comes down to it, the best microphone is a condenser microphone with XLR connection.
Other things you need. There are a few additional accessories and equipment that you will need to optimise your setup and that you should keep in mind to get a feel for your overall budget. Pop filters, mic stands, audio interface, or studio headphones.
The type of microphone is one of the most important questions we are asked. There are basically two types of microphones: Dynamic and condenser microphones.
So what is the difference between a dynamic microphone and a condenser microphone?
In very simple terms, the difference between a dynamic microphone and a condenser microphone is that a dynamic microphone is better suited for recording loud, powerful sounds (drums or loud vocals), especially in live performances, while a condenser microphone is used for recording finer sounds and higher frequencies (e.g. studio vocals), especially in a studio environment. A dynamic microphone also does not need 48v phantom power, whereas a condenser microphone does.
Some additional equipment such as a microphone stand, pop filter or shock mount is mandatory. Before you buy your accessories individually, check again if there are special packages that contain the desired microphone and accessories. Otherwise, we recommend a normal, but stable microphone stand such as this one.
Also interesting: The 9 best studio monitors
Condenser microphones: Best microphones for vocals
Condenser microphones are best for recording vocals and high frequencies. They are also the preferred microphone type for most studio applications.
Condenser microphones are mainly used in studios because of their detail and accuracy. But how is this achieved? Condenser microphones are equipped with a lightweight diaphragm suspended from a fixed plate. The sound waves exert pressure on the diaphragm, which causes it to move.
Because of the thin diaphragm and higher sensitivity, condenser microphones are often used to record sensitive sounds. They also need a power source. Usually they are powered by phantom power, but it is also not uncommon to use a 9 volt battery.
While condenser microphones are excellent for recording acoustic guitars, drum overheads, or vocals, they are often not as good for louder sounds like guitar or bass amplifiers. For such purposes, dynamic microphones are often the better choice.
I myself use a Neumann U87Ai for my hip-hop clients. This microphone is very flexible and sounds good with almost all rappers and singers.
Dynamic microphones: Best microphones for loud instruments
Dynamic microphones are best used for loud noises or environments. Due to their ability to handle loud sounds and their lower sensitivity, they are the preferred microphone for live use.
Unlike condenser microphones, a dynamic microphone uses a wire coil to amplify the signal picked up by the diaphragm. Therefore, the output power of a dynamic microphone is lower than that of a condenser microphone.
Another reason why dynamic microphones are great for live use is that they are incredibly robust. While it's not ideal to drop a mic, if you do drop a dynamic mic, it's much less likely to be damaged than a condenser mic.
Dynamic microphones also don't need batteries or phantom power and usually cost much less than condenser microphones. A dynamic microphone requires little to no maintenance, and if you take good care of it, it will maintain its performance for a lifetime.
Best rap microphones with good price-performance ratio:
AKG C214: Best condenser microphone under 300€
The C214 is the younger brother of the legendary AKG C414. It builds on the qualities of its predecessor and presents them in a more affordable format. The components used are very similar to those of the C414, with some slight adjustments that make it ideal for rappers.
Unlike the C414, it does not offer switchable pickup patterns. But since you will be using the C214 as a vocal mic, this should hardly matter.
One of the outstanding features of the C214 is its exceptional dynamic range. This condenser microphone delivers the classic large-diaphragm sound AKG is known for. I find that it brings out transients well and does not over-compress the recordings.
If your rap style is aggressive and punchy, this large-diaphragm condenser mic will have no problem with it. Even if you're going crazy with your vocals, this rap mic doesn't disappoint. Explosive vocals were no problem for me and I was thrilled with the low frequencies that this microphone captures.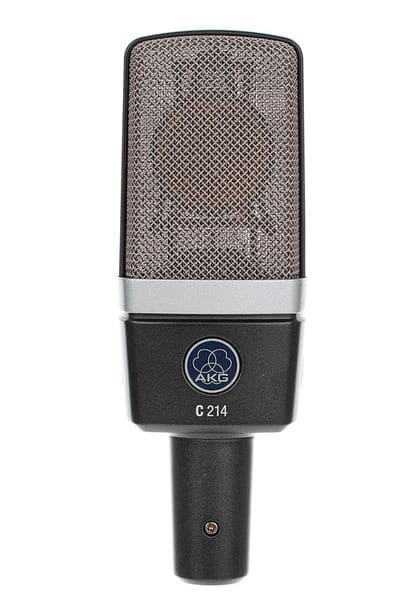 My experience is that you need a little EQ to make rap vocals sound perfect. It is suitable for both male and female rap vocals, but of course it always depends on the song. It's great for recording crisp but hard rap vocals, but it's not the best for recording softer, deeper RnB vocals.
Even if you switch to a higher quality rap mic in the future, you can still use this mic as a good second option. Compared to cheaper mics like the Audio-Technica AT2020, the overall sound just seemed more detailed and "real" to me. Believe me, you can compare this mic to a Neumann and you won't notice a difference in half the time.
As far as the quality of the construction is concerned, I found the C214 quite robust. You will find very robust materials everywhere. The integrated capsule suspension is an example of this.
AKG has included some useful accessories with the C214 for recording on the road. These include a high-quality shockmount, a windscreen and a metal case.
Link: Thomann
What are the arguments in favour?
Very good price-performance ratio
Rich, warm, "real" sounding vocals
Compatible with aggressive rap styles
Extremely robust construction
Windscreen, shockmount and carrying case included in the scope of delivery
What speaks against it?
To sound really good, you might need a little EQ
Offers only the cardioid pattern, although you may not need another if you only want to use it as a vocal mic
---
Neumann TLM 102: Best microphone under 600€
The TLM 102 is one of the top choices for sound engineers and singers who want to capture premium audio quality. This rap microphone is perfect for rap and hip hop. It features a unique transformerless design and offers you all the details you know from high-end large-diaphragm condenser microphones.
The frequency response of the TLM 102 is ideal for recording rap vocals. I found that it brought the expression of the performer's vocal style into focus very well. It is also surprisingly compact for such a high quality microphone.
The high SPL tolerance allows you not to compromise on the aggressiveness of your rap (if you think this might affect the sound quality).
One of the most important aspects when recording punchy rap vocals is to avoid or minimise Plosives. This noise is caused by the air pressure and can affect a recording. Fortunately, Neumann has included a high-end pop filter with the TLM 102 to combat this problem.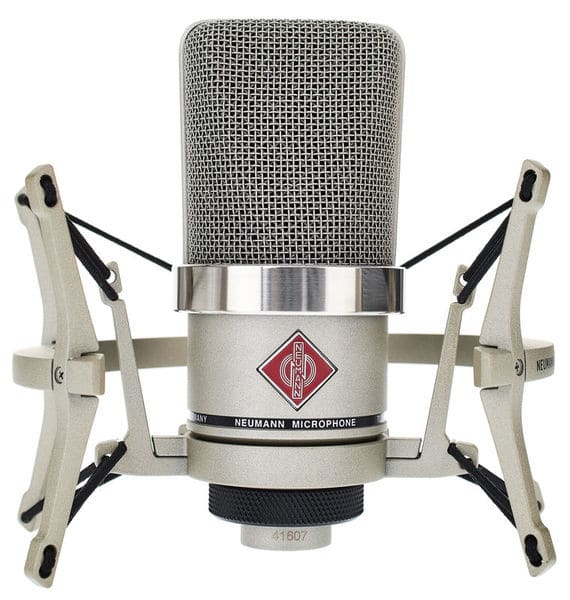 It's not the cheapest solution, but if you want to record even the smallest details in your rap song, the TLM 102 is definitely worth the price in my opinion. When you consider that it is so versatile that you can also use it as an instrument mic for guitar amps or drums (as overheads), the price seems justified.
In our recording studio we mainly use a Neumann U87, the bigger brother. However, this microphone is quite expensive, and probably not everyone wants to spend over 2000€ on a microphone. But if you can afford it, you should!
Link: Thomann
What are the arguments in favour?
Very good recordings down to the smallest detail
High SPL capability, perfect for aggressive rap styles
Frequency range perfectly suited for recording rap vocals
What speaks against it?
The overall sound profile is rather "flat", which some rappers may not find impressive
Comparatively expensive
---
Rode NT1-A: Best microphone under 200€
The NT1-A from Rode is another high-quality rap microphone that makes it possible to record every last detail and expression of rap vocals. The NT1-A is characterised above all by its low self-noise. Even the quietest vocal tracks are recorded precisely and almost noise-free.
The natural sound of the voice is preserved without being distorted by the microphone. With its high sound pressure capability, the NT1-A is suitable for a variety of recording purposes. You can use it to record loud transients such as drums and percussion, or to capture the subtle details of an acoustic guitar.
Despite its versatile performance, the NT1-A is first and foremost a vocal microphone. Thanks to its wide frequency range, this microphone can pick up all the timbres and pitches of your rap vocals.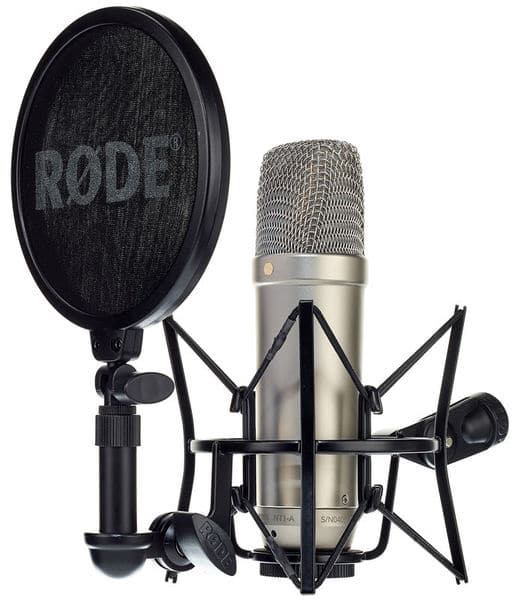 This was actually my first microphone ever! I bought it at the beginning because it was so cheap and so versatile. The Rode NT1-A is really a super all-round microphone for little money.
Later, when I got to know many comparable microphones, I found out that it can compete with the most renowned vocal microphones (like the Neumann U87) and fits extremely well into the mix. As I mentioned earlier, it doesn't colour your voice at all, so you get an extremely faithful representation of your actual voice with this mic.
Rode provides all the accessories you need to record rap vocals. The microphone comes with a shock mount, pop shield, XLR cable and microphone dust cover.
I find that the internal shock mount system ensures that slight movements do not affect the quality of your rap recordings. The rap microphone is finished with a durable satin nickel coating for added durability.
Link: Thomann
What are the arguments in favour?
Really very good sound that can hold its own with mics that cost 10 times as much
Natural sound
Internal shock mount system
What speaks against it?
Sometimes the treble is a bit too sharp, but this can be corrected with EQ.
---
---
Shure SM7B: Best dynamic microphone
Shure is one of the world's leading suppliers of microphones and is known for its SM57 and SM58 dynamic microphones. The SM7B is a unique offering that rivals the two microphones mentioned in terms of popularity. This rap microphone became very famous because Michael Jackson used it a lot.
The SM7B is the first choice for podcasts and other spoken word recordings because it is particularly clear and precise. It is also an excellent rap microphone.
With two tone controls, the SM7B can be adapted to any vocal style. It has a switchable passive EQ that instantly cuts out low frequencies and boosts overall presence and mids.
Regardless of the pitch and timbre of your rap vocals, the SM7B will do. When the Low Cut is activated, it highlights the mid and high frequencies of rap vocals. When the Presence Booster is activated, it works seamlessly with high-end sound sources.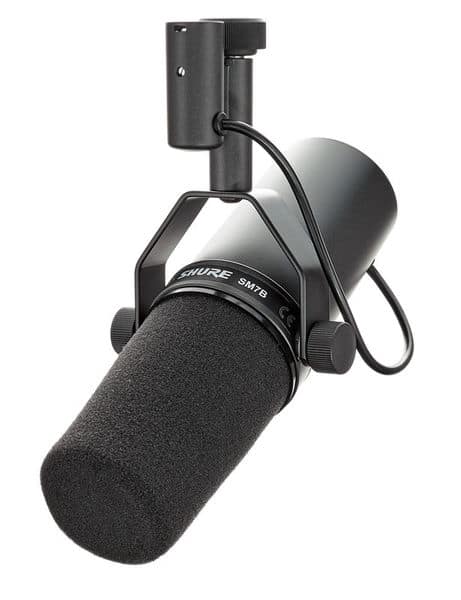 The SM7B is one of the most versatile rap microphones on the market. With a sound pressure level of up to 180 dB, it's great for recording loud sounds, whether it's vocals, drums or other amplified instruments.
Although most microphones that are good for recording raps are condenser microphones, the SM7B is dynamic. Thanks to its unique cardioid pickup pattern, it behaves like a condenser microphone while being as robust as a dynamic vocal microphone.
One thing I love about this microphone is that no matter how it is positioned, it always does its job very well. It almost feels like it's impossible to make a bad recording!
If you want to know more, you can find my article on the history of this microphone here.
Link: Thomann
What are the arguments in favour?
Wide response range
Fast transient response and almost exact replication of the original sound
Can handle high sound pressure levels without distortion
Comes with shock absorber and carrying bag
10dB attenuator and high pass filter
What speaks against it?
Remarkable pop sounds without pop screen
---
---
Audio Technica AT4040: Best microphone under 400€
As you would expect from a microphone in this price range, the Audio-Technica AT4040 voices extremely clearly and distinctly. This versatile model is not only ideal for recording rap vocals, but also for podcasts and voice-over work.
The transformerless circuitry of this model also improves the microphone's ability to reproduce fast transients. It can pick up even the sharpest sound sources such as snare drums or hi-hats.
At the heart of the AT4040 is its natural-sounding sonic character. Some condenser microphones tend to colour recordings or emphasise certain frequencies. That's great if that's what you want, but impractical if you want a clean sound. With its extra-thick diaphragm, the AT4040 accurately reproduces rap vocals without altering the sonic characteristics.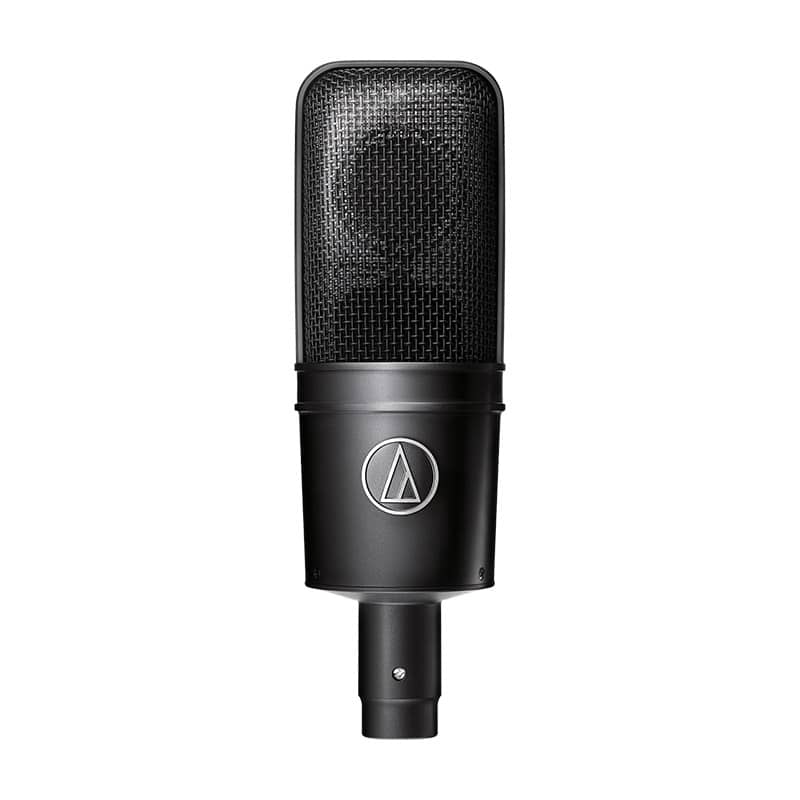 I find the upper frequencies to be extremely smooth and there is no unwanted sibilance or any kind of sharpness. I personally have not tried using it for recording guitars or other instruments, but as a rap vocal mic I can endorse its capabilities without hesitation.
The only real disadvantage of using this microphone is its extremely high sensitivity. While this is an advantage for capturing even the smallest nuances of your rap, it is also extremely impractical if you don't have a well soundproofed recording room.
And finally, the thing is still made in Japan. All in all, for its price, you'll be hard pressed to find a better option that can capture the details of your rap vocals as well as this Audio Technica mic.
Link: Thomann
What are the arguments in favour?
Well suited for aggresive rap styles
Built like a tank, so you can also use it for concerts
Impressive SPL tolerance of up to 180 dB
Also works in untreated (non-soundproofed) rooms due to excellent background noise suppression
What speaks against it?
Not well suited for shooting from a distance
Requires a lot of pre-amplification, it is even recommended to use a FetHead (a kind of pre-amplifier).
---
---
AKG C414: Best microphone under €800
The AKG C414 rap Microphone is one of the most famous rap microphones in the industry. There is a cheaper version of the same microphone, the C-214, but the C-414 is the real deal. There are two models: C414B XLS and C414 XLII. They have slightly different sound characteristics, but both are excellent. You can choose the one that best suits your voice. AKG offers excellent value for money even on the cheapest microphones, so you can imagine how impressive the C414 can be. It's definitely one of the best mics for recording rap vocals if your budget allows it.
The AKG C414 rap microphone has undergone several changes over the years. Although it is in the same size range as the Neumann TLM 102 microphone, the C414 is packed with features.
The most important thing you'll notice is the button on the front that lets you switch between 9 different pickup patterns. The physical difference between the XLS and XLII is that the former has a silver and black design and the latter has a gold and black design. The capsule suspension mechanism, buttons, etc. have changed since the last edition. The C414s now have the function of saving their settings when the microphone is switched off and on again.
This rap microphone is accompanied by a foam-padded aluminium case, a sturdy shockmount with quick release, a pop filter and a windsock. At AKG, every dollar counts.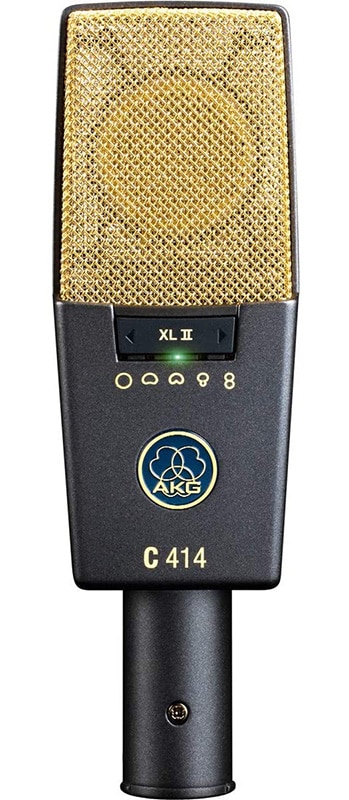 The AKG C414 Rap Microphone is an action centre. The distinctive toggle switch on the front allows you to choose between omni, wide cardioid, narrow cardioid, normal cardioid and figure-of-eight pickup patterns. This feature allows you to change your vocal range and the noise range on the sides and back of the microphone. You can lock and unlock your selection so it cannot be accidentally changed.
The attenuator also offers three attenuation options: 6dB, 12dB and 18dB. This allows you to work with more instruments. The high-pass filter also has three cut-off options: 40Hz, 80Hz, 160Hz. The 40Hz and 80Hz cut-offs are quite sharp. The 160Hz cut-off is more gradual.
The difference between the XLII and XLS rap microphones lies in their presence peaks. The XLII has an even more dramatic peak. This extra peak provides more transparency in the high frequencies. The sound has a special shine. You can try either one. If one doesn't work for you, the other certainly will.
This rap microphone brings a very balanced sound. The detailed high-end clarity is mixed up with a full body. Even when recording instruments, you get excellent instrument separation and clear sound. The high-end brightness doesn't compromise the depth of the sound. The low frequencies provide a solid foundation for the mids and highs. They are very versatile in terms of audio. The 158 dB sound pressure level means it can handle everything from drums to guitar. This is a serious microphone for people who want to get the most out of their music.
Link: Thomann
What are the arguments in favour?
9 Selecting the directional characteristics
3 high-pass cut filters and 3 attenuation options.
Lock functions lock the recording patterns.
The audio reproduction is excellent
Smooth treble with a full-bodied sound
What speaks against it?
The microphone is somewhat fragile
Rode NTK: Best tube microphone under 500€
The Rode NTK Rap Microphone is one of Rode's most expensive specimens. However, it is generally in the moderate price range. It has a charming design that is characteristic of Neumann microphones. It also has a reliable construction that ensures it won't break a few hundred euros right away. But more importantly, its audio characteristics can outperform some of the most expensive microphones in the game. The low noise and high sound pressure level make it one of the best microphones for recording rap vocals.
The architecture of the Rode NTK Rap microphone deserves its own report. This cost-saving design makes some bold leaps to make it worth every penny. The internal parts are designed to protect the diaphragm from low-frequency vibrations. The microphone feels good in the hand. It is easy to disassemble and the parts can be replaced, including the tube section.
This rap microphone comes with an excellent flight case. No phantom power is needed as it comes with its own power supply. A 7-pin cable is included to connect the two. You will need to invest separately in a suitable shock mount.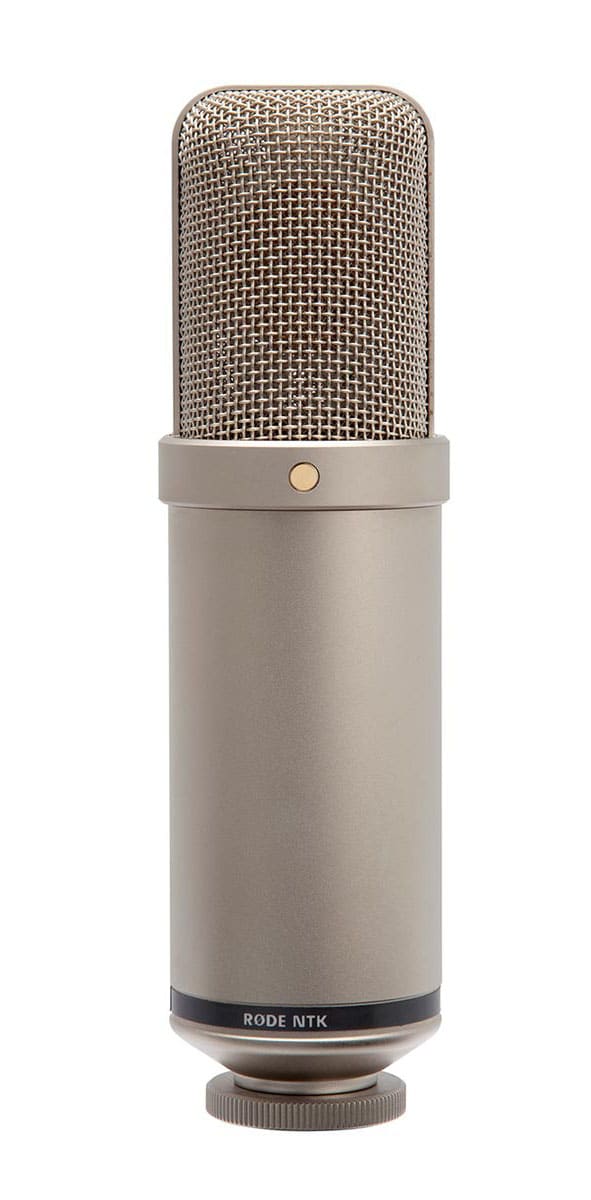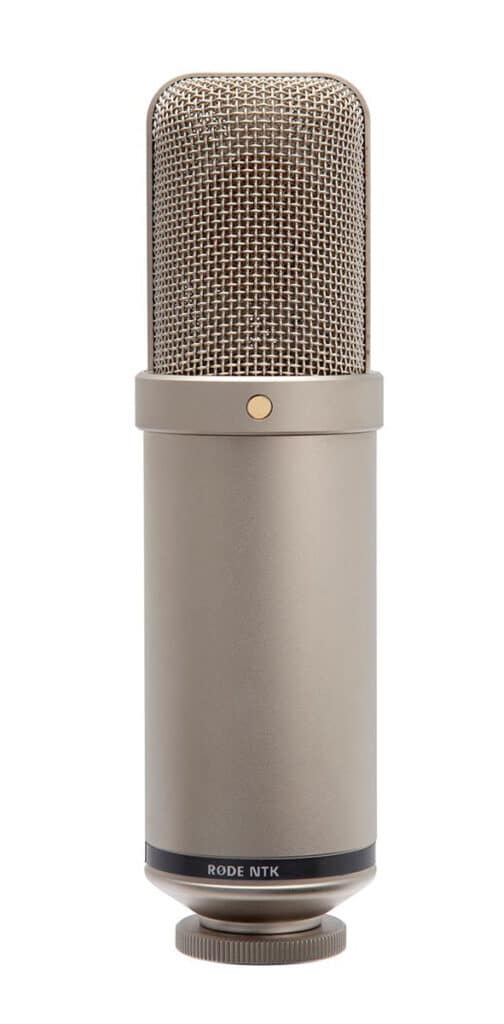 The Rode NTK Rap microphone is a tube condenser microphone. It has very low noise for a tube. The signal-to-noise ratio is 82 dB, exceeding the expectations of a tube condenser. The sound of this microphone goes one step further and is better than the original reproduction. The vocals sound stable no matter what is rapped. But they are energetic with the brightness that comes with the presence peak. The suppressed energy in the tracks can be used to their advantage when mixing. There is enough space for the vocals to breathe. Details rush through these cracks and create a healthy sound.
The best thing about this rap microphone is how it reacts to compression. There is no discolouration in the tones of the Rode NTK. Therefore, compressing and mixing tracks requires relatively little equalisation. The power of the sound clearly echoes in the recording space. So your soulful lyrics don't get lost in the dense mix of instruments. The sound is relaxed and unflagging without losing its mood. Thanks to the 158 dB SPL limit, the NTK can also withstand loud and awkward shouting. Even with resonant drums, it does not give up its integrity.
The NTK rap microphone also sounds much closer than other microphones. This allows you to keep a reasonable distance between you and the microphone and still avoid a lot of attenuation in the high frequencies. NTK has implemented the best possible design you can get for this price. It is in stark contrast to expensive microphones that have much less to offer.
Link: Thomann
What are the arguments in favour?
A first-class, highly cost-effective design
Airy, exciting sound
Requires less EQ
Comes with its own power supply unit, the necessary cables and a carrying bag
Neumann U87Ai: Best microphone ever
To this microphone, it must be said from the outset that it is in a completely different league. After all, the value when new is currently €2,489.
If you're familiar with studio microphones, you've probably heard of the Neumann U87 Ai. The original Neumann U87 was launched in 1967. It was available until 1986, when it was replaced by the Neumann U87 Ai. Even if you've never heard of either microphone, Neumann is ubiquitous in studios around the world. These models have been used on countless recordings, from jazz to pop, as well as spoken word and broadcast.
Why do sound engineers, musicians and broadcasters love the Neumann U87 Ai so much? There are many answers to this question, but let's start with its versatility. As a studio microphone, it can be used for a variety of purposes, reproducing the spoken voice just as well as a vocal or that of an instrument.
The reason it's so versatile is the three polar patterns (omnidirectional, cardioid and figure-of-eight), as well as the pad and switchable low-cut options, which give sound engineers much more choice in how they use it.
Of course, the sound is the most important feature of a microphone. And the great thing about the Neumann U87 Ai is how unique that sound is. Yes, it has a flat frequency response, but the sound is not characterless or bland. A Neumann U87 Ai has its own character.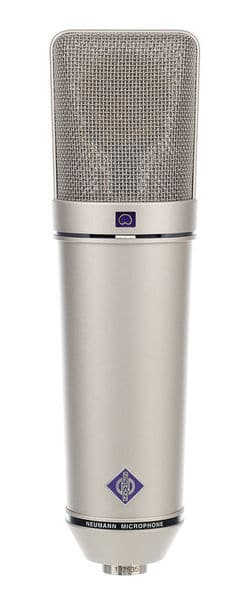 If you have a trained ear, you will immediately recognise that it is a Neumann U87 Ai when you hear it. However, this does not mean that the sound is altered in any negative way. The Neumann U87 Ai is free of distortion and reproduces the human voice clearly - perhaps more clearly than any other studio microphone, which is why it remains so popular.
Although it is a vocal microphone, it can pick up guitars, basses, drums (overheads mostly) or all instruments just as well thanks to its wide frequency response.
The final reason why sound engineers appreciate the Neumann U87 Ai so much is the well-known Neumann quality. When you order a Neumann U87 Ai, you won't get a defective microphone that will give you problems. Every Neumann U87 Ai is made by technicians who take their craft seriously.
I've only owned it for 1 year, but I've been using it daily ever since.
Link: Thomann
What are the arguments in favour?
Incredibly good sound
Sounds good with almost any instrument/singer
Versatile thanks to the different directional characteristics