Finding a guitar amp that meets all your needs can be a difficult but exciting task, so take the time to do your research - especially if this is your first amp.
With so many choices available these days, it's important to understand the differences between different types of amps in order to find the right one for each genre and electric guitar. After all, no guitar amp is going to cover the entire sonic spectrum 100%, but it should at least be able to do what you need it to do.
Types of guitar amplifiers: tubes vs transistor vs modelling
Classic guitar amps were either tube or transistor based, but since 1996 there have also been digital modeling amps. They are all very different and suitable for different purposes, but they also have many things in common:
Tube guitar amplifiers: They use vacuum tubes (also called valves) to amplify the signal. They produce a warm, rich sound that is favored by many guitarists, especially those who play blues, rock, or metal. Tube amps are known for their natural compression and very nice distortion, which can produce a dynamic and (if desired) dirty sound. However, they tend to be more expensive, heavier, and require more maintenance than other types of amps.
Transistor guitar amplifiers: They use semiconductor transistors to amplify the signal. They are lighter, cheaper, and require less maintenance than tube amps. They sound cleaner and have less harmonics than tube amps, making them popular with jazz, country and pop guitarists. However, transistor amps do not have the warmth and character of tube amps and can sometimes sound harsh or sterile in direct comparison.
Digital modelling guitar amplifiers: They use digital signal processing (DSP) to simulate the sound of various amps and effects. They can accurately recreate the sound of anything from vintage tube amps to modern high-gain amps. Digital modeling amps often have built-in effects such as reverb, delay, and chorus that can be easily adjusted and saved as presets. They are versatile, lightweight and very convenient, making them popular with guitarists who play many different styles and value portability.
Keep reading: The 11 best electric guitars for beginners
The best guitar amps under 500€
Marshall DSL5CR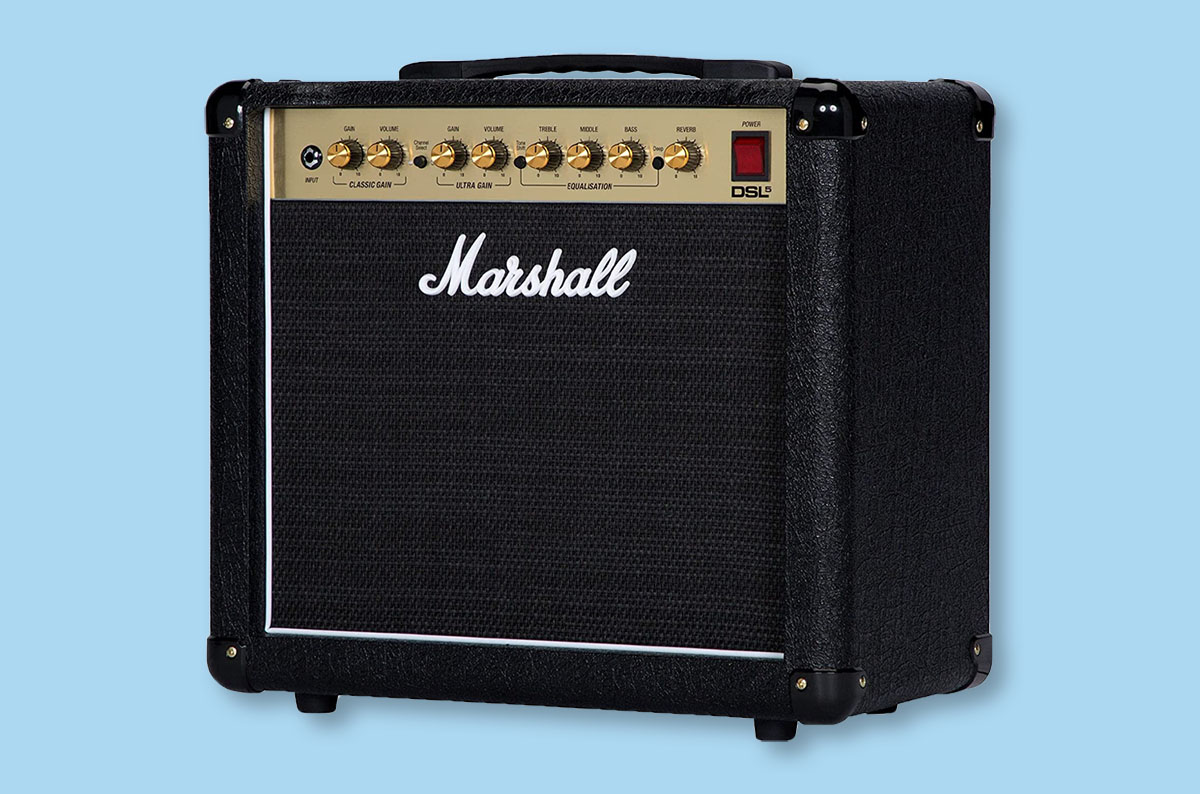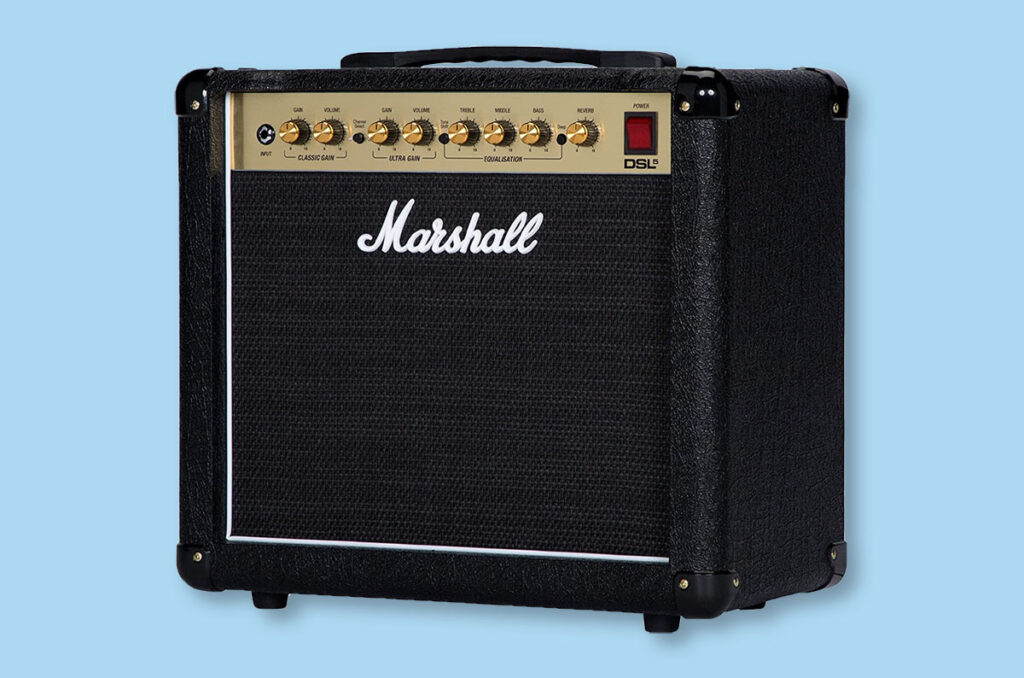 With this modern guitar amp, Marshall delivers a great all-tube combo at only 5 watts, but it has an excellent sound comparable to more expensive amps - just a little quieter. Still, 5 watts is more than enough for an all-tube amp for rehearsals and small gigs.
The Marshall guitar amp features 2 tubes in the preamp and 1 tube in the power amp, a built-in 10″ Celestion speaker, and 2 channels, a normal channel and a high-gain channel. These channels can be used to create sounds ranging from clean funk to dirty rock or metal. The distortion is very nice, very saturated and full of harmonics, with compression and sustain as you would expect from an all-tube amp.
Each channel has a volume and gain control for precise distortion and volume adjustment. There is also a global EQ with bass, mid and treble, a deep switch for more bass and a tone shift switch to adjust the frequency of the mids.
Personally, I find it very convenient that you can use this amp with other external speakers-you can simply disconnect the connection between the guitar amp and the cabinet on the back and connect another one. This can be especially helpful for genres with a lot of distortion, as the 10″ speaker reaches its limits and sounds a bit stiff and tinny. This does not happen with larger speakers, e.g. 12″.
Vox AC10C1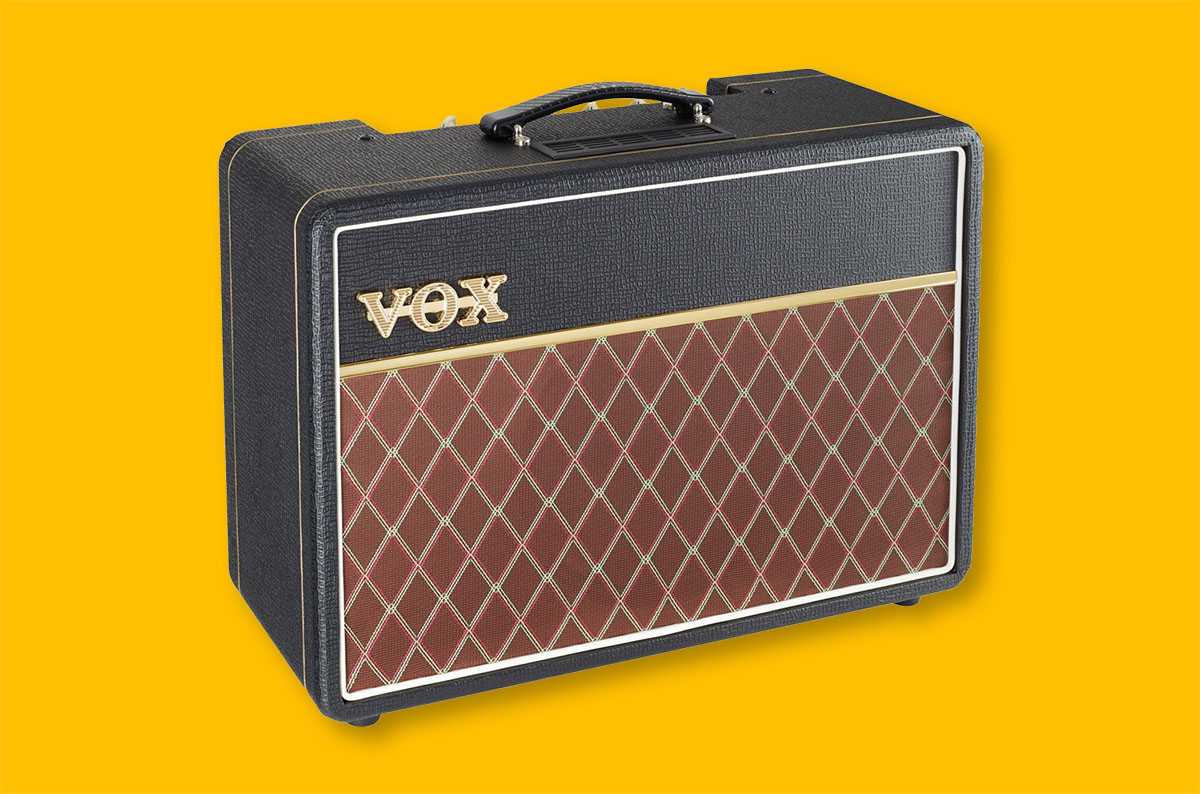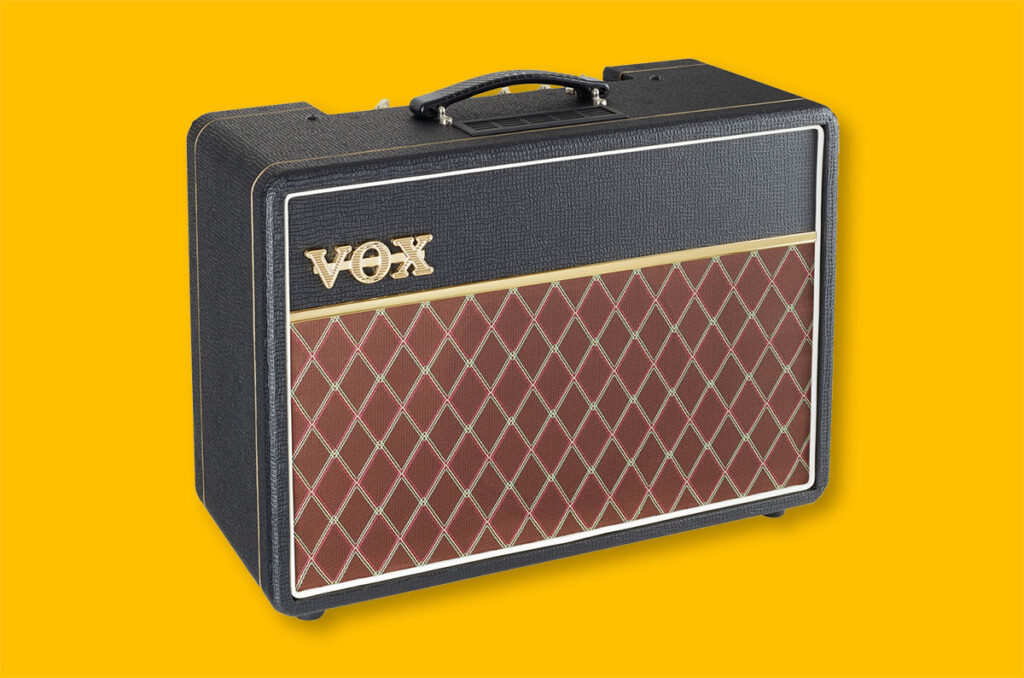 This guitar amplifier costs a little more than 500€, but this extra 50€ is definitely worth it if you like vintage sounds. The Vox AC10C1 is a smaller version of the legendary Vox AC30 made famous by Brian May, the lead guitarist of Queen.
The Vox AC10 offers a similar sound that can be very clean and crystal clear, but can also produce a very nice vintage distortion, but at a lower volume than its big brother. The distortion is not as dirty as other guitar amps, but clearer and more dynamic, so if you are looking for a metal amp, this is not the one for you. But for genres like rock'n'roll, funk, blues, jazz or reggae, this amp is excellent.
The guitar amp is loud enough to handle rehearsals and small gigs, but it should definitely be run through a PA for larger venues. It is nice that the Vox AC10 still sounds relatively clean at higher volumes.
Setup and operation is simple because there is only one channel: There are gain and volume controls to precisely adjust the relationship between distortion and volume, a 2-band EQ with bass and treble controls, and a digital reverb control.
Vox guitar amps are some of my all-time favorites and I can highly recommend them to any guitarist who plays clean to moderately distorted genres. However, if you are looking for AC/DC or Metallica-style distortion, you should look at Marshall or Orange.
Fender Champion 100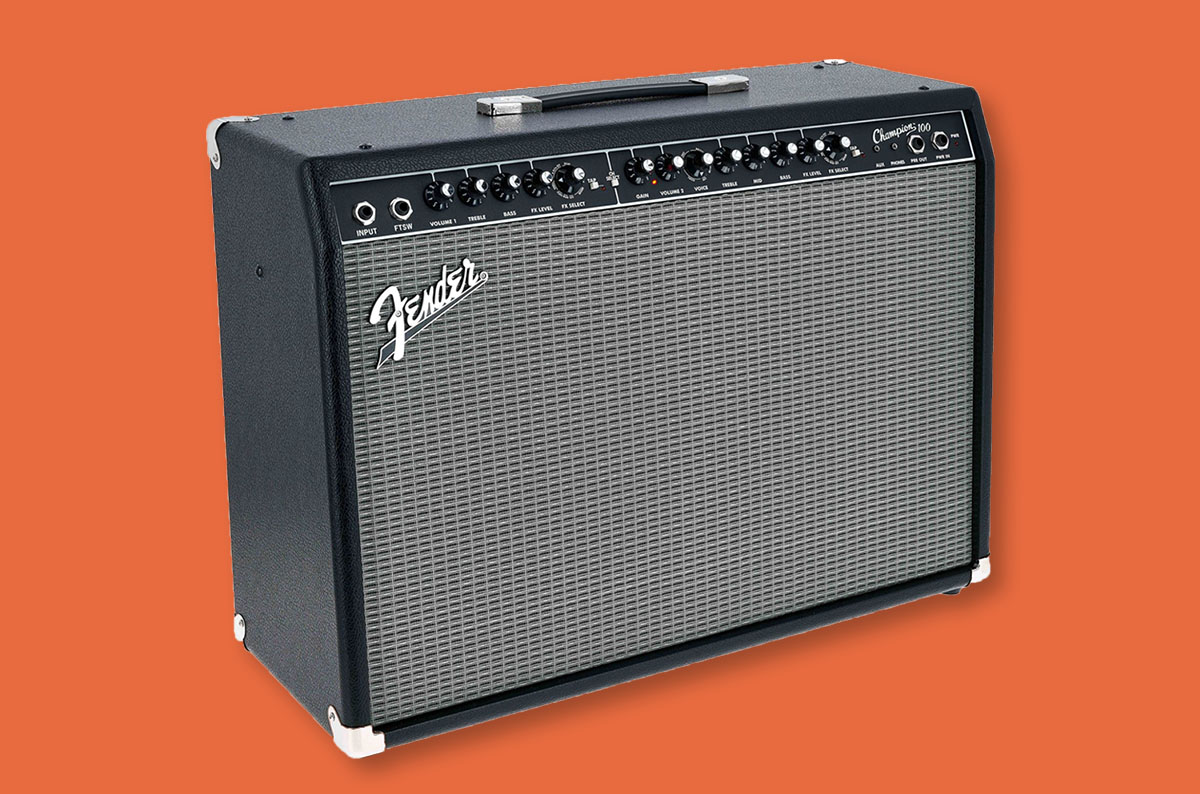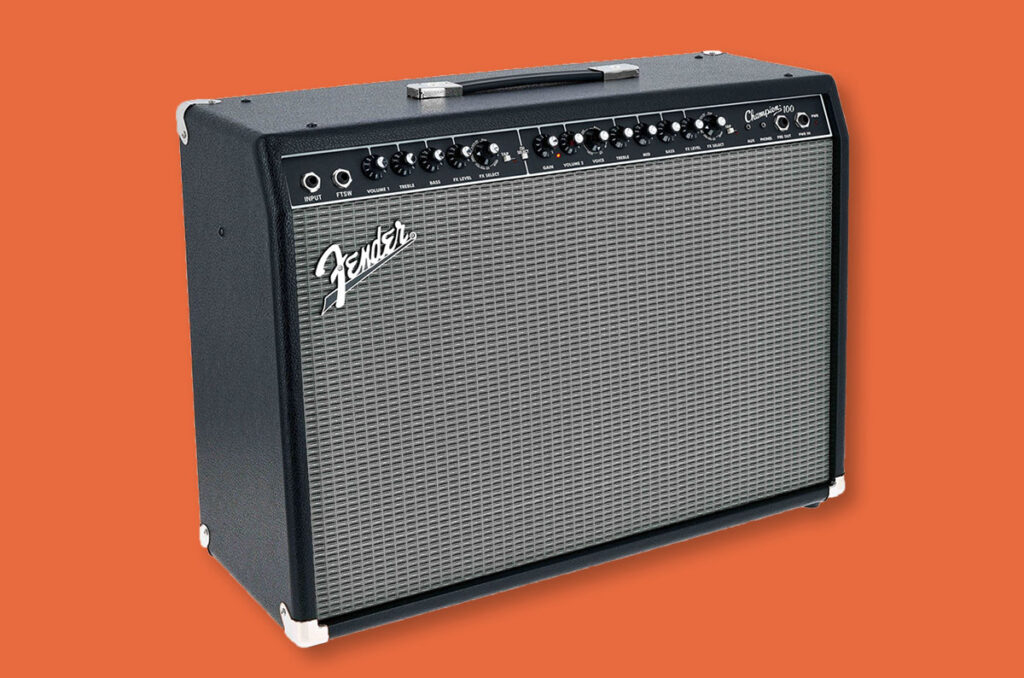 With the Champion 100, Fender has brought a guitar amplifier to the market at a very reasonable price that is not usually seen at Fender. The lack of tubes saves a lot of money, of course, and in return there are some digital amp simulations in the distortion channel to create dirty sounds even without tubes.
The amp has two channels, each with EQ (2-band in channel 1, 3-band in channel 2), FX select, FX level, and a gain control in channel 2. A handy tap switch allows you to set the delay tempo by tapping.
With a total of two 12″ speakers and 100 watts of power, this guitar amp is loud enough for all applications and can easily hold its own on larger stages. But thanks to the amp simulation, it can also be played at room volume and still deliver a fully distorted sound.
The amp simulations also sound very good and very close to the original, especially the emulations of the classic Fender models. In my opinion, the clean sounds are really great, but the distorted sounds could be better - but you should not forget the price of the guitar amp. For metal or rock purists it won't be very convincing, because of course the tubes are missing.
But if you are just looking for clean tones with occasional overdrive, this is a very good choice, versatile with built-in effects, and unbeatable value. It also looks damn good!
Harley Benton TUBE15 Celestion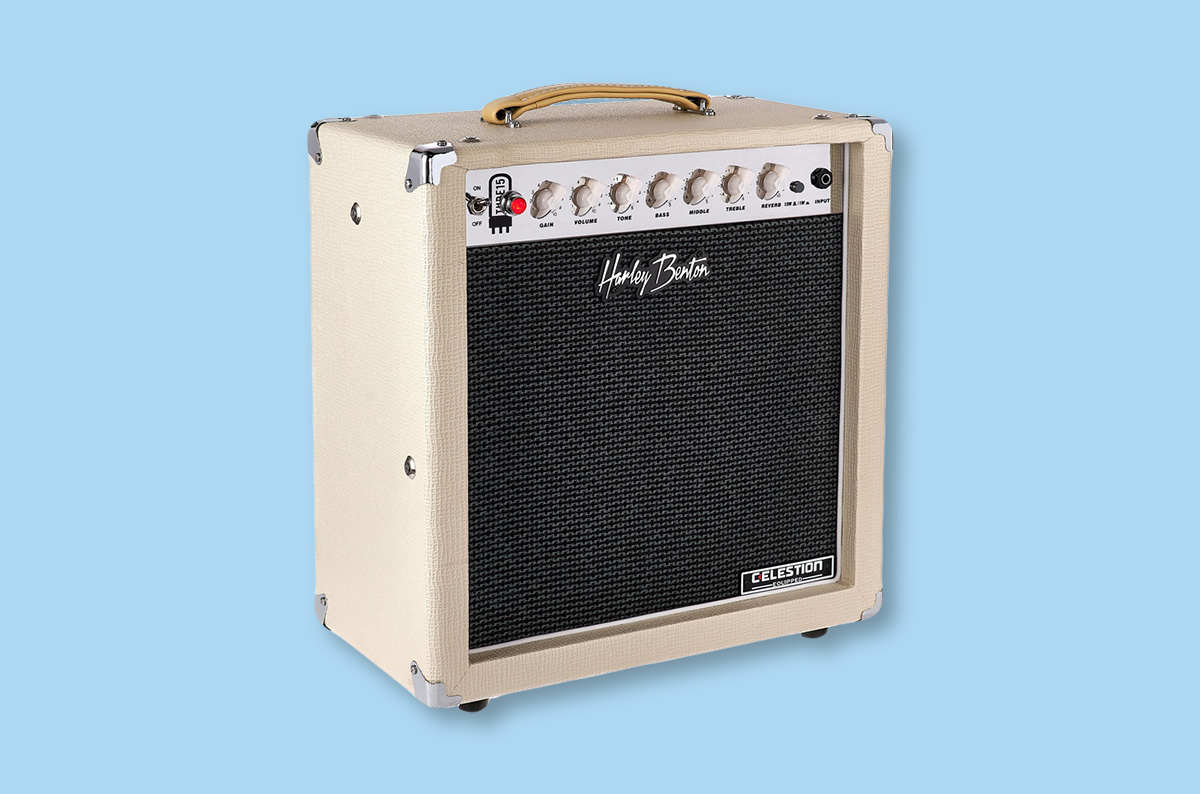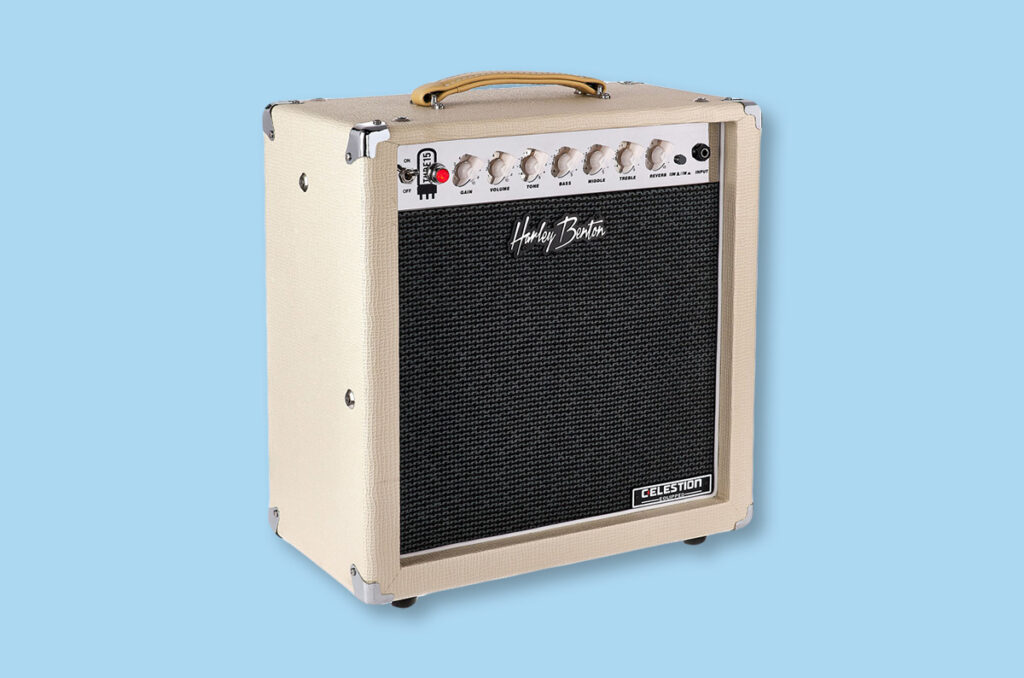 This guitar amp from Thomann's own brand offers a purist, classic rock sound at an unbeatable price. With 15 watts of full-tube power, the amp is loud enough for smaller stages, but can also be turned down to 1 watt for the full distorted sound at lower volumes.
The Harley Benton Tube15 sounds really good, crisp and dynamic, and can distort very nicely, as you would expect from an all-tube amp. But it can also be played relatively clean with soft overtones. The tonal palette ranges from crunchy clean sounds to AC/DC distortion.
With the tone control, you can also shape the sound very nicely, and thus make it more bass or treble accentuated. The sound is not only unbelievably good for the price range, but better than many expensive amps and is also convincing in the studio.
A great feature is the built-in analogue spring reverb, which gives the sound a really nice vintage character. It is not too obtrusive, stays nicely in the background and makes the guitar sound like in the rock'n'roll of the 60s.
The operation is quite simple: There is a channel with gain and volume control to adjust the distortion, a tone control, a 3-band EQ and a reverb control. You can also connect an external speaker - the built-in speaker is then switched off.
A clear recommendation for guitarists who like all-tube amps but don't want to spend a lot of money - and yet this guitar amp makes no compromises in terms of sound.
Boss Katana 100 MKII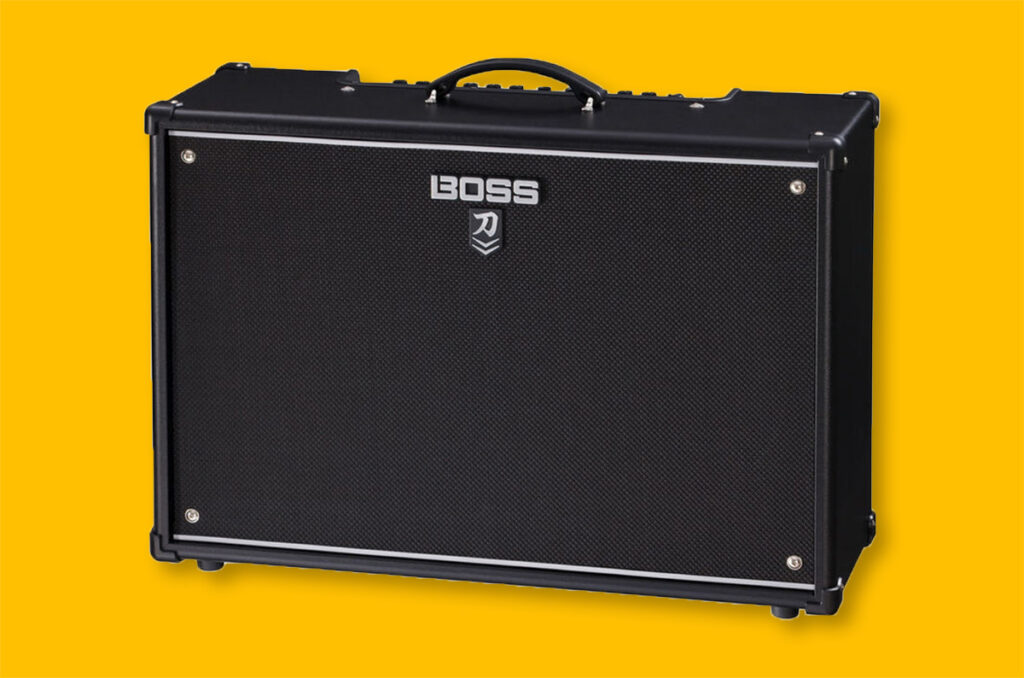 This modeling guitar amp from Boss is very interesting: it delivers 100 watts of power in a relatively small package and is equipped with many high-quality effects. Boss is the world's largest manufacturer of guitar effects, so you can be sure that the effects are of the highest quality.
The guitar amp can simulate 5 different amp models (Clean, Crunch, Lead, Brown and Acoustic), which can actually produce all known rock sounds. Whether clean, crunchy or really dirty distorted, everything is possible with the Boss Katana. And the sounds are very good, with a lot of power and character - not high-end emulations (especially in the higher frequency ranges, the difference to the original is audible), but excellent for the price.
Where the amp really shines is in the effects section - there are boosters, modulation, FX, delay and reverb, but using the Boss Tone Studio software you can add up to 60 additional Boss effects. The possibilities for sound design are virtually endless! When you are done designing your sound, you can store it in one of four memory locations.
There is a 3-band equalizer, gain and volume controls, a presence control, and a master control for fine-tuning the volume. It is even possible to reduce the power to 50W or 0.5W to practice at home without terrorizing the neighbors.
A great choice if you are looking for a versatile digital guitar amplifier that can cover the entire spectrum of guitar tones.
The best guitar amps under 1000€
Vox AC15 C1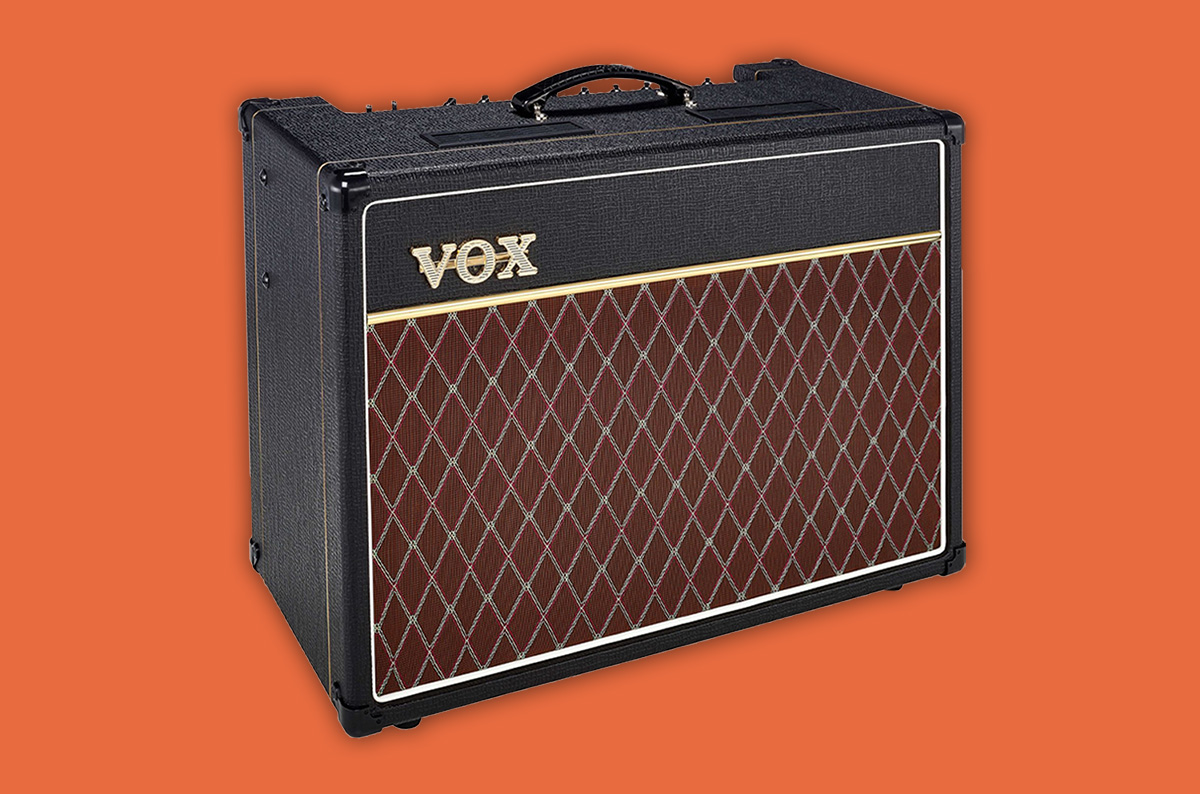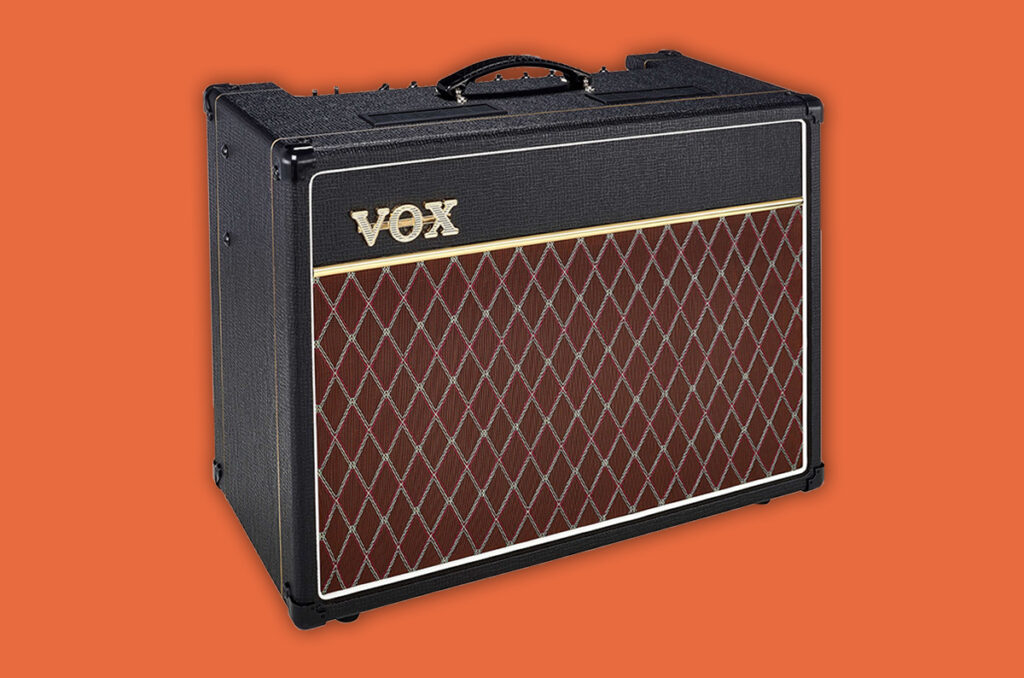 Now we come to one of my favorites, the little brother of the legendary Vox AC30. The Vox AC15 sounds basically the same, but is not as loud, smaller and lighter.
This guitar amp has two channels: a normal boost and a top boost with more overdrive and a boost in the upper frequency range. The sounds range from very clean with lots of headroom to slightly distorted, and always sound incredibly nice, detailed and rich. It is not an amp for heavy metal or punk, but very suitable for blues, rock, jazz or pop, among other things because it can be played very loud and relatively clean.
For the normal channel, there is only one gain control, called "Volume" here, but it controls the volume of the preamplifier. The top boost channel also has a 2-band EQ. Both channels also have a tremolo effect, a full-size analog spring reverb, and a master volume and tone cut control.
The normal version is equipped with a 12″ Celestion G12M Greenback speaker, which sounds very good. But for just under 350€ more, there is the Vox AC15 C1X, which is equipped with a 12″ Celestion Blue Bulldog Alnico speaker that sounds even warmer and richer in overtones. With both models, additional speakers can be connected via the 2 outputs on the rear panel.
The sounds that can be produced with this amp are more limited than with other amps, but what comes out is always first class: dynamic, crystal clear and very rich in overtones - a pure pleasure for the ears. In my opinion, it is one of the best guitar amps for blues, funk and reggae, next to the Vox AC-30.
Marshall Studio Vintage SV20H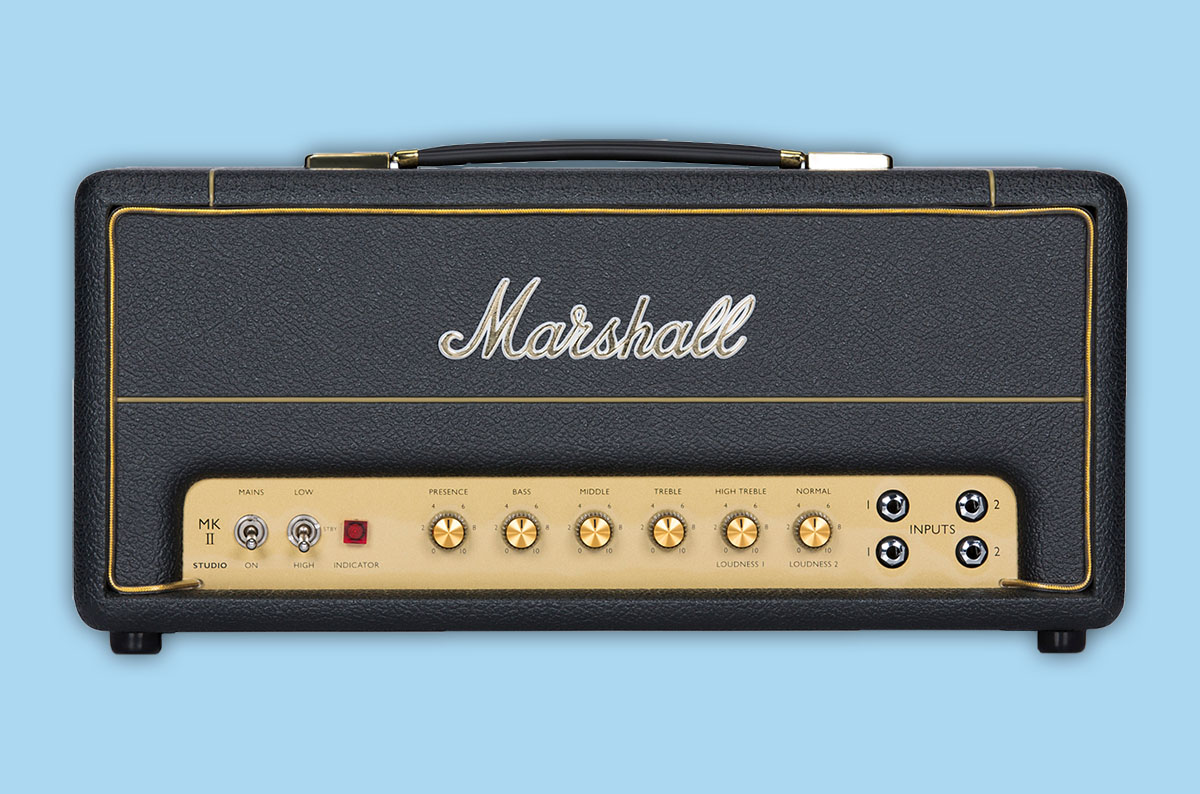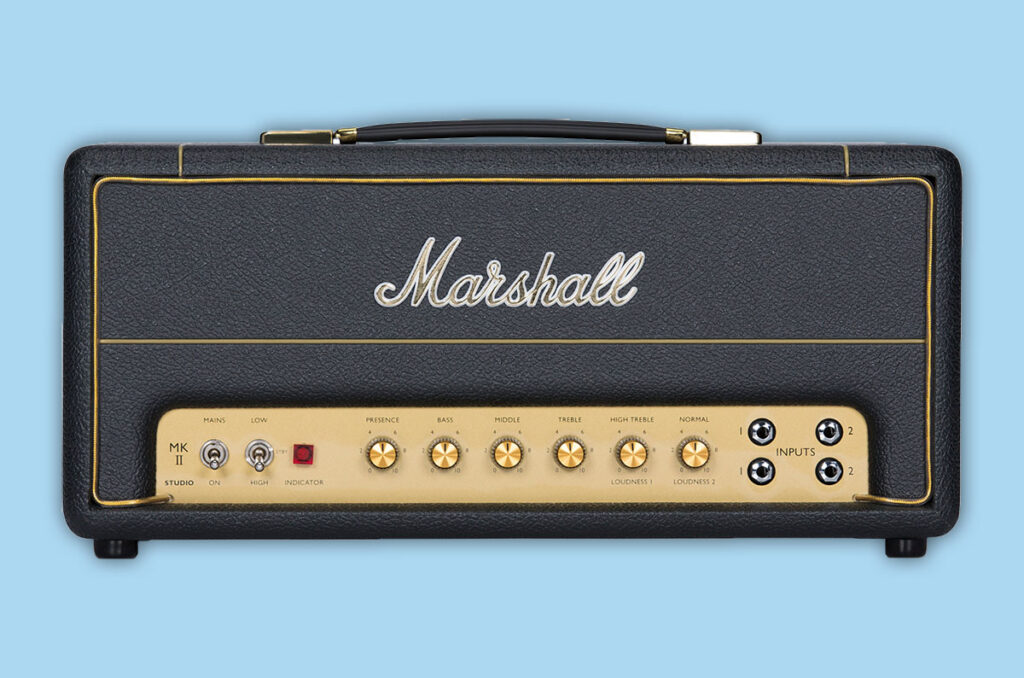 This all-tube head from Marshall is a great introduction to professional rock and heavy metal tones. The amp can distort so well and so much on its own that you don't need an effects pedal to create really fat high-gain sounds in the style of Iron Maiden or Guns N' Roses.
This amp is a reissue of the legendary Super Lead Plexi from 1959, played by legends like Jimi Hendrix and Eddie Van Halen. The head has only 20W of power, but should be enough for studio recording or small stages. For larger stages, you can connect it to the PA via the DI output, but it's better to record it through speakers with a dynamic mic to hear the full sound.
The Marshall guitar amp has two channels, a normal channel and a high treble channel, which is responsible for the powerful distortion. The distortion sound is unbelievably good and shines in every studio recording - it is perfect for high-end productions in the field of heavy metal, rock or punk. Of course, you can also play it clean, but that's a shame!
The Marshall Studio Vintage SV20H features a 4-band EQ that lets you adjust bass, midrange, treble, and presence, as well as a gain control for each channel. Since there is no master volume, you can reduce the total power to 5 watts for extremely distorted sounds at low volumes, or 20 watts for extremely loud sounds.
Orange Dual Terror Head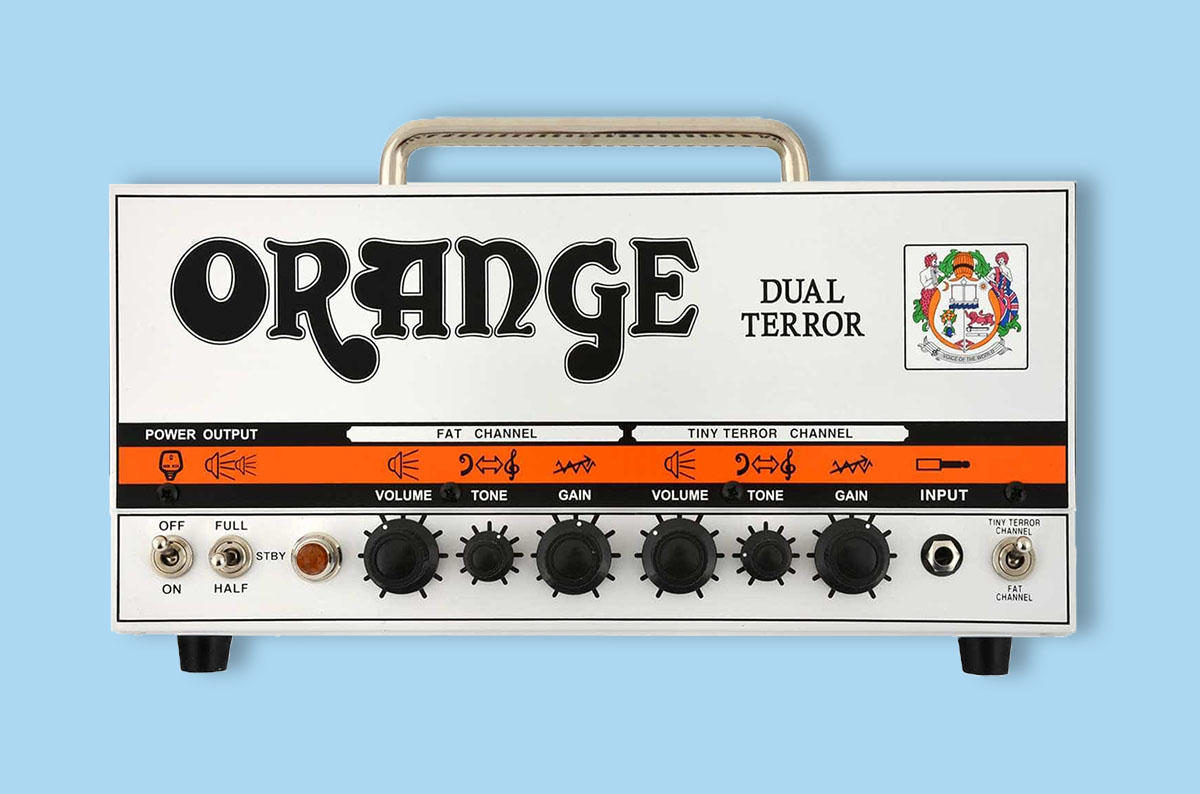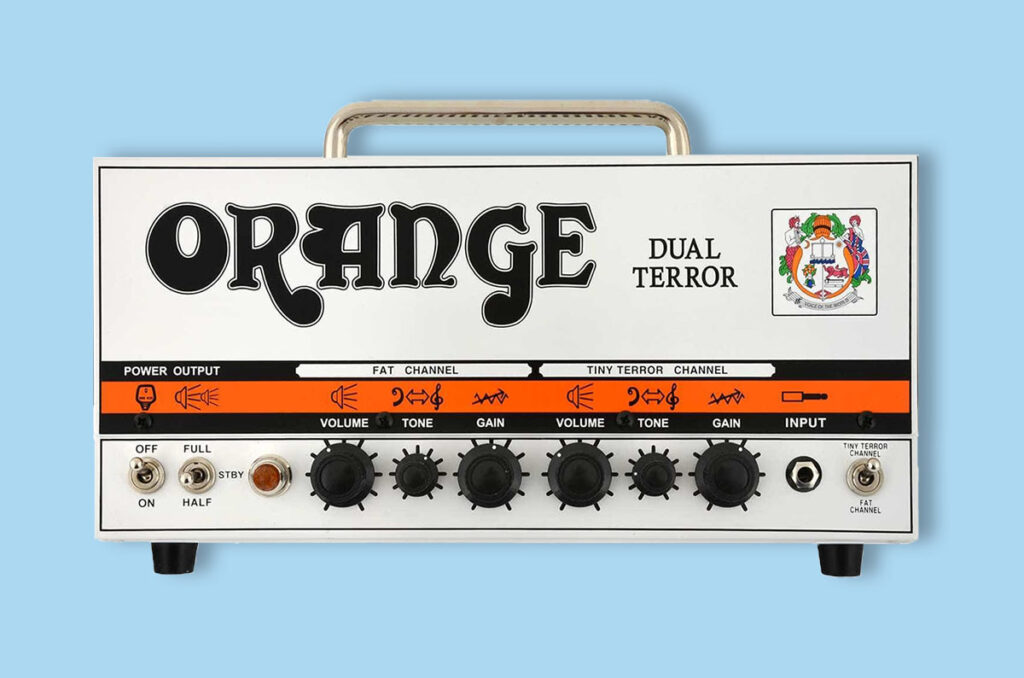 This small guitar amp top from Orange offers an introduction to the world of great Orange amps, a British company that has been supplying rockers with great gear since 1968. These guitar amps are highly sought after because the quality is so exceptional.
The Dual Terror Head is no exception: even though it's relatively spartan and simple in design (no reverb, no FX loop, no DI out) and lacks most of the features on this list, the sound is so incredibly good that it doesn't matter.
The distorted sound is a rock or metal guitarist's dream - the total of 8 tubes really make the signal shine and deliver a dynamic, "terrorizing" guitar sound that is perfect for any stage, rehearsal or studio recording.
The two channels are only slightly different, the Fat Channel sounds a little warmer, and both can distort a lot. To do this, turn up the gain control on the appropriate channel (preamp) until you get the distortion you want, and then adjust the volume control to suit the situation.
The power can be reduced to 15W or 7W for full sound even at low volume. What this guitar amp cannot do, however, are clean tones. These are only possible very quietly, because the preamp starts to distort quickly. If you are looking for an amp for jazz, funk or similar, you should look at Fender or Vox.
But if you play rock, punk, metal or similar, you will be very happy with this amp, because especially the high-gain sound is extremely good. In my opinion, the best guitar amp under 1000€ for rock and metal.
Fender Blues Junior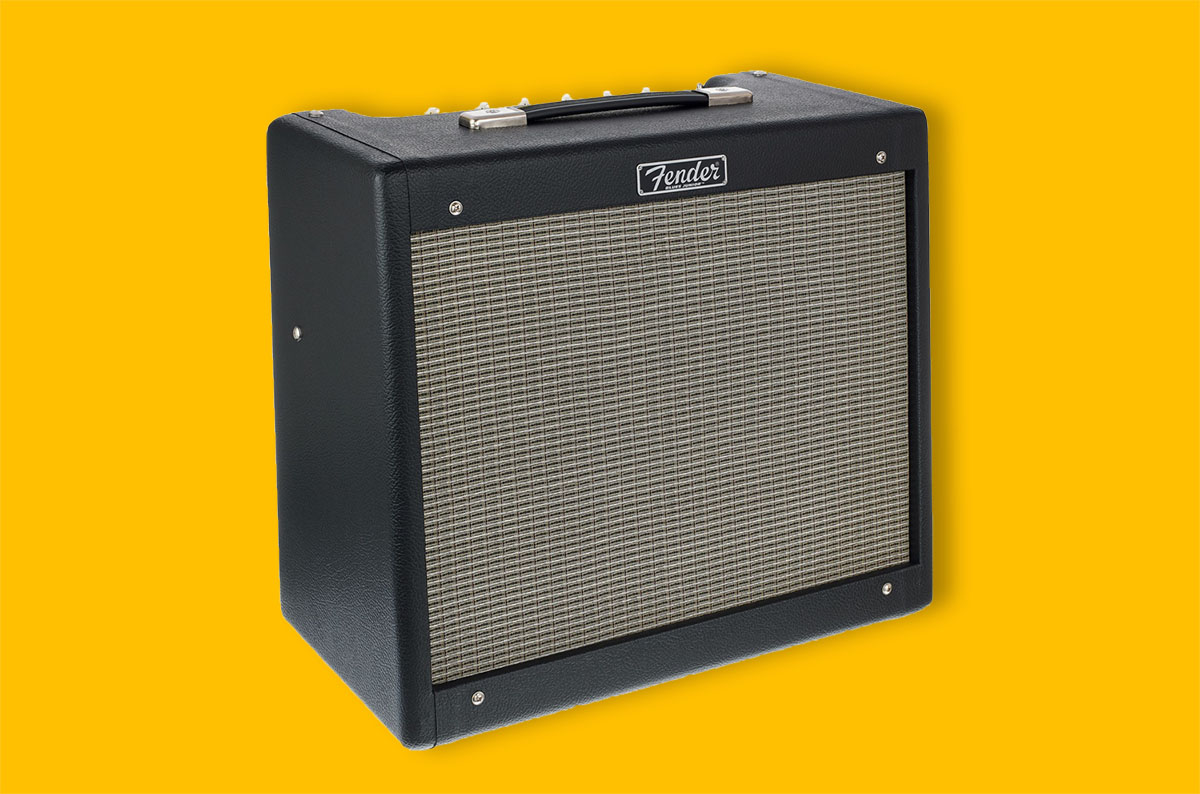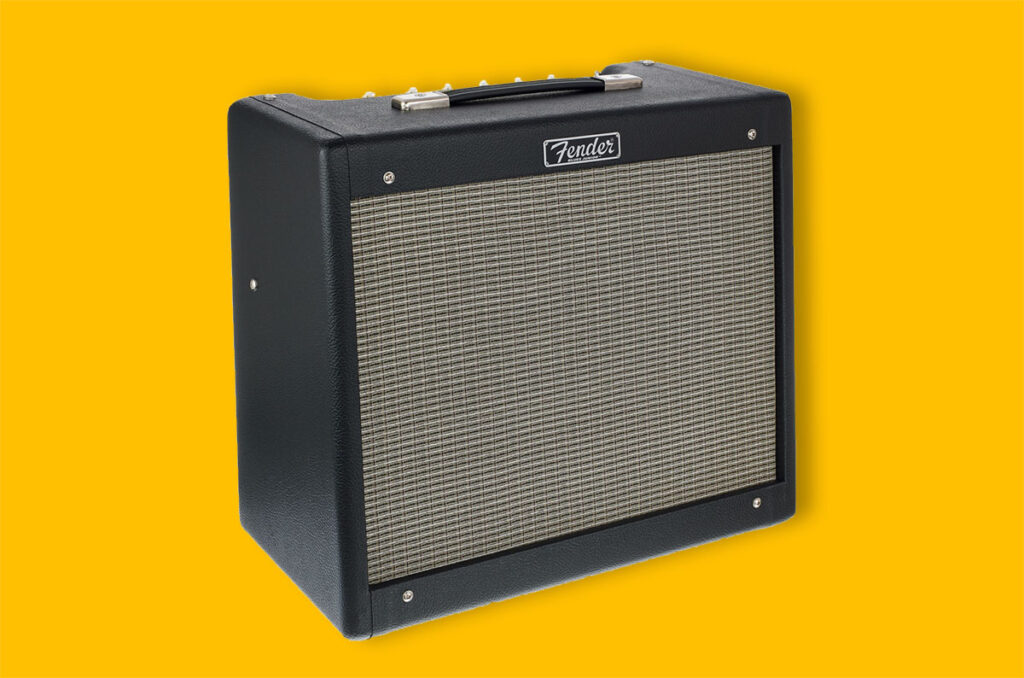 This Fender guitar amp from the Hot Rod series delivers only 15 watts of power, but an extremely clear and dynamic sound that is a blues guitarist's dream.
With relatively few controls, you can create a wide variety of sounds, from absolutely clean to rocking distortion. A 3-band EQ, volume, master and reverb controls, and a FAT switch are all you need. Especially the FAT switch can work magic and make the sound really rich and distorted.
But the strength of this guitar amp is definitely in the clean range: the sound is clear, dynamic and rich in detail, with the typical tube overtones that are so desired. It has a lot of headroom for 15W, so you can play it relatively loud clean. For rehearsals and small stages it should be loud enough, but not quite as clean. If you want to play 100% clean live, you should mic it.
It has a built-in analog spring reverb for added depth and vintage flair - it can be used to play sounds in the style of '60s surf music. The combo is equipped with a high-quality 12″ Celestion A-Type speaker and comes with a footswitch that acts as a FAT switch - perfect for the occasional distorted solo.
For blues, this guitar amp is highly recommended, but also for other genres like jazz, pop, reggae, funk, or really anything where the guitar should sound relatively clean, this amp is a very good choice.
Blackstar HT-20R MkII Valve Combo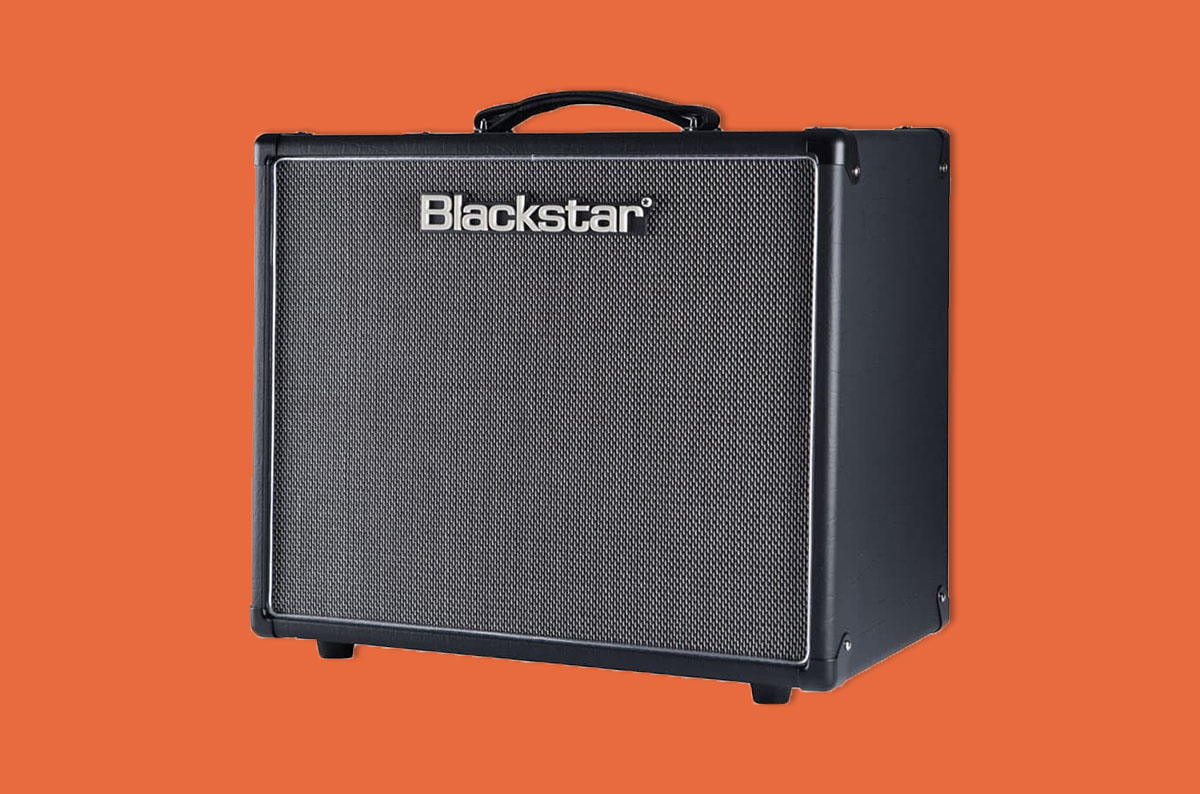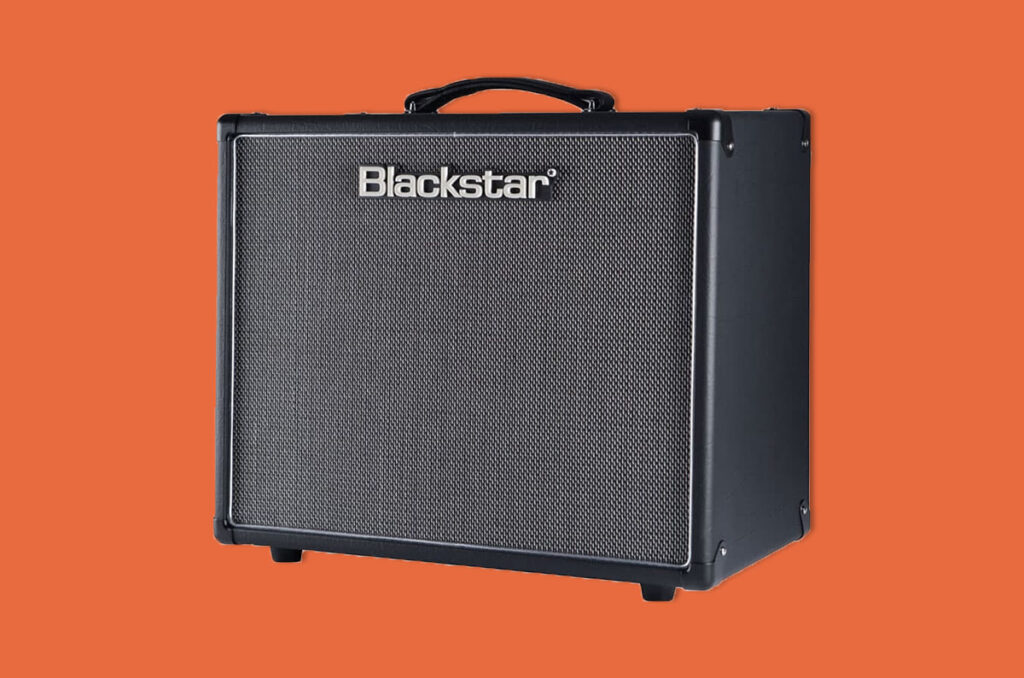 This guitar amp from the British manufacturer Blackstar is very versatile: it has 2 channels and each channel has 2 different sound modes, "American" and "British" for the clean channel and "Classic" and "High Gain" for the overdrive channel. So this amp offers an incredibly wide range of sounds.
With a Les Paul, you can get an authentic rock sound by cranking the preamp in the overdrive channel; with a Stratocaster, you can get nice, rich crunch tones. But even clean, this guitar amp has an amazing amount of headroom and can keep up with a drummer and still sound clean and undistorted.
The Blackstar HT-20R features an Infinite Shape control that allows you to adjust the sonic subtleties of the built-in 3-band EQ to further shape the sound. Together with the different voices, this allows you to create an almost infinite number of sounds that should satisfy any guitarist.
The design of this guitar amp is interesting because the inputs are on the back and the cables run from bottom to top. This allows it to be placed right up against the wall on small stages, saving a lot of space. However, access to the connectors can be a bit difficult and inconvenient.
It has a built-in digital reverb - I would have preferred a real spring reverb, but times change - and the power can be turned down to 2W for playing at room volume. It comes with a footswitch to change the channel and voicing.
This guitar amp is a true all-rounder and can play any genre. Recommended for guitarists who want to keep their options open.
BluGuitar Amp1 Mercury Edition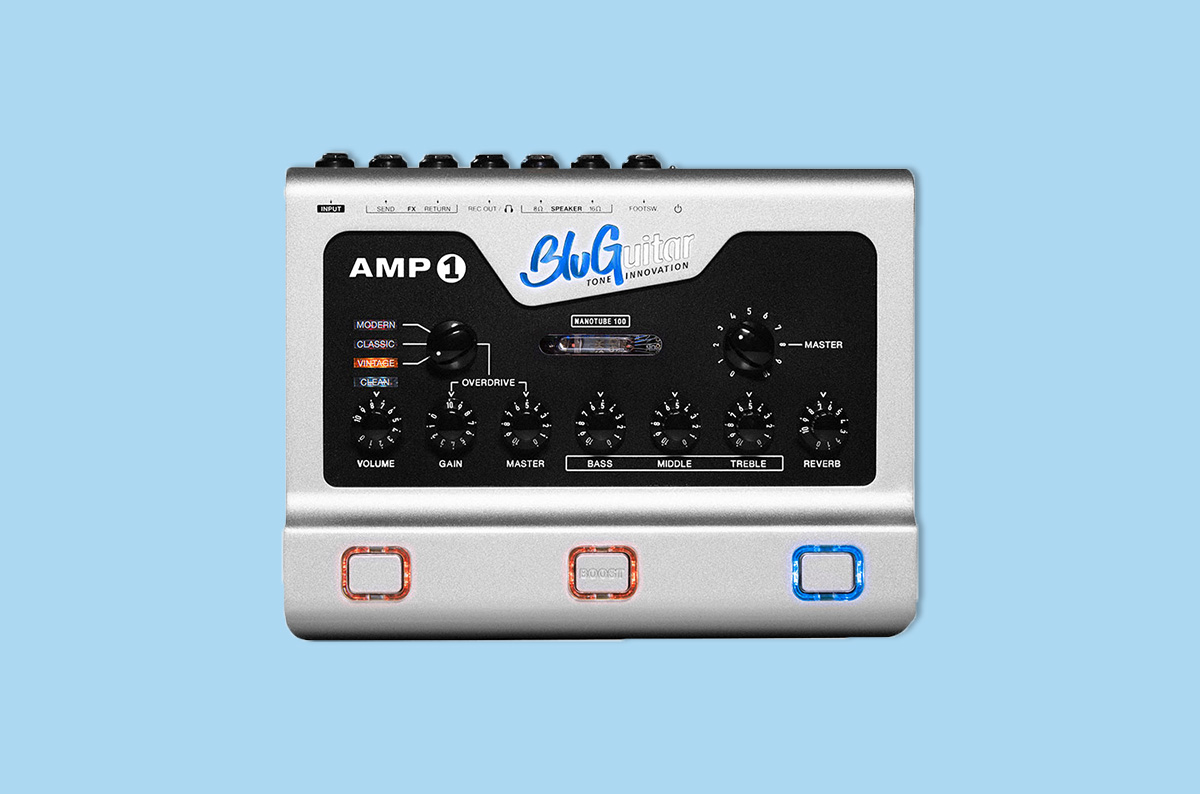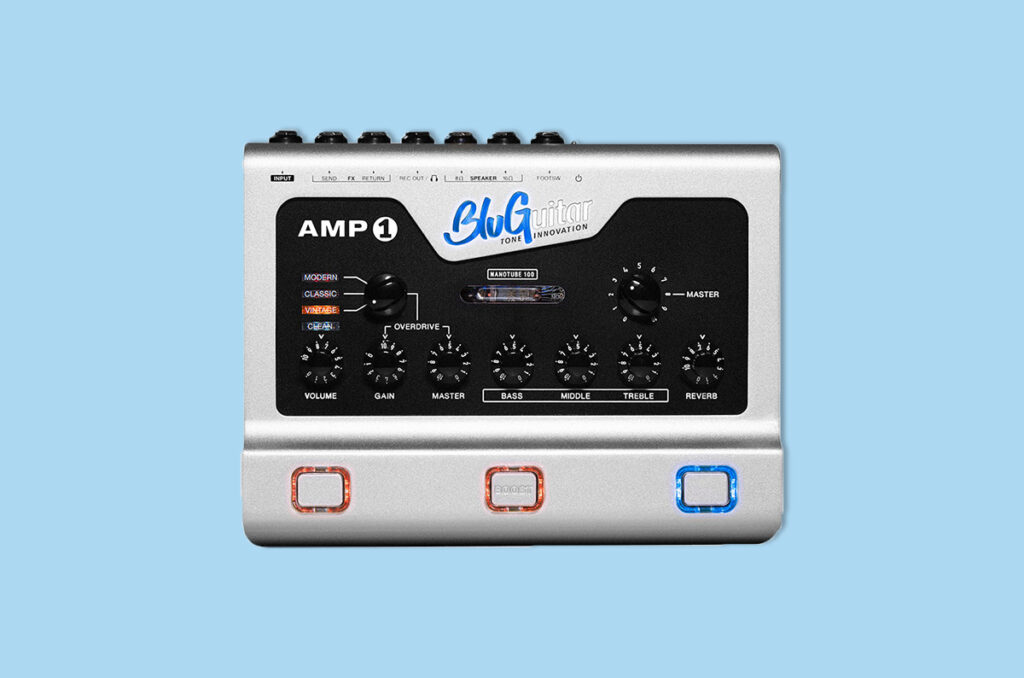 It's basically a top, only much smaller and in pedal format. It's much more robust and can take a few kicks.
A 100W Class D digital amplifier with 4 channels and an all-new nanotube tube preamplifier is housed in a small enclosure the size of a delay pedal. The result is a rich and very good sounding signal with analog character.
One of 4 channels can be selected from the front panel: Clean, Vintage, Classic or Modern. The sound can then be processed with volume, gain, a 3-band EQ, master, and reverb. The three built-in footswitches let you toggle between clean and overdrive, add a boost, or turn the reverb on and off. This makes the amp very versatile in terms of sounds and allows for dynamic changes on the fly.
You can also save each channel as a preset and then use the footswitches to toggle between channels, which is handy when you need to quickly switch between very different sounds.
All connections are located on the rear panel: 16-ohm speaker output, 8-ohm speaker output, rec out for recording without speakers (has built-in speaker simulation), FX send/return, input, and MIDI remote.
Weighing only 1.2 kg, this small guitar amp is the ideal travel companion for touring and live performances and can be connected directly to the PA. Especially recommended for guitarists on the go.
Marshall DSL100HR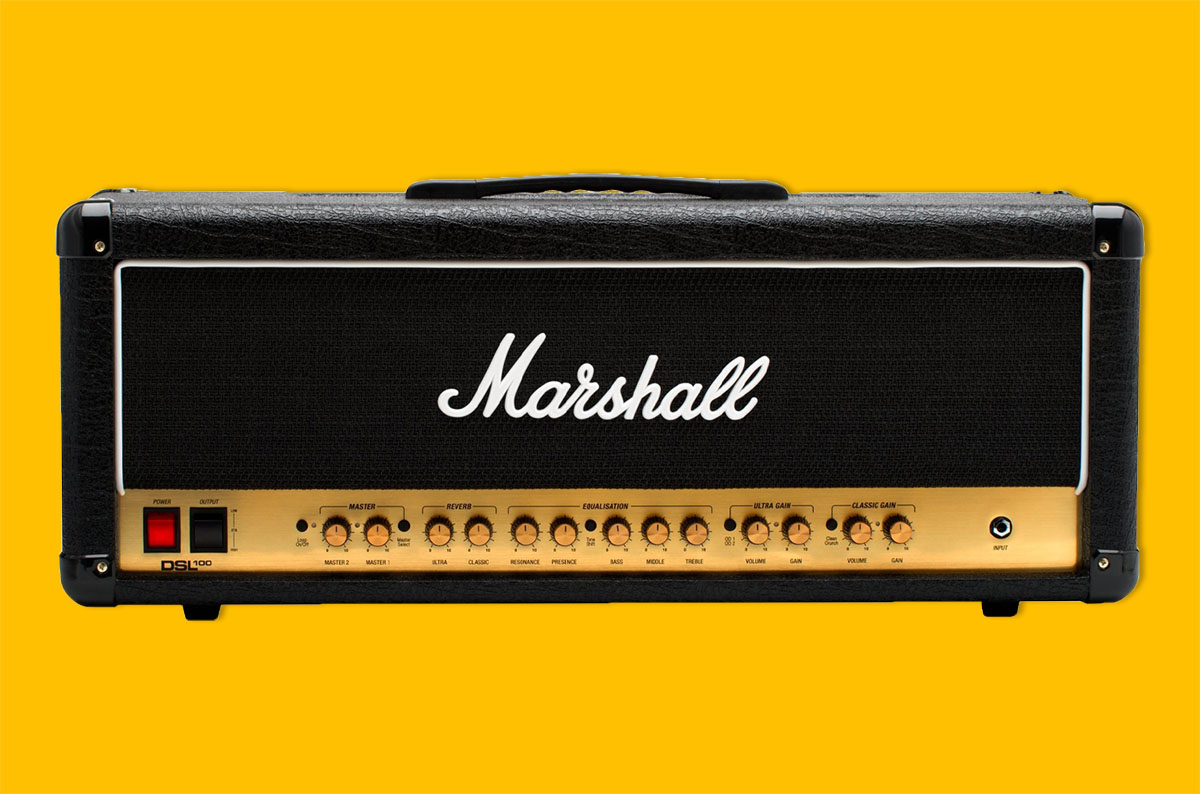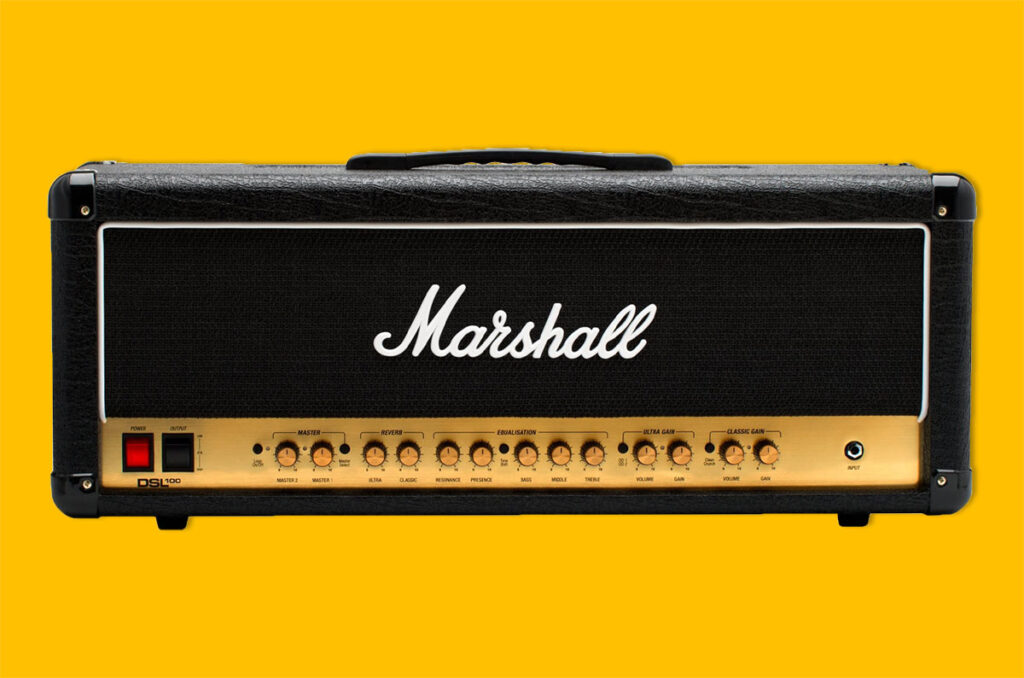 The DSL100HR is Marshall's 2018 guitar amplifier that combines classic looks and legendary Marshall tone with modern features. It has two channels, a "Classic Gain" channel and an "Ultra Gain" channel. The latter delivers a really nice, punchy distortion that covers the entire spectrum from AC/DC to Rammstein.
The sound is unbelievably good, rich in overtones and very saturated. With the Classic Gain channel, the electric guitar can be played relatively clean, but still has a slight overdrive with great warmth.
The built-in 5-band equalizer also has a presence control for very high frequencies and a resonance control for low frequencies. Each channel has two front-panel selectable modes: Clean and Crunch on the Classic Gain channel and Lead1 and Lead2 on the Ultra High Gain channel. Each channel has its own digital reverb, which can be controlled separately via knobs.
This makes this guitar amplifier very flexible in sound production and offers many possibilities for sound shaping. However, it is not a suitable amplifier for clean styles of music such as jazz or funk, for which there are far better alternatives. It is an excellent guitar amplifier for professional rock, heavy or punk applications, both live and in the studio.
The rear panel has an audio input for playing accompaniment music, a speaker emulation output that outputs the speaker emulation signal at line level, an FX loop, and a MIDI IN. In total, there are 5 speaker connectors for different speaker/ohm combinations.
The best guitar amps under 2000€
Fender 65 Deluxe Reverb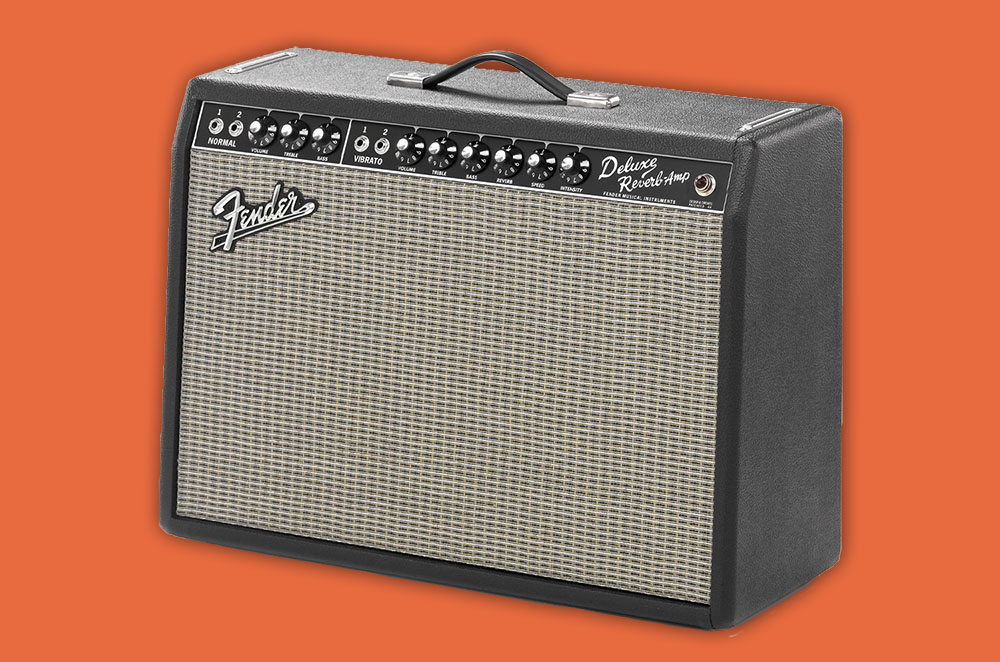 This guitar amp is legendary, having been on countless stages around the world since 1965. It is usually the first choice when it comes to crunchy, slightly distorted guitar sounds, because this amp is simply unbeatable. The sound is incredibly warm, crystal clear and detailed. At moderate to higher volumes, the amp starts to distort very harmonically - but one should rather speak of "overdrive", because the distortion is not extreme.
The Fender Deluxe has two channels, one normal and one with vibrato and spring reverb, which gives the sound an extra vintage character. Both channels have only one volume control, so the amp is bound to get loud when you want some distortion. Good thing it only has 22 watts of power! That should be plenty for rehearsal and stage.
The analog spring reverb, which is also tube-driven, sounds very good in my opinion and gives the sound a natural depth, and the analog vibrato effect also sounds incredibly warm - both really useful effects that can be switched on and off with the footswitch.
Each channel has a 2-band EQ, volume control, and two inputs. On the back are inputs for internal and external speakers, so you can also use this guitar amp with external speakers. Very useful for staying flexible when recording in the studio.
This is one of the best guitar amps for blues, because the sound is made for this genre. However, this amp is not as flexible, because:
It cannot be played clean and loud, because there is only one volume control, which distorts the sound at the same time.
It can't really distort dirty in the direction of AC/DC or Iron Maiden.
So it's only suitable for blues, rock'n'roll or rockabilly, maybe even funk if you play it quietly (live you can just run more through the PA). But it does that brilliantly and leaves nothing to be desired.
Roland JC-120 Jazz Chorus
The Roland JC-120 is a legendary amp that stands out for being the only tube-free amp in its price range - yet it can still be found on every second stage in the world. It is best known for its ability to play clean at very high volumes - louder than any other amp.
That's why it's the guitar amp par excellence for jazz (as the name suggests) or reggae - Bob Marley often used this amp in concerts - because in these genres the guitar doesn't need distortion.
Speaking of names, another special feature of this amp is the built-in stereo chorus effect. Because the Jazz Chorus uses two 12″ speakers, it can create a true stereo chorus by slightly delaying the signal through one speaker. This makes the sound extremely wide and atmospheric, which is only possible with this amplifier.
Especially in the studio, you can hear this effect incredibly well if you record the guitar amp with two identical mics - one in front of each speaker.
The amp has two channels, both with 3-band EQ, bright switch and volume control. The second channel has distortion and reverb, although the distortion is not really useful. On the far right are the controls for the speed and depth of the chorus or vibrato, depending on what you choose.
The Roland JC-120 also does a great job with pedal effects, which can be added to the stereo FX loop - so if you need a little distortion, you can add it that way.
If you play jazz or reggae, you can buy this guitar amp without thinking twice, you can't go wrong with it. You can play huge stages with it and still stay totally clean.
Orange TH30H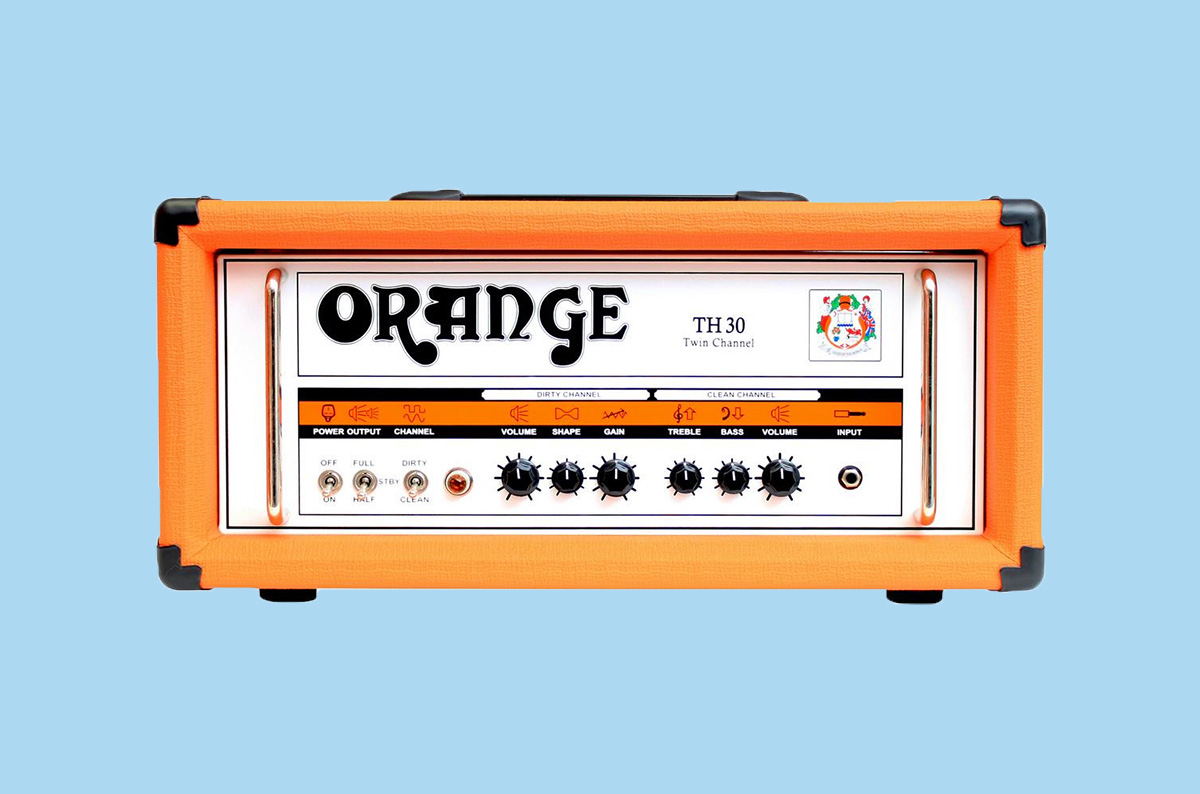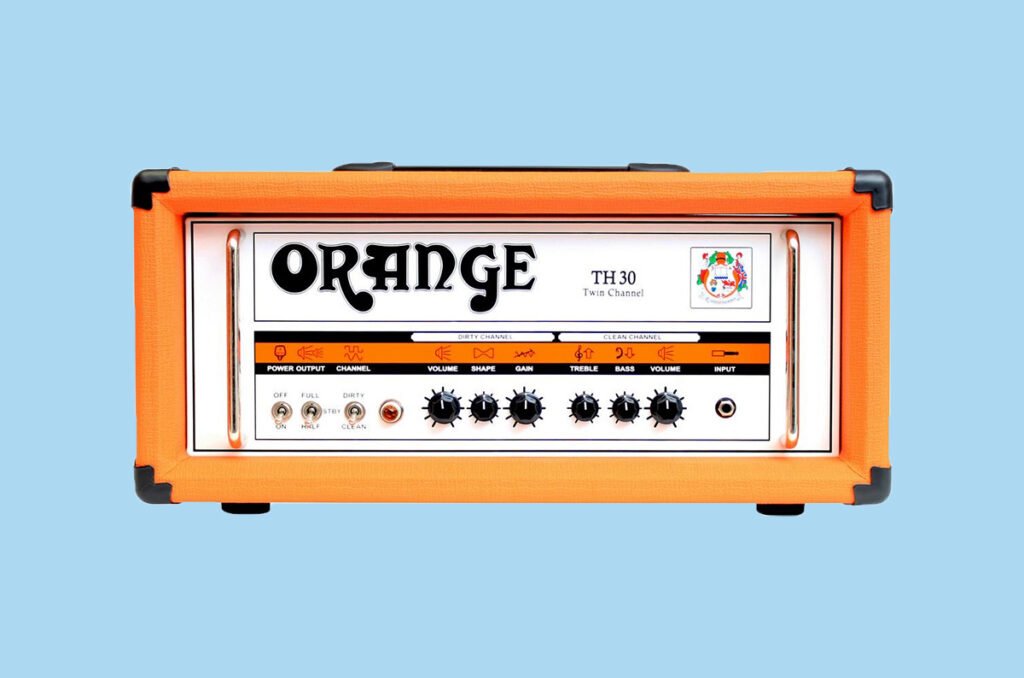 With this guitar amp, Orange has once again brought an authentic rocker amp to the market at a very good price. With a total of 9 tubes in the circuit, the Orange TH30H is able to make the guitar really rumble and does so in a wonderful way.
There are 2 channels, one "clean" and one "dirty", where the "clean" is already quite saturated - so it's not a guitar amp for jazz. However, it is very suitable for rock, metal or punk - anywhere where a lot of distortion is needed. The separate volume controls for the preamp and power amp of the "dirty" channel allow you to precisely adjust the distortion level even at relatively low volumes.
However, as with almost all tube amps, the full potential of the amp is only revealed at high volumes. It is therefore very convenient to be able to reduce the power to 15W or 7W and still be able to turn the controls all the way up without going deaf.
The Dirty channel has a strange shape control that boosts the treble and cuts the bass to the right, and boosts the bass and cuts the treble to the left - a kind of "all-in-1" EQ. The clean channel has a standard 2-band EQ built in. The channel can be selected with a switch on the front panel or with a footswitch.
It is also interesting to note that the FX loop signal is driven by its own tube and not by semiconductors, as is the case with many other guitar amps for cost reasons, in order to maintain the quality and warmth of the signal even through the effects. Unfortunately, the amp does not have a built-in reverb, which is usually not necessary in rock music, but you can easily add a reverb pedal via the FX loop.
So if you play music in the style of AC/DC, Iron Maiden, Metallica, Guns'n'Roses etc., you will be very happy with the Orange TH30.
Vox AC30 C2X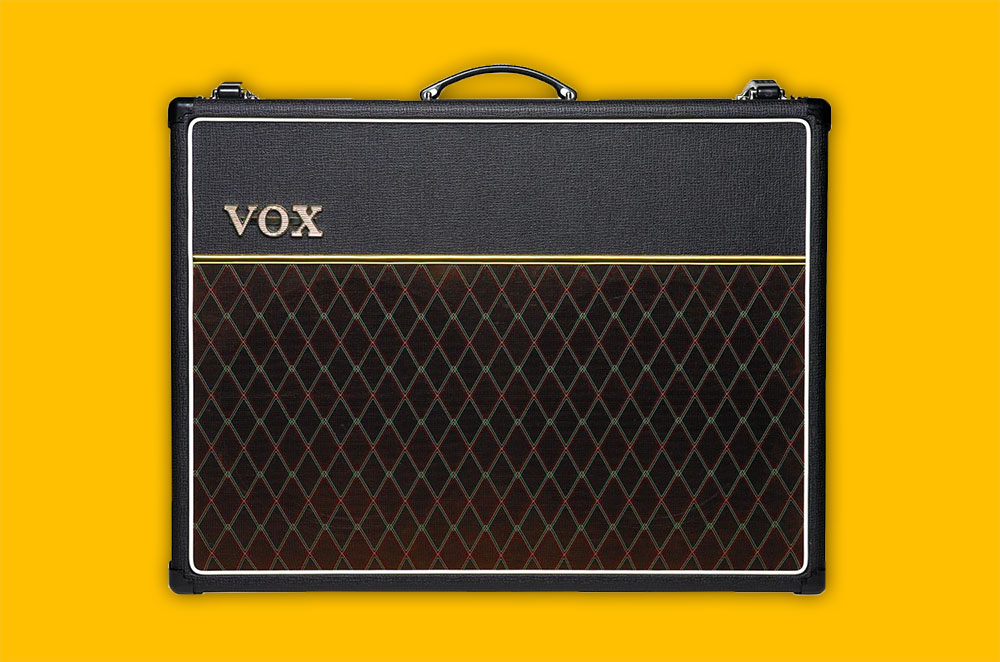 The Vox AC30 is probably one of the most famous amps of all time and has been one of the best guitar amps for clean, crunch and rock sounds since 1970. With 30W and 2 speakers, it can sound very loud, but still has plenty of headroom - so it can be loud and clean.
The sound ranges from extremely clean and clear to Queen-style distortion - after all, Brian May is one of the most famous players of the Vox AC30. George Harrison of the Beatles also used this guitar amp and usually played very clean. The sound is always warm and rich in overtones, but clear and detailed. The top boost channel has a very nice treble boost that makes the sound even more assertive.
The normal channel has only a volume control, the top boost channel has an additional 2-band EQ. You can use the Top Boost channel's volume control to distort the sound, and the Master control to adjust the volume. In the master section, there is a cut control that raises or lowers the treble. However, it works the other way around: to the right lowers the treble, to the left raises it.
Tremolo and reverb are both very good and usable, and more effects can be added via the FX loop. The amp is very big and with 32.2 kg one of the heaviest in the comparison. It won't be the easiest to carry around when you go on tour!
Highly recommended for blues and rock guitarists looking for a rich, sometimes distorted, sometimes clean sound.
Marshall JVM410H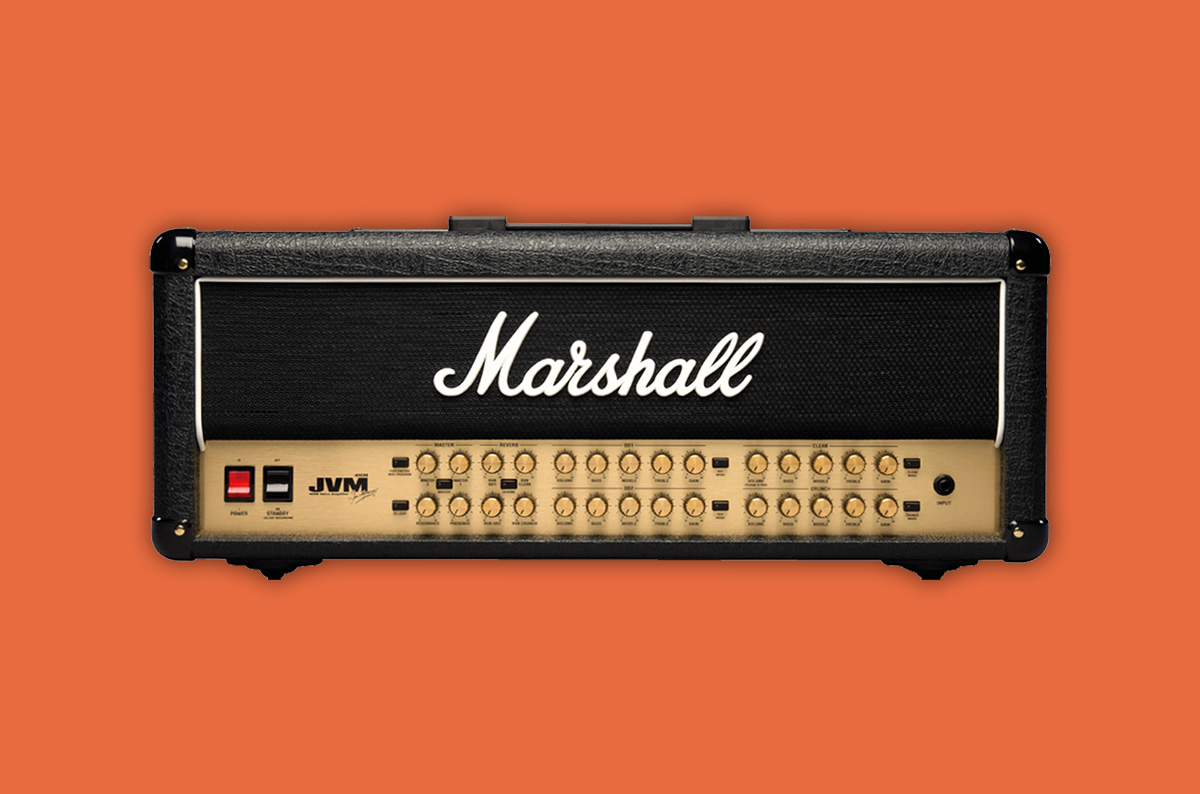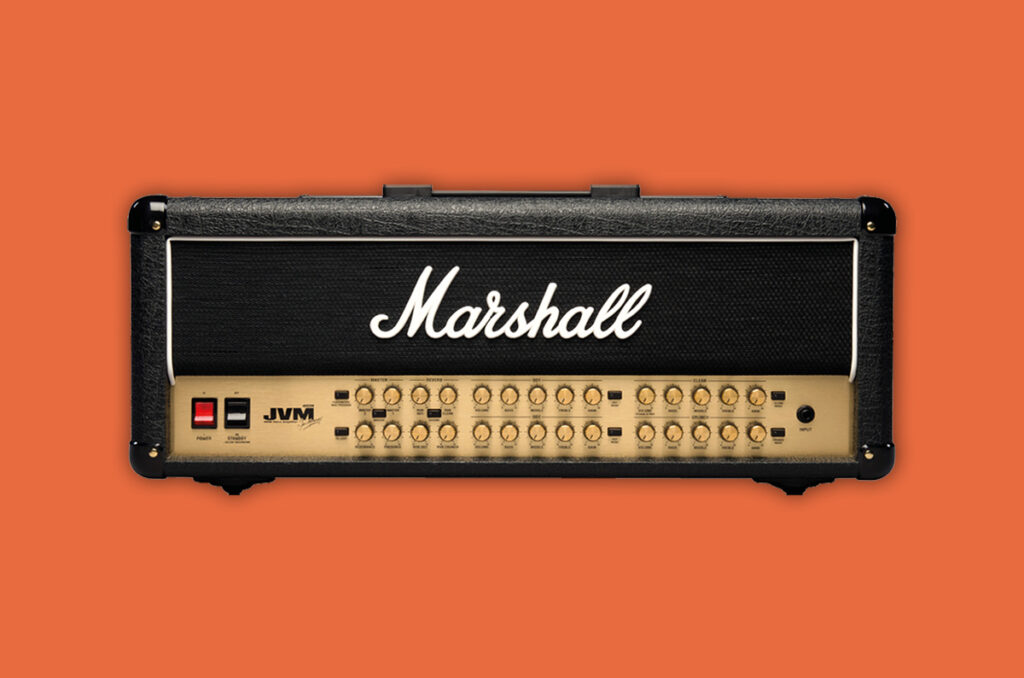 Visually, this guitar amp immediately stands out due to the amount of controls, as the JVM410 has a total of 28 knobs on the front panel! But that's because the amp has 4 channels, and each channel has its own volume, gain and reverb controls, as well as a 3-band EQ. The two Master knobs allow you to set a global volume, store it, and select it later via footswitch or MIDI.
I don't have to say much about sound - everyone knows the Marshall all-tube sound. Just think of Billy Corgan, Slash, Jeff Beck or Zakk Wylde - all Marshall devotees. The sound is perfect for rock, heavy rock or heavy metal because the 9 tubes really make the signal shine.
The Clean channel produces a clean, shimmering sound that is great for blues. The Crunch channel delivers a classic, slightly distorted rock sound, while the OD1 and OD2 channels produce high-gain distortion perfect for heavy metal and hard rock.
Each channel also has 3 different modes: green, orange, and red - green for less distortion, red for more distortion, and orange in between. This gives you a total of 12 different sounds that can be selected either directly from the footswitch or from the front panel.
With a total of 100W, the top is loud enough to fill a football stadium with sound, but thanks to the master controls, it can also be played relatively quietly and distorted to avoid destroying your bandmates' eardrums.
If you play a lot of rock/heavy/metal/punk, you will be 100% satisfied with this amp - for rehearsals and gigs as well as studio recording - because no plugin/simulation comes close to the real Marshall tube sound.
Neural DSP Quad Cortex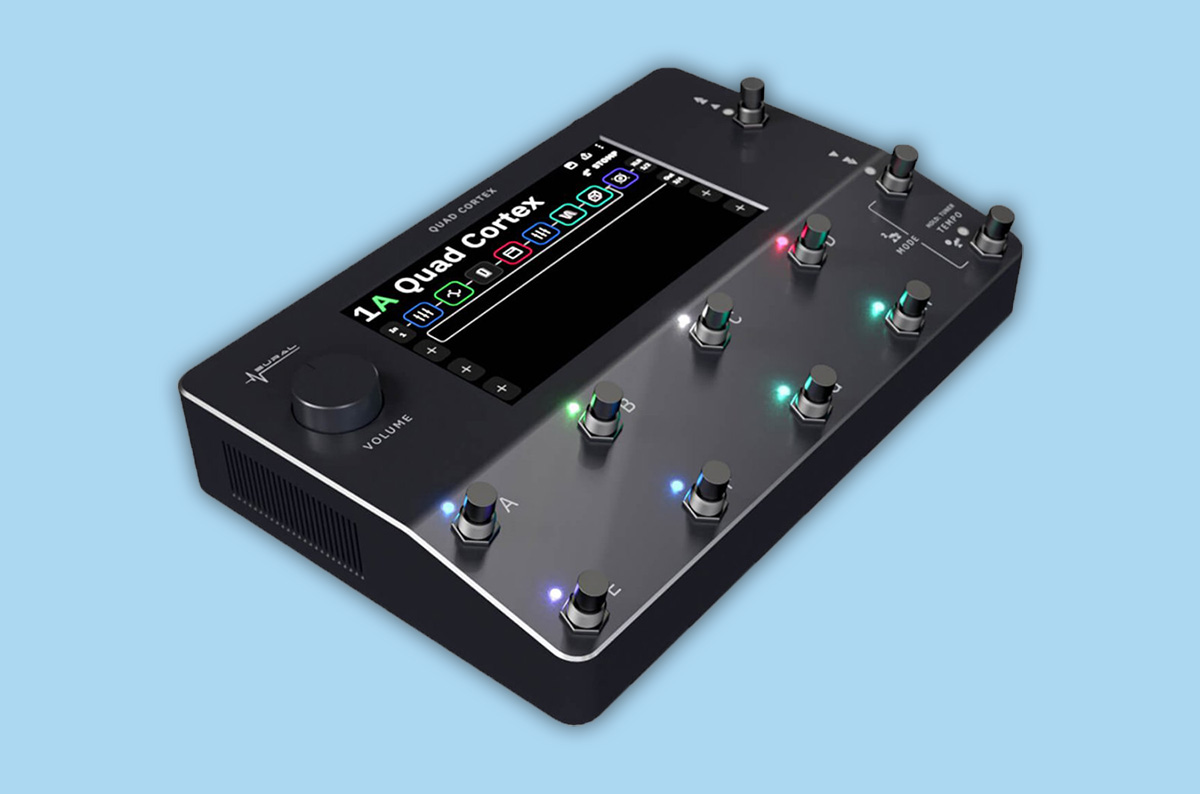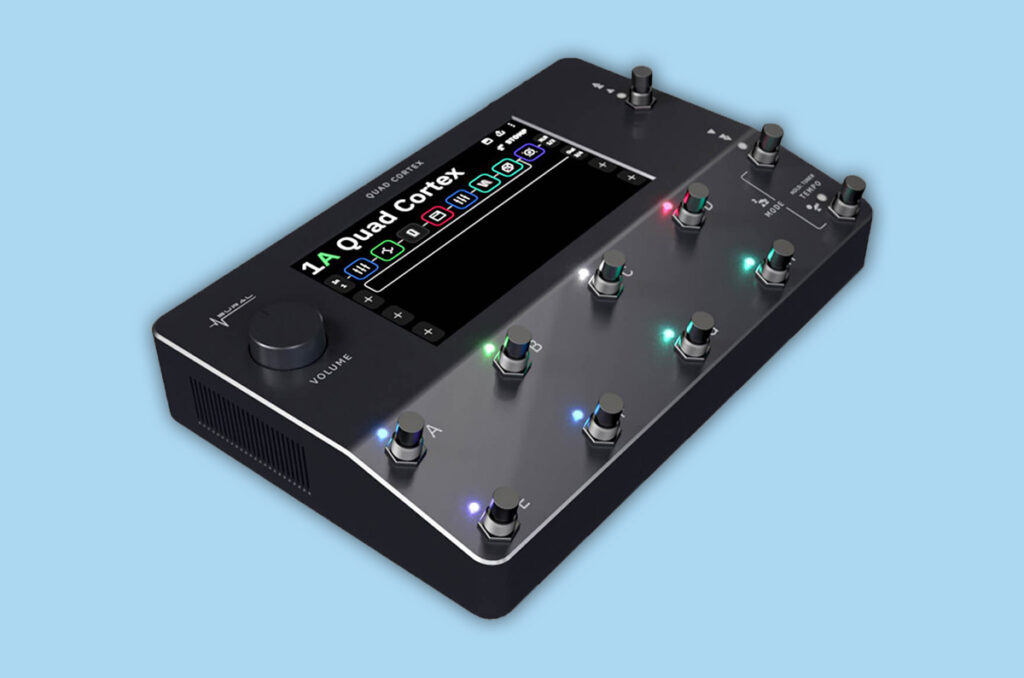 The Neural DSP Quad Cortex is a powerful and versatile digital effects processor and amp emulator that has a lot to offer. With over 300 different amp simulations and a huge selection of stompbox effects, the Quad Cortex offers an almost endless range of tonal possibilities. And thanks to Neural DSP's advanced modeling technology, these simulations sound incredibly realistic and latency-free, with all the subtle nuances and dynamics of real analog gear.
Another plus is the intuitive and user-friendly interface: the large touchscreen display and clear layout make it easy to navigate through the various presets, tweak settings and create your own effect chains. The unit also has plenty of connectivity options, including MIDI, USB, and multiple inputs and outputs for connecting to other devices and setups.
But what really sets the Quad Cortex apart is its advanced technology that allows it to learn and adapt to your playing style and preferences. With Neural DSP's Capture function, you can easily record the sound of your amp or pedalboard and use it as the basis for your own presets, or copy the sound completely.
The sound is really good, the simulations are very realistic and hardly distinguishable from the originals at concerts and rehearsals. And you save a lot of space and energy when you go on tour with it. The Neural DSP is especially recommended for professional guitarists who are on the road a lot.
The best guitar amps over 2000€
Fender 65 Twin Reverb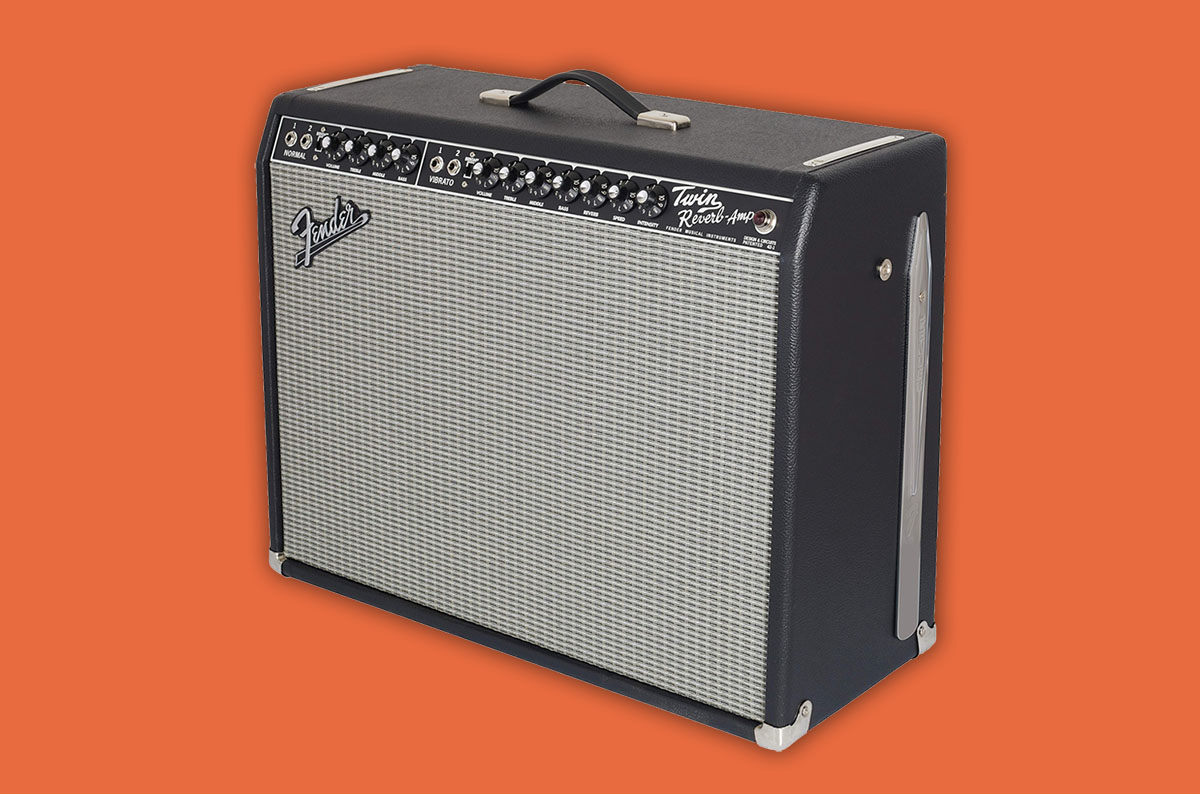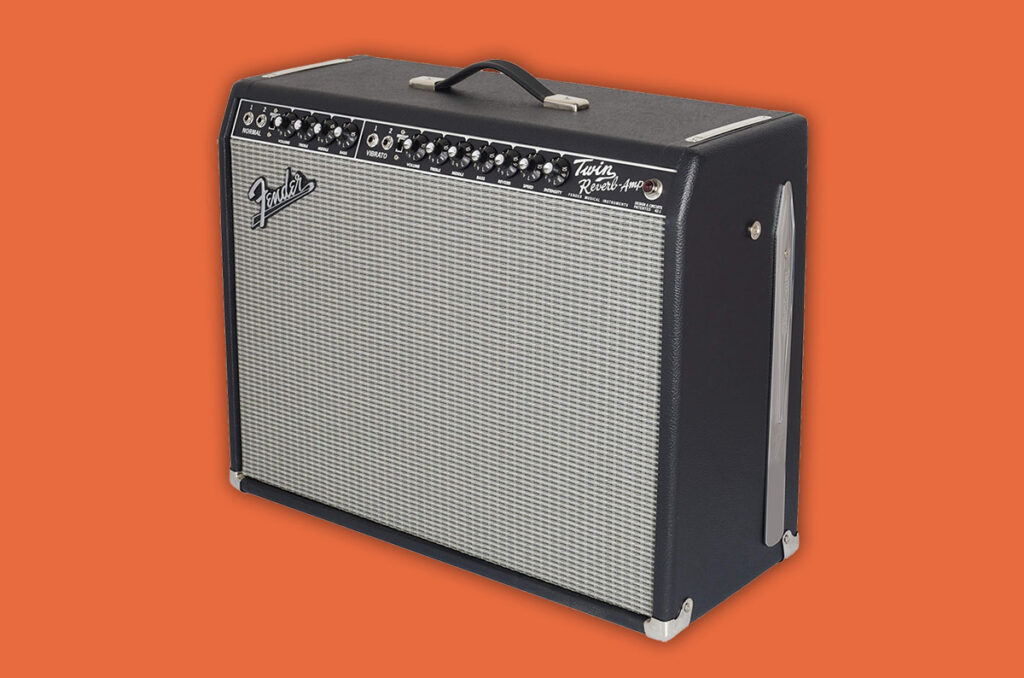 Next to the Roland JC-120, the Fender Twin Reverb is the absolute king of clean tones - but this Fender guitar amp is equipped with tubes, which makes the sound harmonically richer. With its 85 watts of power, it can get extremely loud, but always stays absolutely clean.
The sound of the guitar amplifier is characterized by brilliant, crystal-clear highs, a powerful bass and clear mids. It is rich in detail and faithfully reproduces the natural sound of the electric guitar, making it ideal for genres such as funk, jazz, surf rock, and reggae.
Famous players of this amp are Bob Marley, BB King or Steve Howe - and just about every famous guitarist has used it for studio recordings from time to time, as it is often the first choice for this kind of sound in studio productions. In many professional studios you will find a Fender Twin Reverb, because it can be used universally, even for keyboards or organs.
It has two channels, a normal channel and a vibrato channel. Both have a volume control, a 3-band EQ with bright switch, and the vibrato channel has additional speed and intensity for the vibrato and a reverb control. This analog spring reverb is the best on the market, it sounds incredibly good. It gives the sound a natural depth and a great vintage character.
The dimensions of the guitar amp are gigantic, after all there are two 12″ Jensen speakers built in. It weighs 29 kg and is not easy to transport, but it is incredibly solid and well-built. With good care it will serve you for decades.
It is also very loud - as you are used to from tube amps, it needs a certain volume to develop the full sound. So it's not necessarily the best amp for home use, but definitely for rehearsals, concerts, and studio recording.
Orange Rockerverb 100H MKIII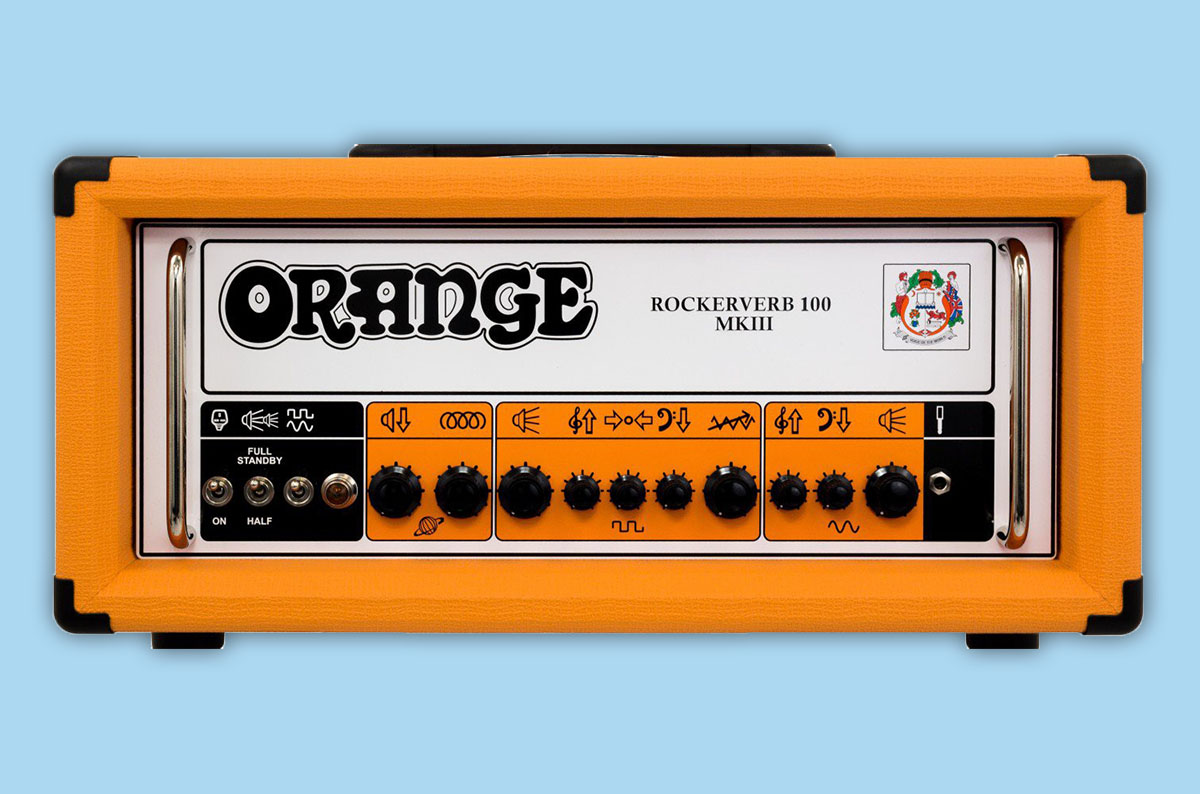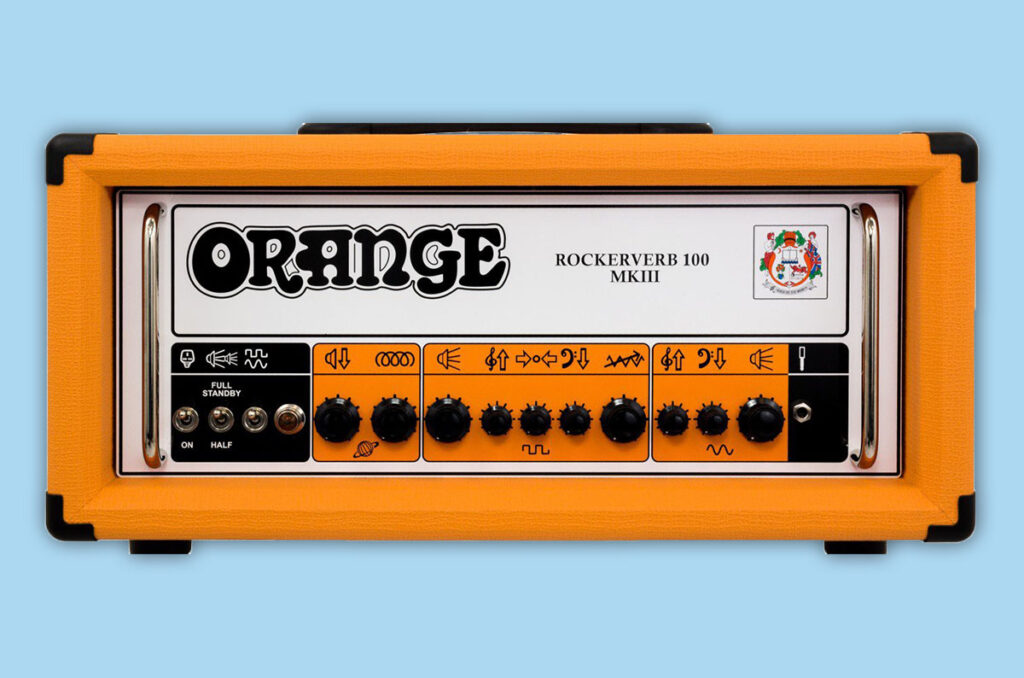 If the Fender is the "King of Clean", then the Orange Rockerverb should be called the "King of Rock" - after all, in my opinion, it is the best guitar amp for rock and metal in 2023.
With this amp everything is possible: the sound ranges from relatively clean for blues to extremely distorted for stoner rock and in between all kinds of sounds for rock, heavy, punk or progressive. The distortion is very nice, with a lot of harmony in the overtones and a natural compression that is very memorable at extreme gain.
You don't really need a pedal, especially for distortion. The built-in spring reverb is also very nice and practical - one of the few Orange amps to have a reverb at all. It is powered by two tubes to improve the sound quality and to match the amp.
With a total of 100W, it's loud enough for the biggest stages - fortunately, you can reduce the total power to 70W, 50W, or 30W to play at rehearsal room volume with full distortion.
The guitar amp is labeled with funny symbols instead of words, as usual with Orange, and offers a 2-band EQ and volume control for the clean channel and a 3-band EQ, gain and volume control for the overdrive channel. On the far left are two more controls, reverb and atenuator.
Recommended for all guitarists who play harder music and have the necessary budget - you won't regret the purchase.
Combo vs. head vs. pedal amp: Which guitar amp is right for me?
It is worth considering what kind of guitar amp you want to buy. A guitar combo has the advantage that you have everything in one package and you can plug in and listen to the guitar directly. Tops and pedal amps have the advantage of being much lighter, and most venues have cabinets for electric guitars, so you don't have to lug around a heavy cabinet.
If you buy a top, you also have the advantage of being able to use different cabinets, depending on the style of music you play. However, most modern combos have an output for an external speaker, so you can be flexible here as well.
Many pedal amps are now capable of simulating cabs, allowing them to be plugged directly into a PA and played without cabs. The simulations in high-quality units are now so good that they are almost indistinguishable from real amps, so the differences between different types of amps are becoming smaller and smaller.
Ultimately, it comes down to portability and combinability with different cabinets and tops - you have to decide what is more important to you. For recording studios, I would recommend tops + cabs or even good combos. But if you are on the road a lot, pedal amps can be very useful and save you a lot of work and headaches.