Which DJ controller is the best for you depends on how much money you have and what software you use. Here we compare the best DJ controllers you can buy in 2023, from professional models to more affordable entry-level models.
DJ Controller: What is there to consider?
The DJ controller, or DJ mixer, is the DJ's command centre during a performance. It is the tool used to manage audio sources and transitions between tracks.
It is equipped with a range of functions and features that allow the DJ to play with effects and filters, create transitions and change an audio track in real time to make the audience's entertainment dynamic and engaging.
So how do you choose the best DJ controller? Let's take a look at the most important aspects to consider.
Analogue or digital
The analogue DJ controllers is generally preferred by more experienced DJs because it requires two decks (or turntables) to be connected to the central console to read the vinyl or digital music. Apart from being generally larger and costing more, it also requires more experience to avoid ruining records.
The digital DJ controllers is appreciated for its ease of learning, small size (ideal for those who have many gigs and travel a lot), price and connectivity features with digital audio sources.
Connections
This aspect determines the number and type of sources we can connect to our DJ controller (turntables, external CD players, USB devices, pre-amplified or non-pre-amplified inputs, etc.). When buying, it is therefore important to know which sources we want to connect or, if in doubt, to choose a model that offers multiple solutions.
It is also important to consider whether you can use the DJ controller standalone (without a PC) or in conjunction with a PC.
Impacts and controls
Being a DJ is not just about alternating one song with another, but also about being creative and animating evenings and audiences. The functions and controls of the DJ controller are therefore one of the fundamental aspects of achieving this.
It is important to distinguish between all-in-one consoles (DJ mixer and controller in one station) and modular mixers, which are preferred by professionals who want to build their own console according to specific needs.
Weight and size
For those who play a lot of gigs and therefore travel a lot, a lightweight and easy-to-place DJ controller is a great relief. Since not all venues where DJs need to perform have a large room where the mixer can be placed, being able to fit everything we need into a small space is a solution for many situations.
The Best DJ Controllers in 2023
Let's now take a look at the best DJ controllers, from high-end units to the cheapest entry-level models.
Native Instruments Traktor Kontrol S4: Best DJ Controller for Traktor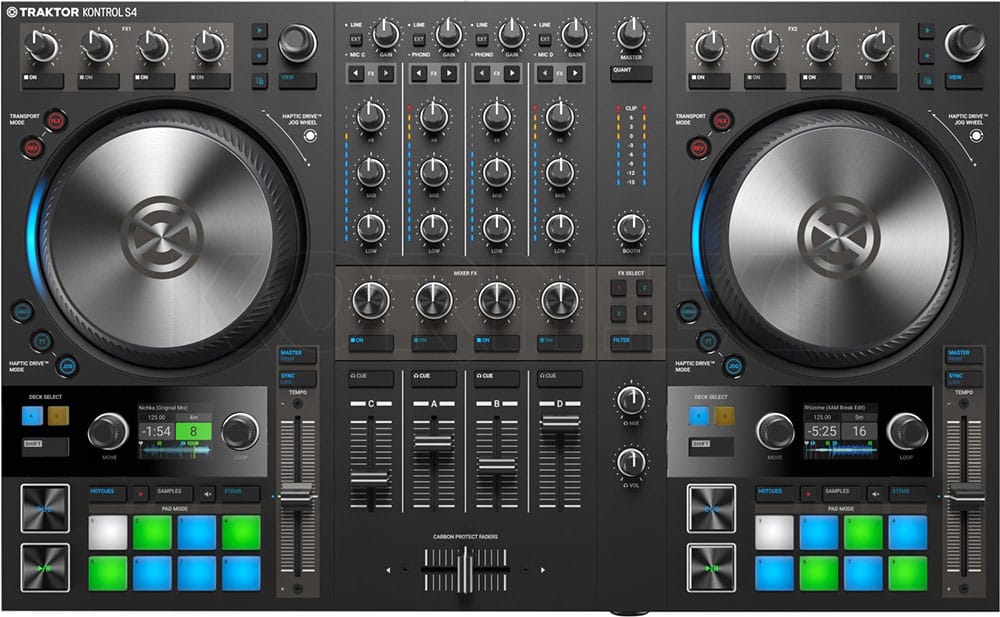 When it comes to high-quality tools, Native Instruments is one of the most renowned brands. The S4 controller does not disappoint expectations and proves to be a powerful and professional console without compromise.
Equipped with 4 channels, each with its own fader, 3-band EQ, gain, 2 FX send and filter controls, you are always in control of your audio. Scratching will be very easy and precise thanks to the rubber-coated shaker wheels with shiny top. The faders on this DJ mixer are particularly sensitive and smooth.
If this version is too big or too expensive for you, you should definitely take a look at the smaller brothers of the series, the Native Instruments Tractor S2 and the Tractor S3.
Flux mode and its dedicated controls let you unleash your creativity and make your performance and all your mixes unforgettable. Thanks to the backlighting of the RGB controls, you always have a visual reference point in the form of a colour code.
The interface to Traktor Pro and Traktor DJ for iOS allows you to easily orientate yourself during use and to use the full potential of the DJ controller in terms of effects, extras and programmable functions. The function that processes MP3s from your iTunes and iPod is also particularly popular.
All these professional features are housed in a station that weighs only 4.3 kg and measures 339 x 542 x 61 mm. If you are a Traktor user looking for the best digital DJ controller, the Traktor Control S4 is the right product for you.
What are the arguments in favour?
Dual audio interface
Very good price
What speaks against it?
Mainly intended for tractor users
Price €849, More info
2. Hercules DJControl Inpulse 500: Best DJ Controller under 300€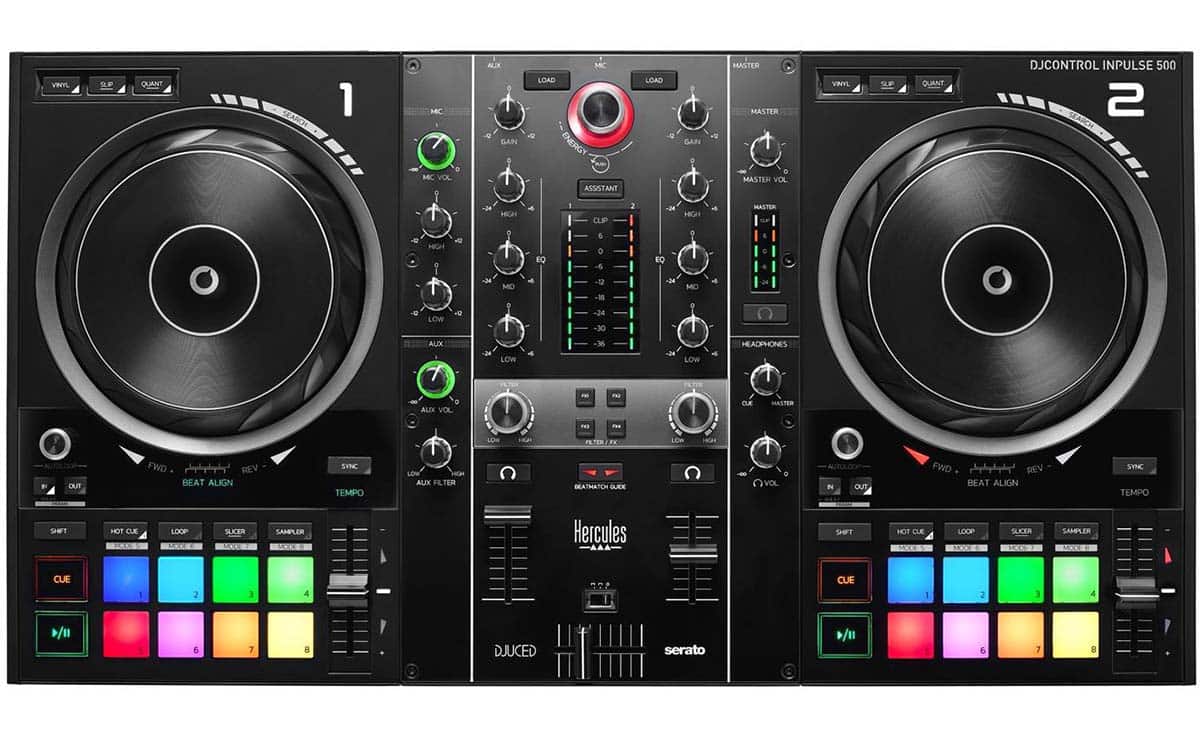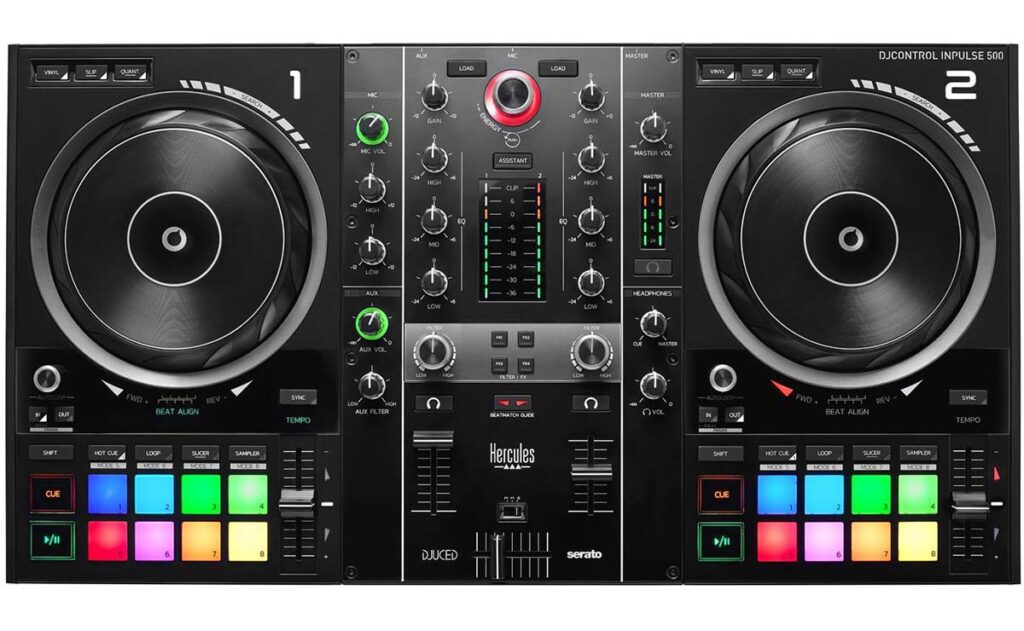 A good budget model used by amateurs and professionals alike is the Hercules DJControl Inpulse 500, an intuitive and easy-to-use DJ controller equipped with the most important features for club gigs, private events, weddings, etc.
3-band EQ, gain, filter and fader are the functions found on each of the 2 channels. There is also a dedicated effects control on each channel strip. The precise jog wheels are activated by touch, while dedicated sample pads and quick access to cues allow the DJ maximum creativity in real time while mixing. However, the jog wheels can be a little hard, so spinbacks, for example, are a little difficult.
The controller can be configured with Serato DJ and also with DJUCED. So the dual selection allows you to use the unit with the software tools that best suit your needs.
The weight is 3.2 kg, distributed over 296 x 542 x 7′ mm. It is therefore very practical to transport, place and generally use in any situation. With the Hercules DJControl Inpulse 500, you take home a reliable, complete and easy-to-use controller.
What are the arguments in favour?
Compatibility with Serato DJ and DJUCED
Intuitive and easy to use
What speaks against it?
Crossfader a little hard, so certain things like spinbacks are difficult.
Price €267.03, More info
3. Denon DJ Prime GO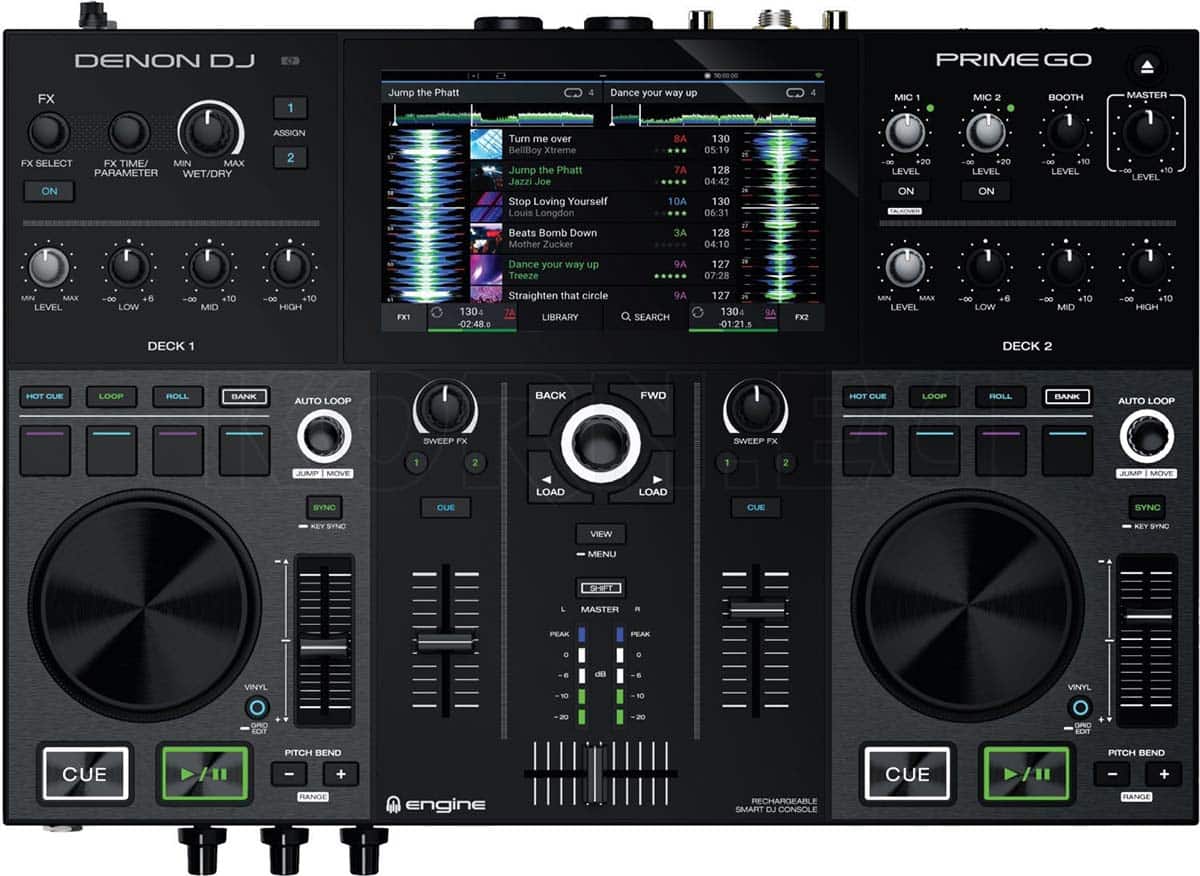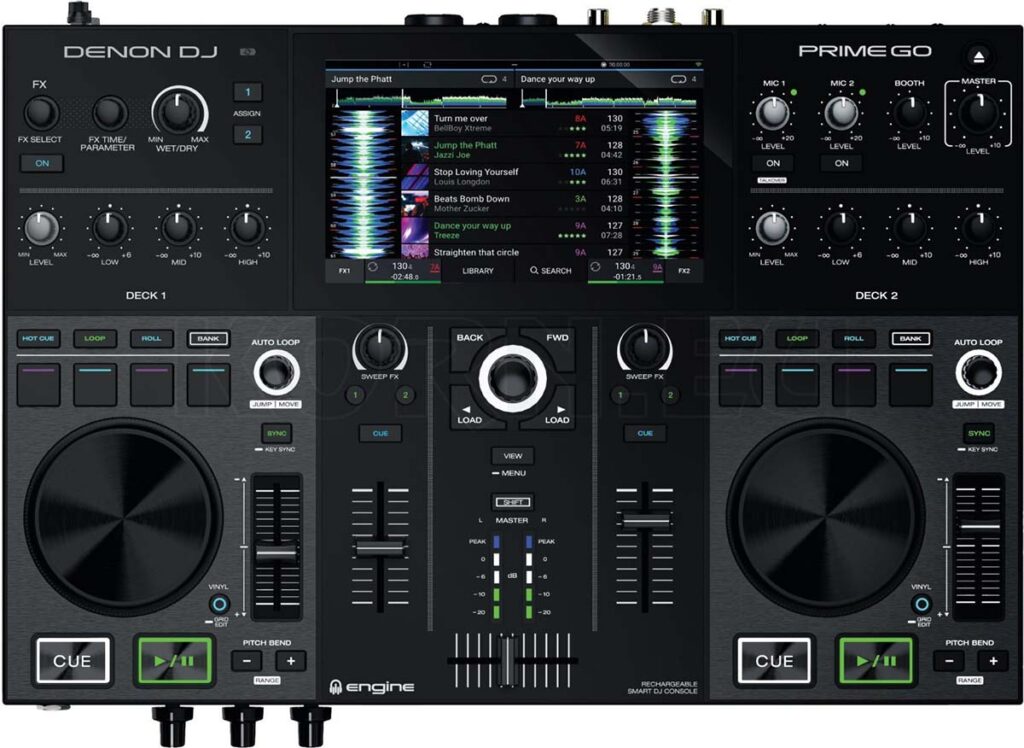 The Denon DJ Prime GO is a professional standalone DJ console for use without a PC, complete with all the essentials, suitable for use in clubs and easy to transport for use at private events, weddings, parties, etc. It can be used live without a laptop and is one of the best all-in-one DJ controllers on the market.
Of course, when preparing for the performance, the DJ must use the computer connected to the console via USB to upload and sync tracks from the PC. This console is compatible with the Apple Music App/iTunes software and all major streaming platforms.
The controls and build quality are exceptional, we have 2 separate tracks, responsive buttons and very precise faders. The touch screen of the central display is of very high quality, like that of an iPad, and allows us to quickly select tracks from the music library.
The display is the control centre of the console and it is very easy to select the input media to be used (the console's internal memory, a connected USB stick or the contents of the SD card inserted in the console) and to create playlists and customisations.
The Engine OS rivals any other high-end system. It gives the DJ full control over their console, allowing them to programme and manage all movements that play back with extreme fidelity. Import and analyse all your music with a few simple clicks. Integration with Ableton and rekordbox makes communication between the devices even easier.
Price €1.299,00, More info
What are the arguments in favour?
Touchscreen
Does not require a laptop
Fits in a backpack
Excellent build quality and features
4. Pioneer XDJ-RX3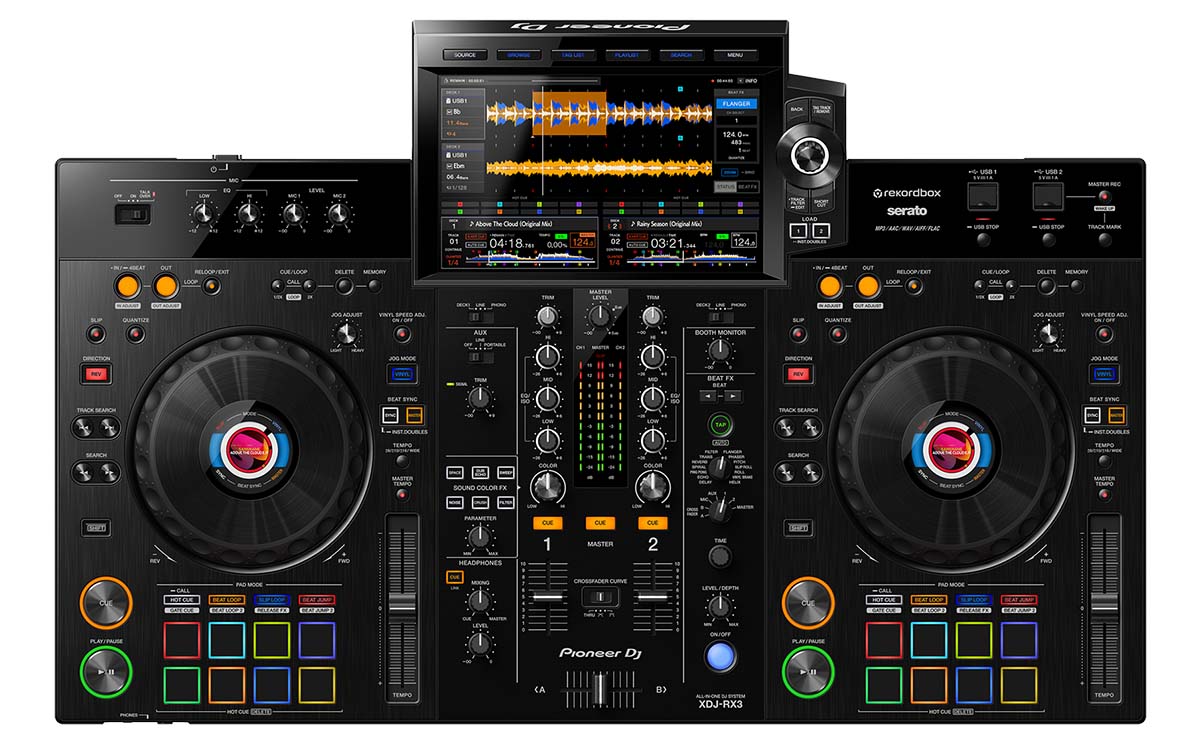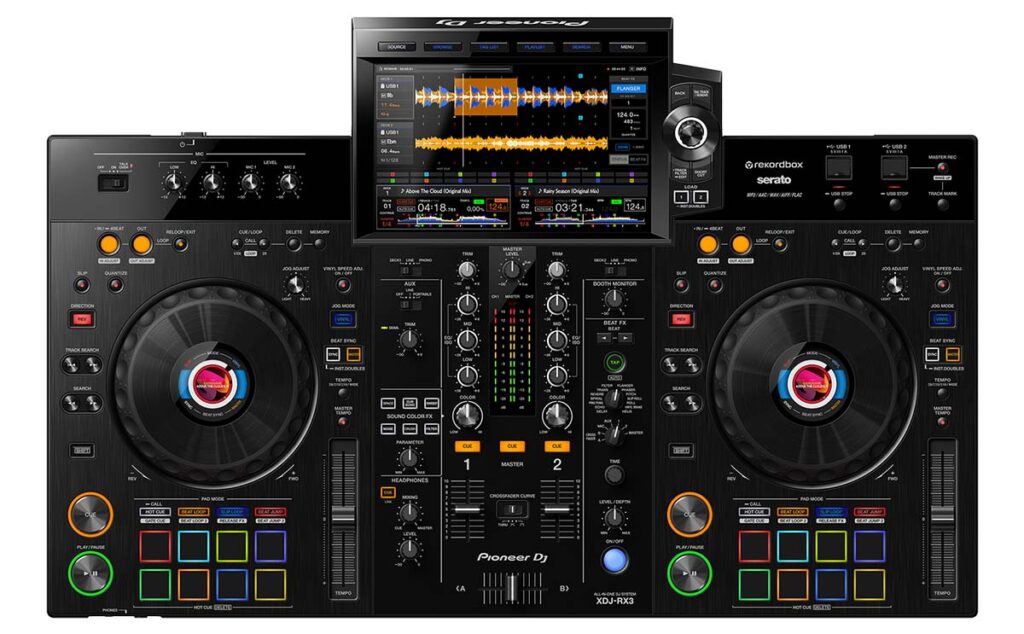 One of the most popular in the industry, Pioneer's DXJ-RX3 standalone DJ controller is designed as an upgrade to the XDJ-RX2, that brand's popular flagship.
It is an all-in-one system with 2 decks and 2 channels. Very nice and practical is the larger 10.1 inch touch screen, which gives you a constant visual reference during your performance. The real-time waveform display also allows you to keep an eye on all the highlights of the track (peak, breakdown, etc.).
The 3-band EQ and faders, whose curves match the performance of Pioneer's best professional DJ controller, make your mixes precise and very smooth.
To give your creativity free rein, the Sound Color FX and Beat FX offers a variety of additional functions, filters and effects to make your performance exciting and dynamic. With the eight performance pads per channel, you can programme and call up functions such as beat jump, cue, loop, etc.
The Pioneer DJ controller weighs 9.3 kg and measures 728 x 118 x 469 mm. For those who want to mix with a highly professional product, the DXJ-RX3 undoubtedly represents the state of the art in the world of DJing.
What are the arguments in favour?
Best DJ controller ever
Touchscreen
Use via rekordbox or directly with USB memory
Price: 1.999€, More info
5. Hercules DJControl Inpulse 200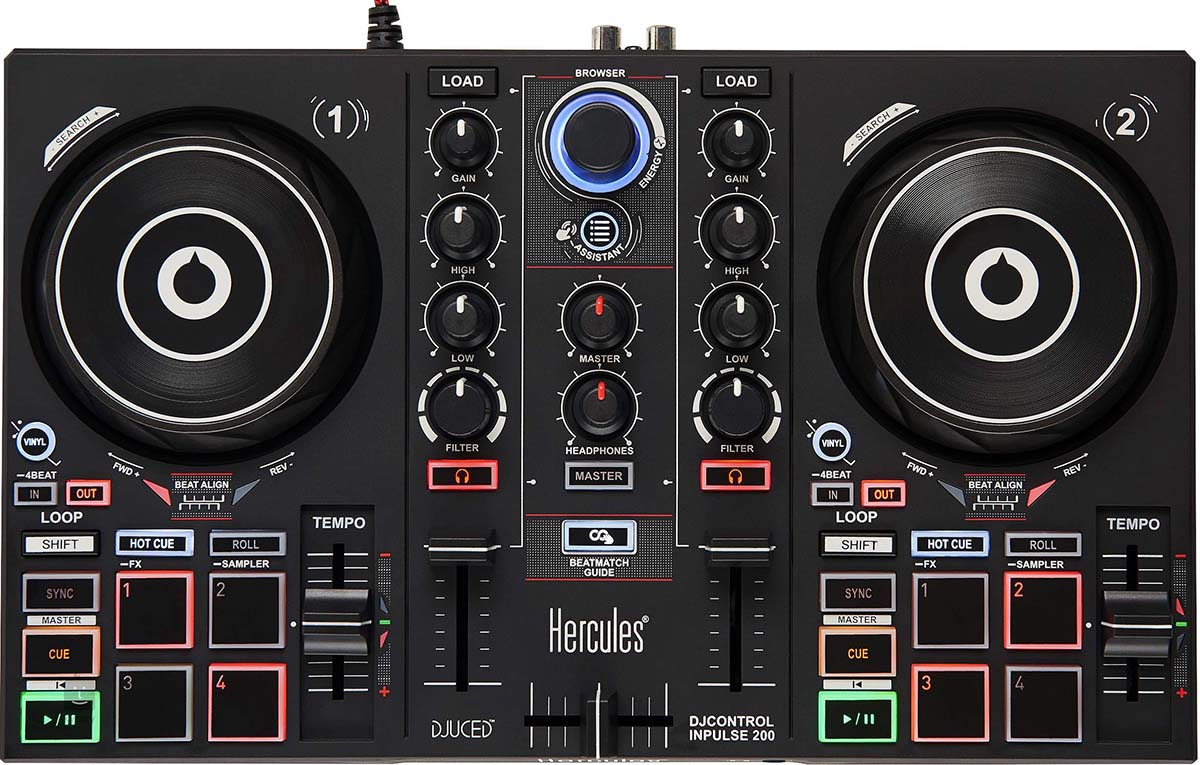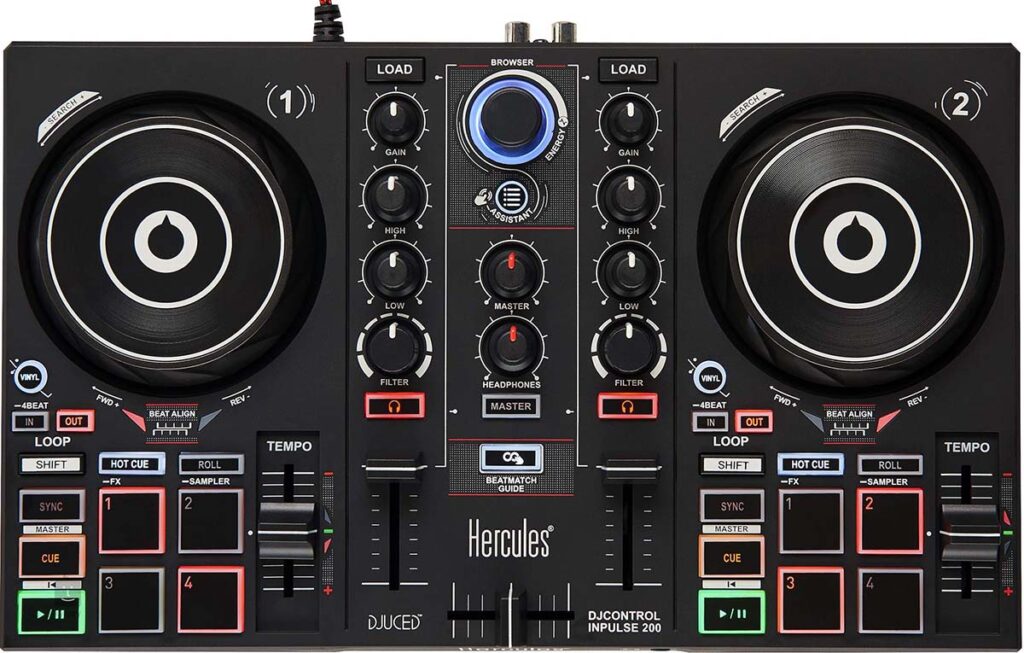 The DJControl Inpulse 200 by Hercules is one of those entry-level products that are perfect for your first steps into the world of mixing. The console is compact, lightweight and space-saving, making it perfect for use at home.
The two channel strips have a 2-band EQ, the two decks are equipped with pressure-sensitive 3.94″ jog wheels and a whole range of controls such as pitch, crossfading, loops. The buttons are backlit so you can always see what's going on, even in darker environments.
The special feature of this model is the IMA (Intelligent Music Assistant) function. This gives you a range of music suggestions that you can use to create better combinations. The ENERGY function, on the other hand, allows you to quickly and effectively switch between your calmest and most energetic tracks.
The 8 pads allow you to play loops, samples and effects. They are also handy for splitting loops and playing sounds like kick drums and reels directly from the pads.
The software used is Djuced. When purchased, a basic licence with standard functionality is supplied, which is sufficient for the first approach and the first steps. Considering the price range, however, it is good that there is dedicated software.
Weighing approximately 884 grams and measuring 36.3 x 23.3 x 8 cm, the Hercules DJControl Inpulse 200 can accompany you anywhere, be it at your rehearsals and in your personal studio or to liven up parties and events.
What are the arguments in favour?
Lightweight
Good software for getting started
Price 105,00 €, More info
6. Pioneer DDJ-RZ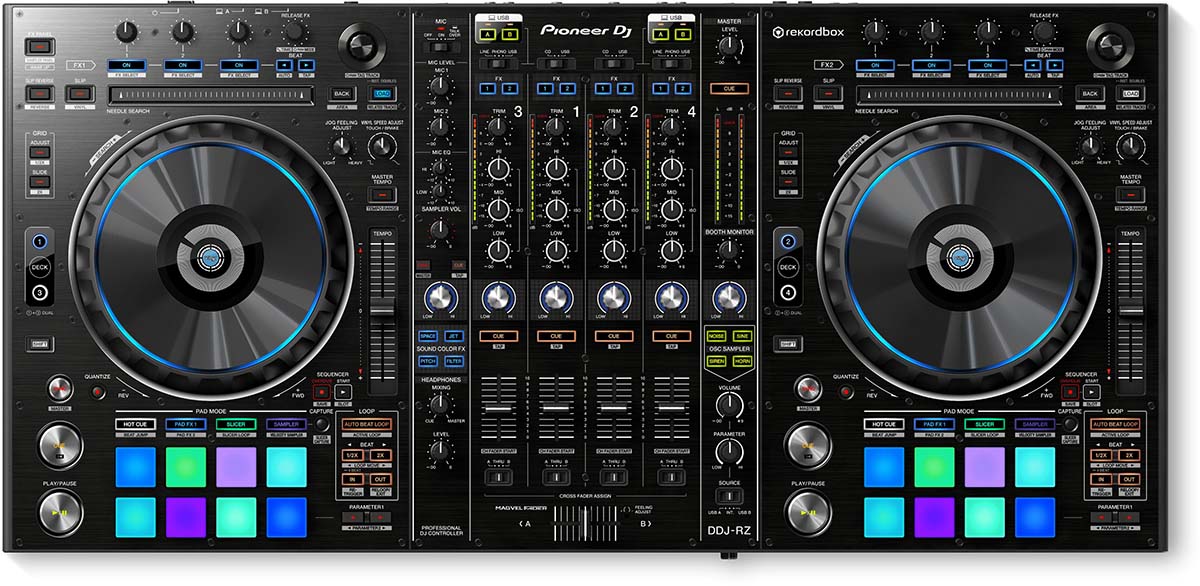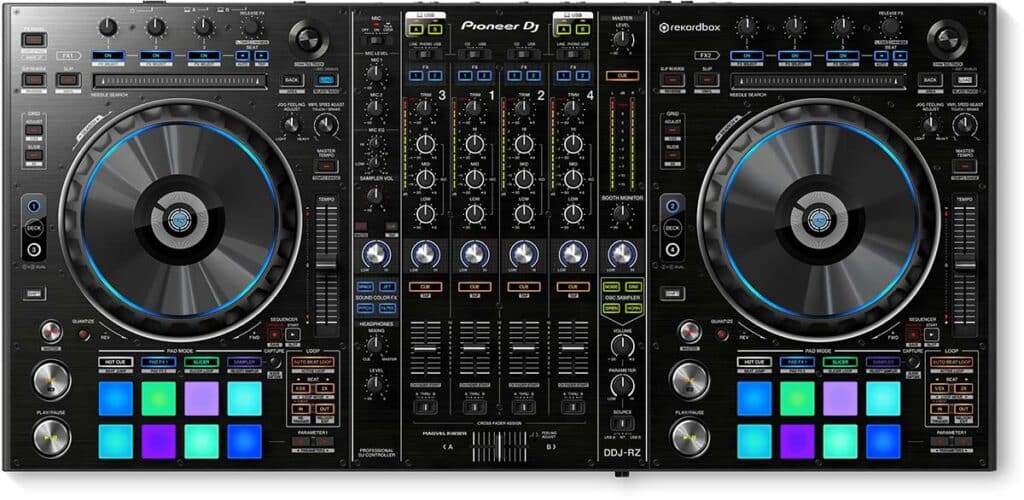 The previous model of the XDJ-RX2 is one of the most popular models among DJs worldwide, especially those who use the rekordbox software. The layout of the Pioneer DJ controller itself mirrors that of the software, making the user interface very intuitive. However, it is possible to use the DJ console without a PC, i.e. in standalone mode.
The DJ controller has 4 channels, each with 3-band EQ and trim potentiometer, ensuring full control over all connected sources. To ensure perfect scratch and reverse timing, the countdown is very accurate and the cue points are illuminated, making it an aesthetically pleasing Pioneer DJ controller.
The jogging wheels are large and very practical to use; scratching is done at a high level and easily. The effects are programmable and mixable via Pad FX, which makes for very interesting combinations.
With the sequencer, you can record, create and play loops from available sample sequences. You can also activate up to 3 beat FX, quantise them and manage the parametric functions of each.
The Pioneer DJ Controller is equipped with 2 USB sound cards and a variety of inputs and outputs. This makes it a flexible station for a variety of setups.
The console measures 870 x 98 x 420 mm and weighs 10.7 kg. This makes the XDJ-RX one of the most professional, versatile and complete products.
What are the arguments in favour?
Plug and Play with rekordbox
Also great in standalone mode
Variety of inputs and outputs
Numark Party Mix MKII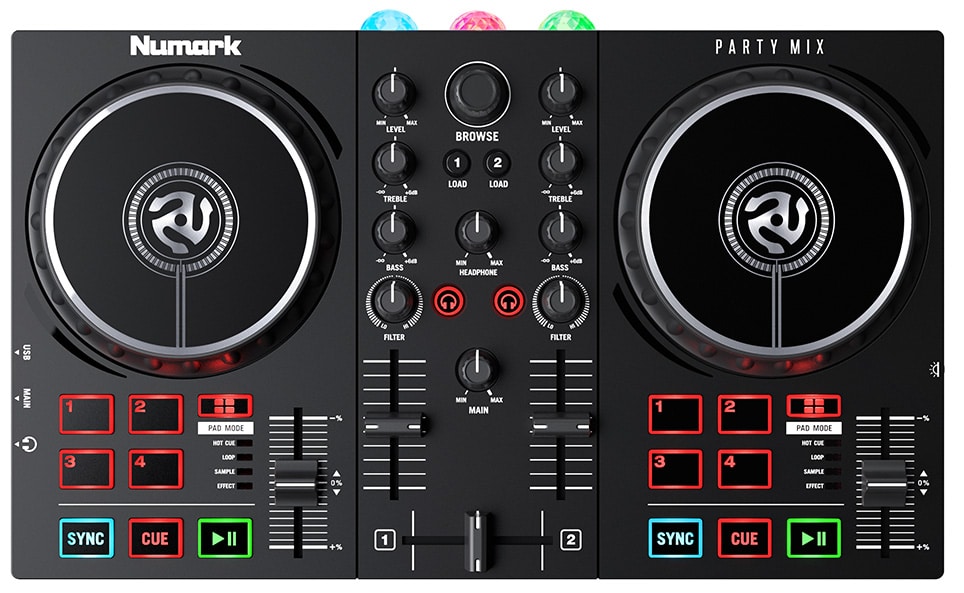 The Numark Party Mix II is an entry-level USB MIDI console preferred by those who want to learn how to DJ. It is particularly aesthetically pleasing with its button and colour layout and 3 rear RGB lights that will create mesmerising lighting effects during your performances.
The 2-deck layout is a classic 2-channel layout with EQ, Master, Cue Gain and Cue Mix and 8 programmable pads. All pads are illuminated so you always know what's going on.
The outputs are mainly preferred by those who want to practise at home without being disturbed and who want separate volumes of audio, cue mix etc. via headphones need to receive.
The controller comes with a demo licence of Serato DJ, one of the most commonly used programs by novice DJs. With its dimensions of 199 x 325 x 51 mm and a weight of 0.8 kg, it is perfect for environments such as a bedroom, a living room or a small studio where DJs usually practice. It is also easy to transport to a friend's house or to a party.
What are the arguments in favour?
Beautiful aesthetics
Light effects
What speaks against it?
Compatibility with other software
Price €105.00, More info
8 Numark Mixstream Pro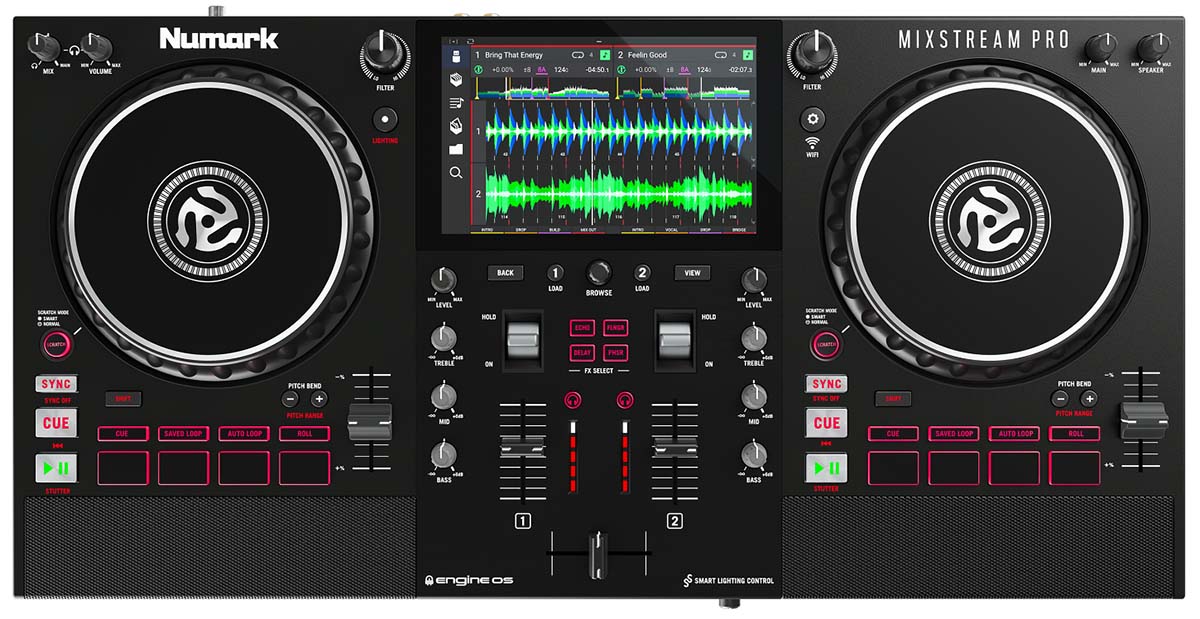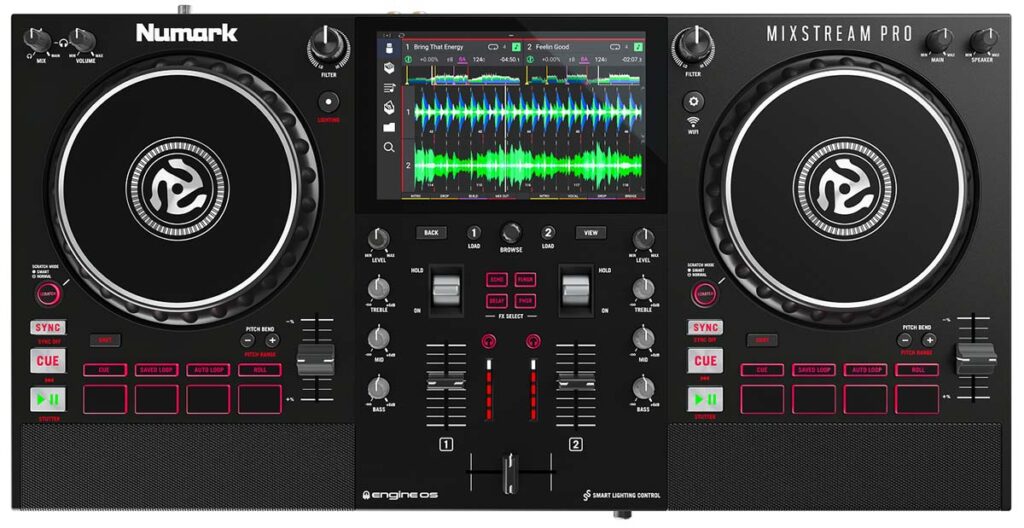 Fully optimised for the present and future of DJing, the Mixstream Pro standalone DJ controller sets new standards in connectivity and access to music.
With built-in WiFi, Mixstream Pro can access streaming content from virtually anywhere. With a fast connection to TIDAL, Beatport LINK, Beatsource LINK, Soundcloud Go+ and more, Mixstream Pro gives DJs access to millions of tracks, curated playlists and charts.
Tracks are analysed by bpm and key as they load and buffered in internal memory to ensure uninterrupted playback at any party, gig or live stream.
Mixstream Pro is the first ever standalone DJ controller to feature high-quality built-in monitor speakers with their own volume control. These custom drivers produce a rich, full sound, making the Mixstream Pro the most versatile plug-and-play standalone DJ mixer on the market.
The audio output is obviously not loud enough to DJ in a club, but is perfect for relaxed listening, barbecues, pool parties and get-togethers with family and friends. For aspiring or professional DJs, the built-in speakers are the ultimate practical solution for practising, live streaming, creating video content and personal monitoring when connected to a larger sound system.
What are the arguments in favour?
Very practical thanks to the many functions
Access to the streaming services Tidal, Beatport LINK, Beatsource LINK, Soundcloud Go+ and Dropbox
Built-in speakers
What speaks against it?
Analysis of songs from streaming services can take a little long
Price: 699€, More info
9. Pioneer DDJ-1000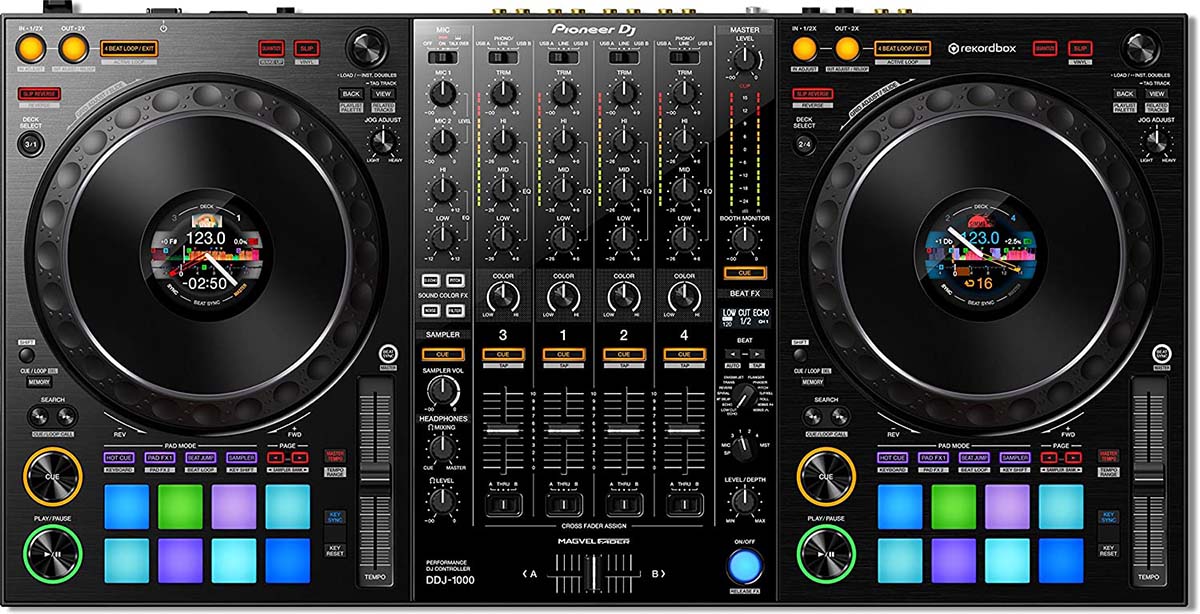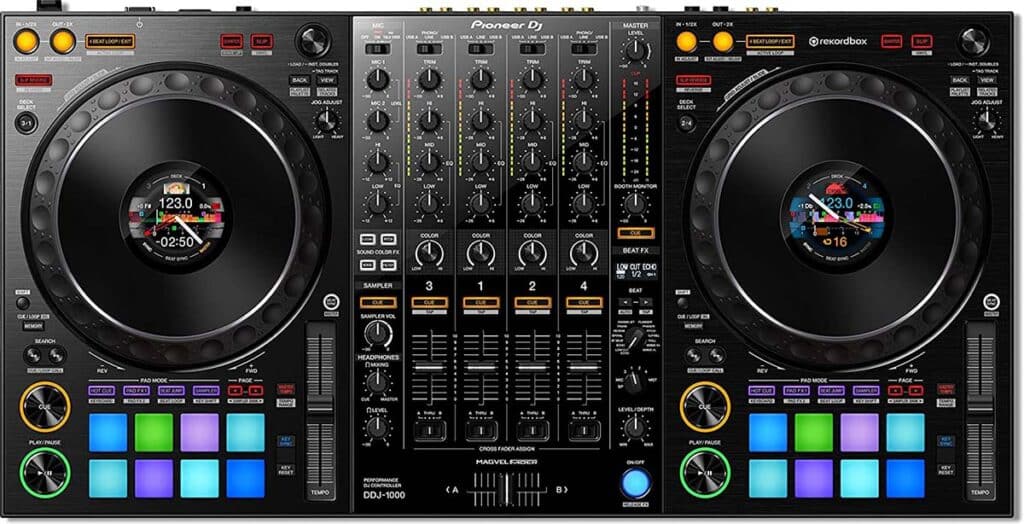 The Pioneer DJ Controller DDJ-1000 is made for use with rekordbox. The professional user interface is inspired by the NXS2 flagship models, but remains versatile and intuitive, making it easy for the DJ to handle any situation.
The console has 4 channels with a 2-band EQ in the first channel, which switches to 3 in the other channel strips. The two high-resolution touch screens on the two jog wheels are also striking. This way you are in control at all times while watching on the deck. The Magvel faders are a certainty in this area, smooth and reliable, with a lifespan of over 10 million movements.
The 16 performance pads give you a wide range of options when it comes to programming effects, hot cues, loops and anything else you want to add to your mixes and performances.
Versatility is a strength: The inputs allow the connection of analogue turntables and CDs. It can also be used as a stand-alone mixer. The 2 MIC inputs, 2 master inputs and a booth input allow you to connect to any professional equipment, no matter where you perform.
The weight is a nice surprise: only 6 kg at 708 x 73 x 361 mm. For those who like to mix with rekordbox DJ, this is undoubtedly the best DJ controller.
What are the arguments in favour?
Dedicated controller for rekordbox
Touch screen on the jog wheel
What speaks against it?
Weight
To be used with rekordbox only
Price: 1.349€, More info
10. Numark Mixtrack Platinum FX: Best DJ Controller for Beginners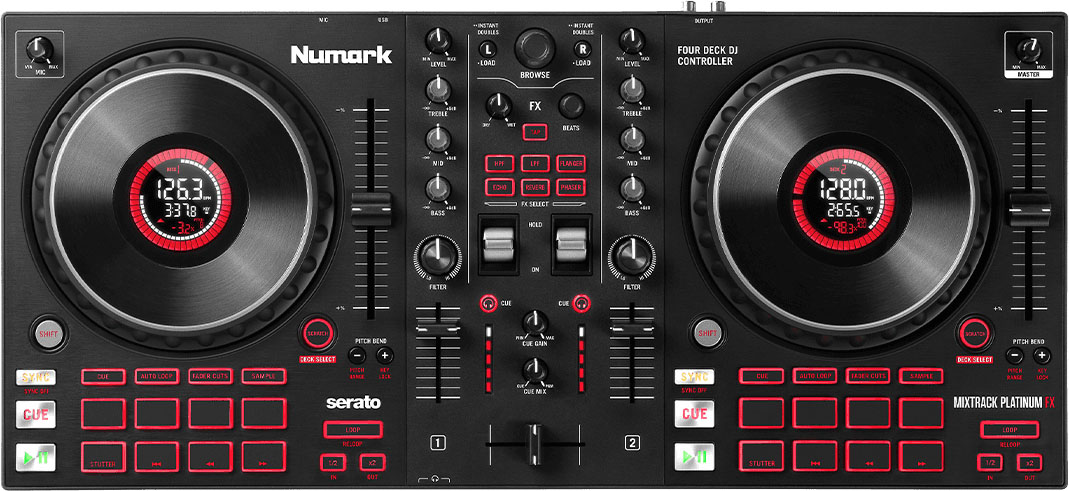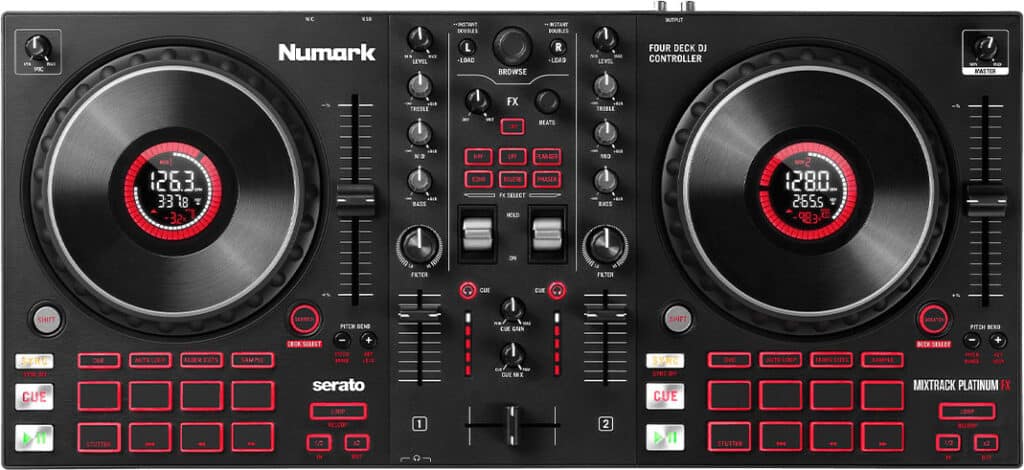 The Mixtrack Platinum FX has everything you need to play like a professional DJ! The Mixtrack Platinum FX is a 24-bit digital DJ controller with 4 decks, a dedicated software effects section, large 6-inch jog wheels with capacitive touch and integrated high-resolution displays, and 16 multifunctional performance pads.
Mixtrack Platinum FX is suitable for any DJ style and is perfect for small events, parties and developing your DJ skills. It combines the functionality you need with all the tools you need to create your own personal style.
At the heart of Mixtrack Platinum FX are two brand new premium triggers that give you effortless access to Serato's built-in software effects. There are also shortcuts for the most important effects, including Echo, Reverb, Flanger, Phaser, HPF (High Pass Filter) and LPF (Low Pass Filter): a foolproof guarantee that everything you need to create build-ups, unforgettable transitions and give your mix your very own twist.
Mixtrack Platinum FX's robust capacitive touch jog wheel has a large 6-inch surface for maximum reliability and total control over your mix. With Mixtrack Platinum FX's bright, high-resolution jogwheel displays, you'll never miss a beat again and keep your mix completely in sync. They display all the useful track information, such as beats per minute (BPM), plate position, time remaining, pitch adjustment and key.
Price: 259€, More info
11 Pioneer DJ DDJ-400: The perfect DJ controller for learning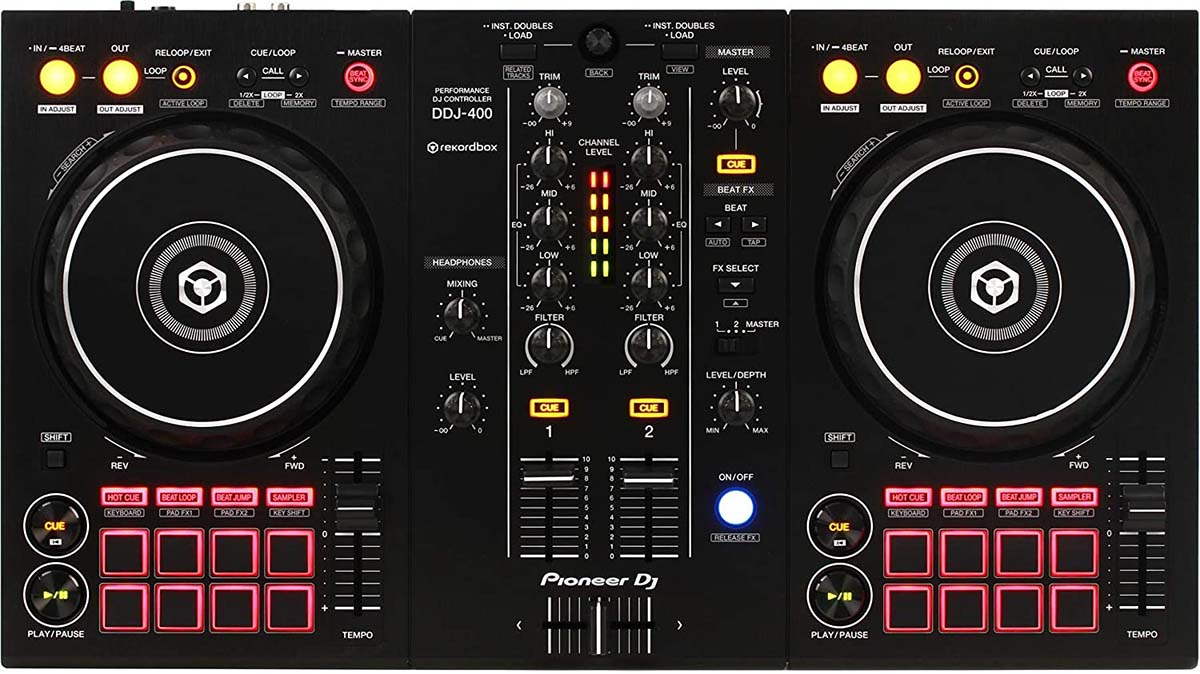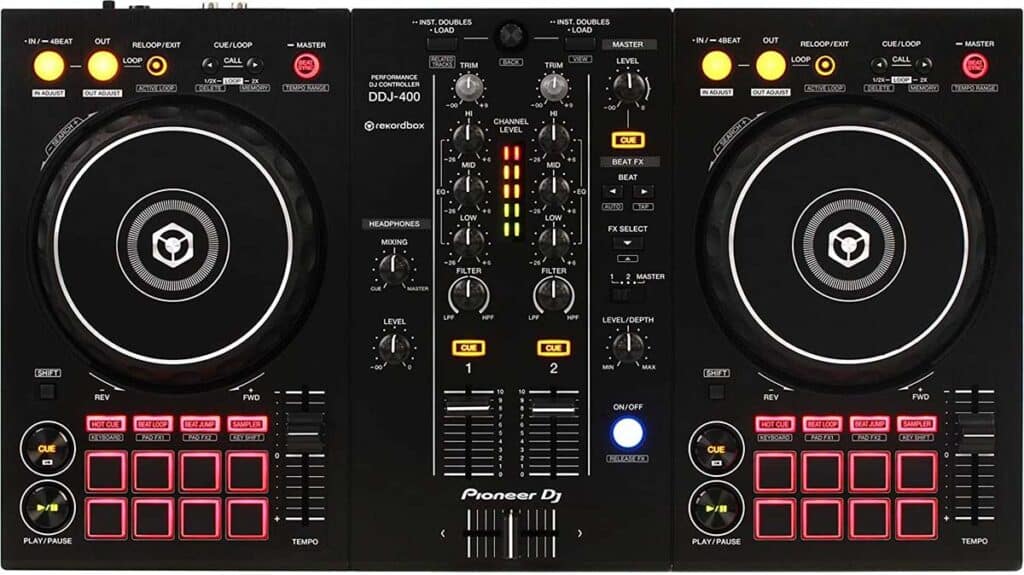 The Pioneer DJ DDJ-400 is the recommended model for those who want to enter the world of DJing and are looking for a music console to familiarise themselves with the controls and basics and quickly improve their skills, whether for fun or for the purpose of DJing.
The console has 2 channels with 3-band EQ, trim, filter and cue button. With Beat DX, Loop and other controls, you can quickly and easily exercise your creative streak and make your mixes instantly dynamic and catchy. Since these are the most important and most used features of professional DJs, it won't be hard for you to upgrade to more advanced models later on.
The crossfader curve is adjustable, giving you full configuration freedom. Thanks to Sound Colour FX and Beat FX (whose curves are inherited from the DJM-900NXS2 professional mixer), you benefit from all the additional, but no less important, features that make your mixes complete from the very first sessions; when used together with rekordbox DJ, you can use the full potential of this DJ mixer.
With dimensions of 485 x H58.5 x 272.4 mm and a weight of only 2.1 kg, it can be used and transported practically anywhere and will accompany your first steps in DJing practically everywhere.
What are the arguments in favour?
Price-performance ratio
Touch screen on the jog wheel
What speaks against it?
The feet of the console do not all rest when placed on a shelf
Price 345€, More info
12 Pioneer DJ DDJ-200: The smallest Pioneer DJ controller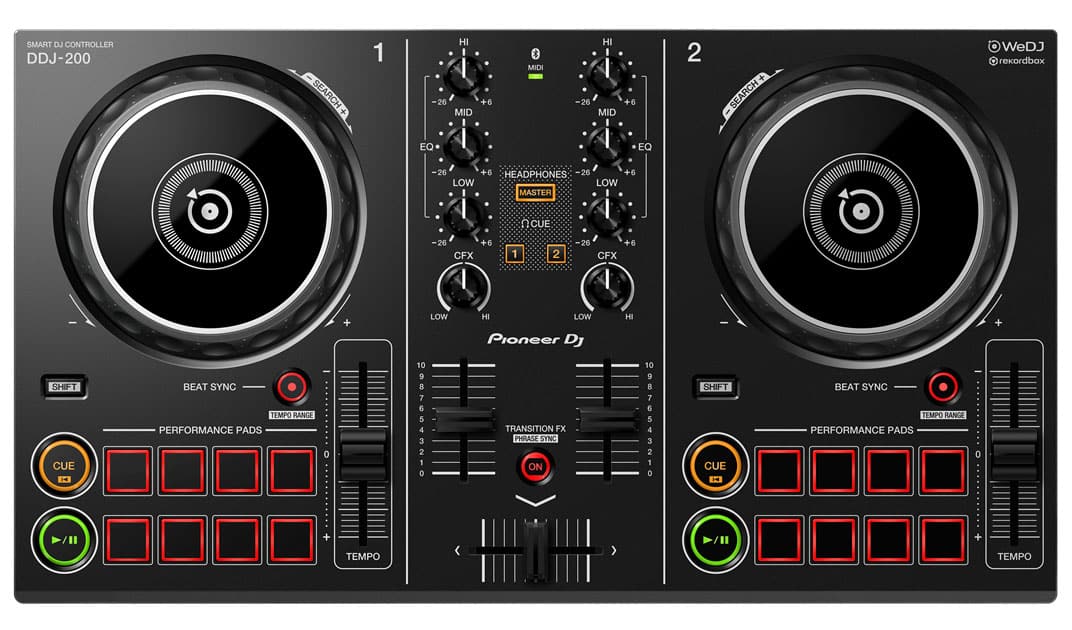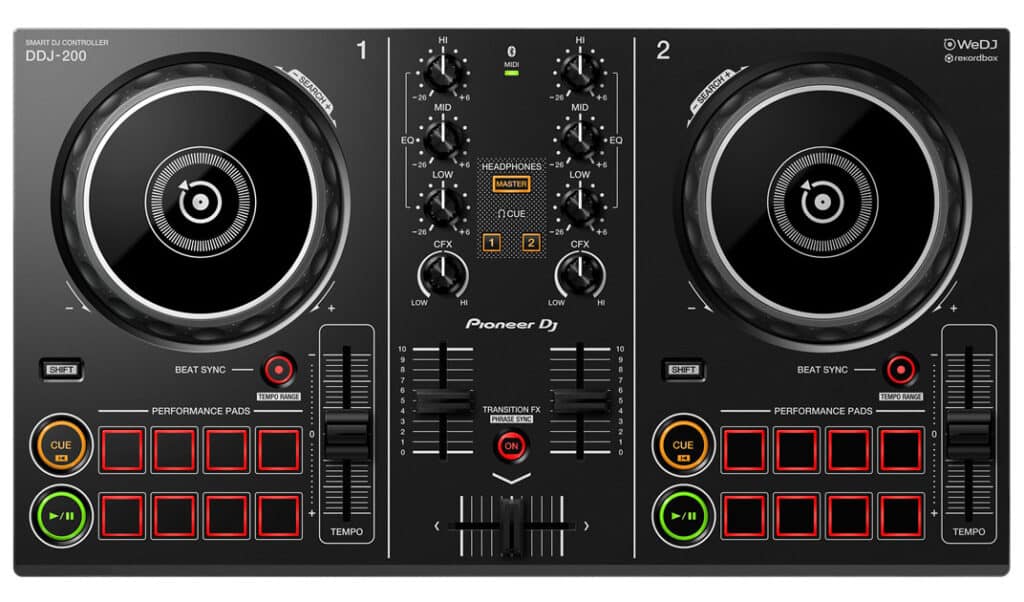 One of the best budget DJ consoles is the Pioneer DJ DDJ-200, the predecessor to the DDJ-400, which is designed to be even simpler and more minimalist so you can start mixing without basic knowledge or experience.
The Pioneer DJ controller has 2 channels, each with a 3-band EQ and 2 decks with 8 programmable FX pads. It works with various apps and allows you to mix music from your rekordbox library, iTunes or even streaming music from Spotify, Deezer, etc. With the WeDJ app for iPhone, you have features that help you learn and make it faster.
The Transition FX function provides smooth and fluid transitions and helps you match the phrases of the two tracks you are mixing. The jog wheels glide very well and guide your hands through your first steps in scratching.
The controller is light and space-saving: only 1.2 kg at 378 x 48.2 x 208 mm.
After quickly learning the basics, you will be able to successfully entertain your audience in a variety of situations with the DDJ-200.
What are the arguments in favour?
Bluetooth system
Cheap
Space-saving
What speaks against it?
Not suitable for those looking for more comprehensive functions
Price 155€, More info