In this post, we'll talk about how you can set up a quality home studio at home in a cost-effective way that gives you all the features you might need. It used to cost an incredible amount of money to set up a studio, but nowadays it's different thanks to digital audio technology.
This guide will help you set up your own home studio and achieve good quality in your music projects. We will recommend certain products that offer good value for money, but it must be clear that this is only a recommendation. The ideal components for any home studio depend on many factors, so you will have to decide for yourself what is best for your projects.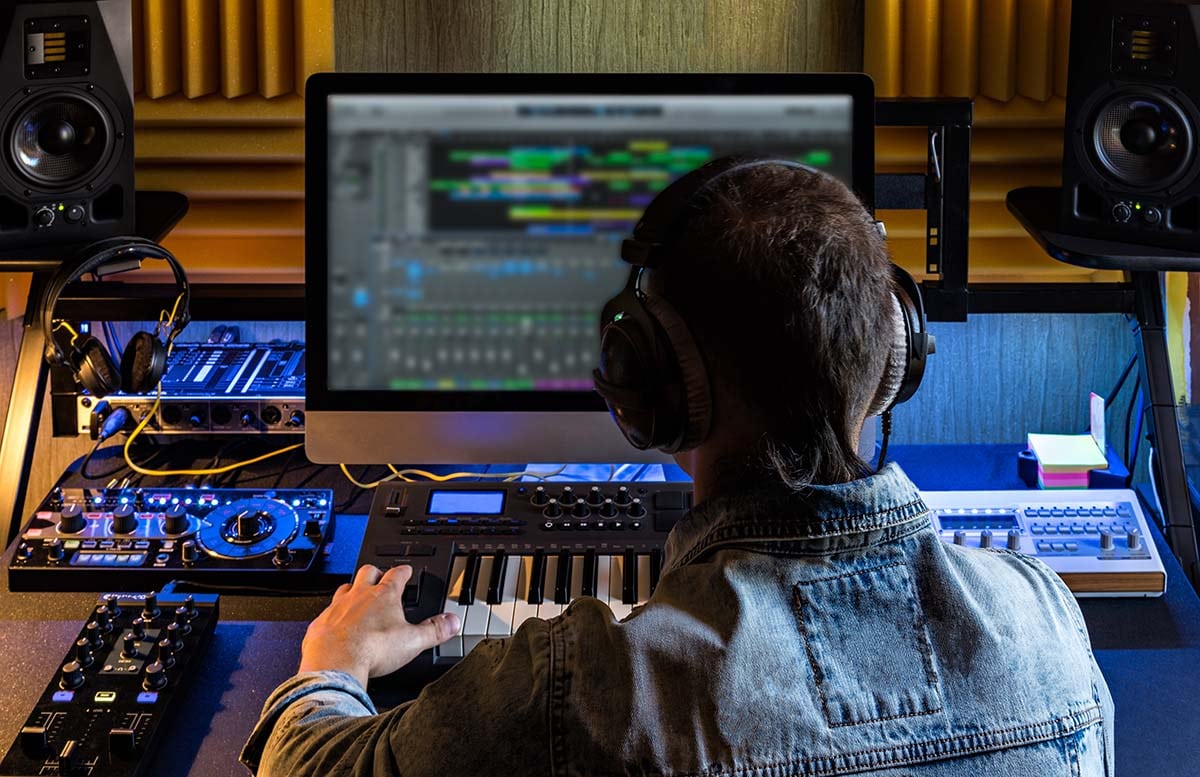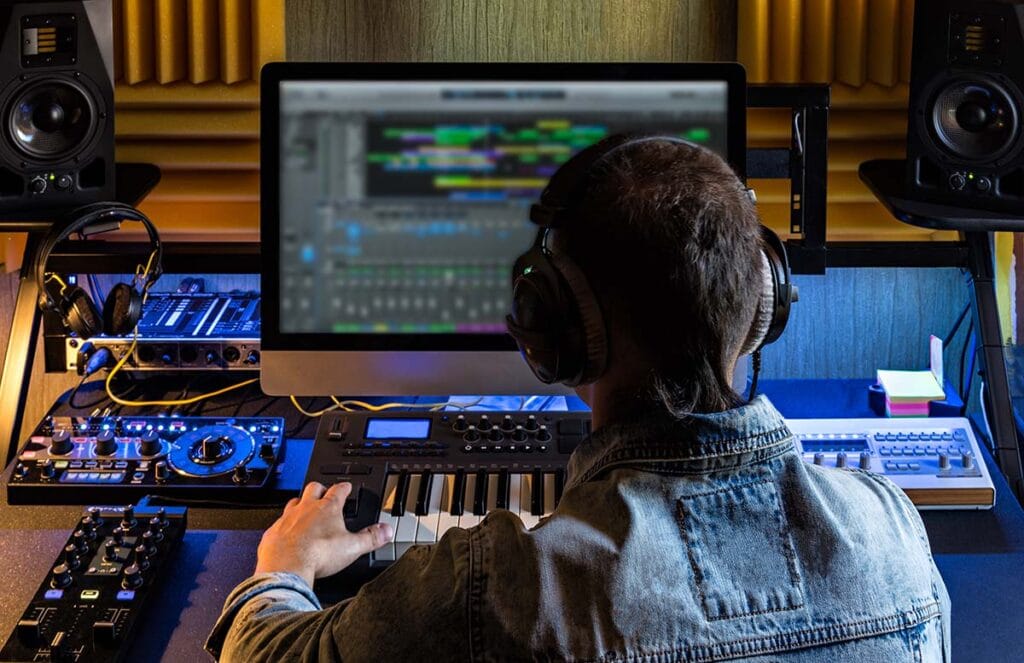 What are the most important elements for a home studio?
Acoustics
Let's start with some basic considerations about the acoustics of the room. The acoustics in a home studio have little to do with those in a professional studio. We won't soundproof the room to the outside or condition it perfectly, but we do have some recommendations to consider.
Basically, you have to treat the rooms of a recording studio acoustically in 2 ways:
Sound insulation: This is about reducing the sound coming into or out of the studio. This is important, of course, so that the neighbours don't hear your loud music all the time, but also so that outside noise doesn't intrude on your recordings. However, such room treatment is extremely expensive (it usually requires room-in-room construction), so it is not worthwhile for home studios.
Acoustic treatment: This only has the aim of improving the acoustics within the studio to be able to make better recordings, and to achieve good mixes and masters . For this purpose, acoustic absorbers and reflectors are used. The ultimate goal is that you only use the direct sound listens to/records without the reflected sound so that the sound remains as transparent as possible when recording/listening.
Computer
The computer is the basic component of a home studio. This is where all the other elements are connected. We all have a computer at home, but it needs to be up to date and have some power to perform audio tasks smoothly and without interruptions. As minimum requirements we recommend the following:
Windows or Mac
Minimum processor: Dual Core or Inter Core 5.
At least 4 GB RAM.
Free space on our hard drive, a few gigabytes.
Usb 3.0 is ideal for higher transfer speed and better synchronisation, but 2.0 is also valid.
In addition to the audio interface, a driver is also needed. It is best to have a universal driver. One of these is "Asio4all", which you can download for free from their Website download. The steps to follow are as simple as automatically executing the download and saving the file. This programme also helps to reduce latency and improve the performance of the interface.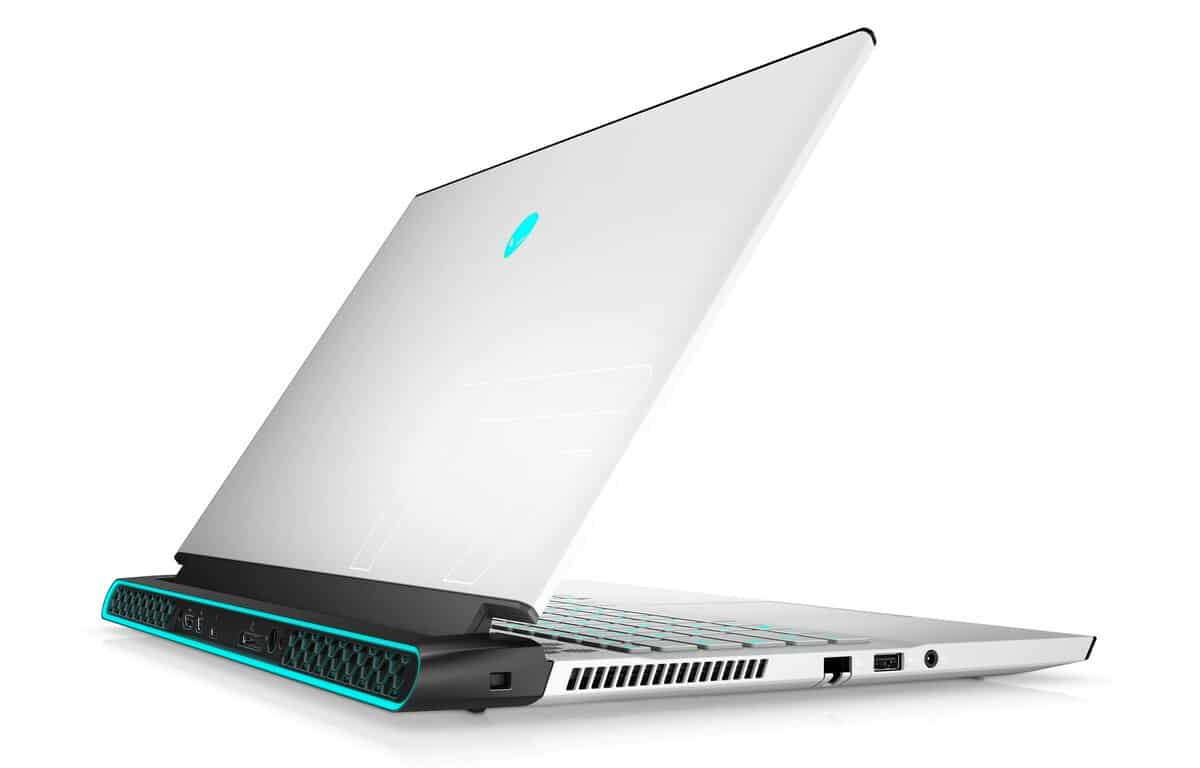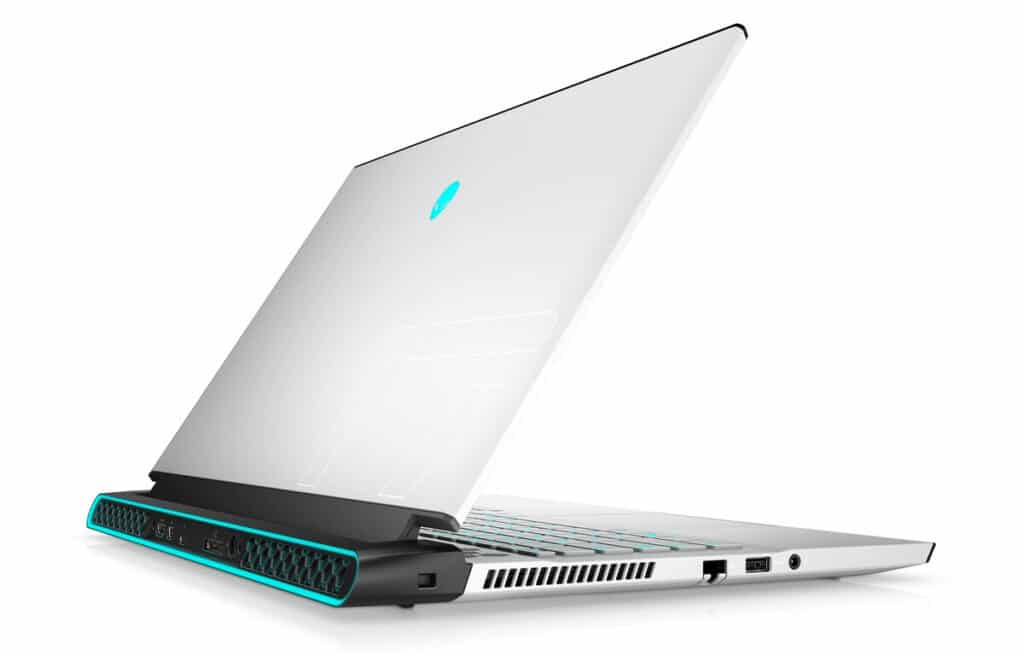 The better your computer, the faster and smoother you will be able to work. Basically, the following applies here: The more power your processor has, the better your performance. Produce music. I myself use an Alienware m17 R4 with an i7, which is a bit "overkill" for music production.
DAW
Nowadays, everyone who wants to produce music digitally needs a digital audio workstation. Here we have made a comparison of the 12 most popular DAWs on the market to help you choose your first workstation.
But to summarise this very briefly: It does not matter for which DAW you decide, as by now all DAWs can do everything. But here are 3 suggestions for 3 different areas of application:
If you want to produce Hip-Hop music (i.e. Beats FL Studio is very well suited for this.
If you want to produce electronic music, I recommend Ableton Live.
If you prefer mixing and Mastering Pro Tools and Logic Pro are very well suited for this.
Monitors/Headphones
Monitors are an essential element in a home studio. Ideally, they should have a flat frequency response that doesn't colour the bass and treble. This means that your listening frequency is a straight line (actually, frequency curves in studios are never straight, but you know what I mean) with nothing standing out. The result is an objective and homogeneous mix when played back on different devices.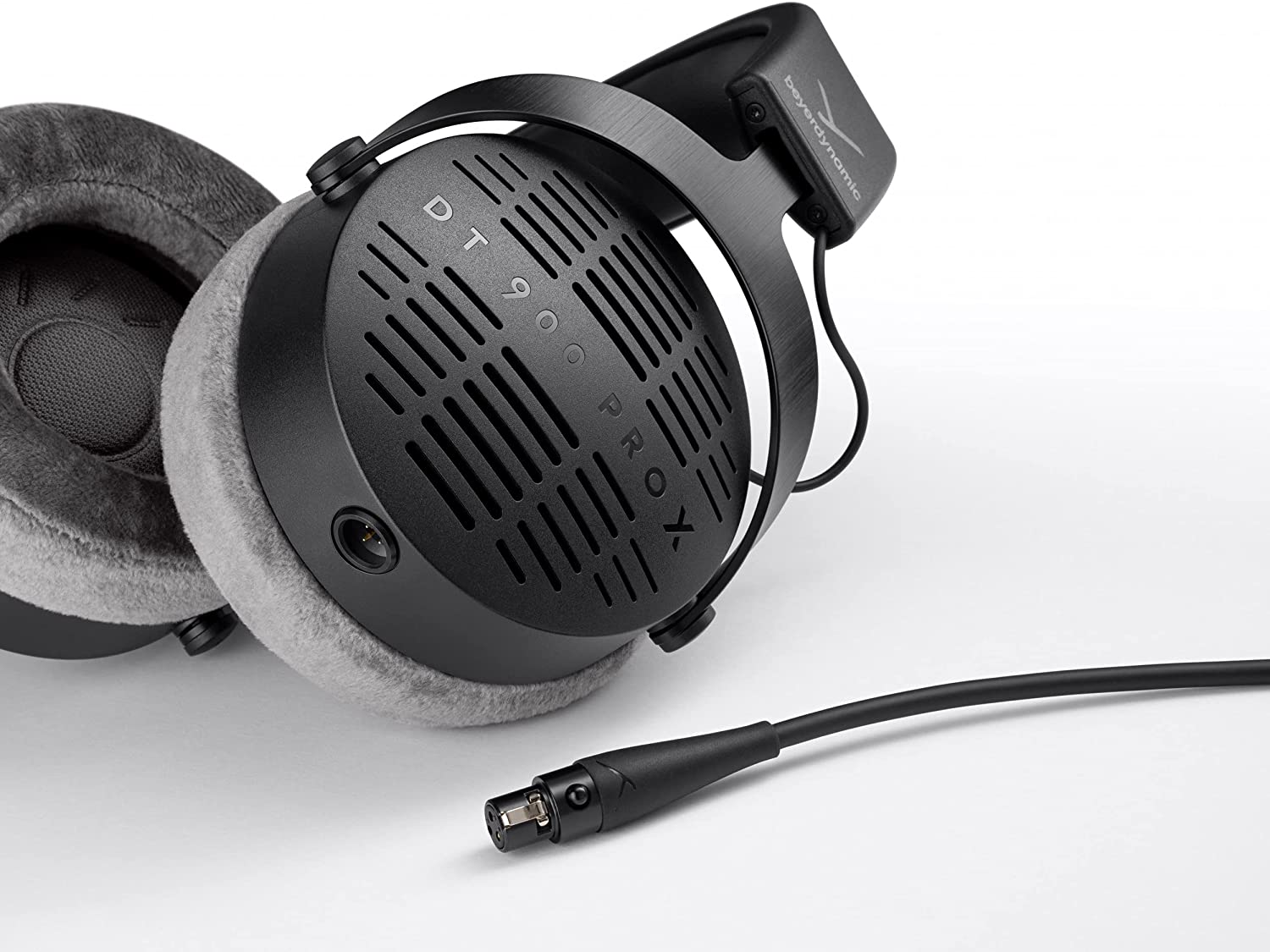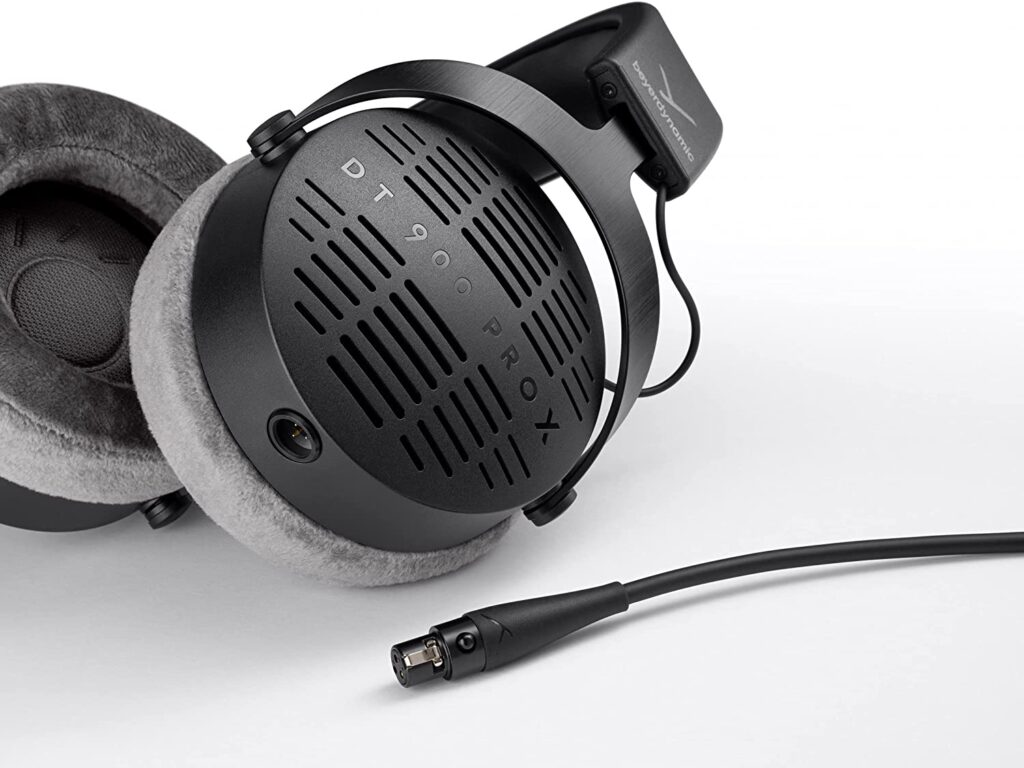 If we make a mix with monitors that are very bass-heavy, it is very likely that the mix will have too little bass when listened to on another device. All monitors have nuances in different frequencies, here the tastes and needs of each individual influence.
To create a stereo monitoring system in our home studio, we need a pair of monitors and/or headphones. The choice of monitors depends on the size of the room we want to put them in and the power we want to use. For a room with normal dimensions, five inches are best. Some of them are:
RCF Ayra 5, Yamaha HS5 or M-Audio BX5 D2 70w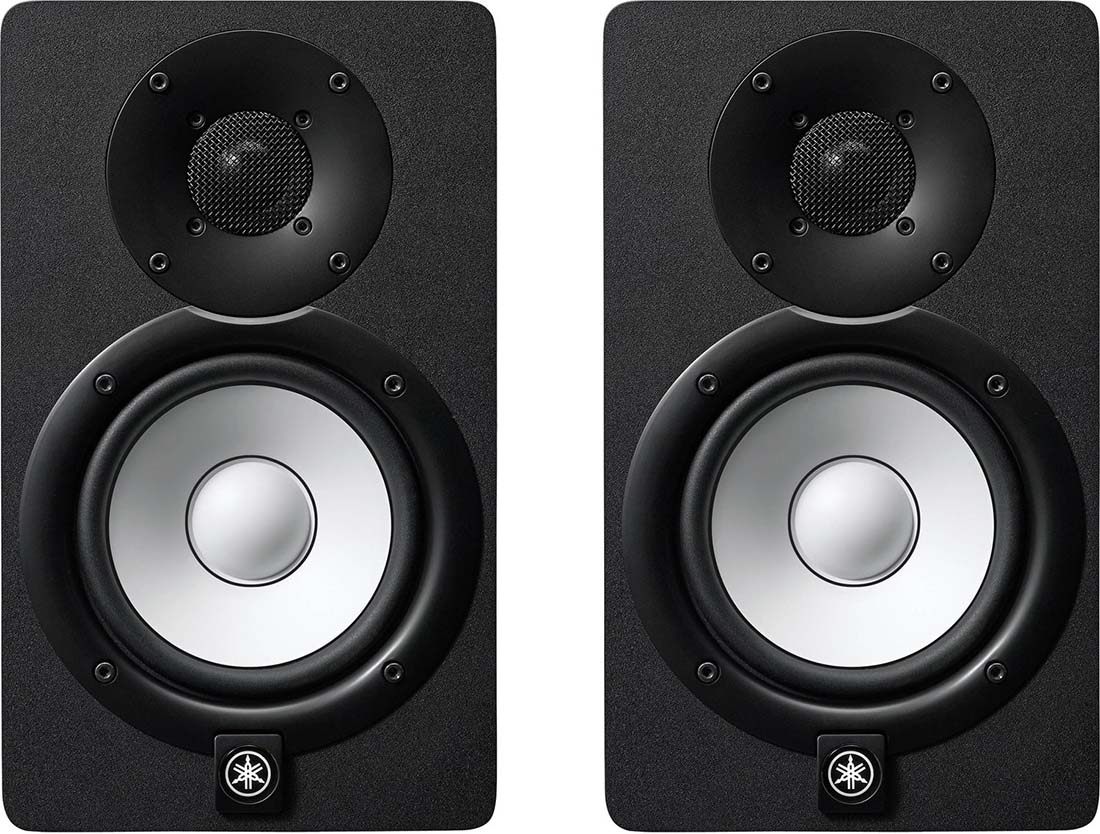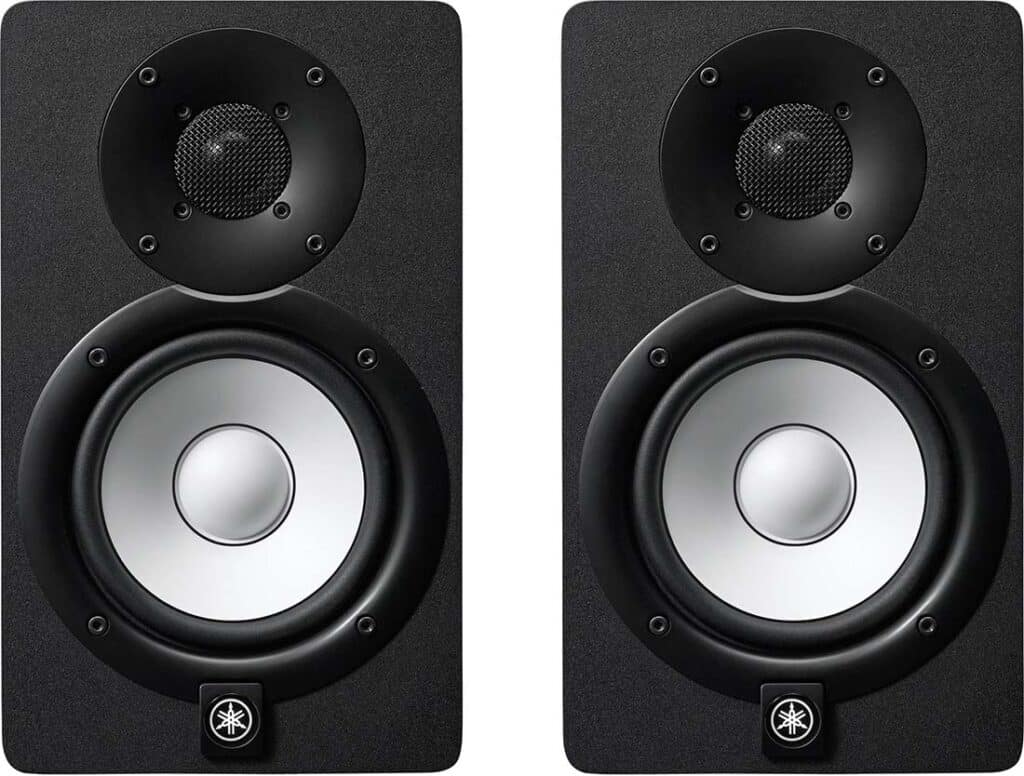 If you prefer eight-inchers:
The first are the Krk RP5 Rokit G3 monitors. At an affordable price, you get a pair of high-quality monitors with an exceptional design with its characteristic yellow membrane. It is a highly recommended option for its price-performance ratio.
Otherwise, I can also recommend the Yamaha HS8, but they are a bit more expensive.
If you cannot afford monitors at the moment, or if your neighbours are disturbed by your monitors, you can also work with headphones. This is not ideal, but in the absence of monitors it can be a good solution. A good option is the Beyerdynamic DT-990, which are open headphones (open headphones have a more transparent sound ls closed) with good frequency response, perfect for a home studio. Even though we have monitors, it's always good to have headphones for monitoring in our home studio.
Monitors: Correct volume
To set up our home studio, we'll give you some tips to keep in mind:
Do not place the monitors near walls or corners, as this will cause an imbalance in the bass frequencies. If this is unavoidable, try to reduce the bass of the monitors by EQ (most monitors have at least a 2-band EQ).
The tweeters should be at the same height as your ears.
The monitors should form an equilateral triangle with your position to get a balanced stereo image.
It is important to avoid bare walls, windows and smooth surfaces... The use of carpets, foam and elements that act as diffusers can contribute to better acoustics.
Furniture
Strictly speaking, you only need one desk. Ideally, another shelf should be placed on the desk to create two heights. This makes it easier to put the monitors in the right position and easier to handle all the accessories.
Some of the peripherals for a home studio come in a certain format to be installed in a rack, but it is not mandatory to install them in a rack so that we can have them on the table.
In the studio I use your Fame W-201 from Music Store, together with a Fame Rack on the right.
Midi Keyboard
The midi keyboard is optional, it can offer you numerous possibilities, but it is not an essential element. The keyboard itself does not emit sound, but sends a series of midi commands that our software interprets with the sound of the virtual instrument of our choice. For music production, it is a highly recommended element and will help you a lot in your musical creations.
Our suggestions:
Akai MPK: Akai offer with the MPK series very good midi controller, which is very suitable for home studios. The model is available in different versions: With 25, 49, 61 or 88 keys. Each Midi Keyboard also has at least 8 drum pads. I use the 49-key version in my home studio.
The second option is the Native Instruments Komplete Kontrol. This midi controller is a little more expensive, but more comprehensive and offers perfect integration with Native Instruments software.
Audio interface
The interface allows you to connect your computer to any sound source, so you can record sound and send reference signals at the same time. This peripheral is one of the reasons why we are now able to make high-quality recordings in our own home studio. There are numerous audio interfaces with different functions, and as with everything else, we need one or the other depending on our needs. For a start, an interface with two channels is enough so that we can record two tracks simultaneously on different channels.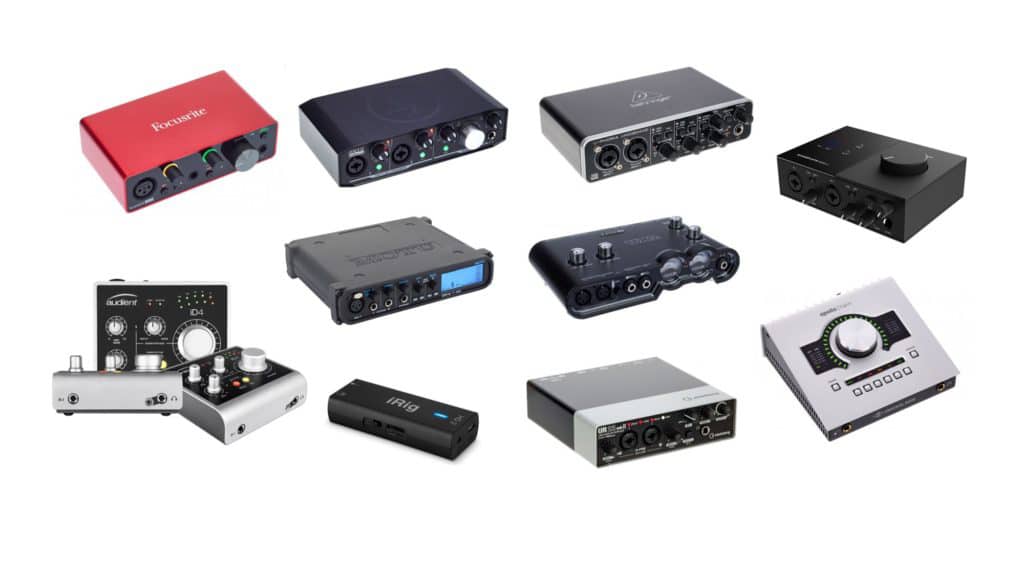 For starters, I always recommend the Behringer UMC interfaces (I had the UMC204 myself). They are really unbeatable in terms of price-performance ratio. Even if the preamps are not the best, they are excellent for the price. Moreover, they offer all the functions that an interface should offer, and that for only 79€.
But if you need something more comprehensive, check out the interfaces from RME or Universal Audio.
Microphones
Depending on the project, you will be interested in one type of microphone or another. There are millions of microphones for different purposes, but in a home studio, especially in the beginning, it is advisable to have a microphone that is versatile, has a good response and works well. Here you will find our comparison article on 8 of the most popular microphones for singers and rappers.
The most commonly used microphone in home studios is the Rode NT1A. And for good reason: it offers a super cool sound for little money. The sound is not far from more expensive microphones like the Neumann U87. However, you need good room acoustics for condenser microphones.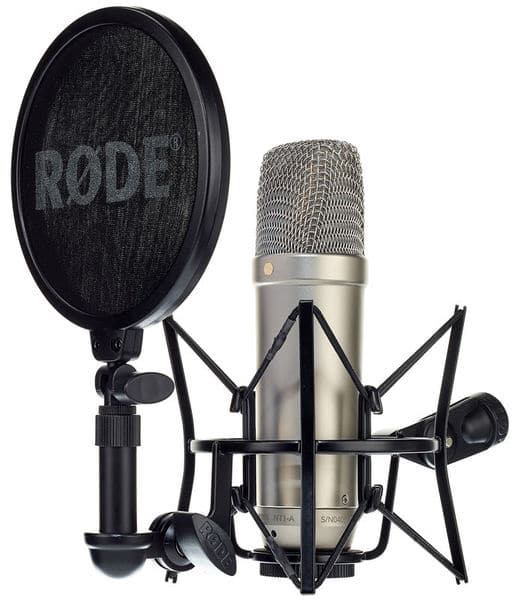 If you don't have good room acoustics, it's better to use a dynamic microphone because it picks up less ambient noise and more direct sound. The Shure SM7B is one of the best dynamic mics available, but it's not cheap. The Shure SM58 or SM57 are also recommended for the home studio and are also much cheaper. In short, there are many ways to record with good quality. There are many microphones, you have to weigh up which one you want to work with and choose it according to the purpose.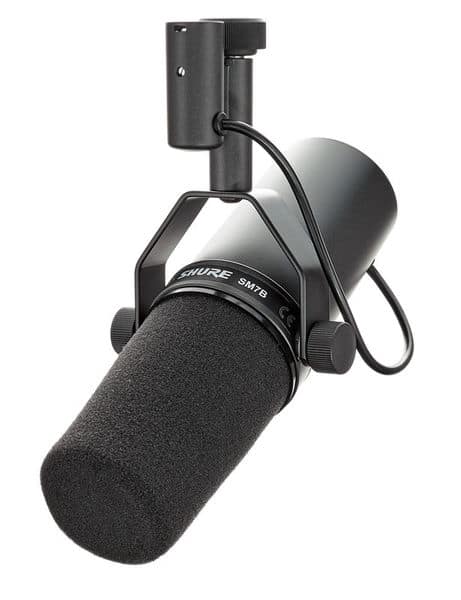 It is very advisable to use an antipop filter for our microphone. It is inexpensive and the results are noticeable when recording voices. The function of the antipop is to catch the saliva that can escape and avoid the echo that occurs when we pronounce "p" and "s". The end result is a cleaner sounding recording.
Other accessories
Once we have these components, we can improve our Home Studio with different elements.
Analogue effects devices such as equalisers and compressors are things you should consider when upgrading your home studio. Although both are available virtually in audio software, analogue hardware usually offers better sound than digital plug-ins, but is more expensive and less practical.
Many interfaces have only one headphone output. So if you are recording two voices, for example, it is advisable to send them separately so that you can listen to them individually. For this you need a Headphone amplifier like the like the Berhinger HA-4000, with independent volume control for four channels.
It is advisable to have a balanced cabling to reduce noise and interference.
We hope this guide will help you build your own home studio. And remember, first think about what projects you want to do, then choose the components that best fit your needs and budget.