The landscape of music history is incredibly rich and varied, woven from the virtuoso talents of countless musicians who have forever shaped our world of music. At the center of this landscape is the electrifying energy of the electric guitar, which has been captivating audiences for generations.
A versatile instrument, the electric guitar has the ability to convey the nuances of emotion and human experience. Whether it's the piercing scream of a blues solo, the raw energy of a rock riff or the intricate melodies of a classical piece, the power of the guitar is undeniable.
A few electric guitarists have transcended the boundaries of their time and genre to forever make music history. They are the pioneers, the outsiders, the virtuosos who pushed the boundaries of what was possible with six strings and a pick.
From their skilled fingers came melodies and harmonies that still resonate today and have inspired countless aspiring musicians to pick up the guitar. This article celebrates these extraordinary individuals-the greatest electric guitarists of all time-who, through their passion and skill, changed the way we listen to and experience music.
Keep reading: The 11 best electric guitars for beginners
12. Angus Young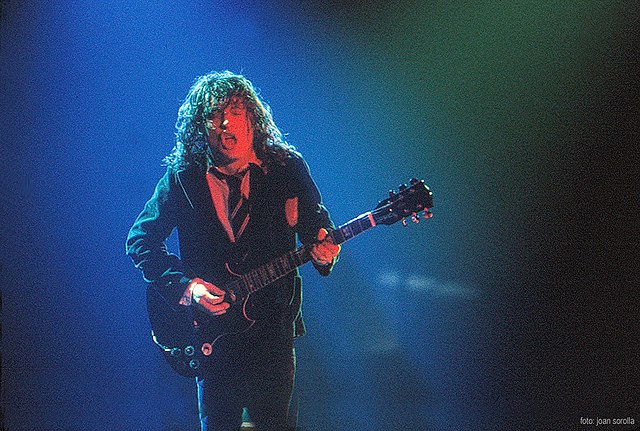 Angus Young is best known as the co-founder and lead guitarist of the Australian hard rock band AC/DC. He is famous for his riffs, solos and incredible stage presence - he always performs in his school uniform. Now 68, he still performs live with the same energy as he did 30 years ago.
He composed and played legendary riffs on the electric guitar like "Highway to Hell", "Back in Black" or "Thunderstruck". The riffs are usually simple but effective and incredibly memorable - he could always do much more with 3 chords than other guitarists.
Angus Young is a true rock legend. He is an extraordinary guitarist, songwriter and performer. He has made AC/DC one of the most successful rock bands of all time, and his music will continue to inspire generations of fans.
Well-known songs: "Highway to Hell", "Back in Black", "TNT"
11. George Harrison
He was very versatile and could play many different styles and genres. From rock and roll to pop and blues to Indian classical music, he felt at home everywhere. His legacy is not only the songs he wrote and played, but also the way he played the guitar, which continues to inspire musicians to this day.
Well-known songs: "Something", "While My Guitar Gently Weeps"
10. Pete Townshend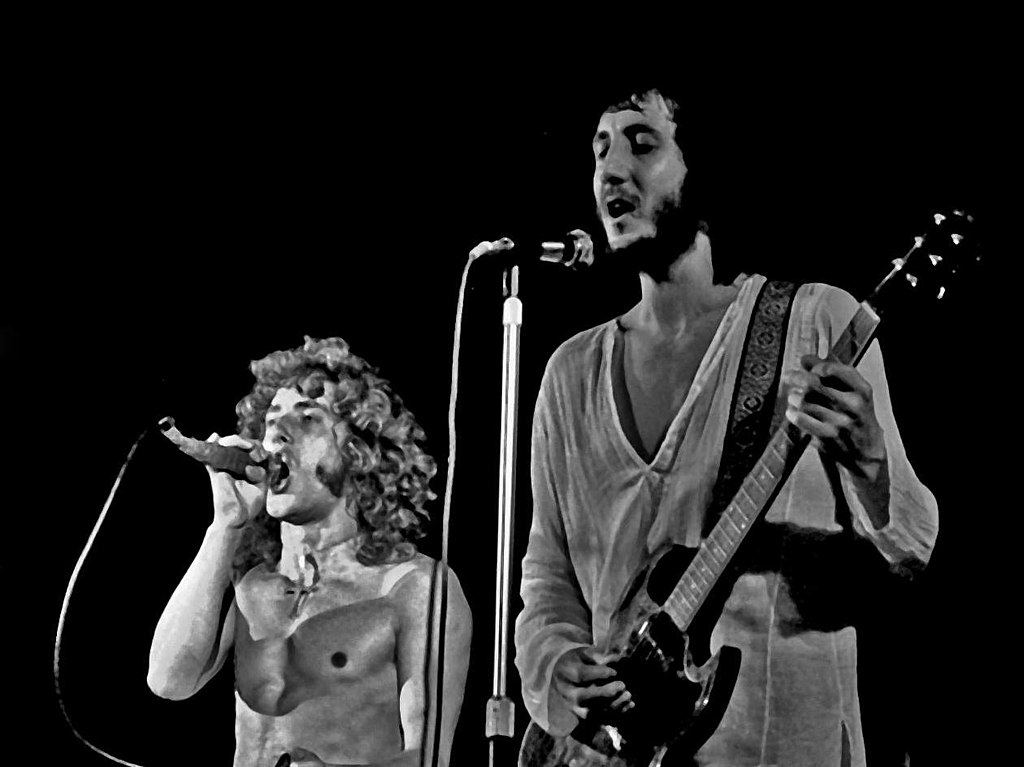 Pete Townshend is an English electric guitarist best known as the guitarist, songwriter, and occasional vocalist for the rock band The Who. He is considered one of the most influential guitarists of all time, and his playing has been praised by critics and musicians alike.
Townshend was born in 1945 in the London district of Chiswick. He began playing guitar at a young age and was influenced by guitarists such as Buddy Holly, Chuck Berry and Eric Clapton. In 1964, he formed The Who, which quickly became one of the most successful and influential rock bands of all time.
Townshend is known for his unique and innovative guitar style. He is a master at using the feedback of the guitar amplifier, which he often uses to create a unique sound. He is also a great songwriter and has written some of The Who's most famous songs, including "My Generation", "Baba O'Riley" and "Won't Get Fooled Again".
Townshend is a true rock legend and one of the most important figures in the history of rock music. He is a master of his craft and his music continues to inspire and influence musicians around the world.
Well-known songs: "Baba O'Riley", "My Generation", "Pinball Wizard"
9 Duane Allman
He was highly regarded by his peers and enjoyed a reputation as an excellent session musician. One of his most famous collaborations was with Eric Clapton on the album "Layla and Other Assorted Love Songs" by Derek and the Dominos. His guitar work on the title track "Layla" is particularly well known, where his slides can be heard throughout.
Well-known songs: "Whipping Post", "Blue Sky", "In Memory of Elizabeth Reed".
8. Eddie Van Halen
Van Halen was a revolutionary guitarist who helped redefine the sound of rock music. He was a master of many different techniques, including tapping, whammy bar and two-handed tapping. Van Halen's playing was characterized by speed, power and originality. He was a true guitar legend and a role model for many guitarists.
Well-known songs: "Jump", "Eruption", "Panama"
7. Chuck Berry
Berry was born in St. Louis, Missouri in 1926. He began playing guitar at an early age and was influenced by blues guitarists such as Muddy Waters and T-Bone Walker. In the early 1950s, Berry began writing and recording his own songs. His first single, "Maybellene," was released in 1955 and became a hit. Throughout the 1950s and 1960s, Berry released a series of successful singles and albums.
Berry's guitar playing was characterized by speed, power and melody. He was a master of the single-note riff, and his solos were often complex and virtuosic. His influence on rock 'n' roll is immeasurable - he was a pioneer of the genre and his playing and songwriting helped define the sound of rock 'n' roll as we know it today.
Well-known songs: "Johnny B. Goode", "Maybellene", "Roll Over Beethoven"
6. BB King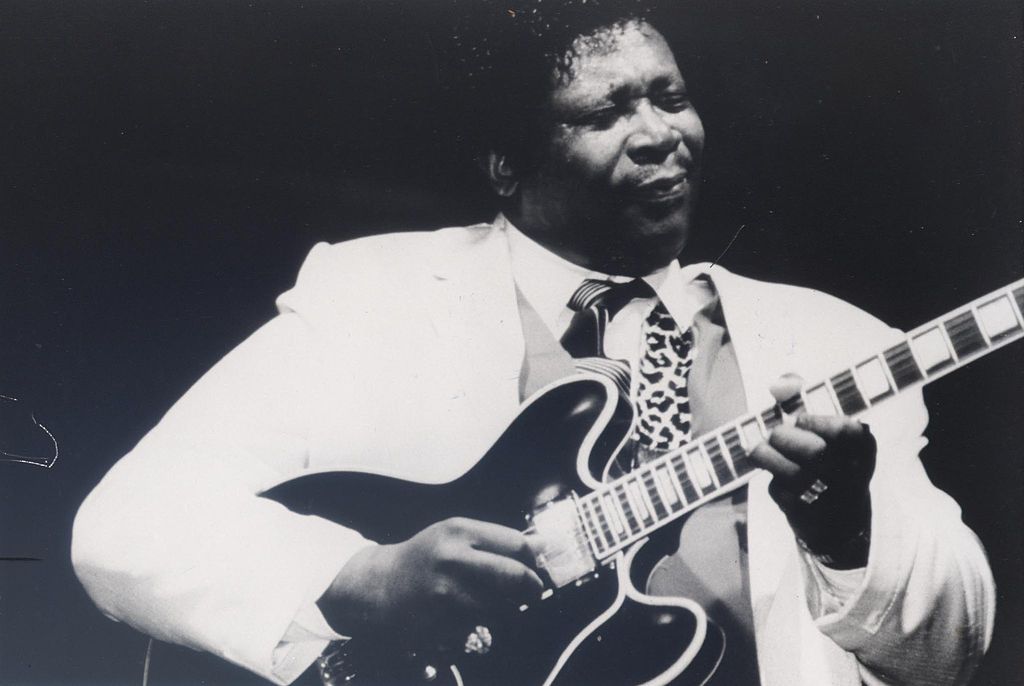 B.B. King, often referred to as the "King of the Blues," was one of the most influential blues guitarists in history. His influence on blues music and his legacy as an electric guitarist are immense.
The Mississippi-born guitarist had a unique, instantly recognizable style. He was known for his vibrato and string bending techniques, which he used to create a "weeping" sound that became his trademark. He often said that he made his guitar "Lucille" sing the notes he could not.
Unlike many guitarists who focus on playing many notes quickly, King was known for his ability to convey deep emotion with a few well-chosen notes. A master of phrasing, he was often compared to a great storyteller who conveyed deep emotion with a minimalist approach in his solos.
B.B. King's influence on other musicians is immense. Numerous guitarists of various genres cite him as a source of inspiration. His contributions to the development of the electric blues and rock genres make him one of the most important electric guitarists.
Well-known songs: "The Thrill Is Gone", "Sweet Little Angel", "Lucille"
5. Jeff Beck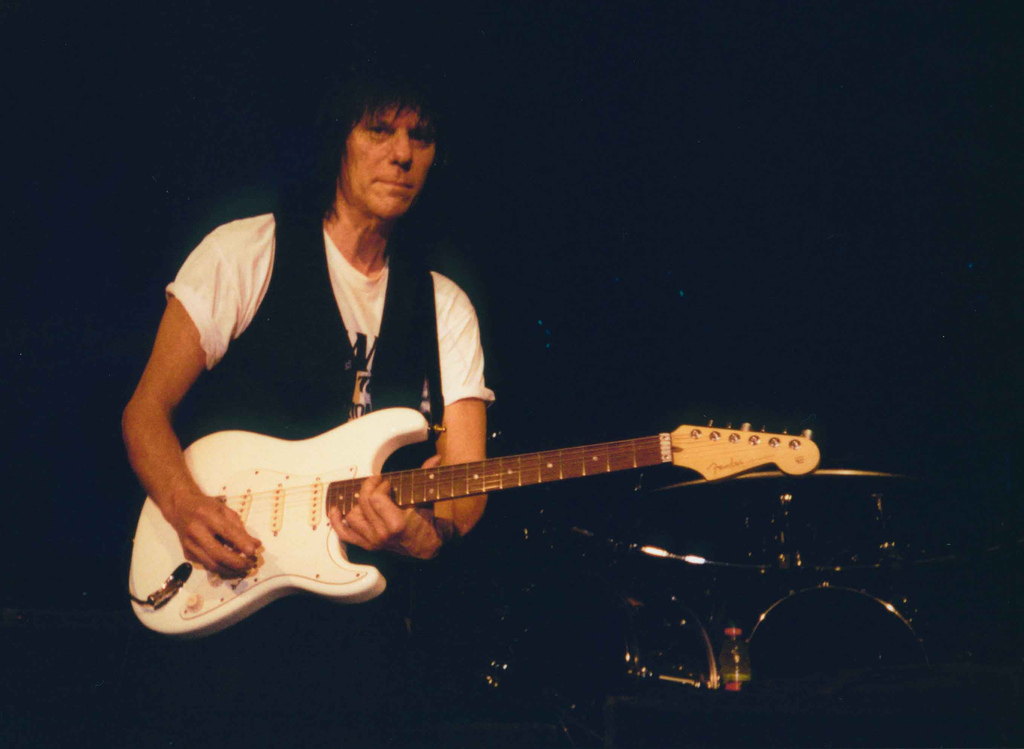 Jeff Beck is a British guitarist widely regarded as one of the greatest guitarists of all time for his virtuosity, innovative playing style and diverse influences.
Beck began playing electric guitar at a young age and was quickly recognized for his talent. He joined the Yardbirds in 1965 and shaped the band's sound with his playing. After leaving the Yardbirds in 1966, Beck embarked on a solo career. He released a number of albums, including Truth (1968), Beck-Ola (1969), and Blow by Blow (1975).
Beck's playing is characterized by speed, technical virtuosity, and a wide variety of influences. He has been influenced by a variety of genres, including blues, jazz, rock, and funk. The result is a unique style that defies categorization.
He is also known for his innovative use of effects pedals. He was one of the first electric guitarists to use wah-wah pedals and distortion, and has experimented with new sounds throughout his career. He has won a total of 8 Grammys.
Well-known songs: "Beck's Bolero", "Cause We've Ended As Lovers", "Freeway Jam"
4. Keith Richards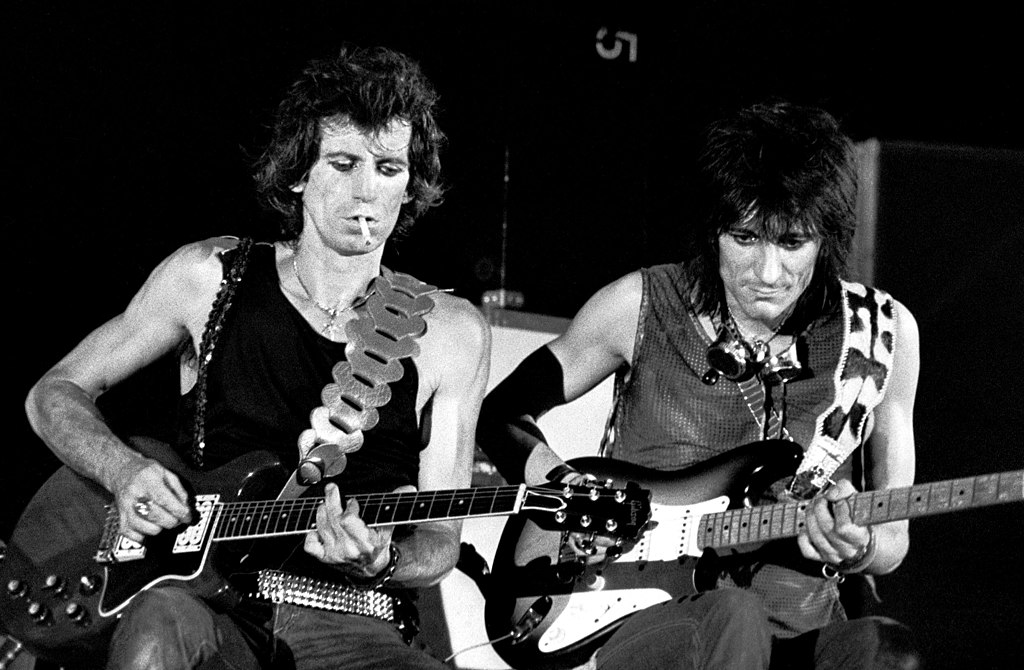 Keith Richards is an English musician and songwriter who achieved international fame as the co-founder, guitarist, second vocalist and co-songwriter of The Rolling Stones. He is considered a legendary electric guitarist whose playing is praised for its bluesy tone, unbridled energy, and simple but effective riffs.
He is also a master of improvisation, and his solos are often unpredictable and exciting. Richards is often referred to as a "human riff" because of his incredible ability to create catchy and powerful guitar riffs. Iconic songs such as "(I Can't Get No) Satisfaction", "Start Me Up" and "Jumpin' Jack Flash" contain riffs that are instantly recognizable and helped shape the Rolling Stones' sound.
Richards often uses a technique called Five-String Banjo Tuning, where he removes the low E string and tunes the rest of the guitar to a G-D-G-B-D tuning. This technique has allowed him to create a unique sound structure that is the sound of the Rolling Stones.
In addition to his work with the Rolling Stones, Richards has released three solo albums. His most recent album, Crosseyed Heart, was released in 2016. Richards is a member of the Rock and Roll Hall of Fame and has received numerous awards for his music, including a Grammy for lifetime achievement.
Well-known songs: "(I Can't Get No) Satisfaction", "Paint It, Black", "Gimme Shelter"
3. Jimmy Page
Page was also a groundbreaking producer. His pioneering use of techniques such as reverse echo effects, innovative microphone placement, and multitrack recording had a major impact on the sound of Led Zeppelin and rock music in general.
Jimmy Page's influence on other guitarists is immense. His innovative playing, unique guitar sound, and the success of Led Zeppelin have inspired countless generations of guitarists. His contribution to rock music is still recognized and celebrated today.
Well-known songs: "Stairway to Heaven", "Whole Lotta Love", "Black Dog"...
2. Eric Clapton
He has an extraordinary ability to interpret and convey the essence of the blues, whether through his electro-rock performances or his more traditional acoustic blues performances.
The beautiful, melancholic sound of his guitar and the emotional intensity of his playing distinguish this electric guitarist. He once said: "It depends on how you use it," reflecting his belief that feeling and expression are more important than technical ability.
He is a member of the Rock and Roll Hall of Fame and has received numerous awards for his music, including a Grammy for lifetime achievement. He continues to tour and record and remains one of the most popular and respected guitarists in the world.
Well-known songs: "Layla", "Tears in Heaven", "Wonderful Tonight"
1. Jimi Hendrix
When it comes to the greatest electric guitarist in history, all experts agree: It is Jimi Hendrix.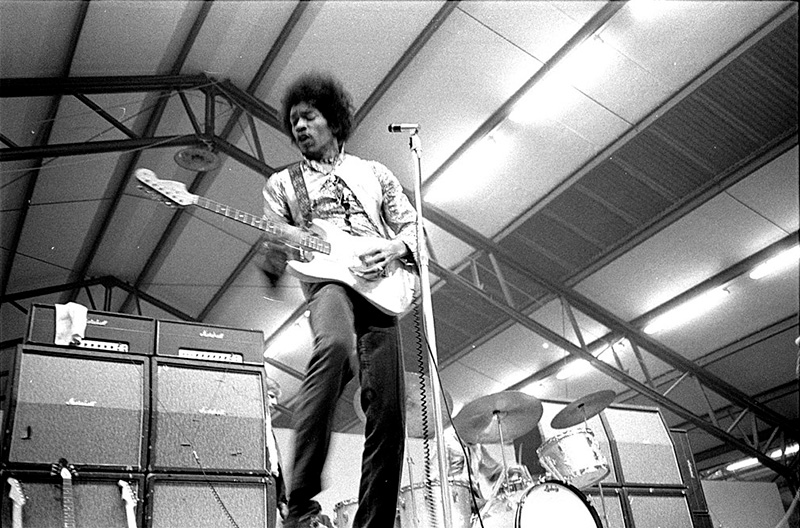 Hendrix was a revolutionary figure in the music world. He not only played the electric guitar, he changed the way it could be played. He incorporated feedback, distortion, and new chord voicings into his playing, helping to create the genre of psychedelic rock. He also experimented with studio techniques in innovative ways, greatly expanding the sonic palette of rock music.
He had extraordinary technical skills. He was self-taught and played the guitar upside down and with his left hand, which gave him a unique approach to his instrument. He was also known for his ability to blend different styles of music such as blues, rock, and R&B into a seamless and powerful whole.
Hendrix was a fearless performer. His stage presence was as legendary as his guitar skills. He was known for extravagant stage antics, such as playing with his teeth or behind his tongue, and setting his guitar on fire at the Monterey Pop Festival.
Hendrix's influence on rock music and pop culture is immeasurable. He recorded only four albums before his death at the age of 27, but these works influenced countless musicians and are still celebrated and studied today. His rendition of "The Star-Spangled Banner" at Woodstock 1969 is legendary, and many of the world's greatest guitarists regularly cite him as an influence.
Well-known songs: "Purple Haze", "Hey Joe", "All Along the Watchtower"