The Swissonic A204BT are small active Bluetooth speakers with a 4″ woofer and 1″ tweeter. So they are quite small and cost only 99€/pair. When I first unpacked them, I was amazed at how light they were (3.4kg/pair). You could easily put them in a bag and take them with you when travelling.
My first thought was that such small speakers couldn't do anything, especially in the low frequencies - but far from it! The small speakers now sit in my studio next to my Neumann KH120 and Focal Alpha 65 - studio monitors that are 12 times more expensive. Obviously the purpose is different, but more on that later!
Swissonic A204BT: The sound
Let's start with the most important thing, the sound. The sound is very well balanced, with good and powerful bass (for its size), strong mids and relatively good highs for the price. The sound has a lot of punch and is quite powerful and dynamic, reminding me a little of the speakers in my car.
They can also be used for parties or events, as they have a handy Bluetooth function and sound much better than other models designed for this purpose.
The Swissonic A204BT have a lot of headroom - which means they can be turned up without distorting the sound. And with a total output of 50W per speaker, they can get pretty loud. These studio monitors only go down to 70Hz, but the bass is still good and clearly audible.
The stereo image is a little wider than usual, which is a slight drawback for sound engineers, but the advantage for listeners is that you can move around the listening area without altering the stereo image too much.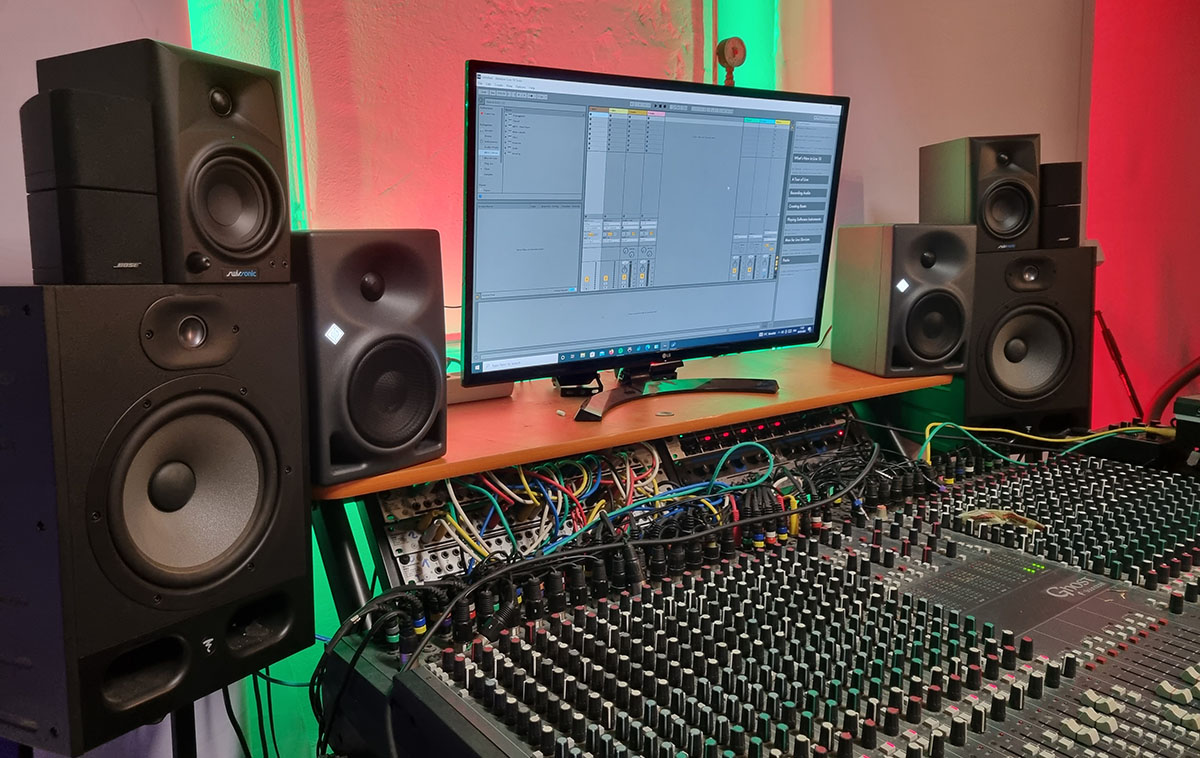 I use them mainly to check how my mix sounds on consumer equipment. Most listeners use such equipment and few have high-end speakers, so it is even more important for producers to check their mixes on inexpensive equipment.
And the Swissonic A204BTs are very good at that, because it's fun to listen to music through these studio monitors. You can judge very well how the mix will transfer to consumer systems like cars or PC monitors, especially in the low frequency range. The sound is very balanced and you can rely on it.
Compared to my Neumann KH-120s, the little Swissonics sound surprisingly good - the Neumanns are better, of course, but not by too much. The sound is clearer and a little more defined, but otherwise the Swissonics sound dynamic and clear, and the individual instruments are perfectly distinguishable.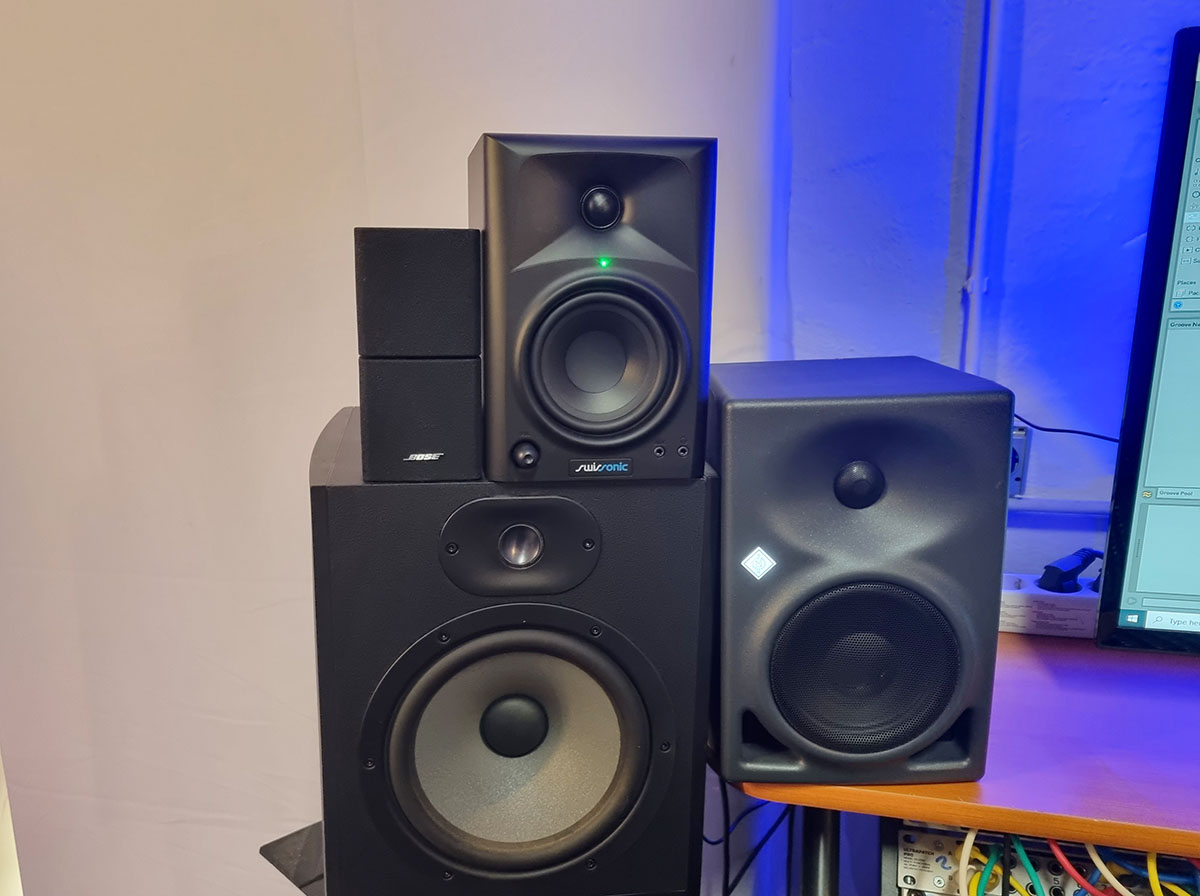 The weak point of these studio monitors is the high-frequency range, which is a little soft compared to more expensive models - but that is to be expected at this price point. I honestly don't know of any speakers for €100/pair that sound this good.
Features
The main feature of these speakers is the Bluetooth connectivity, so you can use them in your living room or at your desk. That was my original intention, but the sound was too good, so I took them to the studio.
The Bluetooth connection works great and has a huge range - I can have my phone in the kitchen and the speakers in the living room and the connection never breaks for a second.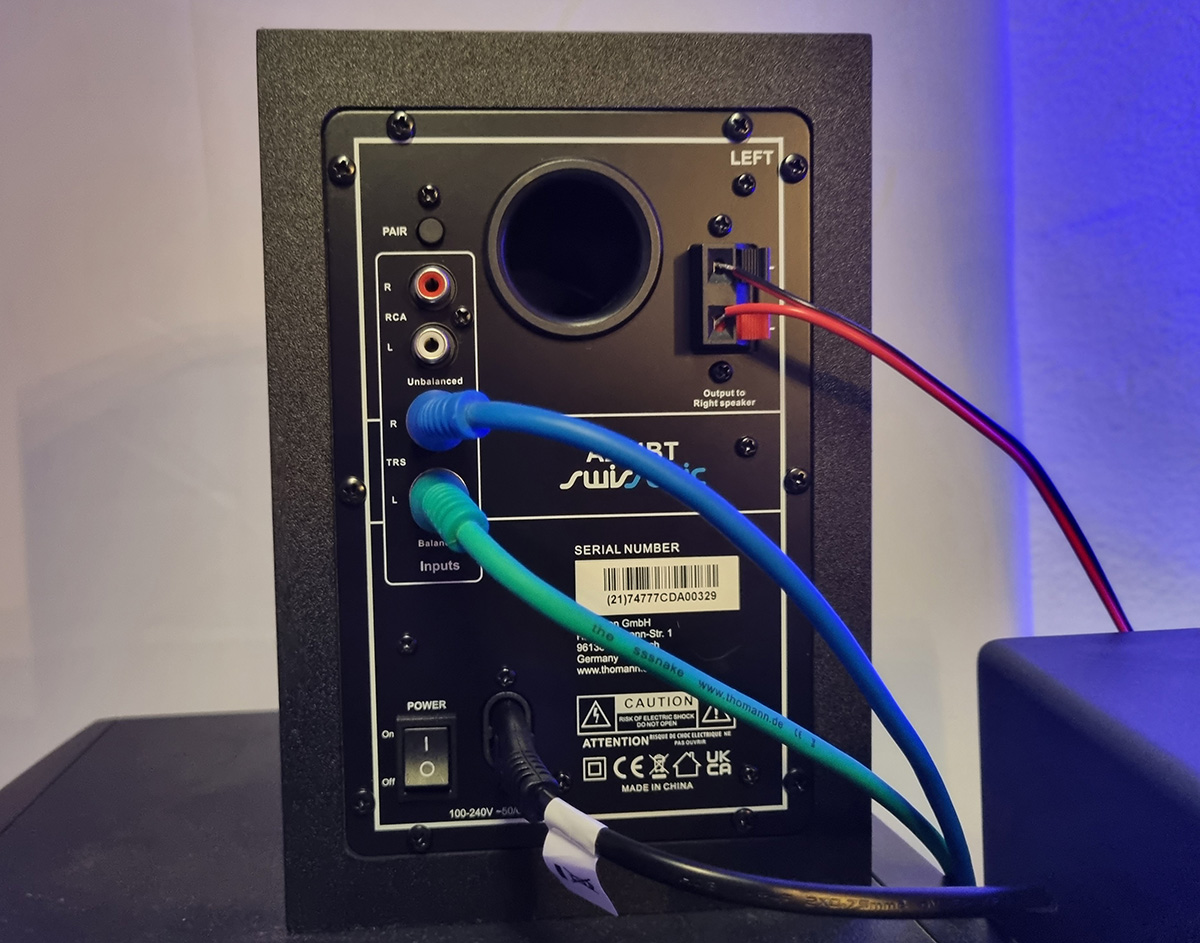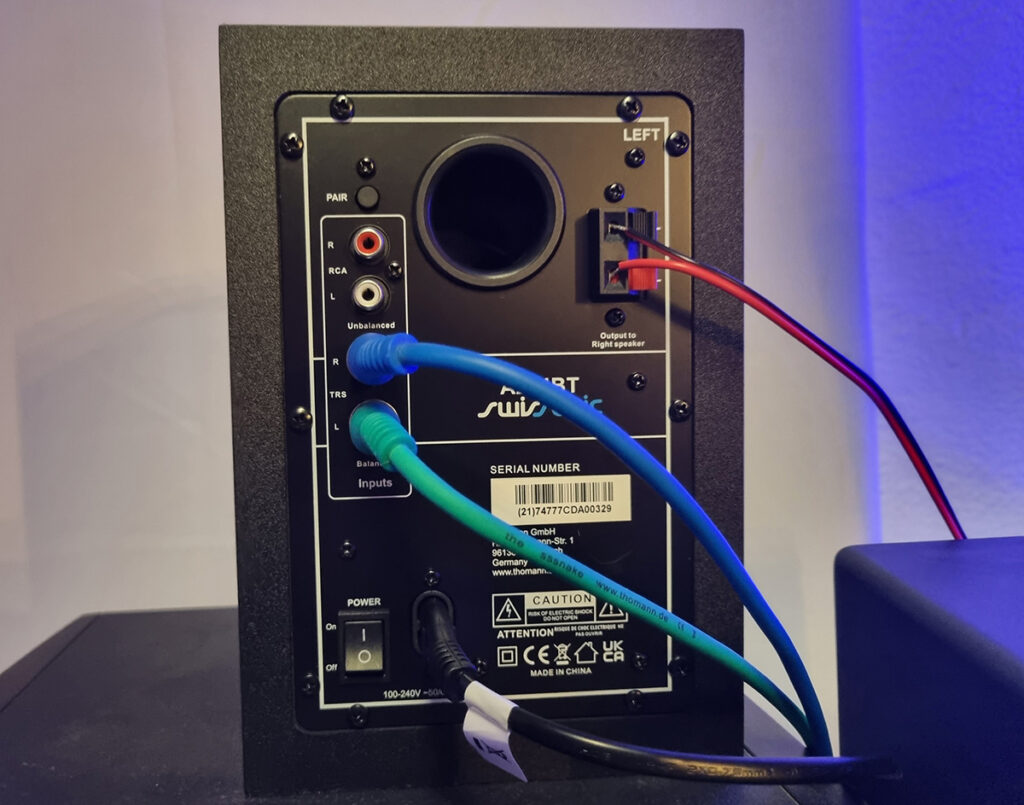 There is a volume control on the front panel, 2 x RCA sockets and 2 x 6.3 mm jack inputs. The amplifier is located in the left speaker and is connected to the right speaker via the supplied connection cable. There is a headphone output and an auxiliary input on the front of the left speaker. Very handy for quickly connecting all kinds of equipment.
Processing
It is amazing how good the quality of 'Made in China' products has become, and this is a very good example. The cabinet is made from high quality plastic and looks really good. Everything is sturdy and stable - I've moved them around a few times and they can take it.
Everything is very well-made, there is no wobble and the cable inputs are surprisingly good. Because the Swissonic A204 BTs are made of plastic, they are extremely light compared to other models - but you only notice this when you're actually carrying them, as they don't give that impression visually.
Who is the Swissonic A204BT for?
I would recommend these monitors to anyone who wants to listen to good quality music at home or at work without spending a lot of money, as the Swissonic A204BTs are unbeatable in this price range. The multiple connection options offer a lot of flexibility - you can connect the monitors to your PC via cable, but in between you can also connect your mobile phone via Bluetooth to listen to music via Spotify.
These monitors can also be useful for music producers, especially beginners who don't want to spend a lot of money. But they can also be very useful as a 2nd or 3rd pair of speakers, offering an interesting, different perspective on your productions.
What are the arguments in favour?
Very good price/performance ratio
Balanced and transparent sound
Good bass for the small size
Bluetooth connection
What speaks against it?
The upper frequency range could be a little better
Price: 99€/pair, Link: Swissonic A204BT