A few tips for your own rap recordings in the recording studio
Many young people would like to try their hand at rapping or hip hopping. Maybe you've rapped to a playback before. You've mastered cool moves and watched a lot of professionals. The next step could be to show your skills on a larger scale.
At Wood and Fire Tonstudio Aachen, even beginners can make professional rap or hip hop recordings. We support you with years of experience in hip hop production. But there are a few things you should know beforehand. Here are some basic tips about recording in a studio, which can also be used for home recording.
What should I know about rap or hip hop recording?
Rap and hip hop are divided into different styles. These are often regionally coloured and influenced. This results in specific sounds, typical rhythm patterns or style-defining phrasing. So your message can be realised in different ways. In rap, as in hip hop recordings, the voice plays a big role.

It is important that you keep a few things in mind when recording hip hop in the Wood and Fire recording studio in Aachen. Your lyrics and sound ideas should already be relatively concrete. You should also know a bit about microphone technology and how to use your voice. But if that's not the case, no problem: we'll help you with that.
Here we reveal the most important points to consider when recording rap and hip hop in the recording studio.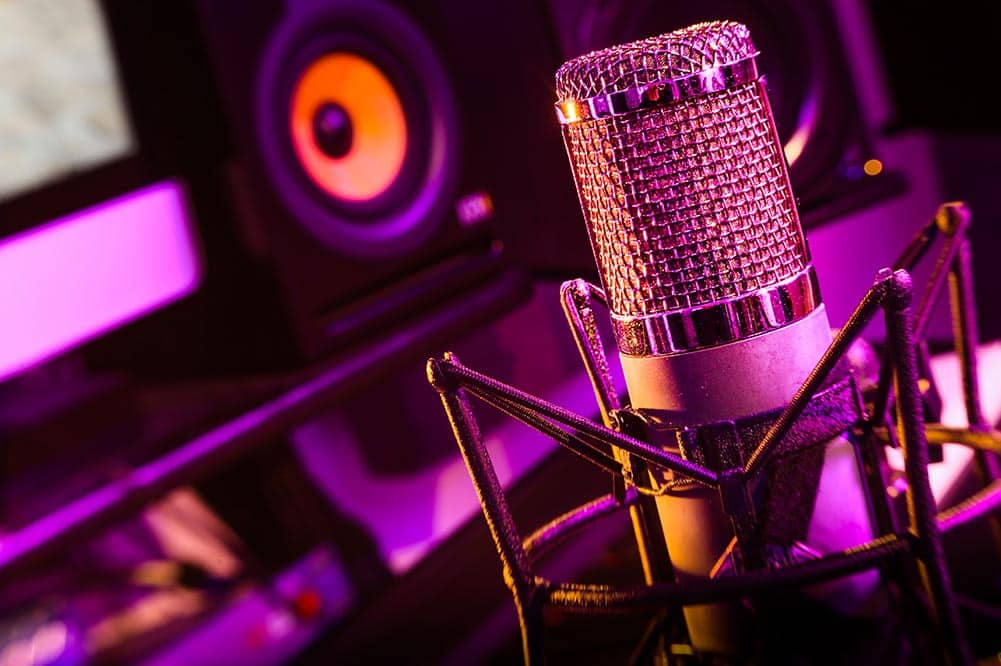 Knowledge of how to use the microphone
The microphone is the crucial part of the technique you use in rap and hip hop recording. You need to know how you sound when you use it.

Your voice and your lyrics are the most important part of your performance. You want to get your message across in a cool way. So you need to understand the technique and how to use your microphone. Above all, you should choose a microphone that does not pick up too much ambient noise. It's distracting if the microphone picks up every rustle in the background and every breath.

There are several types of microphones: the dynamic microphone or the condenser microphone, which produces recordings worthy of a professional. In the Aachen recording studio, we have several microphones that are suitable for different purposes. Some produce a warmer sound, others transmit a wider range of subtleties. By their very nature, such microphones are sensitive enough to catch distracting background noise. Our highlight: A Neumann U87Ai.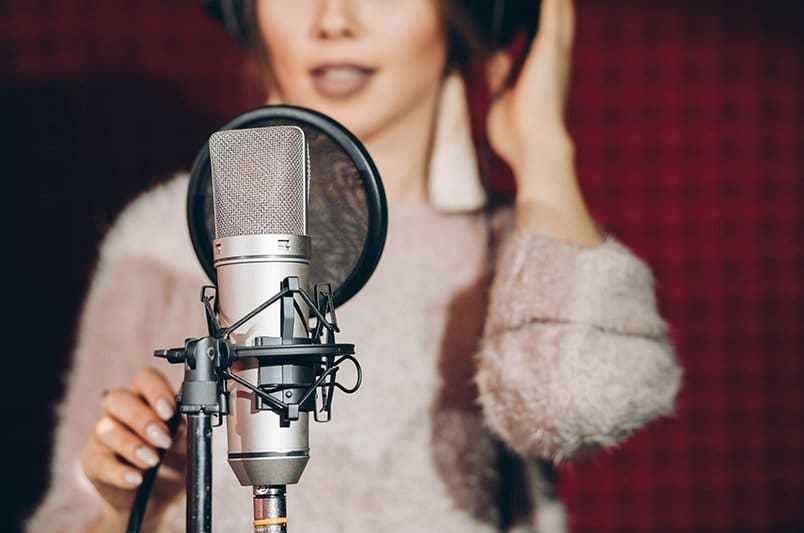 Each type of microphone has different subtypes and tonal qualities. Some mics sound warmer and muffled, others brighter and more voluminous. They capture more tonal bandwidths. Some capture the sound of the room as well. The recording studio in Aachen has ideal recording conditions. The recording room was specially set up to avoid transmitting any disturbing background noise and to deliver a dry sound. But even the choice of microphone can make a huge difference in the result of rap and hip hop recordings.
If necessary, just bring your usual microphone to the hip hop recordings. Whether we can record with it will become clear pretty quickly. Without a good microphone, your rap will not sound good under other conditions. Good microphones are worth a higher investment.
Understanding the proximity effect
The so-called "proximity effect" occurs when you hold the mic too close to your mouth when recording hip hop or rapping. In this case, bass tones will occur that can sometimes be annoying.

Proximity bass tones can also be very useful. You can use them consciously. You should know the difference and use it consciously. In addition, a so-called pop filter can make a decisive difference because it softens sounds that are too explosive. Washable pop filters that last a long time are useful. These pop filters are usually more expensive. But they are worth the greater investment.

The sensitivity of many microphones is below 200 hertz when held a certain distance from the singer. Hip hop recordings or rap recordings require 300 - 600 hertz. So where the microphone is placed is a crucial question.

By the way, you should just listen to the vocal recordings of famous rappers or hip hop stars from different times. When listening, pay special attention to the vocal track. A rapper like "Q-Tip" sounds completely different from the singing of "A Tribe called Quest". Both use the microphone differently. You should practise this too. Try different microphone settings, but also microphone distances. Test the sound of different rooms. Then you will get along better in the recording studio in Aachen. Above all, you have a clear idea of what doesn't work for you.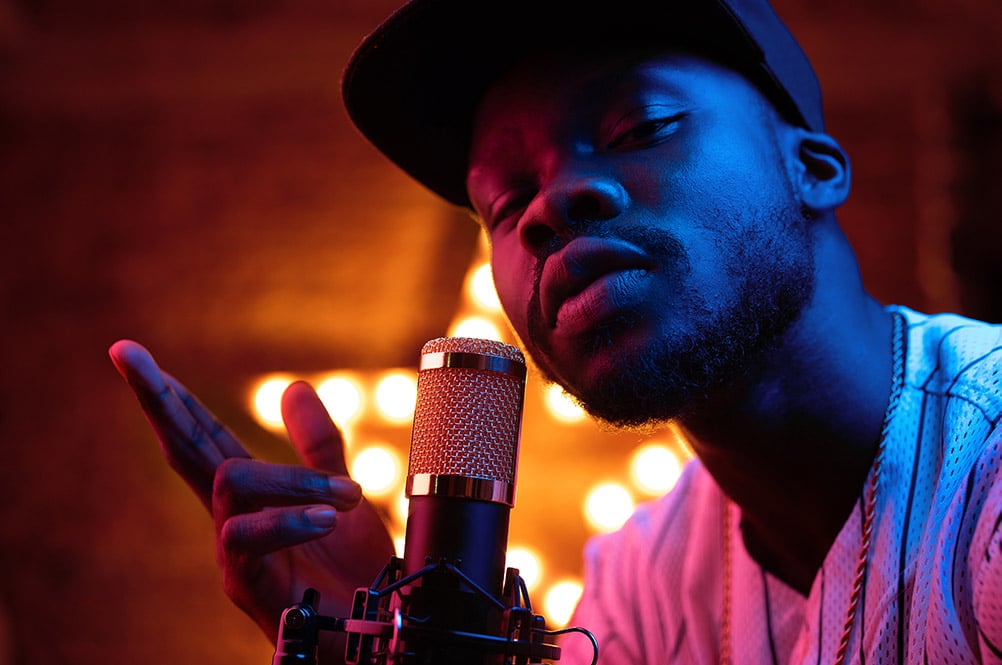 A pre-warmed voice sounds better
Opera singers do it as standard before every performance. But many cool hip hoppers neglect warming up their vocal chords. They think it's uncool. But "warming up" the vocal chords is important. In the recording studio in Aachen, we usually record a song in several takes. We try out different constellations to get the best result.

With non-sung vocal tapes, we notice remarkable differences in the quality of the vocal performance. The first take usually sounds completely different from the last. It differs in vocal volume and range, expression, breathing technique and vocal stamina. The excitement of rapping in the recording studio is also noticeable.

So it helps to sing yourself warm before a rap or hip hop recording. You manage the low and high notes better. You rap more accurately and don't swallow syllables. You breathe correctly and emphasise more consciously. The production gains audibly in quality. The sound engineer in the recording studio in Aachen can make much more out of the recordings when mixing. So practise your smooth rapping, word rhythm and pronunciation every day before your appointment.

Train your breath by repeating a rapped phrase from your piece on one breath until you run out of breath. Practice a tongue twister to warm up. This will keep you focused. You won't get verbally "tripped up" so easily when rapping. Rap your song sometimes in a higher voice and sometimes in a lower voice. Rap a little slower, then a little faster. Pay attention to accentuation. Try to play with vocal pressure and verbal softness.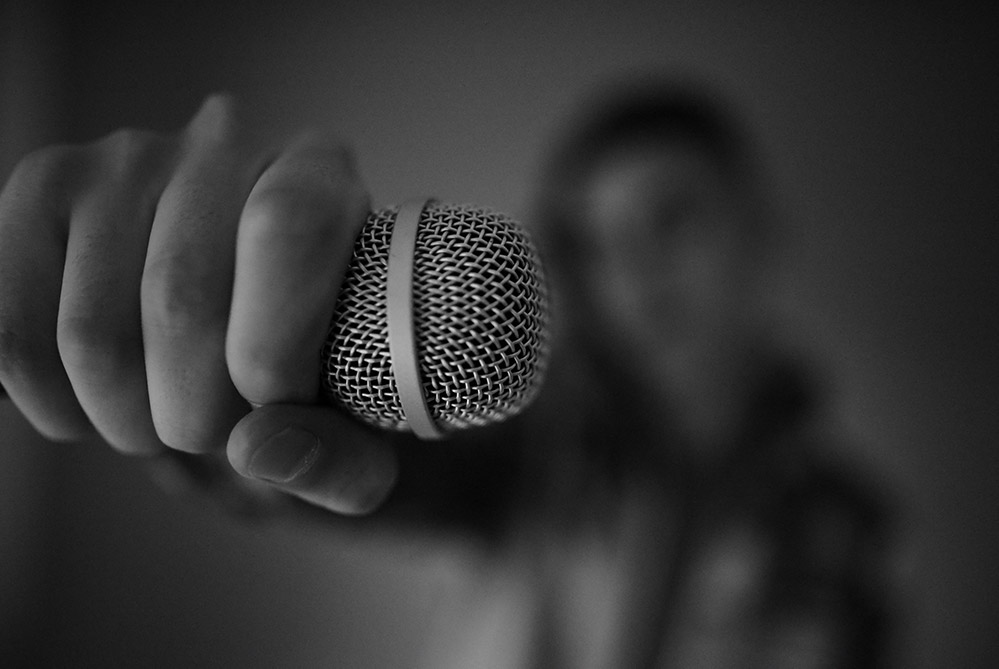 The wise choice of voice effects
Hip hop recordings should have a special sound. A little reverb over the voice can sometimes be useful. At Tonstudio Aachen, we know all about the creative possibilities to give the voice more pressure, space or volume. Some effects are very helpful for overdubs, for example. The better the basis we present, the more you can do with it. Sound effects are just as useful for rap. Some sub-genres of rap rely heavily on such effects, others less so.

At the recording studio in Aachen, we like to use a compressor to make the sound of your voice sound punchier and more dynamic. Sometimes, however, this is not indicated. Instead, a limiter would be much better. It always depends on the piece and many details. As far as technique and acoustic manipulations are concerned, you don't have to worry at all. Our experience is ultimately the decisive point. We can estimate how the recording will sound after it has been processed by the sound engineer.

Even rapping professionals have different opinions about some technical tricks. But what all hip hoppers and rappers have in common is the tip to always add some distortion to the sound. Not too much, just enough to achieve a positive effect. Generally speaking, less is more. With a good, powerful voice and variable intonation, supplementary technique doesn't have to play a big role.

From our point of view, technical tricks are the creative contribution that can make successful songs even better. And: The use of overdubs, technical sound effects, scratching and post-production by the sound engineer can enrich your song with sound-shaping style elements.